Best Shopping in Barcelona: Where to Shop in 2023
The best shopping in Barcelona can be a tough sell with all the culture around this amazing city. I mean, who needs Gucci when you've got Gaudi? Am I right?
But at the end of the day, it isn't a holiday if you don't come home with a suitcase stuffed with treasures.
So let's figure out where to shop in Barcelona!
Best Shopping Areas in Barcelona: Where to Shop in One Shot
When you're shopping in Barcelona, you'll come to notice that there are two main streets: Passeig de Gracia and Portal del Angel.
Both start at the famous Plaça de Catalunya, right dab in the centre of the city.
The metro station for either street is Catalunya (red and green lines).
Here's a quick preview of these two main Barcelona shopping streets:
Portal del Angel – Your Everyday Barcelona Shopping Street
Is shopping cheap in Barcelona? Well, we've got it all. From vintage markets to ritzy fashionable boutiques. However, Portal del Angel is your best bet for everyday fast fashion staples without breaking the bank.
This 250-meter-long Barcelona shopping district runs downhill from Plaça de Catalunya (towards the water). And you'll notice, it's just one street over from Barcelona's most famous street: La Rambla.
Lost? Look for the neon thermometer lurking above the street, the sea of shoppers, and their bags stuffed with their latest finds.
You'll find all the best Barcelona shopping deals at major clothing stores like Pull and Bear, Zara, Massimo Dutti, Springfield, Benetton, H&M, Bershka, Mango, and more.
This Barcelona shopping area is also a great spot to find local shoe shops, mobile phone retailers, and even the Disney Store.
Passeig de Gracia – Shopping Barcelona's Answer to Rodeo Drive
All the luxury shopping in Barcelona goes down on Passeig de Gracia – the highest-grossing shopping street in Barcelona.
You'll find this Barcelona shopping street walking uphill (towards the mountains) from Plaça de Catalunya.
This is an amazing street known for its world-class architecture. Here you'll find La Pedrera and Casa Batllò, two of Gaudi's many masterpieces and some of the best Barcelona buildings, period.
For designer shopping, there's a lot to choose from, like Dolce & Gabbana, Armani, Gucci, Diesel, Burberry, Jimmy Choo and many more. There are also great jewelry and accessory shops like Bvlgari, Cartier, Rolex, Chanel, and Swarovski.
You'll also find the Apple Store if you're looking for free Wi-Fi.
Barcelona Shopping Malls
Diagonal Mar
Variety: ★★★☆ Central: ★★☆☆ Atmosphere: ★★★☆
If, for some reason, you wanted to combine a day at Barcelona's beaches with shopping, this is it.
This shopping mall is about 300 meters from the famous Mar Bella beach.
The main draw here is Barcelona's most central Primark location – a great place for insane clothing deals. It's also a who's-who of clothing shops and fast food restaurants.
Address: Avinguda Diagonal 3.
Hours: 9:30 am to 10:00 pm (12:00 pm to 8:00 pm Sunday).
Website: Diagonal Mar Shopping Mall.
Centro Comercial Glories
Variety: ★★★★ Central: ★★☆☆ Atmosphere: ★★★☆
I'd call this Barcelona's best shopping mall because it's brand new and it's got a great variety of stores.
This is without a doubt the best place for clothes shopping in Barcelona. It has over 160 shops, including a cinema and a flagship Carrefour Hypermarket. There's also a great selection of both fast food and gourmet restaurants.
To get there, grab the metro's red line and get off at Glories.
Address: Avinguda Diagonal 208.
Hours: 9:30 am to 10:00 pm (12:00 pm to 8:00 pm Sunday).
Website: Glories Centro Comercial (Spanish only).
Las Arenas Shopping Centre
Variety: ★★★☆ Central: ★★★★ Atmosphere: ★★★★
I can safely say this is the only shopping mall in the world found in an ex-bullfighting arena.
Stepping into the multi-story area and seeing all the modern shops, sleek escalators, and glass elevator shafts is an amazing contrast. Here it's all about mid-range fashion and some of Barcelona's best restaurants.
If you're looking for some great shopping and a drink with a view, come here.
Go to the top of the arena via the escalators (don't pay for the elevator) for a great view of Plaça de Espanya and Montjuic. Time your visit with a trip to the Magic Fountain Show for an added bonus.
Address: Gran Via de les Corts Catalanes 373.
Hours: 10:00 am to 10:00 pm (12:00 pm to 8:00 pm Sunday).
Website: Las Arenas Shopping Centre.
L'Illa Diagonal
Variety: ★★☆☆ Central: ★★☆☆ Atmosphere: ★★★☆
If you're looking for shopping near Camp Nou stadium, this is the place.
This mall also boasts a mass of big box stores, including electronics giant FNAC and Barcelona's second Primark location. There's also a concentration on higher-end fashion here, and it has even dubbed itself the 'fashion shopping centre of Barcelona'.
What I like about this place is the high-end food court downstairs, where you can get tons of typical local food products.
There are 170 shops in total, so you know there is something for everyone.
Address: Av. Diagonal 557
Hours: 9:30 am to 9:30 pm (12:00 pm to 8:00 pm Sunday).
Website: L'Illa Diagonal
El Triangle
Variety: ★☆☆☆ Central: ★★★★ Atmosphere: ★★★☆
While this is the most central Barcelona shopping mall, it is unfortunately also its most limited.
Right above La Rambla at Plaça de Catalunya is the aptly named El Triangle, which you'll recognize for its noticeable triangular shape. Inside, you'll find about 20 shops to choose from.
This is the place for electronics and multimedia, as it's the flagship store of Spanish gadget and entertainment retailer FNAC.
Other popular stores include Foot Locker, Urban Outfitters, Massimo Dutti, and Brazilian sandal wizards Hawaianas.
If you're missing home badly, there's also a Starbucks.
Address: Pl. de Catalunya 1-4.
Hours: 9:30 am to 9:00 pm (closed Sunday).
Website: El Triangle.
Maremagnum Shopping Centre
Variety: ★★☆☆ Central: ★★★★ Atmosphere: ★★☆☆
The convenience of this medium-sized Barcelona mall is what brings people in. Just walk down La Rambla across the mini bridge over the water to the mirrored building overlooking the waterfront.
You'll get all the clothes shopping classics here like H&M, Lefties, Pull and Bear, Mango etc. There are also some great gift shops and the Barcelona FC Official Store.
If you're visiting Barcelona during Easter and other holidays, this is a sure bet to be open.
Address: Edifici Maremàgnum, Moll d'Espanya 5.
Hours: 10:00 am to 10:00 pm daily.
Website: Maremagnum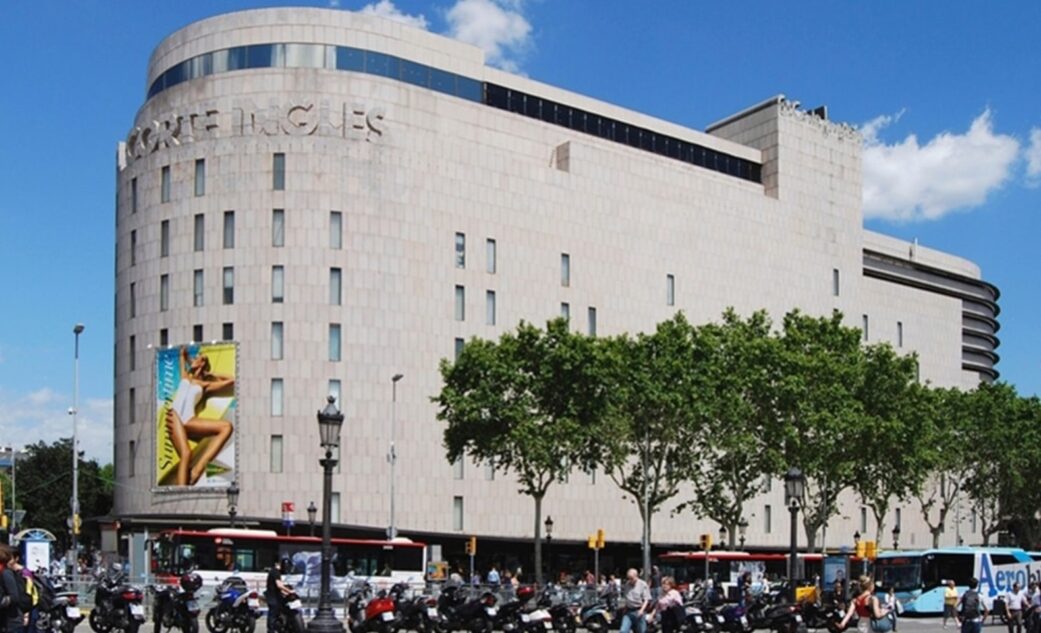 Barcelona Department Stores
El Corte Ingles
As far as traditional department stores in Barcelona go, look no further than the legendary El Corte Ingles. It's actually the only department store left in Spain. And it's also the largest in Europe.
The nine-floor flagship location can be found in Plaça de Catalunya. You'll find pretty much anything under the sun, from high-end shopping to basic furniture and electronics to the city's most celebrated supermarket.
Other locations can be found at Portal del Angel or at 617 Avinguda Diagonal (Maria Cristina metro, green line L3).
Hours: 9:00 am to 9:30 pm (12:00 pm to 8:00 pm Sunday)
Website: El Corte Ingles.
Related: Best Outdoor Activities in Barcelona
Outlet Shopping in Barcelona
La Roca Village
This luxury outlet shopping village with over 100 shops is about 40 minutes northeast of Barcelona in a town called Santa Agnès de Malanyanes.
Here you'll find premium outlets offering discounts of up to 70% off regular stores.
There's a great atmosphere with the cool mosaics and deco tiling. They'll also give you a tax refund if you're a non-EU citizen. Not to mention, it's a great location to combine with a trip to the nearby beaches of the Costa Brava.
If you don't have a vehicle you can grab the Sagales bus that leaves from Calle Casp 34 (near metro Urquinaona) or the Estacio del Nord.
Return tickets cost €19.00 aboard or €18.00 if bought online.
La Roca Buses run once an hour from 9 am to 8 pm. Tickets include a shopping guide, free WiFi, and a discount booklet.
Address: La Roca Village, s/n.
Hours: 10 am to 9 pm daily.
Website: La Roca Village.
Boutique Shopping in Barcelona
Pinza't
This artisan shop is famous for its hand-painted technical bags made from recycled lorry materials like seat belts and buckles.
Thirty-five different street artists decorate the unique pieces here. These double-stitched bags are great for cameras, 'bike ready,' and practically indestructible.
There's only one location of this sustainable and fair trade shop, and it's found in the Born district of Barcelona – the perfect place to pick up a gift for a loved one.
Address: Carrer de Grunyí 7.
Hours: 10:30 am to 7:00 pm (Mon-Thu), 11:30 am to 7:00 pm (Fri), (Closed weekends)
Website: Pinza't.
Lydia Delgado
One of the biggest names in Spanish fashion. The slogan 'the bohemian side of elegance' truly applies to the chic, feminine collections and colourful accessories you'll find at the designer's only shop steps away from Passeig de Gracia.
Get in touch and make yourself an appointment to find the perfect look with their style consultants.
Address: Calle Séneca 28.
Hours: 10 am to 8:30 pm (closed Sunday).
Website: Lydia Delgado.
Ivori
Ivori is a cute little boutique in the El Born district of Barcelona that showcases the incredible talent of a host of Catalan. That's right, only products from local artisan grace the shelves of this local gem.
The products at Vori are like treasures waiting to be discovered. You'll find everything from trendy clothing that'll make you the envy of your friends to stunning accessories that'll elevate any outfit.
Trust me, this little boutique is a fashion lover's dream come true.
Address: Carrer dels Mirallers 7.
Hours: 11:30 am to 7:30 pm (closed Sunday).
Website: Ivori Barcelona
Imanol Ossa Design Art
If you can make a lamp out of it, chances are Imanol Ossa has done it. You can't go wrong buying one of the designer lamps made here using items found in the street of Barcelona's rough and ready Raval neighbourhood.
In using anything from drum cymbals to chemistry beakers, the consumer is left with a truly unique gift that won't be found anywhere else.
Also, be sure to check out the jewelry and handmade furniture.
Address: Carrer Peu de la Creu 24.
Hours: n/a.
Website: Imanol Ossa Design Art.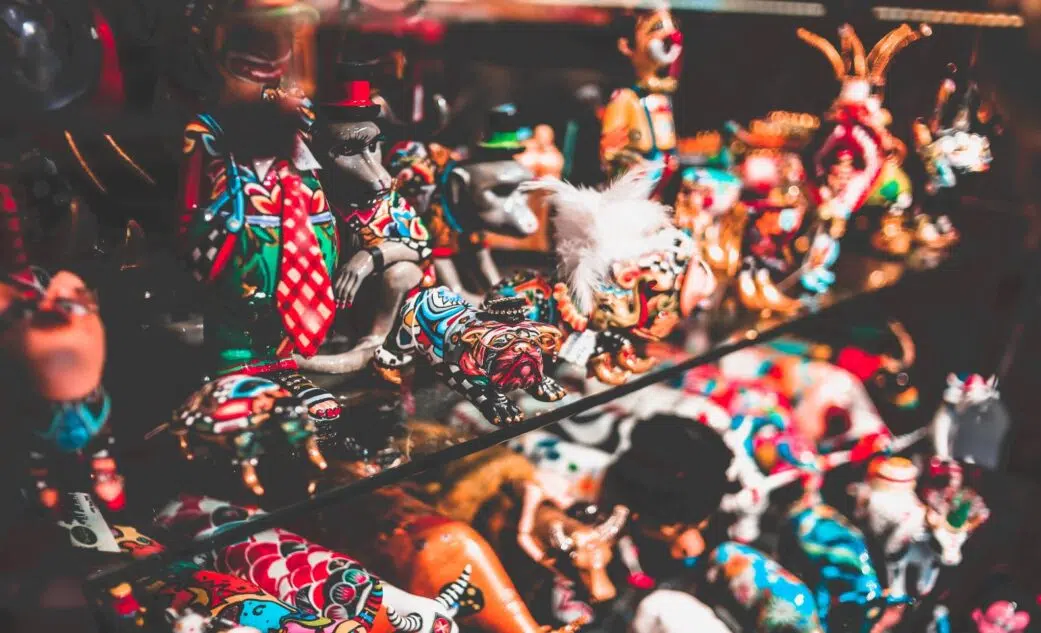 Souvenir Shopping in Barcelona
I've got an entire post dedicated to shopping for souvenirs in Barcelona.
In it, you'll find what to buy and where to buy it.
In general, I would advise avoiding cheap shops which sell traditional stereotypes: bull t-shirts (bullfighting has been banned in Catalonia), Spanish flags, Mexican sombreros, and flamenco outfits.
Here are a few quick ideas:
Galeria Maxò
Galeria Maxò is a space dedicated to art and creativity and is the brainchild of owner Maxò.
Here you'll get cute little wooden picture frames with three-dimensional images inside. Typically the images feature top Barcelona attractions.
My Italian colleagues have posted a beautiful photo album of the shop so you can get a better idea. The price of each frame is around €20.00
Address: Carrer del Portal Nou 29 (El Born) or Carrer de Petritxol 18 (El Gotico)
Papabubble
This shop isn't too Barcelona but in my opinion warrants a visit, if even just for the sensory experience.
Papabubble is an artisanal candy factory with some impossibly unique shapes and tastes which can even be customized to your liking.
Your tastebuds will thank you!
Address: Carrer dels Banys Nous 3 (Liceu metro station)
La Bufanda
It's hot here! So La Bufanda is an ideal spot for bringing home a cute little Spanish fan.
Prices range from €19.00 to €39.00 depending on the models. There is ample selection, and some of them are even hand painted.
Here you'll also find scarves and hats, which make great gifts for just about anyone.
Address: Carrer del Bisbe 2 (Liceu metro station).
Vidrio Sanjuan
The iconic Vidrio San Juan is a real artisan glass shop found right in the heart of Poble Espanyol.
You'll find a ton of items here, from large sculptures to trinket souvenirs. You'll watch the glass blowers make the products right in front of you, moulding Barcelona-themed objects with pliers and adding colourful powders.
Barcelona FC coach Pep Guardiola actually had a replica glass Champions League trophy made here. This shop has also made glass destined for mega attractions La Sagrada Familia and the Catalan Music Palace.
The ovens here reach 1400° Centigrade, so watch out!
Address: Av. de Francesc Ferrer i Guàrdia 13
Best Shopping in Barcelona Tips
Most retailers should accept Visa credit/debit but keep a bit of cash just in case.
Unlike Canada/USA, the sales tax is included in the price – so no surprises!
Wander around El Born for your best shot at finding stylish boutique shops.
Go to Calle Tallers in El Raval for all your second-hand/vintage needs.
Check out some of Barcelona's best markets for local goods.
There are many Oxfam charity shops, with one near Sagrada Familia (Carrer de Provença, 478).
Check out Calle Verdi in the Gracia district for independent clothing shops.
Shopping Hours in Barcelona
As a general rule, shopping hours in Barcelona are between 9:30 am and 9:30 pm.
There are always exceptions. Don't expect to shop on Christmas Day or New Year's Day. Barcelona shops are also generally closed on September 11 for the National Day of Catalonia.
Be warned that some smaller shops take a siesta between around 2:00 pm to 5:00 pm.
I've tried to include the shopping hours when possible, but make sure you double-check the links provided.
Sunday Shopping in Barcelona
The unfortunate fact is most shops in Barcelona are closed on Sunday.
Traditionally this included nearly all supermarkets and most retail shopping, but luckily there has been a slight shift in recent years so that you won't be completely out in the dark.
If you have a Sunday emergency and need a phone charger, I suggest wandering around attraction-heavy locations like Sagrada Familia. Or anywhere in El Raval, where there are a ton of mobile shops.
For supermarkets, the one chain open on Sunday is OpenCor/SuperCor – but expect to pay about 10% more. They're open late at night, typically until 1:00 or 2:00 am.
Need food late? Check out the OpenCor location finder for the nearest one to you.
If you're going to go shopping in Barcelona on a Sunday, your only choices are likely to be La Roca Village, the Maremagnum Shopping Centre and several other larger shopping malls.
Tax Refunds for Non-Eu Citizens
If you're not living in the European Union and intend to bring your shopping back to your country of origin, you are entitled to a tax refund of the 21% Value Added Tax ('IVA' in Spain) on products like clothing, electronics etc.
This does not apply to Barcelona's best bars, restaurants, and accommodations.
To qualify, ensure that:
You shop at stores offering the Tax-Free Shopping Service (90%+, with stickers in the window).
You spend more than €90.15.
You present the appropriate paperwork/products from the shop at customs at the airport.
At this point, you'll be given cheques to be redeemed at the Bureau de Change in your currency.
Not leaving through the airport? You'll need to request a VAT Reclaim envelope from the shop. You can present this at customs, stamp it, and mail it back to the Madrid Claim Office to receive your refund.
For more tax refund info, check out the info on the Barcelona airport's website.
Barcelona Shopping FAQs
What to shop in Barcelona?

Being a major European city, Barcelona is home to all the major fashion chains and big box stores you could ever imagine. You should go to the Barcelona shopping areas of Passeig de Gracia or Portal del Angel to get the highest concentration of shops. Also, boutique/souvenir shopping in areas like the Born is encouraged.

What time do shops open in Barcelona?

Expect Barcelona shops to open slightly later than in countries like the United States, Canada, or England. In general, you'll find most major chains open at about 10:00 am or 11:00 am.

What time do shops close in Barcelona?

In Barcelona city centre the shops usually close around 8:00 pm or 9:00 pm depending on the store. It is always advised to check the hours of a shop before visiting if it is later in the day.

Are shops open on Sunday in Barcelona?

Generally no. While you will find places like pharmacies, corner stores, and souvenir shops open, the majority of places to shop in Barcelona close on Sundays . That said, an increasing number of shopping malls such as the Maremagnum, Las Arenas, El Corte Ingles, and L'Illa are now open on Sunday.

Where to shop in Barcelona for clothes?

Barcelona's main clothing shopping area is on Portal del Angel, just below Plaza de Catalunya (the main square in the city centre). You may also want to go to the El Corte Ingles department store in the same area.

What is the main shopping street in Barcelona?

The main shopping street in Barcelona is Passeig de Gracia. The highest amount of goods sold is found on this street, and it's famous for high-end luxury brands like Dolce and Gabbana and Bvlgari.
Still Wondering Where to Shop in Barcelona?
If you're still not sure, make sure you get in touch in the comments below.
And don't be afraid to join the shopping discussion by giving me a like on Facebook and then joining my group, I'm Off to Barcelona. Here, you can ask any questions, air out grievances, and chat with thousands of Barcelona travellers.
Otherwise, enjoy shopping in Barcelona until you drop! And may the sales be ever in your favour🛍️