The 11 Best Museums in Barcelona and Top Free Visit Days
Thoughtless beach escapes are plenty in our city, but what about the moments of reflection and poignant realizations that can only come after a visit to the best museums in Barcelona?
Whether you're looking for classic artists, modern art, history, science, photography, or just an air-conditioned building to escape the heat, you'll find them all in my list of the top Barcelona museums.
The Best Museums in Barcelona
With so many Barcelona museums, it's hard to choose, but here are my top 11 – keeping variety in mind.
Remember: all of these museums can be discounted up to 20% or included free in many Barcelona travel passes. I've included a little discount section below on how to save money.
Make sure you book your museum tickets online using the buttons to avoid lineups.
Also, make sure you check out my free day section, as free museum days are up there in my list of top free things to do in Barcelona.
The Picasso Museum
With more than 3500 pieces of art, you'll see one of the most important Picasso collections in the world, with a primary focus on his formative years as a budding sketch artist.
Among the most famous works of art here are the Arlecchino, Margot, and El Loco.
For more information, be sure to check out my article on the Picasso Museum Barcelona, where you can even get your hands on a magnificent Picasso Museum guided tour in English.
Tour prices: €33.00 for adults, €22.00 for children (0-17).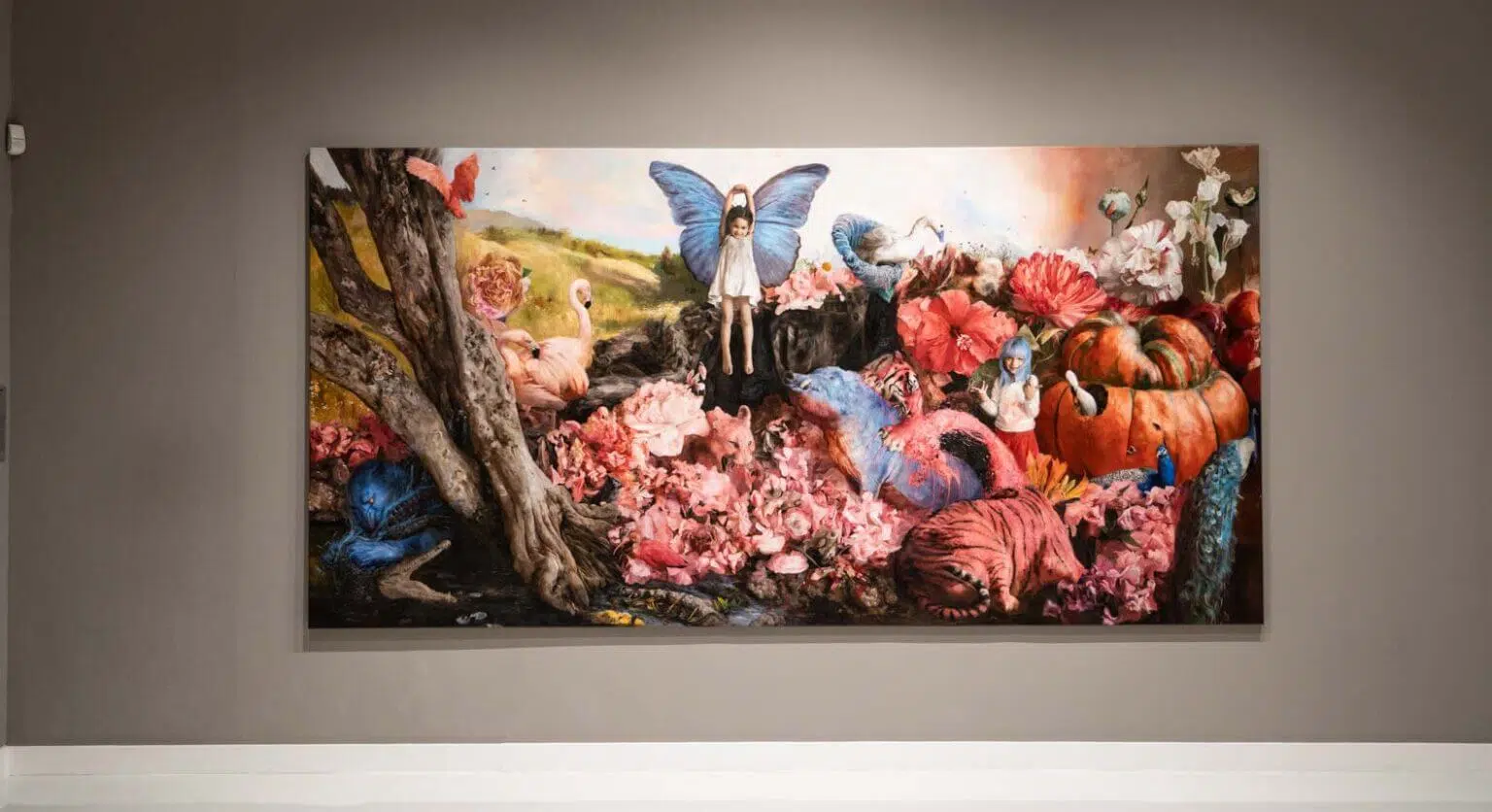 MOCO Museum
If you're looking to keep abreast of what's happening in Barcelona's modern art scene, I'd recommend a stop at the MOCO Museum, a short walk from the Picasso Museum.
This relative newcomer to the Barcelona Museum scene is a must-visit destination for lovers of modern and contemporary art.
The museum opened its doors in 2021 and has since been showcasing some of the most innovative and exciting artists of our time. The museum aims to make contemporary art accessible to everyone and to create a dialogue between the viewer and the artwork.
Banksy and Warhol are two of the most famous names in contemporary art, and the MOCO Museum has a special exhibit dedicated to their work. And you'll also find a range of interactive installations that allow visitors to engage with the artwork in a unique way.
Prices: €14.95 for adults, €9.95 for students with valid ID & youth (10-17), and free for children (0-9).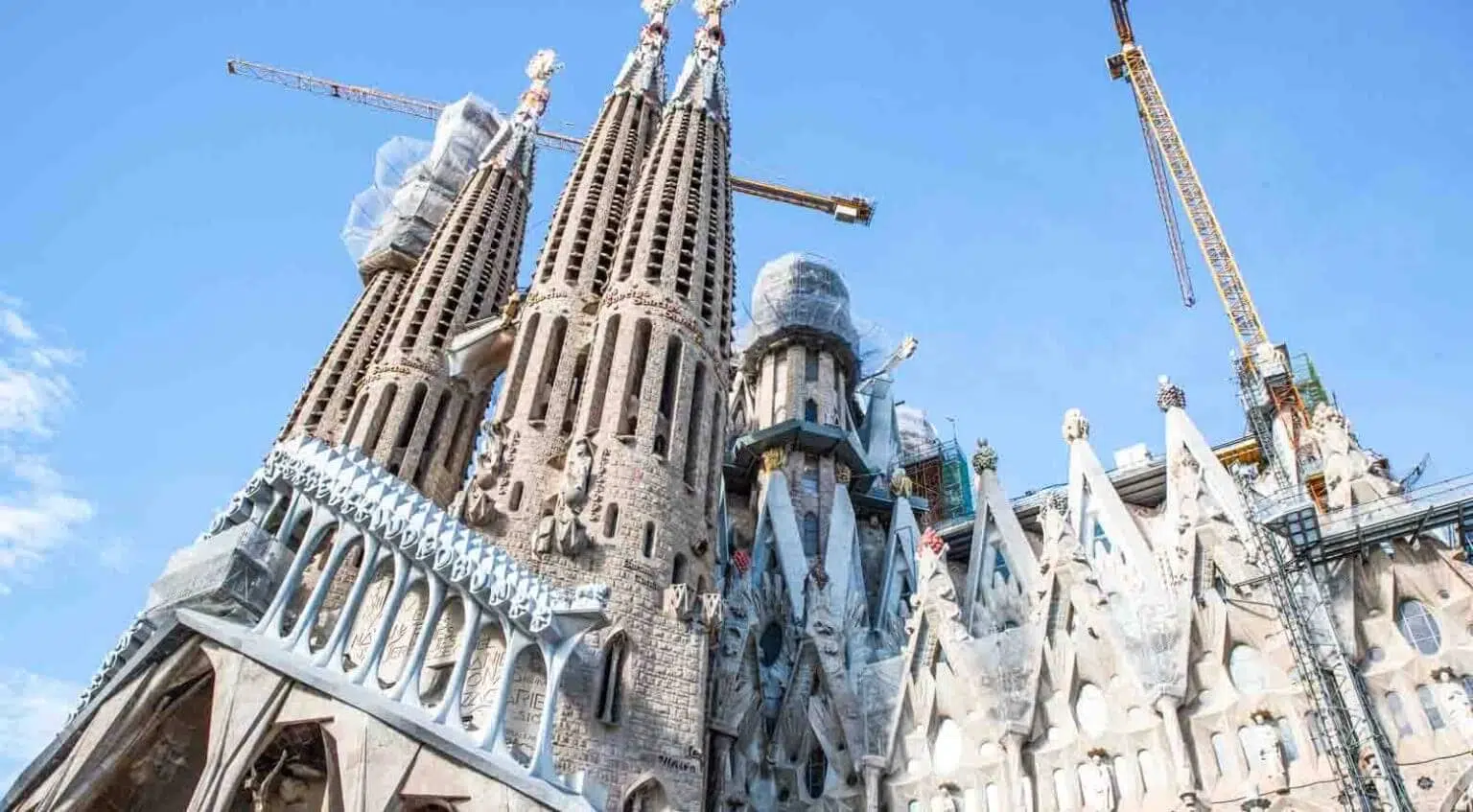 Museu del Temple Expiatori (Sagrada Familia)
It would be truly a shame not to understand the intricacies of Antoni Gaudi's genius found in every detail of the world's most amazing cathedral, Sagrada Familia. So make sure you see the museum first, which is included in all ticket options.
Highlights are the 3-D models of the church's main features, something Gaudi preferred to drawings. There are also great photos of 90+ years of construction. Through a window in the museum, you'll fittingly look down on Gaudi's tomb.
It's a bit hidden downstairs on the opposite end of the main entrance, but outside of Tiqets educated English guided tour, it's the only way you'll truly get it.
Prices: €33.80+ depending on the ticket.
MACBA Contemporary Art Museum
The lego-like confines of the Barcelona art museum house over 5000 works of art from some of the world's most celebrated artists like Antoni Tapies, Cristina Iglesias, Xavier Miserachs, Öyvind Fahlström, and more.
Throughout the building, you'll find spaces dedicated to photography, painting, and sculpture. With a variety of constantly changing exhibitions, you'll be able to come back again and again.
Apart from being another well-known contemporary art museum in Barcelona, it's well known for hosting a ton of skaters and break dancers in the outside square, which naturally attracts some of the best street art in the city.
Prices: €12.00 (entry desk) or €10.85 for adults (online), €9,60 for students with valid ID.
The Camp Nou Experience
Football lovers and lovers of sport, in general, will be overwhelmed with this one due to the sheer amount of trophies found at the world's second-biggest association football stadium, Camp Nou .
The football museum itself traces Barcelona FC's triumphs, including multiple Champions League trophies, the Golden Boots of the Messi Room, and an interactive space to play around in or stand in awe.
Then you get to tour the stadium. From walking out of the player's tunnels onto the pitch to fooling around in the visitor's dressing room to interviewing in the announcer's booth, you'll be a millionaire footballer for a day for the price of a paella.
Prices: Starting at €28.00 depending on the ticket.
The CCCB (Centre de Cultura Contemporània Barcelona)
Those with a passion for all types of culture will feel in their element here.
I fell in love with this cultural museum last year during the very impressive World Press Photo exhibition – all the best photos of the past year were blown up in super high quality and put on display. There was also a very impressive exhibition about the future of our species called Humans.
The Center of Contemporary Culture of Barcelona isn't just a space for its travelling exhibitions. It's a creative space and a place to investigate, expose, and debate important contemporary issues.
Prices: €6.00 for one exhibition, €8.00 for two exhibitions, and kids under 12 free.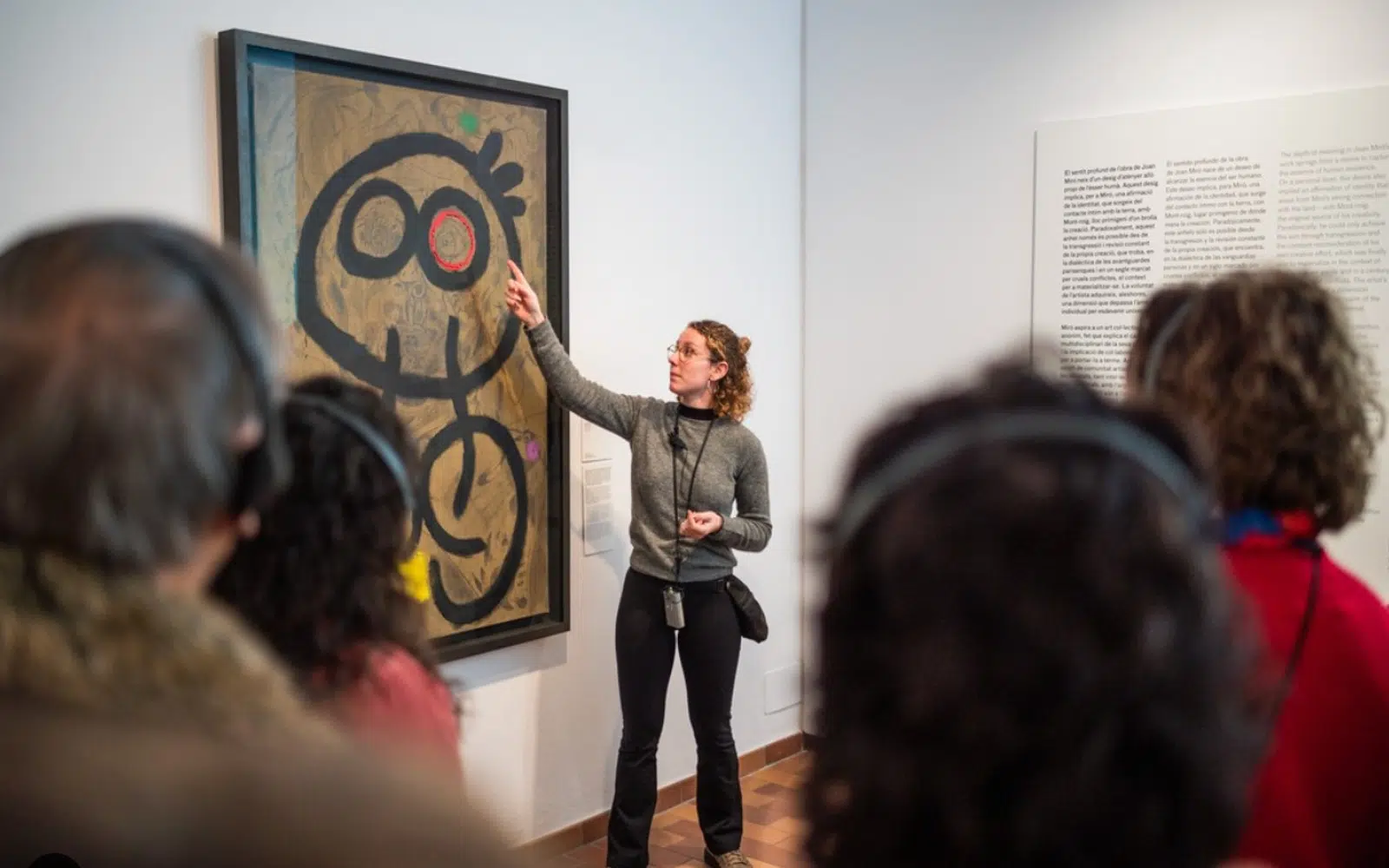 The Fundació Joan Miró
Set foot in this Barcelona art museum and feel the ghost of surrealism follow you to every corner.
To understand Joan Mirò and his approach to the arts, all you have to do is read a mantra found in his paintings: "Conquering freedom means conquering simplicity. In the end, one line or even one colour can make a painting."
The Joan Mirò Foundation opened in 1975 not only to display the works of the man himself but also as a discussion, inspiration, and exhibition space for future Barcelona artists.
The museum collection of paintings, designs, drafts, and sculptures is one of the most comprehensive Mirò collections in the world and covers virtually every second of his artistic life.
Prices: €14.00 for adults, €7.00 for students and seniors (65+), and free under 15.
MNAC (Museu Nacional d'Art de Catalunya)
You'll find the MNAC in one of the most beautiful buildings in Barcelona, the Palacio Nacional, built for the Barcelona World's Fair in 1929 and situated just above Barcelona's Magic Fountain.
Starting from the main room (that looks like some crazy Renaissance living room), the museum is divided into 7 rooms, each dedicated to a different period: there's the Gothic room, the Baroque and Renaissance rooms, one room dedicated to photography, and another to coins.
What makes the MNAC one of the most famous museums in the world, though, is the Medieval and Romanticism room that holds sculptures and paintings from the 11th to 13th centuries.
A bonus? The amazing bar with a terrace with some of the most spectacular views of Barcelona.
Prices: €12.00.
Cosmo Caixa
This is the Barcelona science museum which is extremely popular when visiting Barcelona with kids. The truth is, though, that any adult with the slightest interest in science will love the opportunities here to learn science in a fun way.
The museum offers a multitude of interactive exhibitions: the one that stood out for me was the Toca Toca ('Touch Touch'), where you can touch reconstructions of a variety of natural habitats with your bare hands, learning to understand and respect them.
Then there's the Bosque Inundado ('Inundated Forest'), that's the recreation of a rain forest complete with rain storms falling from above. You also can't miss the Planetarium, a space dedicated to the observation of the sky, stars, and planets.
Prices: €6.00 for adults (online), under 16 free.
Museu Marítim de Barcelona
Barcelona has been one of the Mediterranean's most important port cities for centuries, so it's only natural that the Catalan capital has its very own museum dedicated to the city's seafaring past.
This Barcelona museum is housed in the historic Royal Shipyards of Barcelona and features exhibits on navigation, shipbuilding, and maritime trade. Of note to history lovers, the museum has an exhibit dedicated to the Spanish Civil War, which provides an insight into the role that Barcelona played during the war.
Other highlights include a full-blown replica of a 16th-century galley ship and a section dedicated to navigation, where visitors can also learn about the different methods of navigation used throughout history.
Prices: €10.00 for adults, €5.00 for students and youth (7-16).
🚌 Heading to Barcelona for museums? Make sure you know how to get around Barcelona on public transport first.
The Barcelona Pavilion
To tell you the truth, I'd never heard of this pavilion; in fact, as soon as I arrived at the museum, I went right through the entrance without even buying a ticket until an old woman seated on a stool asked me to buy a ticket.
This building was built by legendary architect Ludwig Mies van der Rohe as the German Pavilion for the Barcelona World's Fair in 1929.
It's a very important building in the history of modern architecture and is famous for its 'spectacular minimalism' and use of extravagant materials like onyx, red marble, and travertine.
Prices: adults €8.00, students & unemployed €4.00, children under 16 free.
Free Museums in Barcelona
Due to popular demand, I've created a list of the best free museums in Barcelona. No more excuses for those lazy Sundays in Barcelona before flying out, OK?
Montjuïc Castle: every Sunday after 3:00 pm + all day the first Sunday of every month.
MACBA: every Saturday from 4:00 pm to 8:00 pm + May 18th and Sept 24th.
The Picasso Museum: Thursday afternoons from 6:00-9:30 pm and the first Sunday of the month from 9:00 am-7:00 pm. Also free on Feb 2nd (Santa Eulàlia), May 18th (International day of Museums), and Sept 24th (Day of La Mercè). Free entrance must be booked in advance through this link. Tickets are subject to availability and can only be booked up to 4 days in advance.
MNAC: every Saturday after 3:00 pm and the first Sunday of every month + May 18th and Sept 11th.
CCCB: every Sunday from 3

:00

pm to 8

:00

pm.
El Museu Blau: The Natural Science Museum of Barcelona. Free every Sunday from 3:00 pm to 8:00 pm and the first Sunday all day.
The Barcelona Maritime Museum: Sundays after 3:00 pm.
Jardin Botanico: Free on Sundays after 3:00 pm & first Sunday of every month (all day).
Barcelona Museum Discounts
Articket BCN
This Barcelona museum pass can save 44% on entrance to 6 museums. It also allows you to skip lines at ticket windows. If you're thinking of visiting three or more of these top museums, it'll pay for itself.
Just print out your voucher and redeem it for a cool passport and see how many you can get stamped. Included in the €35.00 price tag are the following:
Picasso Museum
Fundació Joan Miró
Museu Nacional d'Art de Catalunya
The CCCB
Fundació Antoni Tàpies
MACBA
This Barcelona Museum pass is found at Tiquets by clicking the button below.
The Barcelona Card
The Barcelona Card is a tourist discount pass that includes unlimited Barcelona public transport, a return airport connection and more than 85 discounts at many of Barcelona's most famous attractions.
You'll also get free entrance to 25 museums, including the CCCB, MACBA, the Picasso Museum, Cosmo Caixa, the Fundació Joan Miró, and the MNAC. On top of this, you'll take advantage of discounts on Barcelona shopping, Barcelona's best restaurants, and some of the best flamenco shows in Barcelona.
Ticket options range from 72-hour to 120-hour passes (€43.20 – €56.70).
You'll save 10% by buying online from the official Barcelona Tourism Office by clicking the button below.
Still not sure? Check out the full list of discounts.
The Barcelona Pass
The city's new tourist discount card: it's almost a given if you're planning to visit museums at the Sagrada Familia and Park Guell. It also gives you a ride on the super informative and convenient Bus Turistic.
The best part? You're given 10% off vouchers for almost your entire Barcelona itinerary, including some of the best museums in Barcelona:
Picasso Museum (and tour options)
The Camp Nou Experience
Catalan National Art Museum (MNAC)
Modernism Museum
Wax Museum
In addition, you'll get 10% off guided tours, excursions, shows, nightlife and more. And you'll skip lines doing it.
For more information, click the button below:
Related: How Many Days Should I Stay in Barcelona?
The Best Museums in Barcelona FAQs
What are some of the top museums in Barcelona?
Some of the best museums in Barcelona include the Picasso Museum, the MOCO, the Joan Miró Foundation, the National Art Museum of Catalonia, and the Barcelona Museum of Contemporary Art.
What is the best way to explore Barcelona's museums?
The best way to explore Barcelona's museums is by purchasing a Barcelona museum pass or the more encompassing Barcelona Pass. Both will grant you access to several museums at a discounted price. You can also book a guided tour to learn more about the history and culture of the city.
What is the best time to visit museums in Barcelona?
The best time to visit Barcelona's museums is during the off-season, which runs from November to February. Barring that, you're better served visiting your favourite Barcelona museum in the morning or later at night.
In either case, you'll find fewer crowds and shorter wait times, allowing you to fully enjoy the museum experience.
Which museum in Barcelona is best for families with children?
The CosmoCaixa Science Museum is a great option for families with children, as it includes interactive exhibits and hands-on activities that are both fun and educational. Other popular choices include the Museu Blau, Museu Marítim and Museu de la Xocolata – that's right, a chocolate museum!
Are there any free museums in Barcelona?
Yes, there are several free museums in Barcelona, including the Maritime Museum, the Museum of History of Barcelona, and the Museum of Natural Sciences.
However, if you keep your eyes peeled on the individual schedules, you'll find that many Barcelona museums offer free entry on Sunday afternoon, the first Sunday of the month, and international museum day. Furthermore, some are always free for children
Top Museums in Barcelona Roundup
I put a lot of work in to make sure the article is as informative as possible, but am I missing something crucial? Please get at me with any Barcelona museum questions in the comments below.
And as always, do get back to me here, on Facebook, on Instagram, or anywhere else for custom Barcelona advice!
Enjoy the best museums in Barcelona 🖼️