Christmas in Barcelona 2023 – Barcelona Christmas Things to Do, Markets, & Traditions
So you're planning a Barcelona Christmas.
First of all – great choice! The Catalan capital has a lot to offer, not to mention a brief weather respite from the cold of most parts of English speaking countries.
But how the heck can we plan Christmas in Barcelona with the limited hours, massive crowds, and even a few creepy local traditions?
Easy – let's take a look!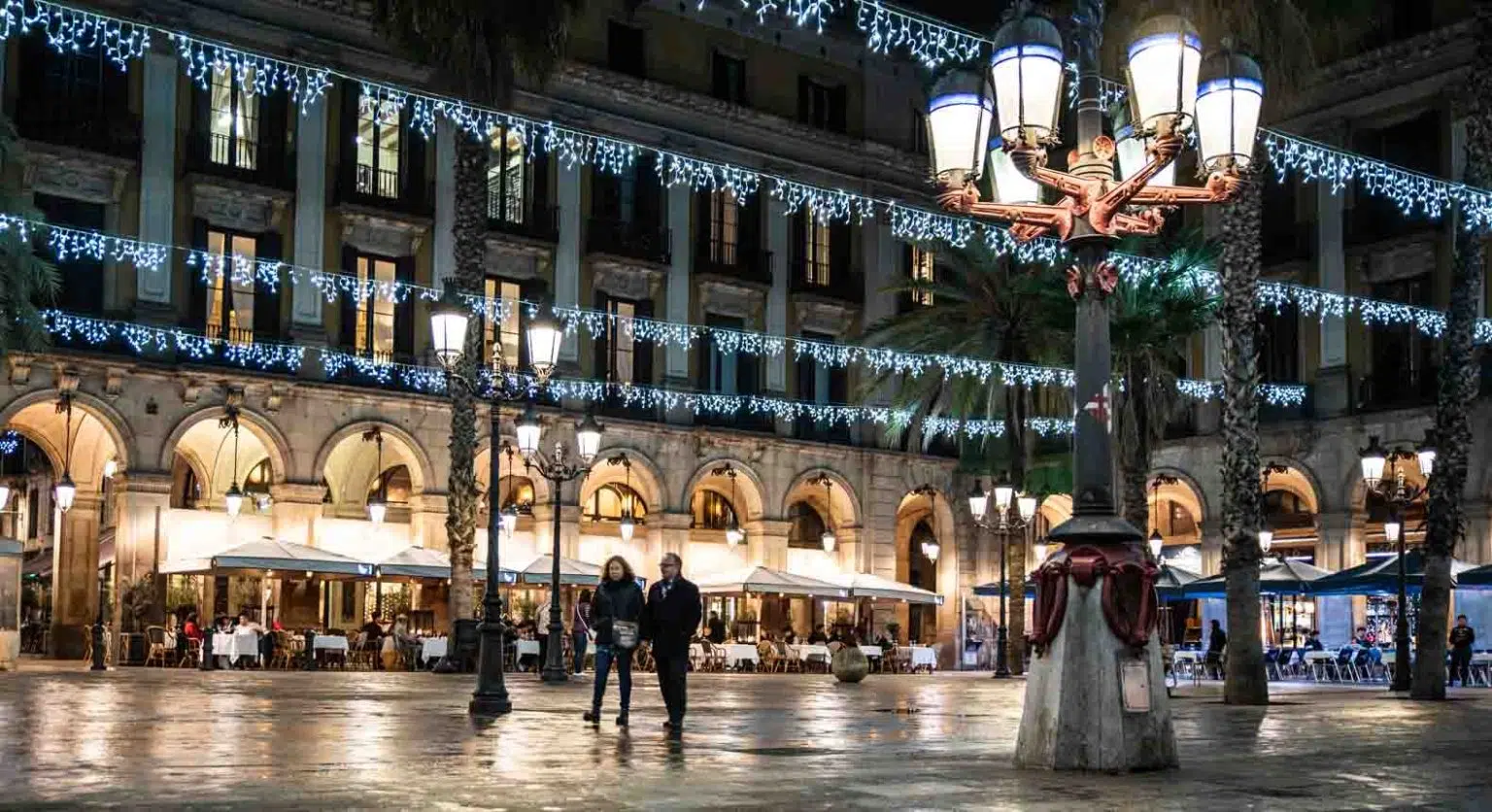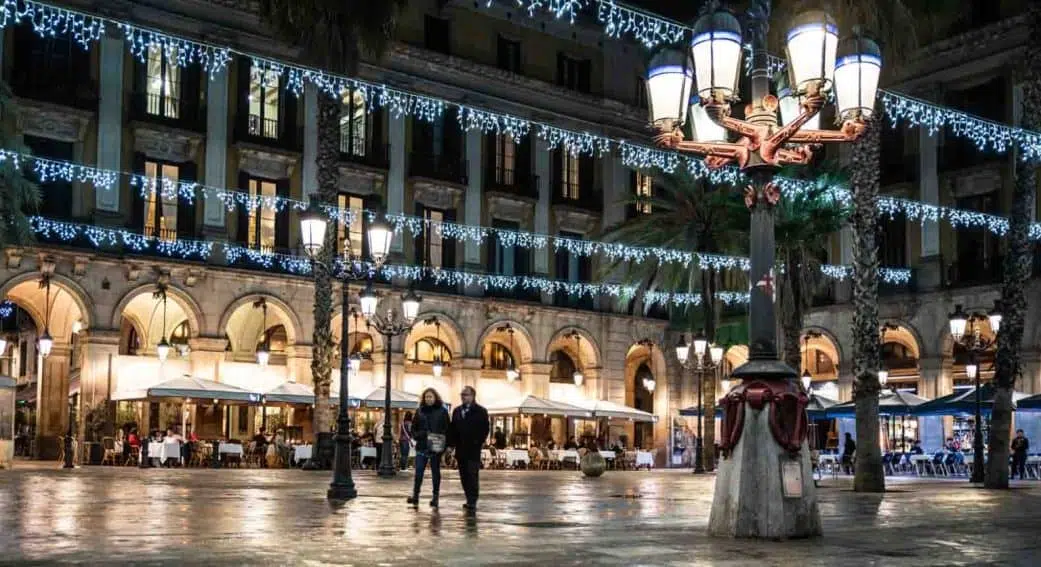 Christmas in Barcelona: Planning a Barcelona Christmas Holiday
In general, visiting Barcelona in December is a great time! The city lights up and turns festive with some amazing local festivals and traditions.
Before you arrive though please make sure you:
Barcelona Christmas Traditions
Barcelona Christmas Lights
You'll find the main shopping district Portal del'Angel completely illuminated. The most impressive Christmas lights are at the Corte Ingles department store in Plaça de Catalunya.
The lights are turned on the last Friday in November in Barcelona and turned off on January 6th.
Cagatio
Santa Claus here is actually substituted for an anthropomorphic log named Cagatio ('Shit Log'). Cagatio is put out much like a Christmas tree on December the 8th.
Kids must leave things to eat for the log every night before bed. The parents then slowly replace the log with bigger versions to simulate it getting fat on the treats.
After 17 days the very large version of the log is covered with a cloth (to hide the gifts) and beaten by the children. The parents then take the cloth away to reveal a treasure trove of gifts which have been 'shit out'.
Yeah, OK.
You can find virtually any size of these logs at the Barcelona Christmas markets (info below).
🥘 Looking for food + history + wine + fun? Take one of Barcelona's best food tours.
Caganer
There's also Caganer (literally 'the shitter'). Well, this popular Catalan Christmas character is typically a peasant with a red hat (or your favourite celebrity) who is placed in nativity scenes. Doing a number two.
I'll let you read about Caganer on Wikipedia to make up your own mind.
That said, buying one of these figurines is a Catalan Christmas pastime and one of the best Barcelona souvenirs you can get – there are tons of random shops around Jaume 1 metro stop, and one in El Born in Plaça de Santa Maria, right in front of the famous Santa Maria del Mar Cathedral.
Barcelona Christmas Tour 2023
If you want to take a tour through the streets of Barcelona and admire all the spectacle of Christmas in the city, the best way is to take the Barcelona Christmas Tour.
This hour and a half tour with the Bus Turistic allows you to enjoy the streets and most emblematic buildings of the city, specially decorated for the occasion.
The service runs November 25th to December 30th (except the 25th) with two departure times from Plaça Catalunya, at 6:00 pm and 8:00 pm.
Absolutely essential to book these Barcelona Christmas Tour tickets in advance:
Buying Christmas Gifts in Barcelona
Consumer culture over Christmas in Barcelona isn't as pronounced as English speaking countries, in fact the main gift giving period isn't on Christmas Day: it's King's Day ("Los Reyes") on January 6th.
If you're looking for some great shopping deals remember then that the post-Christmas sales push back to January 7th onward. You'll know this by all the signs saying 'rebajas' ('discounts') in shop windows.
To know where to go check out my shopping in Barcelona article.
Christmas Markets in Barcelona
El Mercado de Santa Lucia
You'll find Barcelona's main Christmas market right in front of the Barcelona Cathedral.
Christmas markets have been held in this bustling square (Pla Seu) in the historic Gothic Quarter since at least 1786. Today it's a great place to pick up nativity scene figures, Christmas trees and ornaments, crafts, and sweets.
This is a great place to buy your own Cagatio or even a Caganer (both traditional ones or ones based on popular figures like Trump, Obama, Messi etc.)
Dates for Christmas in Barcelona 2022: from the 26th of November until December 23rd.
Hours: 10:00 am to 9:00 pm (weekdays) and 10:00 am to 9:00 pm (weekends and holidays).
Related: How Many Days Should I Stay in Barcelona?
Mercado de la Sagrada Familia
The smallest of Christmas markets in Barcelona is on Avenida Gaudi just a few steps from the famous Sagrada Familia basilica. Here you'll stock up on ornaments, trees, plants, food (most of all candies) and other crafts.
Dates for Barcelona Christmas 2022: Last weekend of November until December 23rd.
Hours: from 10:00 am to 9:00 pm (weekdays) and until 10:00 pm (weekend and holidays).
Mercado de Los Reyes Magicos
You'll find this Barcelona Christmas market on the famous Gran Via, between Muntaner and Calabria streets. To access this market get off the metro at Universitat, Urgell, or Rocafort.
Here you'll be able to get all the Christmas market classics like ornaments, wreaths, and even cagatios. What stands out about this market is the abundance of 'xurrerie' – little stands making churros con chocolate.
Christmas 2022 Dates: 20th of December to the 6th of January.
Hours: 11:00 am to 9:00 pm (weekdays) and 11:00 am to 10:00 pm weekends, and from 10:00 am to 3:00 am on January 5th 2019.
Port Vell Market
From December 5th to January 5th in Plaça del Portal de la Pau you'll have another Christmas market in the Port Vell (Old Port).
It's right in front of the Columbus Monument at the bottom of La Rambla.
Expect a tasty gastronomic area, a place for traditional Catalan souvenirs, a stage with 30-40 free shows, and a children's play area.
There's also a very impressive 31 meter high Christmas tree.
Hours: daily from 11:00 am to 11:30 pm.
Barcelona Christmas Events
Casa Batlló Christmas Visit: A Winter Night Visit
Explore the majestic mansion Casa Batlló with an evening visit in which you're transported back 100 years.
The visit follows local protagonist Fermina, the keeper of the Batlló family's grandchildren, telling the story of the famous family that lived in the house built by Antoni Gaudí.
The multisensory AR experience with unique nighttime projections is one of the best things to do in Barcelona at Christmas, period.
The Lights of Sant Pau: Barcelona Christmas Garden
A breathtaking night visit to the famous Recinto Modernista Hospital de Sant Pau, Barcelona's epic modernist hospital complex.
Here, you're guided through a series of over a million LED lights present in the garden and in other historical spaces of the Hospital.
The Magic City in Plaza Catalunya
Like every year from December 17th to December 30th, the famous Plaça Catalunya will host a fantastic event with various activities for children.
This year the Christmas light installation designed by the set designer and architect Juli Sanjuan Palma.
In nearby Plaça Universitat on the other hand, you will find a space by OFFF Barcelona: a digital art and design platform that will lead you to reflect on the winter solstice through a forest of screens.
Also in Plaça Catalunya over Christmas 2022 there will be the ever famous Responsible Consumption Fair.
🧑‍🎨 Want more of Gaudi? Unlock his masterpieces with the top Gaudi tours in Barcelona.
Christmas at Poble Espanyol
In December, the open-air architecture museum Poble Espanyol (aka Spanish Village) gets a holiday makeover to give families days of joy and fun.
Children are naturally the center of the event.
Here, they can visit a super mega Santa Claus house, stop and meet Christmas characters, attend children's concerts, see circus acts, and learn at interactive spaces designed for children.
The dates of the event are: Dec 3-11, Dec 17-18, Dec 22-29 (Christmas Day excluded), and Jan 3-8.
The Nativity Scene in Placa Saint Jaume
From December 12th to January 6th you can see a rather abstract but exciting nativity scene, right in Plaça Sant Jaume.
It has not yet been revealed who will be the artist who will take care of the installation, but mayor Ada Colau has announced that it will be a less classic, more audiovisual and sensibile crib.
You can come and see the crib every day from 10:00 am to 10:00 pm.
Barcelona Christmas Attraction Hours 2022
The Barcelona Tourism office
The Barcelona Tourism Office is closed December 25th and January 1st. You will not be able to pick up your Barcelona Card discount passes while these offices are closed.
If you arrive in Barcelona on Christmas Eve you'll need to get there before 7:00 pm. On the 31st you'll have to arrive before 8:00 pm.
On December 26th and January 1st it's open only in the morning.
The other days it's business as usual with hours from 8:30 am to 9:00 pm.
Grabbing the Hola Barcelona Card for discount transport? You can reserve at Tiqets and redeem the pass at any metro station in the city (airport included) with your voucher code.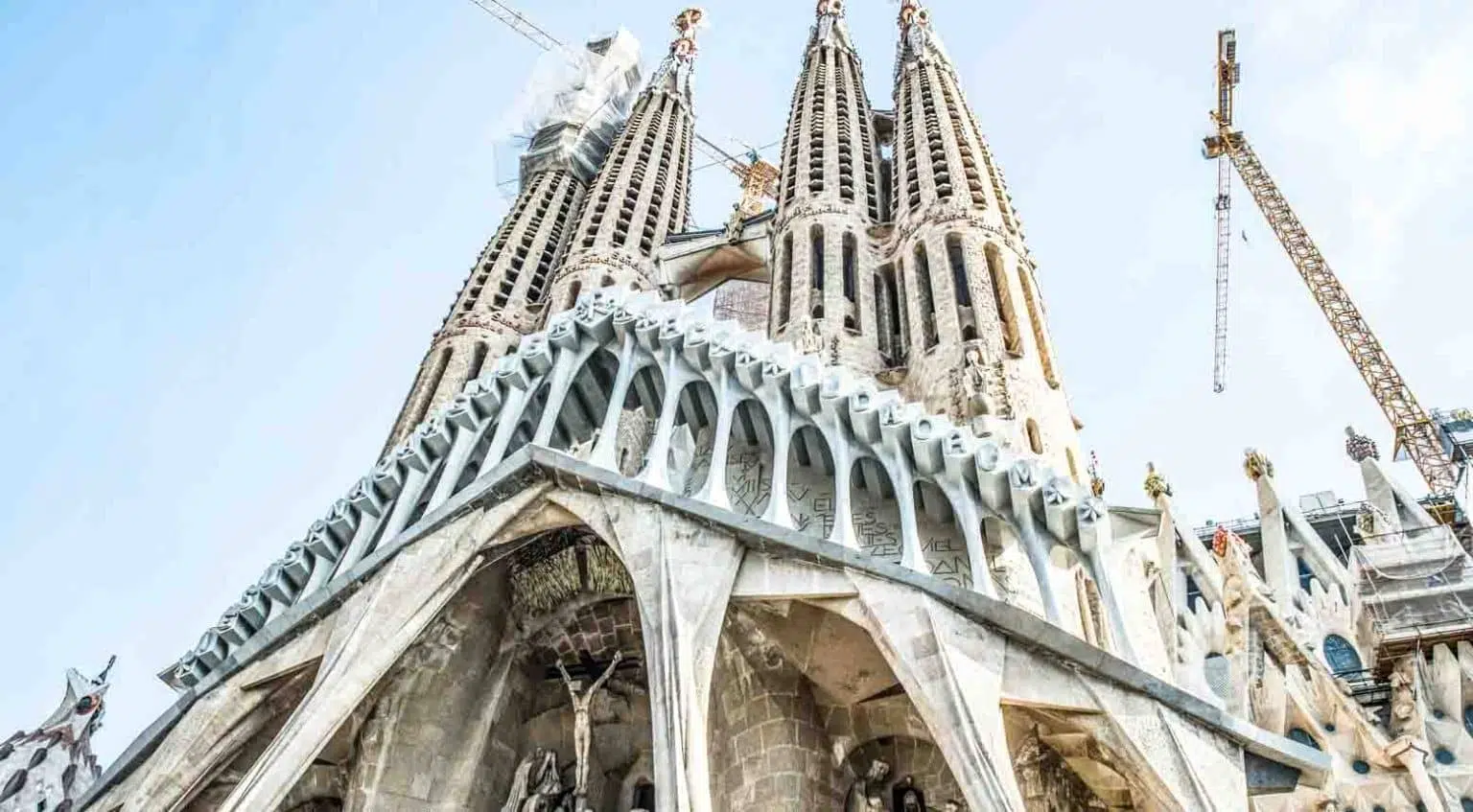 Sagrada Familia Christmas Hours
December brings limited hours at Sagrada Familia.
On December 25th and 26th as well as the 1st and 6th of January the church is open between 9:00 am and 2:00 pm.
Due to limited openings it is suggested to book general Sagrada Familia tickets in advance online to ensure spots. In regards to the fantastic English guided tour it doesn't run on the 25th and 26th of December or January 1st and 6th.
Regular winter hours excluding the days above are 9:00 am to 6:00 pm.
Guided tours of Sagrada Familia run as usual.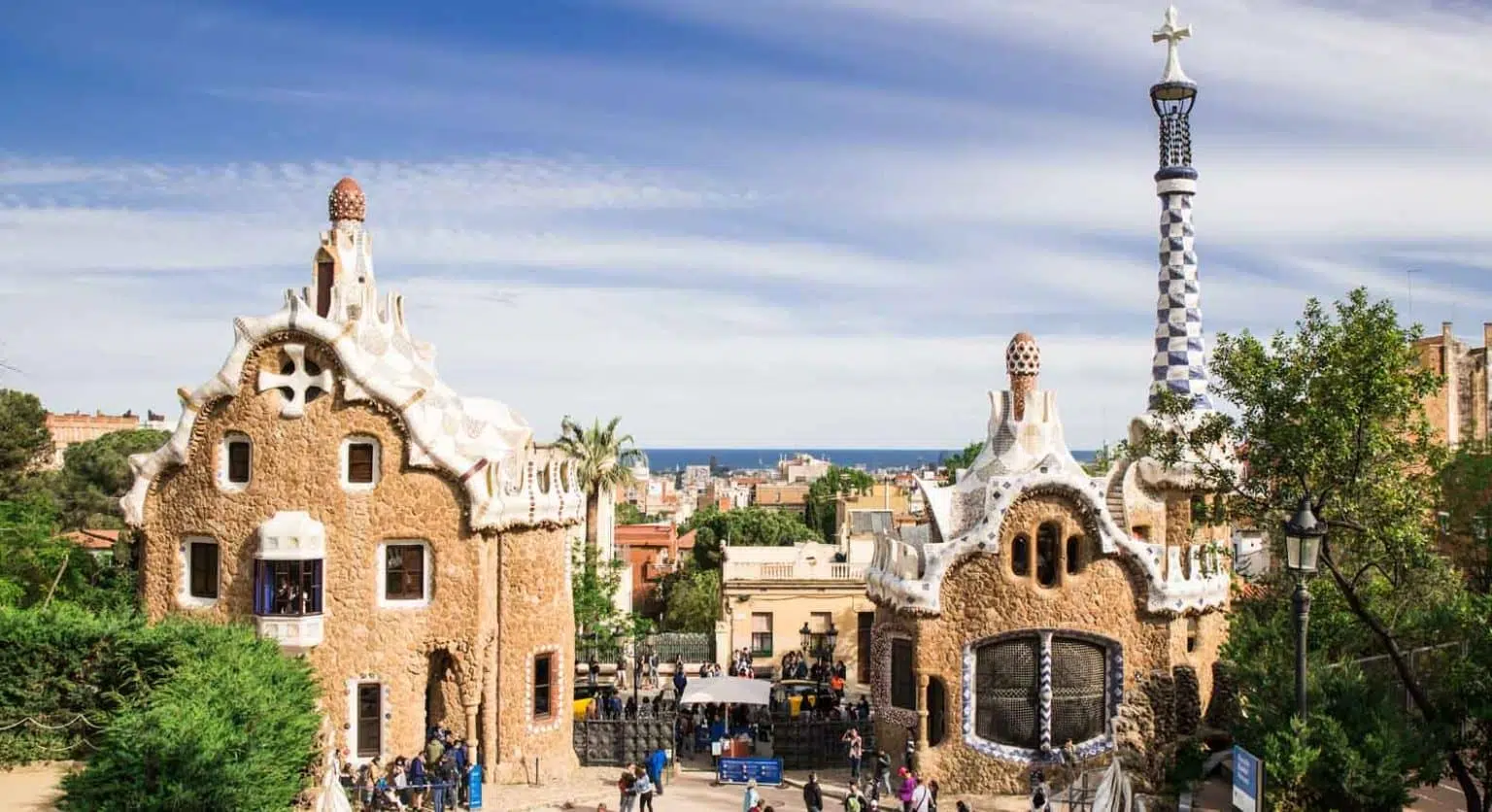 Park Guell Christmas Hours
Park Guell, Barcelona's amazing urban park with a view is one of the best things to do in Barcelona on Christmas, even if hours are limited.
You'll be able to visit between 9:30 am and 5:30 pm on Christmas Day (last entrance at 5:30 pm). Again, with less hours it is highly recommend to book your time slot in advance to guarantee you can visit and skip the lines.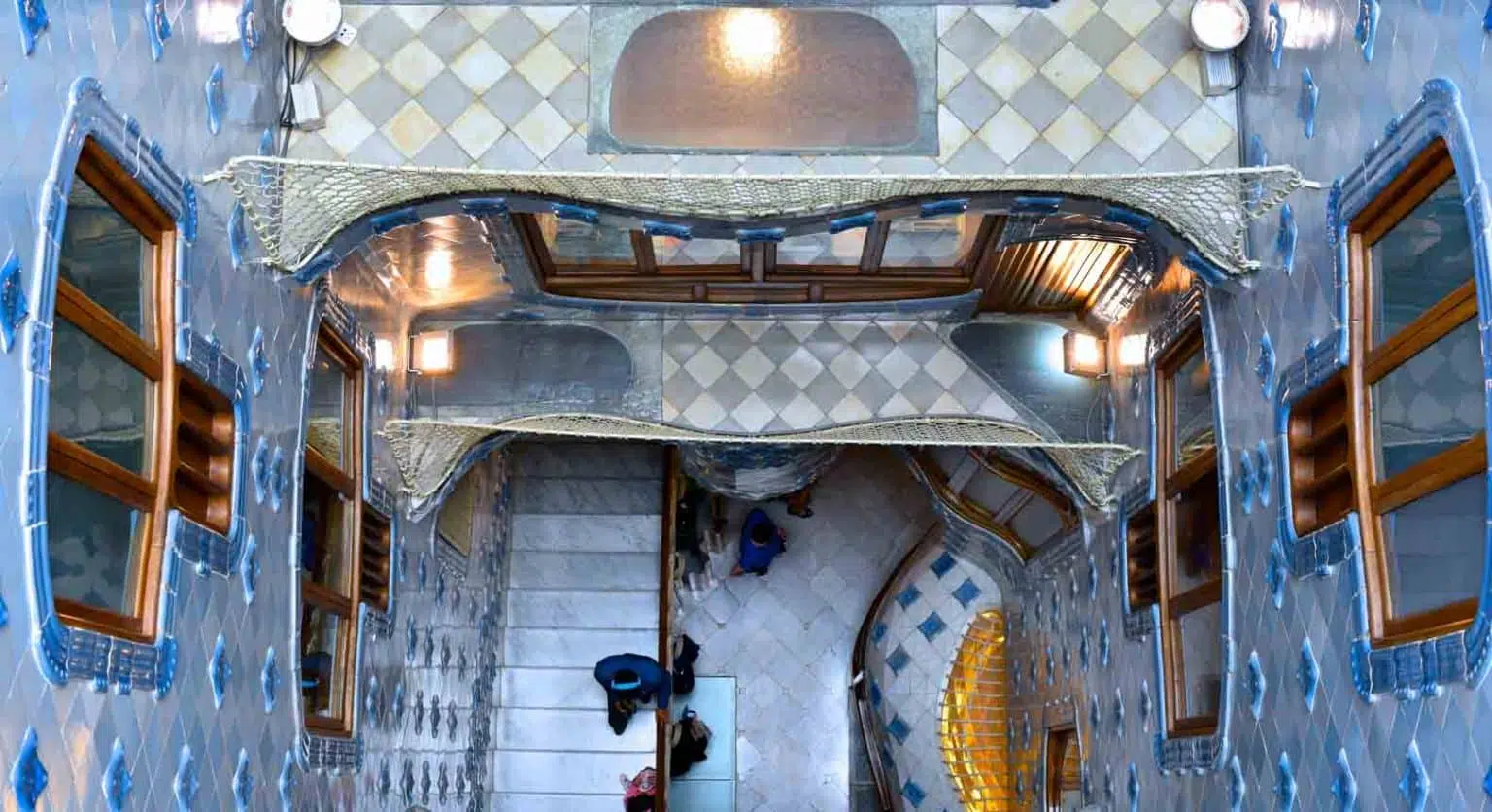 Casa Batllo Christmas Hours
During Christmas it's business as usual at Casa Batllo – one of the best Barcelona buildings for Christmas vibes.
You'll be able to visit between 9:00 am and 6:30 pm (last entrance at 5:30 pm). During this busy tourist season you'll need to book your tickets online in advance to save €4.00 and avoid lining up.
A favourite winter past time is passing by to see the building dressed up like a Christmas tree.
Unfortunately the Casa Batllo Magic Nights concert series is closed during winter in Barcelona.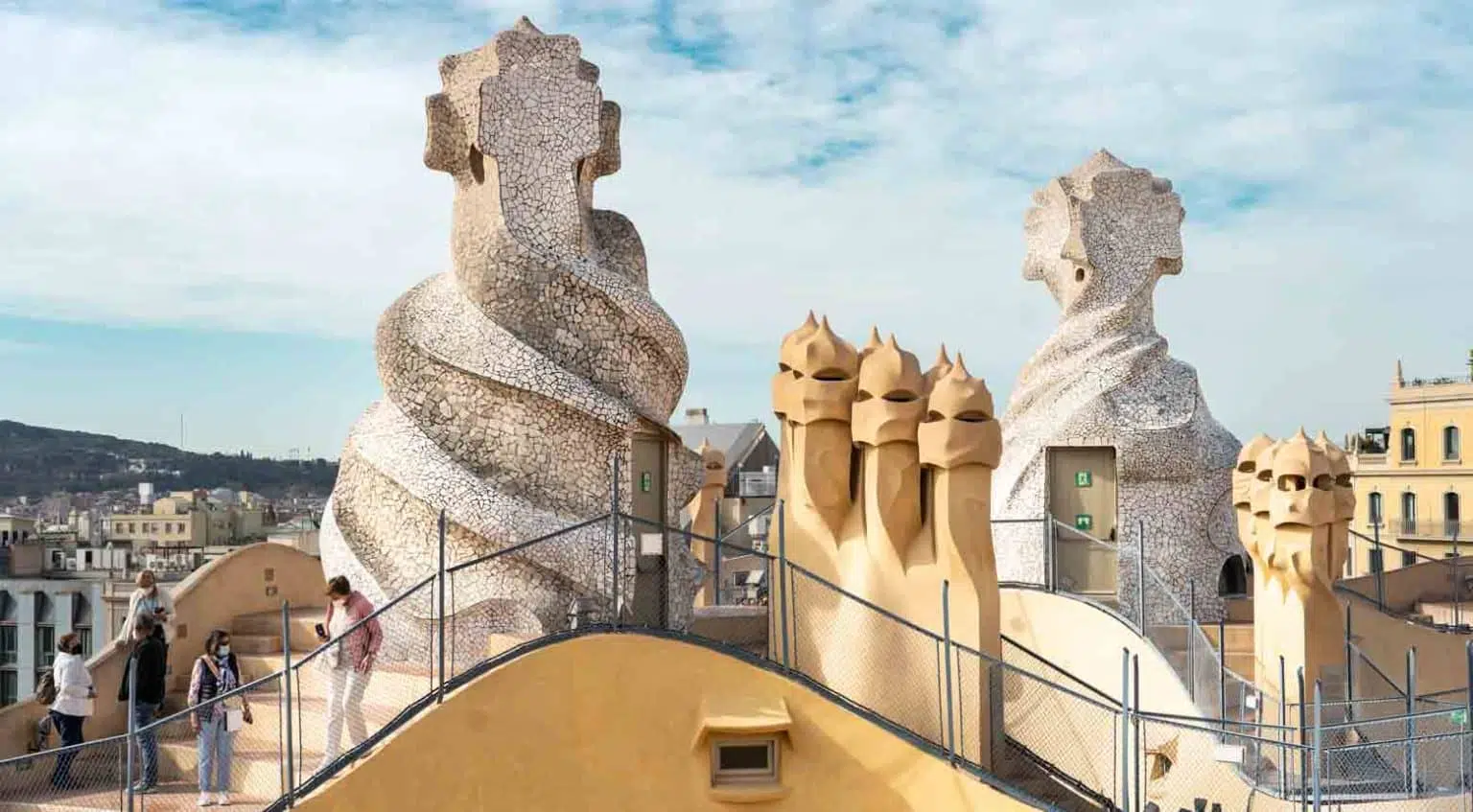 La Pedrera Christmas Hours
La Pedrera, an epic mansion on Barcelona's famous Passeig de Gracia is closed on Christmas. On New Year's Day you'll be able to visit between 9:00 am and 8:30 pm.
During the holiday season there are extended winter hours between December 26th and January 3rd from 9:00 am to 6:30 pm (last entrance 5:30 pm).
The La Pedrera Night Experience runs between 9:00 pm and 11:00 pm on most days, though it's closed on December 24th, 25th, and December 31st.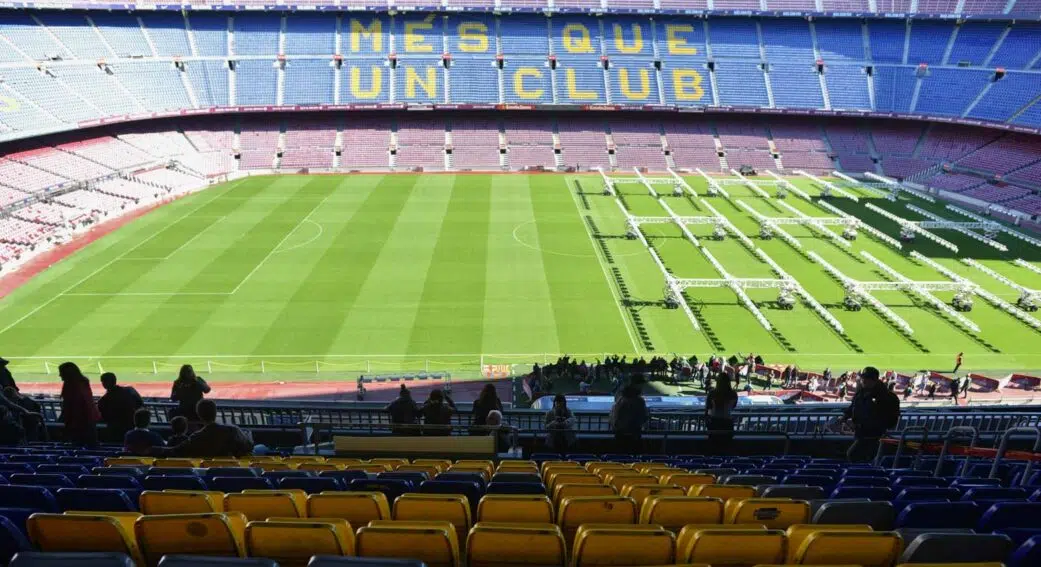 Camp Nou Christmas Hours
The world's second largest association football stadium, Camp Nou is closed on Christmas Day and New Year's Day.
Holiday hours in 2022 are 9:30 am to 7:30 pm between December 16th and 31st and January 2nd and 6th.
Keep in mind the stadium portion of tours are is not available on Barcelona FC match days – check Barcelona FC's schedule to avoid problems.
It is strongly suggested to buy your tickets in advance online to save €3.50 each and avoid holiday line ups.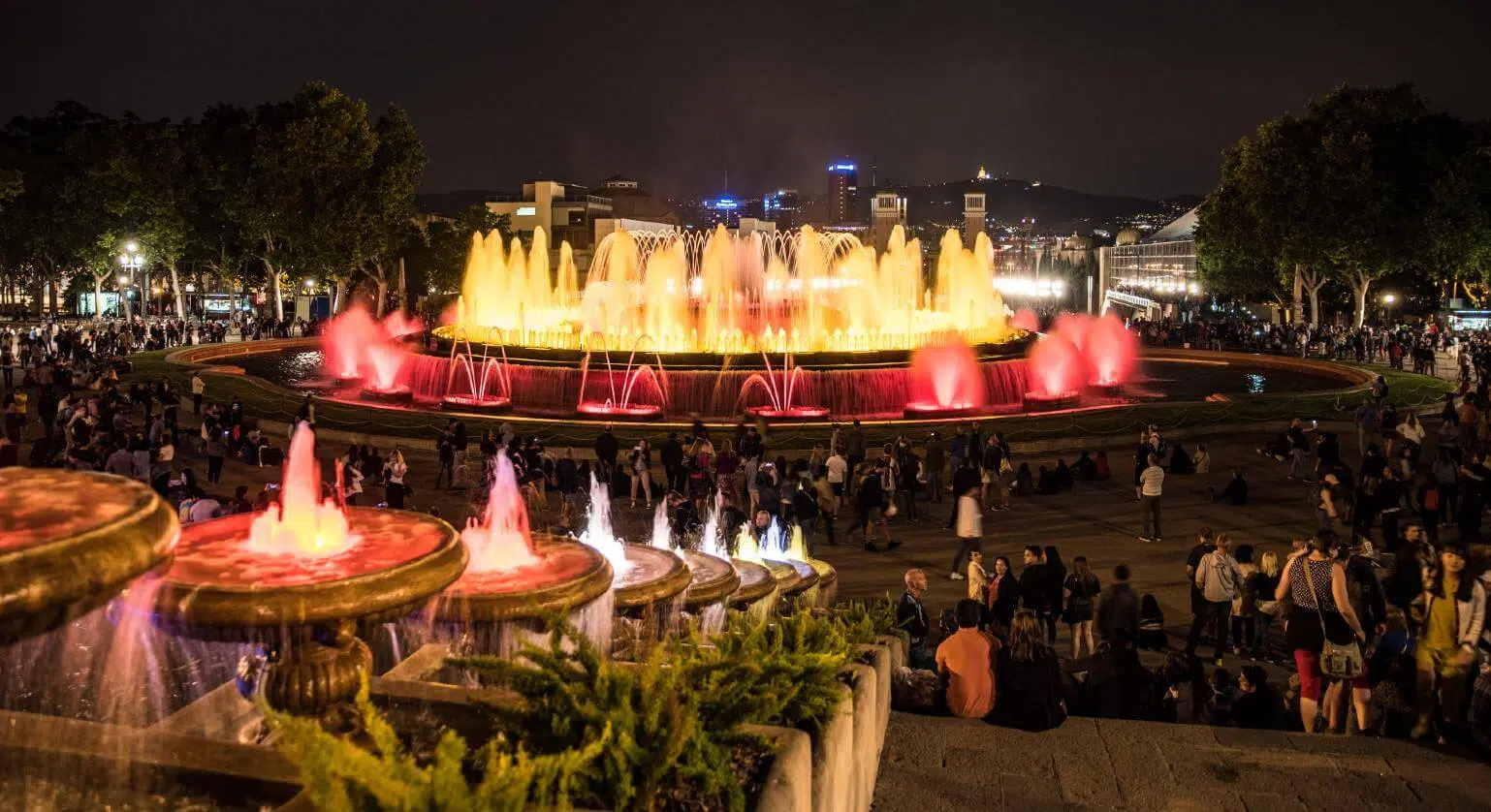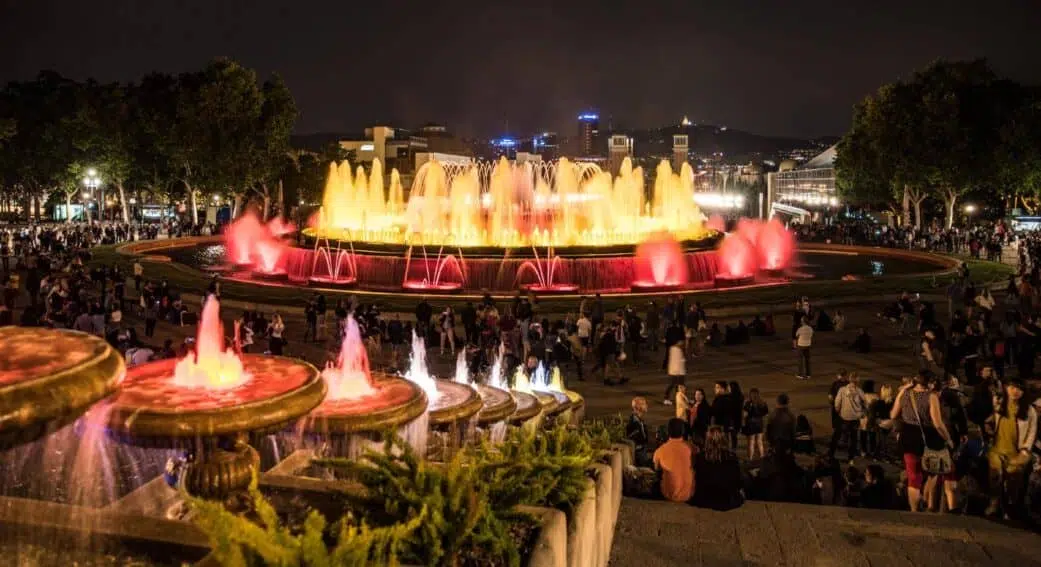 The Magic Fountain Christmas Hours
This year the Magic Fountain show is unfortunately not running on Christmas Day.
On the 31st of December however you'll find special New Year's presentations. While the theme hasn't been chosen yet the show is scheduled to start at 9:30 pm and finish at 00:15. Check the Magic Fountain Facebook page for updates.
For the rest, the Magic Fountain is currently not running full shows due to the COVID-19 pandemic. There are 'monumental' performances Tuesday to Saturday from 11:00 am to 1:00 pm and 4:00 pm to 6:00 pm.
There are also monumental shows on Sundays between 11:00 am and 3:00 pp.
The fountain is also closed between January 6th and February 28th for maintenance works.
Poble Espanyol Christmas Hours
If you're looking to see architecture from all of Spain's 15 regions in one spot you'll be happy to know you're at a place where the hours don't change.
On December 25th it's open from 10:00 am to 2:00 pm and January 1st from 1:00 pm to midnight.
For the rest of the holidays it's open Mondays from noon to 8:00 pm and Tuesday to Saturday from 10:00 am to midnight.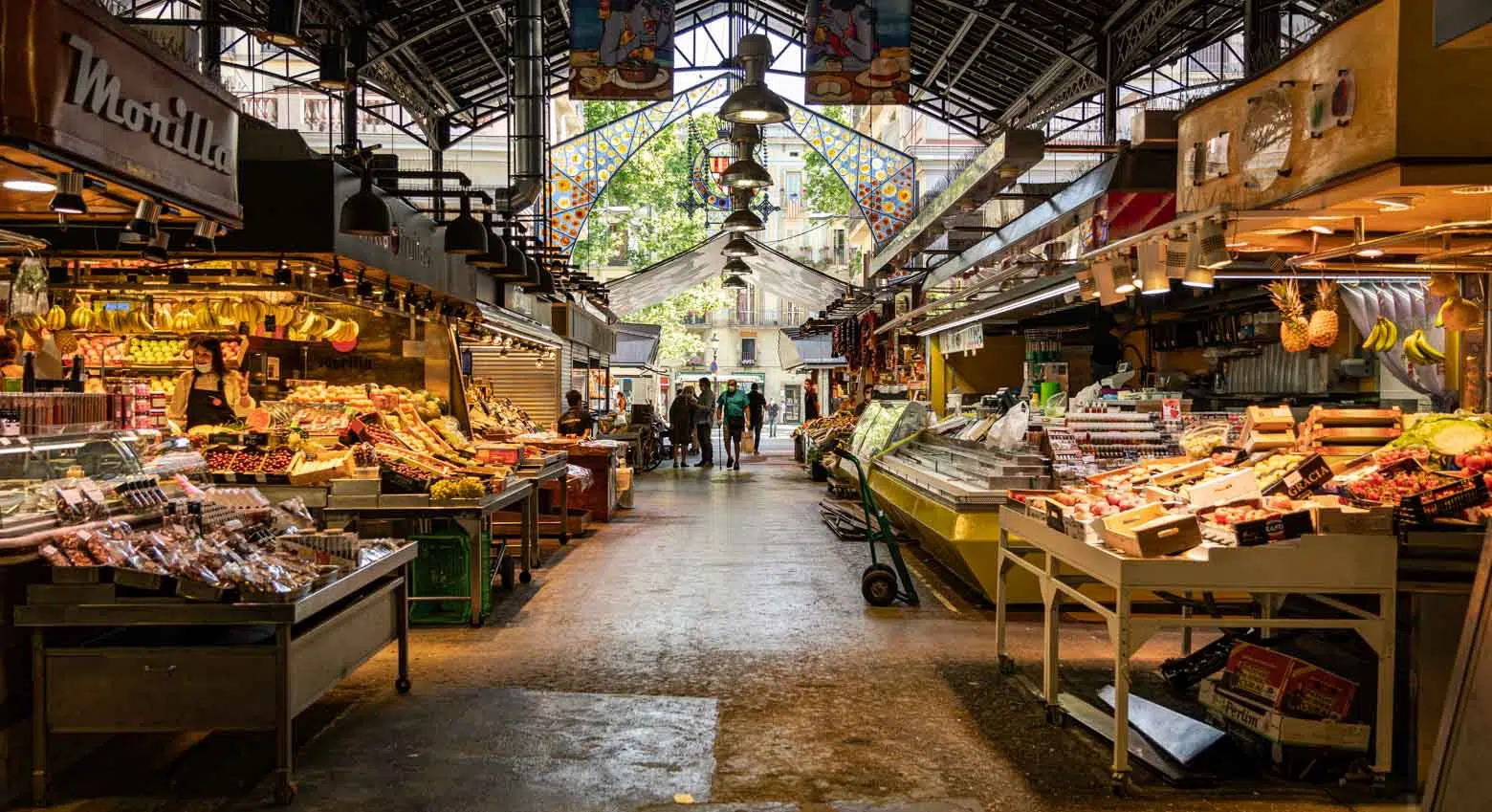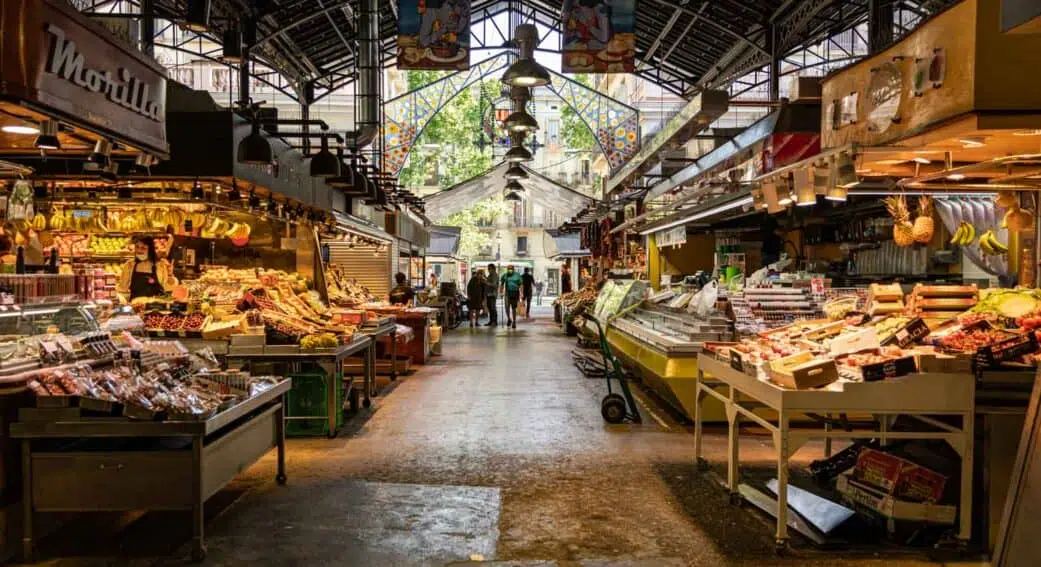 La Boqueria Market Christmas Hours
The place CNN called the best food market in the world is closed every Sunday, Christmas Day and Boxing Day, and the 1st and 6th of January.
During the rest of the holiday season it's normal business hours from 8:00 am to 8:30 pm.
A tip? Grab some hearty blood sausage and beans for a winter pick me up at Bar Pinotxo.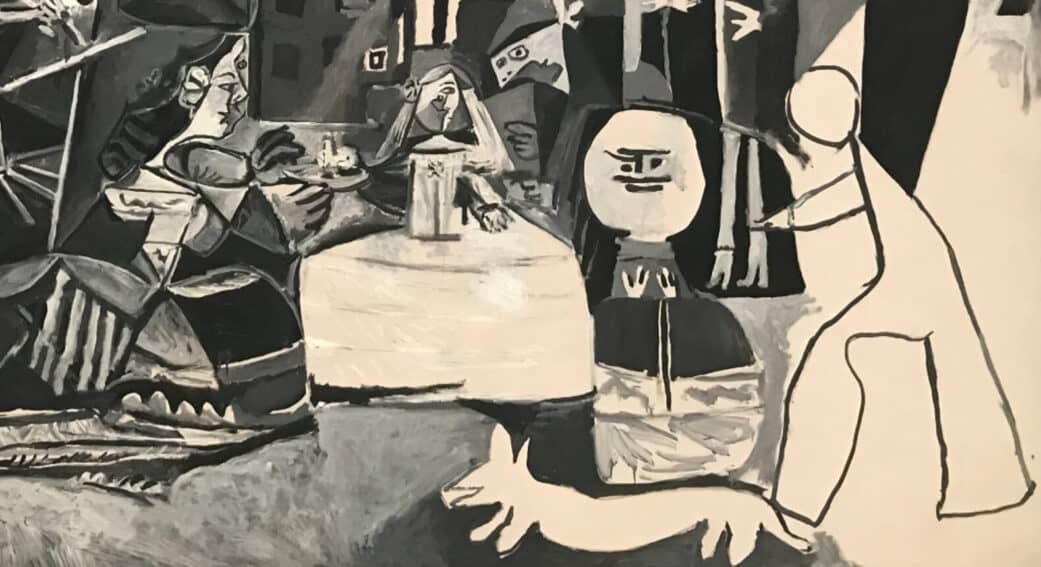 The Picasso Museum Christmas Hours
The world's biggest Picasso museum by number of works is closed on Christmas Day and New Year's Day.
There are also special opening hours on the 5th January from 10:00 am to 5:00 pm, and the 24th and 31st December From 10:00 am to 2:00 pm
If you're looking to get in free over the holidays you can do so on Thursdays (December 23rd and 30th) but these tickets must be reserved in advance.
Fundacio Joan Miro Christmas Hours
The museum is closed on Christmas Day, Boxing Day, and January 1st.
On regular days it's open from 10:00 am to 6:00 pm
Dali Museum Christmas Hours
The Dali Museum has no specific holiday hours though it is closed on December 24th, December 25th, and January 1st.
What to Eat in Barcelona over Christmas
Many attractions remain closed on Christmas Day but restaurants do some of their best trade on these days, so eat up! If you're spending Christmas in Barcelona some traditional dishes to try are:
La Escudella – a hearty Christmas stew from a broth made of chicken, vegetables, garbanzo beans, and botifarra sausage. With spicy meatballs called pilotas and large pasta shells. It is traditionally served in two parts: the soup and also a meat course.
Canelones de Carne – usually made with the meat from Christmas Day, you'll find these stuffed pasta sleeves very similar to their Italian cousins but with less tomato and more bechamel sauce.
Turrones d'Agramunt – these local and handmade nougat pieces stuffed with chocolate, almond, hazelnut and more are a staple Catalan dessert at Christmas time.
Cava – this sparkling white wine that rivals champagne in everything but price is the drink of choice.
I've compiled a list of the best restaurants in Barcelona for your reading pleasure. If you're stuck write me in the comments below with any special requests or dietary needs like gluten-free – I'll find it!
In the meantime, for Christmas in Barcelona I recommend the following:
Bodega Joan
€€ | Area: Eixample | Carrer Rosselló 164 | Metro: Diagonal (various) | Website
I go for their mesmerizing mixed paella (a type of surf and turf) but even those afraid of rice will eat like royalty here cutting into their carne picanha: a char-grilled sirloin cap that's perfection on a plate.
It's also got amazing Spanish ambiance and the friendliest waiters in the city.
On other days over the holiday there's also my classic deal exclusively for Barcelona Hacks readers: a 25% discount on a paella tasting menu.
Bodega Joan is open business as usual except it's closed on Christmas Day.
On New Year's Eve there's a special set menu, and I'll be sharing a booking link soon.
Season
€€-€€€ | Area: Eixample | Carrer d'Aribau 125 | Metro: Diagonal | Website
Looking for a restaurant open on Christmas Day?
This delicious gourmet tapas restaurant famous for 'new classics' gets to the top of the list because most of my readers want a balance of Spanish tradition and contemporary style.
The fresh, natural, and seasonal menu tailored to wine lovers bills itself as Mediterranean food with an international touch… or as they call it: Barcelona food!
I particularly enjoyed the seafood paella and the Catalan cured meat platter – there are also great vegan options and the original cocktails are out of this world.
On Christmas Day, Boxing Day, and January 1st there is a special set menu (see the Christmas menu and NYE menu here), and spots can be booked using the button below:
Louro
€€€ | Area: La Rambla | Carrer del Caputxins 37 | Metro: Liceu (L3) | Website
This beauty is also open on Christmas and Boxing Day.
Louro is probably the only restaurant I'd recommend on the famous La Rambla – but it's not just that. It's one of my favourite modern Spanish restaurants in the whole city.
Here the seafood-rich Galician fare gets a creative/avant-guard twist with the added bonus of some of the most concise and friendly service in the business.
Some of the highlights here are the smoked sardines, crunchy octopus, scallops gratin, Galician beef filet, and the highly underrated calamari sandwich.
I've set up a quick reservation system directly with the restaurant (no money down, with reservation priority via my blog) by clicking the blue button below.
Booking via Barcelona Hacks also gets you a complimentary glass of cava per diner.
Restaurante Arume
€€€ | Area: El Raval | Carrer de Bottella 13 | Metro: Universitat (purple/red) | Website
If cooking is about creativity then this Barcelona restaurant has it right. Here you'll find a modern execution of classic Galician dishes with eye-catching presentation. Grab the crunchy octopus and a blackberry mojito – you just might finish both of them in the time it took you to read this review.
The delicious desserts, simplistic decor, and suffused lighting create an intimate atmosphere that makes it one of the great places for couples in Barcelona.
Unlike most restaurants Arume is open on Christmas and operates with its normal a la carte menu – a good way not to get forced into expensive Barcelona Christmas set menus!
Over the Christmas holidays it's open every day except New Year's Day.
Ninot Cuina
€€€ | Area: Eixample | Calle Casanova 133 | Metro: Hospital Clinic (blue line L5) | Website
An airy, modern open-plan restaurant that prides itself on seasonal, local ingredients.
What allows them to do this? The market fresh produce they get from being situated in El Ninot Market. Though it's hard to predict their winter menu there's a consistency and tasty elegance in their revamped tapas dishes that has you in good hands.
The multi-course lunch menu with drink is great value at €14.00.
Terra d'Escudella
€€ | Area: Sants | Premia 20 baixos | Metro: Hostafrancs (red line L1) | Website
This restaurant packed with locals is a great place to get escudella stew.
What stands out here is no-nonsense local Catalan food with an air of authenticity not found in a lot of other restaurants of the same ilk. The pilota meatballs here are top notch as is the roast beef. If you're not into red meat the fideua noodles with shellfish is top notch.
The weekday lunch menu (3 courses + drink) is €10.50.
Christmas Shopping Hours in Barcelona
First off let me say there are always exceptions so please double check with retailers.
As a rule however the majority of shopping in the centre is done between 9:30 am and 9:30 pm from Monday to Saturday. Shops and supermarkets are closed on Sunday so keep this in mind.
Over the holidays all shops close on December 25th and 26th as well as January 1st and 6th (King's Day). On Christmas Eve and New Year's Eve shops typically close early around 8:00 pm.
The exception? The one shopping centre you'll find open on both Sundays and Boxing Day is the legendary MareMagnum, found right at the bottom of the La Rambla near metro station Drassanes.
Christmas in Barcelona Transport Hours
Public Transport
On December 24th the Barcelona metro closes at 11:00 pm while on New Year's Eve it runs all night. On Christmas Day the metro runs from 5:00 am to 2:00 am. On the 26th it's open 5:00 am to 12:00 am.
All public buses on the Barcelona transport network do not change their schedules except on Christmas Eve when the last buses depart at 10 pm.
Standard single zone 1 tickets cost €2.40 every day.
The Bus Turistic
The Barcelona hop on hop off bus doesn't run on December 25th and January 1st.
For other dates remember that in winter bus frequency is cut to about every 20-25 minutes. The last bus departure from Plaça de Catalunya is at 7 pm – make sure to check at each individual stop for more specific times.
FYI: the green line does not run between November 5th and March 31st.
Aerobus
The premier airport connection option in the city thankfully doesn't change its schedule. In December it runs between 5:00 am and 12:30 am every 5-10 minutes from Terminal 1 or Terminal 2 to the centre and vice versa.
Total travel time takes 35 minutes.
Tickets are €8.90.
Port Cable Car
The Port Cable Car is a cable car service connecting the city with Montjuic Hill is open from 10:00 to 6:00 pm over the holidays.
It's closed on Christmas Day.
Tickets are €12.00 one way (€20.00 return).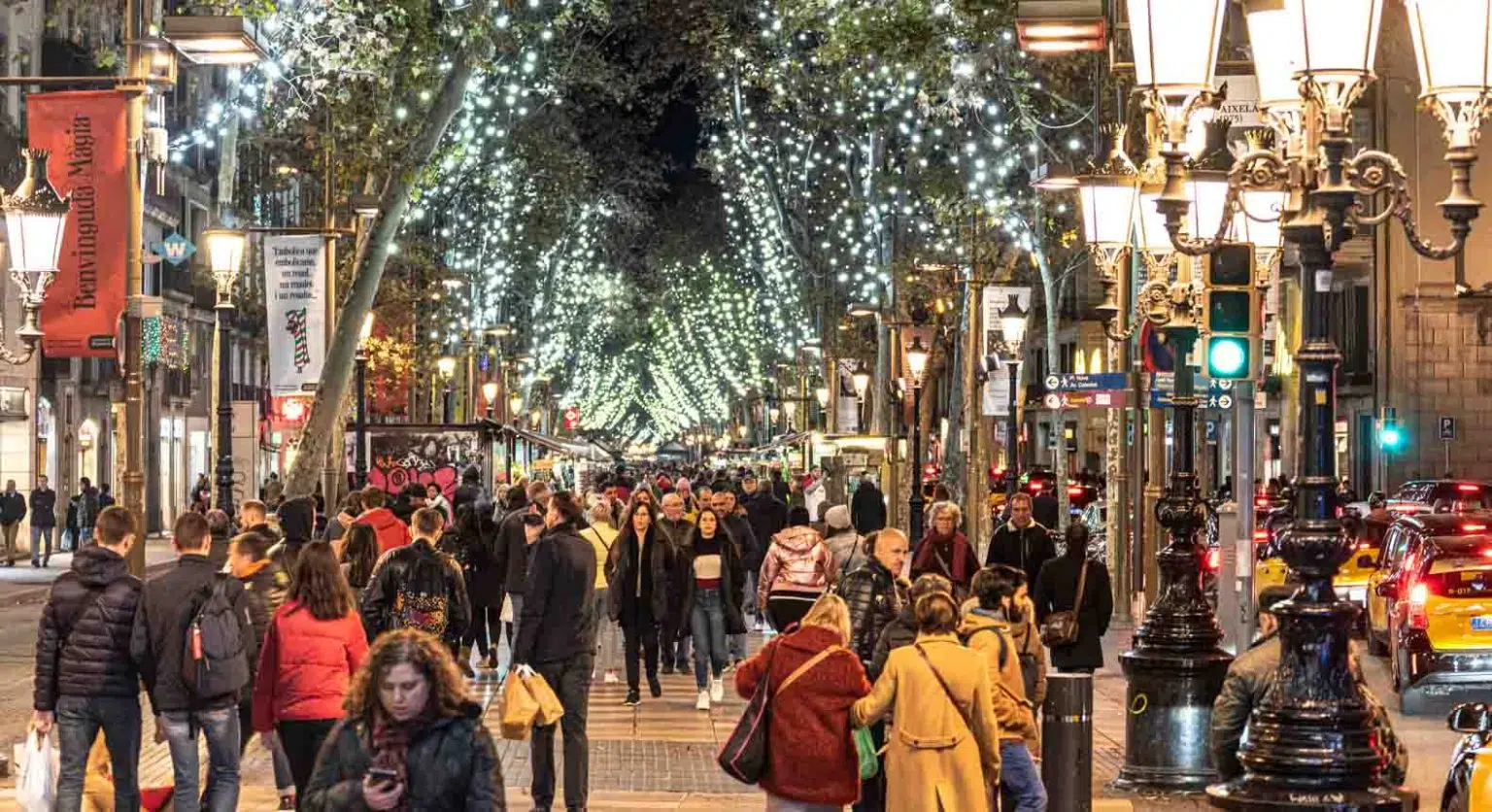 Barcelona Christmas Weather
If you're coming from the upper half of the United States, the UK, Canada, or Ireland it won't be cold. Barcelona weather rarely drops below freezing but if you're expecting a swim at Barcelona's best beaches you're out of luck.
The temperature in Barcelona at Christmas usually brings highs of 14°C (60°F) and lows of 5°C (41°F).
You're going to need to pack a winter coat, a scarf, and even a beanie. That said, I've never had to put on gloves or do any crazy wrapping up. There is low cloud cover and plenty of sunshine and you should expect light rain one day in four.
Still not sure before departure? Check this Spanish forecast website in advance.
Also, showing up with some of my best things to do in Barcelona when it rains can never hurt.
Visiting Barcelona During Christmas? Write Us
If you're spending Christmas in Barcelona and still short on information please ask me in the comments below. Any question, no matter how strange, will be answered within 24 hours.
Fire away 🙂