December in Barcelona: What to Do + Events & Concerts (2023)
December in Barcelona is a month of enchantment: the autumn hues give way, and the city welcomes the festive spirit of winter.
That's all well and good, but what to do in Barcelona in December?
Don't fret – I'm here to cover all the Barcelona December events, concerts, and must-visit attractions!
Is December a Good Time to Visit Barcelona?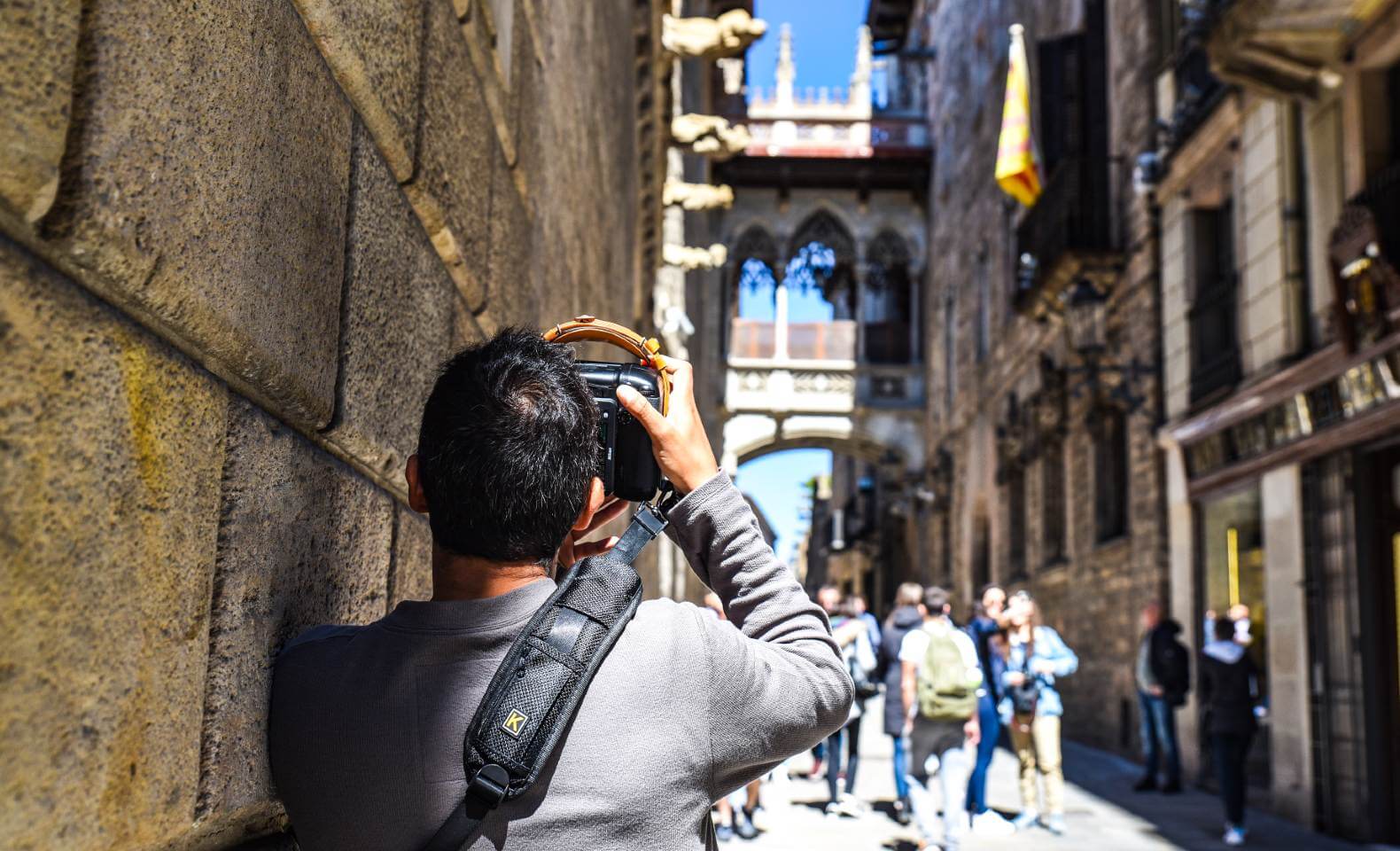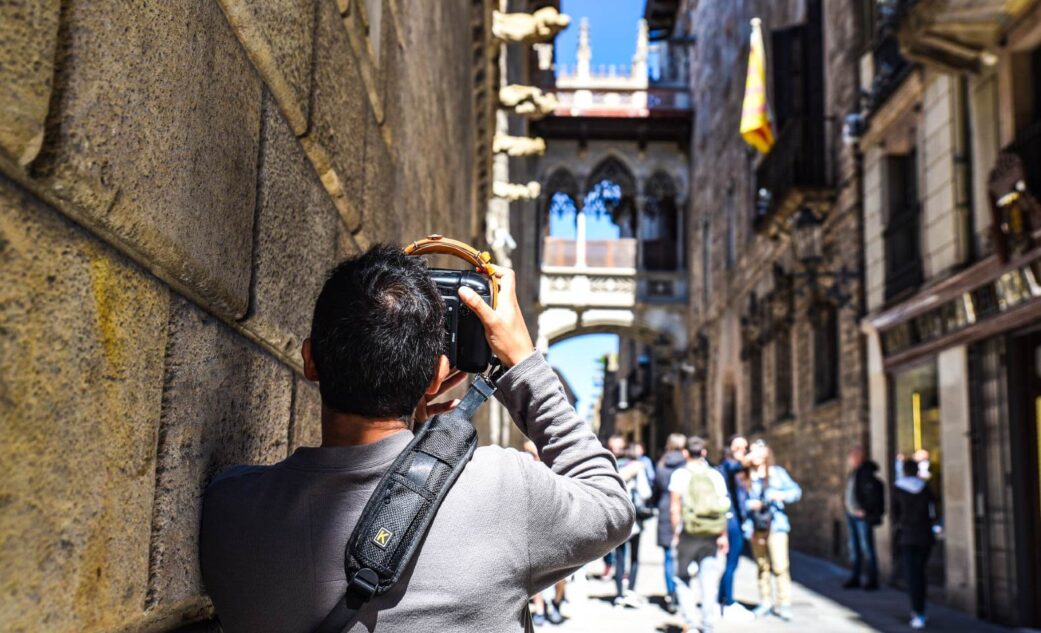 Yes, December is a great time to visit Barcelona!
As the city gears up for the holiday season, the streets come alive with twinkling lights, and traditional Christmas markets, like the renowned Santa Llucia Fair, spring up,
One of the significant advantages of visiting Barcelona in December is the relatively fewer crowds.
With less people at Barcelona's best things to do, you'll be able to live a more intimate experience.
⚠️ 

Warning

⚠️

: Barcelona's top two attractions must now be booked in advance.
You can book fast track tickets to both individually or get them as part of a discount pass:
You will not be able to book these tickets on site – lock in your tickets ASAP or you could miss out.
What's the Weather Like in December?
December in Barcelona is a refreshing change from the biting cold of many European cities – there's no shame in planning a Barcelona itinerary for this month!
With daytime temperatures comfortably sitting between 8°C to 15°C, it's cool but not freezing.
This mild winter climate is perfect for tourists wanting to explore the city without the extreme cold. While snow is rare, the occasional rain adds a romantic touch to Barcelona architecture.
Stuck in the rain? Check my list of indoor activities in Barcelona.
Similar months in Barcelona: Barcelona in November
What to Do in Barcelona in December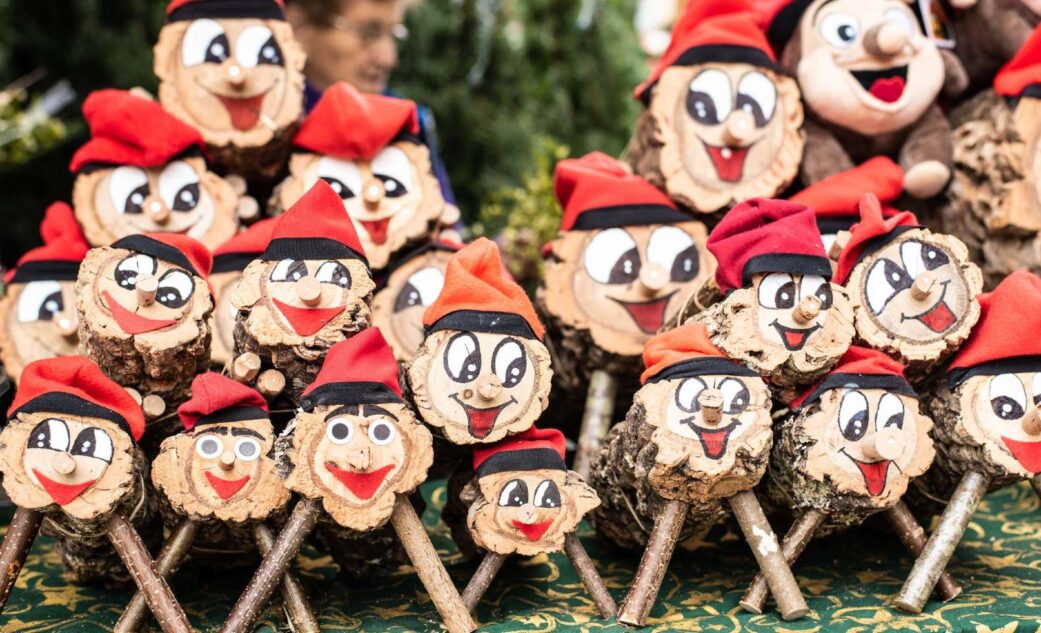 Christmas Markets & Traditions
Barcelona's Christmas markets are a blend of tradition and festivity.
The Santa Llucia Fair, set against the backdrop of the Barcelona Cathedral, dates back centuries. From handcrafted ornaments to traditional Catalan Christmas log figures (the famous cagatio, pictured), it's a festive paradise.
Other December markets include the Fira de Nadal de la Sagrada Família and the Fira de Nadal del Port Vell near the Columbus Monument.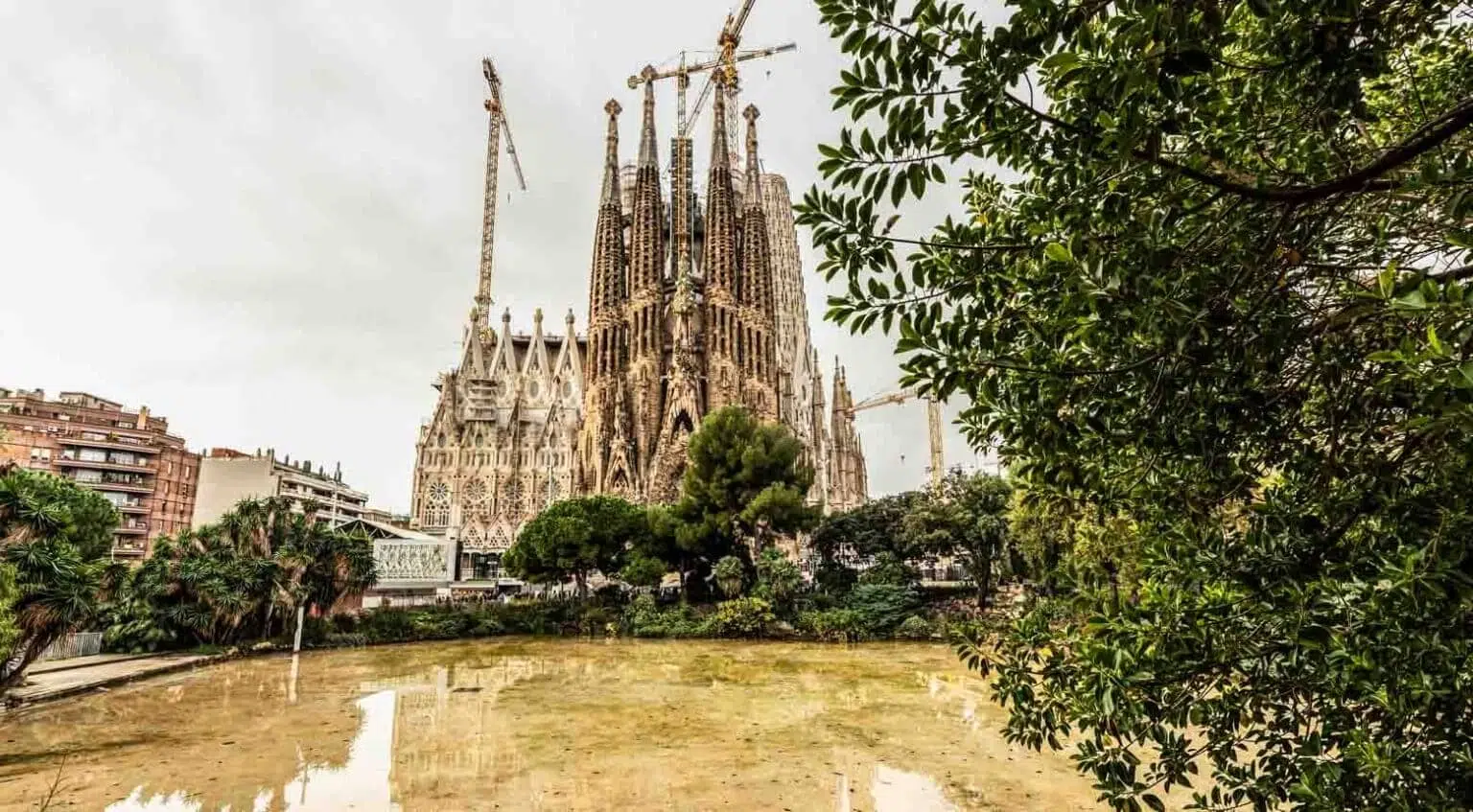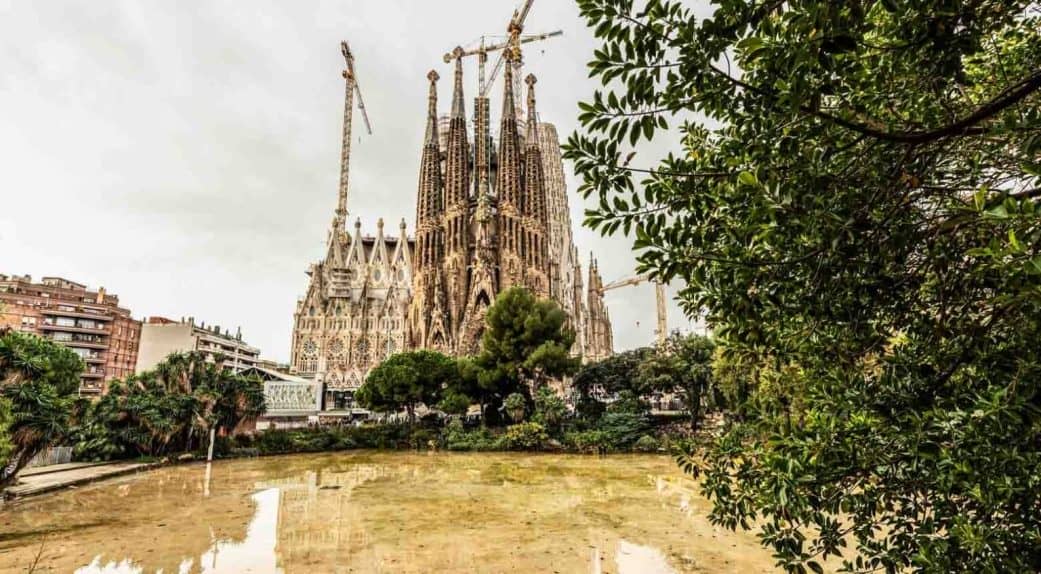 La Sagrada Familia
Antoni Gaudí's unfinished masterpiece, La Sagrada Familia, is a testament to his architectural genius.
In December the basilica is less crowded, offering visitors a more intimate experience. The intricate facades, combined with the stunning interiors, make it a must-visit.
The December sun casts a magical hue on the stained glass windows, creating a mesmerizing play of light and shadow.
International masses in December run the 3rd, 10th, 17th, 20th, and 31st at 9:00 am.
Fira de Santa Llúcia
When visiting Barcelona over Christmas, this traditional Christmas fair is a treat for the senses.
At the Fira de Santa Llucia you'll find stalls selling crafts, gifts, and festive treats, it's a perfect place to soak in the local Christmas traditions.
The nativity scenes, traditional music, and dance performances add to the festive vibe.
2023 dates: November 25th to December 23rd.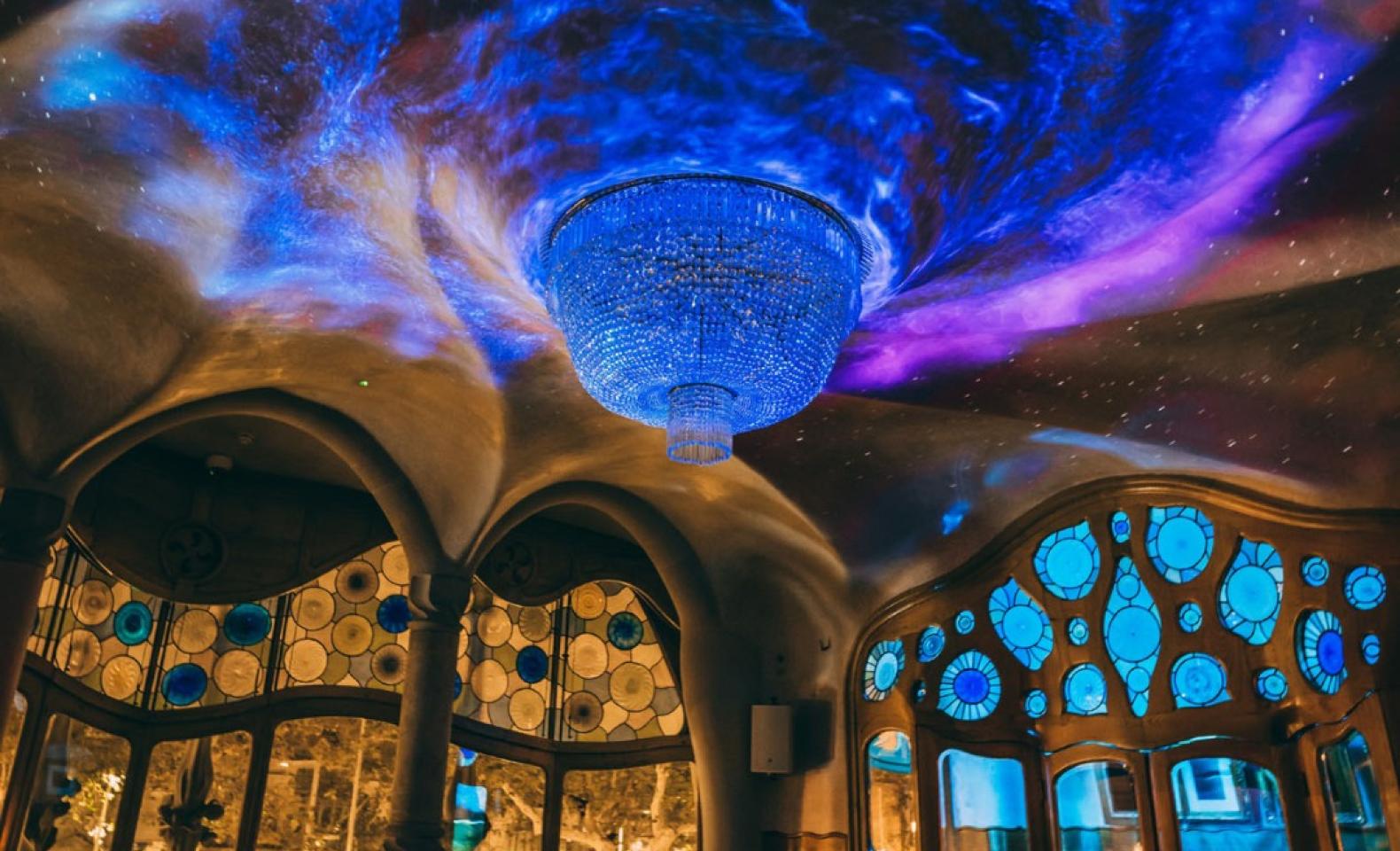 Casa Batllo Winter Nights
With its dragon-inspired design and colourful facade, Casa Batllo is a masterpiece in any season.
In December in Barcelona though, the building gets adorned with festive decorations, enhancing its beauty.
The audio-guided tour offers insights into Gaudí's vision and the history of this UNESCO World Heritage site.
Even better? Between 6:30 pm and 8:45 pm there's a majestic night visit of Casa Batllo, featuring unique light projections in the hall and an augmented reality tablet.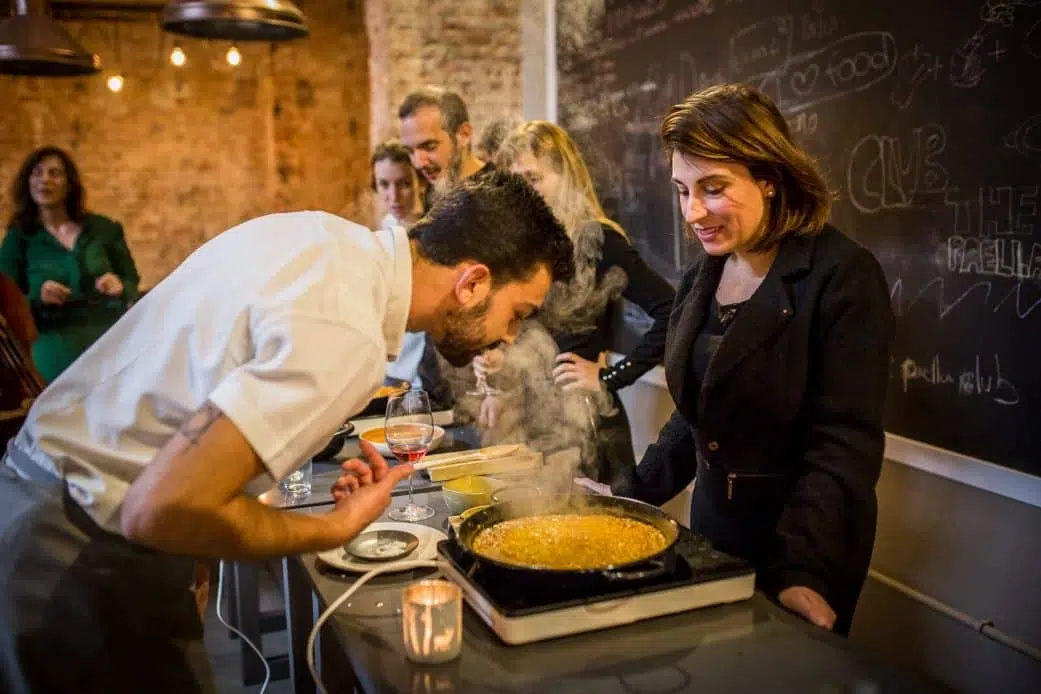 Spanish Cooking Classes & Tours
Dive deep into the realm of Spanish culinary arts by taking one of the best Barcelona food tours – or learn to cook it all yourself.
Master the art of crafting iconic dishes such as paella, tapas, and churros with the expertise of seasoned chefs.
I recommend Paella Club, where you can also pick up techniques for Spanish starters and indulge in unlimited wine.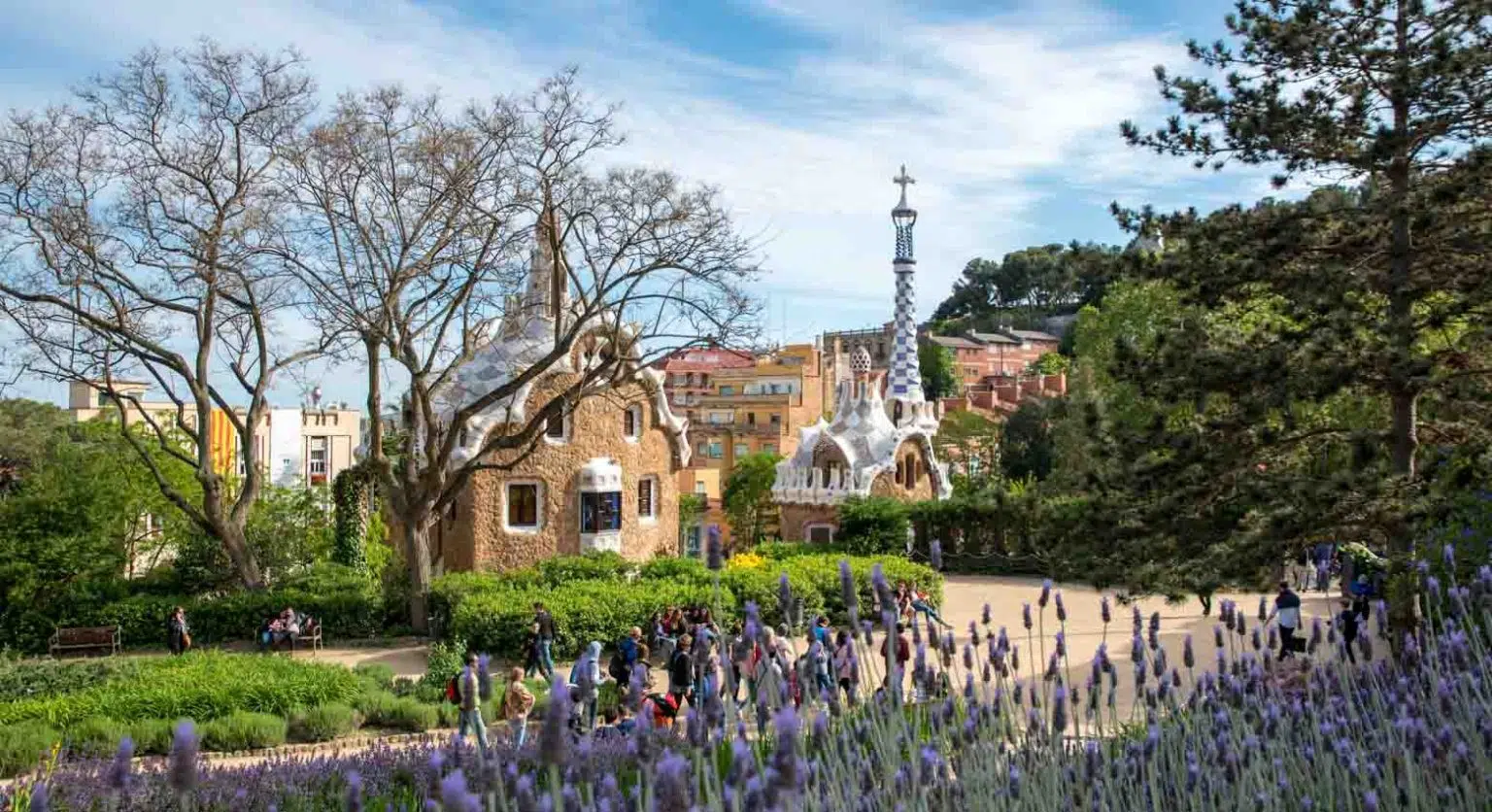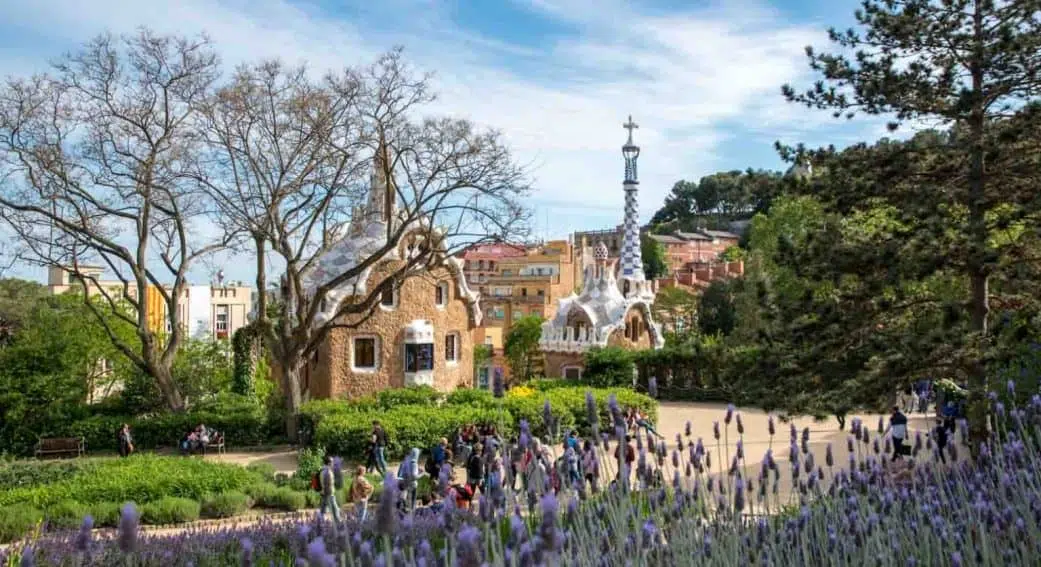 Park Güell
Another gem from Gaudí's portfolio, Park Güell is a mosaic wonderland.
Overlooking the city, this park is a perfect blend of architecture and nature. The serpentine benches, the famous dragon statue, and the colourful tiles make it a visual treat.
If you're visiting Barcelona in December, the cool breeze enhances the experience, making your visit memorable.
Try Your Hand at Ice Skating
Plaça Catalunya stands as a central and emblematic square in Barcelona, conveniently located near the Gothic Quarter and Las Ramblas.
Every December, the square hosts Europe's grandest open-air ice rink as a Christmas highlight – operating until the beginning of January.
With the glow of festive lights, ornate decorations, and a lively atmosphere of holiday enthusiasts it's one of the most unique skating experiences you can have.
Prices for Winter 2023 are yet to be announced.
Barcelona Christmas Tour 2023
If you want to take a tour through the streets of Barcelona and admire all the spectacle of Christmas in the city, the best way is to take the Barcelona Christmas Tour.
This hour and a half tour with the Bus Turistic allows you to enjoy the streets and most emblematic buildings of the city, specially decorated for the occasion.
The service runs November 25th to December 30th (except the 25th) with two departure times from Plaça Catalunya, at 6:00 pm and 8:00 pm.
Absolutely essential to book these Barcelona Christmas Tour tickets in advance:
Try Local Winter Delicacies
Catalan cuisine is deeply rooted in the Mediterranean tradition, and during winter, it showcases hearty dishes that provide warmth and comfort.
If I'm in Barcelona in December I'm ordering these dishes in the colder months:
Escudella i Carn d'Olla: Catalonia's traditional Christmas meat stew is considered the region's oldest dish. It's really a two-part meal – the first dish being the meat, and the second the simmered broth with pasta shells. Try at Estevet.
Canelons: Traditionally eaten on Saint Stephen's Day (December 26th), these pasta tubes are stuffed with leftover roasted meat from the Christmas feast, finely ground and mixed with béchamel sauce. Try at Petite Comite.
Calçots: Calcots are a type of spring onion, and their harvest season, which starts in late winter, is celebrated with calcotadas – festive barbecues where these onions are the star. Try at Can Travi Nou.
New Year's Eve Celebrations
As December draws to a close, Barcelona New Year's Eve plans come into focus.
Plaça Espanya is the epicenter of festivities with fireworks, music, and dancing. The tradition of eating 12 grapes at midnight, representing good luck for each month, is a unique experience.
You should also consider booking one of the best New Year's Eve dinner set menus.
Camp Nou + Barcelona Football Matches
Warning: In October 2023 the stadium and a large part of the museum will be closed for renovations. Barcelona FC will play the entire 2023-2024 season at the Estadi Olímpic Lluís Companys.
Camp Nou, the home ground of FC Barcelona, is a pilgrimage for football fans, and visiting the Camp Nou Museum is essential.
In December, the electrifying atmosphere of a live match is unparalleled and here's the list of home games:
Atletico Madrid (December 3rd)
Girona (December 10th)
Almeria (December 20th)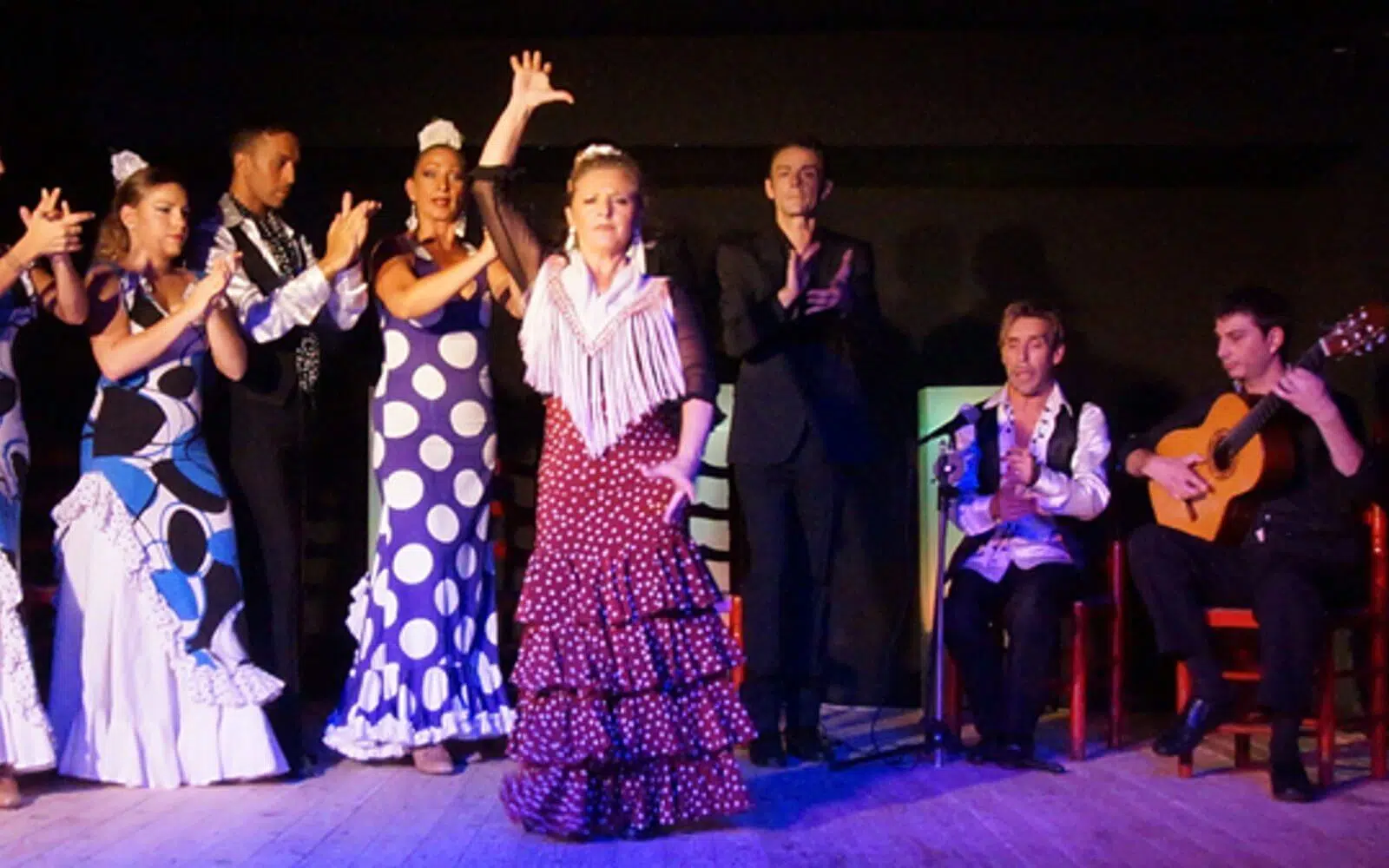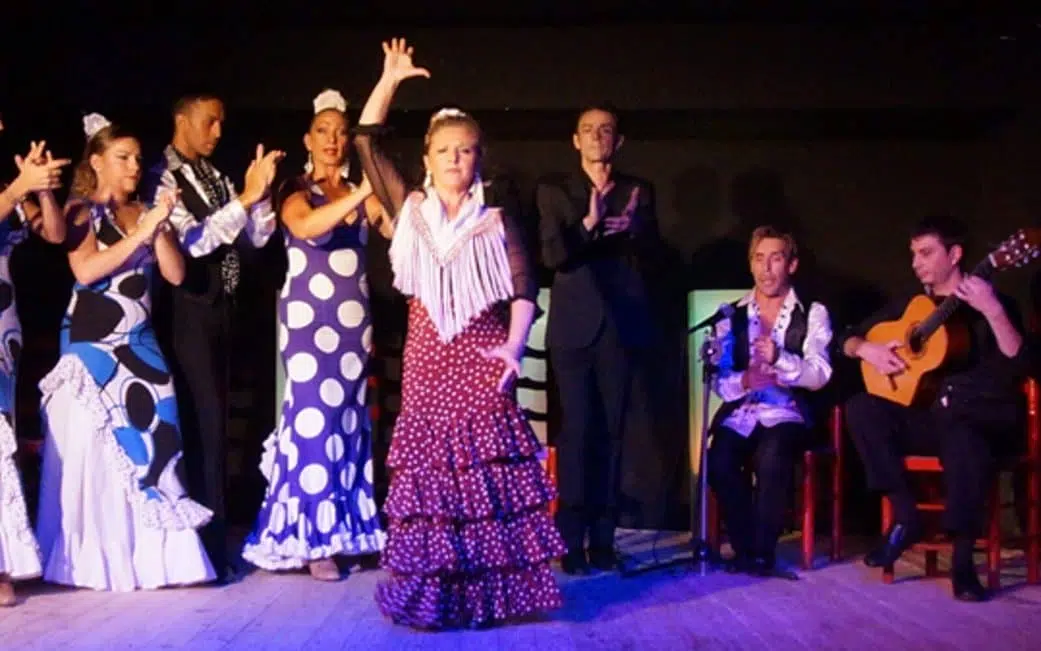 Flamenco Shows
The best flamenco shows in Barcelona, with their passionate moves and soulful music, are the heart of Spanish culture.
In Barcelona, venues like Tablao Cordobes offer authentic Flamenco experiences. The intense performances, combined with traditional Spanish cuisine, make for a memorable evening.
Get the whole dinner-drink package for an evening to remember.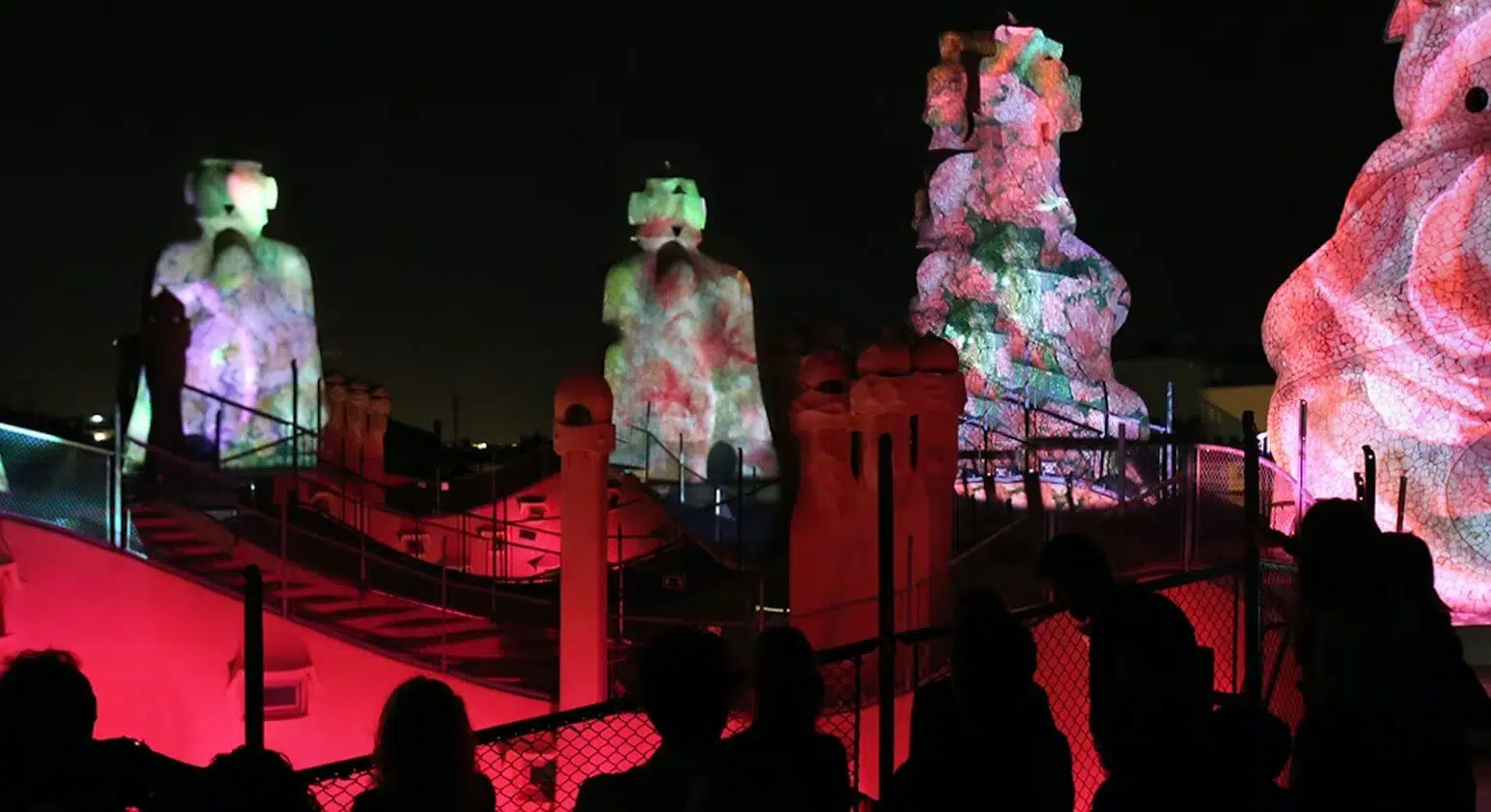 Casa Mila at Night
Popularly known as La Pedrera, Casa Mila offers a unique nighttime experience – hell, it's even at the top of my list of things to do in Barcelona at night.
Why? The illuminated courtyards and chimneys, set against the December night sky, are a sight to behold.
The audiovisual show, combined with the architectural brilliance, promises an unforgettable experience.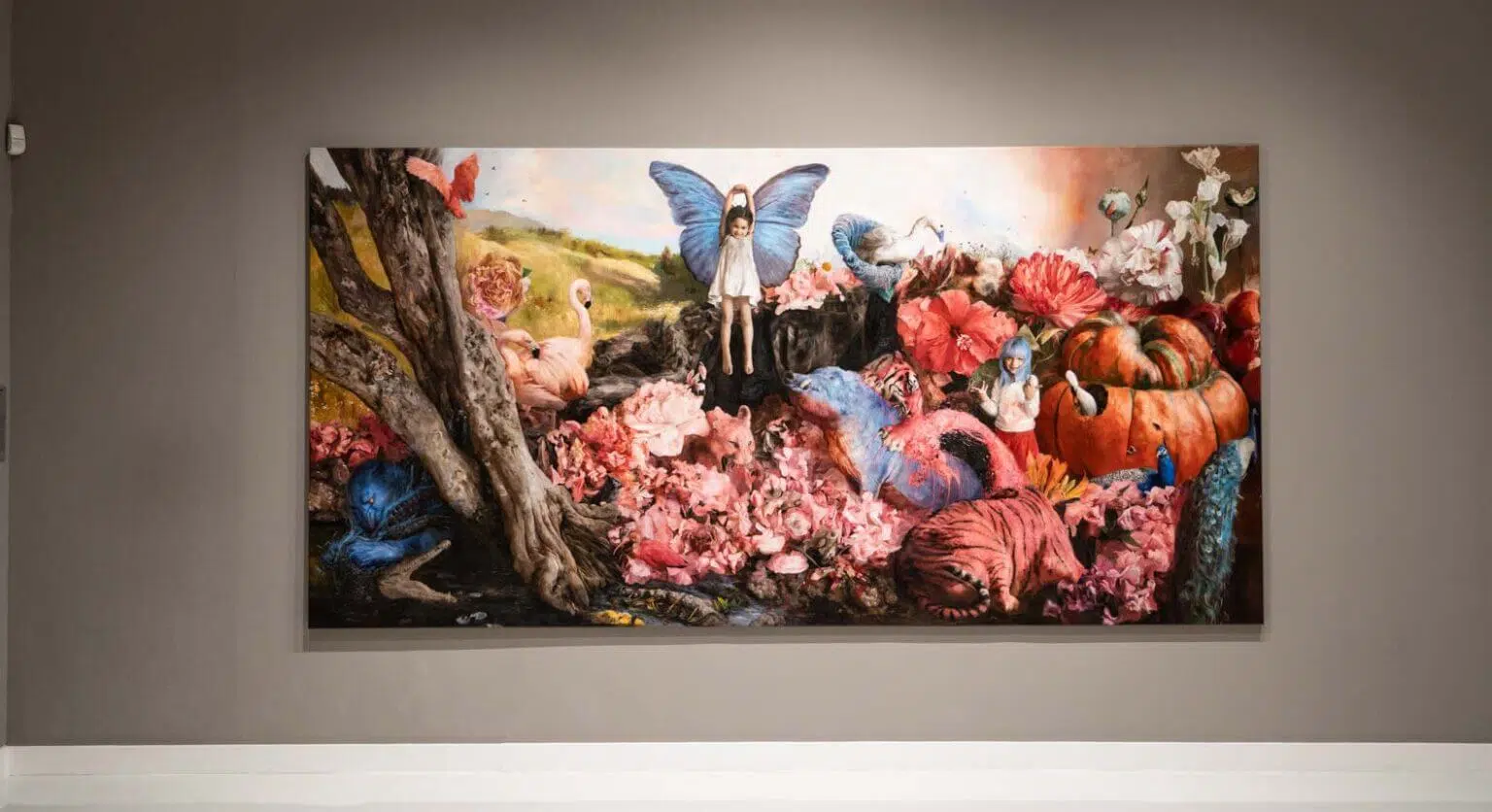 Museum Hopping
Barcelona is a treasure trove for art enthusiasts – and visiting Barcelona's best museums is a great remedy for a cold winter day.
The Picasso Museum, the largest Picasso museum in the world, is a must-visit.
The Moco, with its contemporary art collections from artists like Banksy, offers a great modern contrast.
El Dia dels Sants Innocents
On December 28th, it's Barcelona's version of April Fool's Day. It's a day of pranks, fun, and laughter. From fake news stories to playful tricks, the city comes alive with jest and humour.
The most prevalent prank involves discreetly placing a paper figure (llufa) on someone's back, often targeting children. However, some individuals engage in phone pranks or adding soap to fountains.
Just don't do it at the epic Magic Fountain (pictured) – visit it instead!
Casa Vicens
Often overshadowed by Gaudí's other works, Casa Vicens is one of Barcelona's hidden gems.
As his first significant project, it offers insights into his early architectural style.
The vibrant tiles, unique design, and the fusion of Spanish and Arabic architecture make it stand out.
Barcelona Events in December 2023
Here's a quick breakdown of all the best Barcelona December events for 2023:
Fira de Santa Llucia: November 25th to December 23rd (Christmas market @ Barcelona Cathedral)
Fira de Nadal de la Sagrada Família: November 29th to December 23rd (Christmas market @ Sagrada Familia)
Fira de Nadal del Port Vell: December 5th to January 6th (Christmas market @ Port)
Ice Skating: Late November till January 6th, 2023 (Placa de Catalunya)
Castanyada: Chestnut cookouts with sweets (all over the city, throughout December! try at Ronda de Sant Pau, 76)
Got any other December events on the horizon? Let me know and we'll add it to the list!
Concerts in Barcelona in December 2023
Greta Van Fleet: Dec 3rd and 4th (Palau Sant Jordi)
LF System: December 9th (Razzmatazz)
Little Yachty: December 12th (Razzmatazz)
Gypsy Kings: December 29th (Palau de la Musica Catalana)
Maybe wanna visit earlier? Check out my page on visiting Barcelona in fall.
Things to Do in Barcelona in December FAQ
Is Barcelona good to visit in December?

Yes, December is a great time to visit Barcelona. The city is adorned with festive lights and decorations, offering a unique blend of cultural experiences and holiday celebrations. Also, there are special December celebrations at some of the top attractions like Sagrada Familia and Casa Batllo.

Is Barcelona still warm in December?

Barcelona has a mild climate in December, with temperatures ranging between 8°C to 15°C (46.4°F to 59.0°F). It's cooler than summer but not freezing, making it pleasant enough for sightseeing but not good enough for a day at the beach.

Can you still swim in Barcelona in December?

While the sea temperatures are cooler, around 15°C (59°F), it's generally too cold for most people to swim in Barcelona in December. However, some brave souls might venture a dip.

Does it snow in Barcelona in December?

Snow in Barcelona during December is rare. The city experiences a mild winter with temperatures ranging between 8°C to 15°C. While the surrounding mountainous regions might receive snowfall, it's uncommon for snow to settle in the city itself. If it does, it's typically light and melts quickly.

What to wear in Barcelona in December?

When considering what to wear in Barcelona in December, layered clothing is recommended. A combination of light sweaters, a warm jacket, and comfortable shoes is ideal for daytime exploration. An umbrella might be handy for occasional rain showers.

How busy is Barcelona in December?

December in Barcelona sees fewer tourists than the peak summer months, making it less crowded. However, the festive season brings local celebrations, so some areas, especially Christmas markets, can be lively. Outside of the holiday season, it's about as empty as it gets.

What to do in Barcelona Spain in December?

In Barcelona in December the major attractions like Sagrada Familia and Casa Batllo are decorated for Christmas and generally have smaller crowds than usual. You can also check out Barcelona Christmas markets, catch FC Barcelona games, and eat local Catalan delicacies like canalons.
Ready for December in Barcelona?
Barcelona in December is a blend of tradition, festivity, and cultural richness.
The city, with its festive spirit and architectural marvels, promises an experience that's both enchanting and memorable.
That said, if you're still wondering what to do in Barcleona in December hit me up in the comments for custom advice! 🙏