Plaza España Barcelona: Hidden Secrets + What to Do
Nestled in the heart of Barcelona, Plaça d'Espanya is more than just a bustling square.
Serving as a gateway to the Montjuïc Hill, Plaza España encapsulates the spirit of the city, blending its rich past with contemporary vibrancy.
Let's go exploring to see what to do in Plaza Espanya!
Plaça España Barcelona: History and Interesting Facts
Plaza España (or Plaça d'Espanya in Catalan), is Barcelona's most famous square aside from Plaza Cataluña.
It stands as a testament to the city's rich history and vibrant culture.
Located at the foot of Montjuïc, this bustling square is more than just a traffic hub; it's a gateway to some of the city's most renowned attractions.
Here's a couple reasons why it's one of the most important squares in Spain:
Historical Significance: Plaça d'Espanya was built for the 1929 International Exhibition, which took place at the foot of Montjuïc, and its design was the work of the famous Catalan architect Josep Puig i Cadafalch.
Iconic Fountains: The central fountain, designed by Josep Maria Jujol, a collaborator of Antoni Gaudí, is a spectacular display especially during the evening when it's illuminated.
Venetian Towers: Flanking the entrance to the avenue leading to the Magic Fountain and the National Palace, the two Venetian Towers stand at 47 meters high, serving as a nod to Venice's St. Mark's Campanile.
Arenas de Barcelona: Originally a bullring, this building has been transformed into a modern Barcelona shopping center, preserving its historic facade. The rooftop offers panoramic views of the city and Montjuïc.
⚠️ 

Warning

⚠️

: Barcelona's top two attractions must now be booked in advance.
You can book fast track tickets to both individually or get them as part of a discount pass:
You will not be able to book these tickets on site – lock in your tickets ASAP or you could miss out.
Things to Do at Plaça España
Museum Nacional d' Art de Catalunya (MNAC)
Perched atop Montjuïc, the MNAC is a treasure trove of Catalan art – I'd slot this into most Barcelona itineraries.
Housing an extensive collection ranging from Romanesque murals to modern art, it offers visitors a deep dive into Catalonia's artistic heritage.
While the museum itself is a marvel, the Magic Fountain show, held in its vicinity, is a spectacle not to be missed.
Poble Espanyol
An architectural marvel, Poble Espanyol is one of the best things to do in Barcelona – it's an open-air architecture museum that replicates famous buildings from across Spain.
From Andalusian courtyards to Basque monasteries, it offers a journey through Spain's diverse architectural landscape.
The museum also hosts concerts, exhibitions, and boasts numerous shops selling traditional Spanish crafts.
The Barcelona Pavillion
Designed by the famed architect Mies van der Rohe for the 1929 International Exhibition, the Barcelona Pavillion (also know as the German Pavillion) is an epitome of modern architecture.
Representing the International Style, it has influenced numerous architectural designs worldwide.
Its minimalist design, combined with the use of modern materials, makes it a must-visit for Barcelona architecture enthusiasts.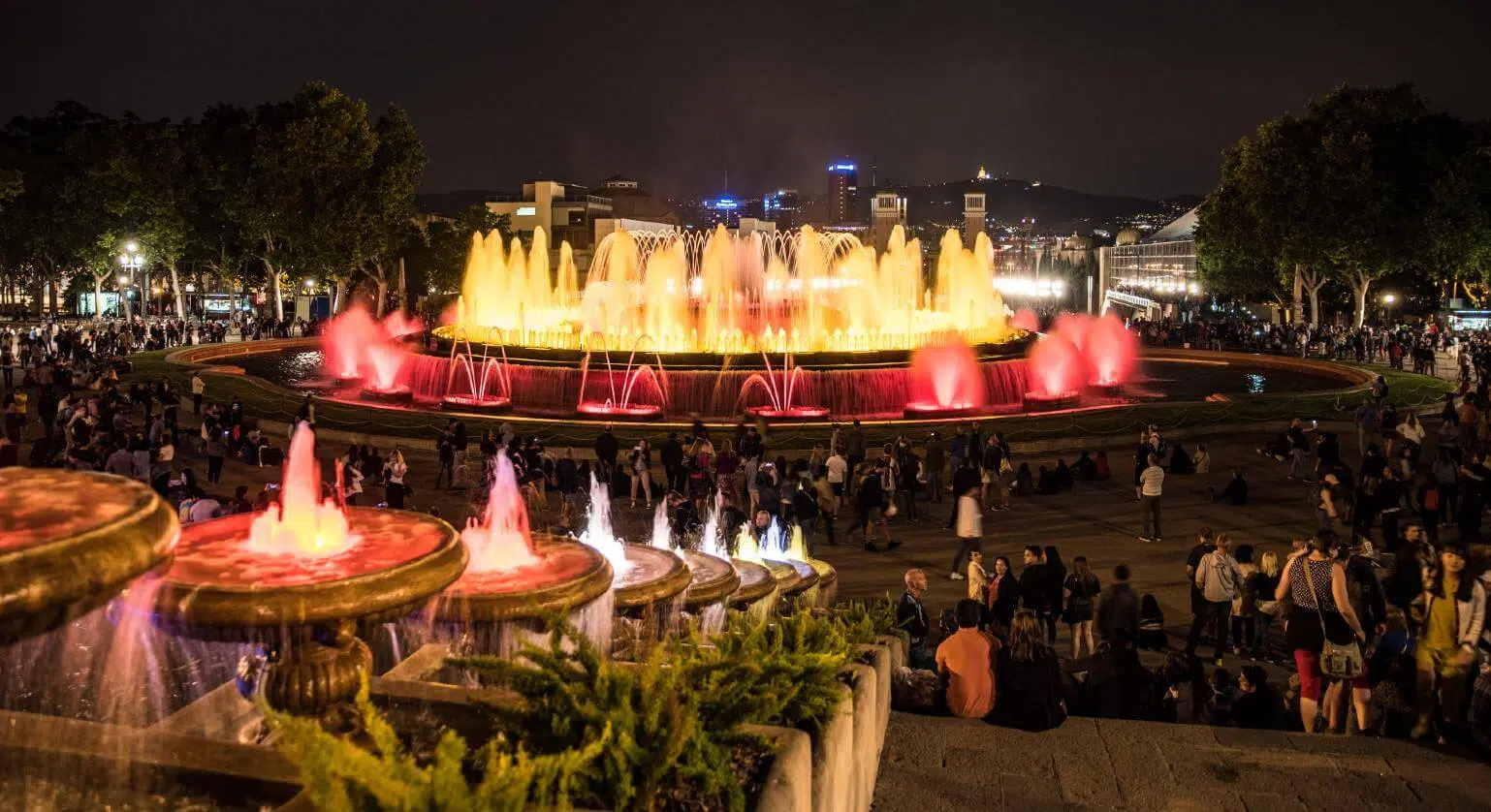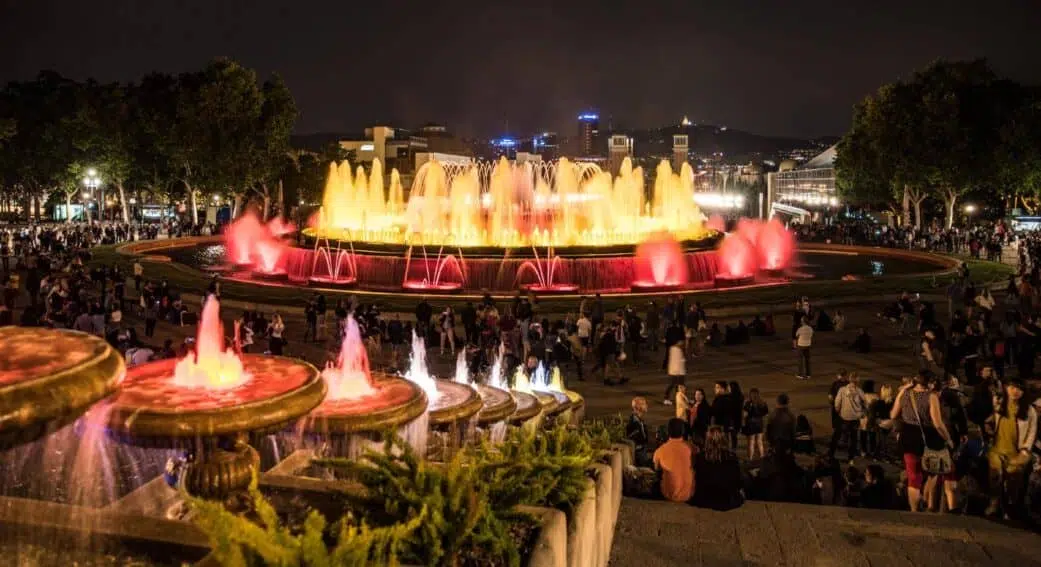 Magic Fountain of Montjuïc
Update (10-02-23): In an effort to save water the Magic Fountain has been temporarily closed by the city of Barcelona. No word on any re-opening yet, but I'll have this updated as soon as I know.
A symbol of Barcelona's allure, the Magic Fountain is a fusion of music, light, and water choreography.
With performances that range from classical to contemporary genres, it promises a visual and auditory treat.
The show is especially enchanting during the evening when the fountain's waters dance in harmony with the lights, creating a magical ambiance.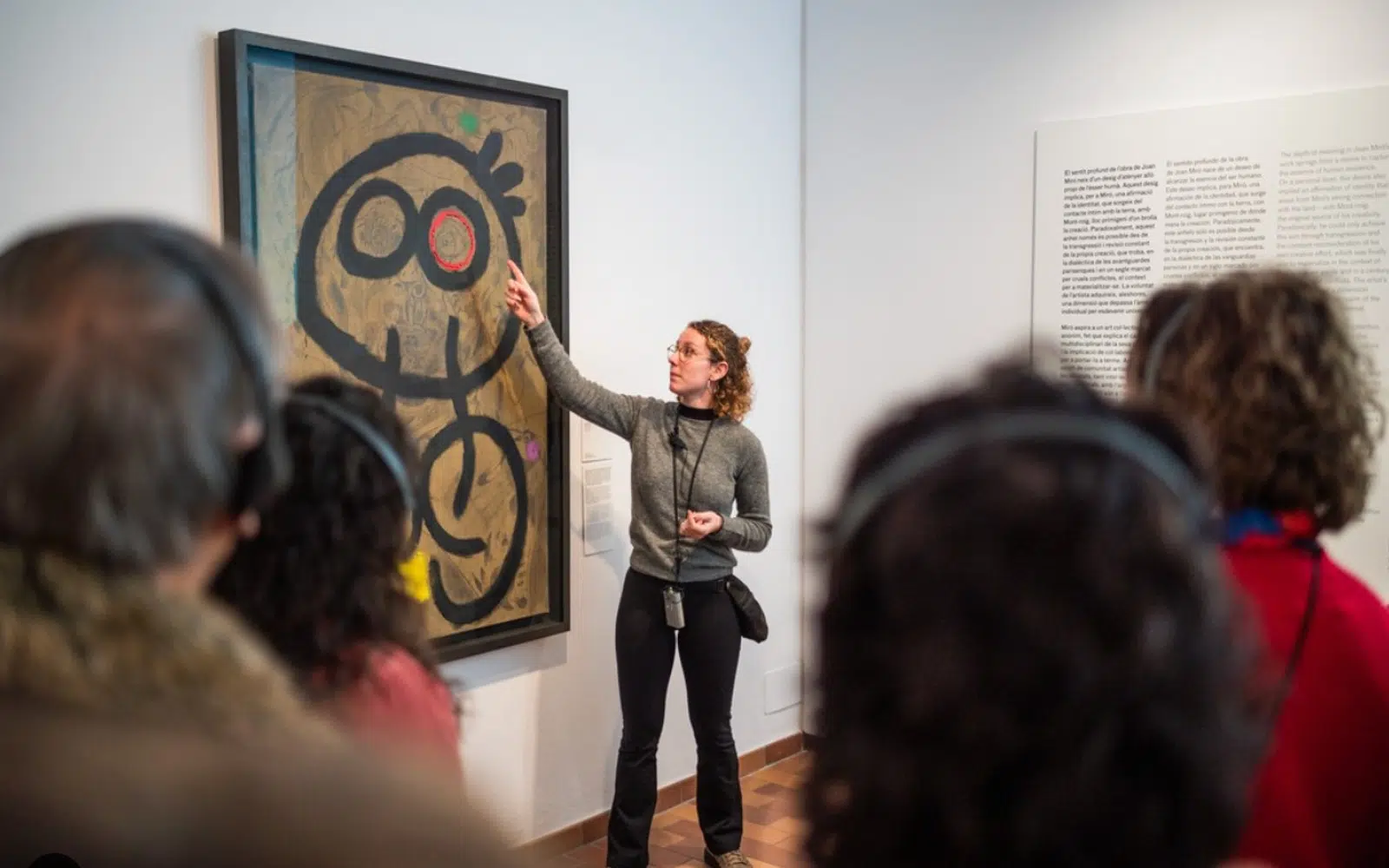 Caixa Forum
This art museum, located near Plaça España, is a haven for art enthusiasts.
With exhibits that span from classic paintings to avant-garde installations, Caixa Forum promises a diverse artistic experience. The museum also hosts music concerts and alternative cinema, making it a cultural hotspot.
Designed by the renowned architect Arata Isosaki, the building itself is an architectural masterpiece.
Arenas de Barcelona
An ex-bull fighting ring, the Arenas de Barcelona has been transformed into a contemporary shopping center.
While the exterior retains its historical charm, the interior boasts a plethora of shops, restaurants, and entertainment options.
The rooftop terrace offers panoramic views of the city, making it a popular spot for both locals and tourists.
How to Get to Plaça España
Reaching Plaça España is a breeze with public transport in Barcelona, thanks to its excellent connectivity.
With two Barcelona metro lines (L1, green and L3, red) offering direct access from the city center, it's easily accessible.
Buses 13, 50, 91, and H12 also ply directly to Plaça España, making it convenient for those preferring road transport.
It's a great place to catch a bus up to Montjuic Hill.
Plaça d'Espanya FAQ
Where is Placa Espanya train station?

Plaça d'Espanya, often referred to as Espanya, is a transportation hub located beneath the Plaça d'Espanya in the Sants-Montjuïc district of Barcelona, Catalonia, Spain.

This hub includes the endpoint of the Llobregat–Anoia Line and a metro station that accommodates both lines 1 (L1) and 3 (L3) of the Barcelona metro.

How big is Plaça d'Espanya in Barcelona?

Plaza España is 34,000 square meters in diameter (about 365,000 sq feet) making it one of the largest squares in Spain.
Ready to Visit Plaza de Espana Barcelona?
In conclusion, Plaça España is more than just a square; it's a microcosm of Barcelona's vibrant culture and history.
Whether you're an art enthusiast, a history buff, or just a curious traveler, Plaça España promises an experience like no other.
That said, if you're still wondering what to do in Plaza Espanya just write me for custom advice 🙂