13 Free Things to Do in Barcelona Spain in 2023
The best free things to do in Barcelona are a welcome respite from some pretty heavy attraction bills.
Technically, you could spend a weekend here without spending a penny – just don't end up camping in Ciutadella Park!
Presuming you've got a hotel, here are the top things to do for free in Barcelona:
Free Things to Do in Barcelona Today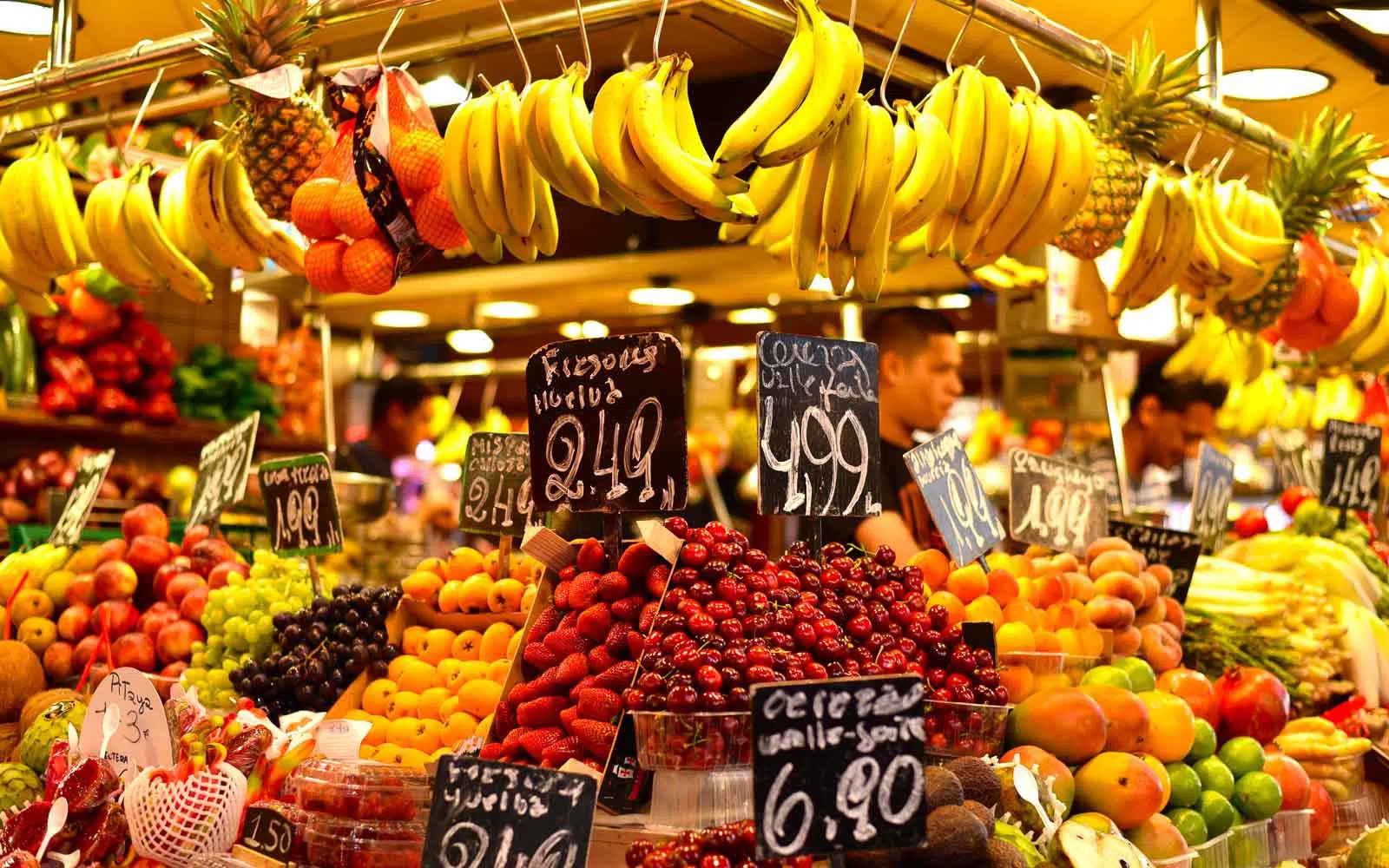 Walk Around La Boqueria
The biggest food market in Europe sits right in the heart of La Rambla.
La Boqueria is a feast for the senses and the hustle and bustle of the day's trade is a sight in itself. Just a fantastic place for photos: colourful, aromatic, lively. So get Instagramming.
The past winner of 'Best Market in the World' at the World Markets Congress might tempt you into spending, but what doesn't? If you're not a fan of crowds and prices substitute another of Barcelona's best markets.
⚠️ 

Warning

⚠️

: Barcelona's top two attractions must now be booked in advance.
You can book fast track tickets to both individually or get them as part of a discount pass:
You will not be able to book these tickets on site – lock in your tickets ASAP or you could miss out.
Pony up one euro though for a fresh fruit smoothie – you won't be disappointed, and neither will your wallet.
Catch the Magic Fountain Show
Update (1-19-23): The Magic Fountain has been temporarily closed due to recent drought conditions in the Barcelona area. I'll update this post with any news as it comes.
The heavyweight champion of free things to do in Barcelona at night.
At the foot of the National Palace (headquarters of the National Art Museum of Catalunya: MNAC) you'll find the magic fountain show: 3620 water jets synchronized to light and music, a true balletic spectacle.
The Magic Fountain Barcelona is a great way to cool off in the summer, if you stay close the mist feels great.
Take in a Great View of the City
How many European cities offer a free birds-eye view without paying to go up some tower? This is one of Barcelona's hidden gems.
The feeling of escape when you ditch the noise of downtown for a breathtaking panoramic view of a beautiful city is priceless.
I suggest starting with the Free Zone at Gaudi's Utopian landmark Park Guell since it's already bang right up there in day one of my 3 day Barcelona itinerary.
Less touristy places like Turo de la Rovira ('The Bunkers') or Montjuic are more tranquil, allowing you to get downright philosophical with yourself. Life decisions made? Check.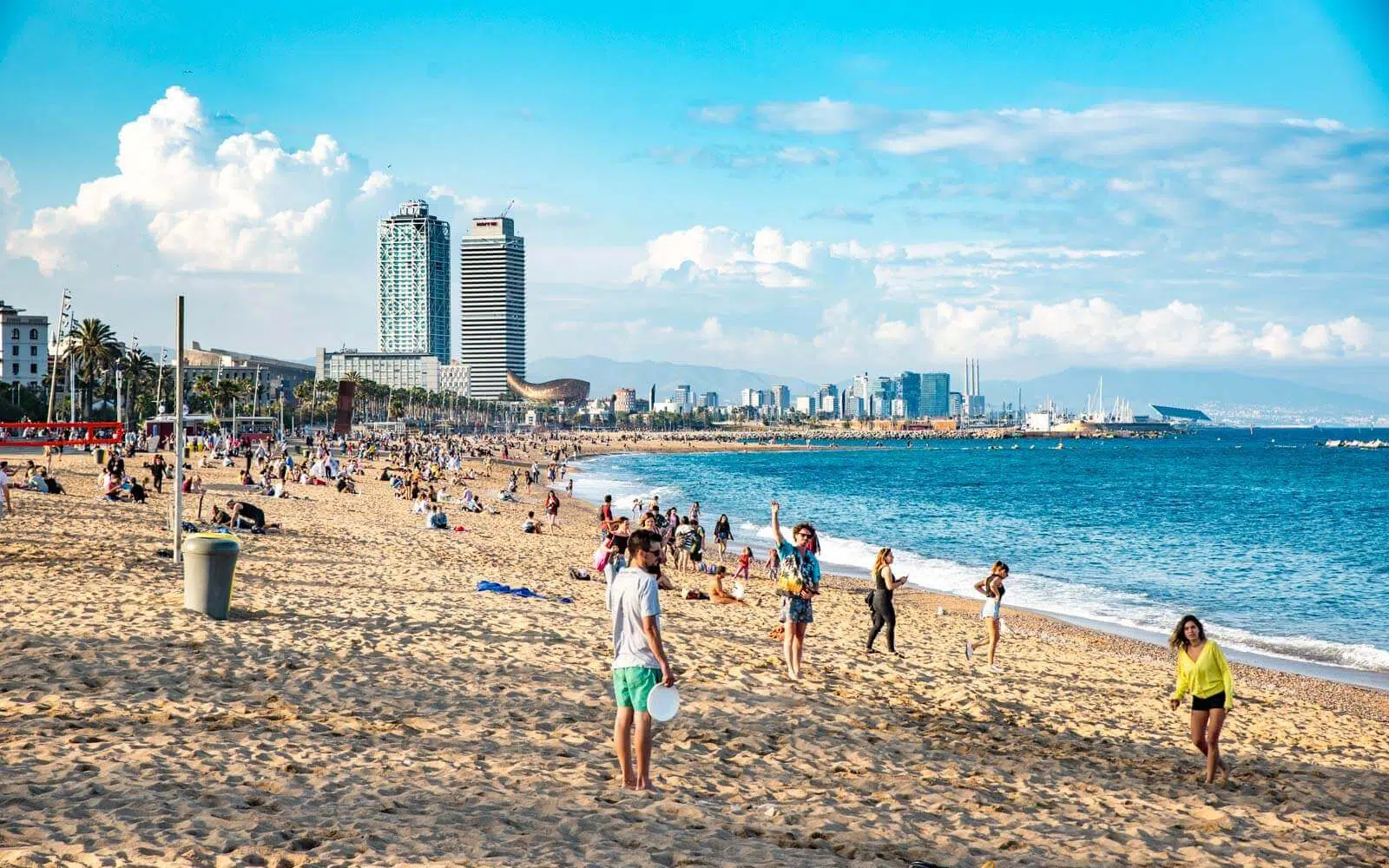 Go to the Beach
Of all the things to do for free in Barcelona, did we really need to mention the golden sand? The best beaches in Barcelona are best enjoyed keeping the following in mind:
Avoid the crammed local beaches (Barceloneta, Vila Olympica).
Go farther north (Marbella, Nova Mar) for cleaner water and more space.
Watch your valuables when you swim and keep an eye out for Barcelona pickpockets
It's crowded in the afternoon so the later the better.
Swimming season is between May-September with peak months naturally being July and August. Even on a sunny autumn or Barcelona winter day a great walk can be had along the beach-side promenade Passeig Marítim.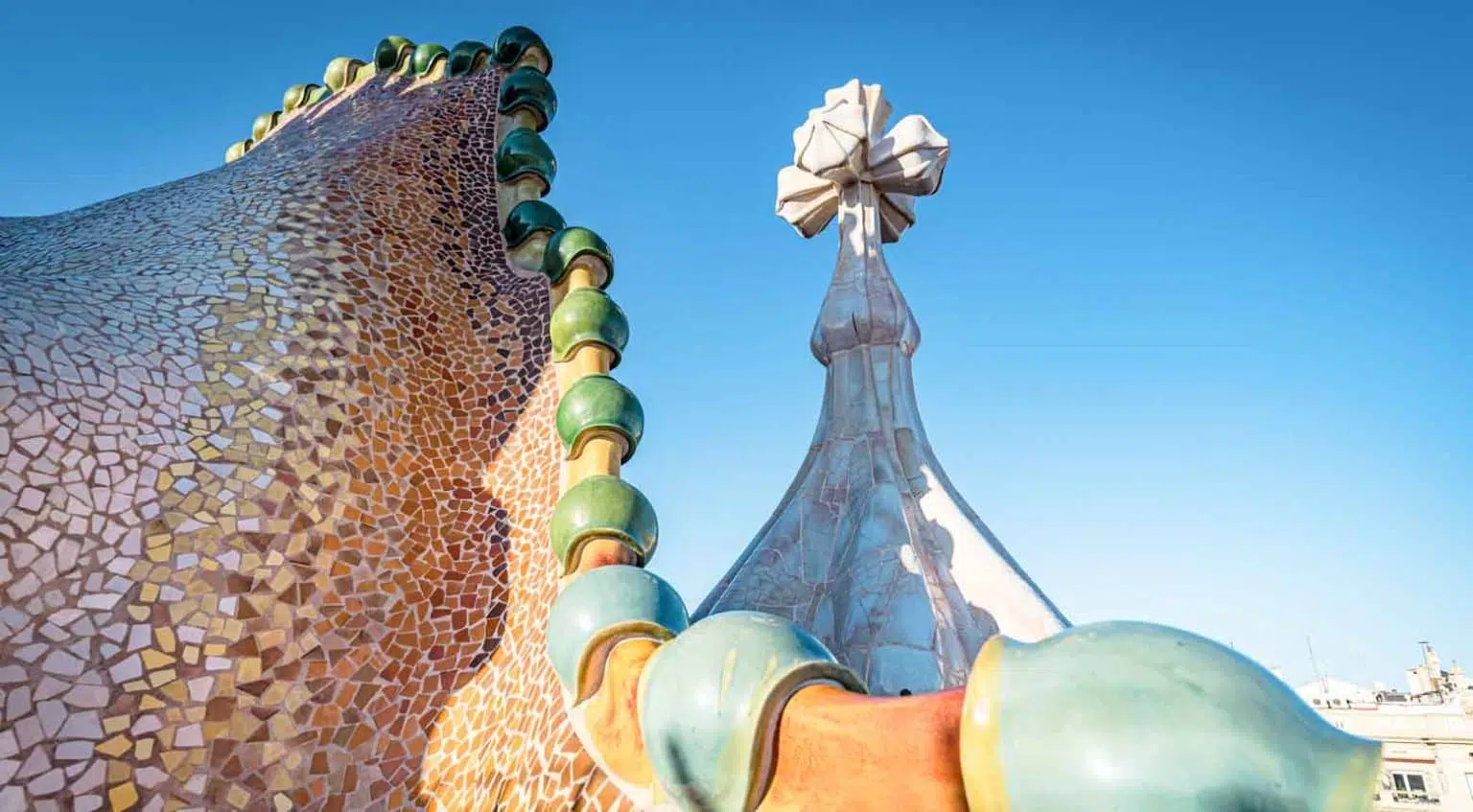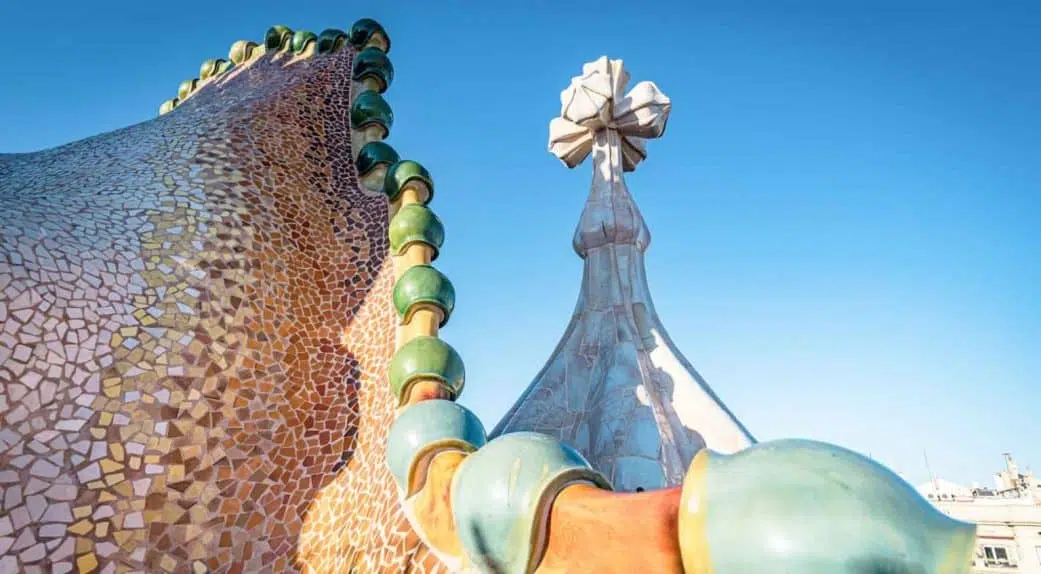 Take a Stroll down the Ruta del Modernisme
So many architectural masterpieces, so little time.
Counting 115 buildings including the world-famous Casa Batllo (pictures), La Pedrera, and Casa Vicens – this route not only showcases the wealth and flair of turn of the century Catalonia, but the sheer madness of the industrialists one-upping each other with each new palatial residence.
For a full itinerary of this architectural Disneyland consult the Ruta del Modernisme website.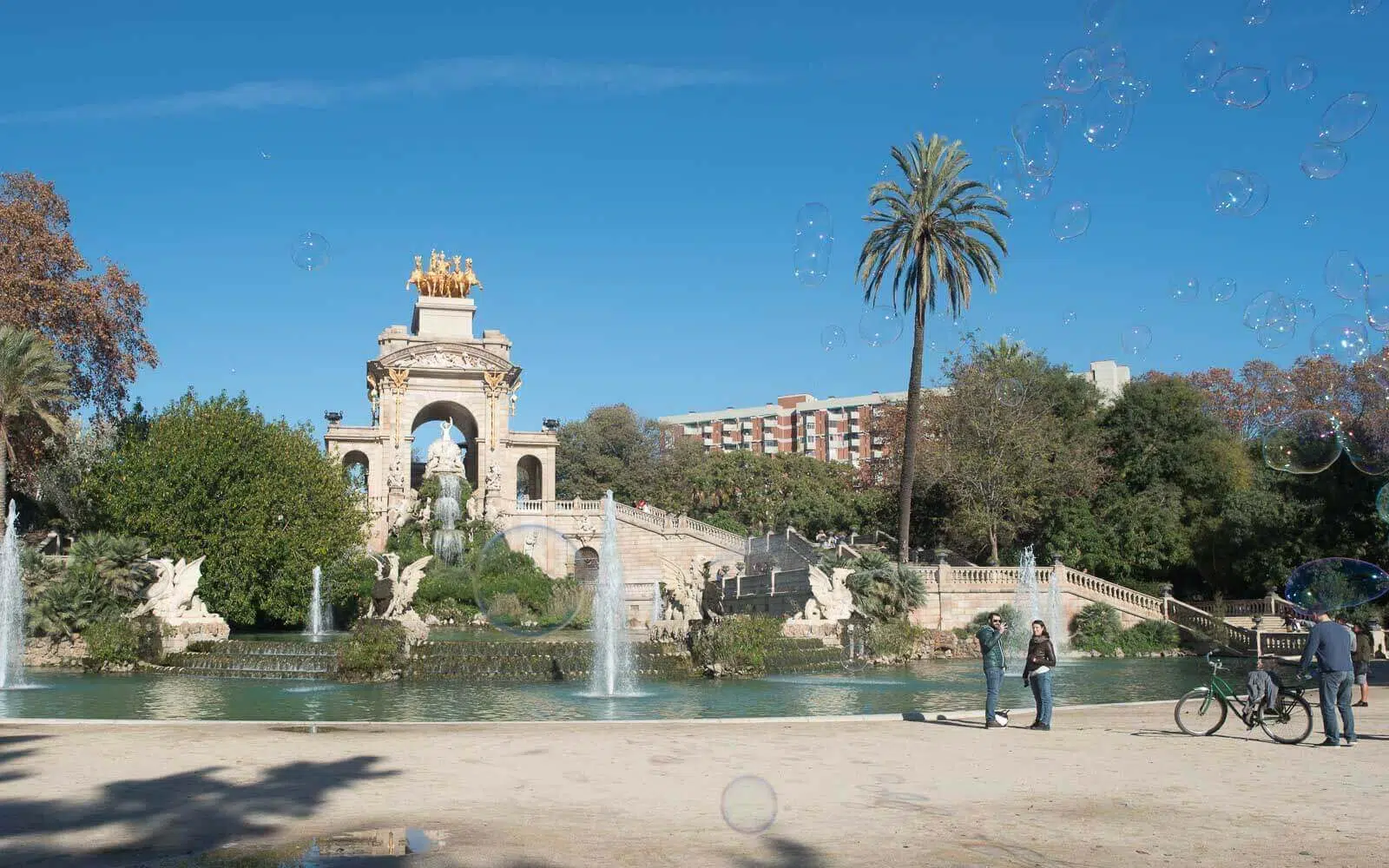 Have a Picnic at Ciutadella Park
This 280,000 square meter urban park is our city's green lung and it's one of the best parks in Barcelona.
What really makes Ciutadella Park stand out is the mix of people: young people, families visiting Barcelona with kids, street artists, punk rockers, joggers, musicians, tourists, and residents all living together.
Keep an eye out for the fountain (pictured) loosely based on the Trevi Fountain in Rome.
The stone sculpture in the pond at Plaça d'Armes of an inconsolable woman is great for reflection, but you'll be consoled by your picnic wine, meat and cheese from nearby supermarket Condis at Calle Comerç 19.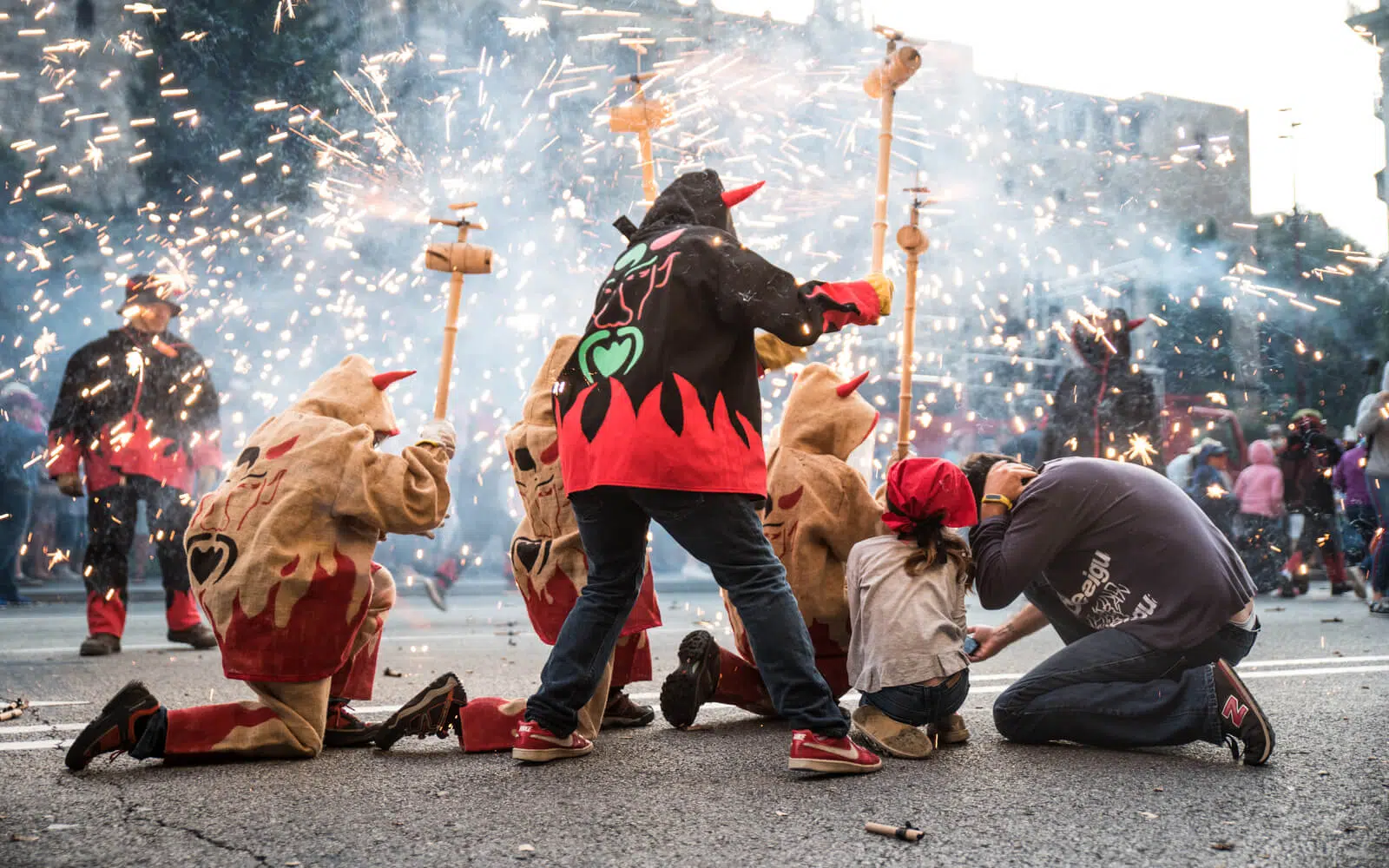 Check out the Summer Festivals (Festes Majors)
In summer you'll find entire neighbourhoods like Gracia and El Gotico shutting down to host week-long street festivals. Of our list of free things to do in Barcelona this has to be the best value for your (no!) money.
The legendary Festa Mayor de Gracia goes in August and has entire blocks shutting down to redecorate according to certain themes – last year's impressive Japanese-themed village was the run-away winner. Each block has a different live music with food and drink.
And who could forget September and its legendary correfoc (a parade of fire-breathing dragons and revelers dancing in the flames) at La Mercè? There's live music everywhere, exhibitions, traditional food and costume and more.
Check the full list of Festes Majors to see if there's one when you're visiting.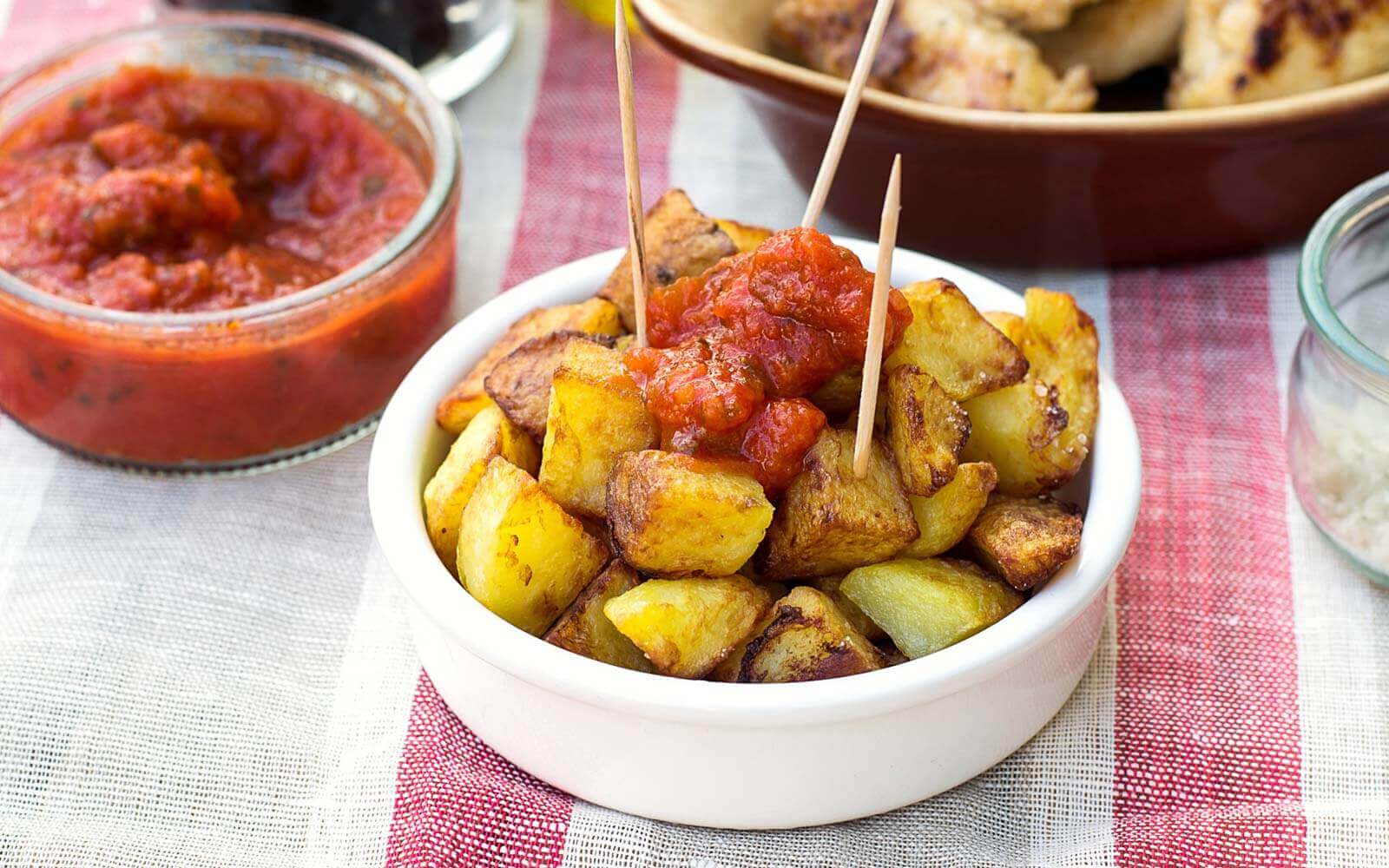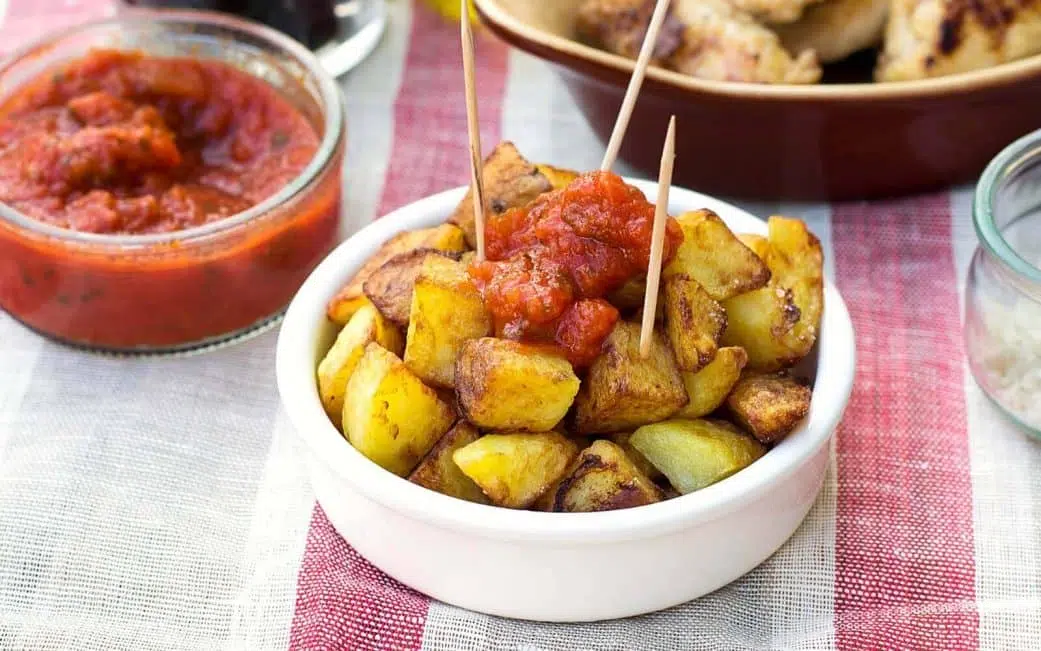 Get Free Food (Yes, Free Food!)
What's the only thing better than having quality Spanish tapas with your beer? Having free tapas with your beer.
Though Barcelona tapas bars can hardly compare to the generosity of their southern cousins in Andalusia, there are still a handful of top Barcelona bars which will give you free food when you order drinks.
Check out the full list in my article best tapas in Barcelona that includes 8 bars with free tapas.
Take a Tour of the Santa Maria del Mar
The Santa Maria del Mar is perhaps the finest and most complete example of Catalan Gothic architecture, and this is a can't miss if you're wandering the streets of the famous Born district.
The imposing 14th century church might be hemmed in by surrounding buildings (making it difficult to get an overall impression), but the inside is pure light and spaciousness. The tall columns were a major inspiration for Gaudi's Sagrada Familia.
This is also one of the top free things to do in Barcelona for history buffs – look in the vault for walls blackened by smoke at an anti-Franco protest during the Spanish Civil War.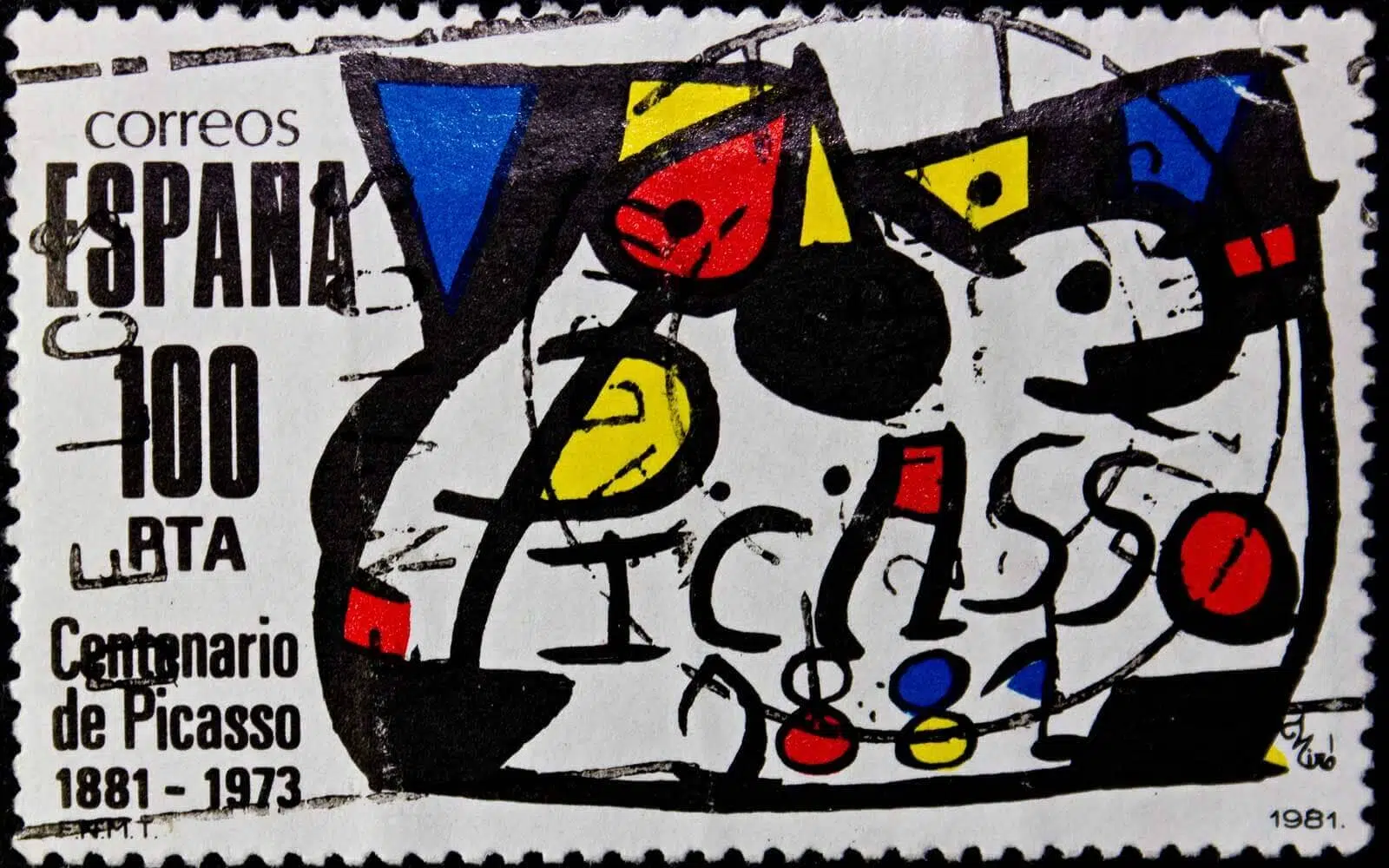 Take Advantage of Free Museum Sundays
Here is one of the free things to do in Barcelona that normally costs money. A handful of popular Barcelona's best museums offer free entry, usually on Sundays.
First Sunday of every month: Picasso Museum, Museum of Pre-Colombian Art, National Art Museum of Catalonia (also free Saturdays after 3 pm), Museum of Catalan History.
You can also visit the Chocolate Museum for free the first Monday of every month.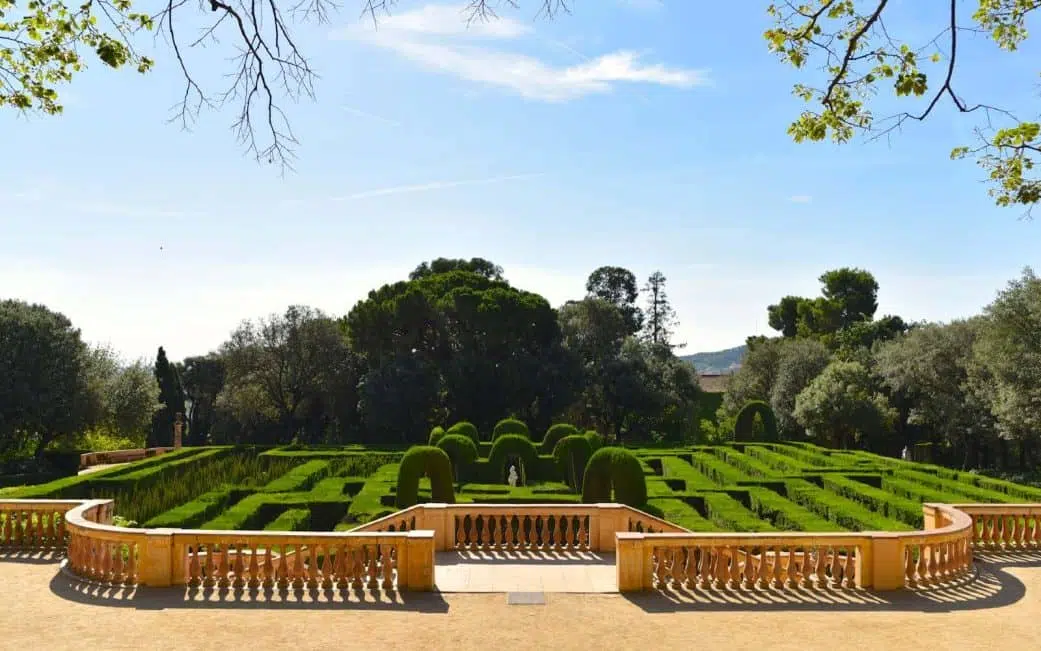 Get Lost in the Parc del Laberint d'Horta
Aside from being one of the most romantic places in Barcelona this well landscaped half-park half-maze is free on Wednesdays and Sundays.
Yes, the Parco del Labirinto is teeming with flower beds, tiny squares, waterfalls, and mythical statues in every corner.
Another great urban escape to have fun with the family, friends, or challenging your significant other to see who can get out first!
Surf the Internet
Of the best free things to do in Barcelona this very simple capability that we all take for granted back home may outrank them all. Barcelona's free internet network Barcelona WiFi has connection points in almost the entire city: 634 points to be exact.
To make sure you've got hotspots near your Barcelona oliday apartment or Barcelona hostel you can check the Barcelona city WiFi map. The speeds are capped and at times slow but it's better than paying roaming charges!
Take a Free Walking Tour
OK, so this one is only free if you're a horrible person and don't end up tipping your guide. I've found though that free walking tours are a great way to get a sense of the city, especially if you're too lazy to read up on it yourself!
Runnerbean Tours has a wide selection of tours run by charming and informative guides that includes the Gothic Quarter tour, Antoni Gaudi's best buildings, and the chilling 'Dark Past' night tour.
Keep in mind however that it is customary to leave a tip for the guides, usually about 10 euro.
Still Looking for Free Things to Do in Barcelona Spain?
So, did I miss something completely obvious and you're almost too embarrassed to tell me?
Any feedback you can leave to help me improve this resource would be a great help.
Also, if you've got any more questions about my list of free things to do in Barcelona or anything else to do with your visit they will be answered promptly in the comments section below, and guess what? It's free.
Happy travels 🙂