Visiting Barcelona in September 2023 (+ Festival Guide)
I get why you're here – you're trying to get one last drop out of summer by travelling to Barcelona in September.
First of all, solid move.
There are so many events in Barcelona September that there might not be a better time of year to visit.
Let's break down September in Barcelona.
Visiting Barcelona in September 2023
The first question you'll ask is why September?
My answer is because you get great Barcelona weather for Barcelona's beaches with significantly smaller crowds.
In September the city has also gone back to normal after its August holiday slumber.
Shops resume regular hours and closures are rare. The city is in full swing for one last street party bash before autumn in Barcelona hits.
There is also a great combination of cultural events significant to the region, the return of football season, and some special nights at some of Barcelona's top attractions.
It's also a great time to take one of the many day trips from Barcelona.
Advice Before Planning a Trip to Barcelona in September
In Barcelona when I say smaller crowds in September it's actually a euphemism meaning 'slightly less chaos'.
We're still talking about one of Europe's biggest tourist haunts. For this reason Barcelona in September can be stressful. To avoid lining up for attractions in some pretty humid weather I advise buying your attraction tickets in advance online.
⚠️ 

Warning

⚠️

: Barcelona's top two attractions must now be booked in advance.
You can book fast track tickets to both individually or get them as part of a discount pass:
You will not be able to book these tickets on site – lock in your tickets ASAP or you could miss out.
It's also imperative you find the best area to stay for your needs.
I also suggest the Secrets of the Old City walking tour on day one: the education will really enhance all your later endeavors.
You'll also save yourself a lot of sweaty ticket machine trouble by getting a discount transport pass in advance.
Remember that it's high season for pickpockets as well – take my advice on how to avoid them.
La Mercè Festival 2023 (September 22-25)
Every year in late September the city is turned upside down for Barcelona's most important festival.
La Mercè stems back to a feast created in the Middle Ages to honour the Virgin of Grace (Mare de Déu de la Mercè) – said to have cured the city from a locust plague in 1687.
Today the festival is about celebrating Catalan culture with the craziest mix of free street entertainment you could ever imagine.
Here's the skinny of what to expect between 11:00 am and 4:00 am daily:
A festival of festivals.
2 million annual visitors.
600+ annual events with 2000+ artists.
Free outdoor concerts.
Dance, circus, and street theater.
Parades featuring mythical characters and traditional drumming.
The 2023 version runs from September 22nd to September 25th.
La Mercè is celebrated primarily in the Gothic Quarter though you'll find events at Plaça de Catalunya, El Forum, Ciutadella Park, Montjuic, and even the Estrella Damm brewery.
Every year a guest city is invited to participate in the festivities – in 2023 that city is Kyiv, Ukraine. You'll also see a ton of great concerts at the BAM independent music festival.
The best days are usually weekends – Friday (22), Saturday (23), and Sunday (24). In fact you'll find that the Barcelona metro stays open all night just for the occasion.
For La Mercè event times check out the official La Merce website – some times are still TBA.
The Human Castles (Castells)
When thinking of what to do in Barcelona Spain in September, I ask people to imagine a large group of people getting together to build a tower – out of themselves.
These awe-inspiring human castle builders live with the motto 'unity is strength'. They're a big part of La Mercè and you'll find them at various heights: some stack up to 10 human stories tall.
The castellers practice year-round for the opportunity to showcase their skills and force you to hold your breath when small kids climb over dozens of participants to form the top!
Sunday the 24th offers the Festa Castellera della Mercé in Plaça Sant Jaume that unites all the castellers associations (colls) from Barcelona.
Time: 12:00 pm (September 23rd) and 1:00 pm (September 24th)
Location: Plaça de Sant Jaume.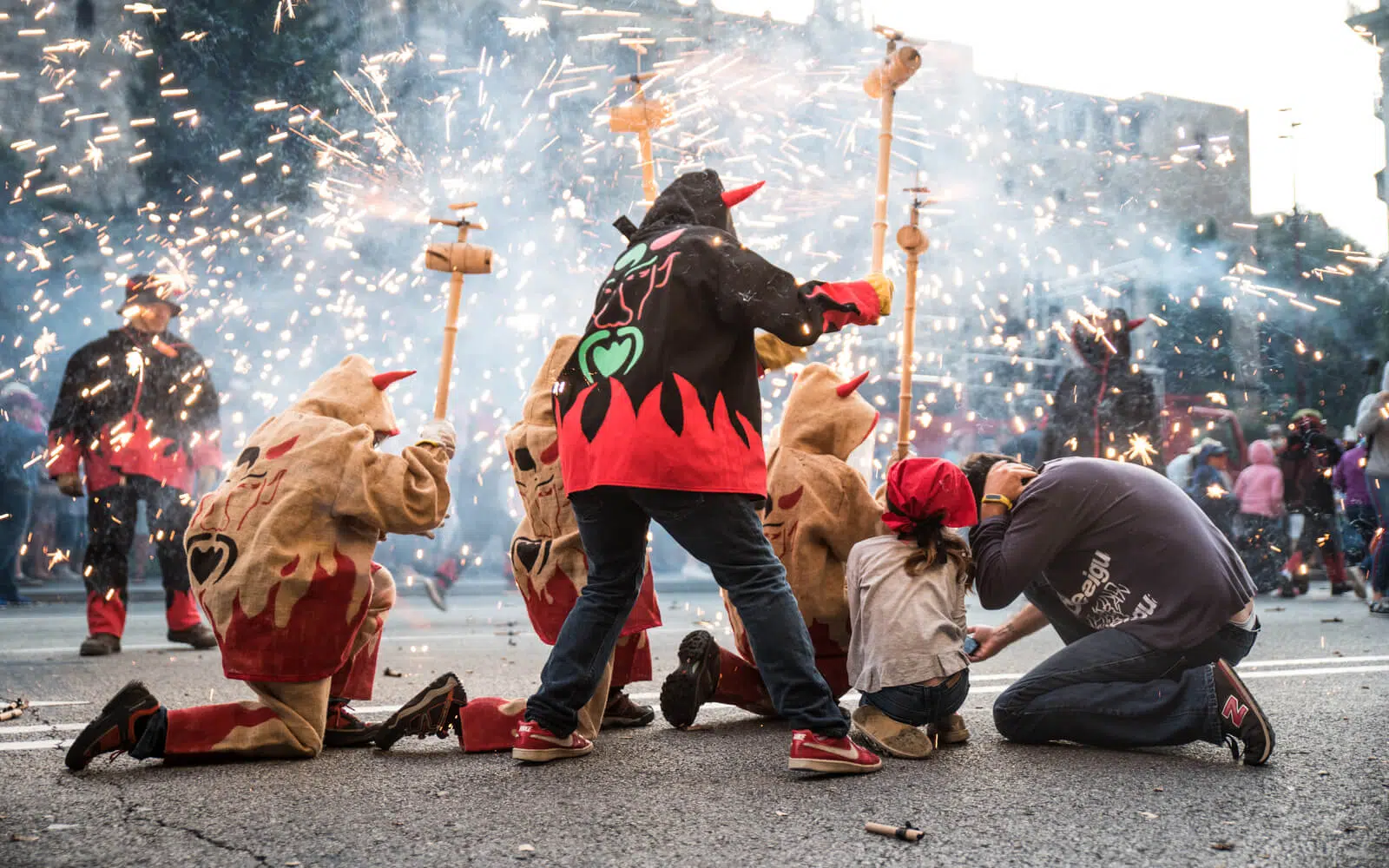 The Fire Run (Correfoc)
Imagine crowds of people dressing up as devils and lighting fireworks off of pitchforks. For hours.
The seemingly never-ending parade of teams/groups each gets to create a massive cardboard monster which sets off more firecrackers than the devils themselves. Each team also has a drum corps pounding away madly. You'll hear them from miles away.
Crowd members are encouraged to dance amidst the chaos. But make sure you cover up and don't wear anything flammable!
Time: Saturday the 23rd at 8:00 pm (Passeig de Gracia)
Place: Plaça Antoni Maura, Via Laietana, Plaça Antoni López
The Parade of Giants (Els Gegants)
You'll find parades of these gigantic 3 and 4 meter tall paper maché kings, queens, and nobles marching through the streets. Each is operated by an individual shaking the giant to perform a type of dance.
The tradition dates back to 13th century Corpus Christi processions – just make sure not to get run over!
Time: Saturday September the 24th 2023 at 11:45 am and 7:00 pm.
Place: Plaça de Sant Jaume, Plaça dels Àngels, Las Ramblas.
The Sardana
This classic Catalan dance won't be as sexy as flamenco or salsa but the amount of skill needed to complete the moves in time is extraordinary.
Multiple dancers form a circle and hold hands with raised arms. It's here that they follow the meticulous instructions of the leader. Just one tiny hiccup by one of the members throws the whole group out of sync.
The dance was actually banned during Franco's Spain as it was seen as an affront to national unity.
Time: Saturday September the 24th 2023 at 8:00 pm (Plaça de Sant Jaume)
Location: Avenida de La Catedral/Plaça Nova.
Catalonian Wine and Cava Fest
One of the most important events on the La Merce calendar for locals is the wine and cava exhibition which goes on Ronda de Sant Antoni (near Sant Antoni Market).
Many local bodegas set up shop in the street and there are workshops, events, tastings and more!
2023 times TBA.
🍷 Want to sample the best local wines? Book one of Barcelona's best wine tours from €30.00.
Fireworks
It wouldn't be La Mercè without a massive explosion of fireworks.
The biggest spectacles are held at 10:00 pm in the Barceloneta beach neighbourhood. You'll get the best views from the Espigon de Gas, a mini peninsula in the area. Get there early.
There's also the super cool Piromusical de la Mercé.
This 30 minute firework show is generally considered the finale of the festival. It goes at 10:00 pm at Avenida Maria Cristina (Plaça d'Espanya) on the last day (September 25th 2023).
Food Trucks
Lovers of street food will be in their element during La Merce.
You'll find food trucks in various points of the city throughout the entire festivities though most importantly at the Parc de la Trinitat on Saturday the 24th and Sunday the 25th.
Also you can find the classic food trucks in Ciutadella Park.
2023 times TBA.
Mac Festival
A dance, music, and theater at Ciutadella Park.
All of the events are completely free and many of the events will be oriented towards children – a great option for parents visiting Barcelona with kids.
La Cursa de la Mercè
The 41st edition of this famous 10 km run departs at 9:00 am on September 17th 2023 (times TBA) from l'Avinguda de la Reina Maria Cristina.
To participate you'll need to sign up online for just €5.00 – this fee goes toward charity. Make sure you 'run' to the sign up board though as the maximum amount of participants caps at 14,000!
For more info check out the official page.
Barcelona September Concerts
BAM
Music is the beating heart of La Mercè and the free concerts and performances organised through Barcelona Acciò Musical (BAM) are plentiful.
The 2023 selection features local independent artists as well as music from Italy. Whether you're a hipster or not you'll be able to find that new sound before it goes mainstream.
There will be music for all tastes including electronic music, classical, folk, jazz, pop, and more.
And it's all free!
The main stages for the shows are in Moll de la Fusta (Barceloneta), Plaça de la Mercé, Plaça Angel, the Estrella Damm factory (Carrer Rosselló 515) and the legendary Parque del Forum.
My suggestions for September 2023 are still TBA as I'm waiting for the schedule to be released: keep your eyes peeled here!
For a full list of concerts and Merce events check here.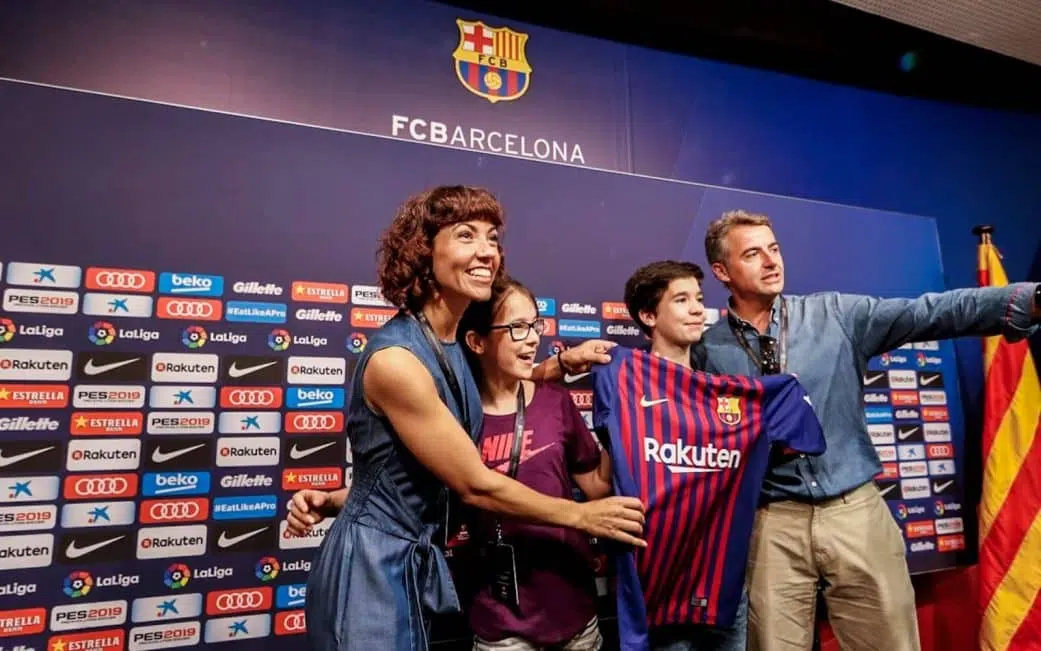 Barça Football Matches
Yes, as summer winds down football season fires up and naturally (don't hate me) the best team in the world usually has two or three matches at home in September.
In September 2023 the following matches are scheduled (kick off times TBA):
September 17th: Barcelona – Real Betis
September 24th: Barcelona – Celtic Vigo
If you're a die-hard football fan don't miss the chance to tour the world-famous Camp Nou – the sheer amount hardware in the trophy case is worth the price of admission.
Barcelona September Events 2023
The Gran Premi Monster Energy de Catalunya 2023
Motorsport lovers! June in Barcelona is home to a classic MotoGP event at Montmelò.
2023's version runs from September 1st to September 3rd and tickets start at €29.50 each. The track itself is found about 25 km northeast from the city but you can easily get there via car, train, or bus.
Sagalés runs a convenient shuttle bus from l'Estació del Nord.
The best vistas for the race are found in the Stadium Area; for more 2023 Catalunya MotoGP ticket information check out the official MotoGP website.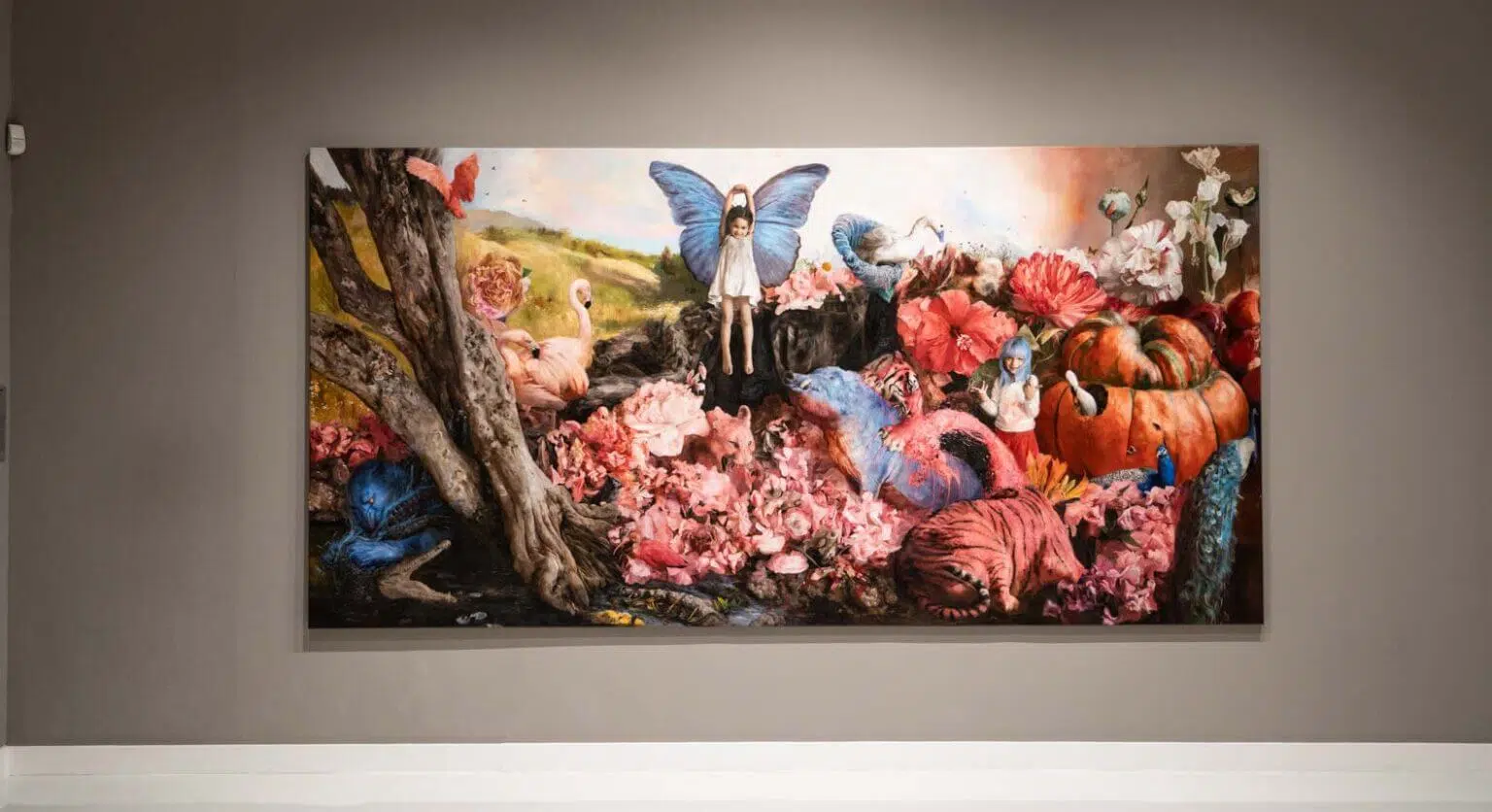 Open Doors Museum Day
In keeping with the theme of free attractions during La Mercè, know that many museums and other attractions will be completely free on the Sunday.
Some of the most well known ones would be MNAC, the Museo Picasso, the Museu Blau, the CCCB, and MACBA.
The list of 2023 museums are still TBA.
🚲 Wanna see more in less time? Consider taking one of the best bike tours in Barcelona.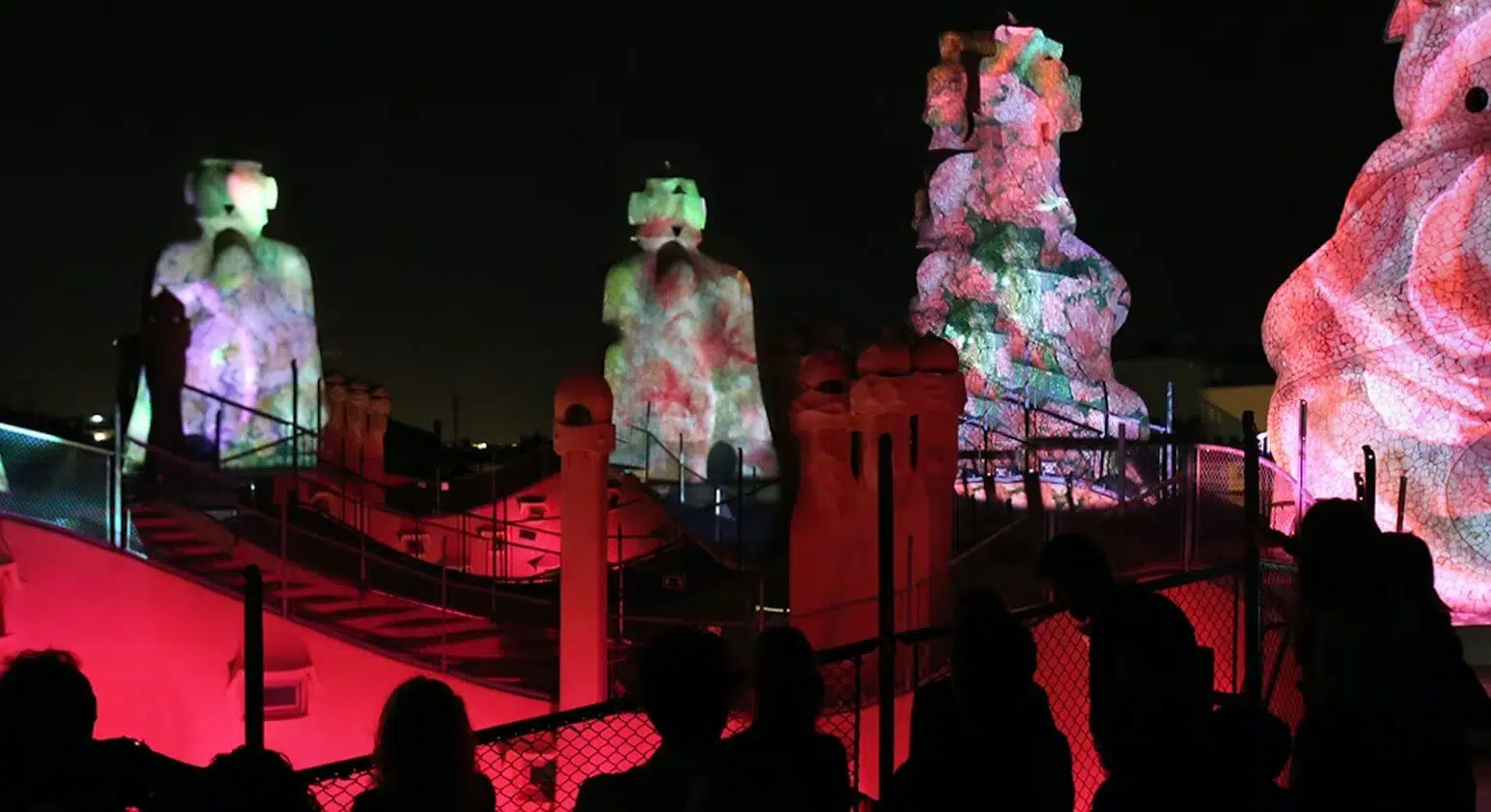 Casa Mila Night Experience
With mild evening weather it's the perfect time for the truly luxury experience of having a glass of wine and watching a mind-blowing audiovisual presentation on the rooftop of Barcelona's most impressive mansion.
Get the full after hours English tour of the building in small groups of 10-20.
Learn all about the madness of wonder-architect Antoni Gaudi – this is one of the best things to do at night in Barcelona.
Tickets: Adults €35.00, children €18.50, under 6 free.
Times: September 2023 (9:00 pm to 11:00 pm)
Brunch in the Park
The Sunday afternoon outdoor dance party keeps rolling well into September.
A great option for people looking to party but with an early flight out Monday morning. You'll be in bed by 11! Dance to international electronic music artists or have a family picnic. Or both.
Hours: September 4th, September 11th, September 18th, September 25th.
Get more Brunch in the Park dates, artists, and information.
Diada Nacional de Catalunya
Every year on September 11th we get this day long festival which commemorates the fall of Barcelona during the War of Spanish Succession.
What was originally meant to celebrate the sacrifices made by soldiers defending the city is now a full-on display of Catalan nationalism – the estelades (the Catalan flag) are flown especially high on this day of patriotic demonstrations.
Last year brought a massive independence rally on Passeig de Gracia and you can expect much of the same in 2019. Regardless of your leanings on the issue it's a massive spectacle!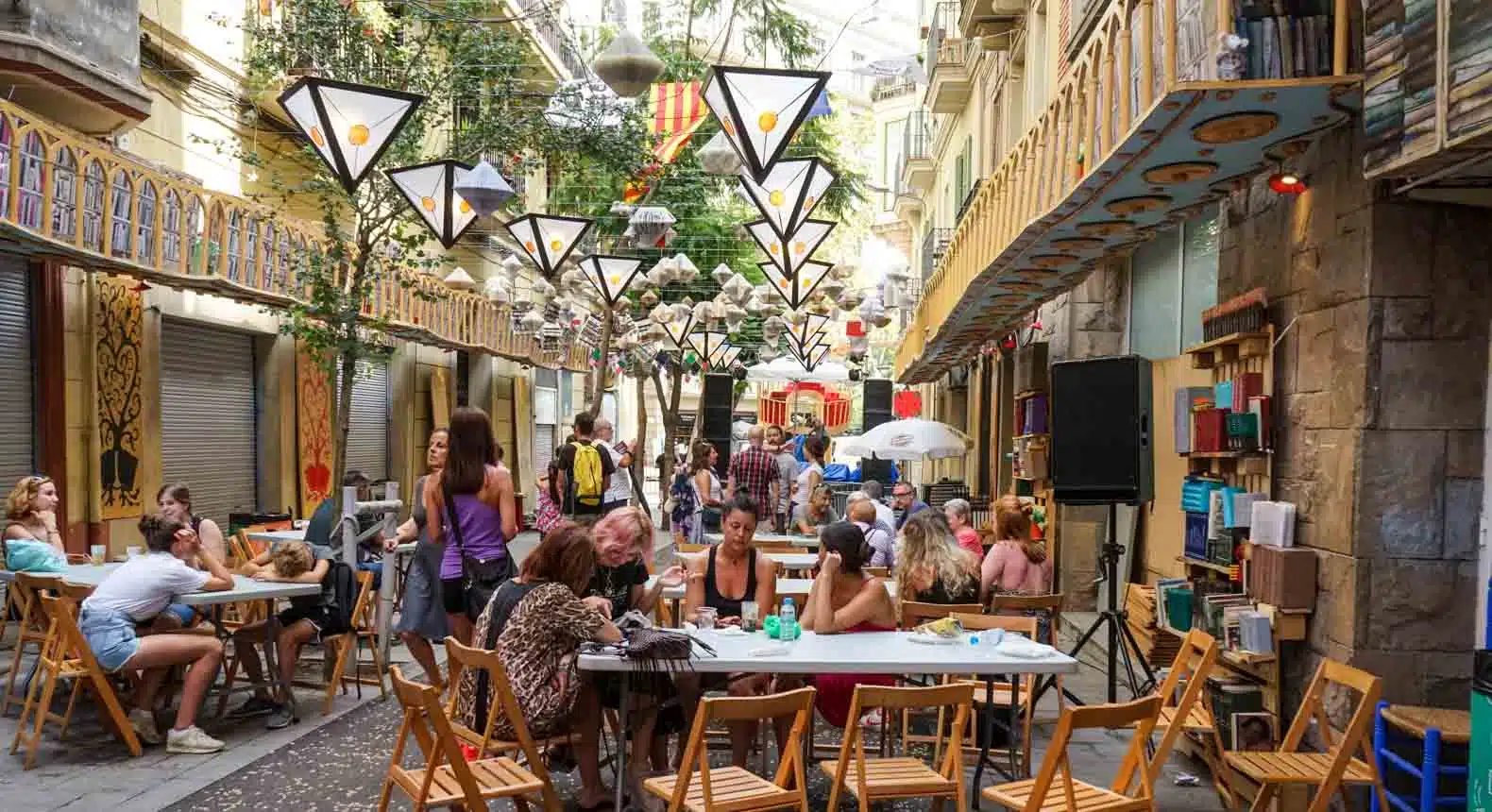 Festa Major del Poble Nou
In my opinion the most under-rated of Barcelona neighbourhoods is the perfect place for this barrio festival.
From early to mid September (about 10 days) on the Rambla del Poblenou you'll find tons of activities like an outdoor cinema, dinners in the street, concerts, markets, the famous correfocs (fire run), and much more.
For more information check out the official Festa de Poble Nou site (in Catalan, use browser translate).
2023 dates: September 9th to September 18th.
Sopar Amb Estrellas (Dine with Stars)
From Barcelona's Fabra Observatory on top of Tibidabo Mountain you will love this unique opportunity to combine a gourmet dinner worthy of Barcelona's best restaurants with star-gazing from one of the city's most privileged viewpoints.
Starting at just €78.00 euro you'll get a glass of local cava sparkling white wine with a 4 course dinner served at dusk. There are also vegetarian options should you need.
This is followed by a visit to the observatory, museum, and meridian telescope – one of Europe's largest and oldest.
Stomach full? Check.
Seeing stars in far away constellations? Check.
More info on at Sopar Amb Estrellas.
🧑‍🎨 Want more of Gaudi? Unlock his masterpieces with the top Gaudi tours in Barcelona.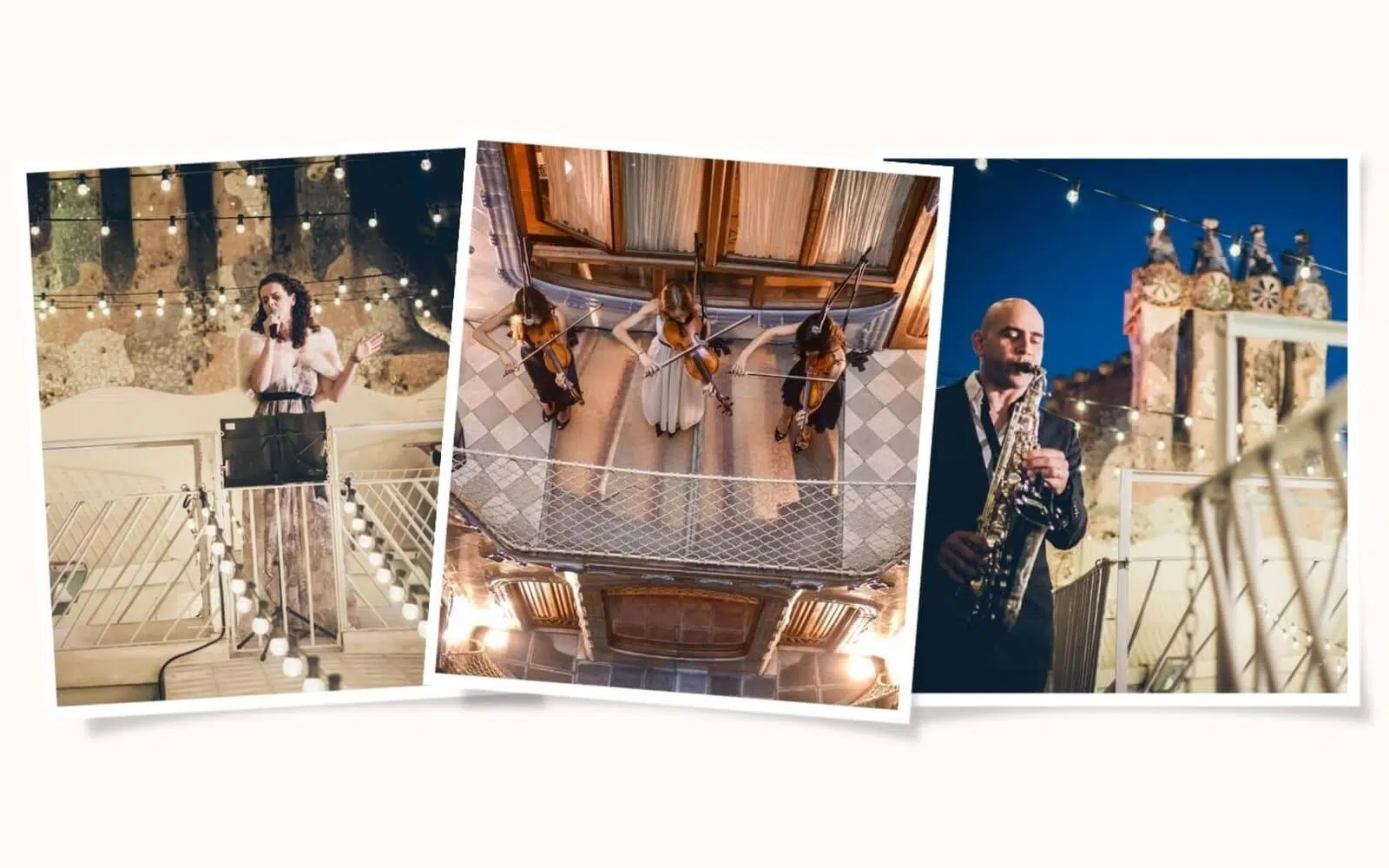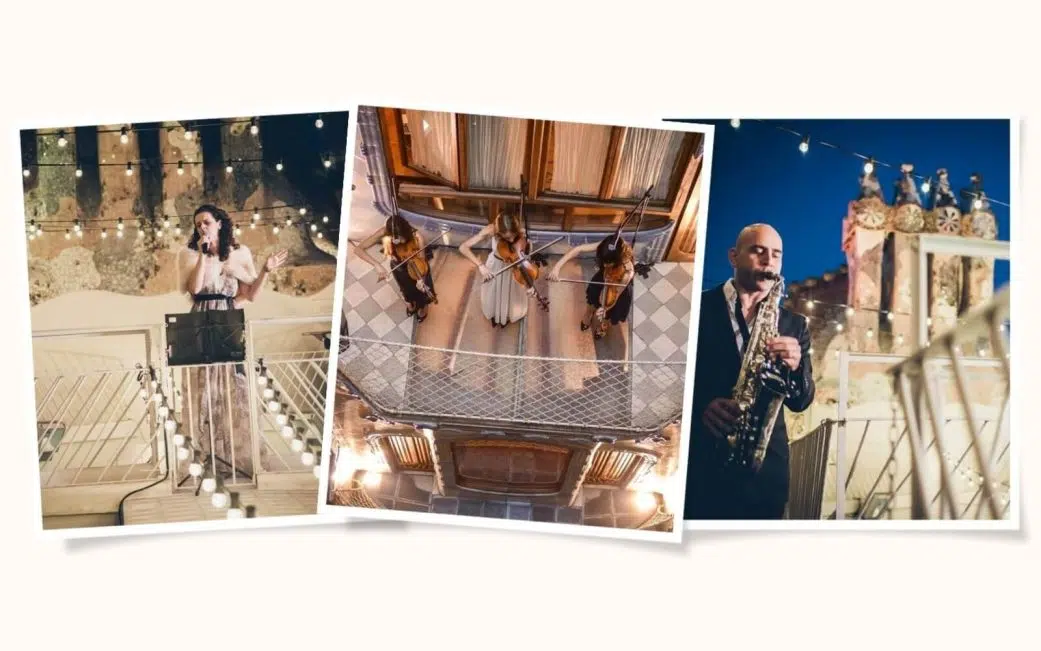 Magic Nights Rooftop Series
Whether you're visiting Barcelona in August or any other time there's no better concert venue than the roof top at Gaudi's crazy Art Nouveau mansion Casa Batllo.
Not only can you get rare nighttime access to one of the most mind-blowing sights in Barcelona but a concert on the Dragon Roof Terrace as well.
Concerts include rock and roll, jazz, opera, soul, flamenco, and more.
2023 Dates: TBA.
Tickets: €49.00 with new Gaudi 10D visit, a cava sparkling white wine, and concert.
Children under 7 enter free.
Barcelona September Weather
As mentioned the plus here is that the sweltering heat of summer is gone.
You'll still need that swimsuit though since it's the perfect time to take advantage of the warm temperatures at Barcelona's best beaches or the nearby Costa Brava. Sea temperatures hit 24°C (75°F).
September in Barcelona brings temperature averages of 26°C (78°F) with lows of 17°C (62°F) – it's still very much summer here well into October.
Expect 7.6 hours of daily sunshine and only a 19% chance or rain on any given day.
Stuck on a rainy day? Check out my list of Barcelona indoor activities.
🥘 Looking for food + history + wine + fun? Take one of Barcelona's best food tours.
What to Pack for Visiting Barcelona in September
The weather in Barcelona in September calls for moderate suitcase versatility – pack for summer but don't forget a pair of long pants and light jacket.
It still might be hot enough to put you off walking the city – make sure you read my Barcelona public transport guide to get around the city as comfortably as possible.
For more weather and packing information check out my article on Barcelona September weather.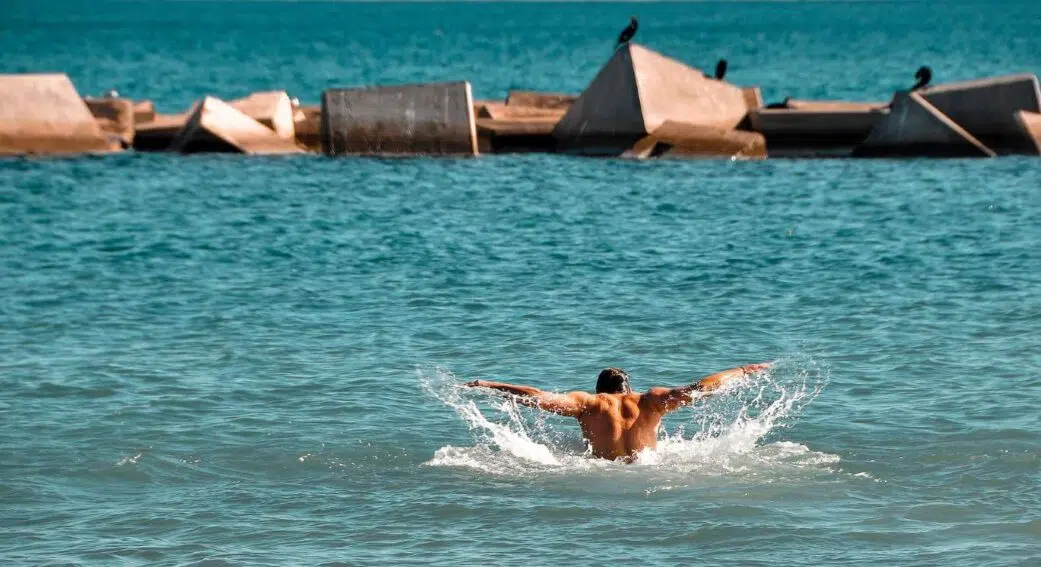 Traveling to Barcelona in September FAQ
What to wear in Barcelona in September?

You'll want to wear t-shirts and shorts in September in Barcelona, as hot and humid weather still persists well into October. That said, light jackets or sweaters may be needed in the evenings.

What are the best things to do in Barcelona in September?

In September you should be doing to the city's best beaches, attending rooftop concerts at Casa Batllo, scheduling in a visit to the legendary La Merce festival, and going to see FC Barcelona open their season.

How are Barcelona beaches in September?

Beach season in Barcelona lasts all through September, with locals usually taking their last dips in early October. Expect it to be hot enough for a nice day at the beach, even if the weather is not as consistent as July or August.

Can you swim in Barcelona in September?

Yes, with temperatures ranging from 17°C to 26°C (62.6°F to 78.8°F) September is still a good time to swim at Barcelona beaches.

Does FC Barcelona play in September?

Yes, FC Barcelona plays in September as the La Liga season by this time is already in full swing. You can generally expect at least two home matches during September.

Is Barcelona crowded in September?

By the time September rolls around, the biggest tourist crowds in Barcelona have gone home – but don't expect to find an empty city! It's still a mini high season of sorts, and booking attractions in advance is still necessary.
Visiting Barcelona in September?
Like always I'm here to serve.
If your Barcelona September plans aren't all you've dreamed of then drop me a line and we'll tailor something just for you.
Finally, don't be afraid to join the September 2023 discussion in my new Facebook group called I'm Off to Barcelona – here you're free to ask any questions, air out your grievances, chat with fellow travelers and more.
Happy travels 🙂