13 Things to Do in the Gothic Quarter in Barcelona
The Barcelona Gothic Quarter is the heart of the old city. Yet, strangely enough, it's also the heart of the new city.
The Barri Gotic is a medieval neighbourhood with kitschy modern bars. It's the site of city hall meetings and rambunctious nights out. It's where winding streets, open minds, and empty stomachs meet their match.
Let's break down what to see in the Gothic Quarter of Barcelona.
Things to Do in the Gothic Quarter in Barcelona Spain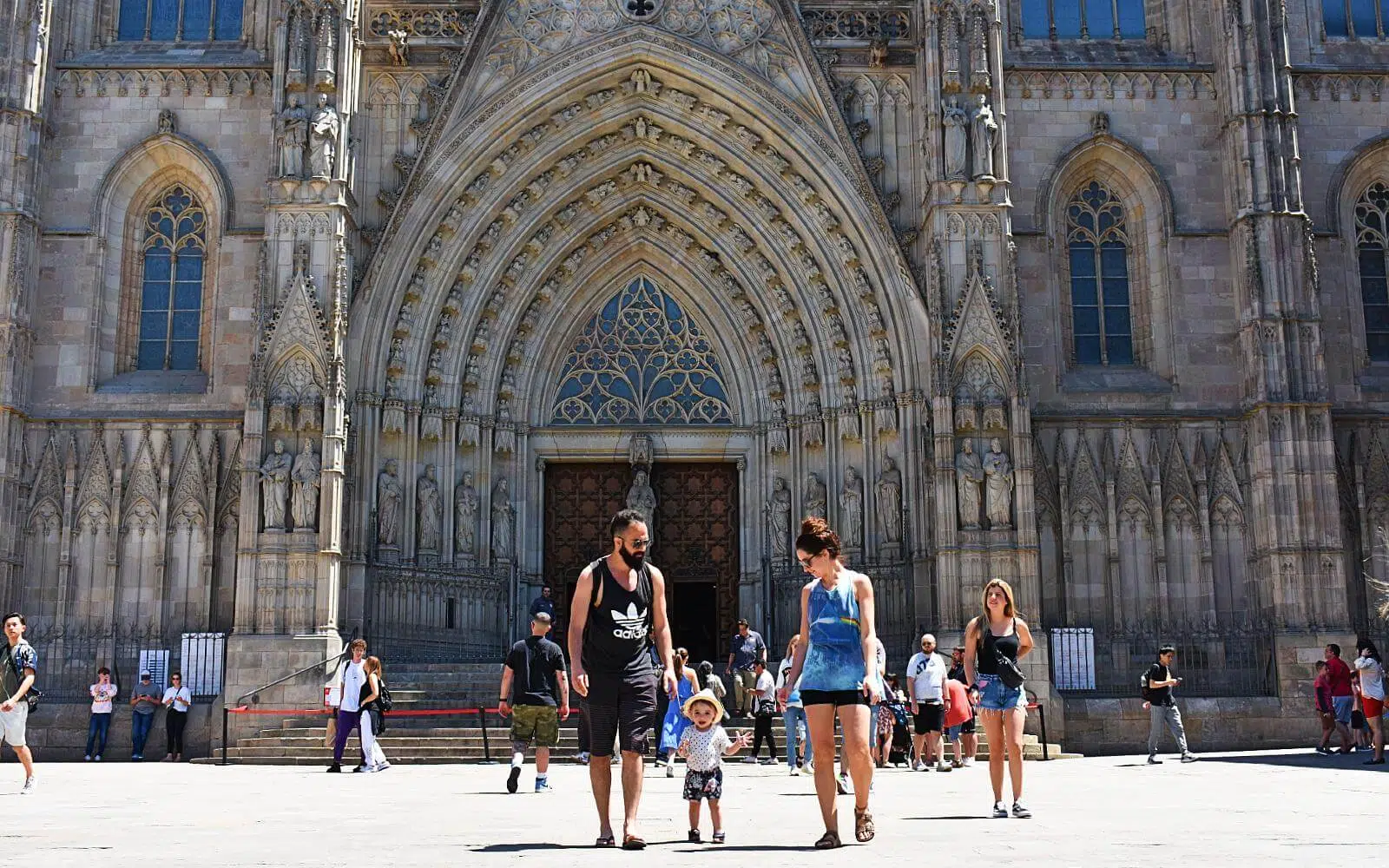 The Barcelona Cathedral
The Barcelona Cathedral was dedicated to Eulalia of Barcelona: co-patron saint of the city, who, according to legend, was left naked in a public square only to be covered by a miracle mid-spring snowfall.
Photographers should note that it's fantastic under the light of dusk. The highlight is the splendid inner courtyard with 13 white geese, one for every year of Eulalia's life.
⚠️ 

Warning

⚠️

: Barcelona's top two attractions must now be booked in advance.
You can book fast track tickets to both individually or get them as part of a discount pass:
You will not be able to book these tickets on site – lock in your tickets ASAP or you could miss out.
Similar to Sagrada Familia, this building took 150 years to build, so taking 15 minutes to walk through is the least you can do.
Outside? Look up to see the epic gargoyles watching over the Gothic Quarter – they're actually there to prevent rainwater from running down the masonry.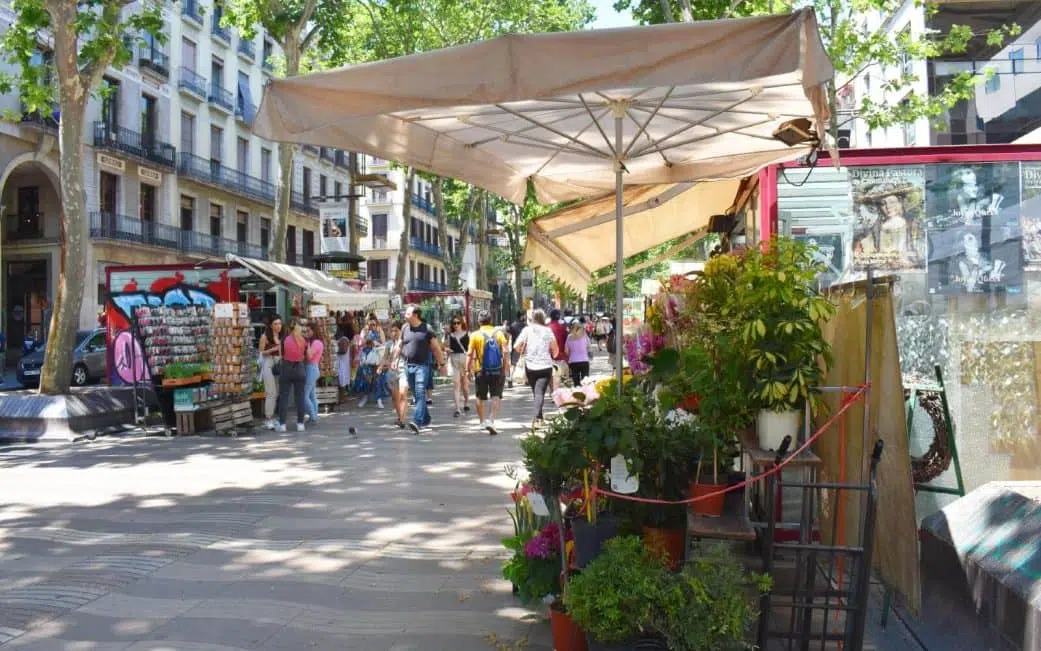 Walk Las Ramblas
So technically, Las Ramblas, Barcelona's most famous street, is the dividing line between the Barrio Gótico and Raval.
Don't expect to escape its charms, whether it's the flower market, the street artists, or Joan Miro's abstract street mosaic El Pavimento Miró.
That said, don't buy as much as a bottle of water here. It's tourist trap central. Go to nearby Boqueria Market and get fruit smoothies, Iberian ham, and some seafood tapas – but keep your wallet holstered otherwise.
🏙️ Wanna see a lot more of the Gothic Quarter?: Consider booking one of the top Barcelona guided tours.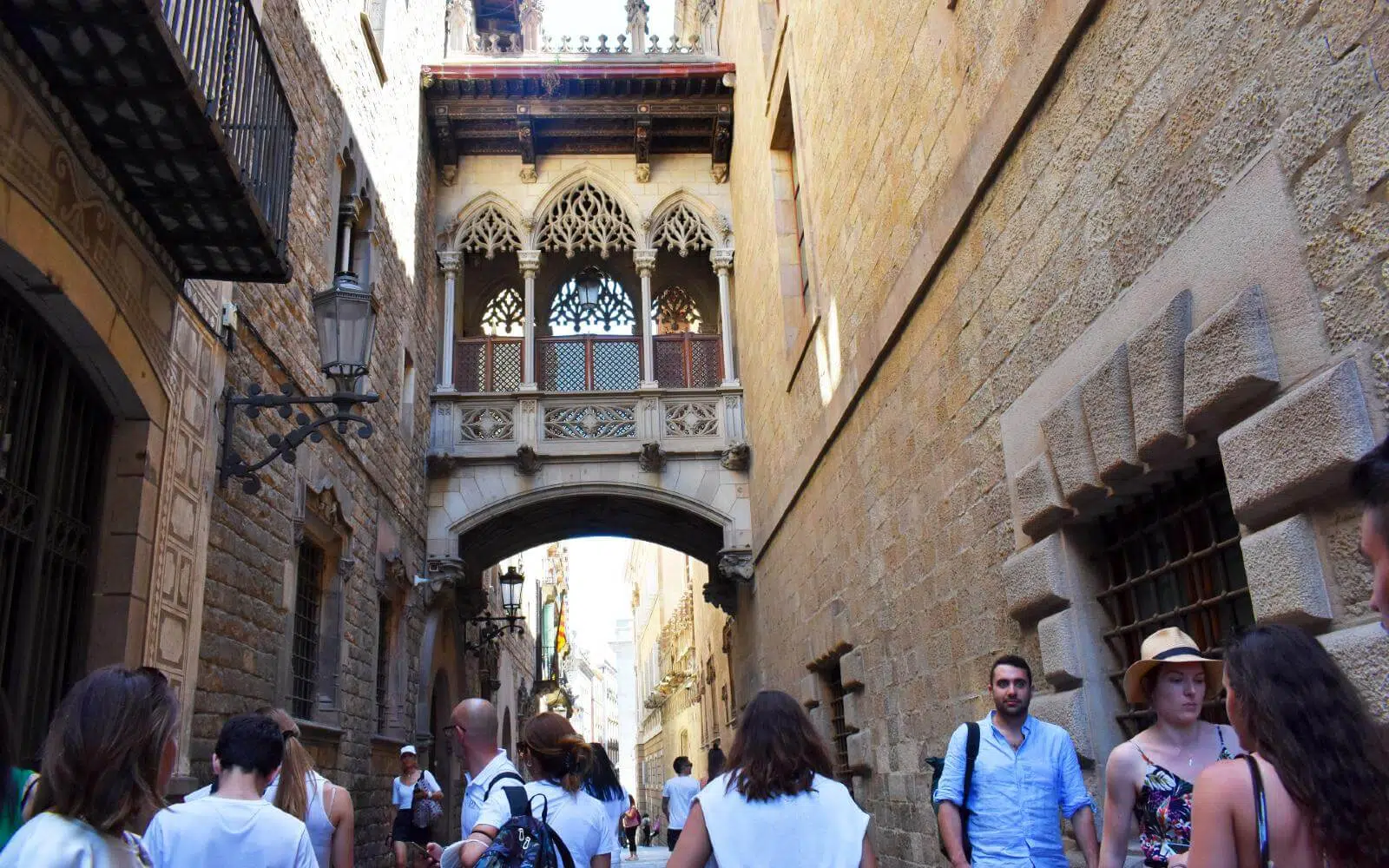 Walk Under the Pont del Bisbe
Regarding what to do in the Gothic Quarter, many tourists seem to think Instagramming from this spot is mandatory. Hey, to each their own.
The Pont del Bisbe, an ornamental bridge (Bishop's Bridge in English) built in 1929 in Gothic style, connects the House of Canons with the Palau de la Generalitat.
Make sure to look up! The embittered architect Joan Rubió i Bellver left a nasty skull and dagger surprise underneath. This is apparently to curse anybody who walked underneath after the city rejected all his other proposals.
🚲 Wanna see tons of the Gothic Quarter? Consider the best bike tours in Barcelona.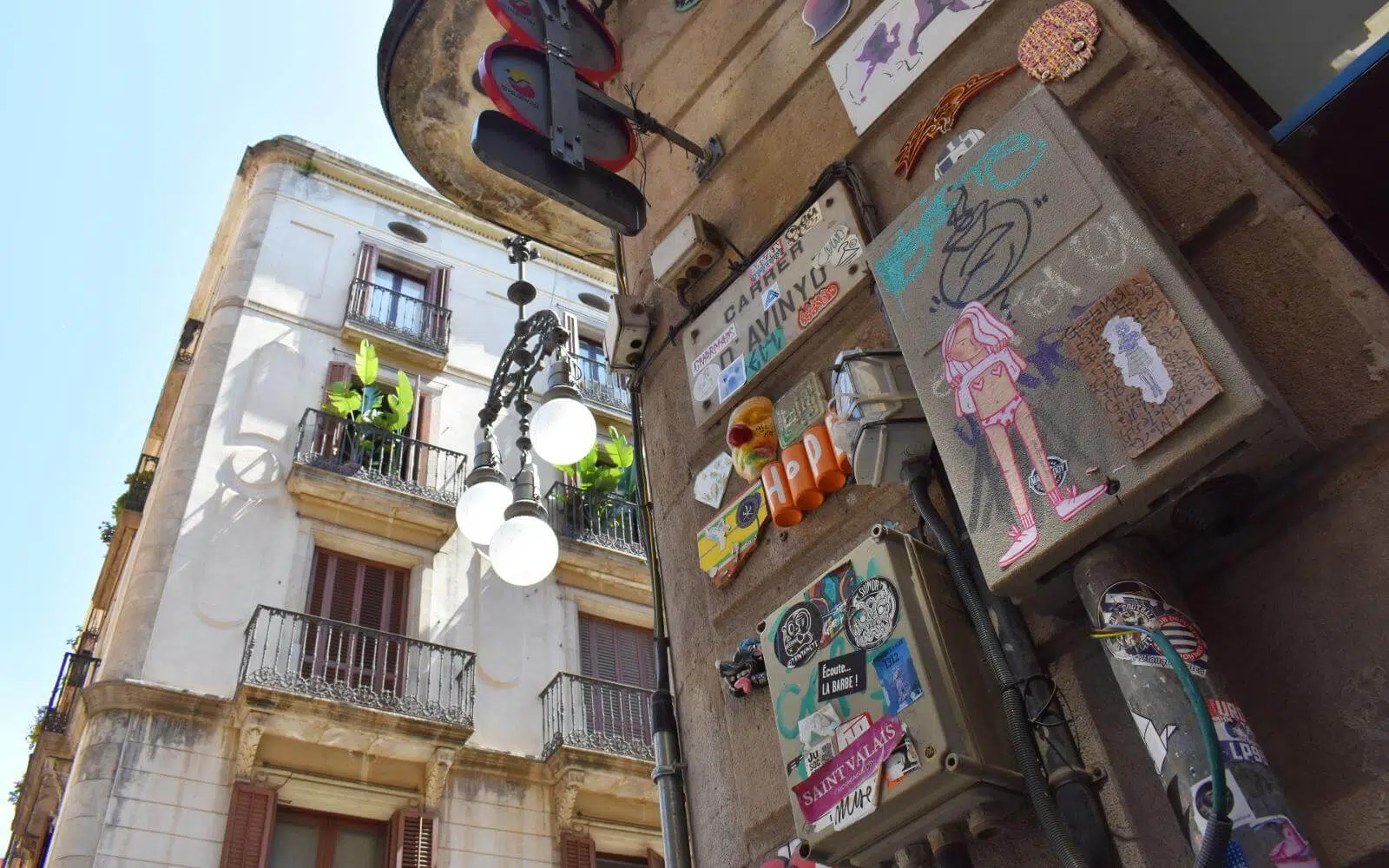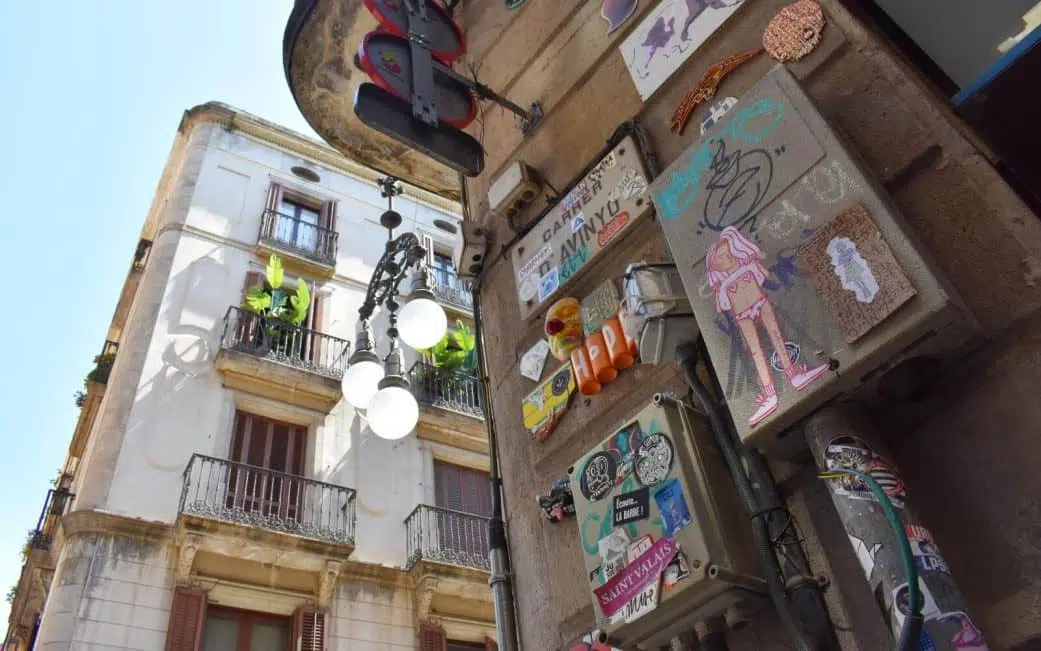 Explore Picasso's Old Barri Gotic Haunts
One of the most interesting streets in the Barcelona Gothic Quarter is famous for a fine arts school – which gave instruction to a young Pablo Picasso, among others.
For decades, Carrer d'Avinyo was the city's cultural heart and home to many cafes where artists gathered to network, socialize, and get up to all sorts of no good.
In fact, one of Picasso's most famous works Les Demoiselles d'Avignon portrays five nude prostitutes from an Avinyo brothel – you can see it at the Barcelona Picasso Museum.
El Bosc de les Fades
One of Barcelona's most unique bars in the Gothic Quarter? You'll swear you're drinking in the middle of a forest. The simulated rain showers are a cool effect, but at least you won't need an umbrella to try the sangria.
What surprises here are the reasonable drink prices for such a sought-after location. It's connected to the Barcelona Wax Museum, but tickets aren't required to enter.
The Barcelona History Museum
Here's what to see in the Gothic Quarter Barcelona if you're a history buff.
At the MUHBA, you'll learn 2000 years of Barcelona history with a visit to the Museu d'Història de la Ciutat (MUHBA).
One ticket gives you access to seven locations, mostly in the Gothic Quarter. The most popular may be the underground walk of the old Roman streets. See old wine shops, homes, and even a guard tower.
Find out more information at the official MUHBA website.
🍷 Want to sample the best local wines? Book one of Barcelona's best wine tours from €30.00.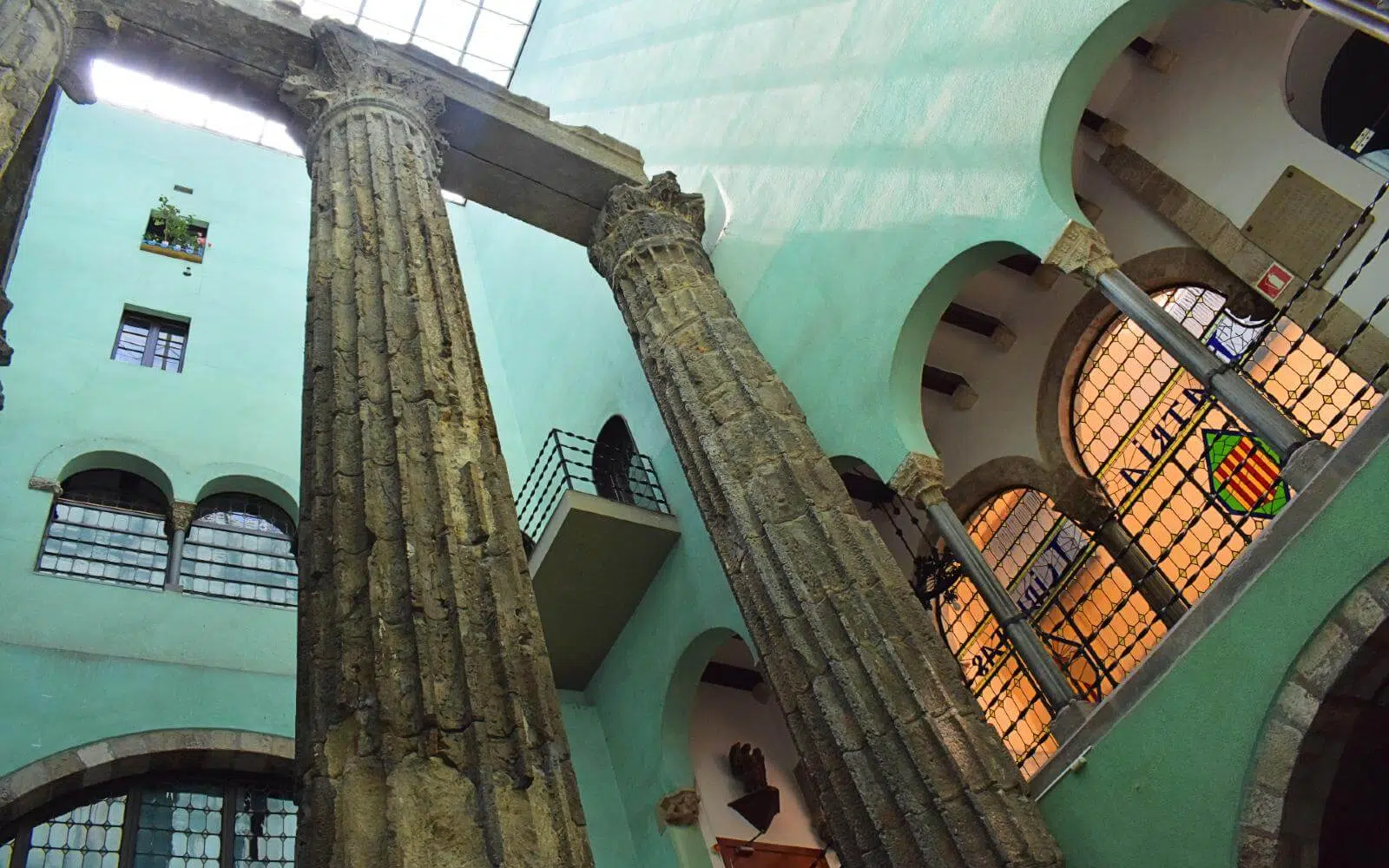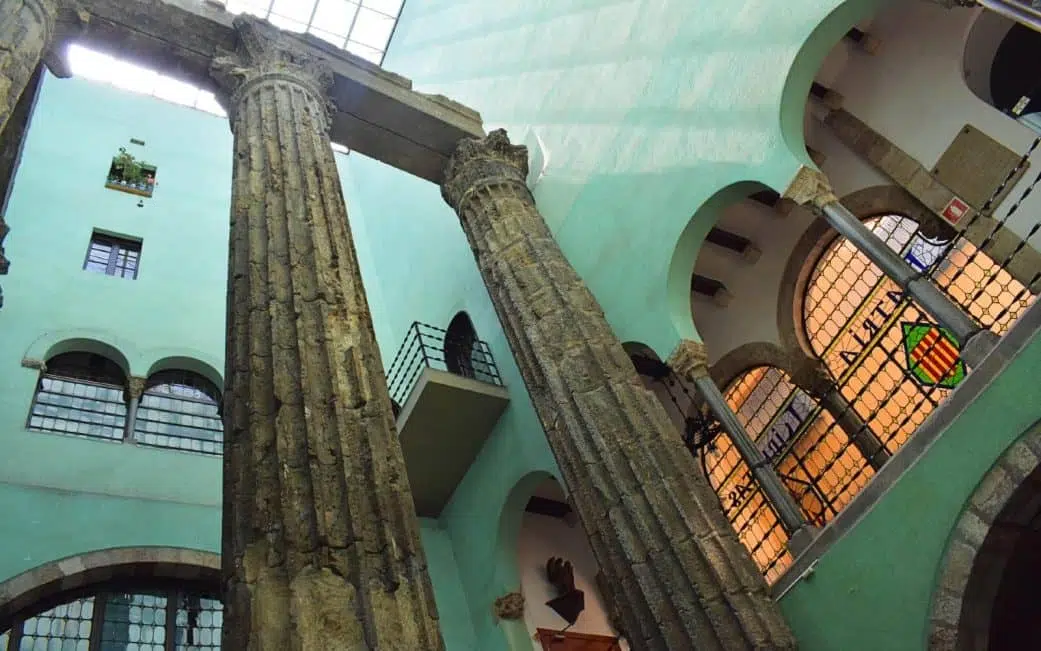 Barcelona's Roman Temple
One of the Gothic Quarter's hidden gems is the Temple d'August.
You'll find it hidden in a medieval courtyard behind the Barcelona Cathedral, on a narrow street called Carrer Paradís.
These nine-meter-high columns are some of Barcelona's earliest relics showing its founding as a Roman city. The columns themselves are over 2000 years old.
Best of all? Entrance to the courtyard is free – it's one of the best free things to do in Barcelona.
Check out the Gothic Quarter's Amazing Street Art
Once you leave town, your most treasured memory of the Barrio Gótico will likely be of wondering its labyrinth of historic streets and charming squares. This postcard-perfect area simply oozes history from every pore.
As you wander through the narrow alleys and hidden corners, you'll encounter a captivating array of colourful murals, graffiti, and thought-provoking installations. The extensive variety of pieces showcases the creativity and expression of local artists, old and new.
My favourite is the "The World Begins With Every Kiss" mural near the Barcelona Cathedral. Created by Catalan artist Joan Fontcubertat in 2014, the mural depicts a giant pair of red lips, symbolizing the power of love. It is constructed of thousands of tiles featuring hundreds of small photos sent in by locals. An instagrammable sight indeed.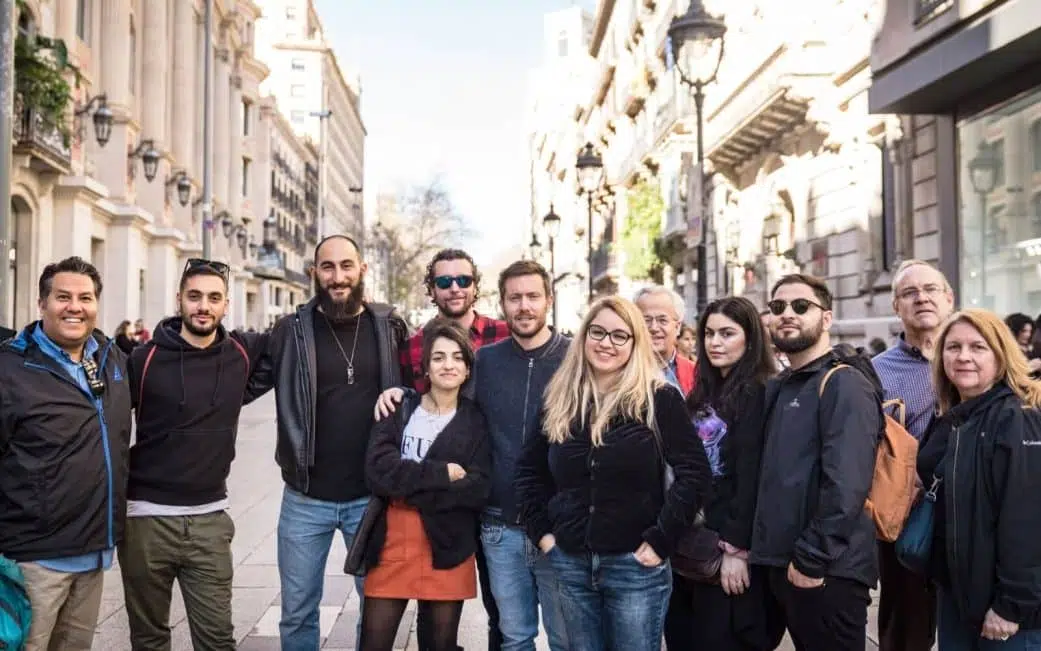 Take a Barrio Gotico Guided Tour
There's no better way to get your hand on the pulse of the history, the current political situation, and the future of Barcelona than with a 2.5-hour Gothic Quarter tour with a pro.
These walking tours roll with some of the best guides in the business.
Prepare to be 'edu-tained' with secrets of the old city at La Rambla, Boqueria Market, Barcelona Cathedral, Plaça Sant Felipe Neri, Augustus Temple, the Jewish Quarter (El Call), and much more.
You'll also get an old Picasso haunt, one of Barcelona's sweetest snack stops, and street art galore.
Watch the Sardana
A symbol of national unity and pride, this traditional Catalan folk dance was actually banned by dictator Francisco Franco until as late as 1975.
The inclusive (no formal clothing is required) circular dance has its participants holding hands, carrying out a series of demanding and meticulous steps set to music.
Tourists now get to see it for free every Sunday in the Gothic Area of Barcelona – a cheap alternative to a night out seeing Barcelona flamenco.
Location: Pla de la Seu (in front of the Cathedral).
Sant Felip Neri Square: a Gothic Quarter Hidden Gem
Hands down, this is one of the best things to do in the Barcelona Barrio Gotico.
Just steps away from the tourist hustle and bustle, around the corner of an ordinary alleyway, you'll find one of the most tranquil squares in Barcelona.
The first thing you'll notice at Plaça Sant Felip Neri is the quaint little fountain in the middle.
That said, take a closer look at the walls – those indentations aren't weather erosion. They're actually shrapnel marks from a Spanish Civil War bombing that killed 42 people back in 1938.
This is one of the few Gothic Quarter hidden gems, which is amazing because it's so close to the action yet usually peaceful and empty.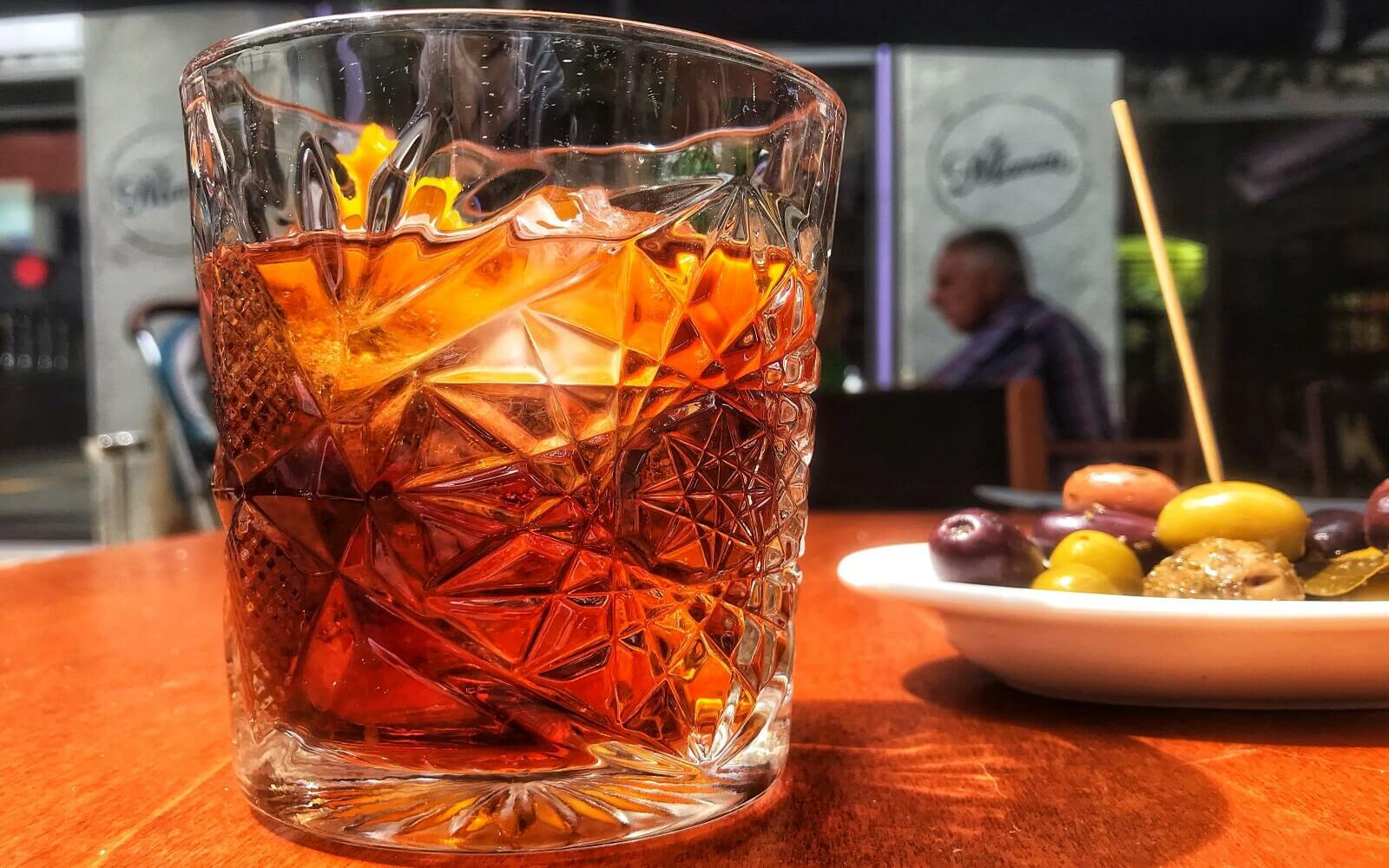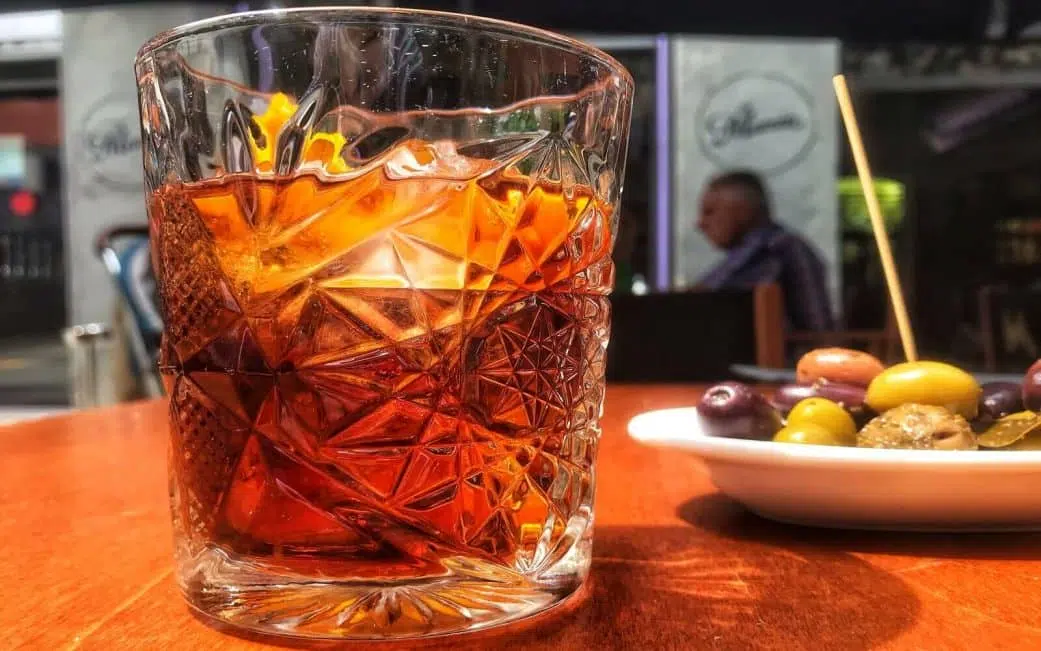 Go for a Barcelona Gothic Quarter Drink
As we found out with Picasso, it's no secret that the narrow streets of the Barcelona Barri Gòtic lend themselves well to all sorts of vice – Barcelona stag dos, I'm looking at you.
Some of Barcelona's best bars are here. Whether you're looking for a cheeky homemade vermouth and olives at Bodega Visconia or a craft cocktail with an exhibition thrown in at Tin Can, you've got options.
That said, for a casual beer to break up the Gothic Quarter attractions, I go to Plaça de George Orwell every time. Get a seat on the patio at Bar Oviso – this is where locals roll.
Go Gothic Quarter Shopping
In and around the Gothic Quarter, you'll find some of the best shopping in Barcelona.
Just off Plaça Catalunya is the famous pedestrian-only street Portal de l'Angel: Barcelona's equivalent to Oxford Street. Not only is it full of shops but it connects the square to the city's historic centre.
Here you'll find all the big names like H&M, Zara, Bershka, Benetton, Mango, Pull and Bear etc.
For more of a vintage and artisan vibe make sure you take a stroll down Calle Avinyó for a look at the many boutique shops there. Retro-style pin-up shoes are big at La Veintinueve, and one of the best retro clothing stores is Love. One thing is for sure, shopping is one of the best things to do in Gothic Quarter Barcelona.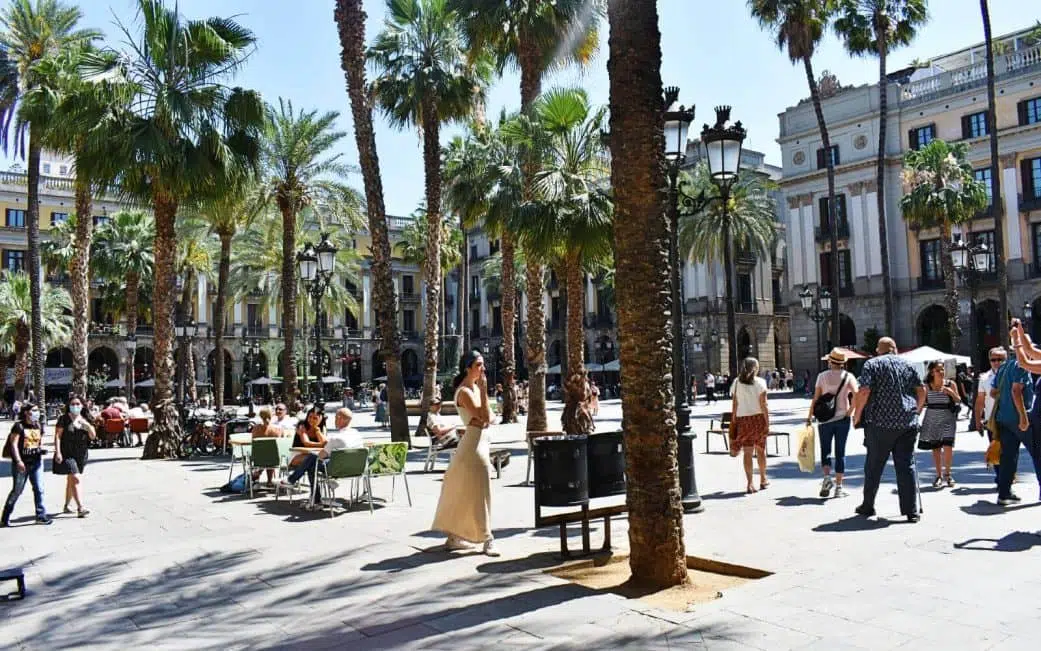 Soak Up Plaça Reial
The Gothic Quarter in Barcelona is full of touristy squares, but Plaça Reial ('Royal Square' in Catalan) isn't one of them – this massive, slightly exotic, elegant beauty is one of the most vibrant places in the city.
Whether you want to sit at the central fountain and watch the world go by, drink on one of the terraces (go for Ocaña), or have a full-on Barcelona paella dinner at Les Quinze Nits, it's all here.
Look out for the decorative street lamps – they were some of the first works of Antoni Gaudi ever commissioned.
🧑‍🎨 Want more of Gaudi? Unlock his masterpieces with the top Gaudi tours in Barcelona.
Visit the Museu d'Historia de La Ciutat
The Gothic isn't all about Sangria and sightseeing. So while you're there, why not take a quick dive into the fascinating history of Barcelona? The Museu d'Historia de La Ciutat takes you on a journey through time, uncovering the rich heritage of the city.
Explore ancient Roman ruins, stroll through medieval streets, and marvel at beautifully preserved artifacts. With interactive exhibits and engaging displays, you'll get a real sense of what life was like in Barcelona centuries ago.
Whether you're a history buff or simply curious about the city's past, the Museu d'Historia de La Ciutat promises an unforgettable experience.
Gothic Quarter Map
Barcelona's Gothic Quarter, known locally as El Barri Gòtic, is part of the old town ('Ciutat Vella') along with Barceloneta, El Born, and El Raval.
How to Get to the Gothic Quarter
The neighbourhood is bordered by the Liceu (green line L3), Catalunya (red line L1 or green line L3), and Jaume I (yellow line L4) Barcelona metro stations.
Any of these main Barcelona transit stations could be useful depending on the area you stay.
📍 Tip: Best Areas to Stay in Barcelona
The easiest transport from Barcelona airport to El Gotic is to get off the Aerobus or city bus at Plaça de Catalunya, then dip down into the Gothic Quarter at any point by taking a left and going downhill on the famous Rambla.
A taxi from the airport to the Barcelona Gothic Quarter should cost about €30.00.
If you're wondering where to go in the Gothic Quarter, pretty much everything will be on foot once you're there – don't take a taxi around!
Gothic Quarter General Information
Barrio Gòtico History
The Gothic District of Barcelona was born from the ashes of Barcino, the old Roman settlement of the area dating back to 15 BC – it still shows off some classic urban structures associated with the Roman Empire.
It's not only Barcelona's historic center but the heart and soul of the Catalan capital and the centre of political and religious life in Barcelona since medieval times.
When you walk around the area, it's easy to come across massive Gothic churches and Roman walls from the first century AD.
What the Barcelona Gothic Quarter is Like Today
Today, the Barcelona Gothic Quarter is a (mostly) car-free pedestrian playground and the beating heart of the city and tourism industry.
It's completely walkable and full of places to see. And if you need a rest, simply duck into one of the many bars.
When night falls, the Barrio Gotico Barcelona becomes slightly mysterious.
The light play of its locales creates shadows that'll make you feel like you're the lead actor in a horror film, only this is much more realistic.
Gothic Quarter Barcelona FAQ
What is the Gothic Quarter in Barcelona?

The Gothic Quarter district is one of the five districts of the old city, and it's the most historical neighbourhood in Barcelona being the site of the original Roman settlement Barcino, which gave way to modern Barcelona.

Where is the Gothic Quarter in Barcelona?

Barcelona's Gothic Quarter (or Barrio Gotico) is found in the city centre between Las Ramblas and Via Laietana to the east and west, and the Barcelona Port and Ronda San Pau to the north and south. The main metro stations are Liceu, Drassanes, Placa de Catalunya, and Jaume I.

What is the Gothic Quarter in Barcelona like?

The Gothic Quarter (Barri Gòtic in Catalan) is a charming, historical Barcelona neighbourhood full of narrow, winding medieval streets. It's a bustling area with street musicians, artisans, boutique shopping, and a huge concentration of bars and restaurants.

Is the Gothic Quarter in Barcelona safe?

In general, people taking standard precautions should not run into trouble in El Gotic. That said, especially during tourist season there is a notable pickpocket risk at major metro stops and squares like Plaça de la Seu.

What is there to see in the Gothic Quarter Barcelona?

Must sees in the Barcelona Gothic Quarter include the Barcelona Cathedral, the Temple d'August, Plaça Reial, Plaça Sant Felip Neri, Las Ramblas, and the Pont del Bisbe. Honourable mentions to the shops and bars along the famous Carrer d'Avinyo.
Visiting the Gothic Quarter Barcelona?
That's a wrap on the Barcelona Barrio Gotico.
You should have a list of things to do in the Gothic Quarter Barcelona, but the quest never ends. If I've blatantly missed something incredible, don't hesitate to drop me a line below.
Enjoy the Barcelona Gothic Quarter 🙂