The Best Rooftop Bars in Barcelona: Hotels + Pools 2023
Let's face it, a late afternoon drink at one of the best rooftop bars in Barcelona is the ultimate way to relax after a day spent exploring the city. Because, after all, what's better than an ice-cold drink while looking down on the summer chaos of the Catalan capital?
The knowledge that just moments ago, you were entangled in a mess of turbulent tourist traffic makes that mojito's first dopamine hit to your body's reward centre even more rewarding. And if you're like me? You want more.
So here is the definitive list of the best rooftop bars in Barcelona.
The Best Rooftop Bars in Barcelona
Remember that the Barcelona rooftop bar scene isn't just for Instagram stars and Kardashian wannabes – there are options for every taste and budget.
And though these appear 'exclusive' because most of them are in hotels, remember that you won't need to be a hotel guest to enjoy these rooftop bars.
This is one of the best things to do at night in Barcelona, period.
Still wanna stay there? I've got links to the hottest summer deals; just click the buttons below.
Hotel H1898: Bar Isabela
Area: Raval | La Rambla 109 | Metro: Liceu (L3) | Website
Of all the hotels in Barcelona with rooftop bars, it's only appropriate that we start at the city's main tourist vein: La Rambla. Built in 1881, this imposing structure used to be the headquarters for the General Tobacco Company of the Philippines.
125 years later, builders have transformed it into one of Barcelona's best luxury hotels. You'll find the rooftop terrace on the 7th floor. From here, you'll get a superb 360º view of the city, including the city's tallest hill: Montjuic.
The space is divided up into a few sections with different vibes, but we go for the magnificent cocktail bar where the star of the show is the Fiore d'Isabela: tequila, litchi, sugar, and hibiscus. You also can't go wrong with a mojito.
The restaurant is one of the great romantic things to do in Barcelona, while the chill-out corner is a great place to soak up the sun on comfy cushions while eating delicious tapas.
Drink prices here, being a high-end hotel, are naturally more expensive than the mean in Barcelona. Expect to pay €10.00 for a glass of wine and €16.00-€20.00 for a cocktail.
Hours: 12:00 pm to 6:00 pm (in high season, the bar is open until midnight).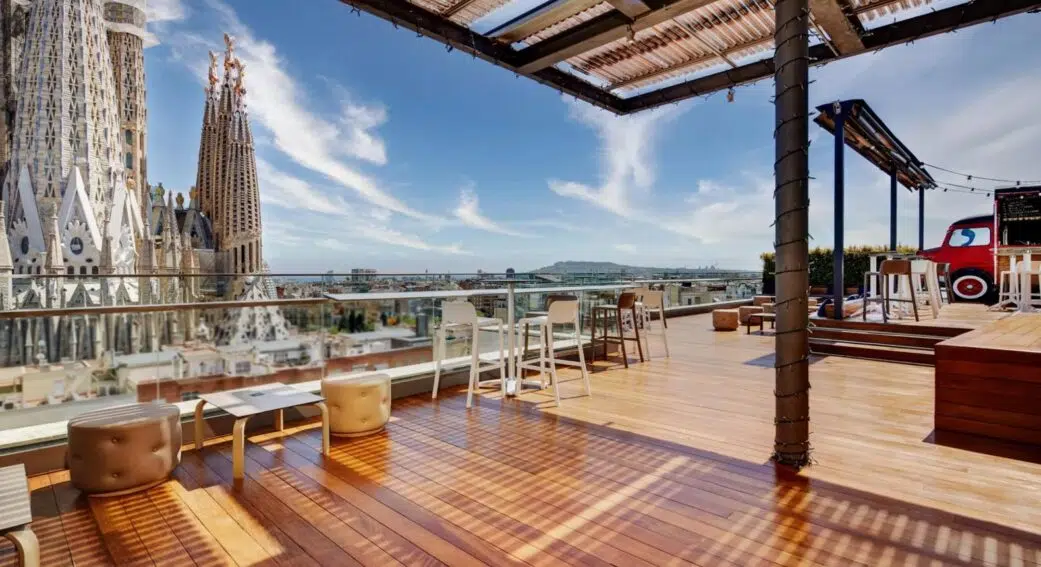 Sercotel Rosellón
Area: Sagrada Familia | Carrer del Rosselló 390 | Metro: Sagrada Familia (L2) | Website
A visit to the Sagrada Familia should be firmly planted right at the top of any Barcelona itinerary. Otherwise, no visit to Catalonia can be considered complete.That said, you'll be far from the only one with the same idea.
As a result, you're likely to encounter long lines and crowds of tourists falling over themselves to grab a peek at Gaudi's masterpiece. So, if you're looking for a chill spot to take a breather while enjoying the sights of the Sagrada Família, you gotta check out the terrace right in front of it.
This place offers prime seating where you can sit back, relax, and indulge in some delicious bites and sips from their food and drink menus. They've got a solid selection of food to choose from, including bar snacks, sammies, tapas, and sweets that won't break the bank.
And if you're looking to kick it up a notch, they've got tons of seating options with all kinds of cozy vibes – think deck chairs, loungers, and sofas aplenty. All with incredible views of Barcelona's number one attraction.
Sounds like a win to me:)
Hours: 1 pm – 8 pm (Apr – Nov)
🍷 Want to sample the best local wines? Book one of Barcelona's best wine tours from €30.00.
Hotel Pulitzer: Pulitzer Terrace
Area: Raval | Calle Bergara 8 | Metro: Catalunya (L1/L3) | Website
From May 5th until the end of September, this trendy terrace just a few steps away from Plaça de Catalunya is open every night. From Wednesday to Sunday, they also organize concerts and DJ sets.
Here you find a mix of after-work locals and tourists, so whether you're looking to meet people or network, you'll be in good company. Grab a seat at the large central table for either.
The intimate atmosphere here is given a lot of life by the myriad of plants and the tiny little lights. The bartenders will prepare you any range of cocktails for a comparatively wallet-friendly €10.00.
The tapas are simple and classic: cheeses, Spanish cold cuts, croquettes, patatas bravas and the signature, my favourite: the fried chicken sandwich.
Yes, the view isn't as spectacular from up here (there's no sea to see), but if you're looking for a social few right in the centre, this is the place to be.
Hours: Nov-Apr (closed), May/Jun (Mon-Fri 5 pm – 11 pm, Sat-Sun 1 pm -11 pm), Jul/Aug (5 pm -11 pm), Sep/Oct (Mon-Fri 5 pm -11 pm, Sat-Sun 1 pm-11 pm)
Barcelona Edition
Area: El Born | Av. de Francesc Cambó 14 | Metro: Jaume I (L3) | Website
This new 5-star hotel right by Santa Caterina market steps up to the plate to deliver some of the most convenient hours of any rooftop. If you need a morning or early afternoon fix (it's open at 11:00 am), this is your stop.
It's also one of the only year-round rooftop bars in Barcelona owing to a creative sliding-glass wall.
What really stood out for me were the creative Asian/South American fusion tapas dishes. If I wanted quality eats with my panoramic view of The Med, this would be my choice.
Hours: 10 am – 12 am (all year).
W Hotel Rooftop Bar
Area: Barceloneta | Pl de la Rosa dels Vents 1 | Metro: Barceloneta (L3) | Website
If you're looking for a luxury experience, then I suggest either of the famous W Hotel's bars/terraces.
WET Bar really picks up as the sun plunges into the Med. When the lights dim here, the hammocks are cleared for a rooftop party with a dance floor and local and international DJs spinning 'unique rhythms'.
There's also Eclipse Barcelona, and though not technically a roof terrace, we'll call it the highest rooftop bar in Barcelona since it's 26 stories up and powered by DJ beats, inventive cocktails, and creative sushi fusion.
In both locations, you'll find the best sea view of the bunch.
*As of April 2023, Eclipse is closed for a complete renovation. Check the website for updates.
Hours: Mon -Thu (11 am – 6 pm), Fri-Sun (11 am – 8 pm).
Brunch with a View – Available on Sundays from 1:00 pm to 5:00 pm.
🧑‍🎨 Want more of Gaudi? Unlock his masterpieces with the top Gaudi tours in Barcelona.
SkyBar at the Grand Central Hotel
Area: El Born | Via Laietana 30 | Metro: Jaume I (L3) | Website
This super-central 5-star hotel is generous enough to open its doors to non-guests in the spring and summer. This is truly a privileged location, and if it were a little more secretive to local crowds, it would be paradise.
The infinity pool here gives way to an amazing panoramic view that includes the skyscrapers along the beach, the cathedral, and a spectacular sea horizon formed by the Mediterranean. If you haven't fallen in love with Barcelona (or the person next to you!) yet, this is the place to do it.
Sky Bar hosts a cocktail bar, chill-out zone, and rooftop restaurant that offers tapas-tasting menus. If you're going to eat, though, you need to reserve in advance.
From April to October, non-guests must pay a €16.00 cover (cocktail included) for access. From November to March, it's free access, and there is live music in the afternoons.
Hours: Open year-round – 9 am – 9 pm (hotel guests), 1 pm – 9 pm (external guests)
Barcelo Raval: 360 Degrees
Area: Raval | Rambla del Raval 17-21 | Metro: Drassanes (L3) | Website
It's a strange contrast going from the rough and ready Raval area to perfect peace at this Barcelona rooftop that finds itself on the 11th floor of the Barcelo Raval hotel.
Just take two steps outside of the elevator to look up to Tibidabo mountain: the fantastic 360º rooftop (aptly named Terraza 360) leaves no vista unviewed! So sip on some wine and sit back and enjoy the sunset show from any of the sun-loungers.
The rooftop terrace is open all year (when the Barcelona weather permits, so pretty much all the time!), even for non-guests. From April to November, you'll find DJ sets at their rooftop party series every Thursday, Friday, and Saturday.
Again, cocktails are the star of the show here, but you're just as well going with a local sparkling white cava (€5.00-€6.00), a gin and tonic (€12.00), or a mojito (€10.00).
If you're in the area on a Sunday between 12:00 pm and 4:00 pm, I recommend brunch at B-Lounge, the hotel's rooftop restaurant.
There's also a year-round swimming pool.
Hours: 11 am – 1 am (weather dependent)
Ohla Barcelona: Rooftop
Area: El Gotico | Via Laietana 49 | Metro: Urquinaona (L1/L5) | Website
If you've had the pleasure of having a night out in the Big Apple, you'll have a bit of déjà–vu visiting the rooftop bar at Hotel Ohla because of its exclusive but carefree vibe.
The bizarre eye-covered facade of the hotel seems to scrutinize passersby from its centrally located position of the famous Via Laietana. One of the most elegant hotels with rooftop bars in Barcelona would give no less – and they've got the terrace to match.
The view of the city's rooftops is borderline voyeurist, as is the glass-edged 13-meter-long rooftop pool, giving the terrace a totally different vibe and a spectacular touch.
This Barcelona rooftop bar is divided into two spaces. The upper part hosts a bar and the chill-out area, with its charming white tables and armchairs. Lower down is where you'll find the balcony and its well-seated panoramic view.
The bar serves champagne, wine, and classic cocktails with some creative tapas dishes and fresh salads (put together by Michelin-starred chef Romain Fornell). Ironically, regardless of its elegance, the drinks start at only €5.00.
Hours: 3 pm – 12 am (year-round)
Barcelona Terrace Bars Honourable Mentions
In Barcelona, there are a ton of hotels that hide secrets on their roofs, and in fact, it's quite difficult to snuff out all of them. The ones I've put on this list are simply the ones I like best – it may not be the same for you.
Let's start with another of the city's most elegant hotels: Mandarin Hotel Barcelona. The Terrat del Mandarin Oriental (Passeig de Gràcia 38-40, metro Passeig de Gracia) is open from April to November and is available to non-guests as well, albeit for a fine-dining type vibe.
For a slightly less formal evening that still warrants a sea view, then try the Hotel Duquesa de Cardona (Passeig de Colon 12, metro Barceloneta). This intimate cocktail bar in Barcelona's beachside neighbourhood is a classic post-beach spot.
There's also Casa Bonay (Gran Via de les Corts Catalanes 700, metro Tetuan) which is designed in the form of a chringuito (essentially a beach bar) with plant-covered relaxation space.
Barcelona Rooftop Events + Activities
Rooftop bars in Barcelona are a virtual theatre of events and activities.
You can check out jazz concerts, elevate your local cuisine game at cooking shows, or cannonball right into a rooftop party straight out of Wall Street.
If you're looking for special occasions, make sure you don't miss:
La Semana de las Terrazas ('Rooftop Week', page in Catalan, so please use browser translator) – ten days of concerts, activities for children, yoga, cooking classes and much more. Events run in over 70 hotels with rooftop bars in Barcelona. Normally it runs in the first week of June, and the majority of the events are free with drink purchases.
Off Week – the week before Barcelona's electronic music extravaganza in June, the legendary Sonar Festival is a rooftop music festival to end all rooftop music festivals! Look out for exclusive DJ sets from some of the world's top electronic artists, rooftop pool parties, and enough dancing to last you through the winter in Barcelona.
In 2020 Off Week goes from June 18th-20th.
Remember, you readers are my eyes and ears, so if you've had an experience or have a suggestion make sure to get in touch.
Ready for another round at Barcelona's Best Rooftop Bars?
OK, so I've given you a list of all of my favourite rooftop bars in Barcelona, but surely something is missing? If you need a little custom advice about your drinking spots or anything else regarding your Barcelona holiday…I'm here 🙂
Also, don't be afraid to join the discussion by first giving me a like on Facebook and then joining my group I'm Off to Barcelona – here, you can ask any questions, air out grievances, and chat with thousands of Barcelona travellers.
Until then, enjoy the views at Barcelona's best rooftop bars.
Bottoms up🍹