5 Best Barcelona Flamenco Shows: Where to See it from €15.00
The best flamenco show in Barcelona is hard to find, being so far from Andalusia and all. Luckily, the city's thriving tourist economy brings the best flamenco dancers in from all over the country.
But which are dance duds and which are the most authentic flamenco shows in Barcelona?
I've taken in the shows to answer the question of where to see flamenco in Barcelona – let's take a look!
Where to See the Best Flamenco in Barcelona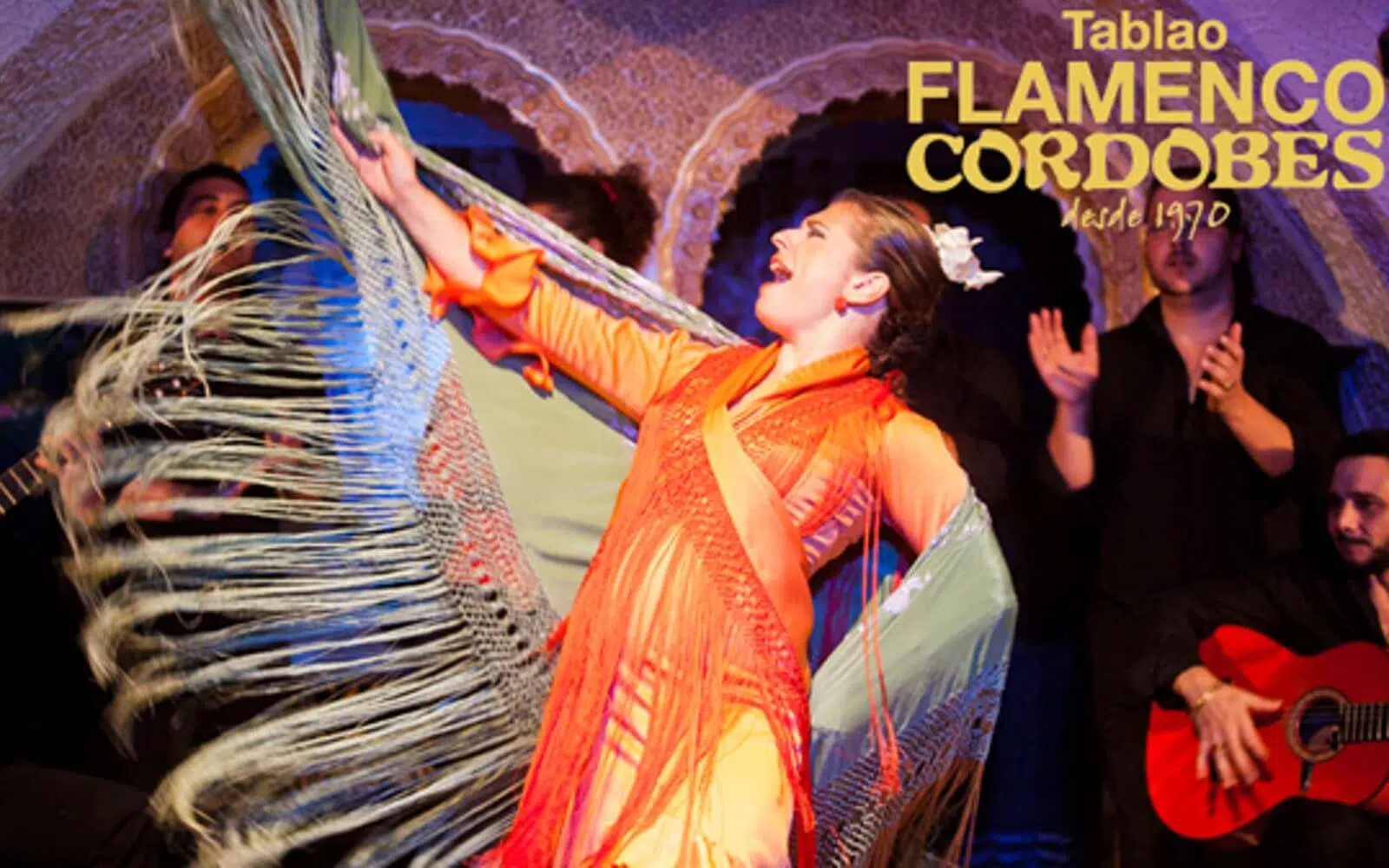 1. Tablao Flamenco Cordobes – Best Flamenco Dinner Show in Barcelona
When I was teaching English in the city I asked local students where they thought the best flamenco show in Barcelona was – and Tablao Flamenco Cordobes kept coming up.
I was happy to find out it was right in the heart of the city centre on Las Ramblas, within walking distance of most best Barcelona hotels.
The theater has a nightly performance with their top flamenco dinner show at 6:45 pm and the show at 8:15 pm.
What to Expect with the Food and Drinks
If you opt for the dinner package expect an abundant, buffet-style attack on the senses.
They've got some of the best tapas in Barcelona: gazpacho, Galician octopus, lamb chops with saffron potatoes, paella, traditional Catalan noodle dish fideua, wine braised beef, and eight different desserts.
They even do a great traditional hand cut jamon serrano.
It's also possible to get veggie options to rival the best vegetarian restaurants in Barcelona.
It should be noted that one of the cooks is Jordi Norra, who has been a longtime collaborator with legendary local chef Ferrán Adrià.
You could also classify them as one of the best bars in Barcelona for traditional Spanish wine and sangria. In fact, it's unlimited beer and wine.
Eating all of these classic Spanish dishes at Barcelona's best restaurants with wine and sangria can easily run you up to €60.00 a person – so at just a few more euros for a flamenco show, that's pretty good.
I suggest going for the flamenco dinner show – though if you're already good on dinner, I'll show you how to get show-only tickets shortly.
🧐 | Curious yet? Read Tablao Cordobes reviews from recent ticket buyers.
The Flamenco Performance
Once the show starts you'll have all seven flamenco artists take the stage: two on guitar, two singers, two dancers, and one at the cajon.
The most amazing thing, and this gives it such a tinge of tradition and authenticity, is that the show runs entirely without microphones, speakers, or amplifiers.
The way the room echoes the passion is something to behold.
In all, the music hall is not very large and I counted about 100 seats, which makes this quite the intimate affair and comparable to the small group size of traditional flamenco houses of southern Spain.
Expect to see some of the biggest names in flamenco like Carruco, Camarón, and Manuela Carrasco.
Each flamenco performance lasts about 1 hour and 20 minutes.
Without getting too much into spoiler territory, here's a sneak preview of the passion:
Tablao Cordobes Flamenco Ticket Options and Prices
Show & Dinner: Adults (€82.00) and children (€41.00)
Show & Tapas: Adults (€59.00) and children (€29.50)
Show & Drinks: Adults (€46.00) and children (€23.00)
*Drink tickets include sangria, beer, wine, or standard soft drinks.
All ticket options, including their Barcelona flamenco show and dinner, can be booked using the button below.
These flamenco tickets offer free cancellation and are buy now/pay later for optimum convenience.
2. El Tablao De Carmen – One of the Best Flamenco Shows in Barcelona for Value
This is another place in Barcelona for traditional flamenco, and its a classic venue found in Poble Espanyol (Spanish Village) – in fact, you'll get free entrance (an €11.20 value) to this open air architectural museum with your flamenco tickets.
The show itself is a tribute to legendary bailaora Carmen Amaya, and it has been one of the best flamenco bars in Barcelona since 1988.
Tickets to Tablao de Carmen can also include a tapas menu, dinner, or just drinks – each customer can get up to a half bottle of wine as well.
The flamenco show lasts 1 hour.
El Tablao de Carmen does two nightly shows: 6:00 pm and 8:30 pm.
🍷 Want to sample the best local wines? Book one of Barcelona's best wine tours from €30.00.
3. Flamenco Casa Sors – Best Authentic Flamenco Show in Barcelona
OK, so we've had the big stage show/venue that is a spectacle in itself – but this next show is probably the most intimate flamenco show in Barcelona.
Counting maybe 20 seats in the entire room, this flamenco performance is as close as you'll get to the performers – no forks clanging or audience members coughing either.
Purists looking for a tiny, Sevilla-like flamenco room should go for this one.
Even better? The tapas option provides a fantastic traditional tortilla de patatas, a refreshing gazpacho, and some of the best jamon serrano (traditional ham) in the city.
Oh – and included in your ticket is a free tour of a spectacular guitar museum that will take you through the history of the world's most popular instrument.
Tickets start at €35.00 (three nightly shows at 6:30, 7:30, and 8:30) using the button below:
4. Gran Gala Flamenco – Best Flamenco Venue in Barcelona
The first show you'll get with this package is even before the artists take the stage.
How? Just take a few steps into the Catalan Music Palace and you'll be amazed by this jewel in the Catalan modernism crown.
Show aside, the theater itself is one of Barcelona's top attractions.
Whether you're in the orchestra or upstairs in the balcony you'll be blown away by the beauty of the only naturally lit auditorium in Europe, the explosion of colour from its mosaics, and that rainbow teardrop chandelier.
The Flamenco Performance
Yes, you'll be in the best flamenco venue in Barcelona.
Here you'll get the whole package with a showcase of different styles of flamenco accompanied by 3 musicians (guitar, violin, and drums), 2 singers, and 4 ballerinas that'll get you out of your seat with their pirouettes.
Tickets cost €33.25 with a 5% Barcelona Turisme discount using the button below:
Gran Gala Flamenco shows run nightly at 9:30 pm.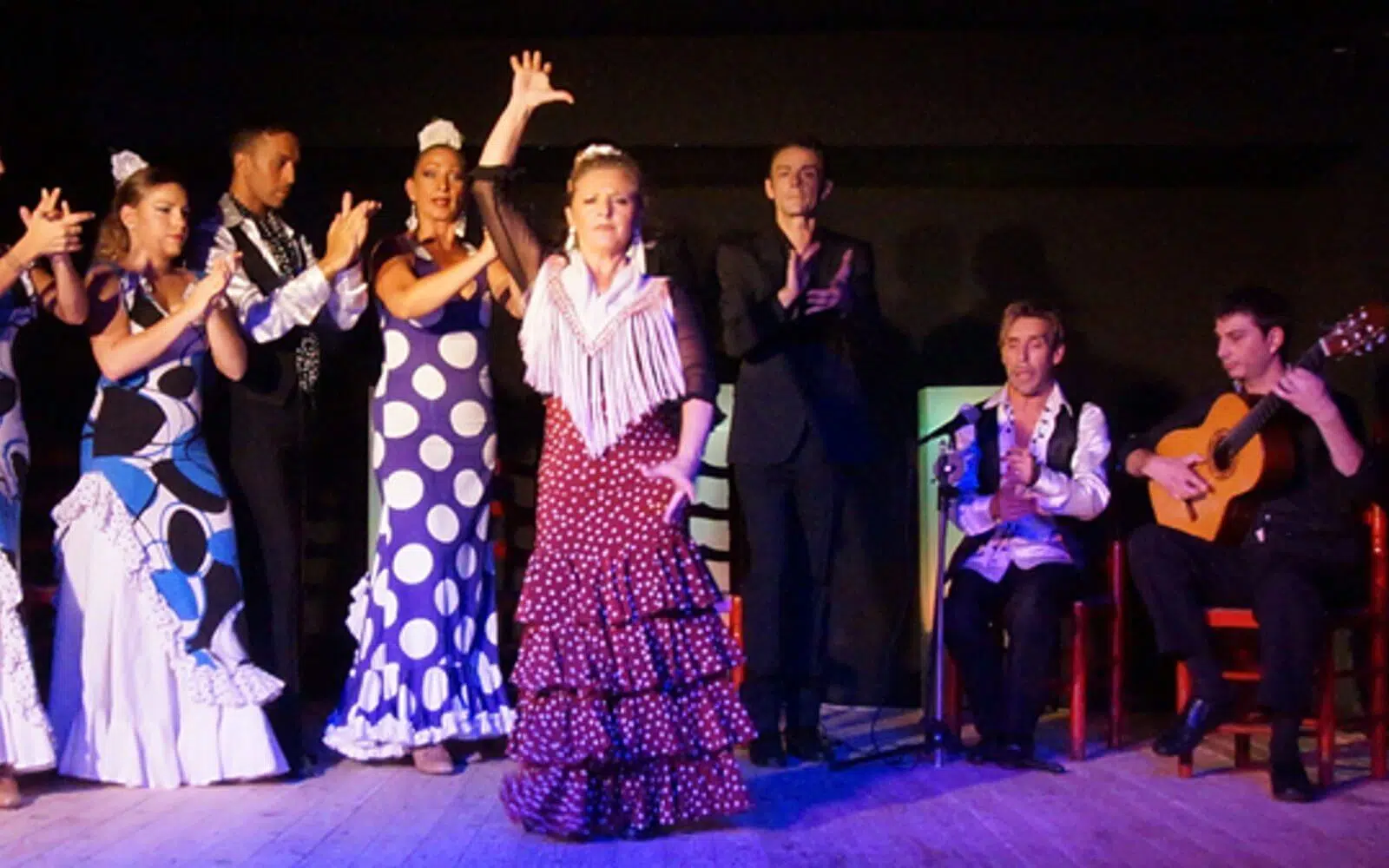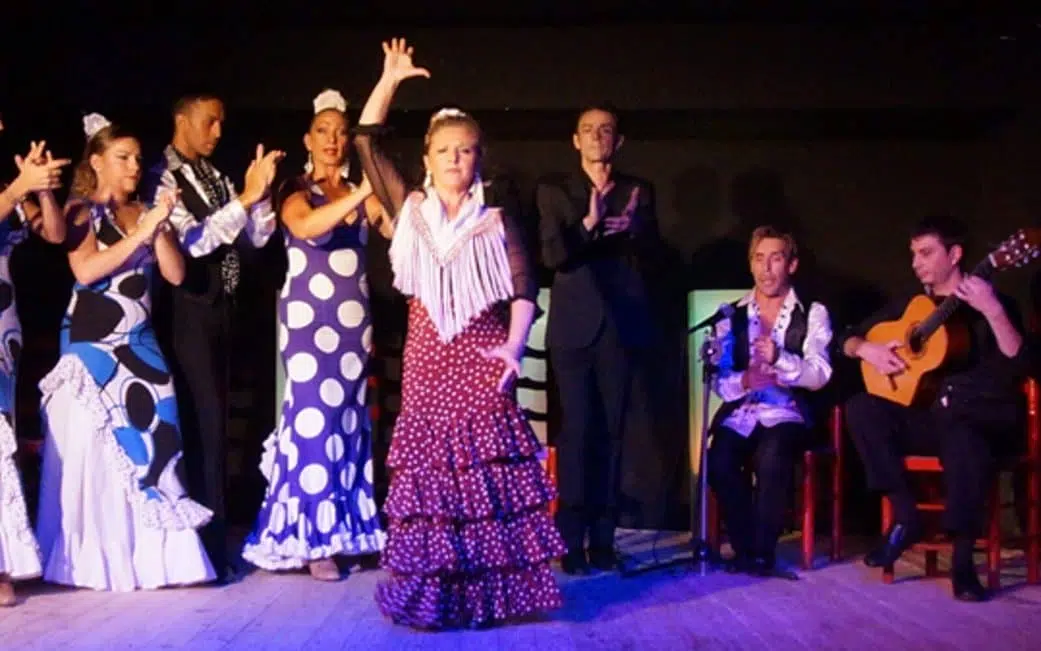 5. El Patio Andaluz – Best Cheap Flamenco in Barcelona
If you're just looking to see a traditional flamenco show in Barcelona with no bells and whistles, then the basic adult orchestra tickets at El Patio Andaluz is your jam.
The tickets start at just €25.00 for this Barcelona flamenco club.
It's a small price to pay to be whisked away to a replica Andalusian courtyard and be taken through all the different flamenco genres by director/dancer Jesús Cortés.
Even better? If you book online through Barcelona Turisme using the button below you'll receive a €10.00 discount making this cost an obscene €15.00.
This is the best place to see flamenco in Barcelona on a budget, by far.
El Patio Andaluz does two nightly shows: 8:00 pm and 10:00 pm.
Best Flamenco Near Me
Stuck on which Barcelona flamenco show is the most convenient for your location?
Here's a map of the shows so you can get a better picture:
Barcelona Flamenco FAQ
What is the Best Flamenco Show in Barcelona?
The best best flamenco show in Barcelona is at Tablao Flamenco Cordobes: it has the most central venue for easy access, it's got an amazing dinner ticket, and it's the longest flamenco show which adds extra value.
Where to watch flamenco in Barcelona?
There are many flamenco bars in Barcelona, with the best being found on La Rambla (Tablao Cordobes), at the Palau de la Musica (Gran Gala), Eixample (Patio Andaluz), and Poble Espanyol (El Tablao del Carmen).
Can I bring children to a flamenco show in Barcelona?
Yes, children are allowed at flamenco shows in Barcelona and in general you can expect to pay about half the adult ticket price for them to attend. The best flamenco show for children would be Tablao Cordobes, because it's got eight desserts!
What to wear to a flamenco show in Barcelona?
Most Barcelona flamenco bars do not have a dress code. That said, it is generally frowned upon to show up in beach wear so make sure you find a nice change of clothes before attending. Smart casual is how the locals do it.
How long are flamenco shows in Barcelona?
The average flamenco dance in Barcelona lasts about one hour, though the Tablao Cordobes show runs a bit longer at one hour and 20 minutes.
Where can I see authentic flamenco in Barcelona?
Most Barcelona flamenco performances are given by classically trained dancers and musicians who originate from Andalusia. The art form itself is extremely authentic even if the venues do differ from the south of Spain.
The flamenco bar in Barcelona with the most authentic vibes is Tablao Cordobes.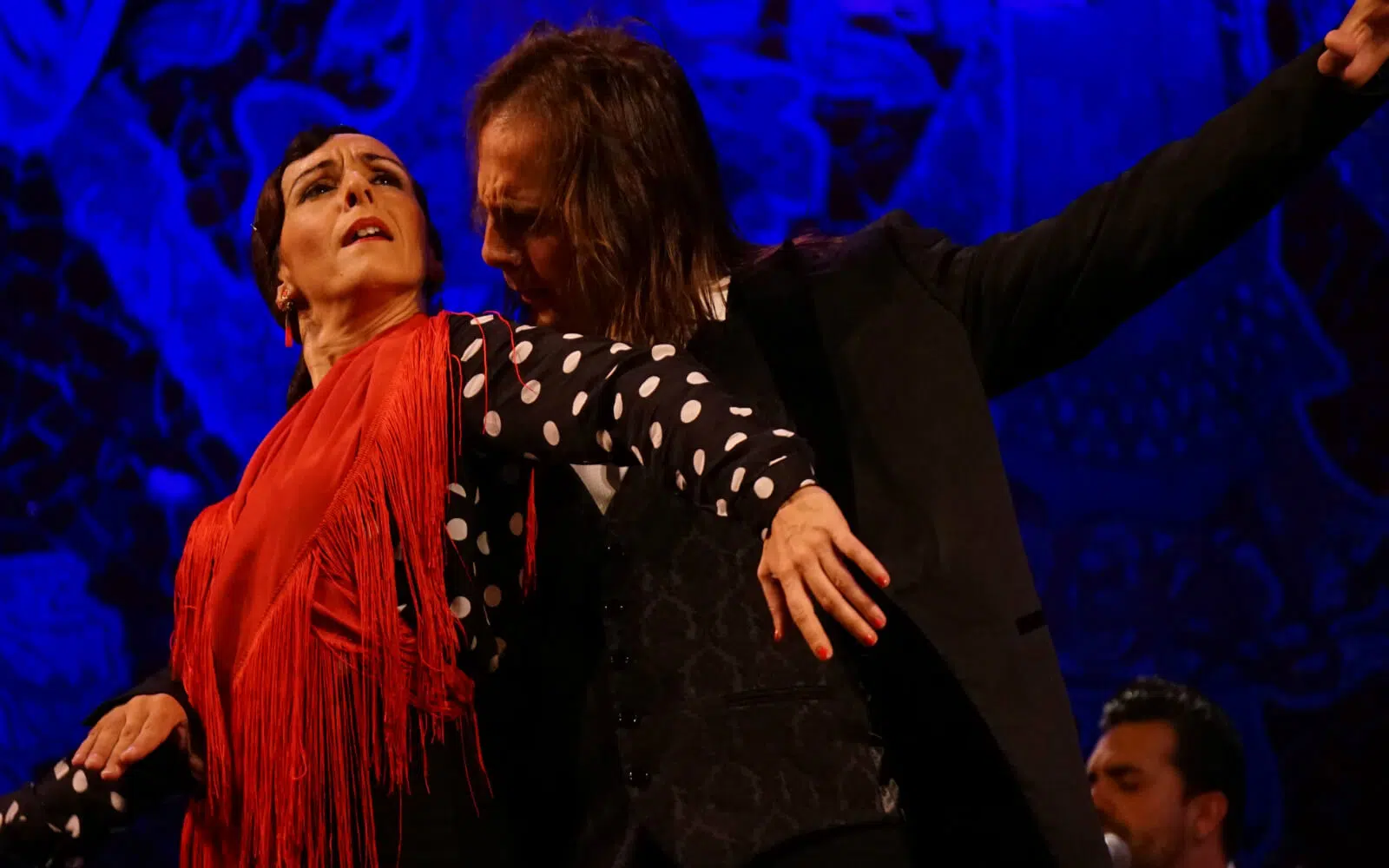 The History of Flamenco in Barcelona
Flamenco was born in the South of Spain in the regions of Andalusia, l'Extremadura, and Murcia in the 18th century. While there is no evidence pinning this phenomenon to an exact time and place, the evolution of the dance was found in gypsy populations living in Spain at the time.
To create this famous art form, flamenco artists must fuse cante (song), baile (dance), and toque (musicianship).
The vocal component involves a seated man or woman running the gamut of feelings – joy, tragedy, fear, regret, sadness – through simple, expressive lyrics.
The dancers purvey passion and courtship over a series of complex steps, the complex technique often varying between sexes. Men tend to be heavier on their feet while woman make more calculated, sensual movements.
Though originally a mere accompaniment, the raspy and percussive-like guitar playing during these performances has spawned its own genre and has become an essential part to any good flamenco performance.
In November 2010 flamenco was put on the Representative List of the Intangible Cultural Heritage of Humanity by UNESCO.
Flamenco in Barcelona today continues to evolve through various interpretations and some of the artists have even become celebrities.
Before booking I suggest looking up the best flamenco performance videos on Youtube – you can start with guitarist Paco de Lucia an singer Camarón de la Isla.
Another of my favourites for flamenco dancing in Barcelona is Carmen Amaya.
Looking for an Authentic Flamenco Show in Barcelona?
I've taken in a show and wrote an article about my opinion on the best flamenco in Barcelona but what have I missed? If you need any extra advice please get in touch using the form below.
Enjoy the best flamenco shows in Barcelona 🙂