Discovering Barcelona's El Born Neighbourhood: Top Things to Do
El Born Barcelona is the trendiest neighbourhood in the city.
It's full of charming old buildings, tiny pedestrian streets, and snazzy cocktail bars – but that's just the start.
With little effort in The Born we can throw in a little Picasso, the city's most impressive music venue, Barcelona's best local cuisine, and even some medieval jousting.
Let's get into it then with my dive into local life in El Born Barcelona.
Where is El Born in Barcelona?
You'll find the El Born neighborhood just behind Barceloneta beach using the Barcelona metro stop Barceloneta (yellow line L4) and just next to the famous Barrio Gotico using metro Jaume I (yellow line L4).
El Born also flanks Barcelona's largest and most lively park: La Ciutadella.
Why Visit El Born?
You have loads of Barcelona's best bars.
Tons of boutique shopping (no chains).
There's an eclectic mix of restaurants.
It's quieter than other neighbhourhoods like the Gothic Quarter
It's one of the best areas to stay in Barcelona.
It's a great place for street art.
What to See in El Born Barcelona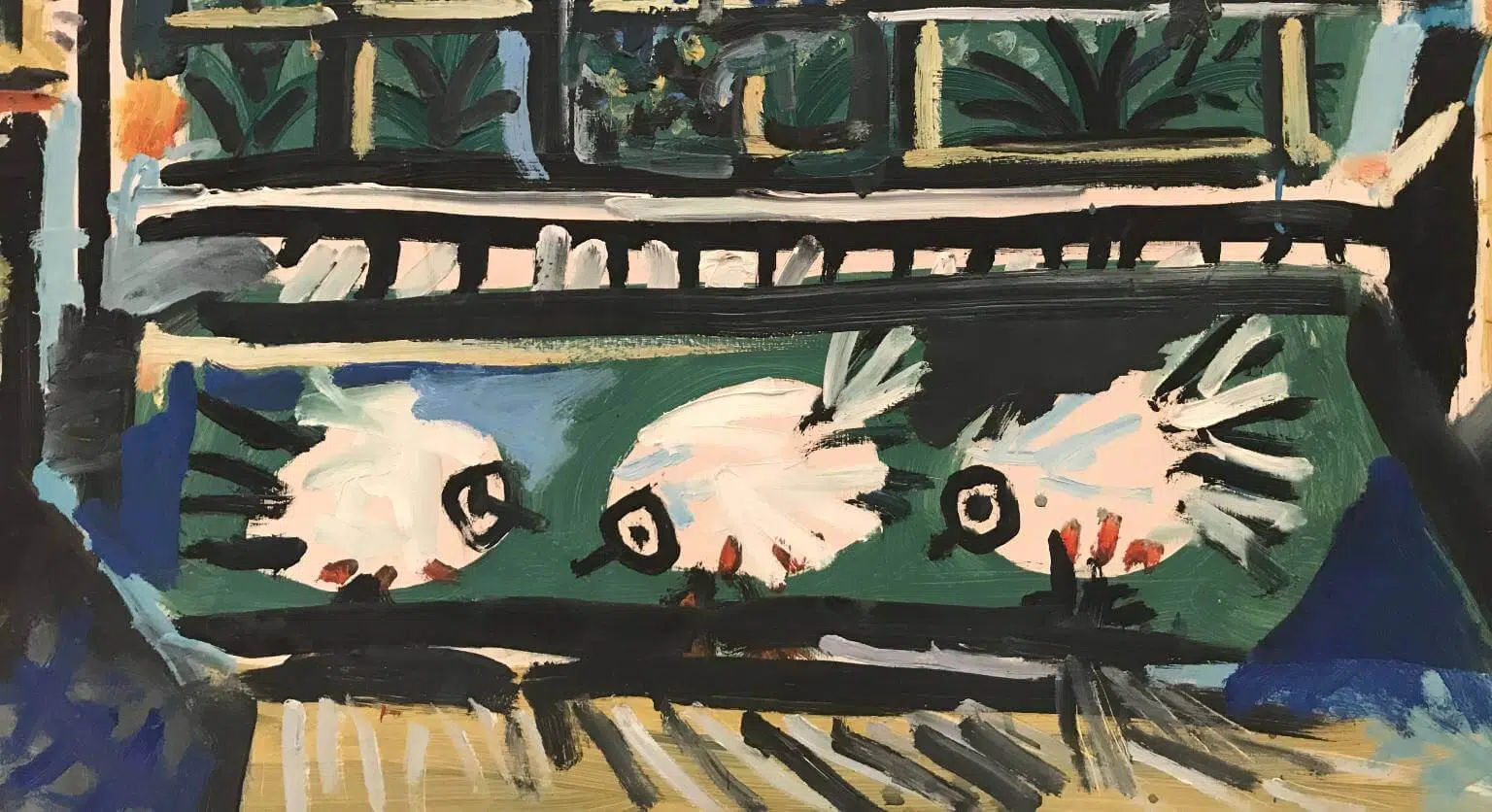 The Picasso Museum
The Picasso Museum Barcelona is what brings most people to El Born.
What you get here is the most extensive collection of Picassos in the world, mostly covering a lot of his early work. With 4000 works covering mostly his formative years, the Blue Period, and Picasso's stint in Barcelona.
Hours: Tues-Sun (9:00 am to 7:00 pm), Thurs (9:00 am to 9:30 pm), Mon (10:00 am to 5:00 pm).
Price: €11.00 (the Picasso museum is also free with the Barcelona Card or 45% off with the articketBCN).
The Moco Museum
The hottest new museum in Barcelona is one of the best things to do in El Born if you're looking for a little inspiration.
Sister museum to the one in Amsterdam, the Moco Museum Barcelona is the place to go for modern art in Barcelona especially if you're fans of Banksy, Hirst, Warhol, Kaws, and Kusama.
You also won't wanna miss the Diamond Matrix (pictured), though there's a clear underdog story here with surrealist Chilean artist Guillermo Lorca – his fantasy paintings are tragic, beautiful, and weird all at once.
Palau de la Musica
In a city full of beautiful Gaudi buildings one shouldn't get off the Catalan Modernism train without seeing what other architects, like Lluis Domenech i Montaner, have to offer.
The Palau de la Musica, a 2200 seat art nouveau music palace at the top of El Born, is an explosion of colour and the only theater in Europe completely illuminated by natural light. The acoustics here drive music lovers wild.
Grab a ticket for one of the 600 yearly shows or get a fascinating guided tour of Palau de la Musica in English.
Prices: €18.00 (guided tour in English), concerts from €20.00.
Santa Maria del Mar
The Santa Maria del Mar Cathedral is that rare medieval behemoth known for its unity of style.
This scale of this shining example of Catalan Gothic architecture is impossible to understand since it's hemmed in by neighbouring buildings. On the inside however there is nothing but light and spaciousness, and it's said to house the slenderest stone built columns in the world.
Hours: Mon-Sat (9:00 am to 1:00 pm, 5:00 pm to 8:30 pm), Sun (10:00 am to 2:00 pm, 5:00 pm to 8:00 pm)
Price: basic entrance + crypt and tribune €5.00, guided tours €10.00, tower/rooftop tour €8.00.
Masses: daily at 7:30 pm.
El Born Cultural and Memorial Center
A short walk from the cathedral is the immense cast iron Mercado del Born which from 1876 to 1971 served as one of Barcelona's best markets. It was predominantly for fruit and vegetable wholesale.
During the 1980's the market was restored while the city decided what to do with it. When they were constructing a new library in 2002 they found several ruins of houses and streets from the 1700's which painted an important picture of Barcelona's urban evolution.
These are now preserved for visitors to see and the building is now the El Born Cultural Center.
Hours: Mon-Sat (8:00 am to 8:30 pm).
Price: free (guided tours in English €6.60 daily at 4:00 pm).
Passeig Del Born
This famous tree-lined promenade sandwiched between the Santa Maria del Mar and the market is the center-piece of the El Born neigbourhood.
In fact, 'El Born' is Catalan for 'jousting field' and if you look at this narrow open stretch it's no surprise this was the site of many jousting matches in medieval times. As well as executions during the Inquisition.
It's the perfect location in Barcelona to grab a drink from the supermarket, sit on a bench, and watch Barcelona locals go by. There are also many bars along this barrio and you can't go wrong ducking into any of them.
Bars in the El Born District
Like most of Spain in El Born it's more about cocktails, some of Barcelona's best coffee shops, and aperitivo than a full on drink session. A lot of these bars are great to escape the tourist-caused chaos.
If you're still stuck afterward check out my article on Barcelona's best bars.
Here are some of the best bars in The Born:
Collage
€€-€€€ | Cocktail | Consellers 4 | Metro: Barceloneta (L4) | Website
Go here for a 1950's chill out vibe that has been deemed an art and cocktail social club. Here passionate bartenders churning out rare ingredients and top notch classics are all the rage.
They also claim they'll customize a cocktail for just you! If you're looking for a great Barcelona experience gift then opt for the bar's cocktail making lessons.
Get there early because there are only 25-30 seats.
Creps al Born
€€-€€€ | Cocktails and crepes | Passeig del Born 12 | Metro: Barceloneta (L4) | Website
So, sometimes a really solid craft cocktail bar needs to add crepes. As weird as it sounds this is one of the most popular bars in El Born be it for food or cocktails.
You'll get arguably the best spirit list in town plus some amazing twists on classics like the 'Naughty Colada' (rum, pistachio, coconut, pineapple, spices, and chocolate ice cream).
Locals argue whether the sweet or savory crepes are best, so why not try both?
No Sé
€€-€€€ | Cocktail | Passeig del Born 21 | Metro: Barceloneta (L4) | Website
Go here for a fashionable Milanese-style aperitivo spot.
Most nights you'll get a full-on buffet of Italian aperitivo with any drink order (just go for a cheap beer and eat away!). Ham wrapped crostini, insalata di riso (rice salad), mortadella, pasta, chorizo etc. And the drinks aren't too bad either.
Come in the early evening to maximize people watching on the Passeig del Born.
Magic
€€-€€€ | Cocktail | Passeig de Picasso 40 | Metro: Barceloneta (L4) | Website
If you're looking for action in the The Born neighbourhood then this club with retro-pop and rock music is one of the best places to get sloppy in the entire city. The cover is usually way lower than its Barcelona counterparts and the drinks are stiff.
Keep in mind this is more aimed at people in their 30's and 40's looking for a proper night out.
Paradiso
€€-€€€ | Cocktail/speakeasy | Carrer de Rera Palau 4 | Metro: Barceloneta (L4) | Website
From the outside this looks like a lowly pastrami sandwich bar (and it is) but with one flick of the prohibition curtains you're instantly transported to the most creative cocktail joint in the city.
The bartenders here are pure class from the banter to the drinks. If you're the type of person that wants their cocktail in a glass pipe with cotton candy and a rum-soaked cheery this bar is for you.
Be prepared to wait 15-20 minutes for a table on weekends.
El Diset
€€-€€€ | Wine and tapas | Carrer Antic de Sant Joan 3 | Metro: Barceloneta (L4) | Website
Class and quality are king at this trendy wine bar packed with chatty locals. Here you'll find one of the biggest local wine lists in Barcelona. The cheese and ham platters are to die for and this is one of the great recommendations for couples.
Try the sea bass ceviche, jamon Serrano (or any of the local cured meats), or pan con tomate with your drinks.
Best Restaurants in El Born
If you don't fancy anything below be sure to check out our article on Barcelona's best restaurants.
La Paradeta
€€ | Carrer Comercial 7 | Metro: Barceloneta (L4) | Website
Any seafood fans visiting Barcelona won't want to miss this one.
It's a kind of self-service seafood joint where you choose fresh fish from a counter, just like at the market, and they cook it for you right there. Grab a bottle of a local white called Blanc Pescador and make sure you try food like the chipirones (cuttlefish).
Get there early (1:00 pm for lunch and 8:00 pm for dinner) if you don't want to queue up.
En Aparte
€€-€€€ | Carrer Lluis el Piados 2 | Metro: Barceloneta (L4) | Website
This French restaurant is a great place to grab a bottle of wine and go all-in with a hard cheese platter. Other highlights on the food menu include a gorgeous chevre salad, quiche, and chocolate fondant.
What's great here is the value of the set menus which are between €15.00 and €20.00 including wine. It's recommended to get a table outside for some great al fresco dining.
Spacca Napoli
€€-€€€ | Rec Comtal 6 | Metro: Arc de Triomf (L1) | Website
Many have asked me for Italian restaurants and I can't help go to Naples for this authentic beauty and its divine polpette (meatballs), paccheri allo scoglio(a seafood stew/pasta combo) and one of the best pizzas in the city.
What I go for though is the slow cooked ragu. The flavour of this slowly simmered sauce is so good you'll plan your next holiday to Rome and forget all about Spanish tapas bars!
Looking for something really authentic? The pasta con patate is a regional speciality and may seem like science fiction.
Two carbs? Try it and be amazed.
Bacoa Kiosko Born
€€ | Av. del Marquès de l'Argentera 1 bis | Metro: Barceloneta (L4) | Website
It's no surprise that Barcelona's best burgers cameout of the idea of crossing an Australian-style BBQ with the patience and quality of Mediterranean restaurants.
For El Born standards you get great value for quality with a great selection of burgers including organic Pyrenees beef, marinated chicken, lamb and some tasty vegetarian options. Try the Spanish version with manchego cheese.
The best part? It's not far from the beach!
El Xampanyet
€€ | Carrer de Montcada 22 | Metro: Barceloneta (L4) | Website
This tiled family-run restaurant has been a staple of Catalan cuisine since the 1930's. It's actually named after their in-house sparkling white wine called xampanyet (an invented Catalan word for 'champagne').
The best tapas in El Born are here with classics like tortilla de patatas and boquerones (anchovies pickled in vinegar). And you get tipsy in the process. You may recognize it from Anthony Bourdain's No Reservations.
Atmosphere? A 10. Get there as early as you can or you'll be lining up.
Nou Celler
€€ | Carrer de la Princesa 16 | Metro: Jaume I (L4) | Website
Here's a place serving traditional Catalan food at affordable prices. The lunch set menu costs just €12.00 with a starter, main, dessert, and drink.
I would personally go for the escalivada (a grilled veggie dish), buttifarra (a local sausage), or gazpacho (a cold tomato soup). Another option for €20.00 is the tapas tasting menu where you'll get about a dozen different tastes.
El Born Shopping
El Born has always been a bit of a Barcelona shopping hub and modern times are no exception. Since the early days of the city it has been a bastion of artisan shops and you see it today in the street names.
Via dels Sombrerers ('Hatmaker Street') and Via Dels Argenters ('Silversmith Street') are two examples.
If you're looking for quality shopping and unique pieces this is your neighbourhood.
The main shopping streets in El Born are Carrer de la Princessa, Carrer dels Flassaders, and Carrer de l'Argenteria. Anybody looking for vintage clothes, custom jewelry, handbags, tribal pieces, comics, records, flowers, and much more will find them there.
El Born Tips
Try and walk up into El Born after a day at the beach (just keep walking past Barceloneta metro station and across Passeig d'Isabel II). It's a great post-beach drink spot.
Being mostly traffic-free, the only place you'll be able to catch a Barcelona taxi is at the west end of the promenade.
If you're staying near Sants Estacio or Passeig de Gracia you can get to El Born very quickly using RENFE (Spanish rail) with only your T-10 discount travel card. Get off at the terminus station (and name of the train) Estació de França.
Questions About El Born Barcelona?
The best travel tips usually come with a little interaction.
If you've got any questions about El Born Barcelona or anything else regarding you Barcelona holiday fire away in the comment section below.
And don't be afraid to join the El Born discussion in my new Facebook group called I'm Off to Barcelona – here you can ask any questions, air out grievances, chat with fellow travelers, and more – anything goes!
Best of luck 🙂