Discovering Barcelona's El Born Neighbourhood: Top Things to Do
El Born Barcelona is the trendiest neighbourhood in the city.
It's full of charming old buildings, tiny pedestrian streets, and snazzy cocktail bars – but that's just the start.
With little effort in The Born, we can throw in a little Picasso, the city's most impressive music venue, Barcelona's best local cuisine, and even some medieval jousting.
Let's get into it then with my dive into local life in El Born Barcelona.
Where is El Born in Barcelona?
You'll find the El Born neighbourhood just behind Barceloneta beach using the Barcelona metro stop Barceloneta (yellow line L4) and just next to the famous Barrio Gotico using metro Jaume I (yellow line L4).
⚠️ 

Warning

⚠️

: Barcelona's top two attractions must now be booked in advance.
You can book fast track tickets to both individually or get them as part of a discount pass:
You will not be able to book these tickets on site – lock in your tickets ASAP or you could miss out.
El Born also flanks Barcelona's largest and most lively park: La Ciutadella.
Why Visit El Born?
You have loads of Barcelona's best bars.
Tons of boutique shopping (no chains).
There's an eclectic mix of restaurants.
El Born is quieter than other touristic neighbourhoods like the Gothic Quarter.
It's one of the best areas to stay in Barcelona.
It's a great place for street art.
What to See in El Born Barcelona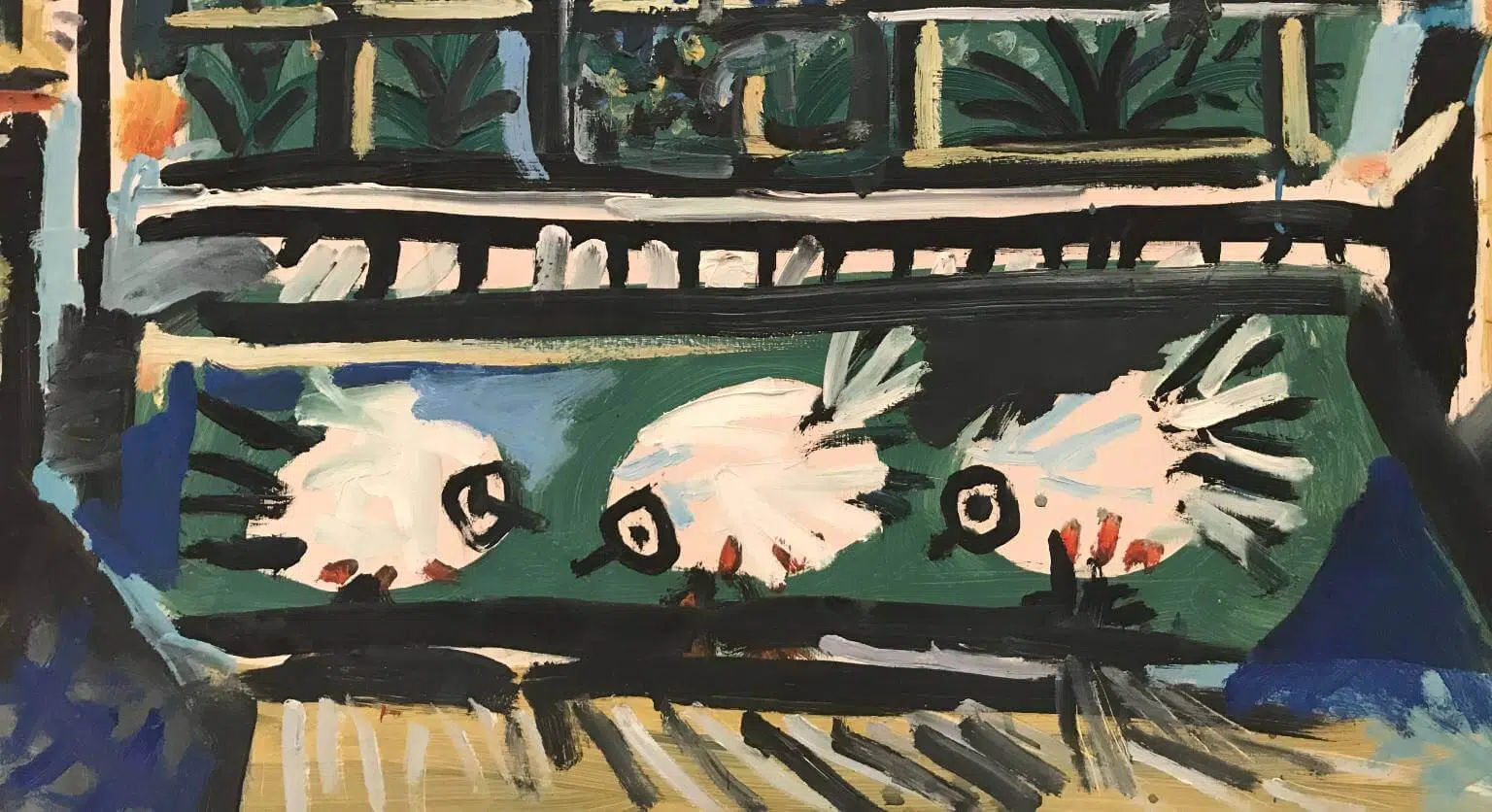 The Picasso Museum
The Picasso Museum Barcelona is what brings most people to El Born.
What you get here is the most extensive collection of Picassos in the world. The museum houses over 4000 pieces mostly derived from Picasso's formative years, the Blue Period, and his stint in Barcelona.
Hours: Tues-Sun (10:00 am to 8:00 pm), Closed Monday.
Price: €12.00 (the Picasso museum is also free with the Barcelona Card or 45% off with the articketBCN).
The Moco Museum
The hottest new museum in Barcelona is one of the best things to do in El Born if you're looking for a little inspiration.
Sister museum to the one in Amsterdam, the Moco Museum Barcelona is the place to go for modern art in Barcelona, especially if you're a fan of Banksy, Hirst, Warhol, Kaws, and Kusama.
You also won't wanna miss the Diamond Matrix (pictured), though there's a clear underdog story here with Chilean surrealist artist Guillermo Lorca – his fantasy paintings are tragic, beautiful, and weird all at once.
Palau de la Musica
In a city full of beautiful Gaudi buildings, one shouldn't get off the Catalan Modernism train without seeing what other architects, like Lluis Domenech i Montaner, have to offer.
The Palau de la Musica, a 2200-seat art nouveau music palace at the top of El Born, is an explosion of colour and the only theatre in Europe completely illuminated by natural light. The acoustics here drive music lovers wild.
Grab a ticket for one of the 600 yearly shows or get a fascinating guided tour of Palau de la Musica in English.
Prices: €18.00 (guided tour in English), concerts from €20.00.
Santa Maria del Mar
The Santa Maria del Mar Cathedral is that rare medieval behemoth known for its unity of style.
The scale of this shining example of Catalan Gothic architecture is impossible to understand since it's hemmed in by neighbouring buildings. However, once inside, there is nothing but light and spaciousness, and it's said to house the slenderest stone-built columns in the world.
Hours: Mon-Sat (9:00 am to 1:00 pm, 5:00 pm to 8:30 pm), Sun (10:00 am to 2:00 pm, 5:00 pm to 8:00 pm)
Price: basic entrance + crypt and tribune €5.00, guided tour/tower/rooftop tour €13.00.
Masses: daily at 7:30 pm.
El Born Cultural and Memorial Center
A short walk from the cathedral is the immense cast iron Mercado del Born which, from 1876 to 1971, served as one of Barcelona's best markets. It was predominantly for fruit and vegetable wholesale.
During the 1980s, the market was restored while the city decided what to do with it. When constructing a new library in 2002, they found several ruins of houses and streets from the 1700s, which painted an important picture of Barcelona's urban evolution.
These are now preserved for visitors to see, and the building is now called the El Born Cultural Center.
Hours: Mon-Sat (8:00 am to 8:30 pm).
Price: free/guided tours in English €4.00 (Tue-Sat) at 4:30 pm.
🚲 Wanna see the city in less time? Consider taking one of the top bike tours in Barcelona.
Passeig Del Born
This famous tree-lined promenade sandwiched between the Santa Maria del Mar and the market is the centrepiece of the El Born neighbourhood.
In fact, 'El Born' is Catalan for 'jousting field,' and if you look at this narrow open stretch, it's no surprise this was the site of many jousting matches in medieval times. As well as executions during the Inquisition.
It's the perfect location in Barcelona to grab a drink from the supermarket, sit on a bench, and watch Barcelona locals go by. There are also many bars along this barrio; you can't go wrong ducking into any of them.
🧑‍🎨 Want more of Gaudi? Unlock his masterpieces with the top Gaudi tours in Barcelona.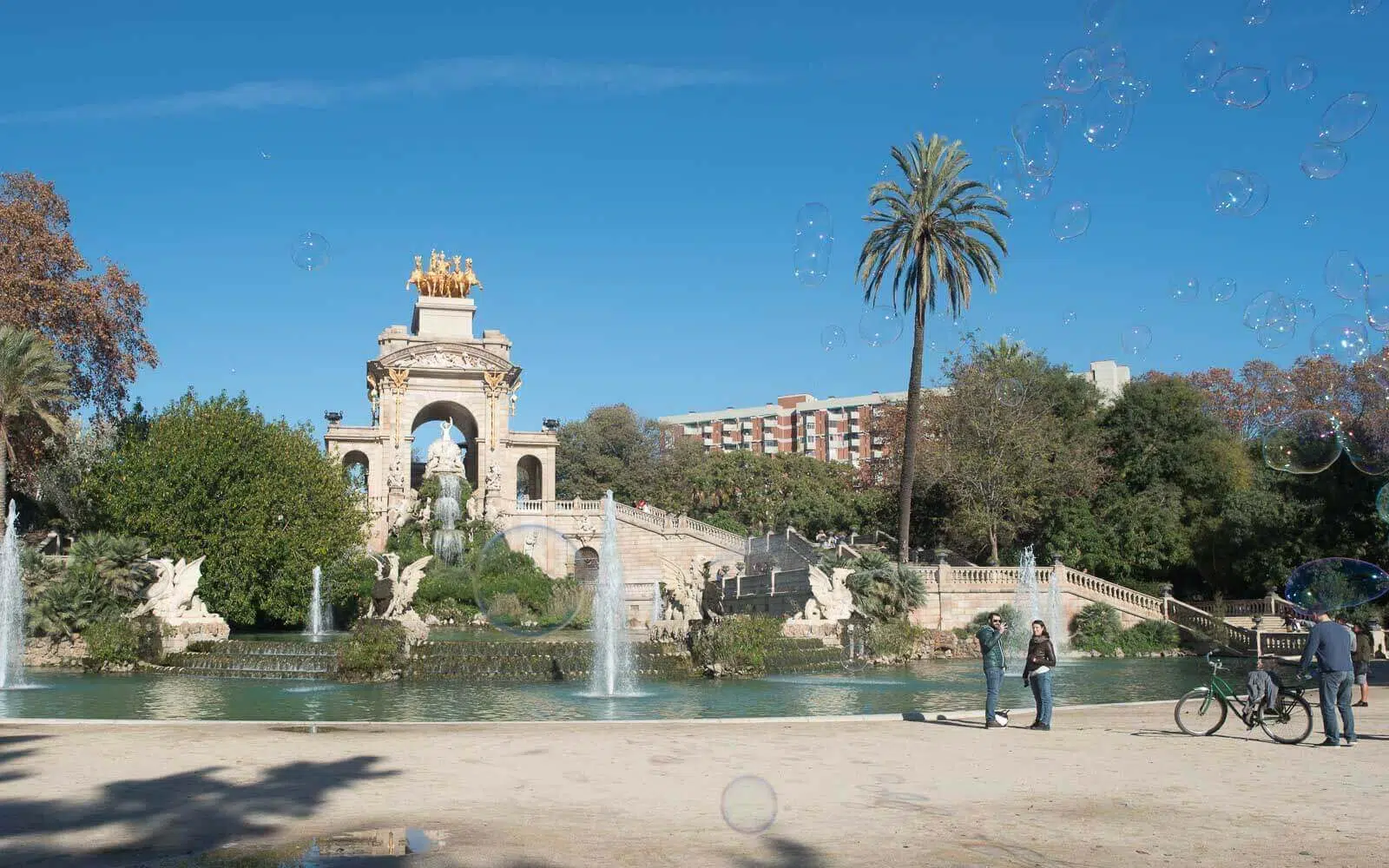 Visit Ciutadella Park
If you find yourself in El Born, Barcelona, you absolutely cannot miss the enchanting Ciutadella Park. This sprawling green oasis offers a refreshing escape from the bustling city, perfect for a leisurely stroll or a picnic with friends.
Let me tell you, this is right at the top of the list of Barcelona's best parks. It's home to stunning architectural wonders, including the breathtaking Cascada fountain. There's something for everyone, from boating on the serene lake to soaking up the sun on the grassy lawns. And it is even home to the city's zoo.
Soak in the vibrant atmosphere, snap some Instagram-worthy photos, and let Parc de la Ciutadella captivate your heart with its beauty and tranquillity. There are few better places in town to kill a lazy summer afternoon.
Go Shopping in El Born Barcelona
El Born has always been a bit of a Barcelona shopping hub, and modern times are no exception. Since the city's early days, it has been a bastion of artisan shops, and you see it today in the area's street names.
Via dels Sombrerers ('Hatmaker Street') and Via Dels Argenters ('Silversmith Street') are two examples.
This is your neighbourhood if you're looking for quality shopping and unique pieces. Trust us; El Born shopping is some of the best in town.
The main streets to go shopping in El Born are Carrer de la Princessa, Carrer dels Flassaders, and Carrer de l'Argenteria. Anybody looking for vintage clothes, custom jewelry, handbags, tribal pieces, comics, records, flowers, and much more will find them there.
Museu de la Xocolata
Looking to score some points with the kids? Smooth things over with your spouse? Barcelona's Museu de la Xocolata is an absolute treat for the senses that will get you out of any jam!
This delightful museum in the heart of El Born is a chocoholic's dream come true, where you can dive into the decadent world of chocolate. You'll embark on a mouthwatering journey through the art of chocolate making. You'll be tempted by the stunning chocolate sculptures that are almost too beautiful to eat.
Plus, you can even participate in workshops and taste some delectable chocolate creations. Get ready to satisfy your sweet tooth and indulge in a chocolatey adventure you won't soon forget!
Hours: Tue-Sat (10:00 am to 7:00 pm), Sun/Holidays (10:00 am to 3:00 pm).
Price: €6.00 (Adult), €5.10 (Students/Seniors), €4.80 (with disablity card).
Barcelona El Born Tips
Try and walk up into El Born after a day at the beach (keep walking past Barceloneta metro station and across Passeig d'Isabel II). It's a great post-beach drink spot.
Being mostly traffic-free, the only place you'll be able to catch a Barcelona taxi is at the west end of the promenade.
If you're staying near Sants Estacio or Passeig de Gracia you can get to El Born very quickly using RENFE (Spanish rail) with only your T-10 discount travel card. Get off at the terminus station (and name of the train) Estació de França.
Fuel up with tapas: El Born is famous for its mouthwatering tapas. Take your time to savor these small plates of culinary delight and try a variety of flavors. Nou Cellar and El Xampanyet are amongst our favourites.
Sip on vermouth: Join the locals in their love for vermouth, a classic drink in Barcelona. Find a cozy bar, order a glass, and enjoy the social atmosphere. For amazing cocktails, Paradiso and Magic fit the bill.
Wander its charming streets: El Born is a maze of narrow, picturesque streets, so don't be afraid to wander and explore. You never know what hidden gems you might discover!
Questions About El Born Barcelona?
The best travel tips usually come with a little interaction.
If you've got any questions about El Born Barcelona or anything else regarding you Barcelona holiday fire away in the comment section below.
And don't be afraid to join the El Born discussion in my new Facebook group called I'm Off to Barcelona – here you can ask any questions, air out grievances, chat with fellow travelers, and more – anything goes!
Until then, enjoy the beautiful neighbourhood of El Born Barcelona.
Best of luck 🙂