Understanding Barcelona Architecture: 16 Iconic Barcelona Buildings
Architecture in Barcelona is as unique as anywhere – just look at a list of Barcelona buildings and let your eyes do the rest.
In fact, every corner of this Catalan gem tells a story, from its ancient Gothic Quarter to its modernist boulevards.
In this extended guide, I'll journey through time, exploring Barcelona architecture in depth to try and unlock some of the methods behind the madness!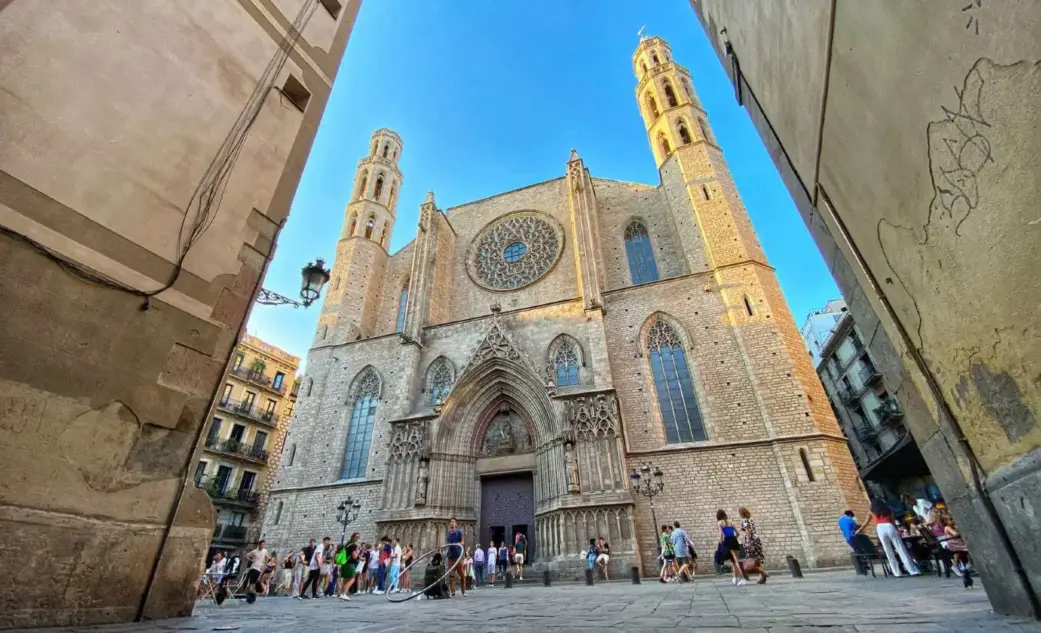 What Makes Barcelona Architecture Distinctive?
Barcelona's architectural tapestry is woven with diverse threads.
The city's Roman roots are evident in the ancient walls and aqueducts scattered throughout the Gothic Quarter.
As you wander through its narrow alleys, you'll encounter medieval cathedrals like the Santa Maria del Mar and the Barcelona Cathedral – with soaring spires and cloistered courtyards.
The Catalan Modernism movement, which emerged in the late 19th century, then added a new dimension to Barcelona's architectural landscape.
Characterized by its free-form designs, colourful mosaics, and nature-inspired motifs, Catalan Modernism gave birth to some of Barcelona's most iconic structures, including the whimsical works of Antoni Gaudí.
In fact, this is by far the most influential style on Barcelona architecture, so it really deserves its own section.
Barcelona Architecture Style: Catalan Modernism
Catalan Modernism (Modernisme in Catalan), was a movement that flourished in Catalonia, primarily Barcelona, between the late 19th and early 20th centuries.
Rooted in the broader Art Nouveau movement, Catalan Modernism was distinguished by its unique blend of traditional Catalan culture and new innovative ideas.
Architecturally, Modernisme is characterized by:
Organic forms
Rich decorations
Dynamic shapes
A preference for curves over straight lines
Colorful tiles
Nature-inspired motifs
In all, this Barcelona architecture movement sought to break away from traditional architectural norms, resulting in structures that were both imaginative and symbolic.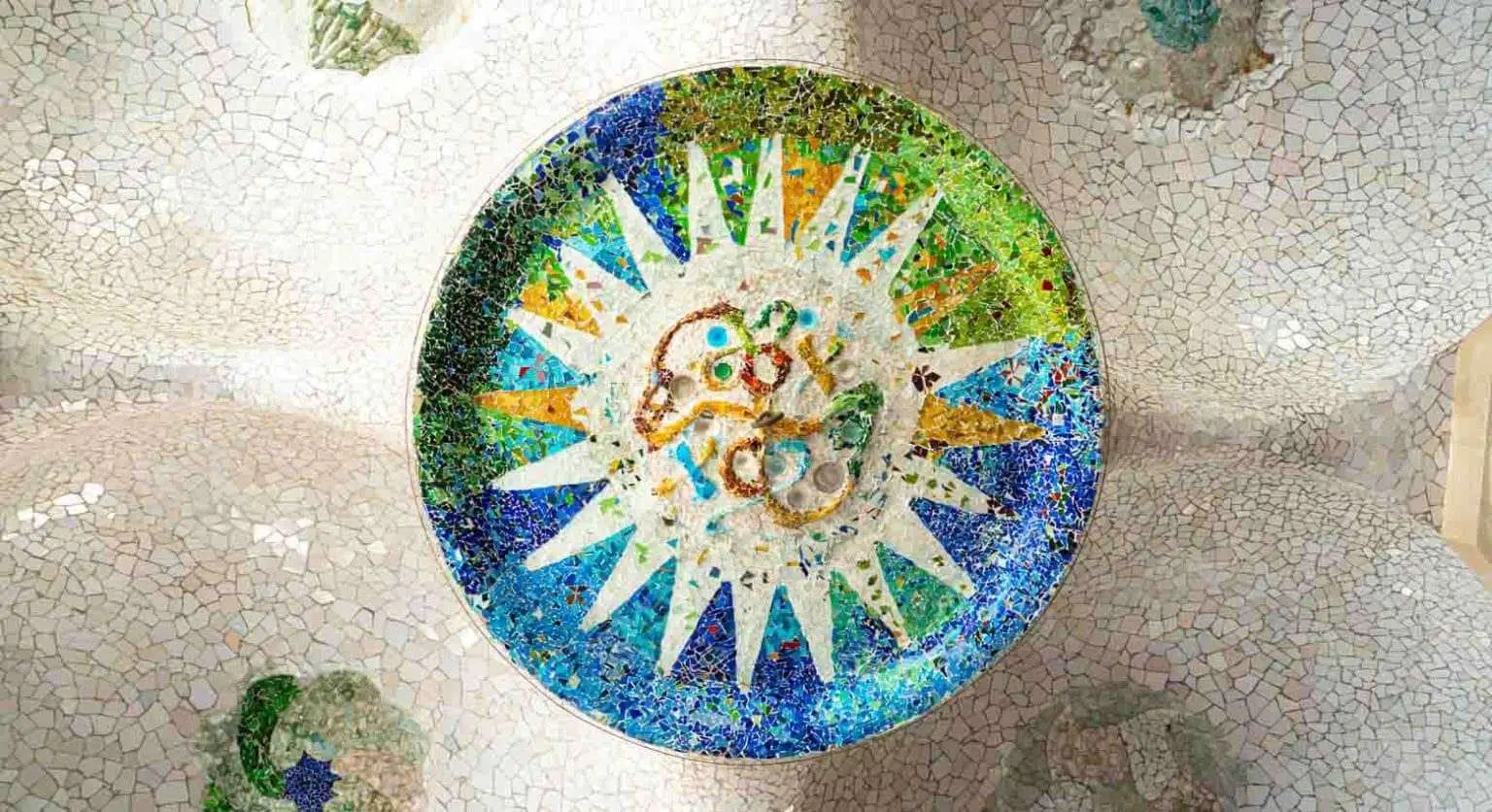 Beyond architecture, Modernisme also influenced other art forms, including painting, sculpture, and literature.
The movement was not just about aesthetics; it was deeply intertwined with Catalan nationalism, reflecting a regional identity and pride.
Antoni Gaudí: The Maestro of Catalan Modernism
Gaudí, Barcelona's architectural son, has left an indelible mark on the city.
His works, scattered throughout Barcelona, are a testament to his genius.
La Sagrada Familia: This basilica, Gaudí's magnum opus, is a symphony in stone. Every element, from its nativity façade to its forest-like interiors, is laden with symbolism. The basilica, once complete, will have 18 towers, each telling a unique biblical tale.
Park Güell: Originally envisioned as a utopian housing estate, this park is a colourful mosaic of art and nature. The serpentine benches, the iconic salamander fountain, and the bird-nest inspired viaducts showcase Gaudí's love for organic forms.
Casa Batllo: his modernist marvel is characterized by its undulating façade, adorned with colourful mosaics and bone-like structures. The building's design draws inspiration from marine life, with its balconies resembling skeletal masks and a rooftop that evokes a dragon's spine.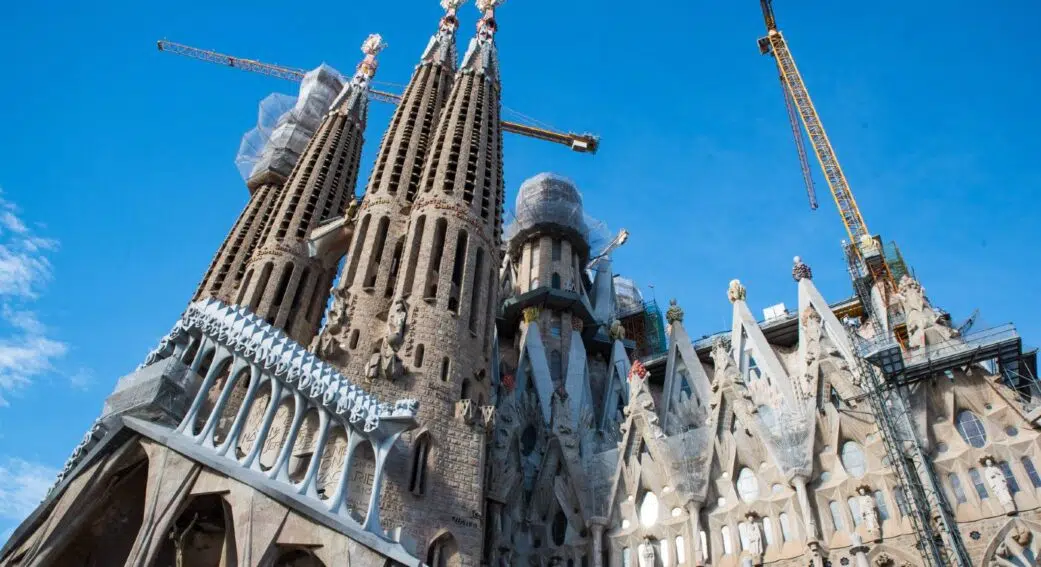 La Pedrera: Renowned for its wavy limestone façade and twisting wrought iron balconies, the building defies traditional architectural norms. Its rooftop, dotted with unique chimney stacks resembling warrior helmets, offers panoramic views of the city.
Palau Guell: An early masterpiece by Antoni Gaudí. Commissioned by the wealthy industrialist Eusebi Güell, this urban palace showcases Gaudí's innovative use of space and light. Its façade, adorned with intricate ironwork and colorful tiles, hints at the opulence within.
Casa Vicens: This vibrant residence, with its Moorish influences and colorful ceramic tiles, showcases Gaudí's early inclination towards nature-inspired motifs. The building's asymmetrical facades, adorned with floral patterns and wrought-iron balconies, reflect a fusion of Oriental, Mudéjar, and traditional Catalan styles.
More Best Architecture in Barcelona: Unique Barcelona Buildings
Barcelona's architectural journey didn't stop with Gaudí.
The city continued to evolve, embracing contemporary designs and innovative concepts.
Here's some more famous architecture in Barcelona Spain to consider:
Palau de la Música Catalana: A stunning concert hall designed by Lluís Domènech i Montaner, showcasing beautiful stained glass and intricate sculptures.
Hospital de Sant Pau: A modernist hospital complex designed by Lluís Domènech i Montaner, known for its colourful tiles and domed roofs.
Barcelona Pavilion: Designed by Ludwig Mies van der Rohe for the 1929 International Exposition, it's a "less is more" masterpiece of modern architecture and has an amazing garden and specialized bookstore.
Casa Amatller: Designed by Josep Puig i Cadafalch, this building is known for its unique stepped gable and intricate facade details. It was actually the home of a famous chocolatier.
Jean Nouvel's Agbar Tower: Often compared to London's Gherkin, this 38-story tower is an emblem of 21st-century Barcelona. Its nocturnal illumination transforms it into a beacon, guiding visitors towards the city's technological district.
Herzog & de Meuron's Forum Building: This audacious triangular edifice, with its reflective blue facade, is a hub for cultural events and exhibitions. Its design challenges architectural conventions, pushing the boundaries of form and function.
Frank Gehry's Fish: Situated by the Port Olímpic, this shimmering fish sculpture is a fusion of art and architecture. Its golden scales, reflecting the Mediterranean sun, have become synonymous with Barcelona's beachfront.
EMBT's Santa Caterina Market: Beyond its vibrant, undulating roof, this market is a sensory delight. The aroma of fresh produce, the cacophony of traders, and the visual tapestry of colorful stalls make it a microcosm of Barcelona's spirit.
Barcelona Architecture Map
Looking for some Barcelona architecture walks?
Using the map below you can construct a self-guided tour ticking off many of the top things to do in Barcelona.
If you're looking for a more in depth Barcelona architecture tour you can check out the options below: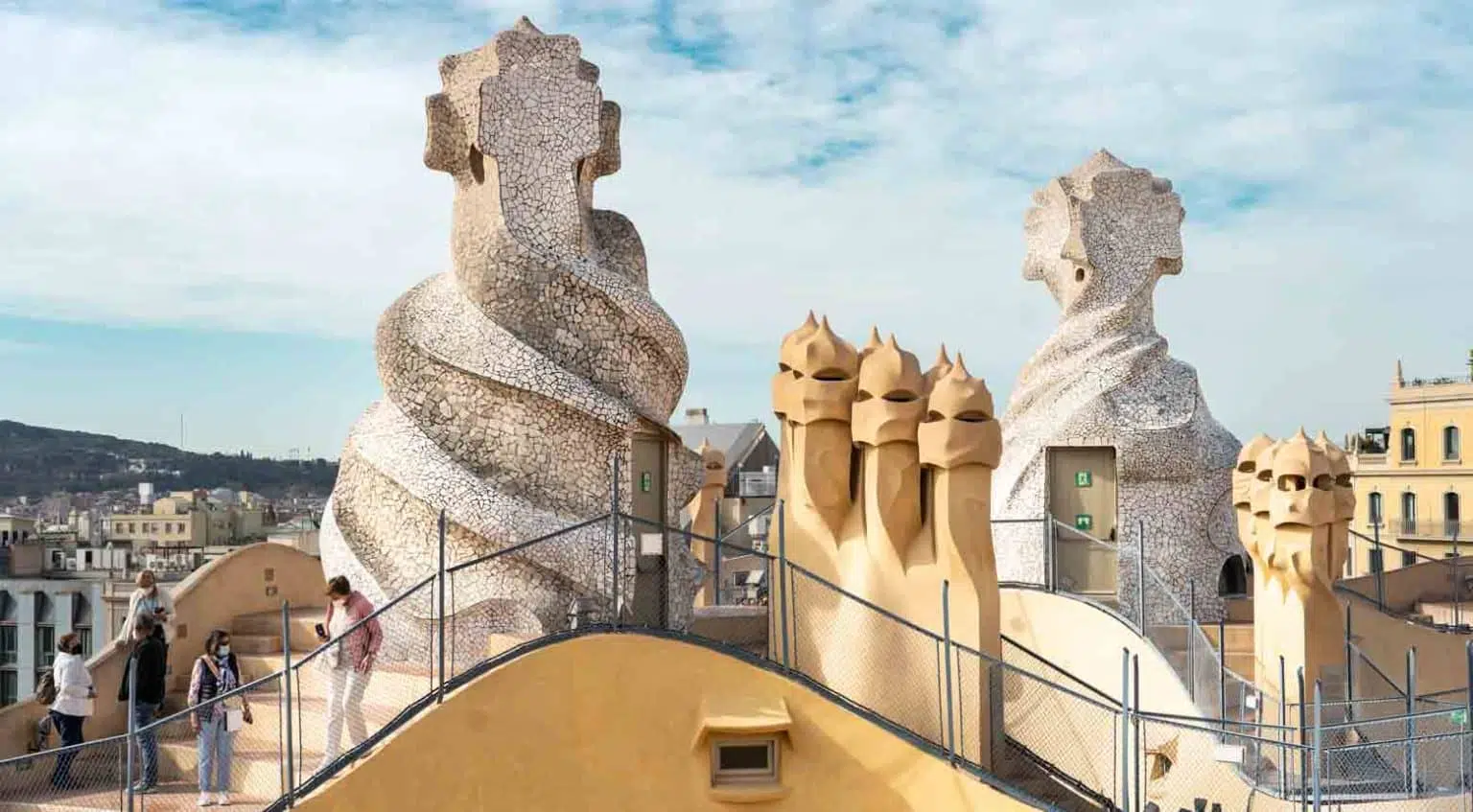 Barcelona Architecture vs. Madrid: A Tale of Two Cities
While both cities are Spanish jewels, their architectural narratives differ. Madrid boasts grand boulevards, palatial structures, and neoclassical monuments.
Barcelona is a melting pot of styles, on the other hand. Its architectural journey, from Roman settlements to contemporary skyscrapers, is a testament to its ever-evolving spirit.
If you're planning a Barcelona itinerary as well as one to Madrid, you'll understand almost immediately.
That said, call me biased, but in my opinion Barcelona buildings are far superior.
Buildings in Barcelona FAQ
What architecture is Barcelona famous for?

Barcelona is famous for Catalan Modernisme architecture, which is most aptly personified in the works of master architect Antoni Gaudi like Sagrada Familia, Park Guell, and Casa Batllo.

You'll also find a lot of Gothic architecture, most commonly in the Barcelona Cathedral in the heart of the Gothic Quarter.

What is Catalan Modernisme?

Catalan Modernisme, often simply referred to as "Modernisme," was an artistic and architectural movement that emerged in Catalonia, primarily in Barcelona, during the late 19th and early 20th centuries.

Architecturally, Modernisme is characterized by its rich ornamentation, organic forms, and the frequent use of curves over straight lines. Nature-inspired motifs, colorful tiles, and intricate ironwork are hallmarks of this style.

What are Barcelona's most famous buildings?

The most famous buildings in Barcelona are La Sagrada Familia, Casa Batllo, La Pedrera, Casa Amatller, Torre Glories, the Barcelona Cathedral, the Santa Maria del Mar, Las Arenas, the Barcelona Pavilion, Palau Guell, and Casa Vicens.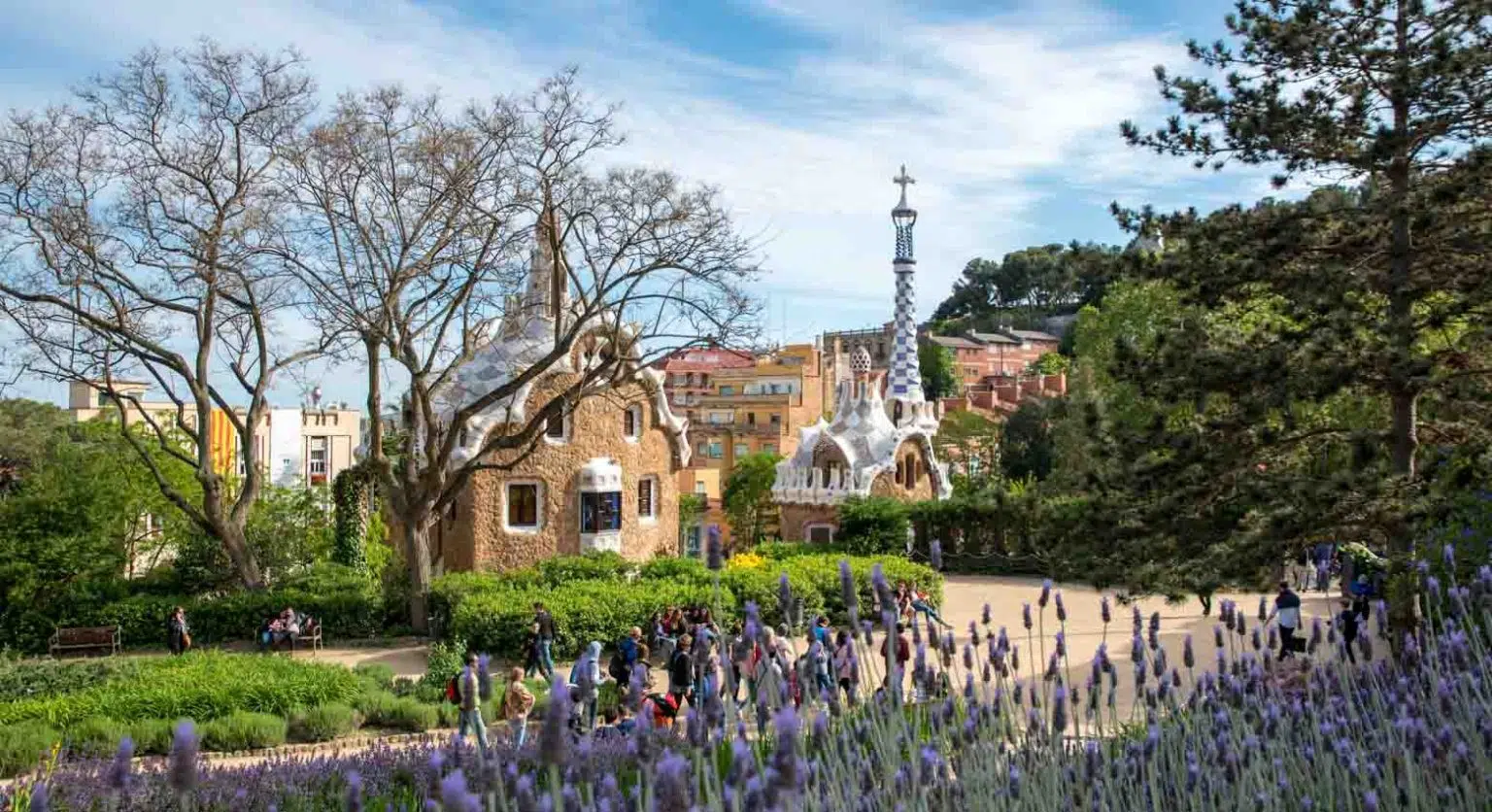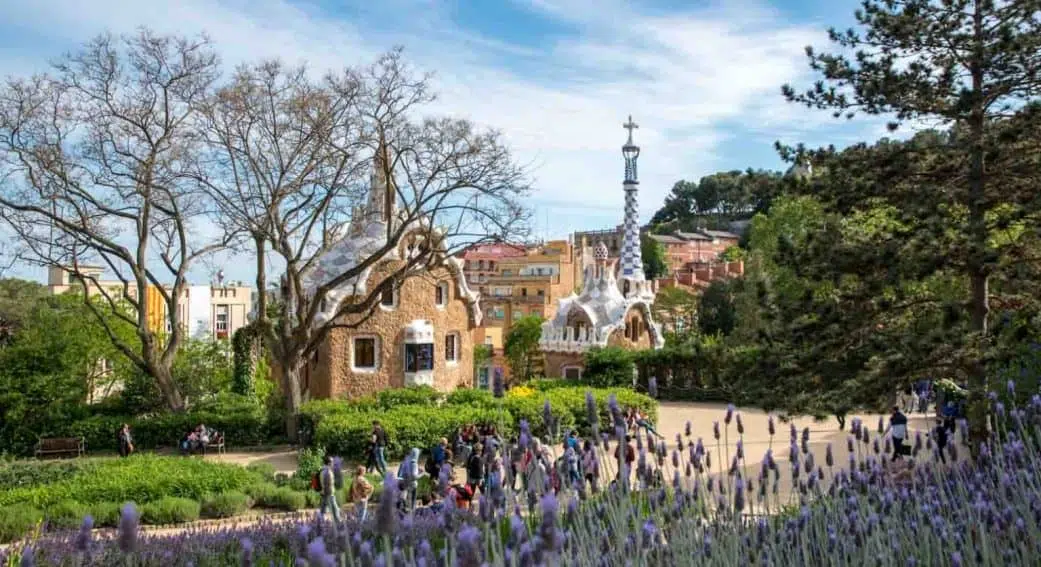 Barcelona's Architectural Legacy
Barcelona is more than a city; it's an architectural odyssey.
Every era, every movement, and every architect has added a chapter to its story.
As you traverse its streets, from the shadowy lanes of the Gothic Quarter to the sunlit plazas of Eixample, you'll realize that Barcelona architecture isn't just for buildings; it's for stories.