6 Best Sagrada Familia Tours: Epic Guided Tours & Fast Track Tickets
Even though there are dozens, finding the best Sagrada Familia tour shouldn't be a stressful activity.
In fact, in my 11 years in Barcelona I've taken six different Sagrada Familia guided tours – so I've got an inside line which should be taken – and which to avoid.
A little spoiler – the Fast Track Sagrada Familia Tour won out for its authenticity, length, and price.
That said, let's go through the top-rated La Sagrada Familia tours and find one for you.
Warning (09/01/23): Many prime Sagrada Familia tour times are already sold out for upcoming dates. Make sure you book your guided tour tickets ASAP or you could be shut out.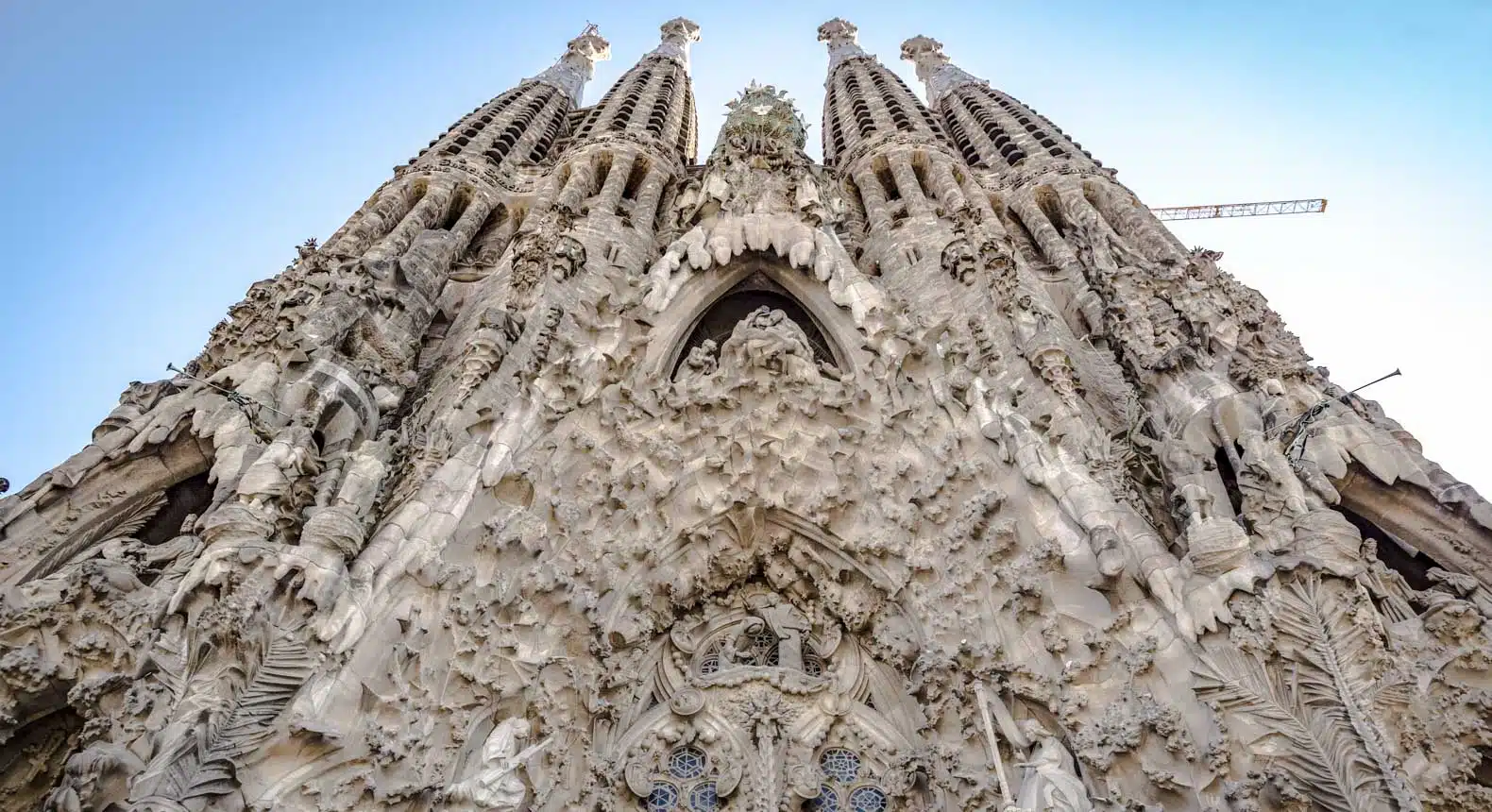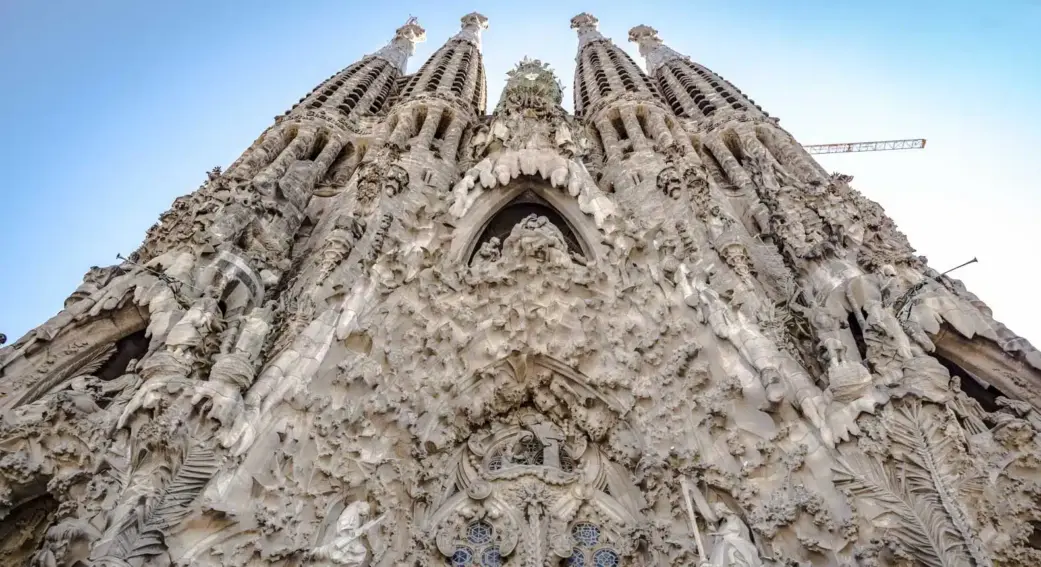 Best Sagrada Familia Guided Tours with Fast Track Entry
A friend of mine from the UK came down and told me she'd visit Sagrada Familia before joining me at the beach.
Fair enough – it's automatic on all Barcelona itineraries and it's one of the top things to do in Barcelona.
When she joined me I asked her how it was and she told me how she walked around, a bit confused due to the lack of signage, and then said it was just another church.
No.
There are tons of boring churches in Europe but this isn't one of them – which is why Sagrada Familia tours are even more important.
This is the only way to fully unlock the symbolism you'll find throughout the property.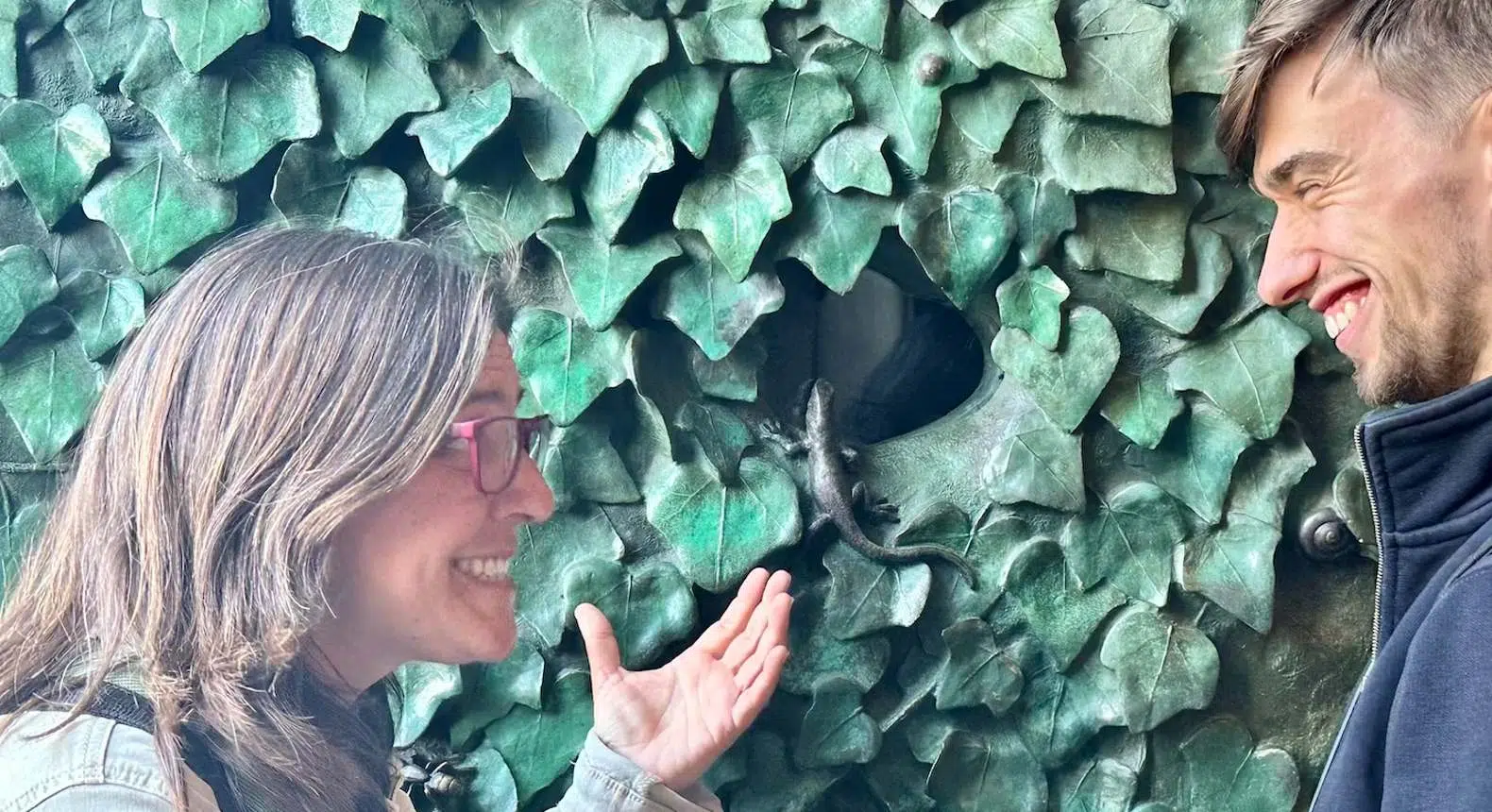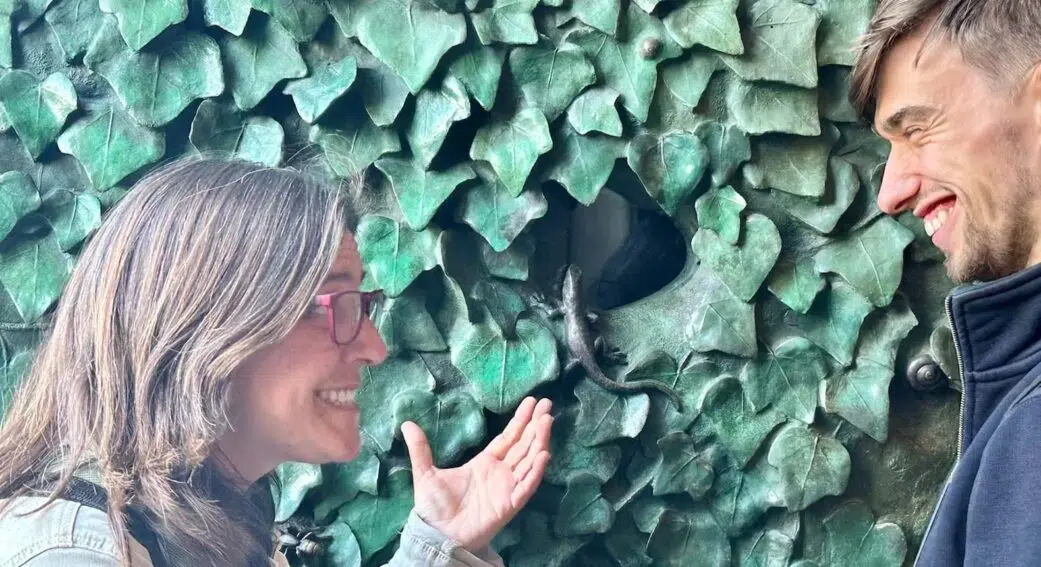 Go With a Local: Skip the Line Tour: #1 Choice of the Best Sagrada Familia Tours
Duration: 90 min | Price: From €51.00 | ⭐⭐⭐⭐⭐ | 🔎 Read 5500+ reviews
I always recommend opting for an extended English guided tour offered exclusively by legendary tour operator Viator.
At 90 minutes it is almost double the length of the official La Sagrada Familia tour.
You also skip Sagrada Familia lines VIP-style – and you can stay as long as you want after the tour ends.
These Sagrada Familia guided tour tickets are with accredited and enthusiastic guides who are experts on Antoni Gaudi and his cathedral.
This is an exclusive service not found anywhere else and hands down best Sagrada Familia tour on the market, with a 97% 5-star rating.
Using the button below, you can get free cancellation tickets up to 24 hours before the tour: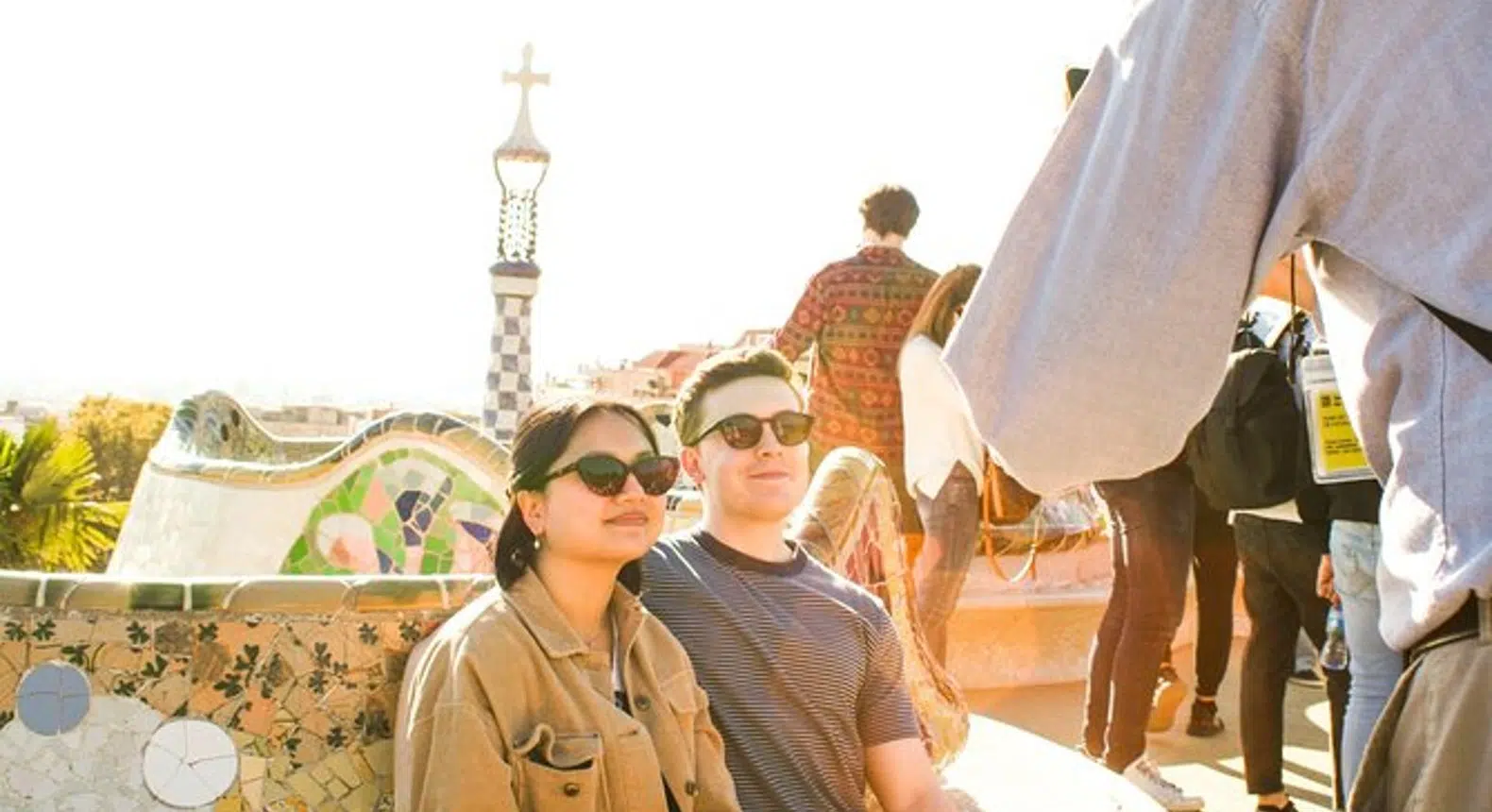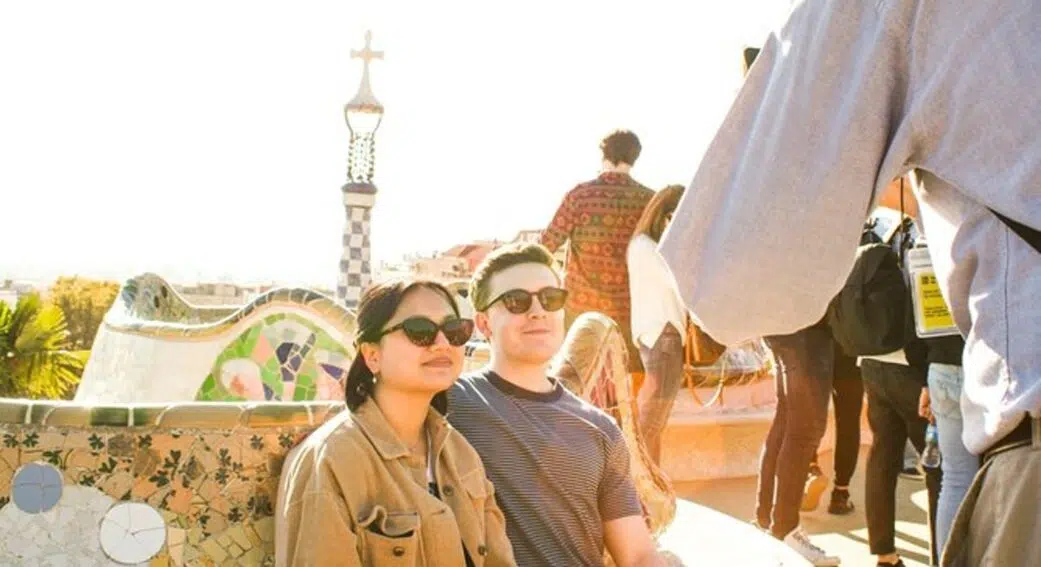 Sagrada Familia & Park Guell Guided Tour – Best Sagrada Familia and Park Guell Tour Combo
Duration: 4 hours | Price: From €99.00 | ⭐⭐⭐⭐⭐ | 🔎 Read 2100+ reviews
Taking this small-group tour limited to 12 people is a great way to skip the huge lines at these two world-class attractions.
Park Guell, Barcelona's second tourist gem, is what Sagrada Familia would look like if it was transformed into a utopian park with one of the best panoramic views of the city.
This guided Gaudi tour begins with a two hour Park Guell tour, then uses private transportation to reach La Sagrada Familia – which is an enormous help given the spotty connection between these two.
The private transport is a €20.00 value in itself. Once there, you'll get a two hour tour of Sagrada Familia.
Free cancellation tickets with no money down can be booked using the button below: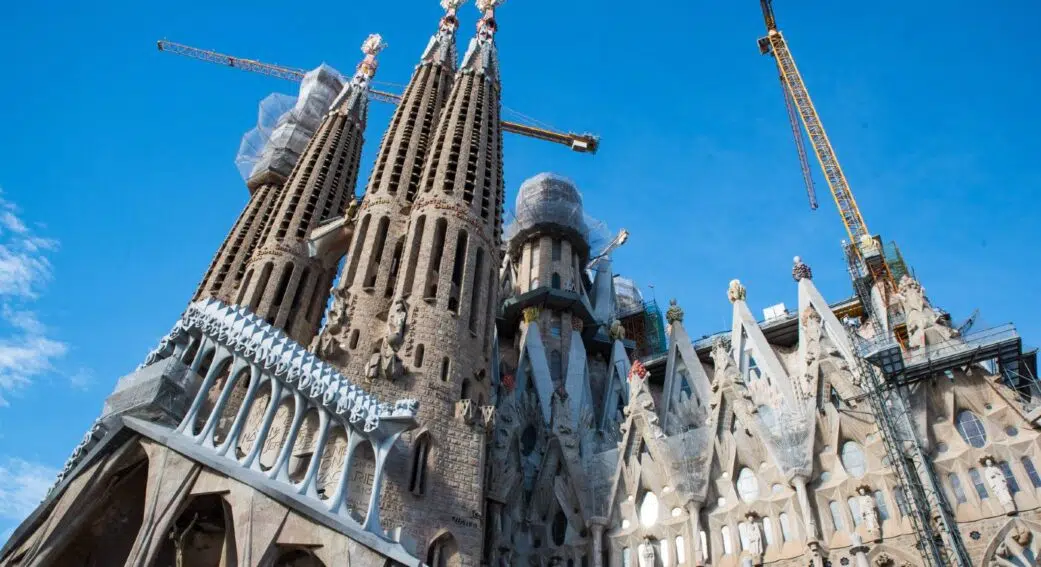 Fast Track Guided Tour with Towers – Best Sagrada Familia Tour with Tower Access
Duration: 1.5 hours | Price: From €69.00 | ⭐⭐⭐⭐ | 🔎 Read 600+ reviews
Going up the Sagrada Familia towers is a great way to double down on your experience.
With these tours of Sagrada Familia, you'll not only get the same entertaining and informative guided tour as our first tour – but you'll have the option to go up one of the towers as well.
From here, you'll get a bird's eye view of the city that's unmatched except for perhaps Park Guell.
This is the only Sagrada Familia tour that gives you access to all five floors of the building.
You can book your fast track guided tour tickets (free cancellation) using the button below: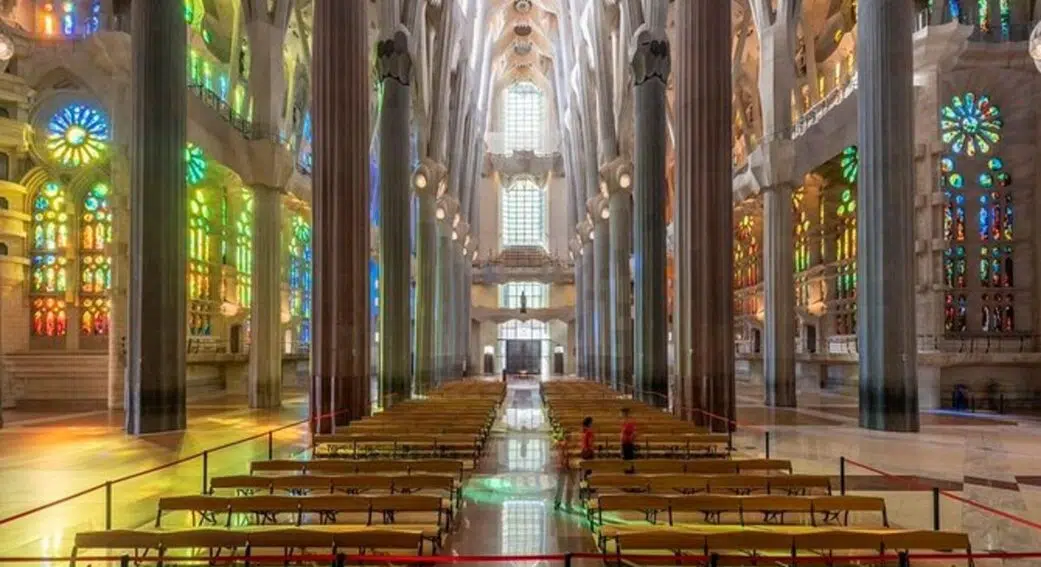 Private Tour with Fast Track Ticket – Best Private Tour of Sagrada Familia
Duration: 1.5 hours | Price: From €130.00 | ⭐⭐⭐⭐⭐ | 🔎 Read 50+ reviews
Alright, I'm not saying I have enough money to do this – but I know tons of readers who have, and they're not interested in the best Sagrada Familia tours in groups of 20 or 30.
In fact, this private tour of Sagrada Familia has a near 5 star rating due to their dazzling array of certified guides – only the best are reserved for these intimate affairs.
If you like the idea of being able to ask a ton of questions, and not have to use earpieces to hear your guide, this is a great luxury to add to your Sagrada Familia tour experience.
In Barcelona in summer these private tours sell out quickly and run four times a day: 9:00 am, 11:00 am, 1:30 pm, and 4:00 pm.
You can book your tickets (with free cancellation protection up to 24 hours before) using the button below:
Early Access Tour with Guide – Best La Sagrada Familia Tour to Beat Crowds
Duration: 1.5 hours | Price: From €50.00 | ⭐⭐⭐⭐⭐ | 🔎 Read 40+ reviews
It's well known that Sagrada Familia can get absolutely packed, especially in summer.
The way to beat this is through this early morning guided tour of Sagrada Familia.
Starting at 9:00 am, you'll dodge the biggest crowds of the day and be treated to some of the best lighting for photography coming in from the Nativity Facade windows.
This is a great option for photographers and people who don't like standing shoulder to shoulder with 500 other tourists.
Gaudi Guided Tour in Small Group – Best Self-Guided Sagrada Familia Tour
Duration: 1.5 hours | Price: From €59.00 | ⭐⭐⭐⭐ | 🔎 Read 90+ reviews
If the idea of tailing along with a Sagrada Familia guided tour seems a bit much, this is the way to see the church at your own pace.
Here, you'll get a 1.5 hour tour of the surrounding neighbourhood with all sorts of fascinating insights into the life of Antoni Gaudi – and the inspiration behind Sagrada Familia.
The enthusiastic guide will prepare you for your Sagrada Familia test like a tenured professor at Harvard.
When you're done, you'll get fast track entrance to explore the Sagrada Familia by yourself with a convenient audio guide full of even more factoids and wisdom.
Best of all? The tour caps out at 12 people so you can ask a ton of questions, if you're so inclined.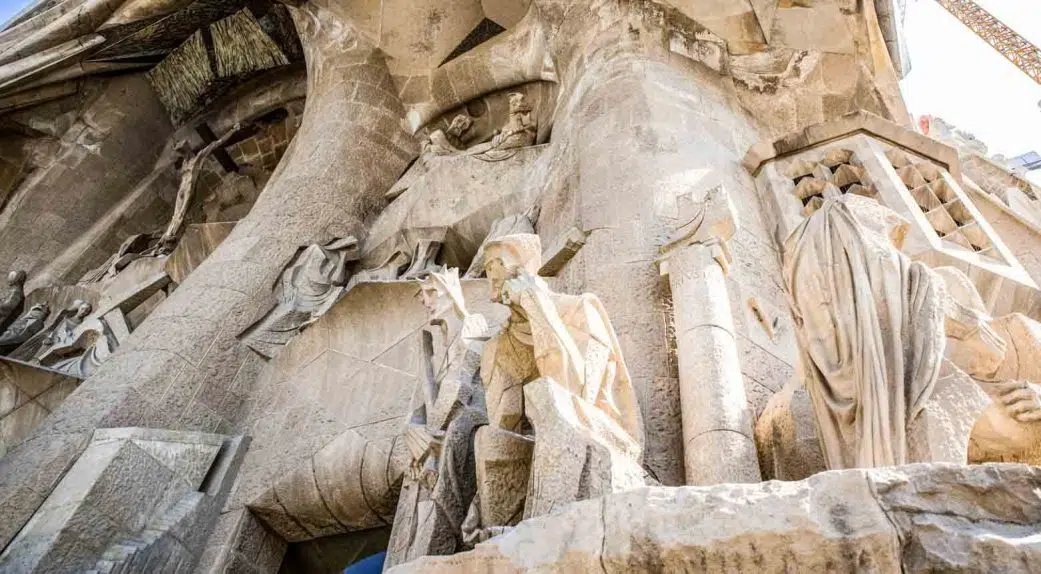 Should I Book La Sagrada Familia Tour Tickets in Advance?
Booking your tour in advance, especially the small group tours – or any tour in summer for that matter – is the only way to guarantee your spot.
Otherwise, you could end up looking at a schedule that looks like this: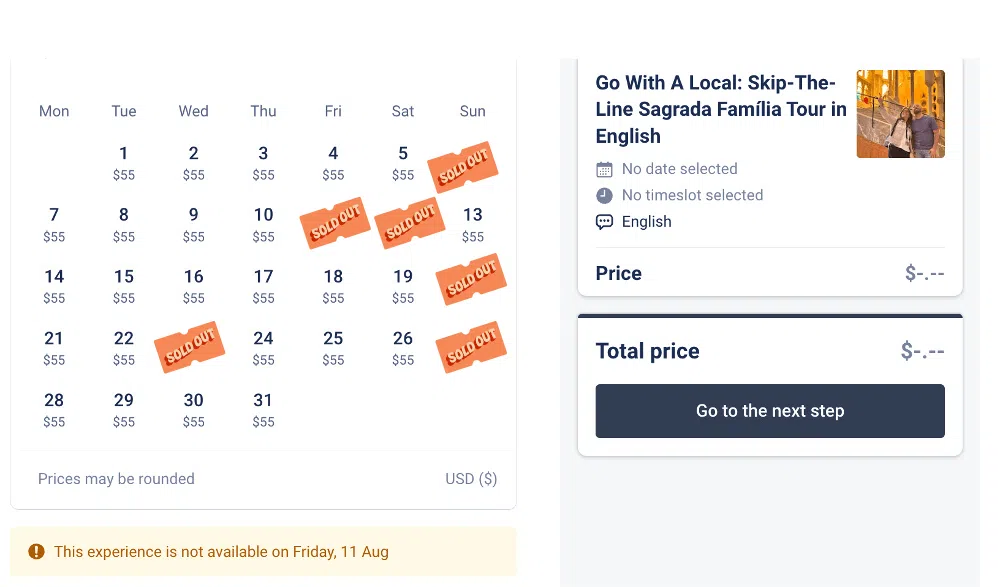 This is a snapshot taken a month in advance: it gets even worse the closer you get to your dates.
Thankfully, reserving your Sagrada Familia guided tour tickets can be done in as little as 60 seconds.
All the links I've left here offer:
The best Sagrada Familia tour prices guaranteed (or they'll refund the difference)
Free cancellation up to 24 hours before
Dozens, hundreds, or even thousands of Sagrada Familia tour reviews
A lot of the guided tour tickets for Sagrada Familia listed here can also be reserved with no money down.
Being able to lock in your spot with no money, no risk, or any other effort involved is a sound move!
How to Book a Tour of Sagrada Familia
To book your ticket, I'll walk you through the process using our top tour of Sagrada Familia:
Click our Sagrada Familia Tour link (or any button in this article)
Select your date + time from the calendar
Click 'Go to the Next Step'
Enter your name + email address
Enter your payment information
Voila!
You've now locked in your Sagrada Familia tour and don't have to worry about missing the bus.
Now you can concentrate on planning your weekend in Barcelona.
Looking to extend your stay? Check out my Barcelona 7 day itinerary.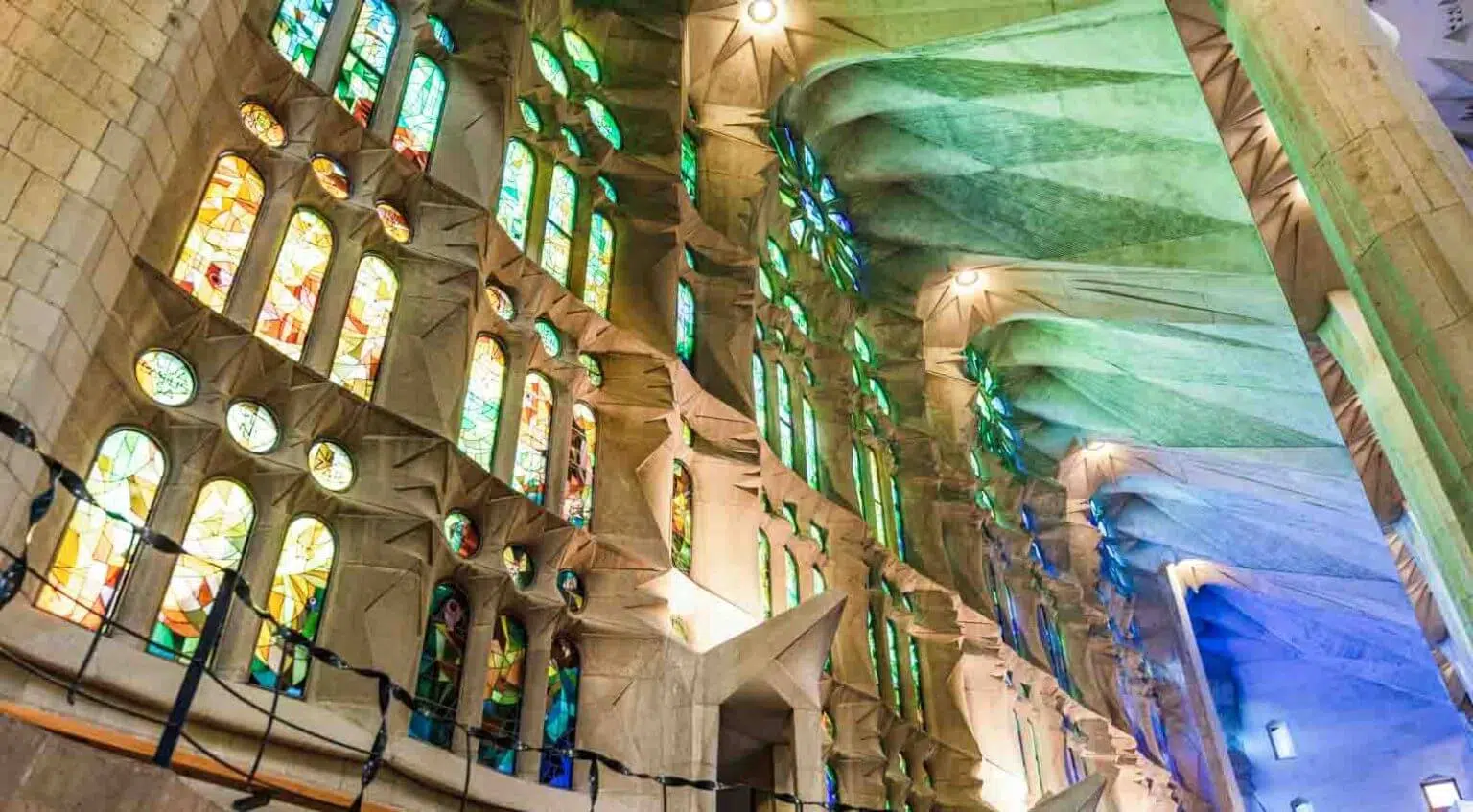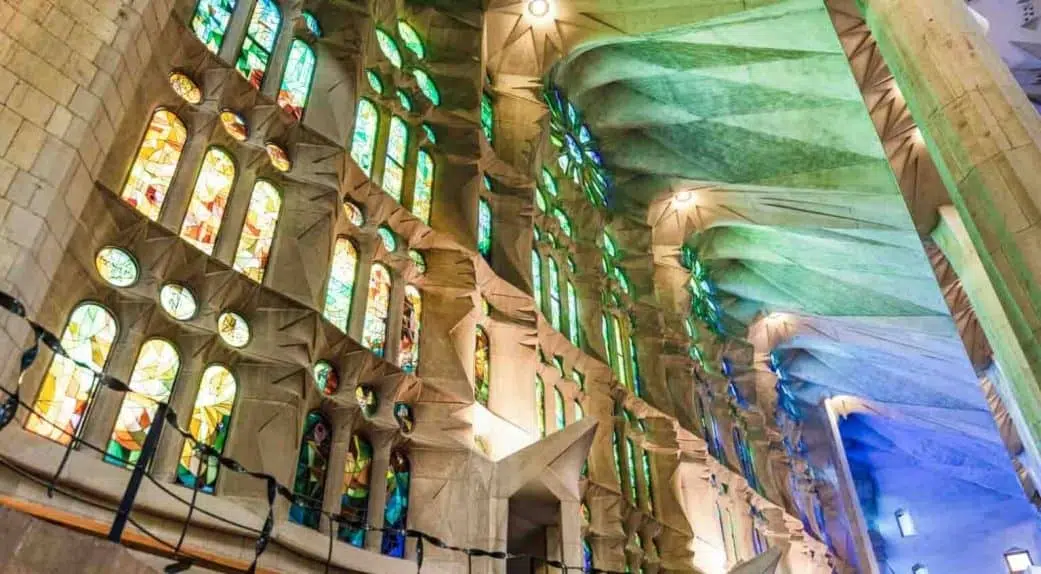 My Sagrada Familia Tours Review
When you book your Sagrada Familia tour in English, you'll get a confirmation email with the meeting details (in front of the KFC outside).
Before you go in for the tour, it's a thorough explanation of master architect Antoni Gaudí, La Sagrada Familia's history, and some interesting notes about the neighbourhood of Eixample.
Then they kit you up.
You'll get a mini radio transmitter with earphones (yours to keep! useful for the Bus Turistic after) so you'll never lose the guide's voice.
Once you're in, they'll go into every nook and cranny of the Nativity Facade.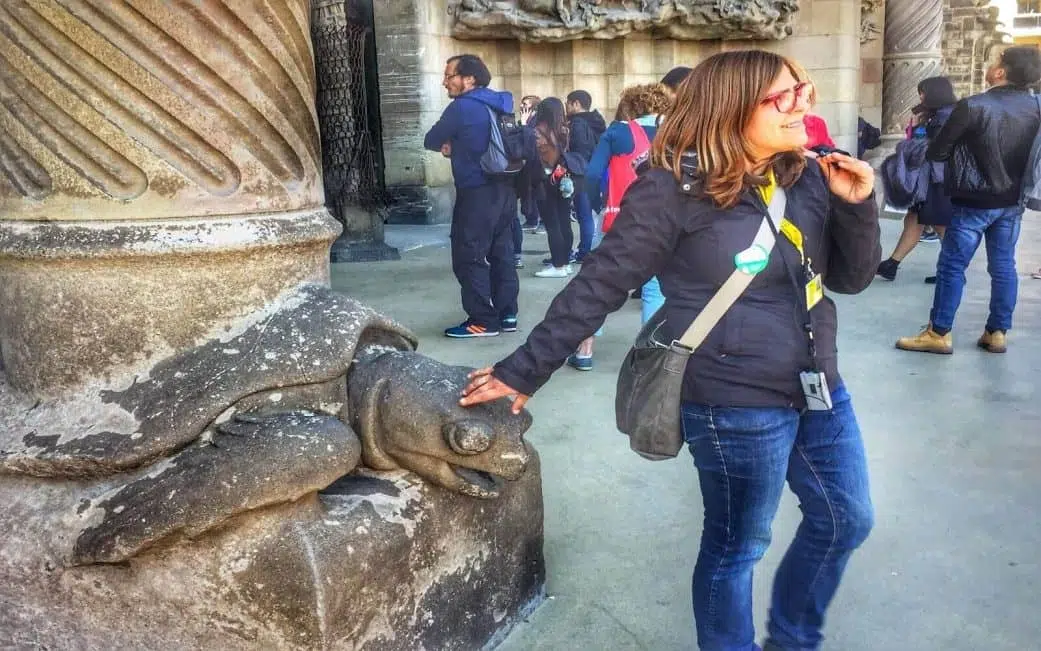 I just loved it when the guide brought things to life that I had passed by the first time without giving a second thought.
Look at the bottom of the pillars of Gaudi's turtles above – one of the earth's oldest animals and a symbol of old world knowledge.
Yes, as my guide explained: La Sagrada Familia church is being held up by wisdom!
This is how the best Sagrada Familia tours can really open up your knowledge.
From here, it's on to inside with a beautiful explanation of the stained glass vision of Antoni Gaudí, the role the sun's place in the sky plays in it, and info about the floor plan, stairwells, services, and pretty much everything else.
The tour ends on the Passion Façade with ominous stories surrounding the crucifixion, the symbolism of the falling stones, and a revealed secret of Josep Subirach's magic number square.
🚲 Wanna see Sagrada on bike? Check out my post on Barcelona's best bike tours.
🏙️ Wanna see a lot more of the city?: Consider booking one of the Best guided tours of Barcelona
My favourite bit? Being pointed out where we can see the face of Antoni Gaudí hidden in plain sight among the characters immortalized in the façade sculptures.
How to Purchase Sagrada Familia Guided Tour in English Tickets?
If the Sagrada Familia tour that I took sounds good, feel free to search your dates out using the calendar below:
Sagrada Familia Tour FAQ
How long is the Sagrada Familia tour?

The typical Sagrada Familia tour takes about 45 minutes. That said, the ones I have listed in my top Sagrada Familia tours ranking are purposely longer to allow for more information and to get a real feel for the church.

How much are Sagrada Familia tours?

Sagrada Familia tours generally cost about €15.00-€30.00 more than the general admission ticket. This is actually a very reasonable premium to be paying to get to unlock the massive amounts of symbolism and hidden delights in the building.

Which Sagrada Familia tour is best?

The best Sagrada Familia tour is the Go With a Local:Skip the Line tour offered by the ticket giant Tiqets. It's just €15.00 more than general admission, and the tour is almost double the length of the standard tour of Sagrada Familia.

Is a guided tour of Sagrada Familia worth it?

Guided tours of Sagrada Familia are definitely worth the cost. Consider that most tours are only about €15.00 more than general admission, so being able to unlock the many mysteries of its facades and be wise to Gaudi's symbolism is great value.

What if you want a guided tour of Sagrada Familia?

If you want a guided tour of Sagrada Familia there is nothing difficult about it. It is very common to simply book one of the many tours in advance online – that way you get fast track entry and don't have to worry about common sellouts.

Can you cancel Sagrada Familia tours?

Yes, you can cancel Sagrada Familia tours. Most tours, if booked in advance, can be cancelled free of charge up to 24 hours before the scheduled event.

Are there any free Sagrada Familia tours?

Unfortunately, there are no free Sagrada Familia tours available. Being one of the most sought after attractions in the world, entrance must be paid to get inside and once there you'll need to hire a tour guide if you're not prepared to a self-guided visit.

What are some tips for taking a tour of Sagrada Familia?

Always make sure you book your tour of Sagrada Familia in advance to guarantee your spot
Know the Sagrada Familia dress code before arriving to ensure you get in
Read the terms and conditions of your tour to know if they're refundable/cancellable
Ensure you dedicate at least 2,5 hours (1.5 hours for the tour + 1 to explore independently)
What is the Best Tour of Sagrada Familia?
I hope I've answered your question about the best La Sagrada Familia tours.
Of course, if you've got a slightly more peculiar situation which needs a little more thought, feel free to write me in the comments below!
Whether it's the best guided tour of Sagrada Familia or anything else Barcelona-related – I am here!