What to Do in Barcelona When it Rains: 15 Indoor Activities
Even in a city famous for sunlight, having a list of best things to do in Barcelona when it rains can be a lifesaver.
That's why I've curated a list of top Barcelona indoor activities after my 12 years in the city.
Let's take a look at what to visit in Barcelona on a rainy day!
Things to Do When it Rains in Barcelona – Barcelona Indoor Activities
Two Words: Sagrada Familia
Antoni Gaudi's iconic creation, La Sagrada Familia, stands out as being #1 on my list of best things to do in Barcelona – so it's gotta be the best indoor activity as well.
This is for the people that just say outside – you need to get inside or you're only getting half the story! Haven't yet? Go.
Although it's frequented by tourists year-round, you'll find rainy days in Barcelona are less busy.
Dive into the Barcelona Aquarium
The Barcelona Aquarium offers a mesmerizing journey into the depths of the Mediterranean ecosystem.
As you wander through its tunnels, you'll be surrounded by a myriad of marine life, from playful penguins to majestic sharks.
The aquarium provides an educational and enchanting experience, making it a perfect rainy day activity in Barcelona.
Go to a Flamenco Show
The best flamenco shows in Barcelona are the best way to experience Spanish soul.
This passionate dance, accompanied by haunting guitar melodies and powerful vocals, is a raw expression of emotion.
In the intimate setting of a traditional "tablao", you'll feel every stomp and handclap, getting lost in the rhythm and drama – I recommend Tablao Cordobes for the best.
Go to an Independent Cinema in Gracia
For those who cherish cinema, Gracia's Cinema Verdi offers a curated selection of alternative and independent films.
It's a cozy spot to immerse yourself in global cinema on a rainy day in Barcelona.
With its intimate ambiance, top-notch acoustics, and commitment to quality films I'm naming it the best cinema in the city.
Get Churros con Chocolate
Churros and chocolate on a rainy day in Barcelona offer comforting warmth.
The crispy churros, paired with rich, melted chocolate, create a delightful contrast, making each bite a cozy embrace against the cold drizzle outside. It's soul-soothing Spanish comfort food at its best.
Head to Calle Petrixol to check out two churro legends: La Granja Pallaresa and Granja Dulcinea.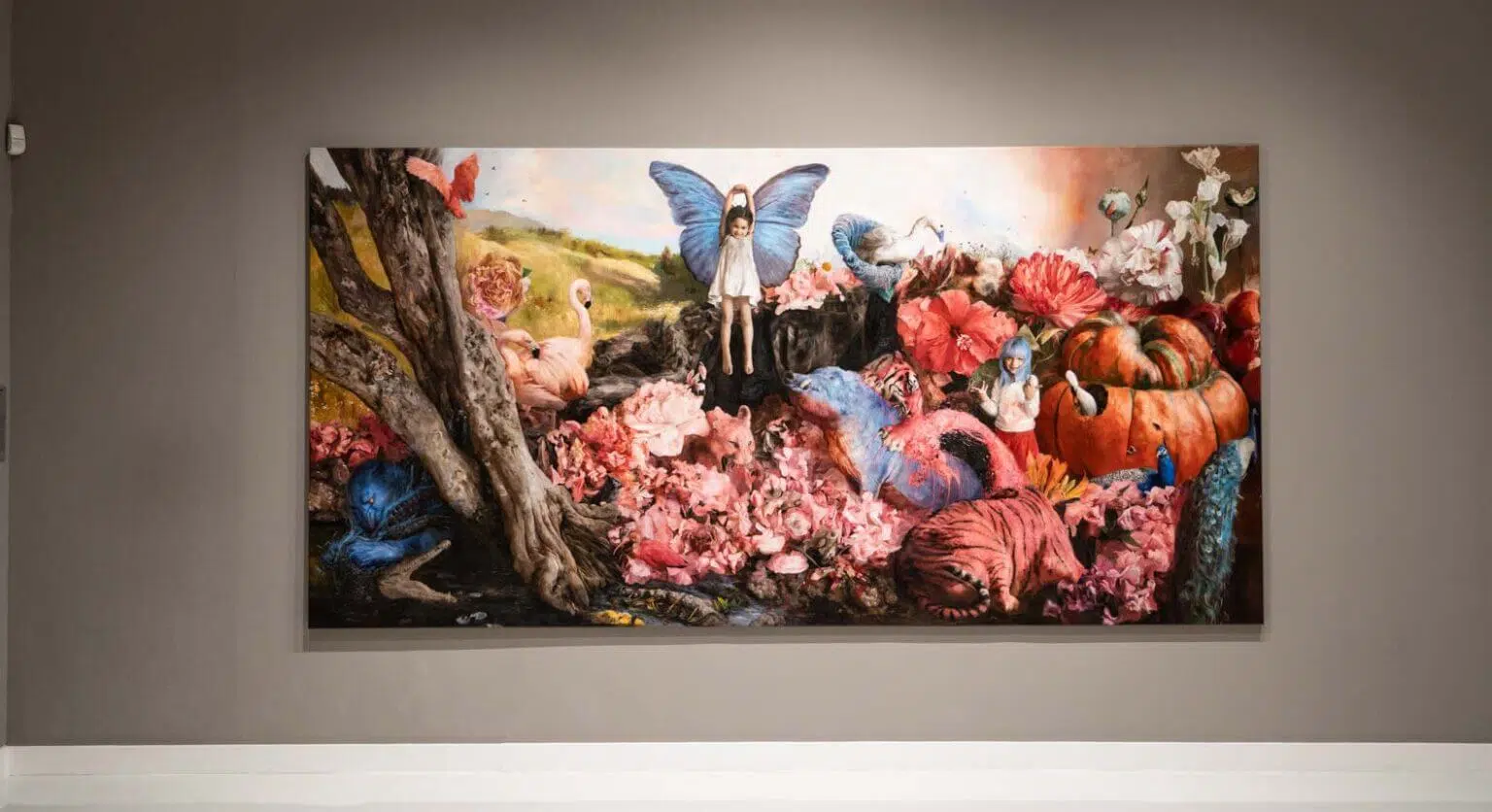 Visit the Moco Museum
The Moco Museum is a contemporary art museum showcasing works from iconic artists like Banksy and Basquiat.
It's a must-visit for its unique blend of street art and modern masterpieces, housed in a historic building in the heart of the Born district.
It offers a fresh, unconventional art experience, making it the most compelling of Barcelona's best museums.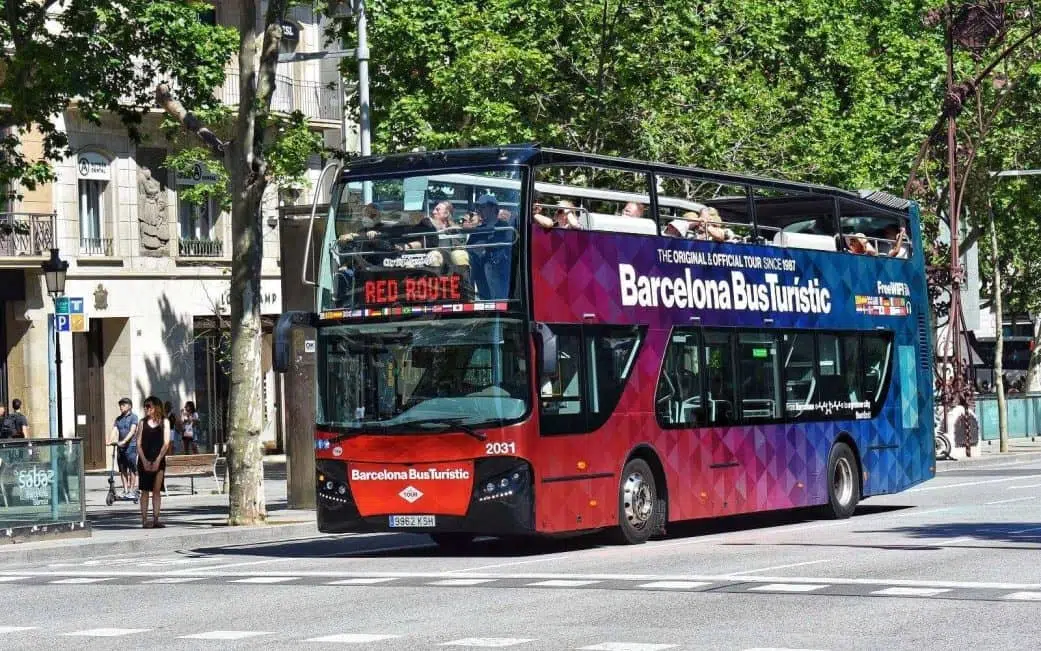 Tour the City on a Bus
Tourist looking for what to do in Barcelona on a rainy day? Barcelona's hop on hop off bus tours offers a unique perspective of the city's iconic landmarks.
With knowledgeable guides narrating the city's rich history, you can witness Barcelona architectural marvels and cultural hubs.
Ignore the picture above! The buses are covered on rainy days – this is the only way to do a huge Barcelona itinerary without getting soaked.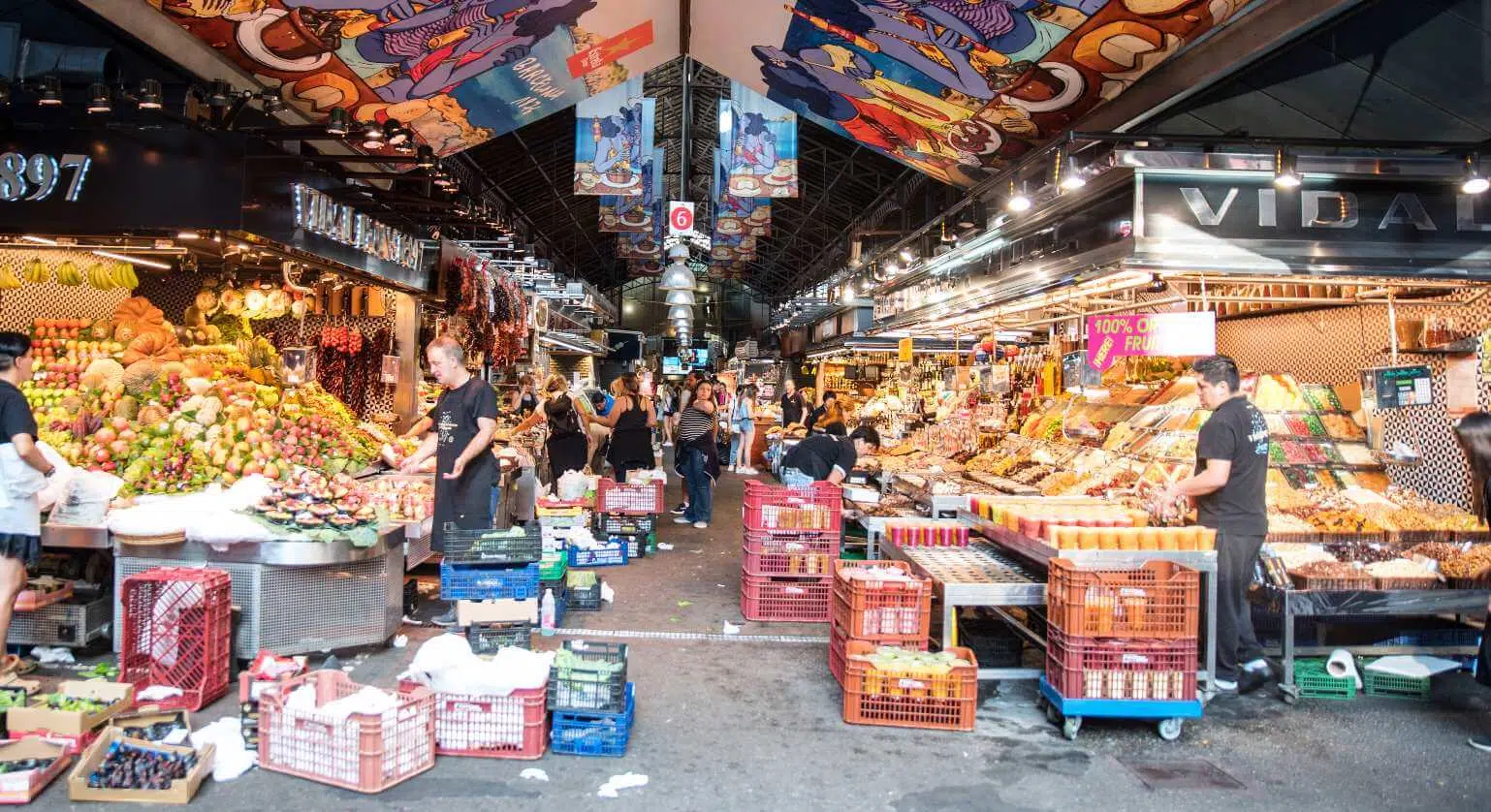 Savour Market Vibes at La Boquería
La Boquería isn't just the king of Barcelona's best markets; it's a sensory explosion – especially for the mouth.
Even on rainy days, the market is abuzz with activity. From fresh produce to gourmet delicacies like jamon serrano and manchego cheese, it's a food lover's paradise.
The vibrant colors of the stalls contrast beautifully with the gray skies, making it a picturesque spot. Wanna take it to the next level? Book a guided tour + cooking class: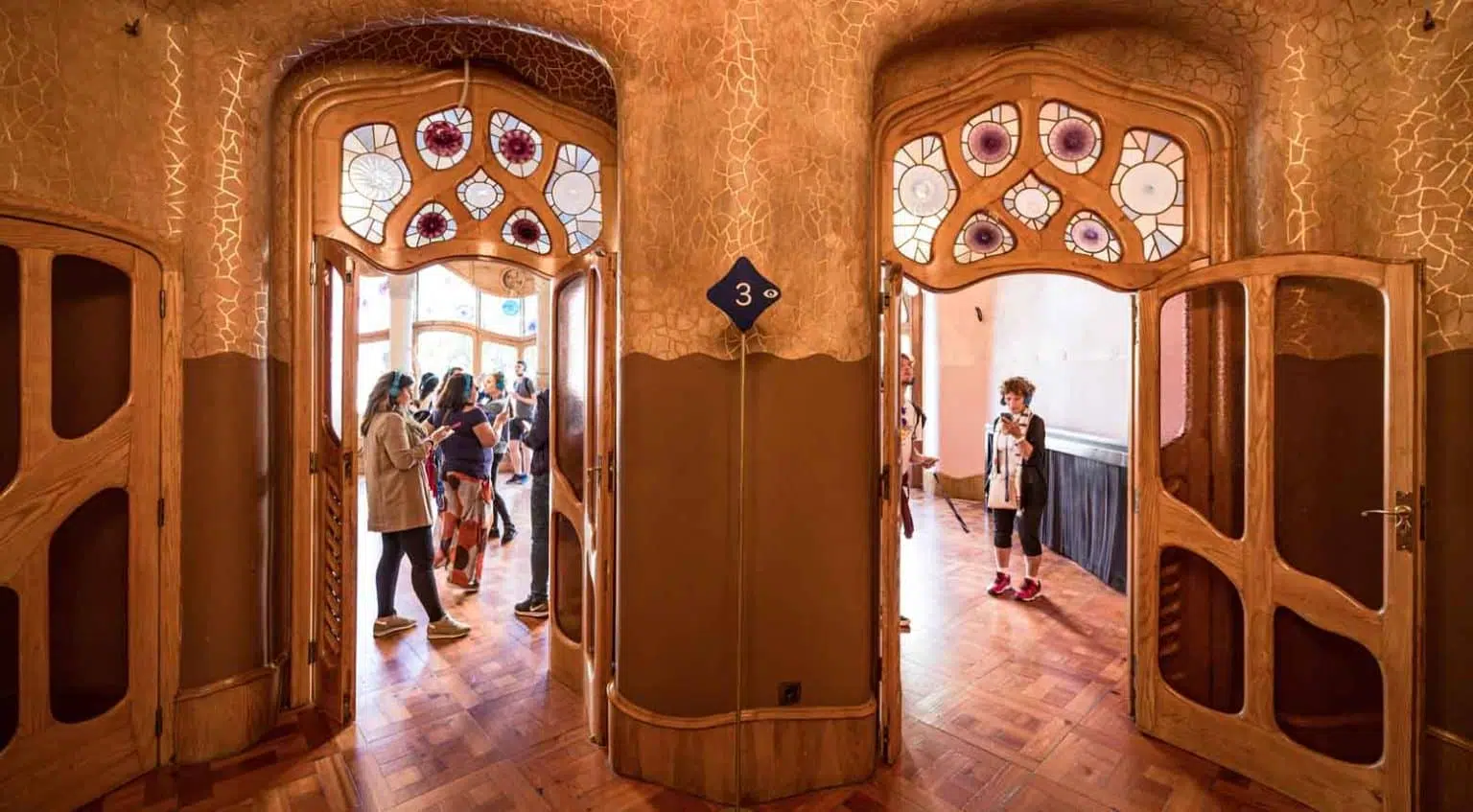 Explore Casa Batllo
Casa Batlló isn't just a building; it's Antoni Gaudí's living artwork in mansion form, a testament to his unparalleled architectural genius.
Nestled in the heart of Barcelona along the Passeig de Gracia, its mesmerizing façade, adorned with vibrant mosaics and whimsical bone-like structures, beckons visitors.
Inside, every corner reveals Gaudí's innovative designs, from undulating walls to light-filled atriums.
Check Out the World's Biggest Picasso Museum
My personal favourite indoor activity in Barcelona is the Picasso Museum.
Nestled in the historic El Born district, this museum houses an extensive collection of over 4,000 works, tracing the artist's formative years.
It's a rare journey through Picasso's evolution, from his early sketches to his iconic masterpieces. The museum not only showcases art, but also the rich history of the city that inspired the artist.
Relax at Aire de Barcelona Spa
Aire de Barcelona Spa is a sanctuary of relaxation – and for me it's the top indoor activity in Barcelona for pampering yourself.
Museums? Nevermind them. Let's rock some serene ambiance combined with therapeutic treatments – or maybe even get a massage.
Here, guests can immerse themselves in various thermal baths, transitioning from the tepidarium (warm), to the caldarium (hot), and finally the frigidarium (cold).
Spend the Rainy Afternoon at an Epic Cafe
When thinking of what to do in Barcelona when it rains, here's a simple one – especially if you can work from abroad.
The city's café scene comes alive with the rain, with places like Nomad Coffee Lab, Satan's Coffee Corner, and Camelia Art Cafe providing a snug haven against the chill.
These spots pour expertly crafted coffees that will impress any coffee lover. Dive into my curated list of top Barcelona cafes and discover your next favorite haunt.
Go Shopping
Shopping in Barcelona isn't one of my best indoor activities in Barcelona, but if you're a lover of retail therapy here's some options:
Passeig de Gràcia: Barcelona's premier shopping avenue, adorned with luxury brands, modernist architecture, and iconic landmarks like Casa Batlló and La Pedrera.
Portal del Angel: A pedestrianized shopping street, bustling with both local and international brands, making it one of the city's most frequented shopping destinations.
Westfield Glòries Shopping Centre: A modern shopping mall offering a wide range of brands, eateries, and entertainment options.
Las Arenas: once a bullfighting ring, has now been transformed into a shopping haven. The highlight? The rooftop offers panoramic views of the city and Plaza España.
Engage with Science at CosmoCaixa
One of Barcelona's hidden gems – CosmoCaixa in Barcelona is not just a museum; it's an immersive journey into the wonders of science.
Housed in a modernist building, it boasts interactive exhibits, a flooded Amazonian rainforest, and a planetarium.
Whether touching a meteorite, exploring the intricacies of the human brain, or marveling at its vertical garden, every corner sparks curiosity.
Explore the Palau de la Música Catalana
In Barcelona when it rains, I love pointing music lovers to the Palau de la Musica Catalana – a shining example of Barcelona's Modernisme.
Its detailed exteriors and breathtaking interiors highlight the genius of architects such as Domenech i Montaner.
Not up for a concert? Opt for a guided tour to fully appreciate its features, particularly the exquisite stained glass skylight.
Barcelona Indoor Activities FAQ
What to do in Barcelona on a rainy day?

On a rainy day in Barcelona you can visit the city's top museums (Moco or Picasso Museum), take in a flamenco show, go to the aquarium, get churros con chocolate, book a spa day at Aire Barcelona, or go to an independent cinema in Gracia.

How often does it rain in Barcelona?

On average, Barcelona experiences around 55 to 65 rainy days annually. Most of the rainfall occurs in the spring and autumn months, with October typically being the wettest month. However, even during these periods, rain tends to be sporadic and short-lived, often followed by clear skies and sunshine.
Need More Fun Indoor Activities in Barcelona?
I've listed what I think are the best indoor activities in Barcelona, but it doesn't have to end there.
If you still haven't found a good indoor activity in Barcelona feel free to write me for custom advice below.
Enjoy your rainy day in Barcelona 🌧️