A Complete Guide to Las Ramblas in Barcelona + 7 Local Tips
A hundred years ago famed Spanish poet Federico García Lorca wrote of Las Ramblas Barcelona:
"It's the only street in the world I wish would never end."
While you can't deny Las Ramblas is the beating heart of Barcelona's bustling cosmopolitan centre, today Barcelona's most famous street is just not the same.
Let's take a look at my La Rambla guide to find out why.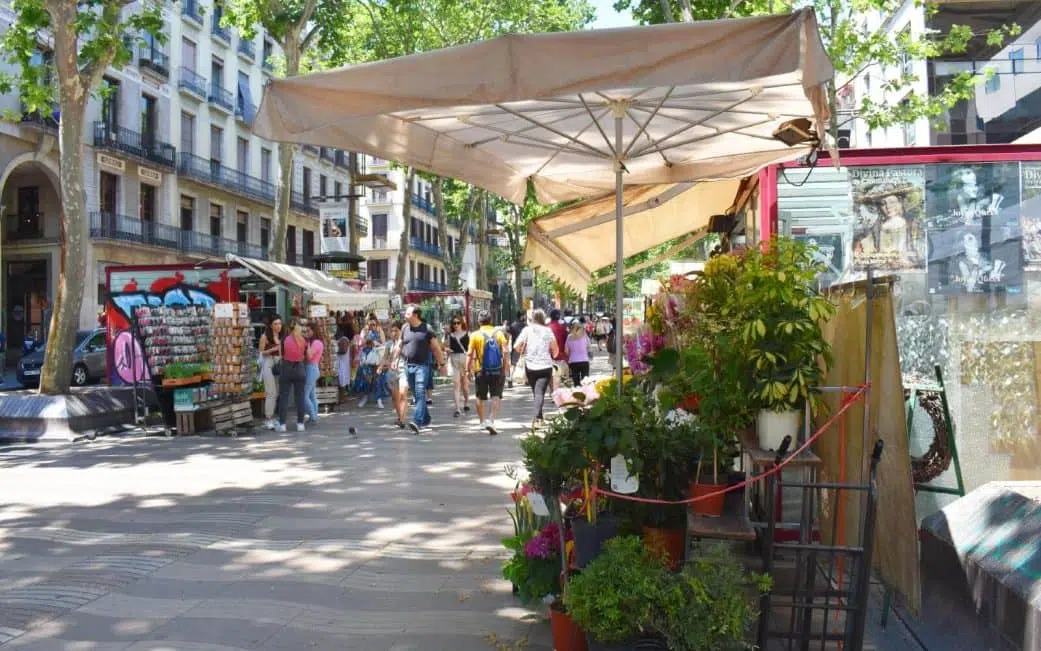 Las Ramblas Barcelona: A Quick Introduction
Simply put, Las Ramblas (also known as La Rambla) is Barcelona's most famous boulevard.
Las Ramblas is known for:
In the evening, honestly, things can get a bit shady with the arrival of drug dealers and ladies of the night – and you need to be on your guard for Barcelona pickpockets as well.
Related: Best Las Ramblas Bars
Where is Las Ramblas in Barcelona?
Las Ramblas is a primarily pedestrian thoroughfare cutting through the middle of the city, dividing the Barcelona Gothic Quarter and the Raval.
⚠️ 

Warning

⚠️

: Barcelona's top two attractions are now mandatory to book in advance.
You can save money + have half your holiday booked in just a few clicks with the Barcelona Essentials Pass:
⛪ Sagrada Familia + Park Guell
🚇 Unlimited city transport
🔊 A handy city audio guide
🏷️ A 10% digital discount code for all other attractions tickets
🛍️ Buy now: Barcelona Essentials Pass
La Rambla is 1.2 kilometers long and runs from the top at Plaça de Catalunya to the bottom at the Columbus Monument, just minutes from the Barcelona Cruise Terminal.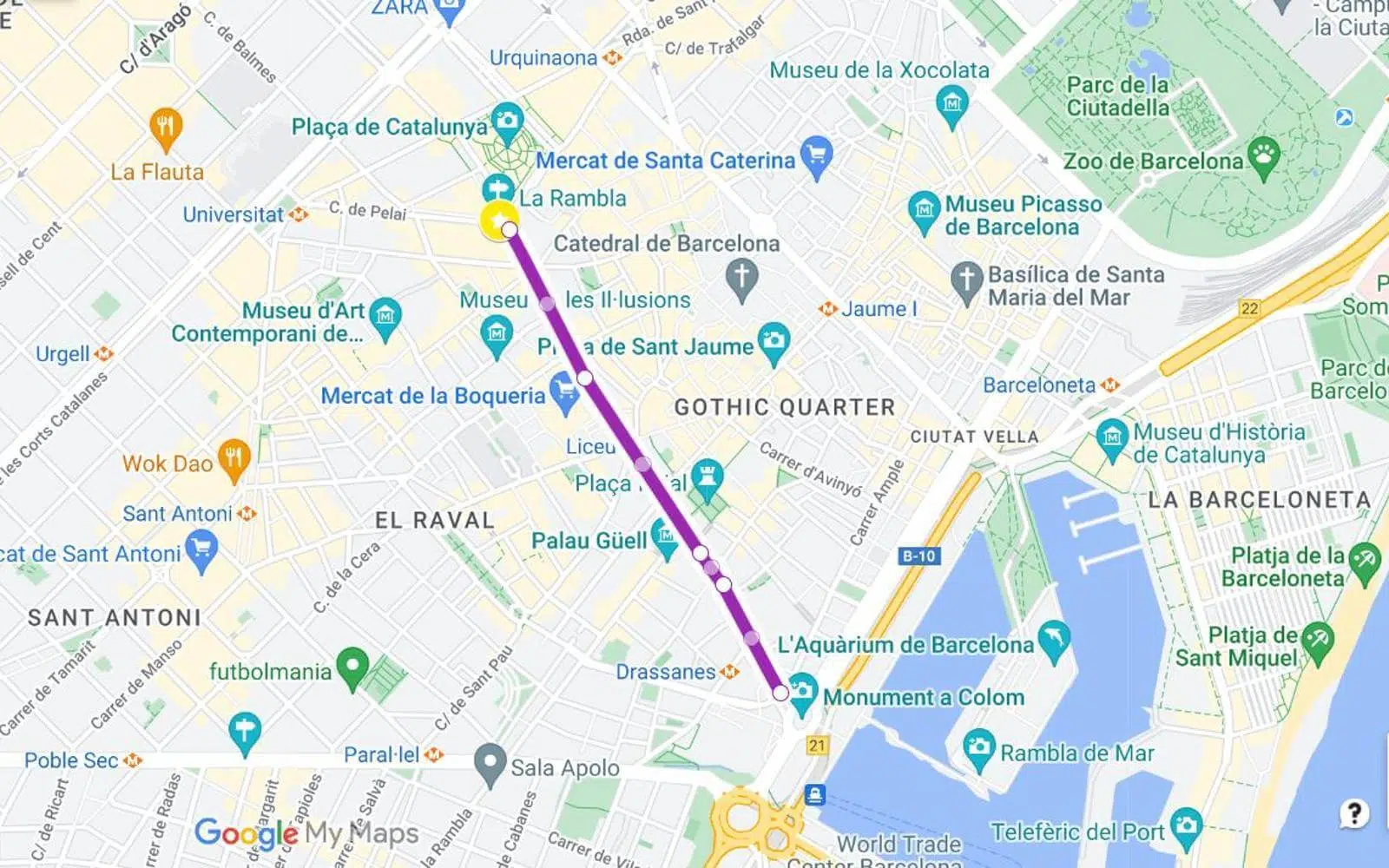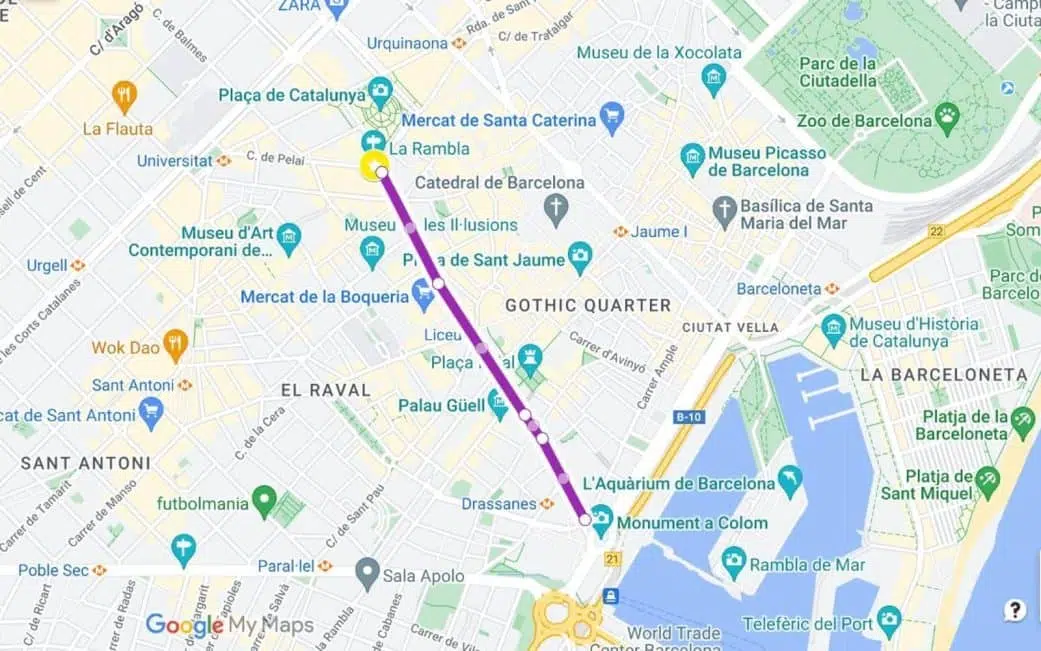 How to Get to Las Ramblas
If you've picked one of my best areas to stay in Barcelona that's further out then you'll need to use the Barcelona metro.
Las Ramblas is served by three main Barcelona transport stations: Catalunya (L1/L3), Liceu (L3), and Drassanes (L3).
The easiest way to see it is to get off at Catalunya and walk downhill to the Columbus Statue, allowing you to do the entire street.
The Bus Turistic (the city's tourist bus) stops for La Rambla are Plaça de Catalunya (top) and Museu Maritim (bottom).
Buses running down the small streets flanking La Rambla are the 59, 91, and V13.
🚌 Heading to the Las Rambla? Make sure you know how to get around Barcelona on public transport first.
Best Las Ramblas Attractions and Things to Do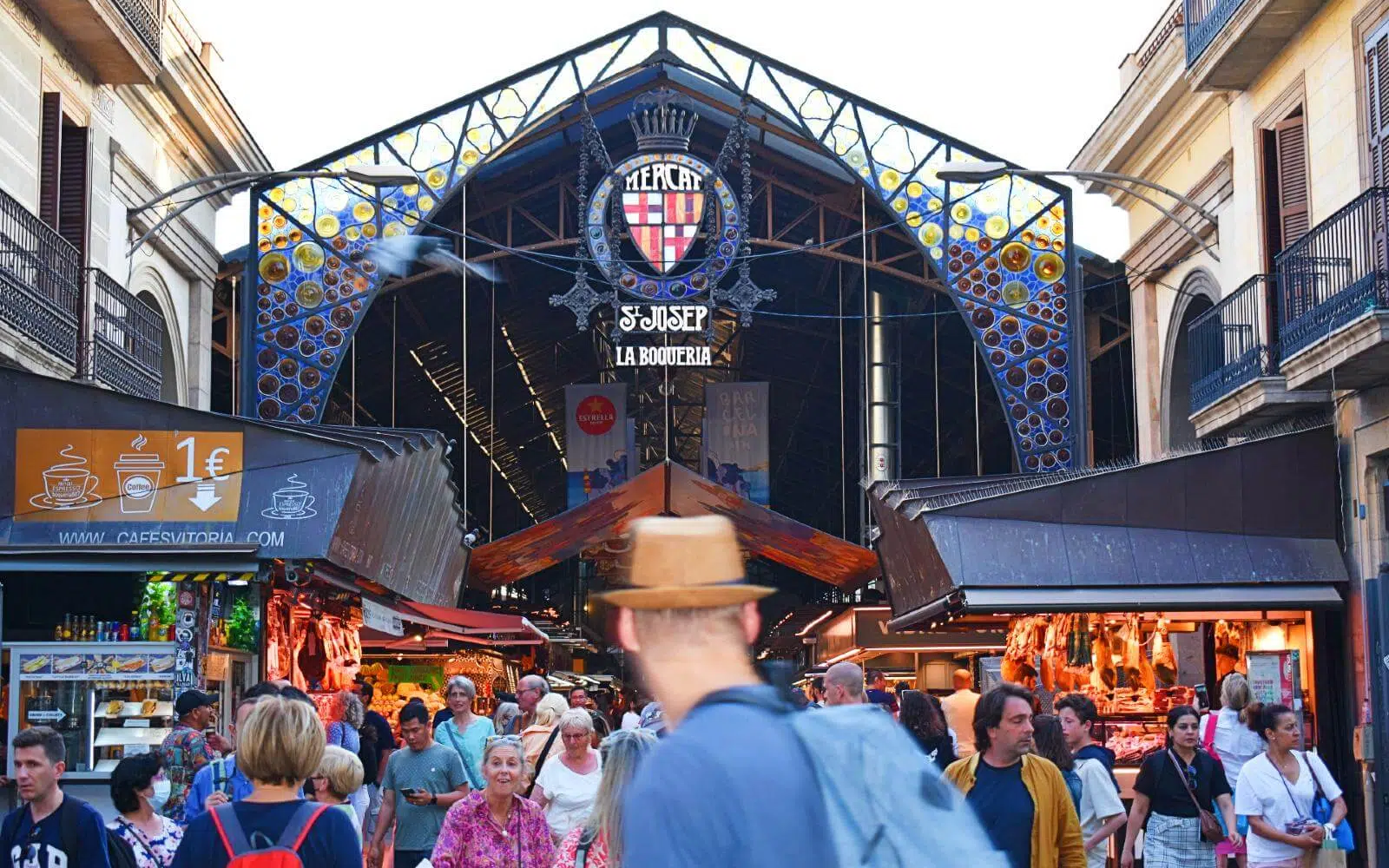 La Boqueria Market
La Boqueria Market was originally a 13th century meat market on La Rambla and it has slowly evolved to become Barcelona's food hub and a great place for tourists to grab quick snacks.
This is one of the best things to do on Las Ramblas, period.
If you've got a Barcelona holiday apartment make sure you load up on top quality fruit, vegetables, and seafood to cook yourself something nice.
It's also prudent to sit down and eat some tapas at legendary El Quim de la Boqueria.
Just don't leave without a serrano ham sampler or €1.50 fruit smoothie.
Related: Where is La Rambla in Barcelona?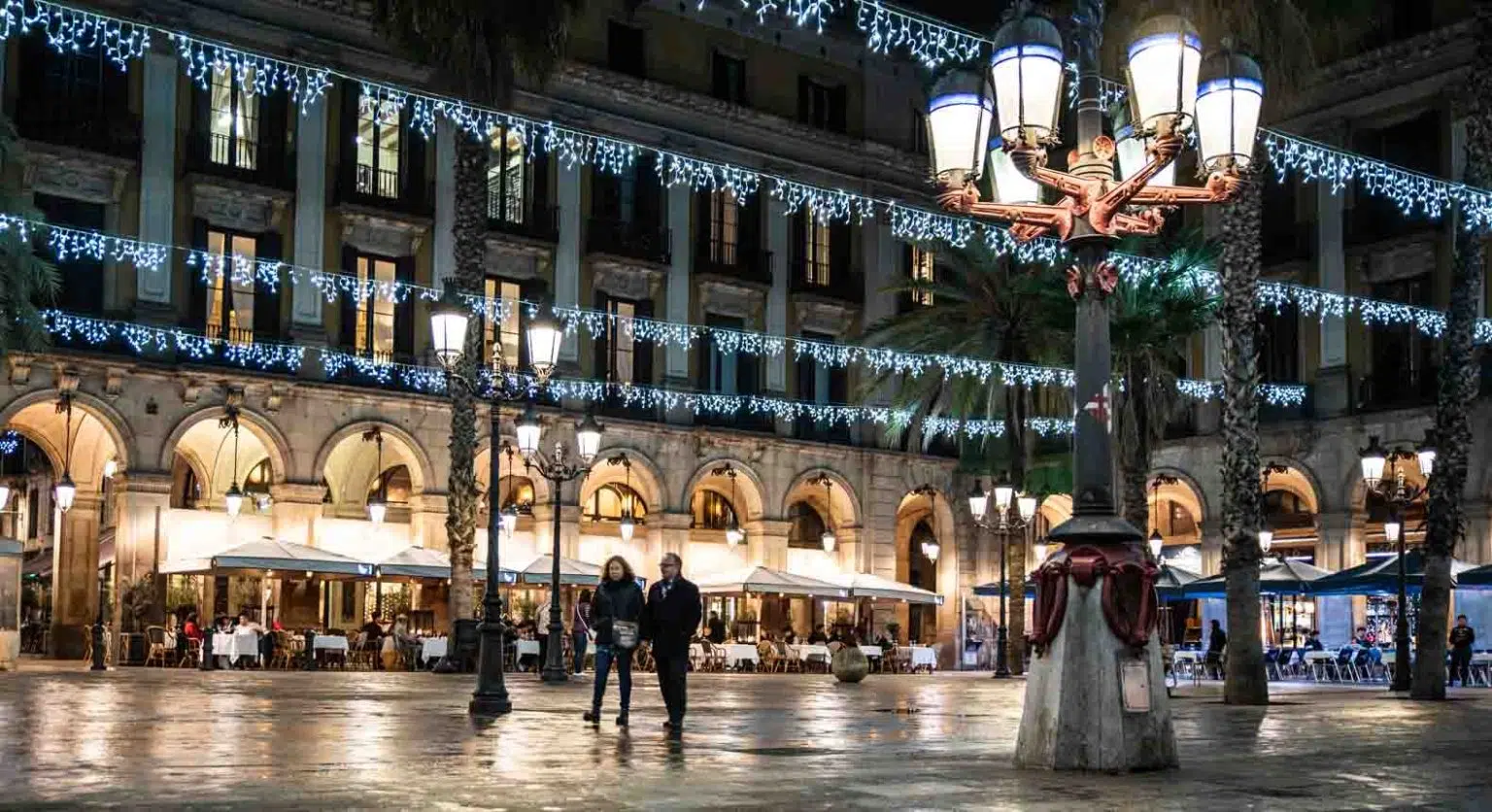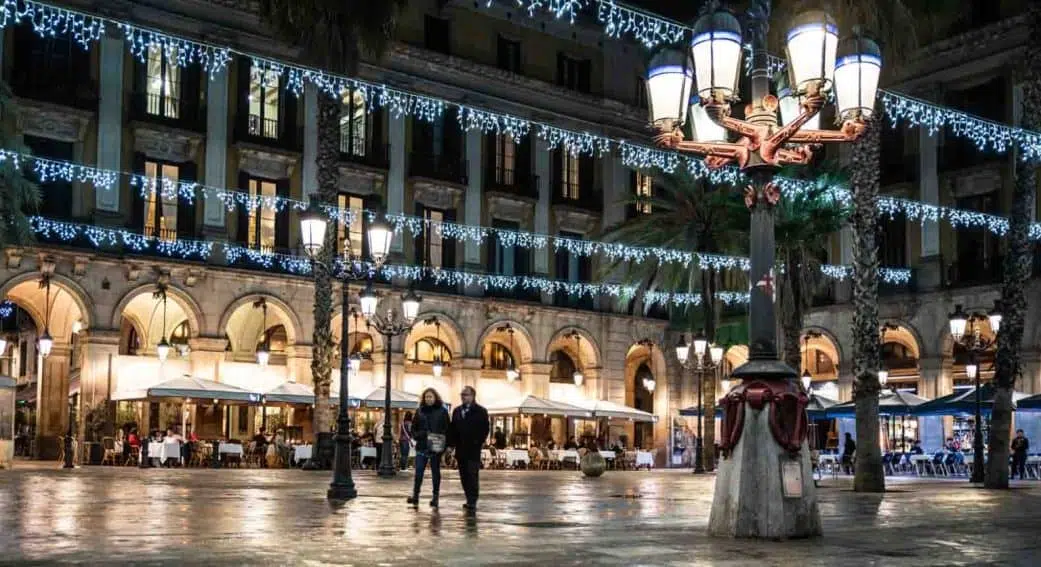 Plaça Reial
This palm tree decorated square just off Las Ramblas is twinned with Plaza Garibaldi in Mexico City is probably Barcelona's most emblematic.
Keep an eye out for the ornate lanterns which light up the square and were designed by master architect Antoni Gaudi.
Placa Reial is home to some of Barcelona's busiest clubs like Sidecar and Jamboree. During the summer especially during the La Mercè Festival in September you'll find a ton of open air concerts here.
🧑‍🎨 Want more of Gaudi? Unlock his masterpieces with the best Gaudi tours of Barcelona.
The Canaletes Fountain
You'll find the Canaletes Fountain at La Rambla's first walkway (called Rambla de Canaletes) right next to Plaça Catalunya.
Legend has it that anyone who drinks the water here will fall in love and return to Barcelona. One of those things came true for me 😉 Don't think about it too much: drink and find out.
The fountain is also linked to the history of FC Barcelona. Years ago it was here that the La Rambla newspaper (located opposite the fountain) announced the results of FC Barcelona matches.
Gran Teatre del Liceu
This 19th century opera house right on Las Ramblas was opened in 1847 and at the time was Europe's largest. The Italian horseshoe-shaped theater holds 2,292 spectators and is both a receiving and producing house.
Some of the great performers in history have taken stage here like Pavarotti, Calla, Tebaldi, Domingo, and more. The spectacular foyer and mirror halls are highlights for any music fan.
Check out the Liceu Opera House concert listings calendar if you want to attend.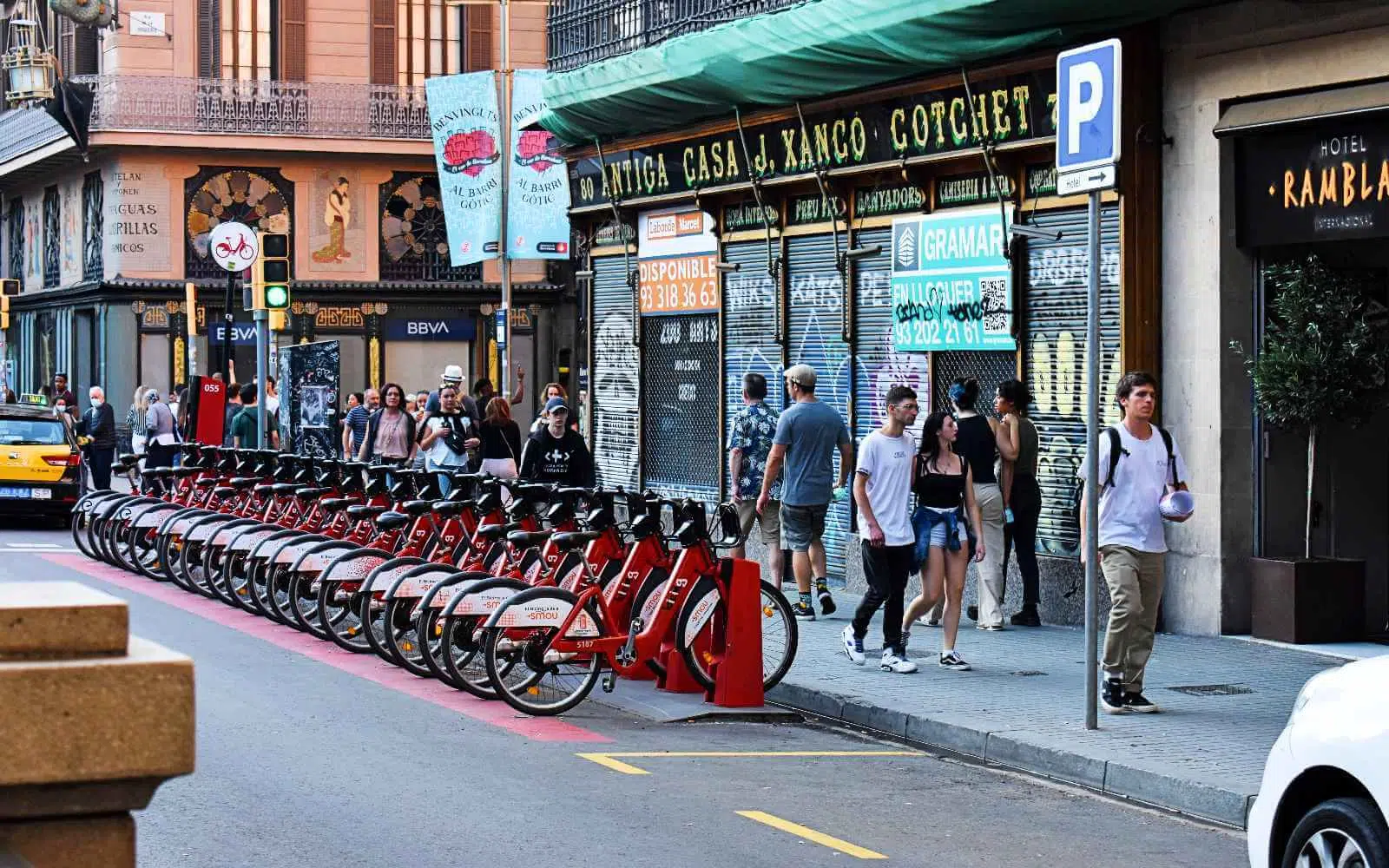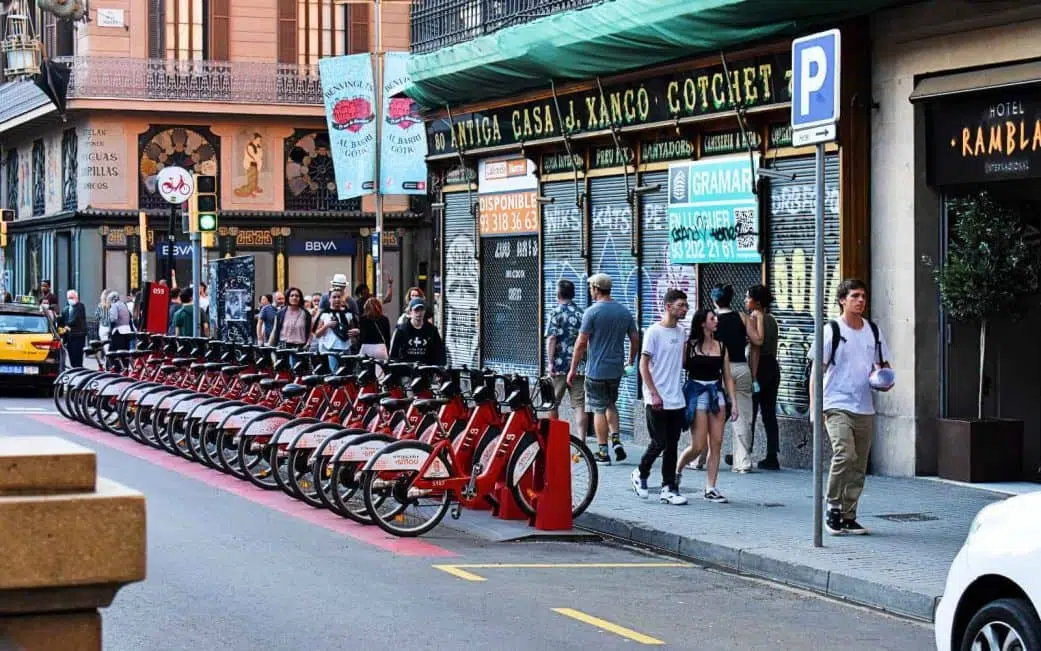 La Rambla's Classic Shops
Thank goodness Barcelona has an Emblematic Street Association that certifies emblematic commercial establishments to protect them from rampant modernization and tourism.
You'll find a bunch of them on or near Las Ramblas.
If you follow the link above and click veure mapa (it's only in Catalan) you'll get a great list of traditional, authentic shops that have been trading as long as the city has been around.
I recommend the Nadal Pharmacy, Viena coffee shop, Casa Beethoven music shop, the Antigua Casa Figueras pastry shop, tailor Xancó, Café l'Opera, and Bar Glaciar.
Related: Best Shopping on La Rambla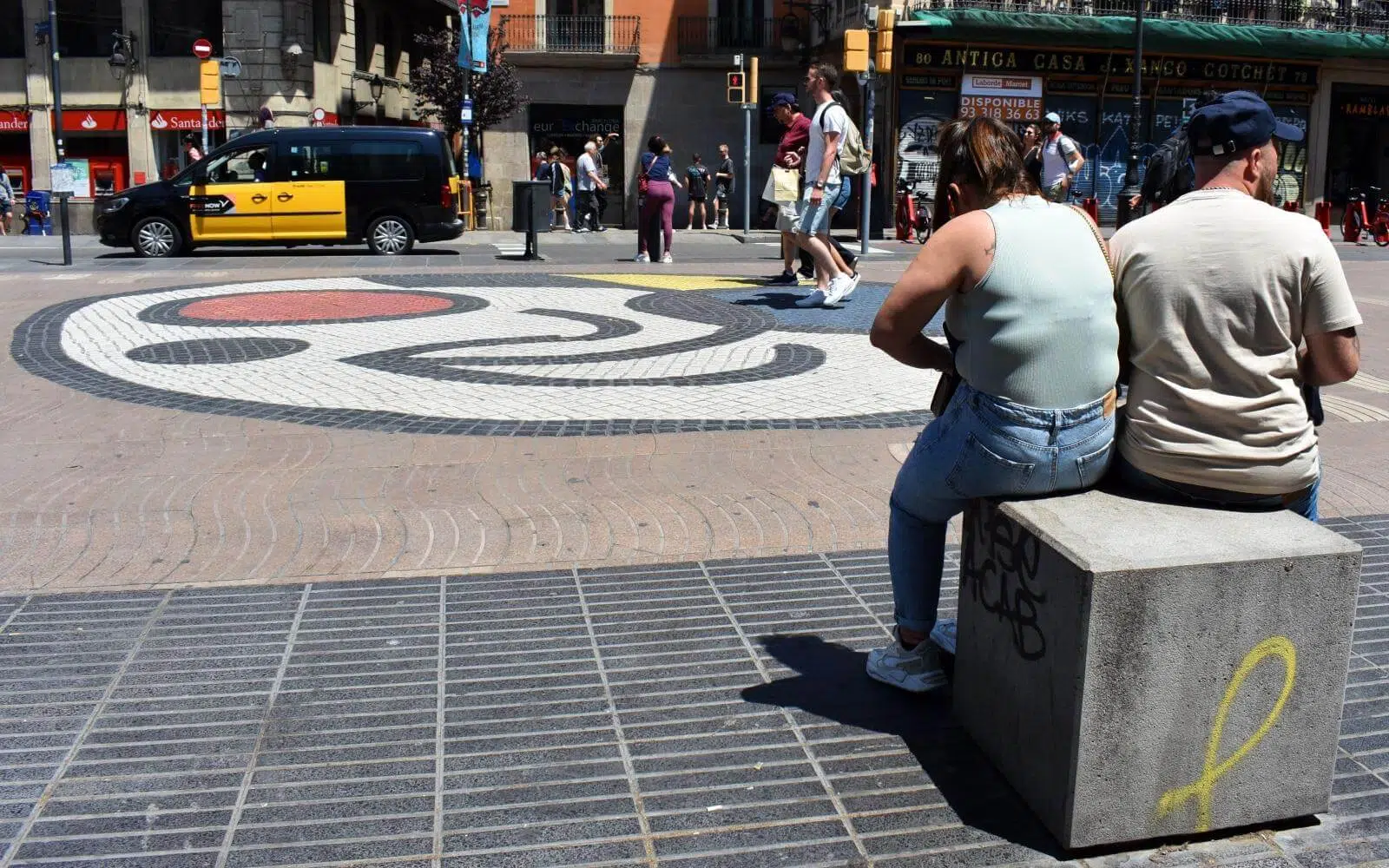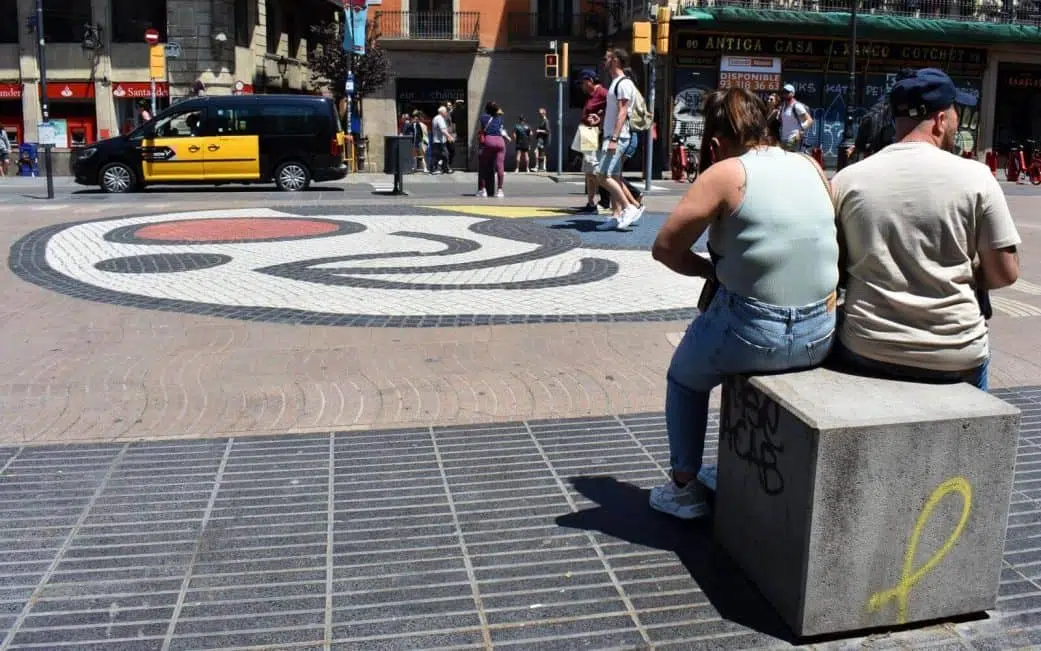 Pla de l'Os
Millions of people walk over one of the biggest Las Ramblas attractions without even noticing.
The classic pavement mosaic representing the cosmos done by local contemporary art legend Joan Miró was intended to welcome people visiting Barcelona who arrived from the nearby port – stop and let him welcome you!
You'll find it half way down La Rambla in the most central portion, called Rambla dels Caputxins, at Pla de l'Os ('Bone Square').
Related: How Many Days Should I Stay in Barcelona?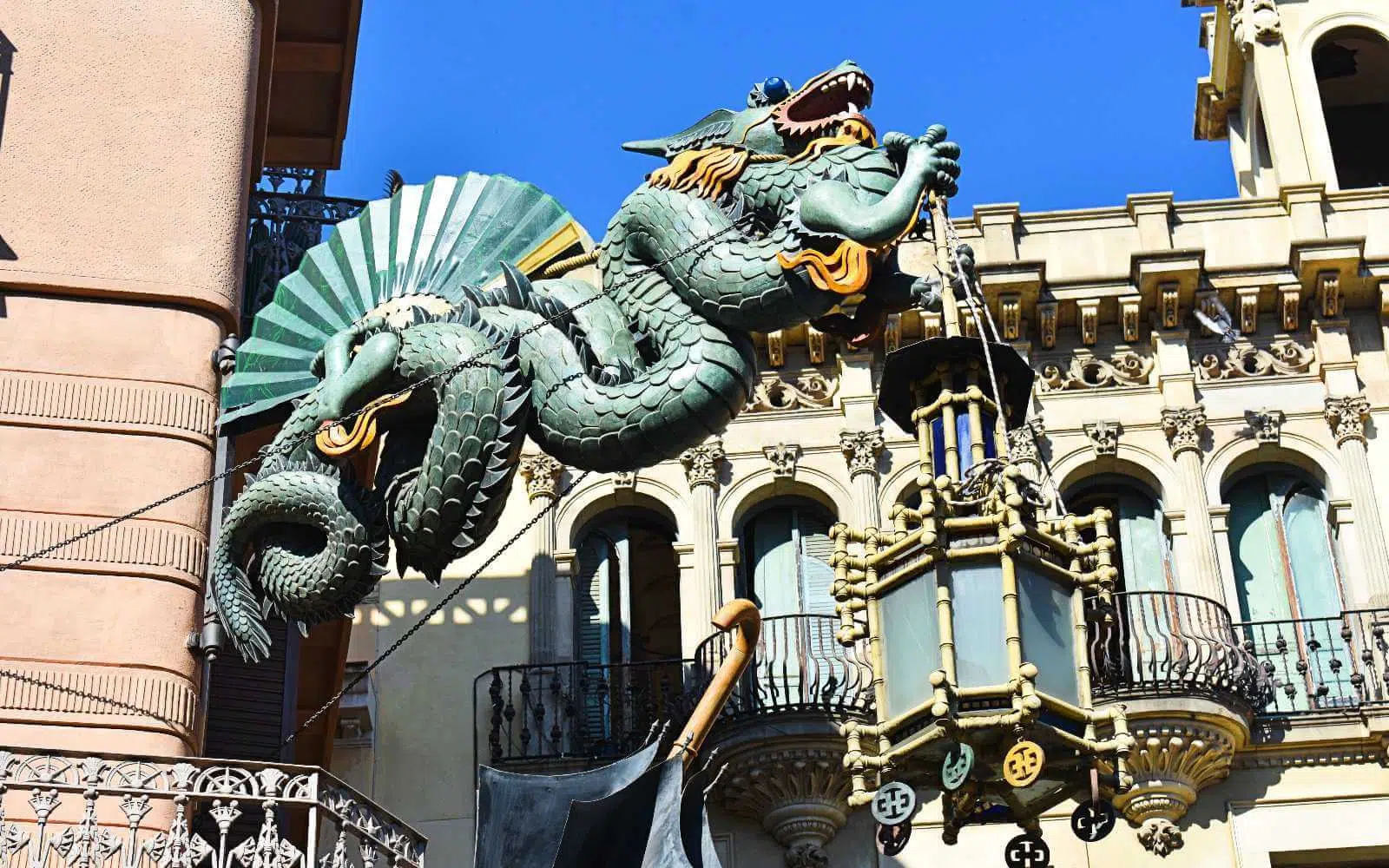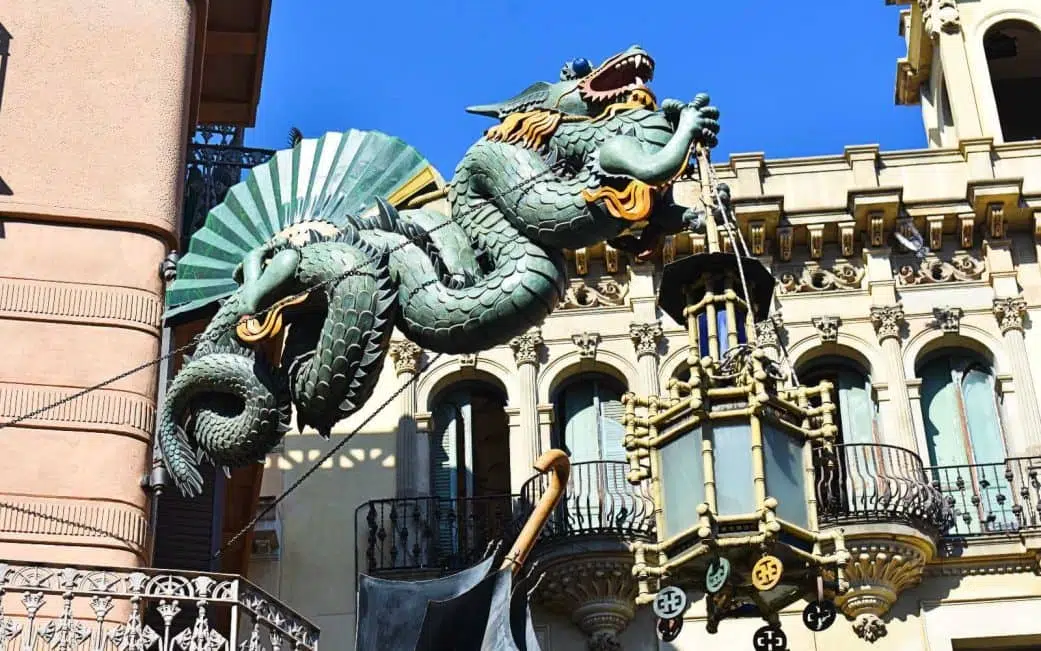 Palau de la Virreina
This baroque palace on the El Raval side was built at the end of the 18th century by architect Carles Grau.
Today it's the headquarters of the cultural department of Barcelona and almost always hosts some sort of free photographic or artistic exhibitions.
Some of the best things to do on Las Ramblas are their exhibitions, which can be found on the Barcelona municipality homepage.
The Palazzo della Virreina is also the permanent seat of Barcelona's famous paper mache gegants (giants) – the folkloric figures you'll see marching in the streets during the legendary Merce festival.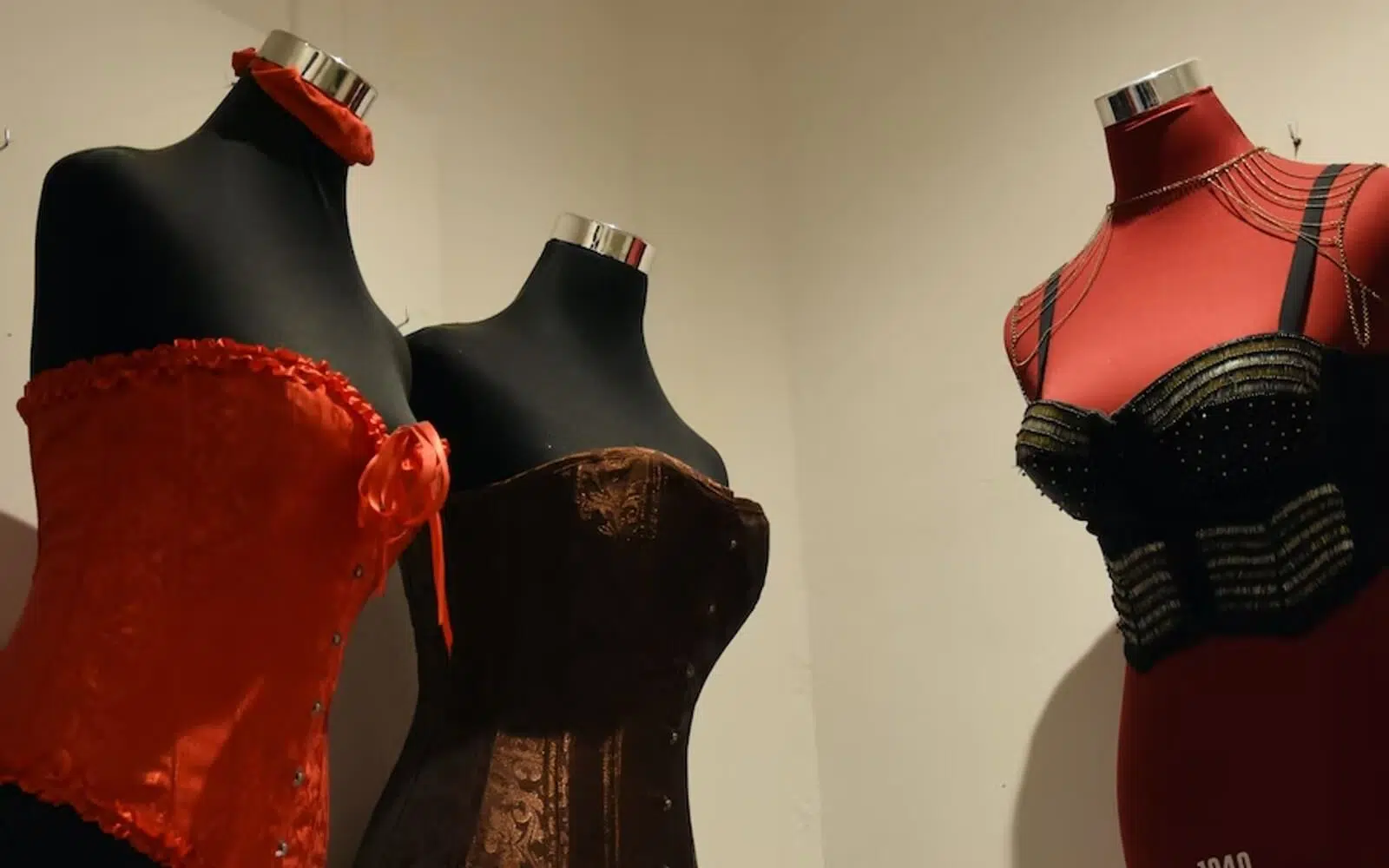 Museu De L'Erotica Barcelona
If you're going to embrace the more scandalous aspects of Las Ramblas this may be the only option that won't land you in jail. It's impossible to miss with the man dressed as Marilyn Monroe yelling down from the balcony.
With an extensive cultural and historical record of the role eroticism has played for mankind from ancient civilizations to the sex records of today you'll be amazed.
See more than 800 pieces by buying your Barcelona Sex Museum tickets online for just €12.00.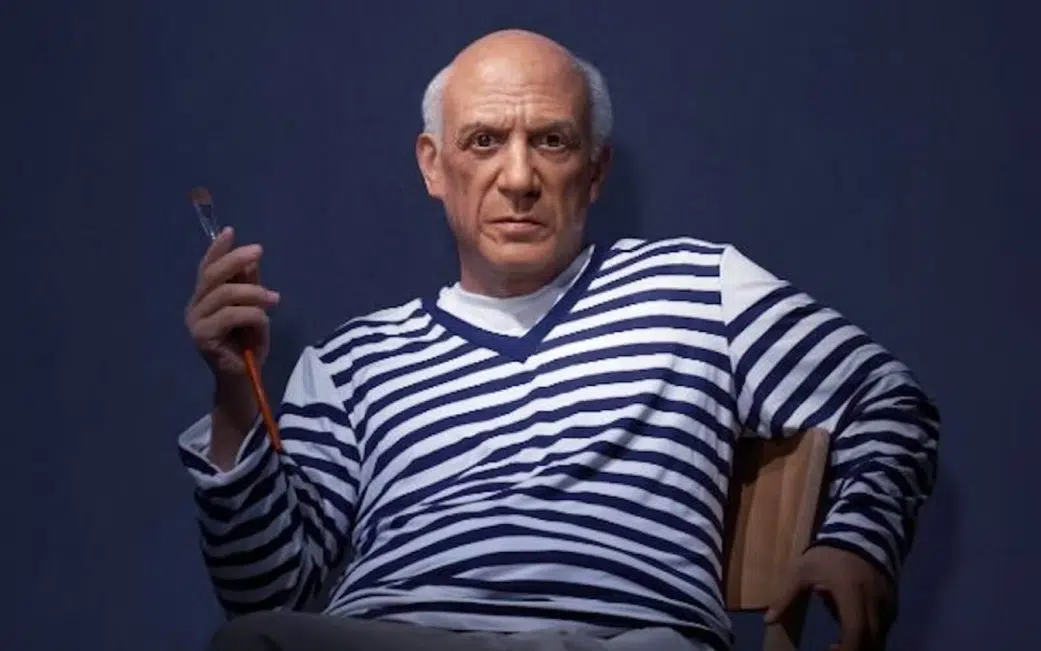 The Barcelona Wax Museum
If you're a fan of the genre you'll find the famous Wax Museum in central Barcelona just a stone's throw from La Rambla. You'll find 300 real or fictitious characters from history, art, cinema etc awaiting you.
You can book your Barcelona Wax Museum tickets online.
If the wax isn't for you can still go to one of the two fascinating Barcelona cafés: the Bosc de les Fades (more later) which recreates the environment of an enchanted forest or the Passatge del Temps.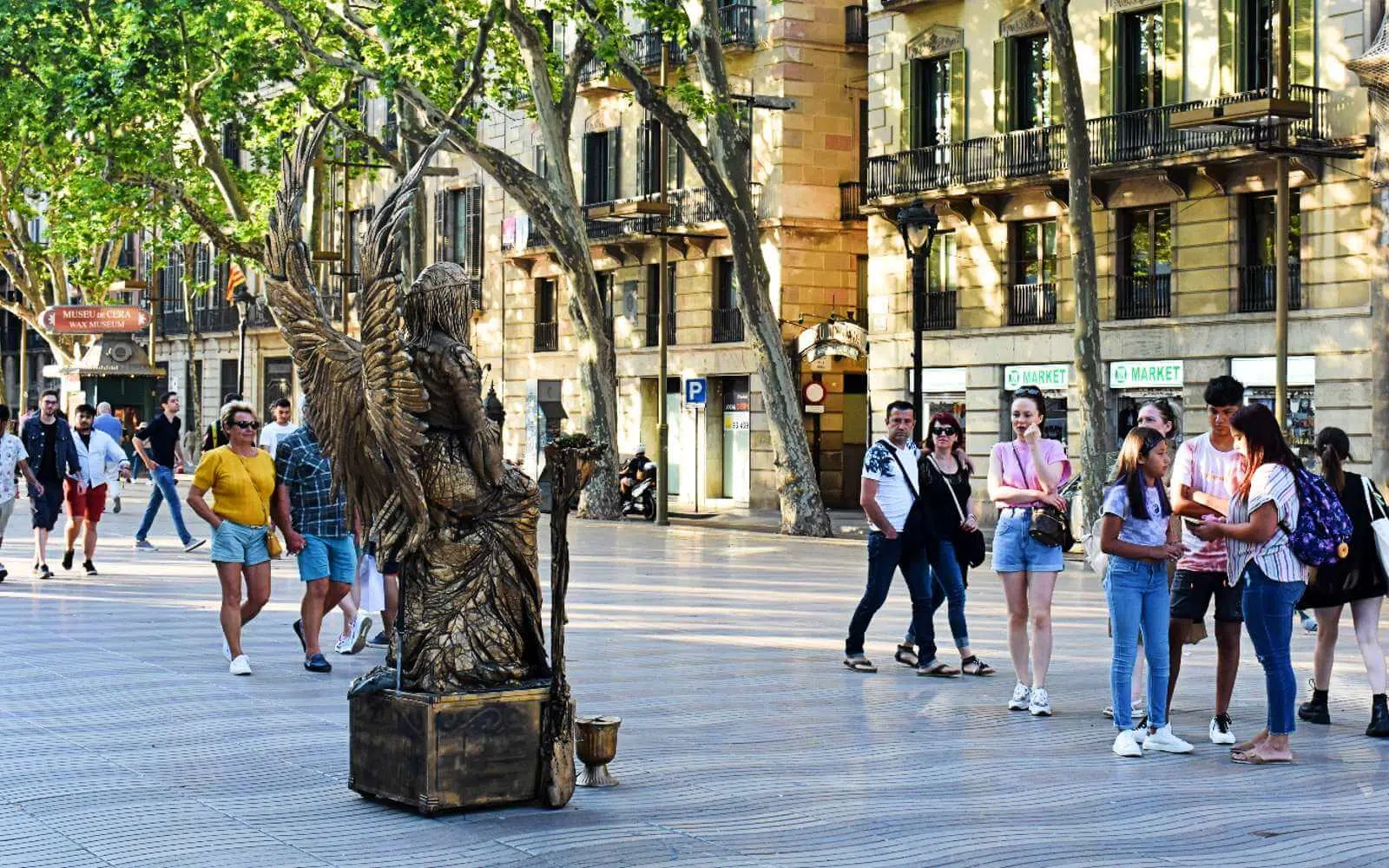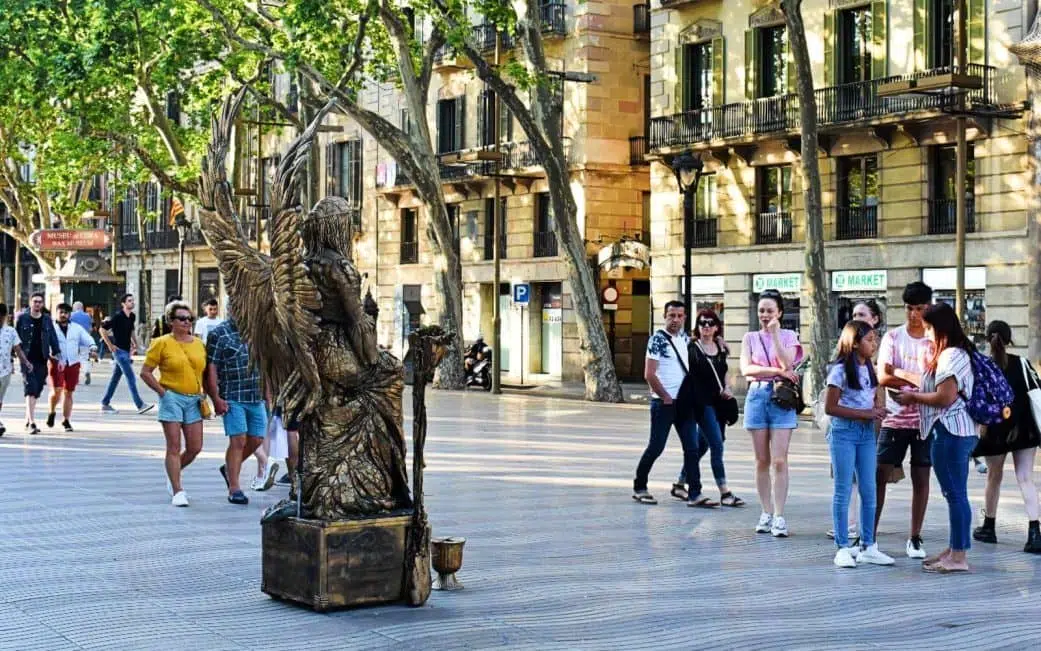 Human Statues & Street Performers on Las Ramblas
At the bottom third of La Rambla you enter another dimension.
The magic of the La Rambla street artists and human statues really sinks in as you walk by – preferably with wide-eyed children who are just mesmerized by them.
You'll also find some pretty good caricaturists, mimes, musicians, puppeteers and more. One the weekend you'll even find Barcelona's best souvenirs at the little market.
This is one of the top things to do on Las Ramblas, particularly in summer when there are a wider range of human statues.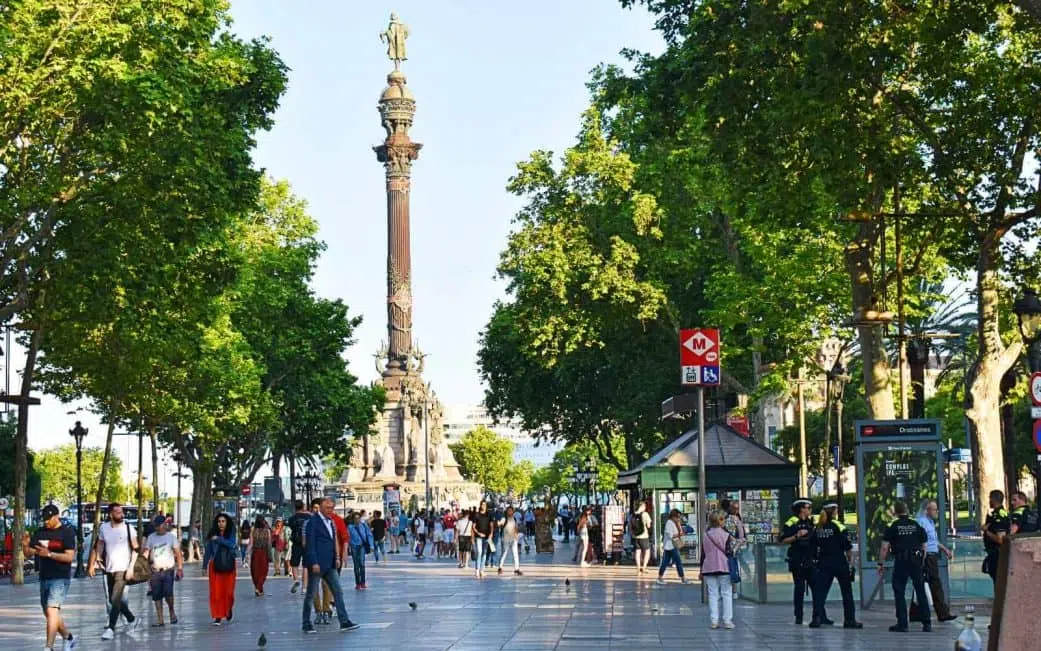 The Columbus Statue at the End of La Rambla
Get to the bottom of La Rambla and look 197 feet up and you'll see Christopher Columbus pointing to (supposedly) his hometown of Genoa – not the new world.
It was built for the 1888 World's Fair.
You can actually go up to the top of the tower and get a great bird's eye view of La Rambla and the Barcelona Port.
You can buy your Columbus Statue tickets online.
Restaurants Near Las Ramblas Barcelona
Louro
€€€ | Carrer del Caputxins 37 | Metro: Liceu (L3)
Louro is probably the only restaurant I'd go to on the famous Las Ramblas in Barcelonaa – but that's not to say this is a big fish in a small pond. It's one of the best restaurants in Barcelona, period.
Here the seafood-rich Galician fare gets a creative/avant-guard twist with the added bonus of some of the most concise and friendly service in the business.
Some of the highlights here are the smoked sardines, crunchy octopus, scallops gratin, Galician beef filet, and the highly underrated calamari sandwich – not to mention their elite and unique cocktail offerings like the blackberry mojito.
As this place is always PACKED I've set up a quick reservation system directly with the restaurant (no money down, with reservation priority via my blog) by clicking the blue button below.
El Quim de la Boqueria
€€€ | La Rambla 91 | Metro: Liceu (green L3)
How can you go wrong eating market fresh ingredients straight from Barcelona's food Mecca?
This restaurant located in the famous Boqueria Market offers five star restaurant food for the folks sitting at the 18 stools of a simple bar. Get the seafood platter, the wild mushroom with foie gras, or any of the steaks.
Also one of the best Barcelona breakfast restaurants for their ham and egg platters.
Bacoa Ferran
€€ | Calle Ferran 10 | Metro: Liceu (green L3)
With Las Ramblas in Barcelona so saturated with fast food options you might as well go for the best burgers.
Here the half Australian, half Spanish ownership looks to create an Aussie style barbecue with Mediterranean ingredients: at Bacoa you'll find quality from the homemade roasted tomato ketchup to the artisan buns all the way to the 100% organic Pyrenees beef.
The vegetarian burger might be the best in the city.
La Fonda
€€ | Carrer dels Escudellers 10 | Metro: Drassanes (green L3)
This Spanish restaurant may be massive but somehow pulls off a cosy vibe.
Go here for all the classic dishes like paella (the arroz negro with squid ink in particular) and beef carpaccio – what stands out here is the lunch menu value – you'll get a multiple course meal and wine for about 15 euros.
If you're in the mood for Spanish food outside Las Ramblas check out my list of best Barcelona tapas restaurants.
Related: Where to Eat on La Rambla
Accommodation on Las Ramblas
HOTEL SERHS RIVOLI RAMBLA
☆☆☆☆ | La Rambla 128 | Metro: Catalunya (various)
This art deco hotel right on Las Ramblas is famous for its interior courtyard and terrace that'll allow you to sip your coffee while watching the Gothic Quarter (Barri Gòtic in Catalan) bustle breeze by.
For the rooms think classic meets avant garde. This is one of the best hotels on La Rambla and scores particularly well with two visitors so couples looking for quality should look no more.
The buffet breakfast (with cooked menu items also available) also scores highly for providing some classic Spanish meats and cheeses in the spread like sobrasada, jamon serrano, and manchego.
The pan con tomate station is also a hit.
HOTEL LLORET RAMBLES
☆ | Rambla de Canaletes 125 | Metro: Catalunya (various)
Yes, this Las Ramblas hotel has just a one measly star to offer you, but how many of these are consistently rated 8.0+ on top booking sites?
Let's call this hotel quality and functional. Each room has their own work desks which is good for business trips like Mobile World Congress. They also offer quite a bit of spaciousness for the price.
Another good thing is that there are some amazing deals if you're visiting in low season.
HOSTAL LA TERRASSA
☆ | Carrer Junta Comerç 11 | Metro: Liceu (L3)
Another price-quality ratio hotel that'll keep you central without breaking the bank.
Yes, the rooms are small and basic but that's why you're picking this in the first place. It's rare on Las Ramblas, but here you'll get peace and quiet and cleanliness.
There's not much more you can ask for at the price point.
It's also only a minute walk to Boqueria Market just off Las Ramblasfor quick snacks and more. The €6.00 breakfast is also one of the cheapest hotel breakfasts in the city.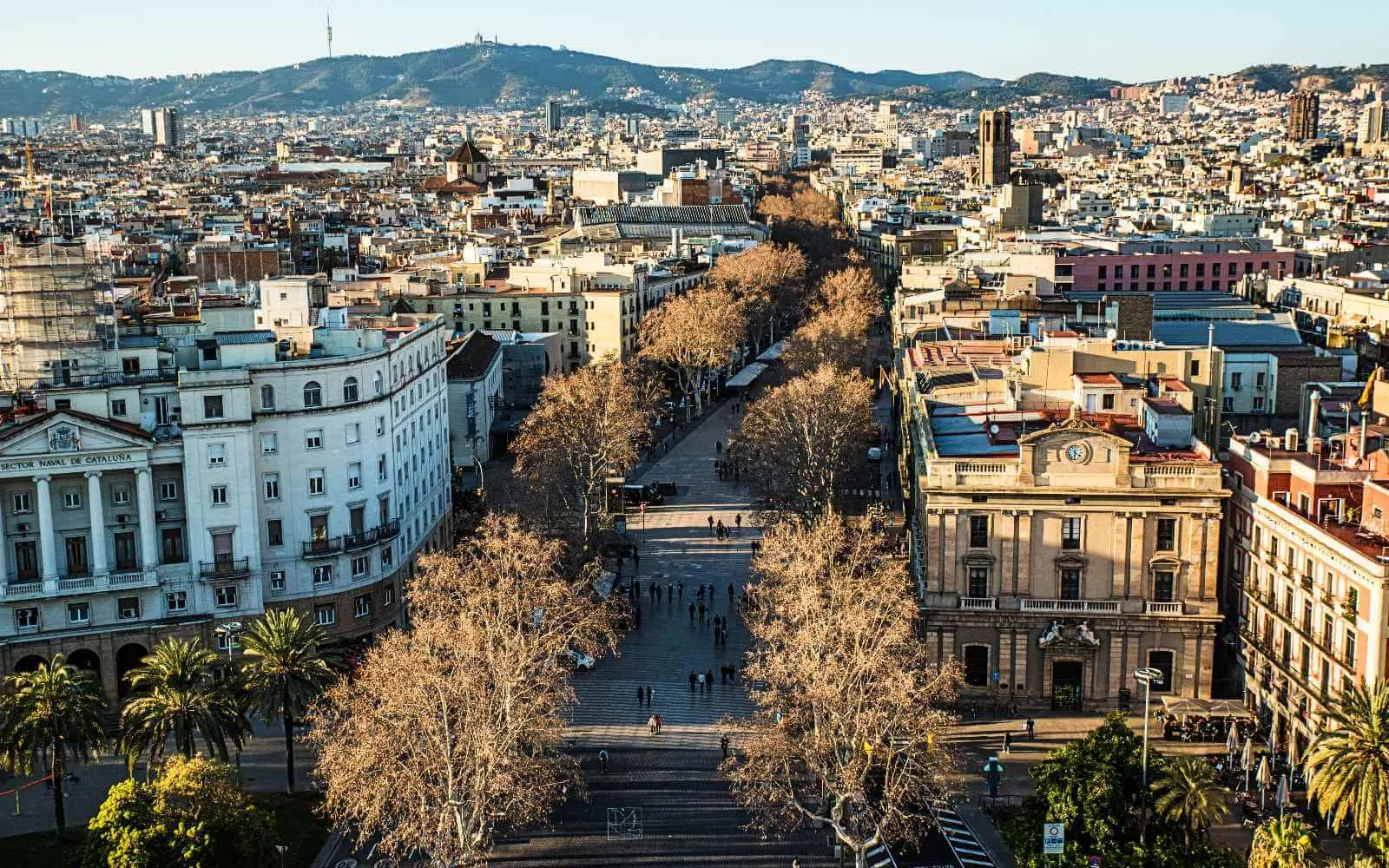 Las Ramblas Shopping
You'll find Las Ramblas on the fringe of some of Barcelona's best shopping. At the top near Plaça Catalunya you'll find retail classics like H&M and Pull and Bear – but this is just the start.
From here you have two options.
Number one is to walk 5 minutes past the square to the high-end shopping outlets of Passeig de Gracia. Here you'll find stuff like Gucci, Burberry, Jimmy Choo, and Armani.
The second option is to take a right in the square, pass the Hard Rock Cafe, and take your first right into Barcelona's biggest shopping street: Portal del Angel. Here you'll have your pick of all the top brands.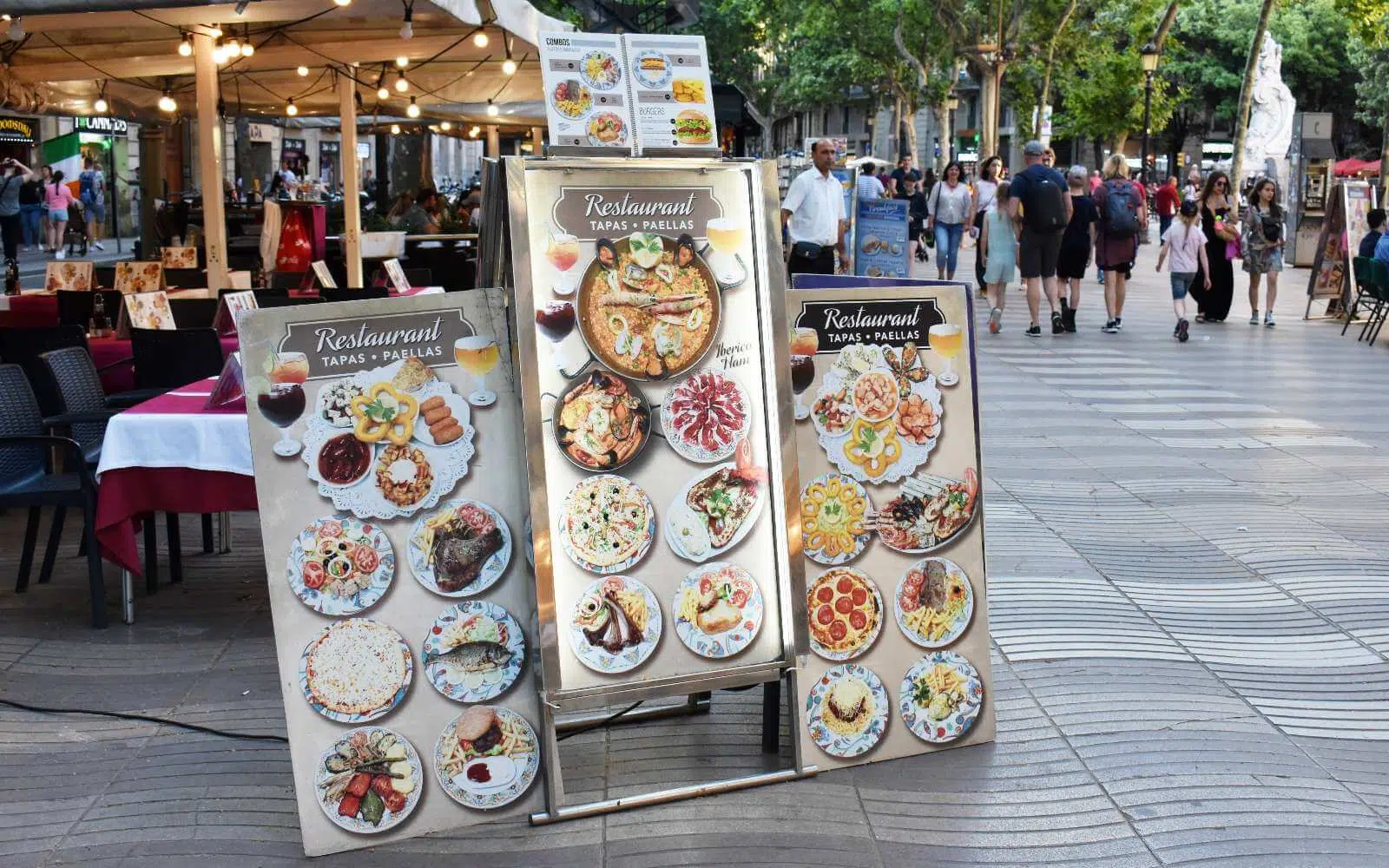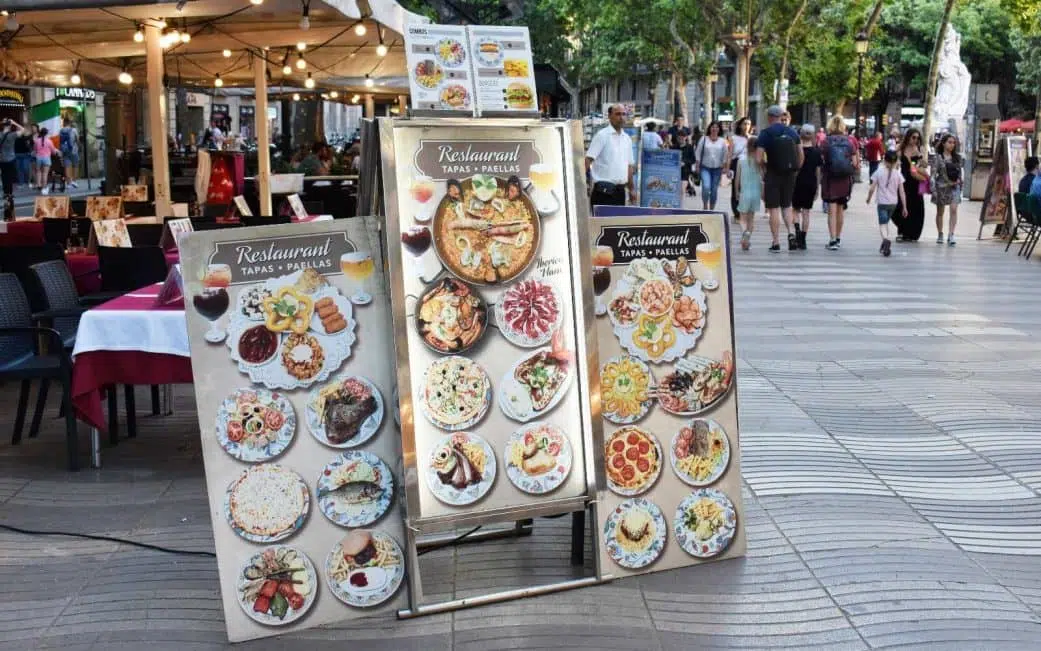 How to Visit Las Ramblas
With all the things to do in Las Ramblas it's easy to get carried away, but you won't want to go too far and get ripped off by any of the businesses taking advantage of tourists.
Here are some of the street's biggest problems and simple solutions around them.
Related: How to Get to Las Ramblas Barcelona
Food to Avoid on Las Ramblas
Terraced restaurants have colonized Las Ramblas just south of Liceu metro station.
Most paella on Las Ramblas is asterisked, but conveniently not translated into English, as producto congelado ("frozen product") – if this isn't the case look for 'foreign' logos on the restaurant's menu or banner.
These logos represent the 'food processing facility' where paella is factory-produced, frozen, and shipped out to 'heat up stations' all across Spain. The result? Gummy fish, flaccid rice, and coloured rice.
In other words, a TV dinner on Las Ramblas for €14.00.
Watered Down Drinks on Las Ramblas
Keeping with the theme: sangria on Las Ramblas almost always out of a plastic bag.
In these mass produced sangrias water is the second ingredient. Fruit isn't added in advance to infuse the wine with flavour but dumped in right before. Watered down wine and cheap fruit? Dios mio.
Tips:
Look for the word casero/casera ('homemade' in Spanish) when scoping out restaurants.
If there's a man on Las Ramblas with a picture menu trying to get you in just laugh.
Alternatives:
Sellers on Las Ramblas
I'm not gonna tell you how to spend your money, but ask yourself this… have you ever bought anything good off the street?
Las Ramblas is no different.
Beware the club flyer people. Most of them are pushing tourist-trap clubs like Shoko, Opium, and BLVD. These are pickpocket/bag rip-off Disneylands which Barcelonians avoid.
Yes, the pitch is something like "10 euro in with all-you-can-drink sangria before 2 am".
It's a great idea until you get to the bar and they tell you the 'all-you-can-drink allowance' has already been drunk – and you find out that entrance is free before 2 am anyway!
Tips:
Street Walkers on Las Ramblas
I'm not gonna judge anybody for buying themselves a bit of humanity's oldest commodity – it's just that, there's a certain kind of this behavior, that, well, on La Rambla… they're actually slaves.
According to a recent Guardian article 90% of Spain's working girls are trafficked.
Desperate for work, they're smuggled into the country with the promise of an honest job. Then they're sold to organized crime and forced to work off the debt, kept under constant control with the threat of violence and rape to family members back home.
The women on Las Ramblas are living a nightmare they may never wake up from.
Also, they won't hesitate to pick your pocket. Give them a firm no, put your hands in your pockets, and keep walking.
Tips:
Talk to a woman – she might like you!
Go to the tourist-trap clubs mentioned above for the best pick up opportunities.
American Restaurant Chains
The true blemish of any major European centre. I mean, of all the things to do in Las Ramblas did you really have to stop at Dunkin' Donuts?
Your alternative is to eat some local Catalan food.
Near Las Ramblas I recommend going for some really good local flavours at La Flauta. Get the brochetas de bacalao – a delicious cod dish. You'll find it at Carrer de Balmes, 164. Metro stop: Universitat (L1-L2).
There are also some ridiculously fresh, creative donuts for sale at Boldú. The address for this bakery is Provenca 233. Metro stop: Diagonal (L5).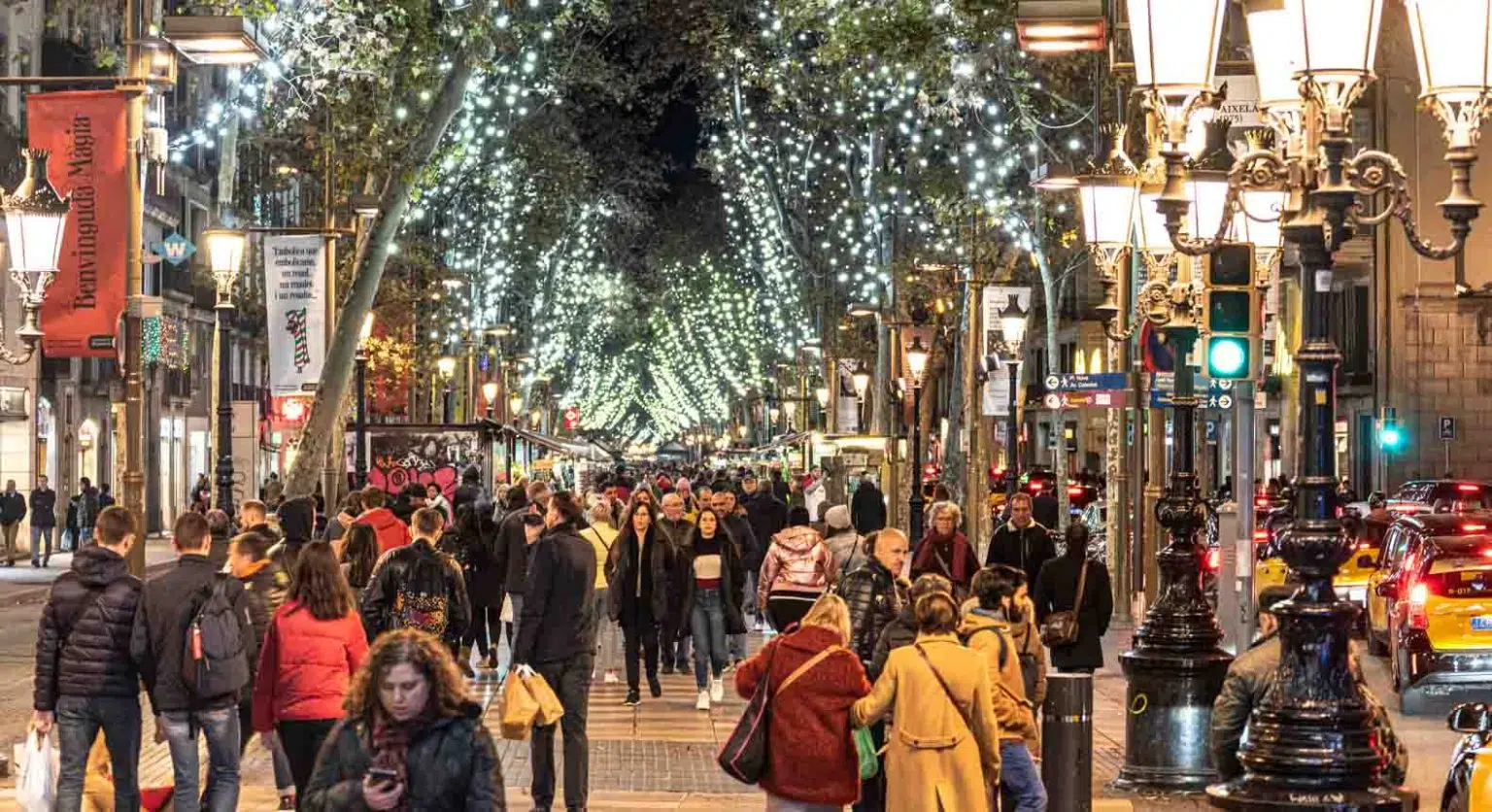 Visiting La Rambla in Barcelona Spain?
It's perhaps fitting that our friend García Lorca was kidnapped and killed by Nationalist militias for his outspoken leftist views – the dream of Las Ramblas in Barcelona died not long after.
In the end though there still exists a spirit and a world to discover on Barcelona's street of paradoxes.
If you need any extra help for La Rambla or anything else on your Barcelona holiday let me know in the comments below.
And don't be afraid to join the Las Ramblas in Barcelona discussion by first giving me a like on the Barcelona Hacks Facebook page and then joining my group I'm Off to Barcelona – here you can ask any questions, air out grievances, and chat with thousands of Barcelona travelers.
Anything goes!