7 Days in Barcelona: How to Spend One Week in Barcelona
7 days in Barcelona is a great way to really sink your teeth into the city and not just see it but live it as well.
With a week in Barcelona, you'll embark on a journey that tantalizes your senses, from the taste of traditional tapas to Gaudi's greatness.
If I had to draw up a seven day Barcelona itinerary, here's how I'd do it.
How to Spend One Week in Barcelona: Epic 7 Day Itinerary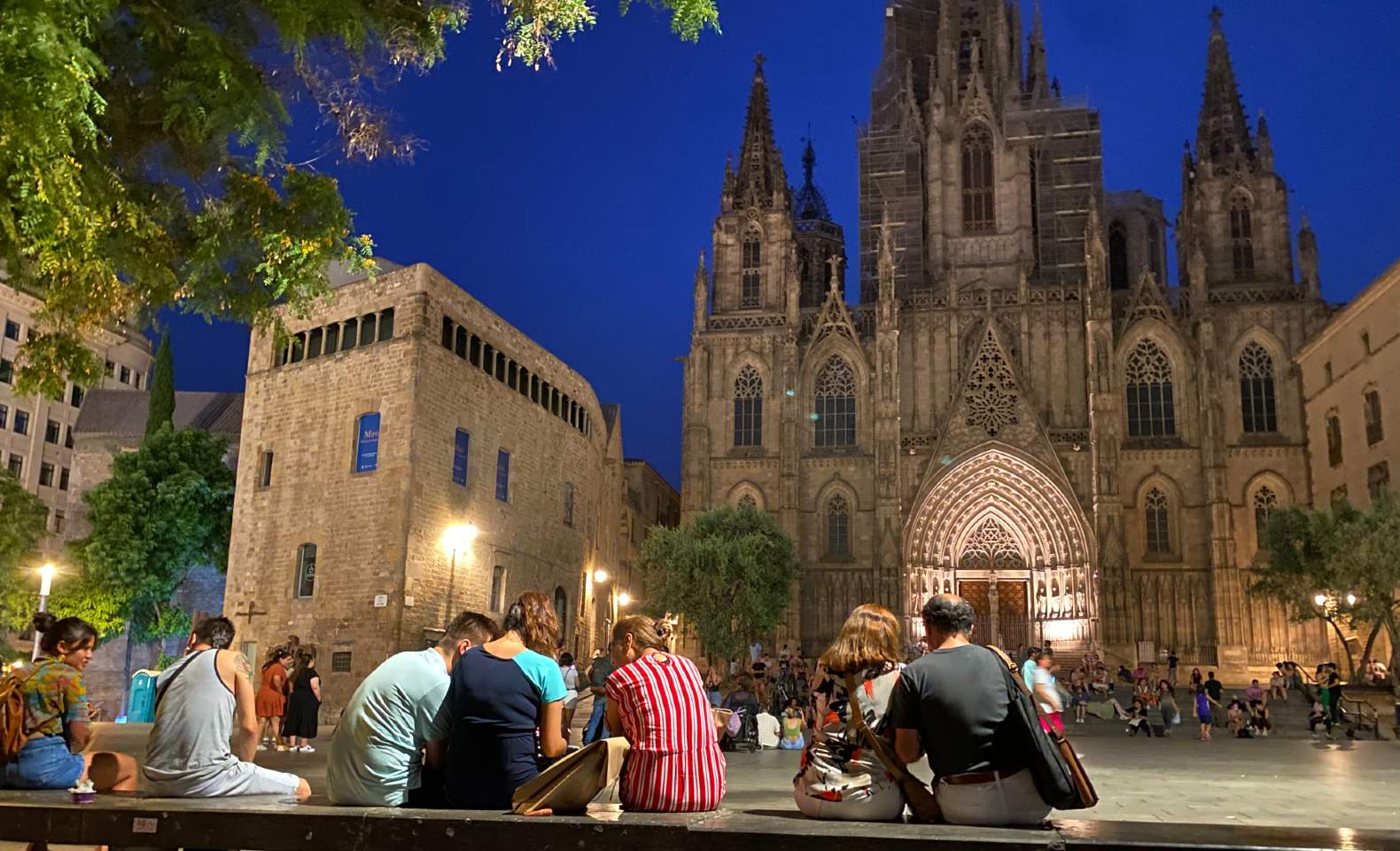 Day 1: Explore the Gothic Quarter & Passeig de Gracia
What to do in Barcelona for 7 days? Start with the Gothic Quarter: a time capsule preserving centuries of Roman and Catalan history.
As you wander, you'll discover Roman ruins, medieval arches, and hidden courtyards right out of the movies.
The Barcelona Cathedral (pictured) is a mandatory stop, as is a walk along Las Ramblas and a snack stop at Boqueria Market.
This is the perfect time to take a Barcelona city tour and really get your bearings – mentally and physically – for your one week in Barcelona.
Later on, head to Passeig de Gràcia for a modernist contrast. This boulevard, lined with designer boutiques showcases Casa Batlló, with its dragon-inspired facade, and Casa Milà, with its undulating terraces.
Visit La Sagrada Familia & Park Guell
La Sagrada Familia is Gaudí's dream etched in stone, and it's at the top of my list of best things to do in Barcelona.
The facades of Europe's most beautiful church (my opinion!) depict the life of Christ, and offer a compelling visual narrative. The interiors on the other hand, with tree-like columns and stained glass, are a kaleidoscope of colours.
The basilica, though unfinished, is already a masterpiece.
About 20 minutes up the road is Park Güell, a playground of colours with mosaic benches, gingerbread houses, and panoramic views of Barcelona.
Every corner of this park is Instagram-worthy and any seven day itinerary of Barcelona must have it.
Day 3: Barceloneta Beach & Museums in Raval
Barceloneta is an area where you'll find one of Barcelona's best beaches.
The golden sands, dotted with sunbathers, and the azure waters of the Mediterranean create a picturesque setting. Seafood restaurants along the promenade can really take your 7 day trip to a whole new level – try Somorrostro.
I also strongly suggest having a drink at the epic Bar Leo – I often catch Spanish guitar performances in the back room.
Going for a walk through nearby Ciutadella Park is something I also suggest.
In the late afternoon, head over to El Raval and check some of Barelona's best museums like the CCCB or MACBA to balance things out.
The neighbourhood is rough around the edges, but you'll also find some amazing ethnic food here.
Looking for a nightcap? Check my top things to do at night in Barcelona.
Day 4: Visit Camp Nou & Enjoy Flamenco
Camp Nou is more than a stadium; it's a temple for football enthusiasts.
As you walk through the players' tunnel or sit in the stands, you can almost hear the roars of the crowd – a visit to the museum is a must if you like football.
Not a football fan? You could substitute with some of the best shopping in Barcelona on Portal del Angel.
End your day by attending one of the best flamenco shows in Barcelona. The passionate dance, rhythmic claps, and soulful guitar strums promise an evening you'll cherish.
As a guitar player I'm partial to Flamenco Casa Sors – they've got an antique guitar museum on site, as well as one of the best jamon (serrano ham) and gazpacho plates I've ever had.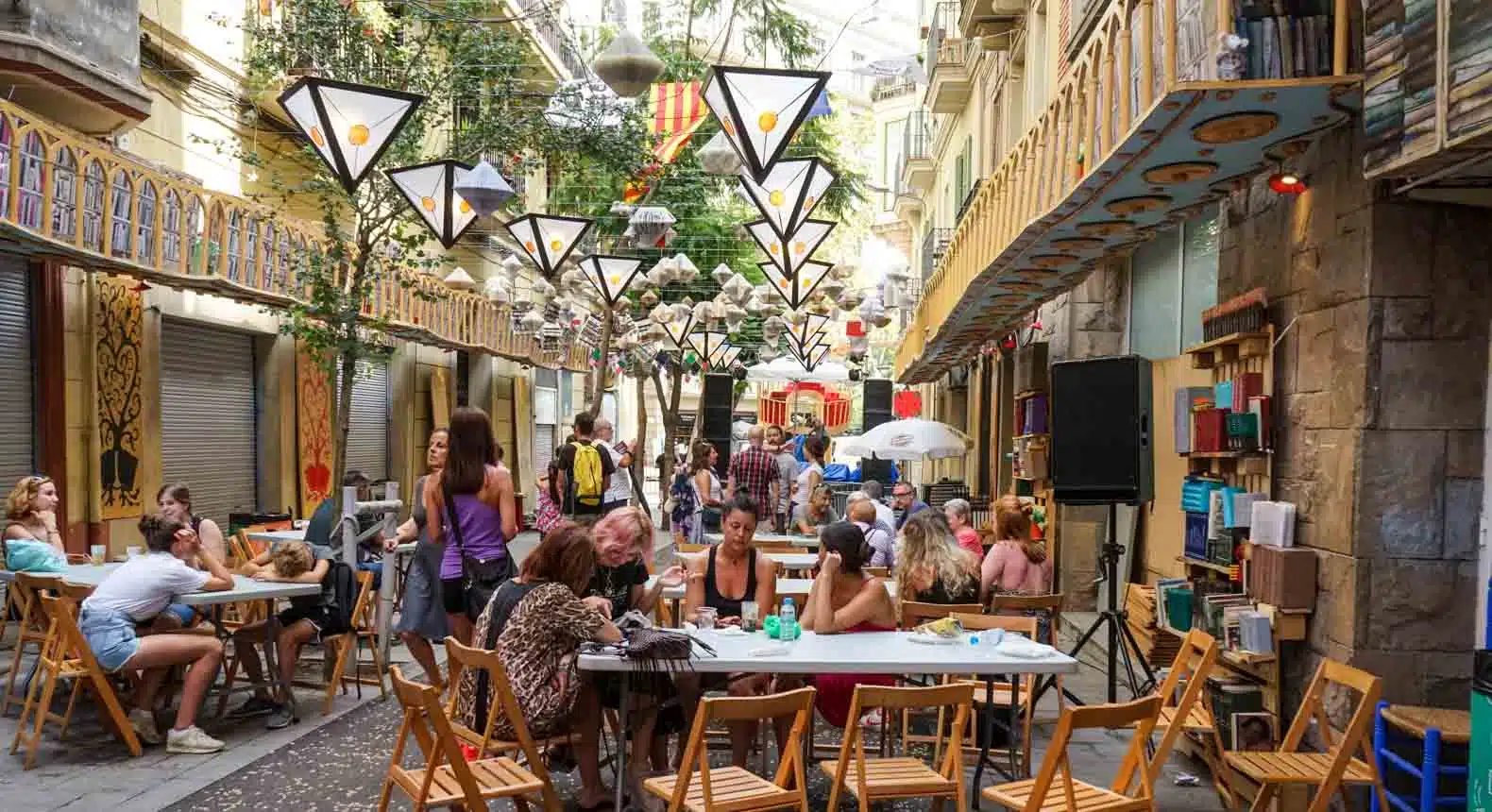 Day 5: Gearing Down in the Gràcia Neighborhood
Gràcia puts all the Barcelona tourist trap nonsense to rest – there's not a Mcdonald's in sight.
This is where you can experience Barcelona's bohemian spirit. From local theaters showcasing Catalan plays to bars where locals strum guitars, it's a slice of authentic Barcelona.
With a week in Barcelona you should be gearing down for a chill/relax day – which means food and drink in local squares! I love grabbing a vermouth (the local Barcelona drink) and tortilla de patatas in the square at Casa Soler.
If you're feeling "tourist antsy" you can always walk over to another nearby Gaudi masterpiece: Casa Vicens.
Day 6: Explore El Born & Visit the Picasso Museum
El Born is a canvas painted with history and art.
The narrow alleys, lined with medieval buildings, lead to historic sites like the Santa Maria del Mar – and an endless amount of artisan cocktail masters like Dr. Stravinsky and Paradiso.
The Picasso Museum, housing the largest collection of Picassos in the world, offers insights into the artist's formative years and showcases some of his masterpieces.
Not keen on Picasso? The famous MOCO Museum has opened a Barcelona branch, and it's the best contemporary art museum in the city.
This is also the best area for authentic Barcelona souvenirs – it's a neighbourhood plugged with artisans selling their work straight out of the shops.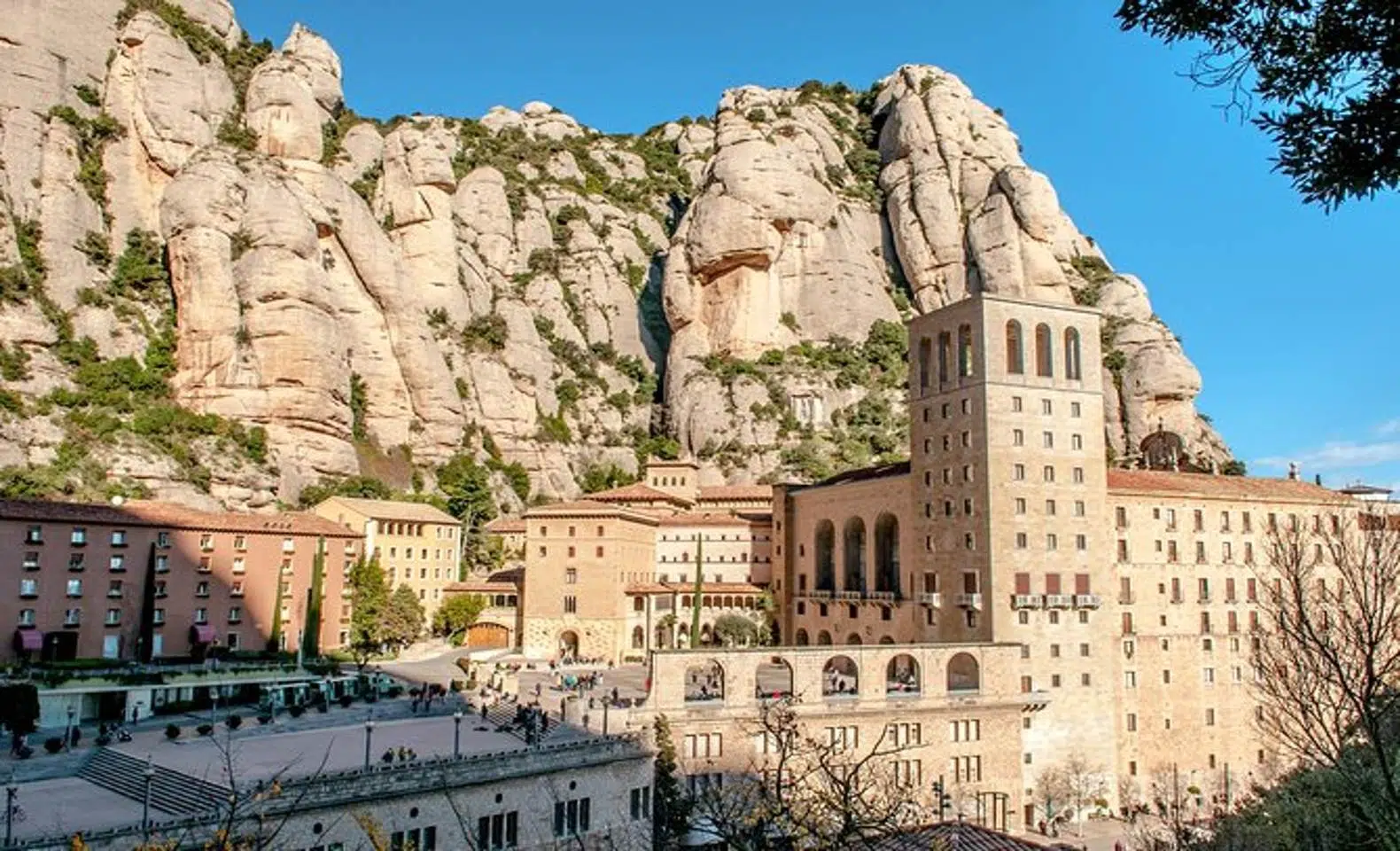 Day 7: Day Trip to Montserrat
Montserrat is a spiritual oasis, and with 7 days in Barcelona you've got enough time to go there and explore.
The mountain, with its unique serrated edges, is nature's marvel, while the monastery is a beacon of Catalonia's religious heritage.
The Black Madonna, revered by many, is the monastery's crown jewel. The hymns of the Montserrat choir add to the ethereal ambiance.
A second mountain option (a little closer to home) on your 7 day Barcelona trip could be Montjuic – ideally taking the Port Cable Car up with amazing panoramic views.
Not keen on mountains? In my day trips from Barcelona post, you can find some alternatives. If you're visiting Barcelona in July or August I'd consider the Costa Brava.
The beaches are superior here – clear waters, high cliff scenery, and turquoise hues usually reserved for the Caribbean await you!
7 days in Barcelona seem a little long? 🤯
I've got more Barcelona itineraries to help you find that budget/time sweet spot:
Related: Is Barcelona Worth Visiting?
Barcelona One Week Itinerary FAQ
What to do in Barcelona in one week?

Is one week in Barcelona enough?

One week in Barcelona allows you to really tick off the major attractions and also live life like a local. While you might not be able to explore every nook and cranny of the city, you can certainly cover the major attractions and even indulge in some off-the-beaten-path experiences.

It is more than enough for most travelers.

Is one week in Barcelona too long?

One week is not too long to visit Barcelona, however if you're using it as part of a longer trip in Europe and you need visit other cities with a limited time frame there's no shame in spending just 3 or 4 days in Barcelona.

During this time you can see all the main sights, eat at some world class restaurants, and get a feel feel for the city.

What to do in 7 days in Barcelona?

With 7 days in Barcelona you can check off all the major attractions like Sagrada Familia & Park Guell, see the Gaudi mansions Casa Batllo and La Pedrera, explore epic neighbourhoods like El Born and El Gotico, and squeeze in a beach day and some day trips to places like Montserrat.

What to pack for seven days in Barcelona?

What you pack for 7 days in Barcelona is dependent on the season. In summer, you'll need to pack t-shirts and shorts as well as sandals and a bathing suit. A windbreaker may be necessary for the evenings.

In shoulder season you will need to pack a light jacket, hoodies, and some long pants/chinos. In winter you'll need to pack a heavier jacket as well as jeans/gloves/heavy socks as the temps can flirt with zero overnight.
Still Looking to Plan a Barcelona One Week Itinerary?
I've tried to put together the ultimate 7 day Barcelona itinerary factoring culture, nature, food, drink, and more
That said, what you do with one week in Barcelona is ultimately up to you!
If you have any questions on visiting Barcelona for a week please write to me in the comments below for custom advice!