With 5 million annual visitors Park Guell is one of the top attractions in Barcelona, bar none.
But is it worth paying for Park Guell?
Let's break things down to see if the Park Guell Monumental Zone is worth it.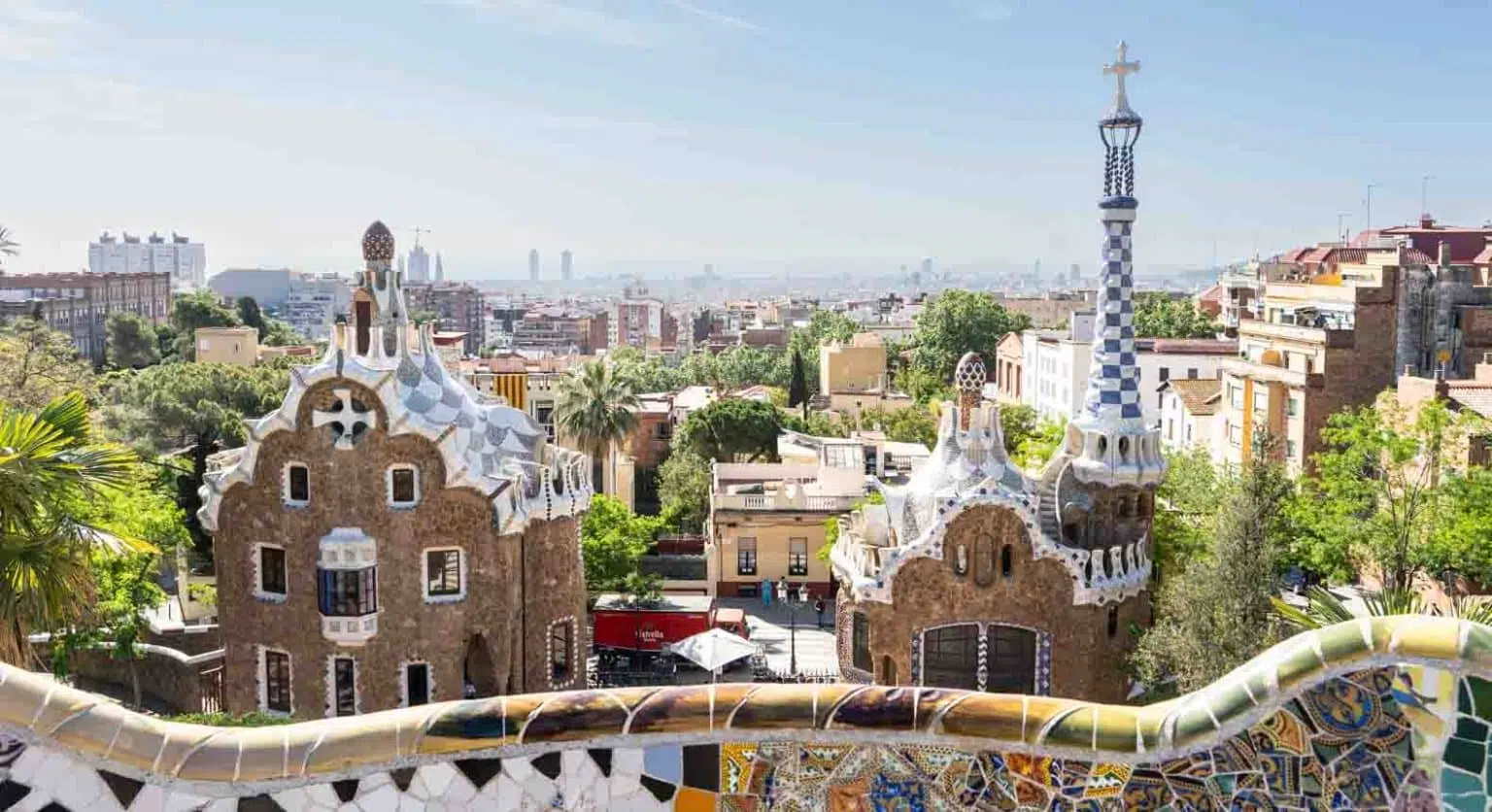 Is Park Guell Worth It?
Visiting Park Guell is automatic on any Barcelona itinerary and yet of the 5 million visitors each year, 'only' about 2.1 million pay for tickets to the Monumental Zone.
This statistic of course is skewed by locals who just go through a walk in the Free Zone. Most tourists pay.
Before assessing the value of a paid ticket to Park Guell, let's first establish the ticket prices:
| | | |
| --- | --- | --- |
| Entrance | Online Price | Ticket Window Price |
| Adults | €13.60 | Not possible |
| Seniors (65+) | €9.33 | Not possible |
| Disabled + Paid Companion | €9.33 | Not possible |
| Kids (7-12) | €9.33 | Not possible |
| Kids (0-7) | €0.00 | Not possible |
So there it is: a typical ticket sets you back €13.60, which is about the price of a couple of beers and a small Spanish tapas plate.
Let's take a deeper look to see if Park Guell tickets are worth it.
What's Included in Park Guell Tickets
Of course, paying for parks isn't the most common thing you can expect to do on a European holiday.
That said, this isn't a common park. You're not going to sit down on a bench and feed the pigeons here.
This UNESCO Heritage Site is one of the most spectacular municipal gardens in the country, and the architectural elements brought to life by Antoni Gaudi take it to another level.
Let's break down the pros and cons to Park Guell tickets here:
✔️ Pros
You get to see all the elements of one of the most beautiful parks in the world
All the best city views are concentrated at the square (paid tickets only)
You have direct access to the emblematic mosaic benches (unpaid is 20 meters away)
You can walk the stairway and see its classic mosaic lizard (unseen from the Free Zone)
Buying tickets goes towards preserving the park
Only on the ticketed side of the fence can you see and touch Gaudi's intense detail up close
It's actually one of the cheapest world class attractions you could ever pay for
Hourly tickets are capped so it's never overcrowded
❌ Cons
You're paying for a park that used to be free (payment is now mandatory for park upkeep)
Getting to Park Guell can be a challenge as it's slightly out of the city centre
Walking around the park can be a challenge for lesser abled people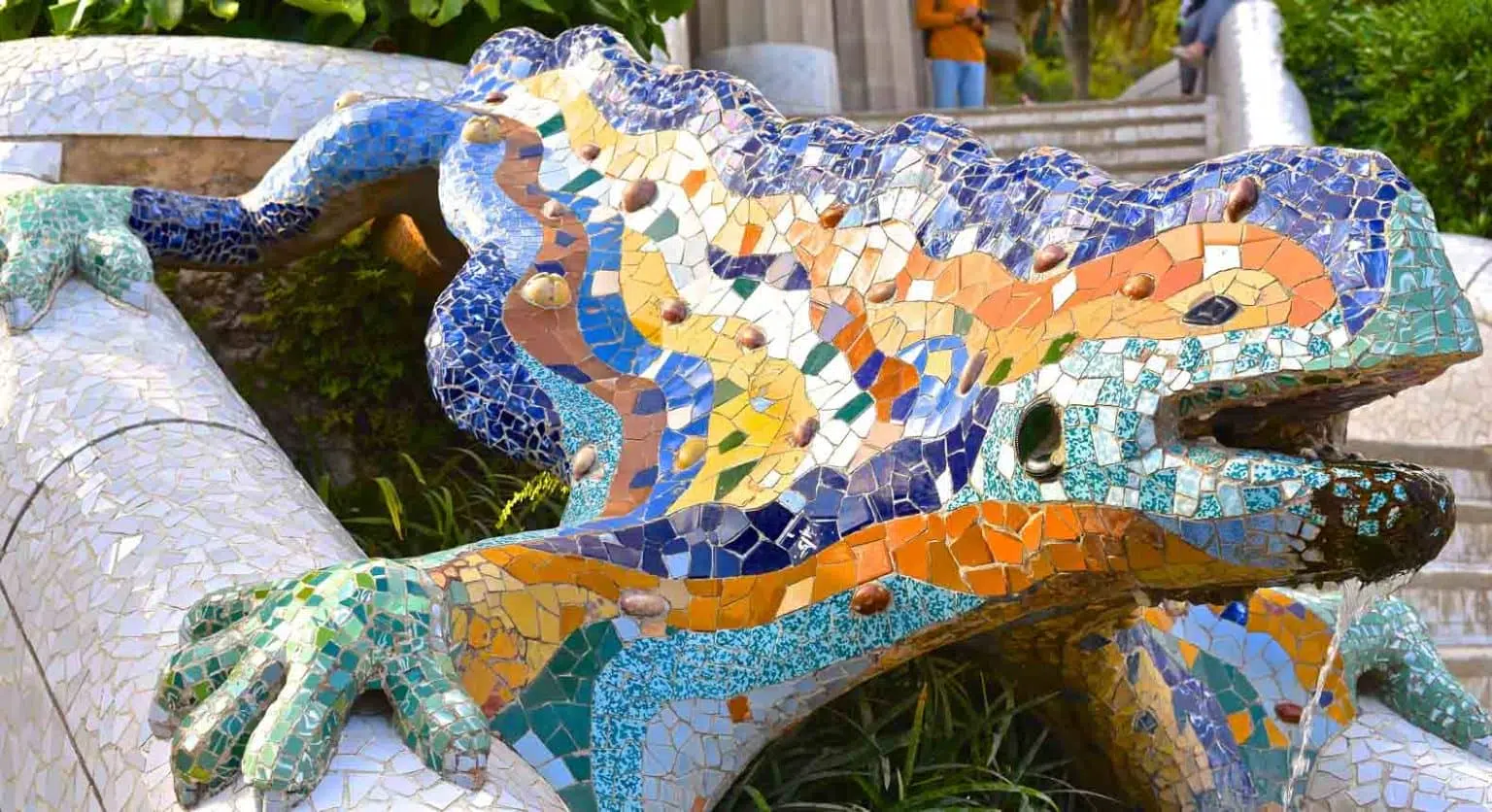 So there it is: this is a wow-factor park which is ultimately the most unique of its kind in the world.
Yes, I understand that the cost of Park Guell can be a lot for people, but if you've spent $500 on flight and hotel, what's another €13.00? You can easily make this back up by:
In my opinion, you can't put a price on a once in a lifetime experience, and if it was it definitely wouldn't be €13.00.
And about crowds? Again, hourly visits are capped so it's never the kind of slog you'll get at places like Sagrada Familia.
That said, I should remind you that due to these caps it's mandatory to book your time slots in advance using the calendar below:
Park Guell Visitor Reviews
Park Guell has a 4.5 rating on over 13,000 Park Guell reviews at their ticket seller Tiqets.
But really, is Park Guell worth it?
Let's see some Park Guell reviews, with customers generally raving about the parks' beauty and views: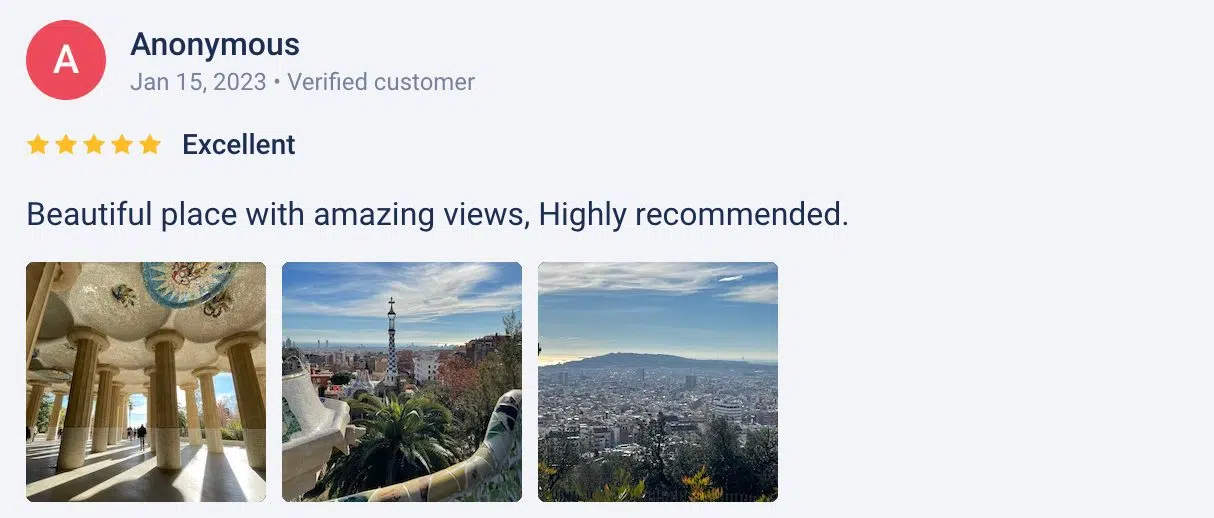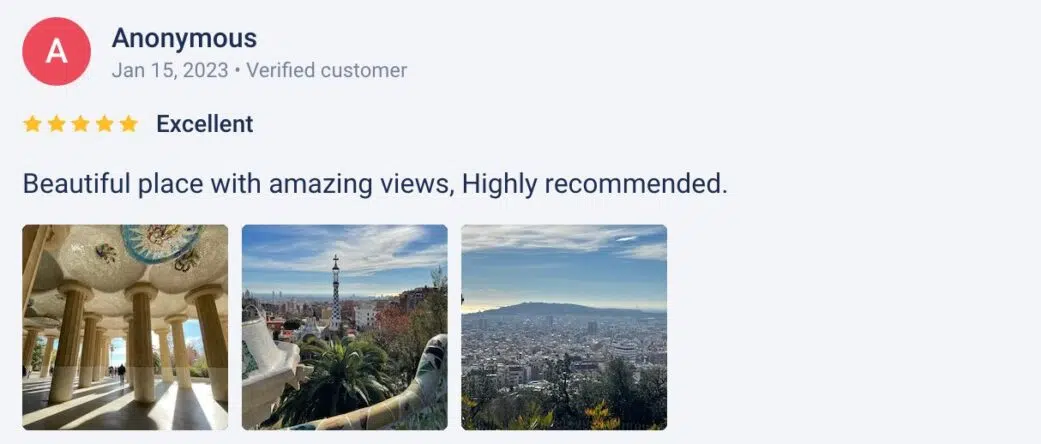 Compliments to the amazing architecture of Antoni Gaudi are also common: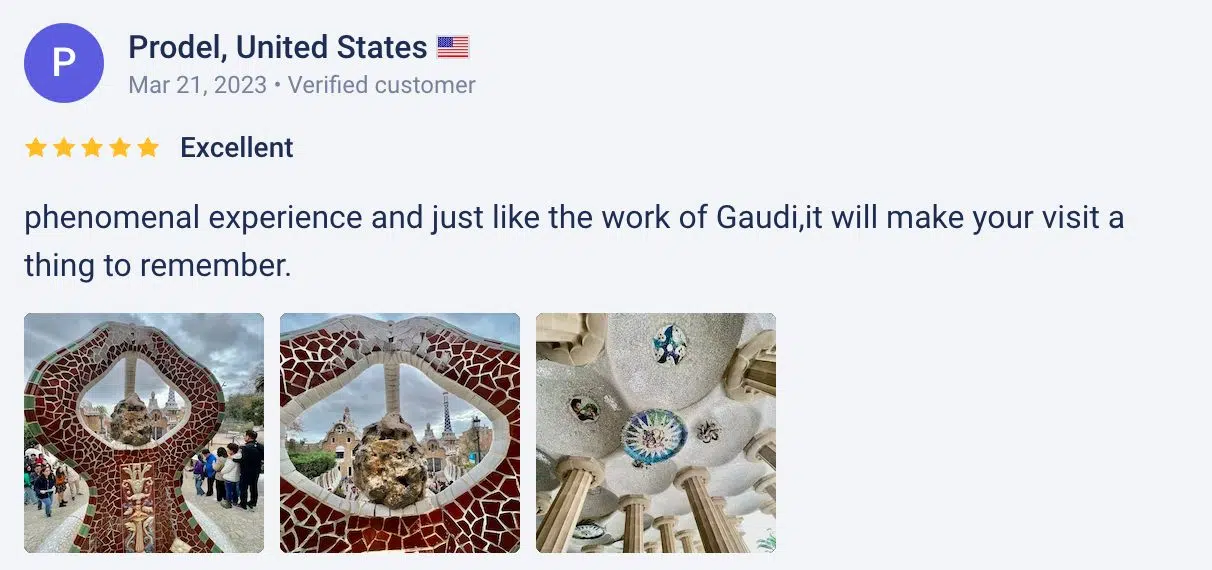 Finally, those booking tickets in advance online are very satisfied with the process at Tiqets.com:

At any rate, ensure to book your Park Guell tickets in advance as capacity is low, and especially during high season the mandatory time slots are usually full.
So Is Park Guell Worth It?
I can only speak from my own experience when I say that spending €13.00 to see one of the most spectacularly unique parks in the world is good value.
So is it worth buying tickets to Park Guell? Yes – but if you're still on the fence don't hesitate to write me below and we can talk it through.
Enjoy Park Guell 🏞️
Related: How Long to Spend at Park Guell?