How to Get Around Barcelona: Barcelona Public Transport 2023
I've been here 10 years and I'm still learning how to get around Barcelona with the Barcelona public transportation system (aka the TMB).
I can only imagine what tourists feel like stepping into the city cold turkey. The variety of options for getting around Barcelona are so varied it can be confusing.
Metro, trains, trams, funiculars – they all get mixed up for one another at some point.
Let's look at the best ways to get around Barcelona with public transportation.
How to Get Around Barcelona Using Public Transport
First off some advice: standard zone 1 single tickets cost €2.40.
This means most tourists will be spending a minimum of €9.60 (4 tickets) a day to do a proper sightseeing holiday.
You can cut these prices down considerably using Barcelona discount transport passes.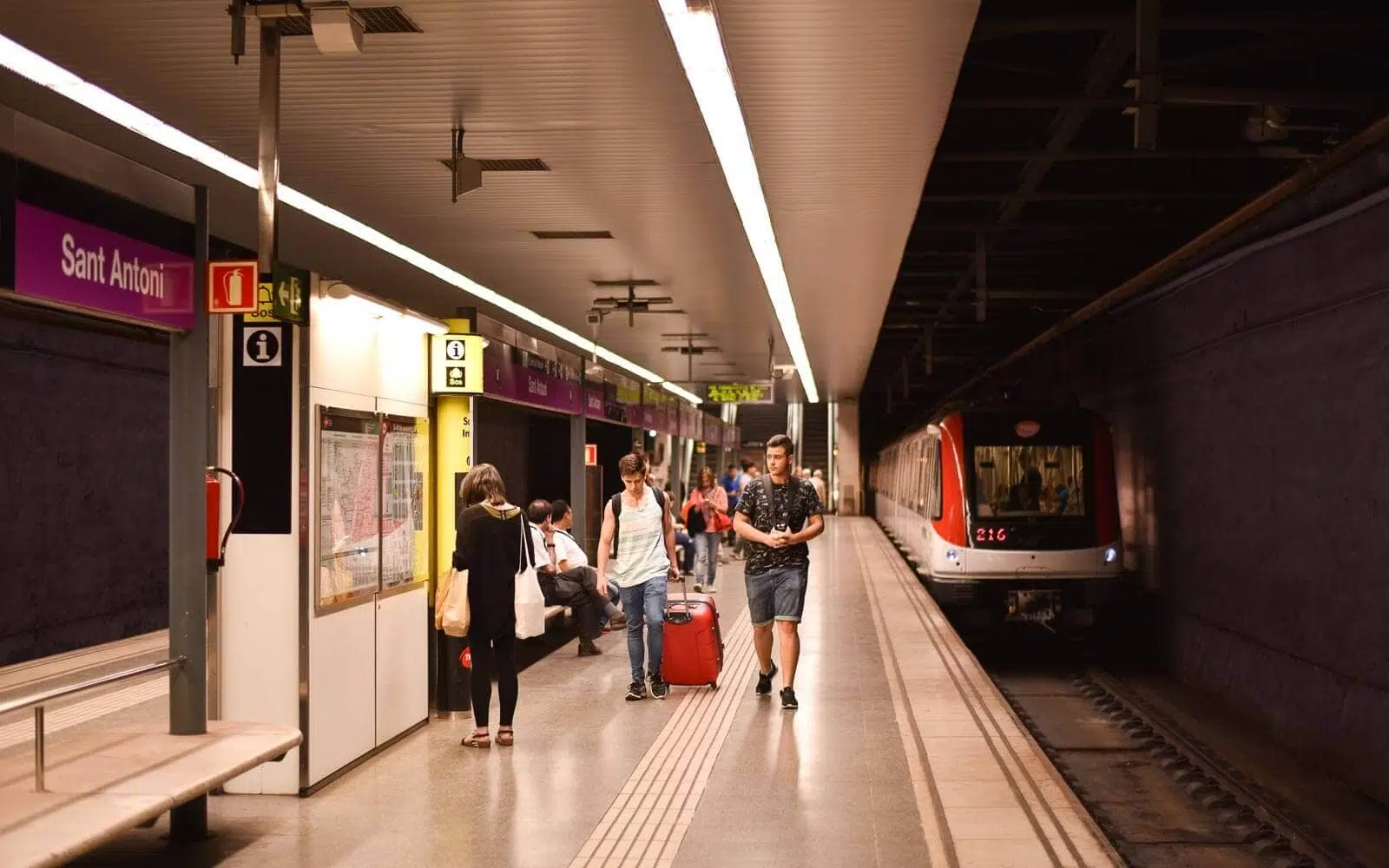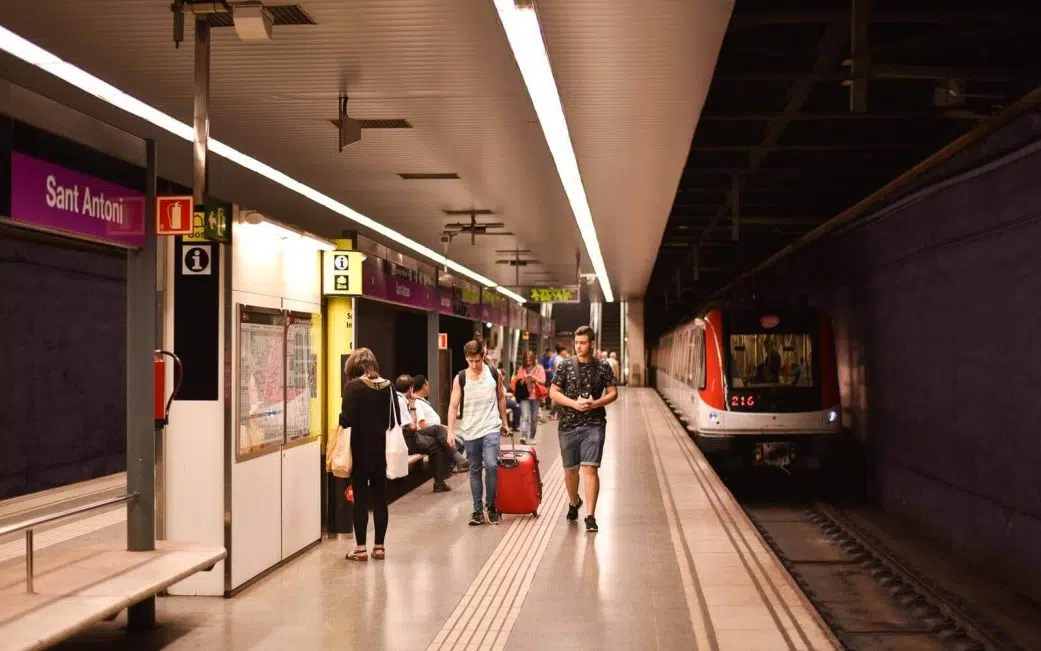 How to Use the Barcelona Metro
The Barcelona metro is fast, efficient, and air-conditioned.
With 8 lines covering every corner of the city, it's impossible not to find a station near your hotel.
You'll always find elevator access for Barcelona visitors with disabilities. It's intuitive, cheap, and easy to navigate so basically… just take it!
⚠️ 

Warning

⚠️

: Barcelona's top two attractions are now mandatory to book in advance.
You can save money + have half your holiday booked in just a few clicks with the Barcelona Essentials Pass:
⛪ Sagrada Familia + Park Guell
🚇 Unlimited city transport
🔊 A handy city audio guide
🏷️ A 10% digital discount code for all other attractions tickets
🛍️ Buy now: Barcelona Essentials Pass
Trains run every 2 to 3 minutes. On weekends you may wait 4 to 5 minutes for your train, while nights after 10 o'clock it runs at 7-8 minute intervals.
Barcelona Metro Map:
Complimentary Barcelona metro maps are found in the stations as well as being plastered pretty much everywhere else.
If you're prone to getting lost make sure you pick one up, or simply download our Barcelona metro map.
Make sure to familiarize yourself with the main Barcelona train stations before arriving.
Barcelona Metro Hours:
Sunday to Thursday from 5 am to 12 am.
Friday from 5 am to 2 am.
Saturday from 5 am and open all night.
🚀 Coming to Barcelona Soon? Check out my weekend Barcelona itinerary.
Getting Around Barcelona by Train
Aside from the Barcelona metro, you'll also find some overground train options for getting around Barcelona.
The FGC: the Ferrocarrils de la Generalitat de Catalunya is the railway company operating suburban trains in Catalonia.
Renfe: The Spanish National Railway Company that operates trains to other regions in the country.
In general, the FGC has trains that run along the Costa Brava to Blanes, which is 50 km away, as well as to the airport, and up and down the coast to Tarragona.
In Barcelona, the FGC and Renfe lines converge and travel underground like the metro, seamlessly integrating into the public transport network.
Single tickets for the metro are valid across these networks.
Most tourists will not need the FGC or Renfe to get around Barcelona but here's the FGC route map just in case.
How to Use Barcelona Buses
In Barcelona buses and night buses cover the entire city grid. It's a great mode of transport because it allows you to see some of Barcelona's top attractions up close.
Keep in mind though there are some downsides:
You need an advanced sense of direction!
It's slower than the metro.
You may have to stand.
Without a Barcelona transport card each ride will cost you €2.40.
Barcelona's red buses run every 8-15 minutes from 5 am to 10 pm depending on the line. At night you'll find the yellow nit bus (night bus) which runs every 20-30 minutes.
The TMB website will help you find your bus but be careful setting the filters before your search.
Starting from January 2017 all Barcelona buses should have free wifi – but don't expect supersonic speeds.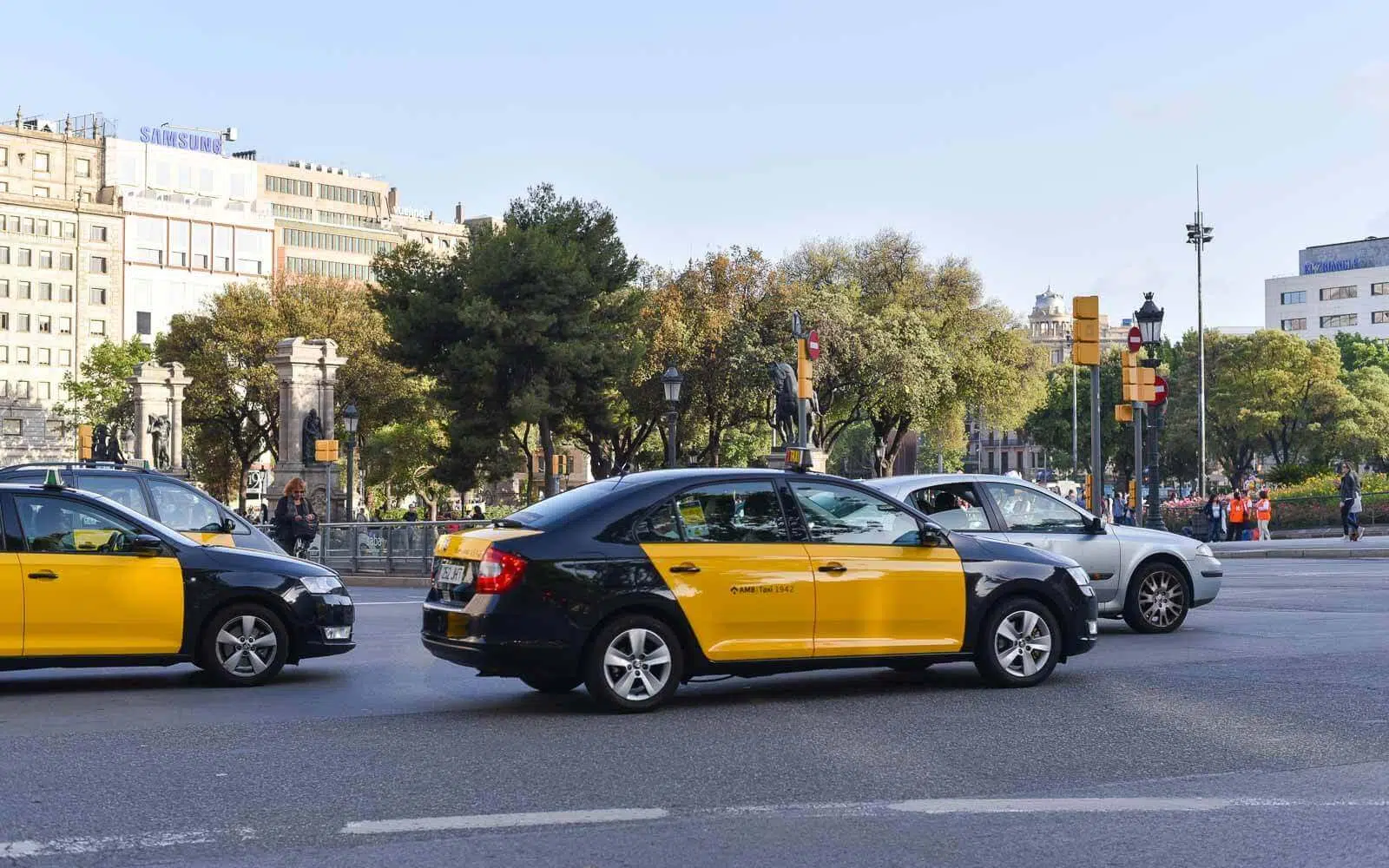 Barcelona Taxis
I'm happy to report that taking a taxi in Barcelona is remarkably simple.
On main streets I rarely wait more than a minute. Barcelona taxis are black and yellow and a green light indicates a cab is available while a yellow light indicates they're taken.
Prices are affordable. Consider €12.00 to €20.00 as the average price for rides within the city.
From the airport to the city center you'll be charged about €35.00 to €40.00. Every driver must use a meter but it's possible that at the end of the ride you'll be charged a slightly higher price.
There may be an extra charge applied for rides to the airport, large luggage, or night fares.
Free Now
Starting in 2017 another transport option is to use Barcelona's taxi booking app Free Now.
Never before has booking one of the city's regulated black and yellow taxis been so easy – it'll save you time hailing cabs and the odds of being taken for a ride are zero since the route is preplanned, like Uber.
Downloading the app is also a great chance to take advantage of my €5.00 reader discount. Simply insert the code "ashley.pil" upon sign up and you're set to go.
For more information see how to sign up with Free Now.
Hop on Hop Off Bus
The best transport to see Barcelona if you detest walks or are traveling to Barcelona with kids.
This hop on hop off bus counts two different lines and will take you to pretty much every main attraction in the city. The roofless upper deck is a great place to get some sun and soak up the 360 degree view.
The free audio guide and app will make you a Barcelona expert in no time. And there's WiFi.
You'll also get €200.00 of vouchers toward attractions, Barcelona shopping, Barcelona's best restaurants, and more.
Prices start at €27.00.
For more information read my article on Barcelona's famous Bus Turístic.
Cable Cars and Funicular
Montjuïc Cable Car
With unspoiled views from 184 metres above the city, the open-air architecture museum Poble Espanyol, and its famous Montjuic Castle no trip would be complete without a trip up Montjuïc and this is a great way to do it in style!
Float 84.5 metres above the city and take in the incredible city views as you ride the Montjuïc cable car. The 750 metre run leaves from Avenida Miramar and stops at Montjuïc park and Montjuïc Castle.
A return ticket costs €15.00 per for adults and €11.00 children between 4 and 12.
If you buy tickets online Tiqets will give you a 10% discount.
Just print out the vouchers that they email you and head straight for the cable car.
To get there you'll need to take other public transportation in Barcelona like the funicular, the Bus Turistic, or bus #150.
Montjuic Cable Car Hours 2023
Jan-Feb: 10:00 am to 6:00 pm
Mar-May: 10:00 am to 7:00 pm
Jun-Sept: daily from 10:00 am to 9:00 pm
Oct: 10:00 am to 7:00 pm
Nov-Dec: daily from 10:00 to 6:00 pm
Port Vell Cable Car
Not to be mistaken with the Port Cable Car that departs from the beach, even if this one takes you on a magical ride high above Barcelona as well.
This one was built in 1926 and its distinctly 'antique' cars are a dead giveaway of this.
It isn't included in any of the travel cards either and has the disadvantage of being sold solely in person – you'll have to line up at ticket counters to go. Tickets cost €12.50 one way and €20.00 return.
Consult the Montjuic Cable Car departure schedule online.
The Port Vell Cable Car leaves from the Torre de San Sebastién, a few steps away from the beaches of Barceloneta and stops halfway at Torre de Jaime I (the port) and continues to Avenida Miramar at the foot of Montjuïc.
Funicular Hours 2023
The Montjuïc Funicular
The Port Cable Car is the cheapest way to get up Montjuic. We're talking about a train that goes up the side of the mountain and is not suspended in the air.
It's also valid with any Barcelona travel card. You won't get a view since it's more like a type of covered metro that slowly moves uphill, but we're taking this for value anyway.
The funicular is caught at Parallel (green line L3) metro station and leaves you at Avenida Miramar where the Montjuïc cable car leaves.
Single tickets for the funicular cost €2.40.
🚀 Ready to book your Barcelona holiday? Remember to check out the best areas to stay in Barcelona first.
Barcelona Scooter Rental
Can't you just imagine yourself cruising around all Mediterranean-like by renting a scooter in Barcelona?
Cooltra is the highest ranking scooter rental agency on Tripadvisor and is known for its reliable service and rigorous safety and inspection standards. And you can get one for as little as €25.00.
Booking your scooter using my discount code 'BARCELONAHACKS' gets you a €10.00 discount.
Getting Around Barcelona by Bicycle
With a climate so mild getting around by bike is not only possible but suggested. The benefits of renting a bike in Barcelona are as follows:
It's good exercise.
Better for the environment.
There are more than 200 km of bike lanes to take advantage of.
It gives you access to streets unreachable by public transport.
Prices start at just €5.00.
For the cheapest and most reliable service with flexible rental windows check out my article on Barcelona bike rentals.
Careful: the red and white bikes you'll spot around the city (Bicing) are only for residents.
🚲 Not looking for all that power? Check out Barcelona's best bike tours.
Barcelona Transport Tickets
To figure out which Barcelona travel card is right for you I've made a list below – so you can spend more time planning a real Barcelona itinerary than worrying how you're gonna pay for the bus.
These all-inclusive Barcelona public transport tickets include access to the following:
Metro.
City buses.
Ferrocarril (overground rail services).
Transport from the airport to the city center.
The Montjuïc funicular (not to be confused with the Montjuïc Cable Car).
Keep in mind if you're traveling outside zone one (rare since zone one is massive) you'll need to pay extra. Those of you with kids? You'll be happy to know kids under four travel free.
On the metro your validated single ticket/pass will be valid for 120 minutes.
When taking the bus your validation entitles you to travel to the end of the route – except on 'Bus del Barri' local buses and circular lines where the circuit technically never ends.
In the event you're transferring from bus to metro or vice versa within the validation window you can put the ticket in the machine and it won't charge you another ride: it'll simply beep and spit it back out but let you in/on.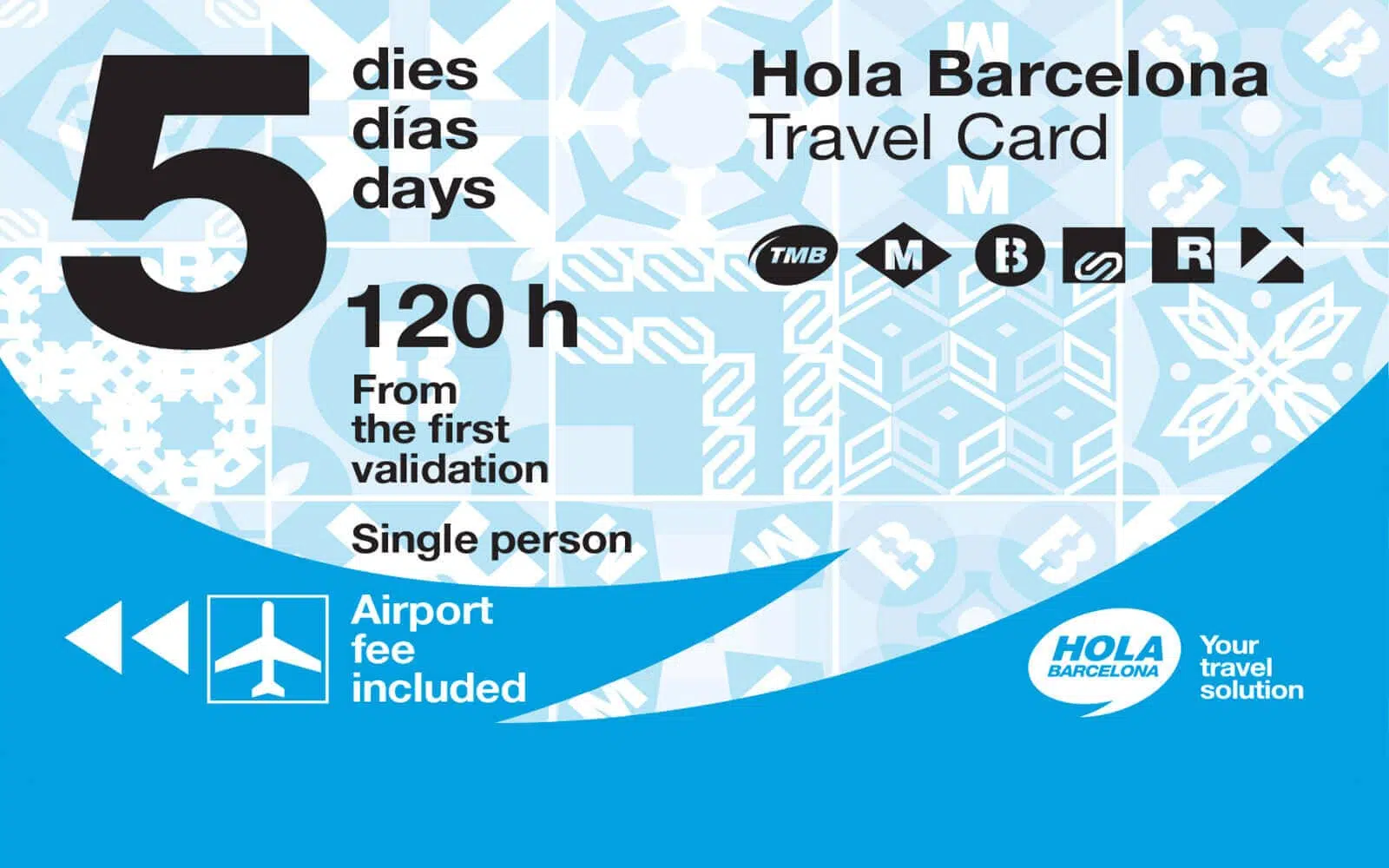 The Hola BCN Card
The Hola Barcelona Card is a discount tourist travel card with unlimited travel. You won't have to worry about buying new tickets. It comes with a 48, 72, 96, or 120 hour validity and prices start at €15.58.
You can buy your Hola BCN card online from Tiqets and you can pick it up at any of the red metro ticket machines (airport included) – easy peasy!
This is the cheapest way to get around Barcelona – trips can end up costing less than €1.00 very rapidly.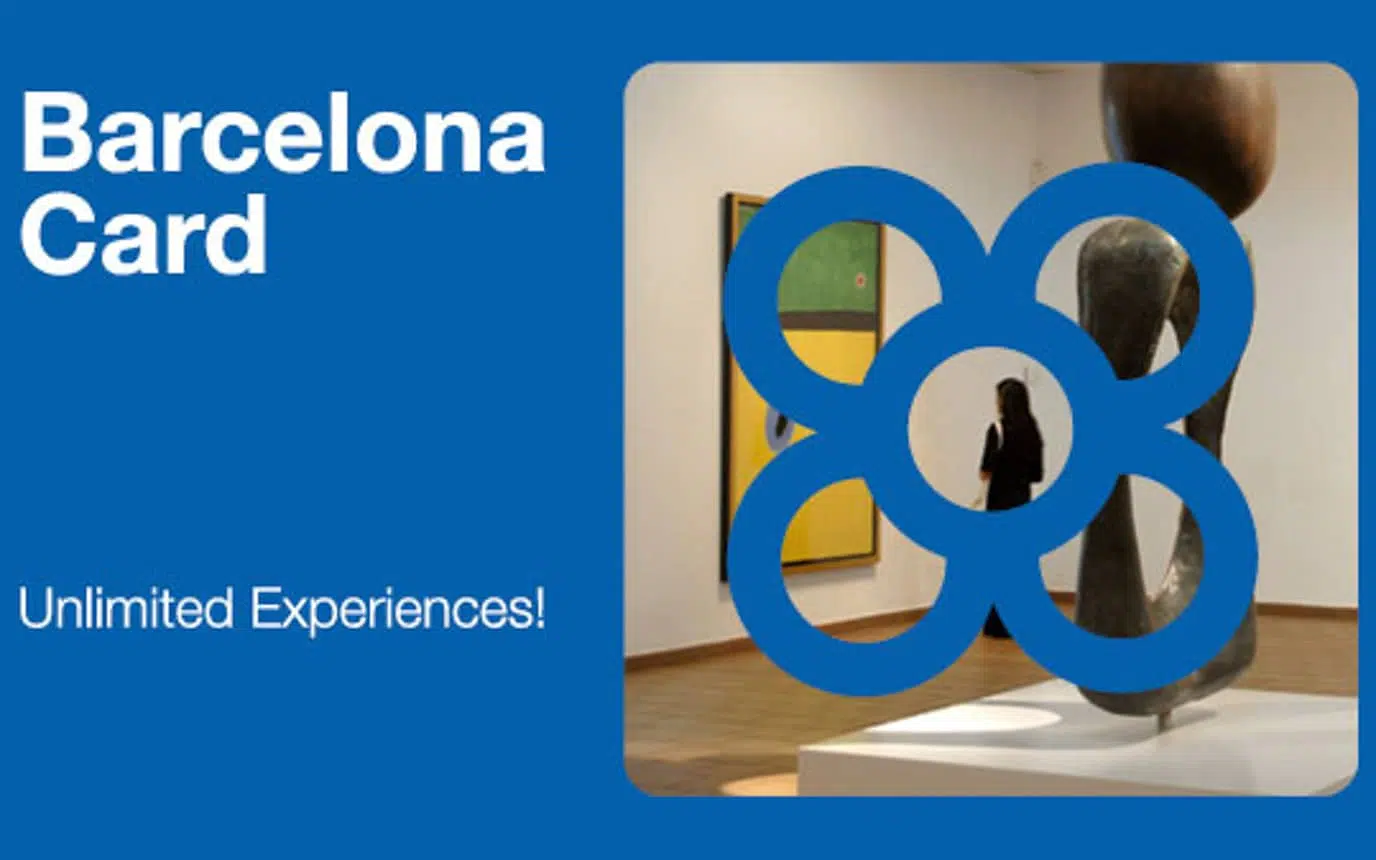 The Barcelona Card
How to get around Barcelona as a tourist? It can't hurt looking into this popular Barcelona travel & discount card.
On top of unlimited travel it also includes free entry and discounts on attractions, Barcelona's best museums and other activities. If you're here for culture or shopping or both this one is highly recommended.
Like the Hola BCN this card comes with a 72, 96, or 120 hour validity and prices range from €47.70 to €67.50.
If you buy in advance online you'll save 10%.
The Barcelona Pass
The Barcelona Pass includes tickets to La Sagrada Familia and Park Guell – allowing you to skip hours of lines by having your entrance printed out in advance.
On top of this, you'll get 10% discounts on virtually every main attraction in Barcelona including restaurants, museums, Barcelona's best flamenco shows, and more.
It also gives you 10% off the Hola BCN public transport pass.
It's the only ticket that allows you to have the whole holiday planned from the comfort of home – all the tickets including the 10% discounted ones can be bought online which means no lines.
The T-Casual
It's common for locals but doesn't necessarily mean it's the right one for you. T-Casual tickets cost €11.35 and include 10 public transport rides with a 1 hour and 15 minute validity.
This card is not valid for the metro from the airport.
The T-Casual ticket can be bought at every metro or train station.
A comparison? The mathematics say if you're going to travel more than six times a day (very probable) the Hola BCN is the transport card to get.
If you buy one in 2023 it'll be valid until February 28th 2024.
T-Familiar (March 2020)
The T-Familiar (8 trips, interpersonal, €10.00) is a ticket for people who only need to make a few trips getting around in Barcelona. It's valid for 75 minutes and expires after 30 days.
These are decent options for local commuters but not optimal for travellers: with a small group even the interpersonal T-Familiar can easily be used up in just one trip across the city. You'll be spending lots of time buying more tickets.
Another issue is they are not valid for trips from the airport.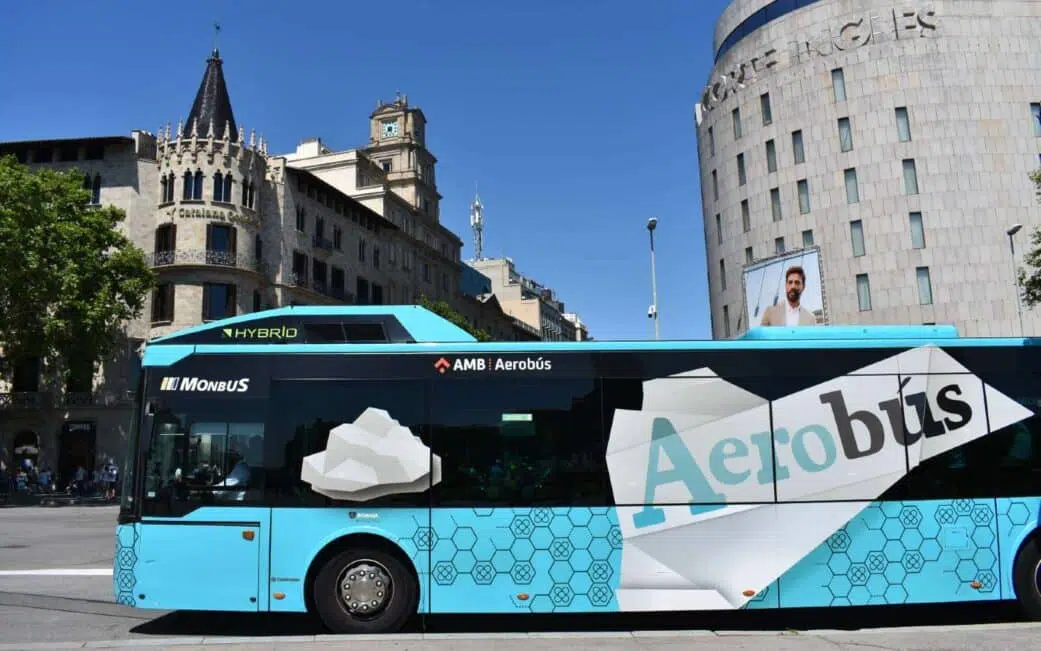 Transportation From the Airport
One of the most common questions I get is how to get from the airport to the city centre.
The main options are the Aerobus, the metro, the bus, and the airport train from Terminal 2. The metro is more suited to residents on the outskirts and is not connected to the centre.
The other options run to Sants Estacio, Plaça de Catalunya, Plaça d'Espanya, and Passeig de Gracia.
I suggest looking at my Barcelona airport to city centre article to find the right one suited to you.
Coming in from Girona? Check out my Girona Airport to Barcelona guide.
Barcelona Public Transport Zones
With 6 zones covering nearly 300 different towns things are a bit confusing at first.
The good news? The odds of you going outside zone 1 are virtually zero unless you're going to beach side towns like Sitges. None of Barcelona's major attractions are found outside this area.
Check out this Barcelona public transportation zone map just to be sure.
Barcelona Public Transportation FAQ
How to use public transportation in Barcelona?

In the city centre there are metro stops virtually every 200 meters. You can simply get to them and buy your single tickets (€2.40) at the ticket machines underground. From here, simply follow the maps to get to where you need to go. You could also grab a 24, 48, 72, or 96 hour tourist travel pass – picked up at the airport for your convenience.

How much is public transport in Barcelona?

Single tickets cost €2.40 and they are good for 60 minutes of travel on metro/subway, bus, tram, overland train, and Montjuic funicular.

How to pay for public transport in Barcelona?

You can buy your tickets at ticket machines using cash or debit/credit cards. You can also pay the €2.40 fare using cash directly to the bus driver.

How late is public transport open in Barcelona?

Most major streets will have night buses running on them, which means the bus system is active 24/7. However, the metro typically runs from 5:00 am to 12:35 am weekly with two exceptions: it's open until 2:00 am on Friday night and it runs all night on Saturday night.

What is public transport like in Barcelona?

The system is one of the most efficient and modern in Europe. The metro covers virtually all corners of the city and is safe, clean, and fast. Buses cover the entire city as well and are modern, clean, and even feature electric buses.

Is public transport in Barcelona 24 hours?

Yes and no. There are night bus routes which cover the entire city, keeping public transport open 24 hours. However, the metro shuts between 12:30 am and 5:00 am with the exceptions of Friday (2:00 am) and Saturday (all night).

Where to buy tickets for public transport in Barcelona?

Tickets can be bought at every metro station at ticket windows and at the self-serve machines. You can also buy them at street-level news stands. There are also a few ticket machines near major bus stops, though you can also pay for your €2.40 fare in cash.

Is public transport expensive in Barcelona?

No, compared to other major cities like London the price of a single ticket (€2.40) is quite reasonable – especially considering the Zone 1 ticket covers virtually every corner of the city – extending way out into the suburbs. Also, with passes like the Hola Barcelona Card you can get the price down to less than €1.00 a trip).

What's the best way to get around Barcelona?

The best way to get around Barcelona by far is their metro/subway system. With eight lines and 165 stations it's virtually impossible that your vacation hotel or attraction isn't within 200 meters of one of the stations. They're modern, fast, and clean – enough said.

Is it easy to get around in Barcelona?

Yes. For guidance just look around. If you see Tibidabo Mountain you're going the opposite way of the sea. If you see Montjuic you're looking south. There are public maps in all major areas and the subway is incredibly easy to navigate.
Still Wondering How to Get Around Barcelona with Public Transit?
Getting around Barcelona with public transport doesn't have to be hard.
That said, with so many options it can be hard to find the best way to get around – so feel free to ask me in the comments below.
Also don't be afraid to join the Barcelona transport discussion in my group I'm Off to Barcelona – here you can ask any questions, air out grievances, and chat with thousands of Barcelona travelers.
Best of luck on Barcelona public transportation 🚌