The Barcelona Cathedral in the Gothic Quarter (La Seu)
The Barcelona Cathedral may not get the attention of its more famous, spikier counterpart up the road – but this cathedral in the Gothic Quarter definitely warrants a visit.
Visiting the Cathedral of the Holy Cross and Saint Eulalia gives you a greater understanding of Barcelona's history via some pretty bad-ass Gothic styling… and tickets cost much less than Sagrada Familia.
Here's all you need to know on the Cathedral of Barcelona.
Barcelona Cathedral History + Facts
A massive Gothic Revival Church.
Official name is La Catedral de la Santa Creu i Santa Eulàlia
Broke ground in 1298.
Finished in 1420 (façade and central tower completed in 1913).
Famous for its gargoyles, other mythical animals, and resident geese.
Measures 90 meters (300 feet) long by 53 meters (174 feet) high.
Dedicated to Eulalia of Barcelona (co-patron saint of Barcelona).
What to See at the Barcelona Cathedral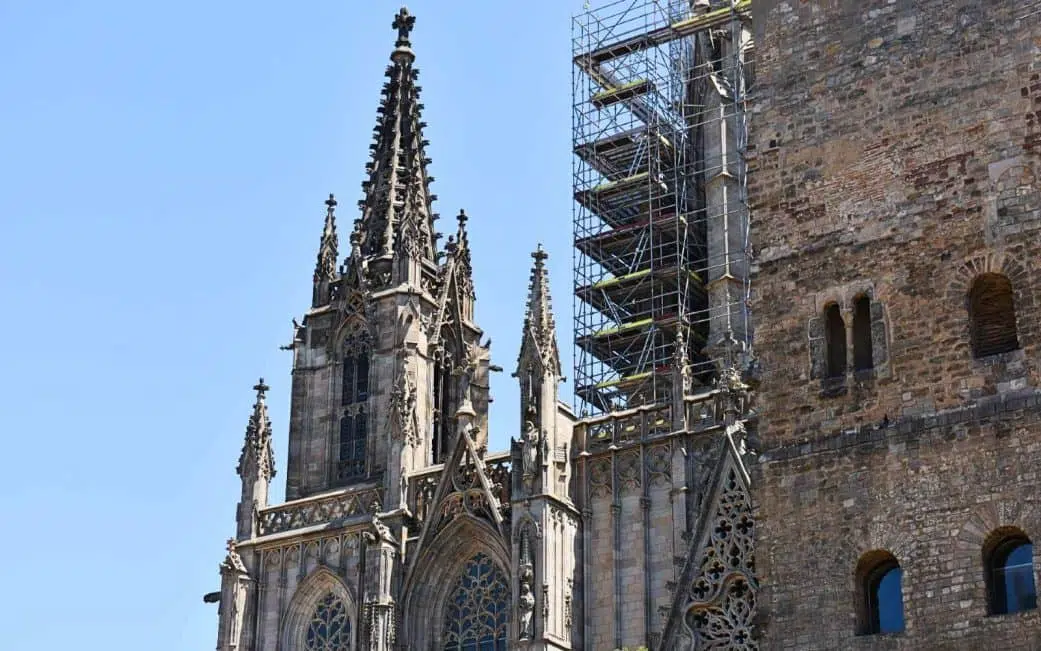 The Barcelona Cathedral Facade
It's impossible to miss the stunning facade of La Cathedral de Barcelona walking through Cathedral Square (Pla Seu).
You'll be drawn to the main door and the huge Gothic arch above. A stone sculpture of Christ keeps watch over the entrance while the 12 apostles occupy either side of the doors. In all you'll find 75 figures and 8 stained-glass windows that run the gamut from Renaissance to Modernist.
⚠️ 

Warning

⚠️

: Barcelona's top two attractions must now be booked in advance.
You can book fast track tickets to both individually or get them as part of a discount pass:
You will not be able to book these tickets on site – lock in your tickets ASAP or you could miss out.
You'll see two side towers (constructed between 1896-1898) flanking the dome of the church which is crowned with a statue of Saint Helen.
The Door of Sant Ivo (on the left hand side of the church when in the main square) was the church's main entrance for over 500 years. It was made using marble from Montjuic.
Look for inscriptions here marking the commencement of construction in 1298.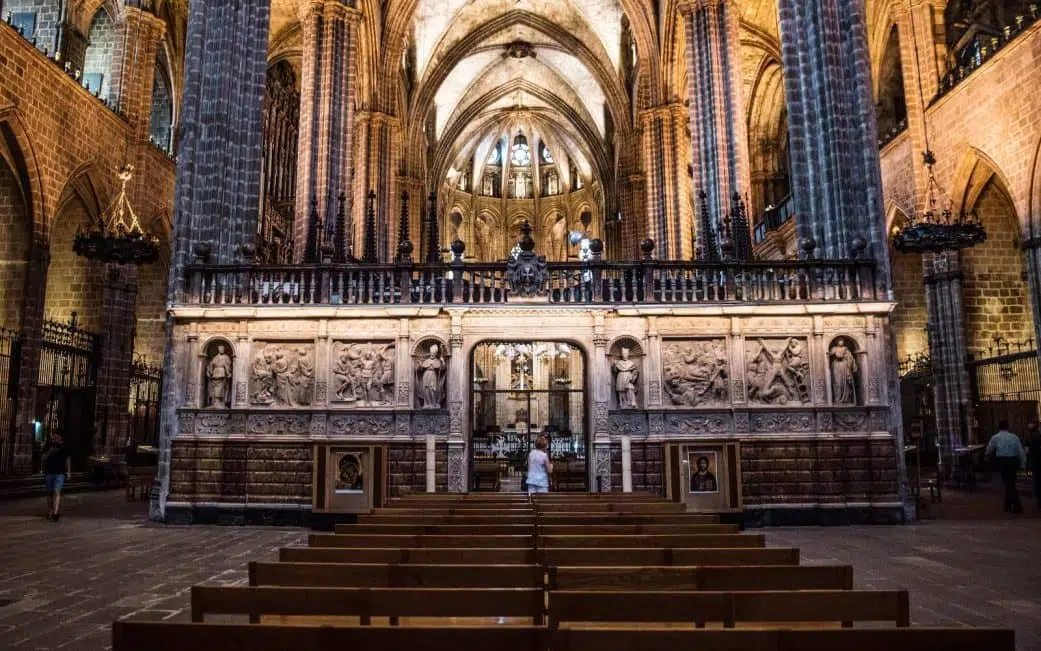 Inside the Cathedral of Barcelona
At the Barcelona Cathedral you'll find monuments and chapels dedicated to more than 140 saints.
Aside from the highly-represented Virgin Mary you'll find heavy attention paid to Santa Eulalia, a local girl martyred in Barcelona during Roman times who became co-patron saint of the city. You'll find the Crypt of Santa Eulalia in front of the main alter.
One of the most impactful features of the interior is the choir. One of the best examples of Catalan Gothic sculpture can be found in its stalls. The wooden pulpit carved by Pedro Çanglada in 1403 is a highlight.
The Chapter Hall Museum used to be a soup kitchen for the poor. Today it's home to some pretty cool items like the baptismal font of the original 11th century Gothic cathedral.
Lepanto's Chapel is decorated with paintings honoring Santa Eulalia and pays homage to a crucial naval battle where the Holy League defeated the Ottoman Empire. It's here where visitors can pray in silence.'
Keep in mind that cell phones are banned in Lepanto's Chapel, so you won't be able to take any pictures.
A cool fact: all of the candles are now electric!
Related: Get a two hour walking tour of the Gothic Quarter for just 18 euro.
The Barcelona Cathedral Cloister
This secluded inner courtyard is probably the most popular part of the cathedral.
You enter the cloister via a white marble door which is said to be a leftover from the original Romanesque cathedral built on the site in 1046.
The rectangular cloister made up of four galleries show pillars depicting scenes from the Old Testament while the vault keystones show scenes from the New Testament.
The central garden is filled with palm trees, an orange tree, magnolias, and a 15th century fountain. It's also the site of the pond where 13 white geese reside – representing the 13 years of life of Santa Eulalia.
The Roof at Barcelona Cathedral
An absolute must for those visiting the Barcelona Cathedral is taking the elevator to the roof.
From here you get a spectacular 360-degree views of the city. There's also a closer look at the bell tower and the legendary gargoyles. The fresh air is a great relief in spring and summer, though some would rather spend the money at the best rooftop bars in Barcelona.
Roof access is from one of the chapels on the left hand side of the church – just follow the signs.
Tickets for roof access are €3.00.
Barcelona Cathedral Prices and Opening Hours
Barcelona Cathedral Tickets (Tourism)
Paid entry at the Cathedral is said to be done by 'donation' – though keep in mind that €9.00 is absolutely mandatory.
You can now reserve your Barcelona Cathedral tickets in advance online.
The paid hours run at peak times and are designed to raise money for the church, offer visitors a more intimate look at the cathedral without massive crowds, and give access to parts not normally reserved for the public.
Weekdays: 9:30 pm to 6:30 pm (last entrance 5:45).
Saturdays and festive vigils: 9:30 pm to 5:15 pm (last entrance 4:30).
Sundays/holidays: 2:00 pm to 5:00 pm (last entrance 4:30).
With paid entry to the La Seu Cathedral you get access to the cathedral floor, cloister, choir, roof, Chapter Hall Museum, and Lepanto's chapel – plus a free virtual audio guide with a ton of information.
It's necessary to buy your Barcelona Cathedral tickets online in advance at the official Barcelona Tursime website:
Free Entry at the Barcelona Cathedral (Worship and Prayer Only)
At certain times this is one of the best free things to do in Barcelona, provided you are there for worship:
Weekdays: 8:30 am to 12:30 pm and 5:45 pm to 7:30 pm.
Saturdays: 8:30 am to 12:30 pm and 5:15 pm to 8:00 pm.
Sundays/holidays: 8:30 am to 1:45 pm and 5:15 pm to 8:00 pm.
With your free entrance you're given access to the cathedral floor and the cloister – the inner courtyard/garden home to the famous 13 white geese.
Again, this is supposed to be for worship and prayer so if you're clearly touristing then expect to be talked to. For the sake of the church I strongly suggest buying entry (info in a sec) if you're not there for prayer.
Also, the Barcelona Cathedral cloister typically closes 15-30 minutes before so leave plenty of time.
If you're visiting Barcelona with kids under five they get free Barcelona Cathedral admission (rooftop and choir).
Doors close five minutes before closing time.
Barcelona Cathedral Dress Codes
It's so darn old we can't fault the Barcelona Cathedral dress code for being a bit traditional.
Make sure you enter with your shoulders covered and dresses/shorts/skirts at knee length. You'll also have to remove any caps or head wear of any sort to get in.
If you don't want to go all the way back to your hotel or Airbnb there's a woman selling shawls for a couple of euro right outside the entrance – just make sure your shorts are long enough or you're not getting in anyway.
As usual no tank tops, muscle shirts, food, flash photography, or cell phones not on silent.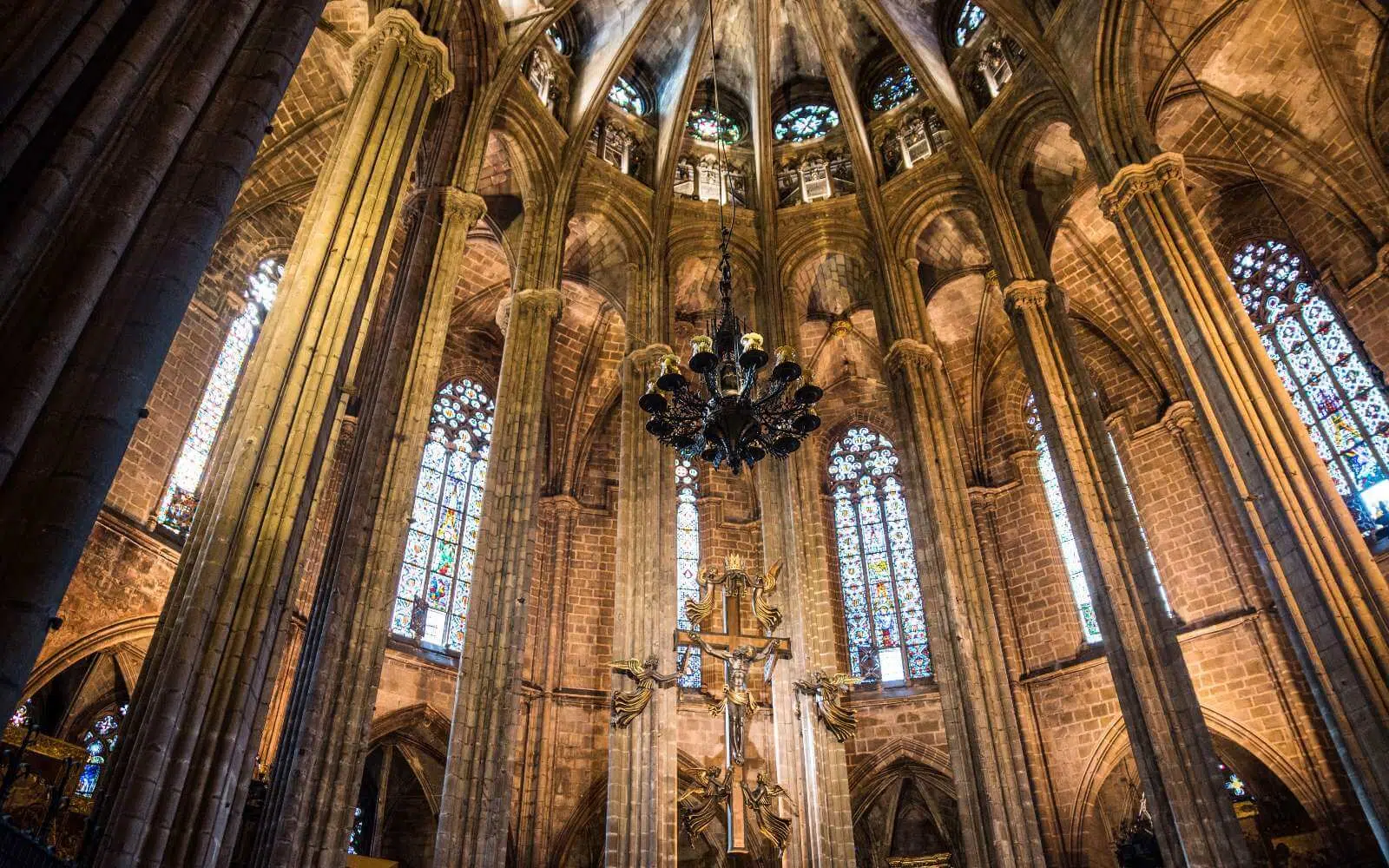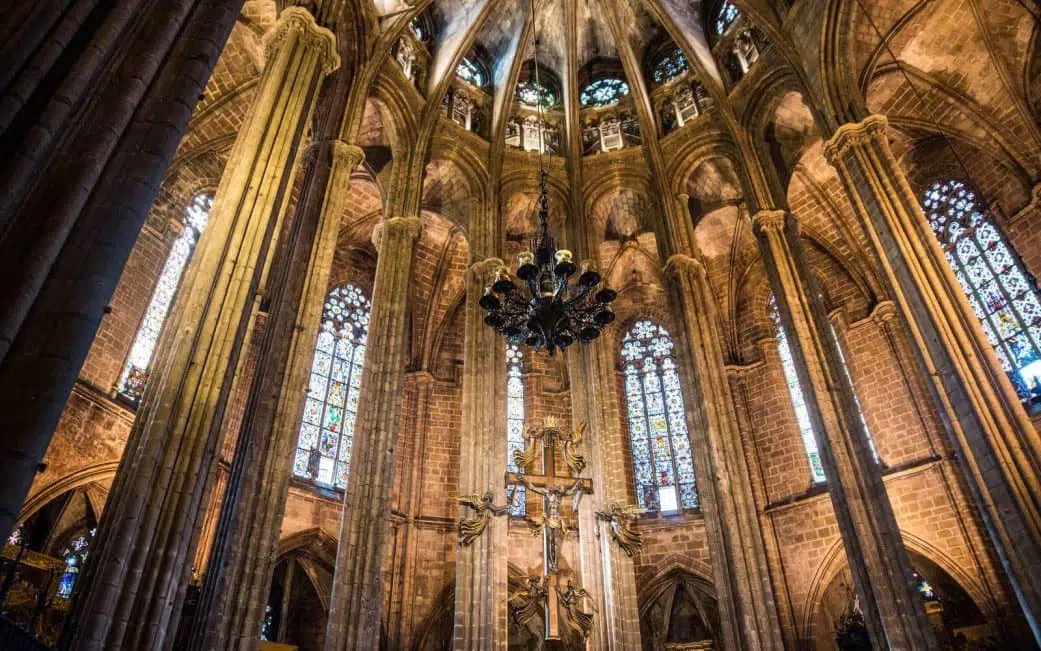 Mass Times at the Barcelona Cathedral
If you're planning on attending mass at the cathedral in Barcelona please realise that they are conducted only in Spanish and Catalan.
There are five daily masses at the Barcelona Cathedral during the week at the Chapel of the Holy Sacrament while weekend masses vary – please consult the Catedral de Barcelona mass schedule to find the perfect time.
How to Get to the Barcelona Cathedral
The Catedral de Barcelona is right in the heart of the Gothic Quarter at Pla Seu, 3.
It's about 150 meters from Jaume I metro station (yellow line L4) and about 350 meters from Liceu metro station (green line L3) and the chaos of La Rambla.
Expect about a 3-8 minute walk from either station.
It's also a 2 minute walk from the Barri Gotic stop on the red line of the Bus Turistic.
What to Do Near the Barcelona Cathedral
With the cathedral in Barcelona being so central you'll have virtually unlimited options.
I strongly recommend planning your Cathedral of Barcelona visit as part of the Secrets of the Old City tour with our local American guide Alvaro.
The tour actually ends with the Barcelona Cathedral, meaning you'll be going into your visit armed with all sorts of knowledge on the city's history, street art, political situation, and much more.
You'll get more info on the tour clicking the banner below:
At 1 Carrer del Bisbe one you'll find one of the most photographed things in the city: Pont del Bisbe ('Bishop's Bridge). This neo-Gothic bridge unites the Palau de la Generalitat (home of the Catalan government) with the Casa dels Canonges ('Canon House').
Legend has it that architect Joan Rubió i Bellver was so disappointed the city wouldn't approve some of his other projects that he placed a skull and dagger on the bridge in protest – try and find it!
Equally macabre is nearby Plaça San Felip Neri. It was in this hidden square in 1938 that 42 people (mostly children) lost their lives during a bombing in the Spanish Civil War.
Today you'll find a small fountain and a haunting quiet.
For something a little more upbeat there's always the super-cool Catalan Music Palace.
Tourists also won't want to miss the Picasso Museum.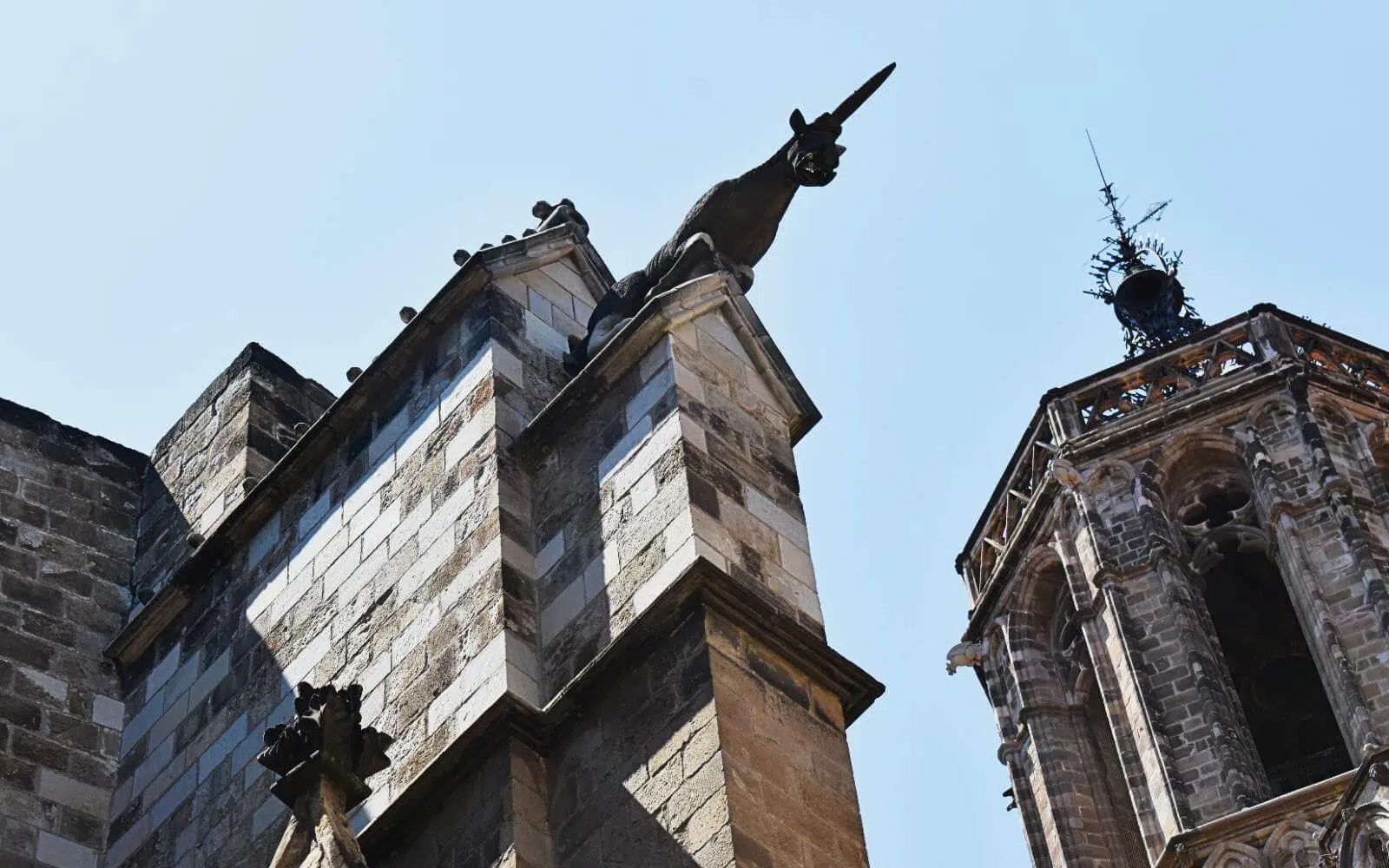 Barcelona Cathedral Hacks
Go really early or really late for smaller crowds.
Leave about an hour to visit the Barcelona Cathedral in full.
The Barcelona cathedral facade faces north-west so photos are best taken in late afternoon.
Getting to the rooftop for noon treats you to some amazing bells.
Especially during free entrance periods, use the side entrance for shorter lines.
Wander around nearby back alleys for some great guitar or opera performances.
People with reduced mobility get access via the Carrer del Bisbe entrance.
Women wanting to wear dresses but stay cool otherwise: pack leggings and put them on just before visiting.
There's a free performance of La Sardana (a traditional Catalan dance) every Sunday from 11:45 to 1:00 in cathedral square.
Sagrada Familia or Barcelona Cathedral?
What is the cathedral in Barcelona called?
Again, many people make this mistake so don't feel bad.
The architectural giant and saw-like super structure that you see on all the postcards is Antoni Gaudi's Sagrada Familia. And the Sagrada Familia isn't a cathedral (the seat of a bishop) at all.
In all its greatness it's actually a minor basilica.
If I had to tell you to visit only one thing in any Barcelona itinerary it would be this… a minor basilica. So if you're looking for that please check out my article on La Sagrada Familia.
Related: How to Get to Sagrada Familia from the Barcelona Cathedral
Looking to Visit the Gothic Cathedral in Barcelona?
If you're still starving for Barcelona Cathedral information then make sure you harass me in the comments below – I'm always looking to improve the blog so if anything is missing please let me know.
Also know that any question you have about your Barcelona holiday will be answered ASAP.
Enjoy the Gothic Quarter cathedral 🙂