Barcelona in July 2023: Things to Do, Events, Festivals + Concerts
Visit Barcelona in July, and you just might find a summer romance in city form.
The incredible weather, beach breezes, and outdoor festivals make it an optimal time for music lovers, beach bums, and food tour fanatics to explore Barcelona's peak season perfection.
Let's take a look at the major events in Barcelona in July 2023, with a few off-the-beaten-path stops on the side.
What to Do in Barcelona in July 2023: July Events + Festivals
July in Barcelona isn't complete without a visit to one of Barcelona's best beaches.
Beach season is in full swing, and hardly a day passes when you can't lay out a towel and soak it all in.
With scorching temperatures, the outdoor activities are endless, whether you're talking about the thrills at Mount Tibidabo Amusement Park, or a simple cold one at any of Barcelona's rooftop bars.
You also absolutely can't miss the city's top two attractions: Sagrada Familia and Park Guell.
⚠️ 

Warning

⚠️

: Barcelona's top two attractions are now mandatory to book in advance.
You can save money + have half your holiday booked in just a few clicks with the Barcelona Essentials Pass:
⛪ Sagrada Familia + Park Guell
🚇 Unlimited city transport
🔊 A handy city audio guide
🏷️ A 10% digital discount code for all other attractions tickets
🛍️ Buy now: Barcelona Essentials Pass
A few other Barcelona July activities include:
And this is before we even get to things to do in Barcelona in July that really sizzle.
Let's take a deeper look at Barcelona Spain, in July.
What's On in Barcelona in July 2023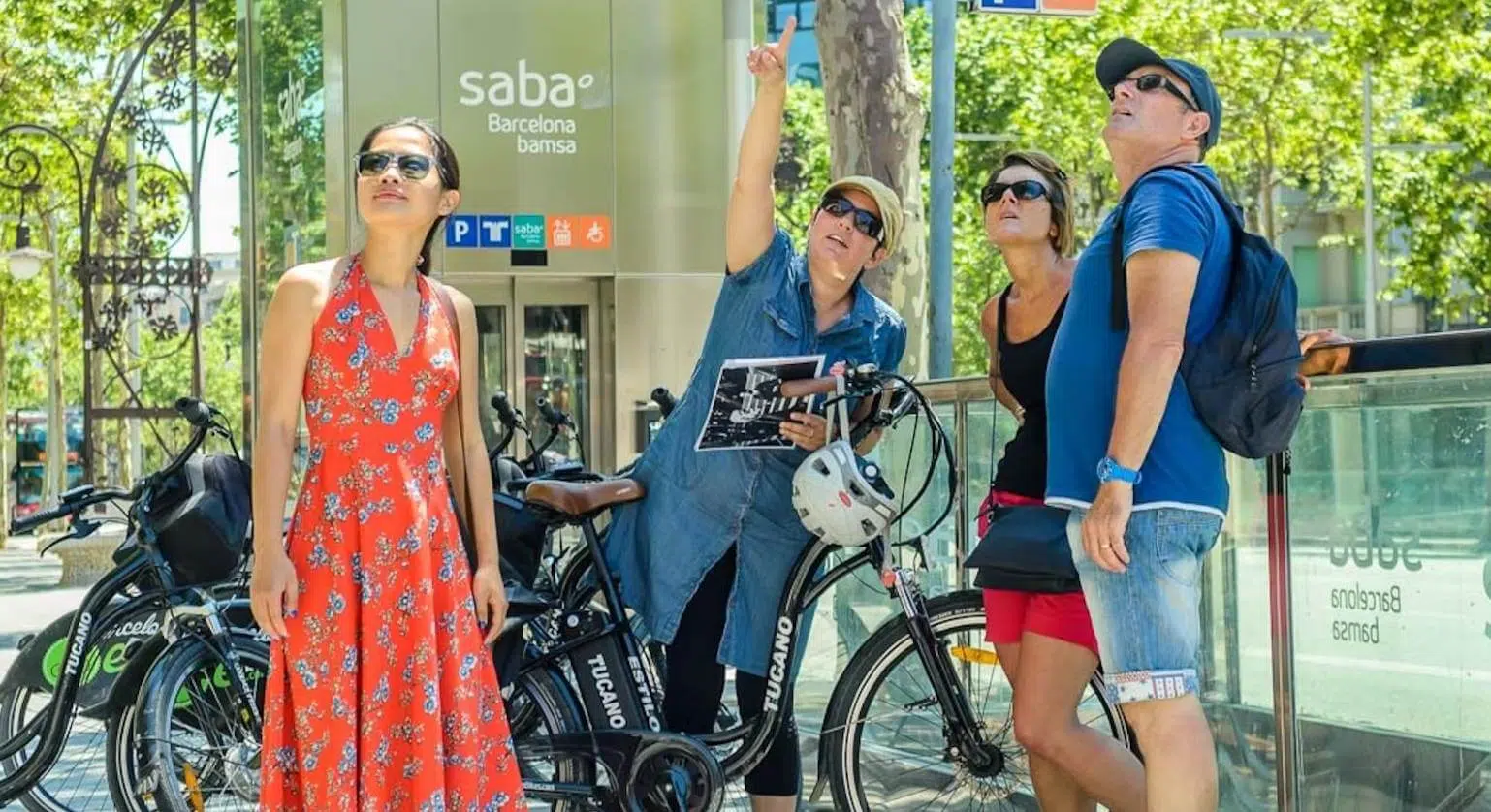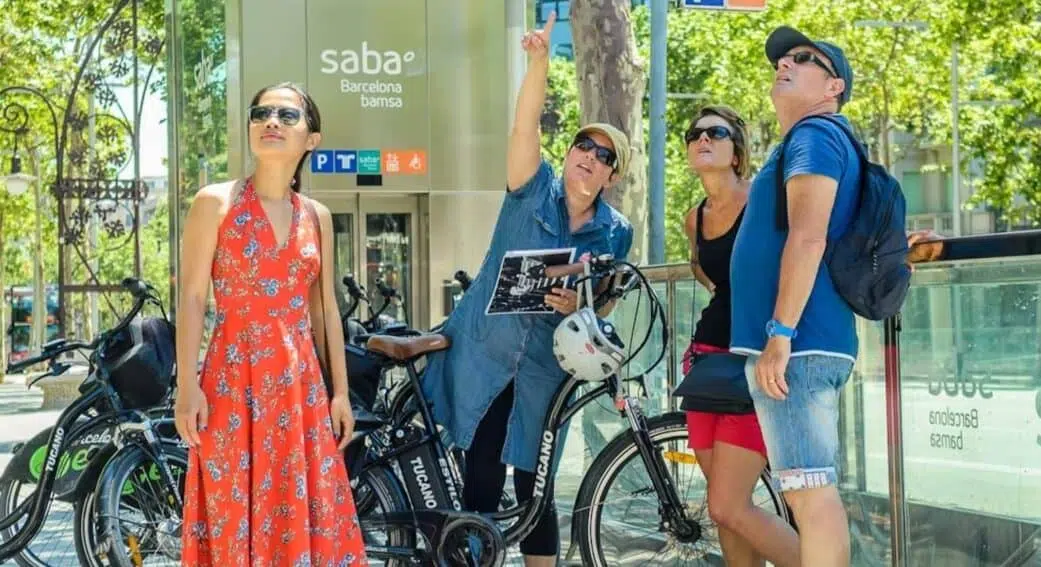 Summer Sightseeing eBike Tours: Gaudi Version
Catalonian starchitect Antoni Gaudi has left behind some of the most wondrous buildings you'll ever see, and it's a tourist automatic even in the dead of winter in Barcelona.
Taking advantage of the amazing weather with a guided e-bike tour of the city's top sights is the perfect thing to do in Barcelona in July.
This three-hour bike tour made super safe using Barcelona's world-famous bike paths, goes through the famous Gothic Quarter, Ciutadella Park, and Eixample.
It's such a quick, fun, fresh way to explore, and the guide will have you a Barcelona expert in no time.
Loving the bike idea? Check out my post on Barcelona's best bike tours for the full list.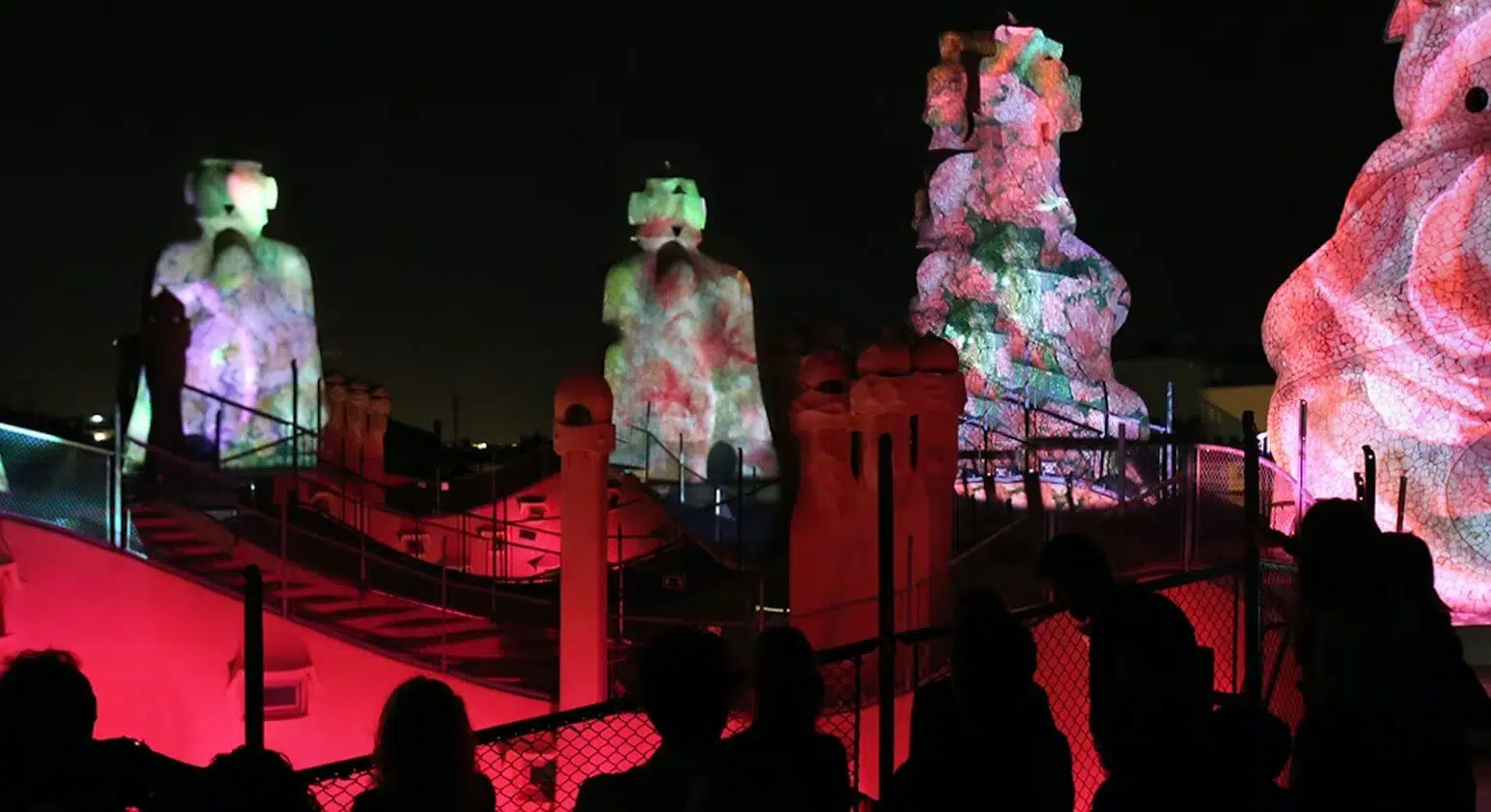 Summer Nights at La Pedrera
What could be more memorable than a psychedelic light projection show atop the legendary 'Garden of Warriors' rooftop at one of the world's greatest architectural marvels?
Tickets to this La Pedrera event include a normal visit to the house, access to the house's famous whale skeleton attic, as the projection show, and a glass of Spanish champagne – cava.
A great option for couples in Barcelona visiting in July – it's at the top of my best things to do in Barcelona at night list.
Dates: Daily in July at 10:20 pm, 10:40 pm, and 11:00 pm.
Tickets: €35.00.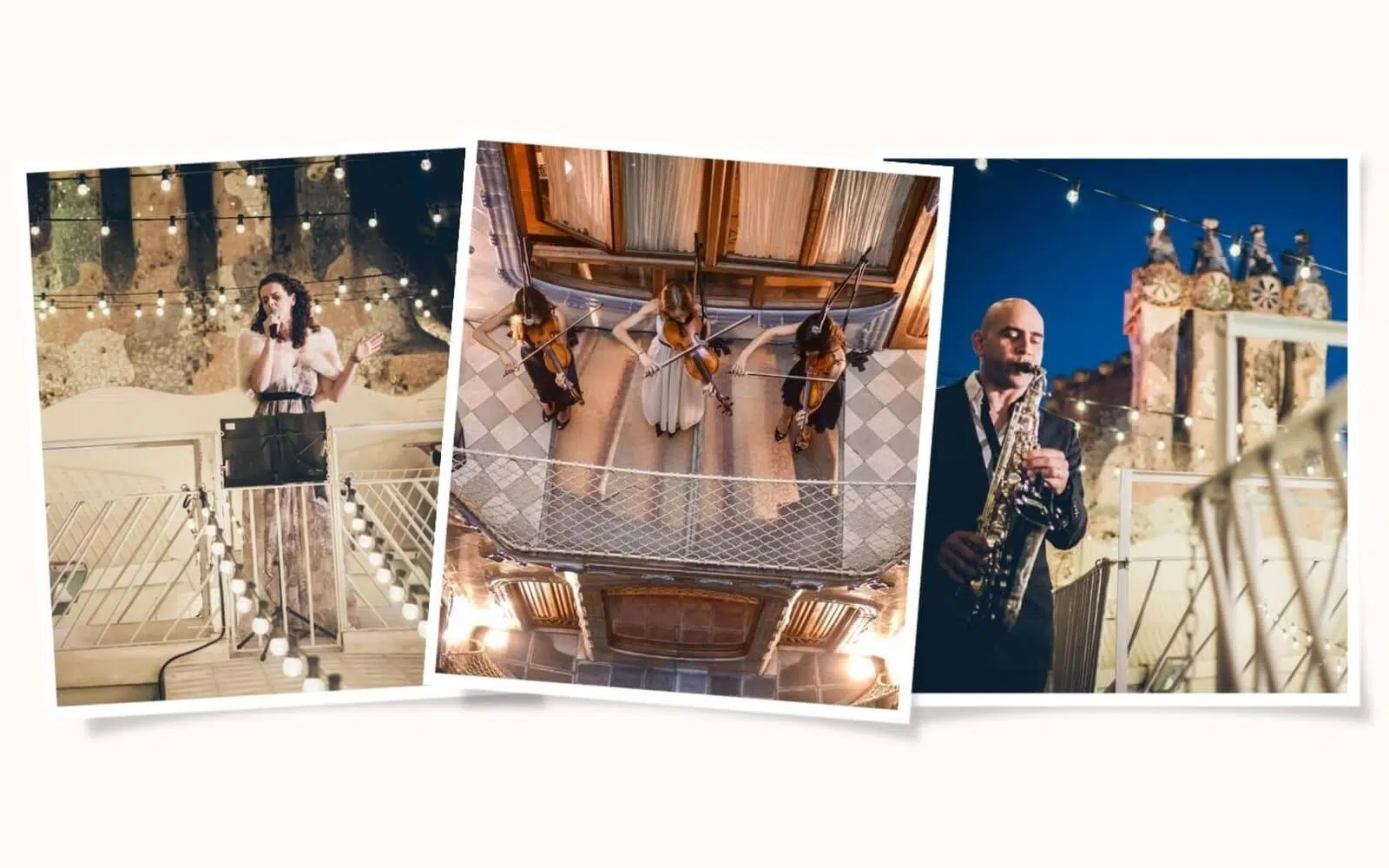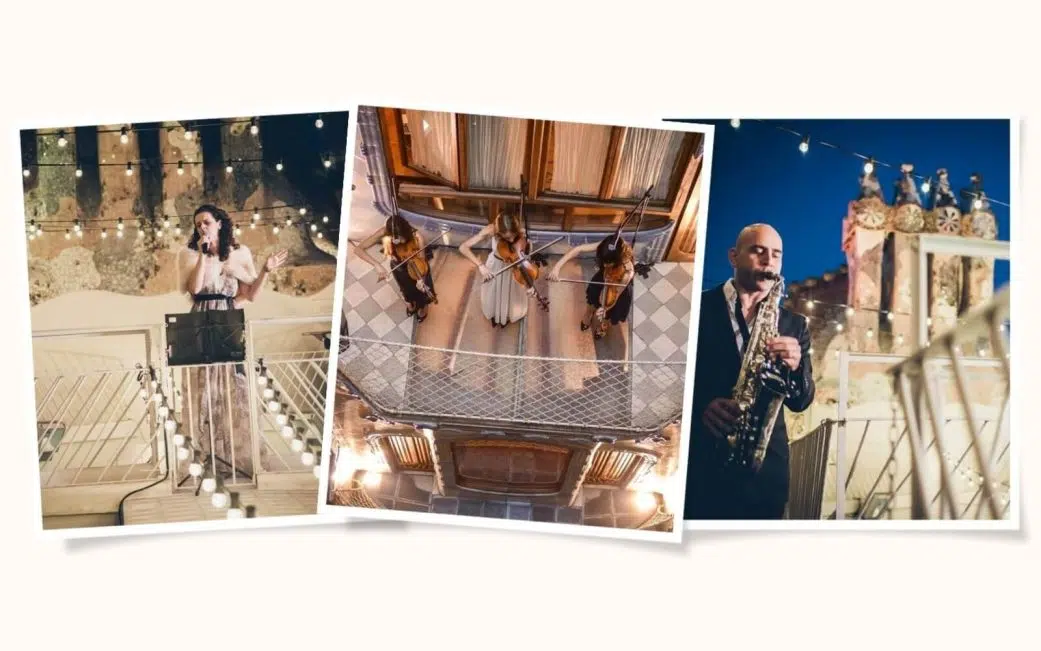 Magic Nights Rooftop Series
Another fantastic option especially for couples visiting Barcelona, is to check out the Magic Nights concert series on the roof of Barcelona's most famous modernist mansion: Casa Batllo.
This is one of the top tourist attractions in Barcelona, regardless of season.
The type of music varies, but tickets start at €49.00 for the concert, the new Gaudi 10D experience visit, and a glass of local cava sparkling white wine.
Dates in July 2023 run Tuesday to Saturday with two start times: 6:00 pm and 8:00 pm.
Visit the Magic Nights webpage for more information.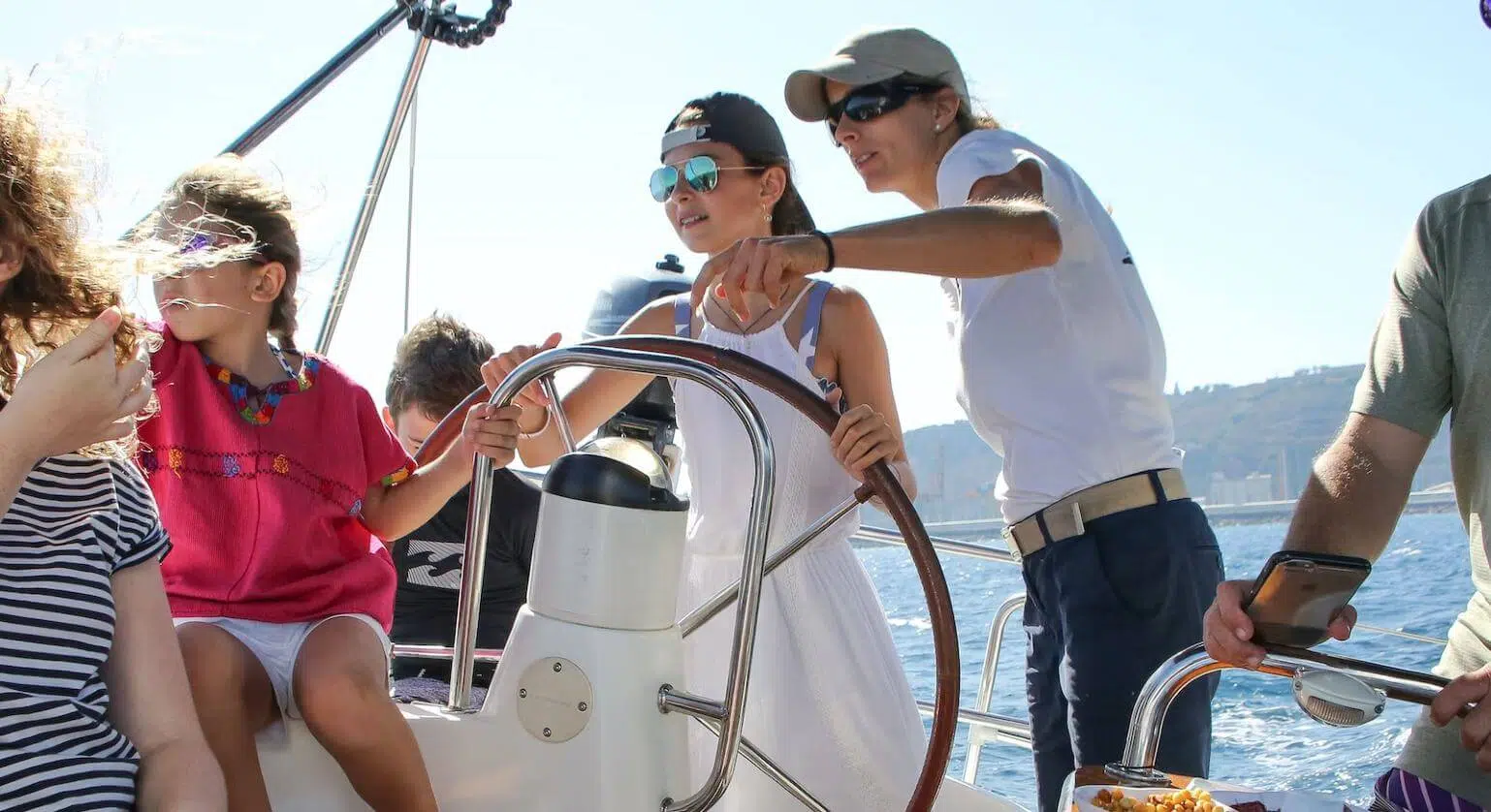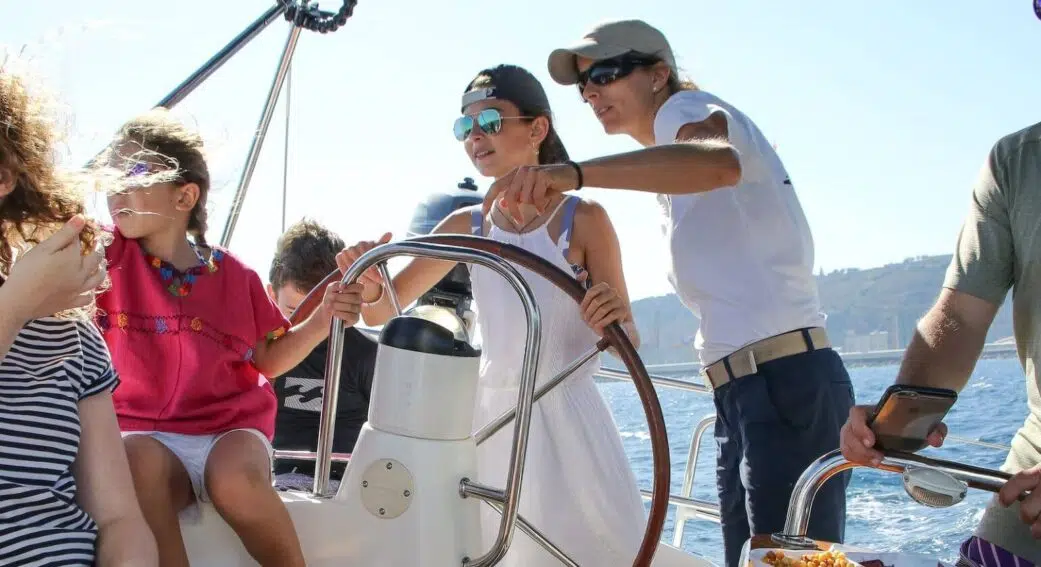 Sailboat Cruises of the Mediterranean
What's the point of visiting the Mediterranean's largest port without getting out on the water? With the weather in Barcelona in July being warm, it's the perfect time for this 90-minute small group boat trip.
This guided tour of the Barcelona coastline with a professional skipper will take you past the Columbus Monument, Barceloneta Beach, and Montjuic Castle.
Even better: local Spanish snacks are served with wine, cava, sangria, beer, soft drinks and the most common local tipple: vermouth.
You even get a mini sailing lesson and can take the wheel yourself!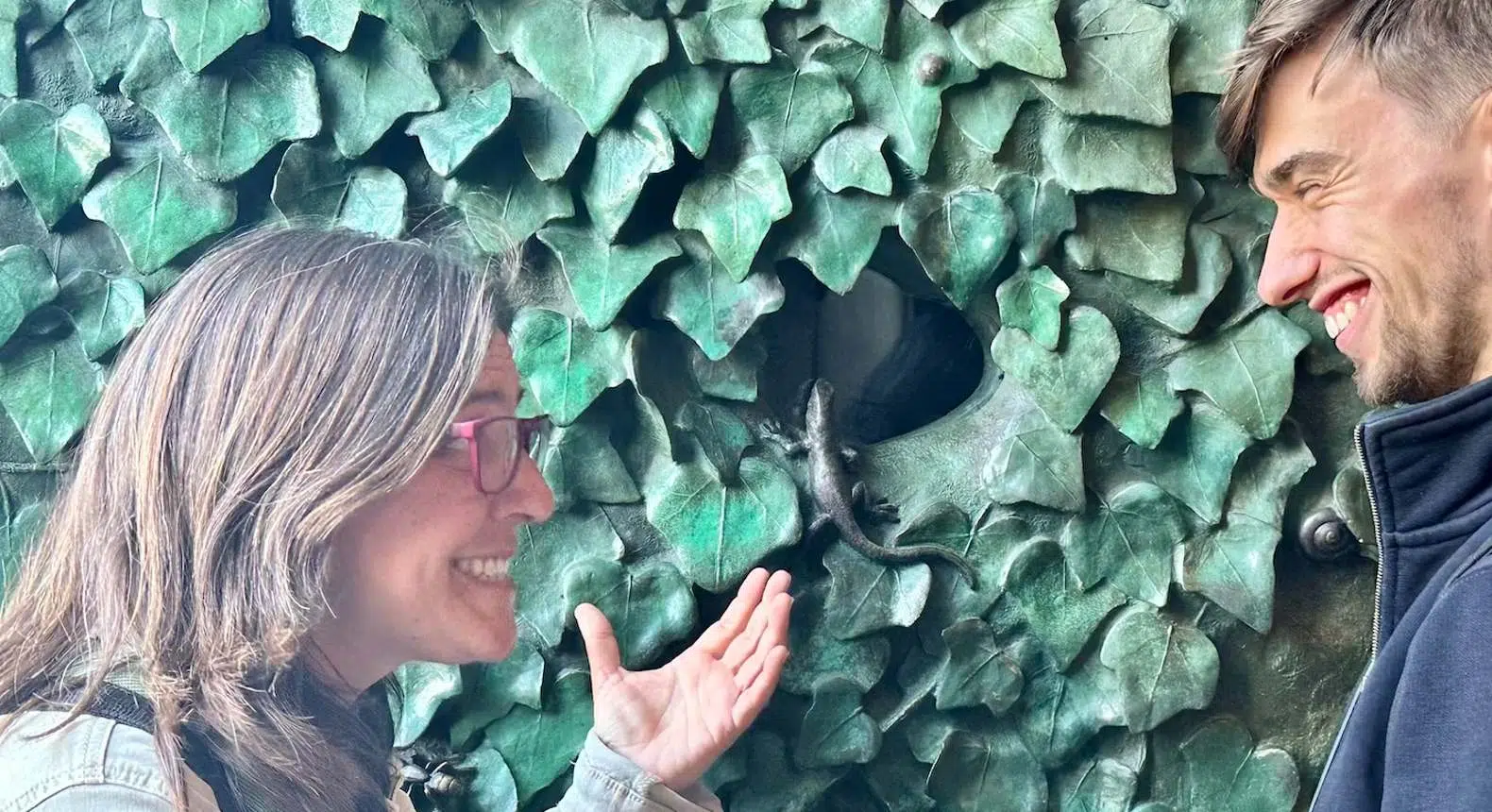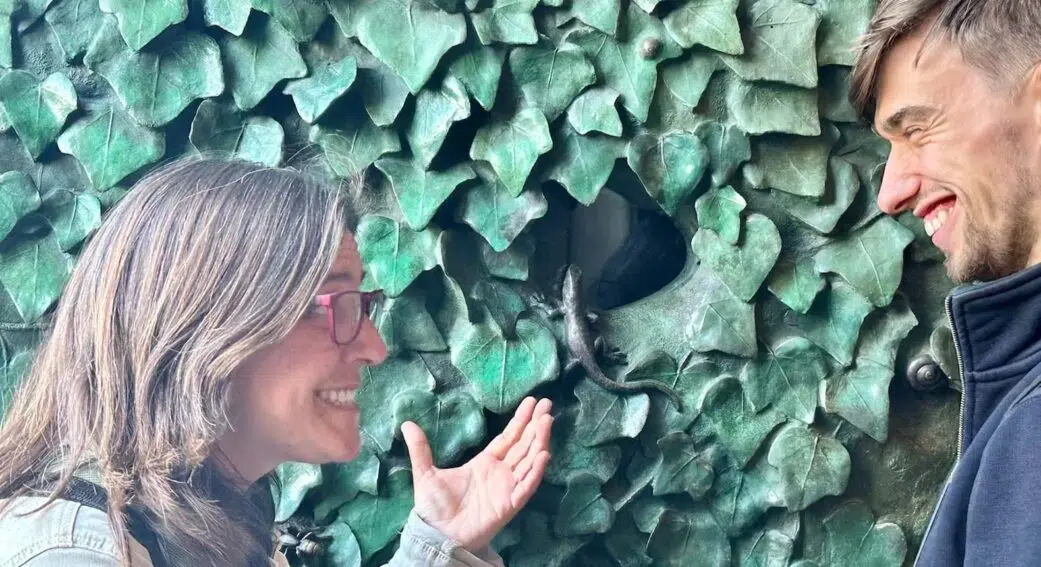 Tours of Sagrada Familia
Visiting Sagrada Familia stands as the most sought-after activity in Barcelona during July.
The demand for top Sagrada Familia tours is immense, primarily because the slots get booked well ahead of time.
Additionally, these tours offer an opportunity to unravel the profound symbolism behind the world's most extraordinary church.
If you had to invest in just a single prominent attraction in Barcelona in July, Sagrada Familia should be it!
Street Festivals and Other July Events in Barcelona 2023
If you love street festivals, then Barcelona in July is the city for you. The Spaniards (Catalans, sorry) are always looking for an excuse to put up a stage, have a drink, and dance.
They might even build a human tower or two – if you're visiting Barcelona in July, you won't want to miss that.
The street festivals in Barcelona are a great way to experience the local culture with a cheap price tag. In July obviously, the best days to attend are Friday and Saturday.
The Festa Major de Raval celebrates multiculturalism in Barcerlona's Raval neighbourhood. World music and ethnic food stalls compete with Catalan classics like 'els gigants' (parading paper mache giants). Throw in a flea market and live music and this is one of the best street festivals around. The dates for 2023 are TBA.
The Festa Major del Poble Sec includes the incredible Castellers of Poble Sec (who build towers with… humans!) and the ever-dangerous correfoc (firerun). The festival lasts for a week, and the official opening date for July 2023 is TBA. I'll add more information as it comes, but the official site is here.
Sala Montjuic Outdoor Film Festival
There isn't much better in Barcelona in July than a classic film projected onto the walls of a historic castle at Montjuic.
Grab some snacks, a blanket, and a couple of drinks and get there early – there's also a jazz band and local short films. With three showings a week, you're almost guaranteed to be around for one of them.
Film listings and times can be found at the official Cinema a la Fresca website – films on the list for 2023 are still TBA.
The 2023 version runs from July 1st to August 5th.
Take advantage of the free bus service leaving from Espanya metro station between 20:15-21:30.
🧑‍🎨 Want more of Gaudi? Unlock his masterpieces with the top Gaudi tours in Barcelona.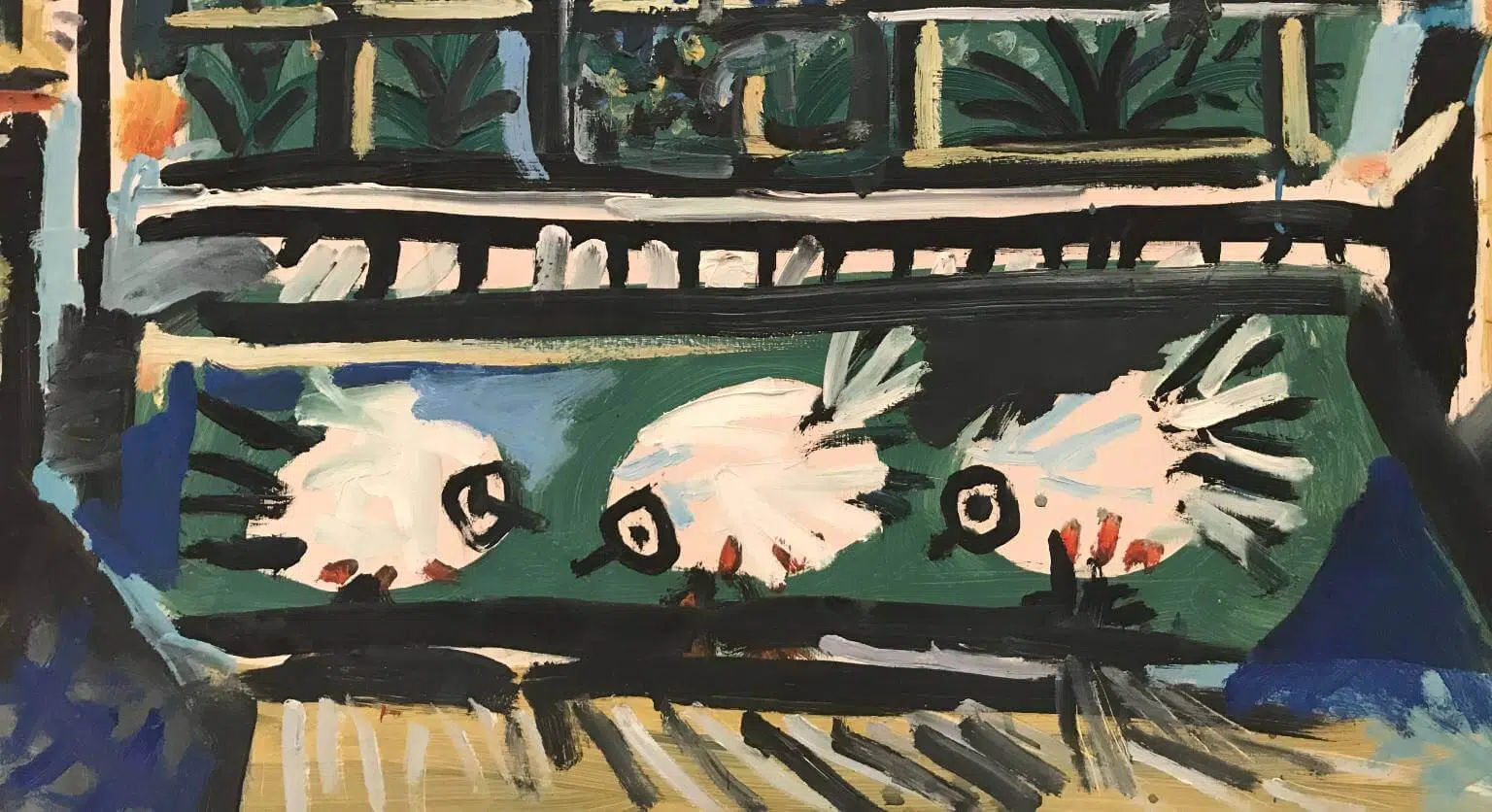 Local Events Off the Beaten Path
Here I'm going to jot down Barcelona July events that I come across, perhaps seeing fliers in the streets or talking to friends.
They might not be the biggest events in the world, but these off the beaten path Barcelona events are worth it:
🥘 Looking for food + history + wine + fun? Take one of Barcelona's best food tours.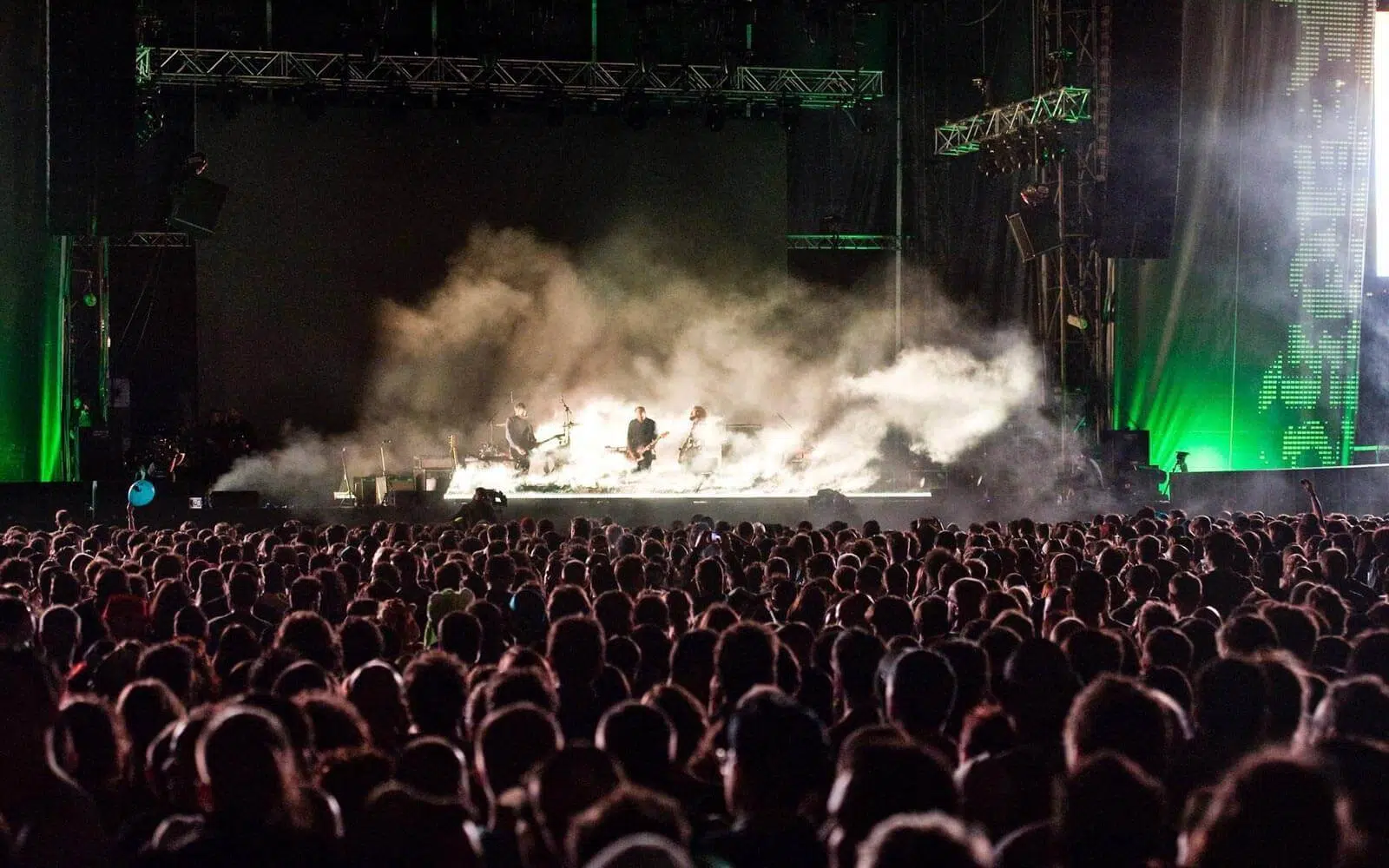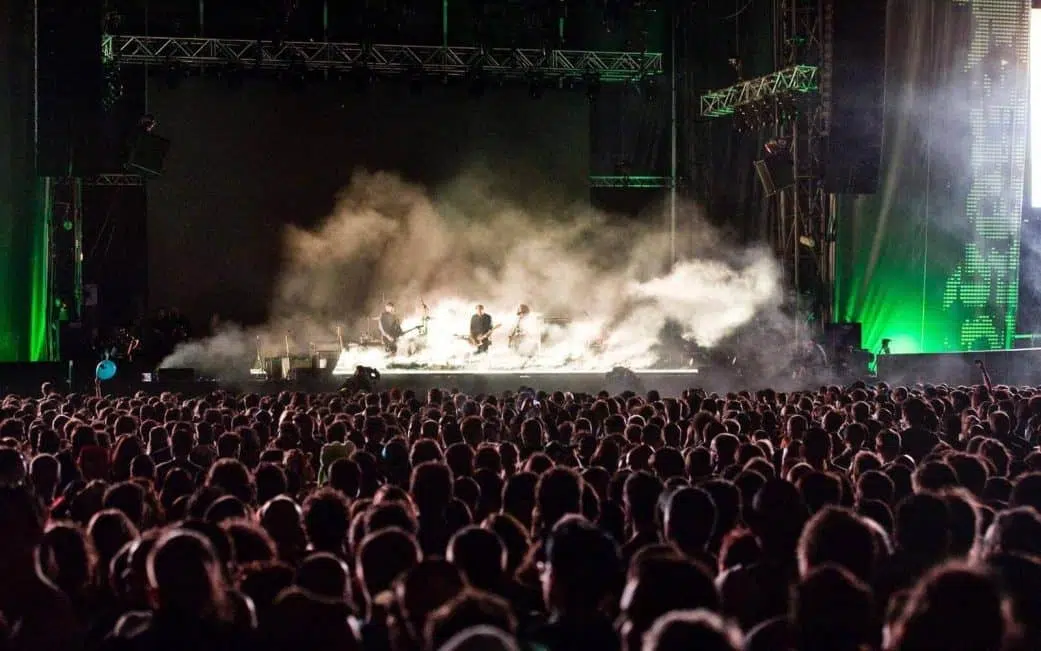 Music Festivals in Barcelona in July 2023
Festival Cruilla 2023
Go if you're up for an eclectic rock, blues, and reggae festival.
The Cruilla Festival (meaning 'Cross Festival' in Catalan) is one of the most important of the summer, popular for its aim of uniting music fans across genres. The festival generally features international artists from the last 20 years.
Over time it has welcomed artists like Lauren Hill, the Prodigy, Franz Ferdinand, Snoop Dogg, Damon Albarn, Jack Johnson, Madness, Public Enemy, Pet Shop Boys, Skunk Anansie, and more.
In 2023 the 13th version of Cruilla features The Offspring, Placebo, Alt J, Franz Ferdinand, Sigur Ros, Antonia Font, and more.
This is one of the top events in Barcelona in June 2023 for people around my age who won't necessarily understand artists who emerged after 2010!
Dates: July 5th to 8th
Prices: €35.00+ (one-day headline show) to €125.00 (full 3-day pass).
For more information, consult the official Cruilla website.
BBF Barcelona Beach Festival 2023
Update (03/05/23): Due to licensing issues with the Sant Adrià de Besòs city council the July 2023 version of the BBF Barcelona Beach Festival has been cancelled.
After the great success of the last few years, this electro event continues calling on world-famous DJs. Go to this July festival if you want to dance on the beach until the Mediterranean sun comes up.
Typically, the BBF Barcelona Beach Festival just couldn't resist putting out a call to some of the top DJ talent in the world. The 2022 lineup included Armin van Buuren, Dimitri Vegas and Like Mike, Marshmello, Don Pablo and more.
Date: 2024 date TBA.
Prices: TBA.
For more information, consult the official BBF Barcelona Beach Festival website.
Barcelona Rocks
Barcelona in July isn't just for DJs and indie music – let's add some shredding guitars and pounding drums.
Lovers of classic rock and metal will get a kick out of this three-day festival. Previous artists include Iron Maiden, Judas Priest, Aerosmith, Deep Purple, Twisted Sister, Scorpions, WASP, Dream Theater and more.
The 2023 version features Scorpions and Saxon.
This festival is in the outskirts but can be easily reached by getting to the Sagrera metro stop (red line L1) and changing for the orange line L9 to Can Zam.
Dates: June 30th to July 2nd.
Prices: €95.00
For more 2023 lineup information and tickets, consult the official Barcelona Rock Fest website.
Vida Festival
The Vida Festival takes place outside Barcelona in July in the town of Vilanova i la Geltru.
The 2023 version features headliners Alex Amor, Alan Mcgee, Cool Nenas, plus dozens more acts. The 50 km journey to this seaside town can be made by train (every 20 minutes) from Sants Estacio.
Vida Festival runs from June 30th to July 1st.
Price: €69.20+
For more July 2023 lineup information and tickets, consult the official Vida Festival website.
Festival del Grec
Go if you're more into theatre than music.
This is a key reference on the European festival calendar and easily one of the biggest cultural festivals of the year.
Performances from groups all over the world doing dance, music, theatre, and even circus. It is becoming more and more common for the performances to be done in English.
July Barcelona events at this festival are still TBA.
More info at the Festival Grec website.
Related: Is Barcelona Worth Visiting?
Cap Roig Festival
A concert series in a spectacular natural setting overlooking the Mediterranean Sea.
Head up the coast an hour or so to the Costa Brava and see one of the Med's best botanical gardens before checking out great international artists across many genres.
July 2023 events include:
Rod Stewart: July 14th
Ara Malikian: July 15th
Norah Jones: July 22nd
Price: from €20.00 to €375.00 depending on the artist.
For more information, visit the Cap Roig Festival website.
Brunch in the Park
Of all Barcelona events in July, locals swear by Brunch in the Park.
This daytime doozy formerly known as Piknic Electronik is an electronic music festival under the sun at Montjuic Hill (or, starting in 2022 the Parc del Forum).
It generally runs every weekend during the summer and it's a great spot to take in international DJs.
The July 2023 lineup has not yet been announced.
Starting in 2022 there are no walkup tickets so you'll need to buy them online.
Prices: €20.00 (first release) – €35.00 (4th release).
For more information check out the Brunch in the Park website.
Advice if You Want to Visit Barcelona in July
I say this for all the summer season months but remember – July in Barcelona is really high season. Tourist season in the city is almost a detriment, and this means you should make preparations in advance.
I can't stress enough how important it is to buy your attraction tickets online before you arrive to ensure you skip lines and save up to 15% on entrance. The lines for tourist giants like Sagrada Familia church in July often stretch into the hours.
If you're looking to really explore Barcelona then suggest our Secrets of the Old City walking tour on day one: the education will really enhance all your later endeavours.
Also make sure you book a table in advance at Barcelona's best restaurants.
And don't even think about showing up without a value hotel, discount Airbnb homestay, or hostel.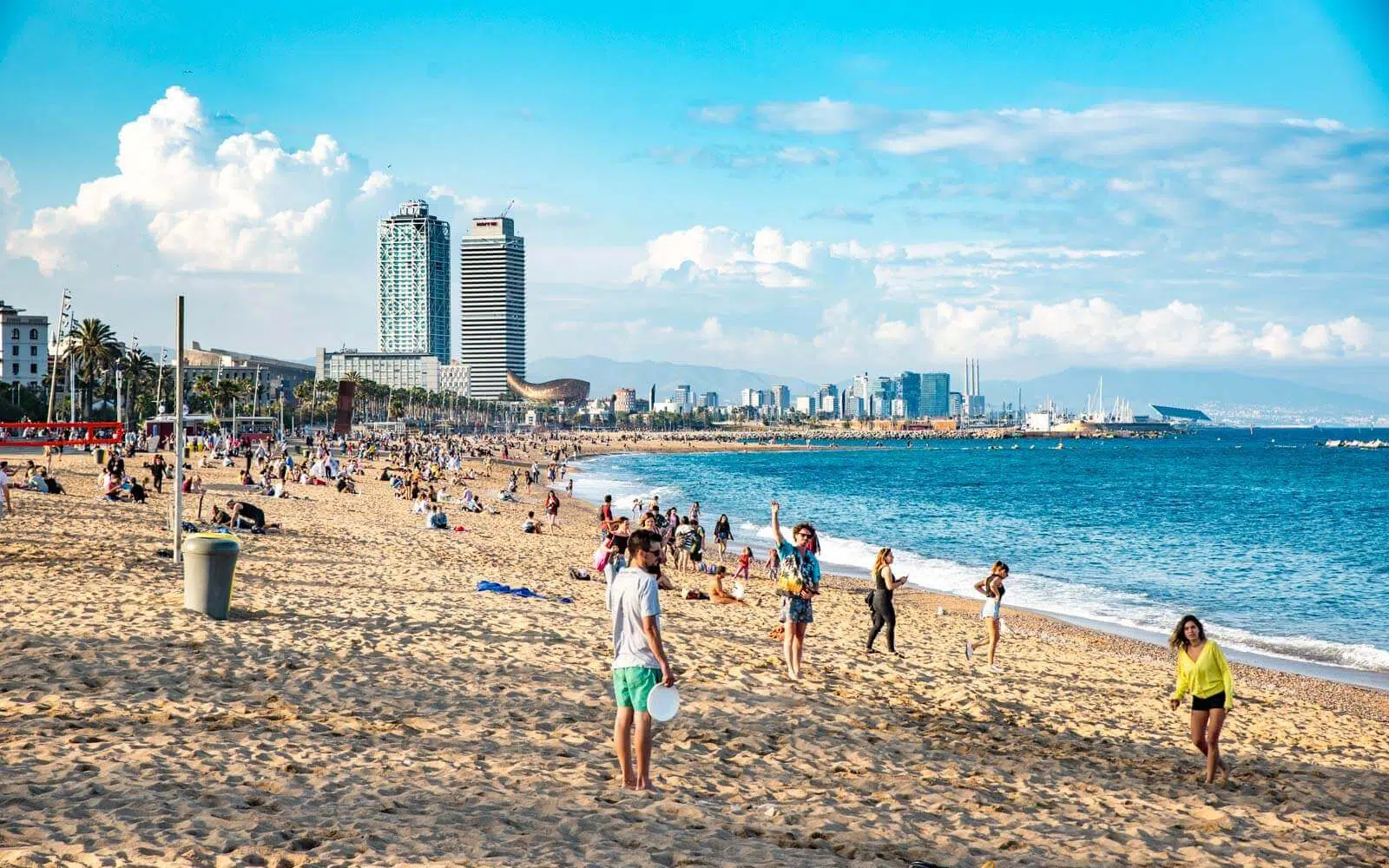 Barcelona Weather in July
Barcelona weather in July is all about sun and hot temperatures.
July Barcelona weather has an average temperature between 24-25 °C (74-77 °F) and it slowly rises to about 26-27 °C (79-81°F) at the end of the month.
Expect 10 hours of daily sunshine and about 2 days of rainfall – a one in 15 chance of getting rained on!
If you're coming to Barcelona in July I suggest you pack light: t-shirts, shorts, flip flops, and maybe a light jacket if you're sensitive to the 'cold' of night or don't want to risk the rain. Sunglasses are a must.
Bad luck with rain? Check my list of top indoor activities in Barcelona.
Barcelona July FAQ
Is July a good time to visit Barcelona?

July in Barcelona is the perfect time to visit. It is arguably the liveliest month of the year with outdoor activities, sporting events, and some epic festivals to take advantage of the sun. That said, it's peak tourist season which means the lines are longer, the transit is more packed, and hotels with air conditioning are a must.

Is Barcelona too hot in July?

Most people find July weather in Barcelona to be just right. With average temperatures between 24-25 °C (74-77 °F) being moderated by the city sea breeze, it's not likely to get into scorching territory. That said, if you don't like highs consistently above 30 °C (86 °F) you'll be out of your comfort zone from mid July onward.

The good news also is that July isn't as humid as August, September, and October.

What is Barcelona like in July?

In July Barcelona locals and tourists alike live the city outside. The city beaches are in full swing with swimming season, countless terraces are filled with people eating tapas and drinking cañas, and open air venues host endless concerts and festivals.

What are some July 2023 festivals in Barcelona?

Festivals in Barcelona in July 2023 include La Festa Mayor de Raval, the Montjuic Outdoor Film Festival, Festival Cruilla, Barcelona Rocks, Festival del Grec, and the Cap Roig Festival.
Visiting Barcelona in July 2023?
If you're still running low on things to do in Barcelona in July make sure you write me in the comments below – I am here to provide any custom advice you need on my adopted city.
Whether you're into Barcelona cultural events, a day trip, free concerts, or anything else I'm ready to pile on the suggestions for July in Barcelona.
Finally, don't be afraid to find out more on what to do in Barcelona in July 2023 using the group I'm Off to Barcelona – here you're free to ask any questions, air out your grievances, chat with fellow travelers and more.
Enjoy my list of Barcelona July events 🙂