Spring in Barcelona: What to Do in Spring 2024 (+ Weather)
As winter's chill fades, Barcelona in spring blossoms with renewed vigour.
The city awakens under a canopy of blooming flowers, while its streets hum with festivals and open-air events.
Let's figure out how to experience spring in Barcelona with my list of epic spring events!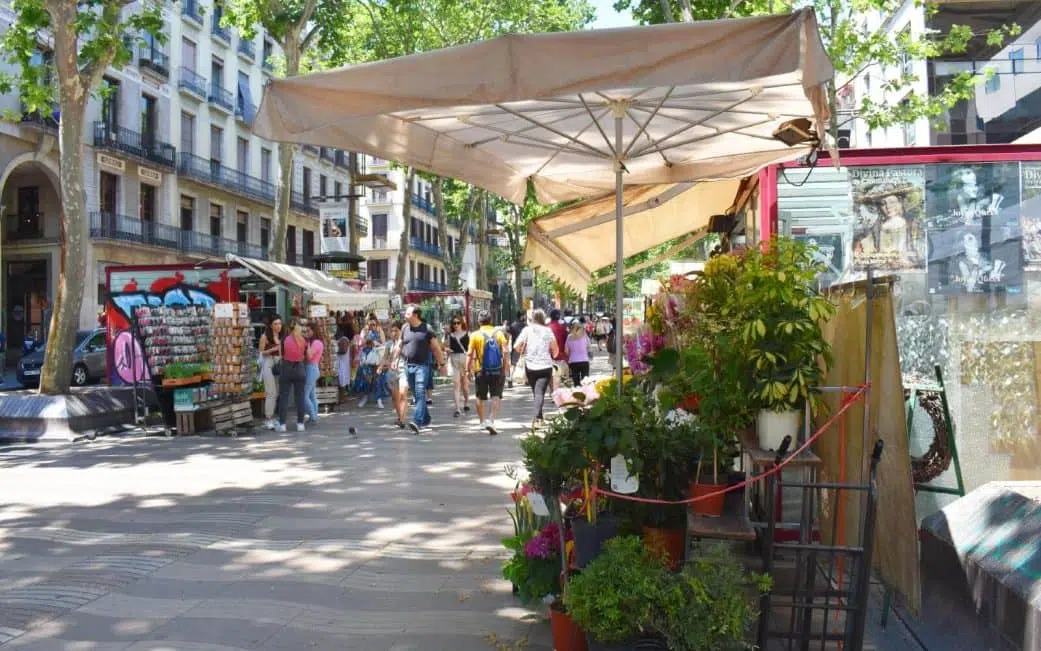 Why Visit Barcelona in Spring?
Barcelona takes on a special allure during the spring season.
You're just bound to get out there into the loud coffee/beer sipping squares, that offer a warm yet calm atmosphere – spending a weekend in Barcelona in spring is a great idea.
Here's a few reasons to visit Barcelona in spring:
Vibrant Festivals and Events: Spring in Barcelona is marked by a plethora of top Barcelona events, from the colorful Festes de Sant Medir to the traditional Easter festivities. It's a time when the city comes alive with celebrations, offering visitors a deep dive into its rich traditions.
Perfect Weather for Exploration: With mild temperatures ranging from the mid-50s to the high 70s, spring provides the ideal climate for outdoor activities. Whether it's strolling along Barcelona's best beaches, exploring Gaudi's architectural wonders, or simply relaxing at a terrace café, the weather is just right.
Blooming Beauty: Springtime sees Barcelona adorned in a vibrant display of blossoms. From the fresh blooms on Montjuic to the tree-lined streets bursting with color, the city transforms into a natural paradise, making it a visual treat for visitors.
Fewer Tourists: Spring sees fewer crowds compared to the peak summer months, allowing for a more relaxed and authentic experience at Barcelona's top attractions.
Culinary Delights: Spring heralds the arrival of fresh produce, leading to delightful dishes. "Calçots" are spring onions grilled over open flames, enjoyed with romesco sauce. "Botifarra amb mongetes" pairs sausage with tender white beans. "Coca de Llardons," a crispy flatbread topped with pork cracklings, celebrates the season's festivities.
⚠️ 

Warning

⚠️

: Barcelona's top two attractions must now be booked in advance.
You can book fast track tickets to both individually or get them as part of a discount pass:
You will not be able to book these tickets on site – lock in your tickets ASAP or you could miss out.
Spring Weather in Barcelona
The spring season in Barcelona is marked by pleasant temperatures, perfect for wandering the city's streets.
While there might be sporadic showers during this time, they don't dampen the adventurous spirit.
March: Barcelona welcomes spring with temperatures ranging from 10°C to 17°C and occasional light showers.
April: As spring progresses, temperatures hover between 12°C to 20°C, with a mix of sunny and rainy days.
May: The city warms up, with temperatures between 15°C to 23°C and fewer rain showers.
Indeed, a gentle drizzle can enhance the city's beauty, rendering landmarks like the Gothic Quarter and Park Güell even more enchanting.
Thinking of another time? Check out my Barcelona winter guide or my post on things to do in Barcelona in autumn.
What to Do in Barcelona in the Spring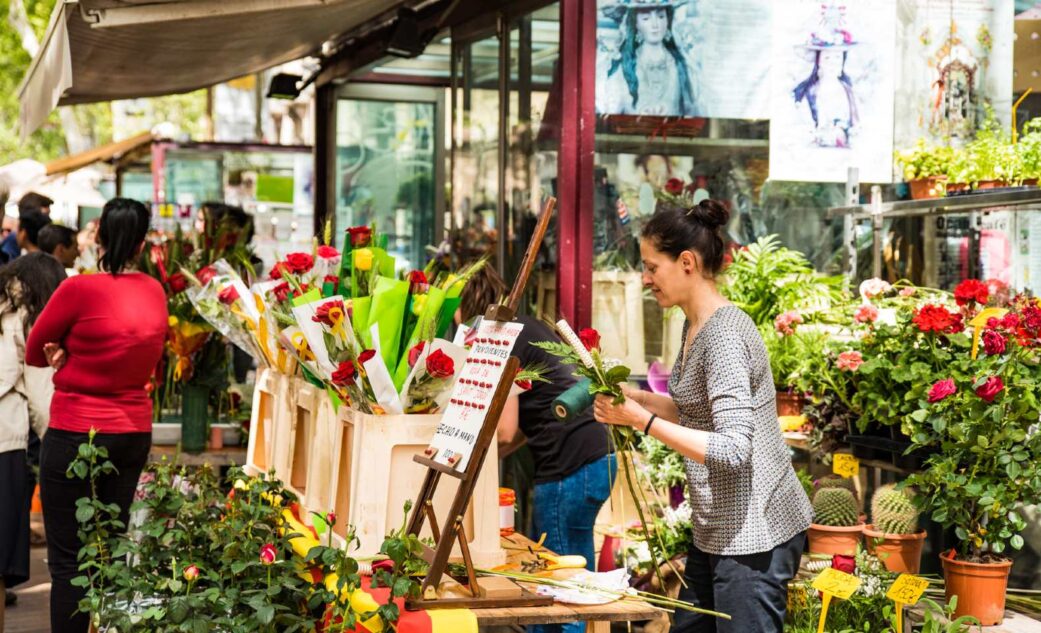 Indulge in Barcelona Spring Traditions
Barcelona in spring is a hub of traditions. Sant Jordi Day (April 23rd, pictured) is akin to Valentine's Day, where lovers exchange roses and books, and the streets brim with stalls and festivities.
Semana Santa (Holy Week) sees processions with ornate floats and traditional garb, marking the lead-up to Easter.
Lastly, Feria de Abril is a vibrant Andalusian festival celebrated in Barcelona, filled with flamenco dancing, colorful tents, and traditional foods, bringing southern Spanish flair to Catalonia.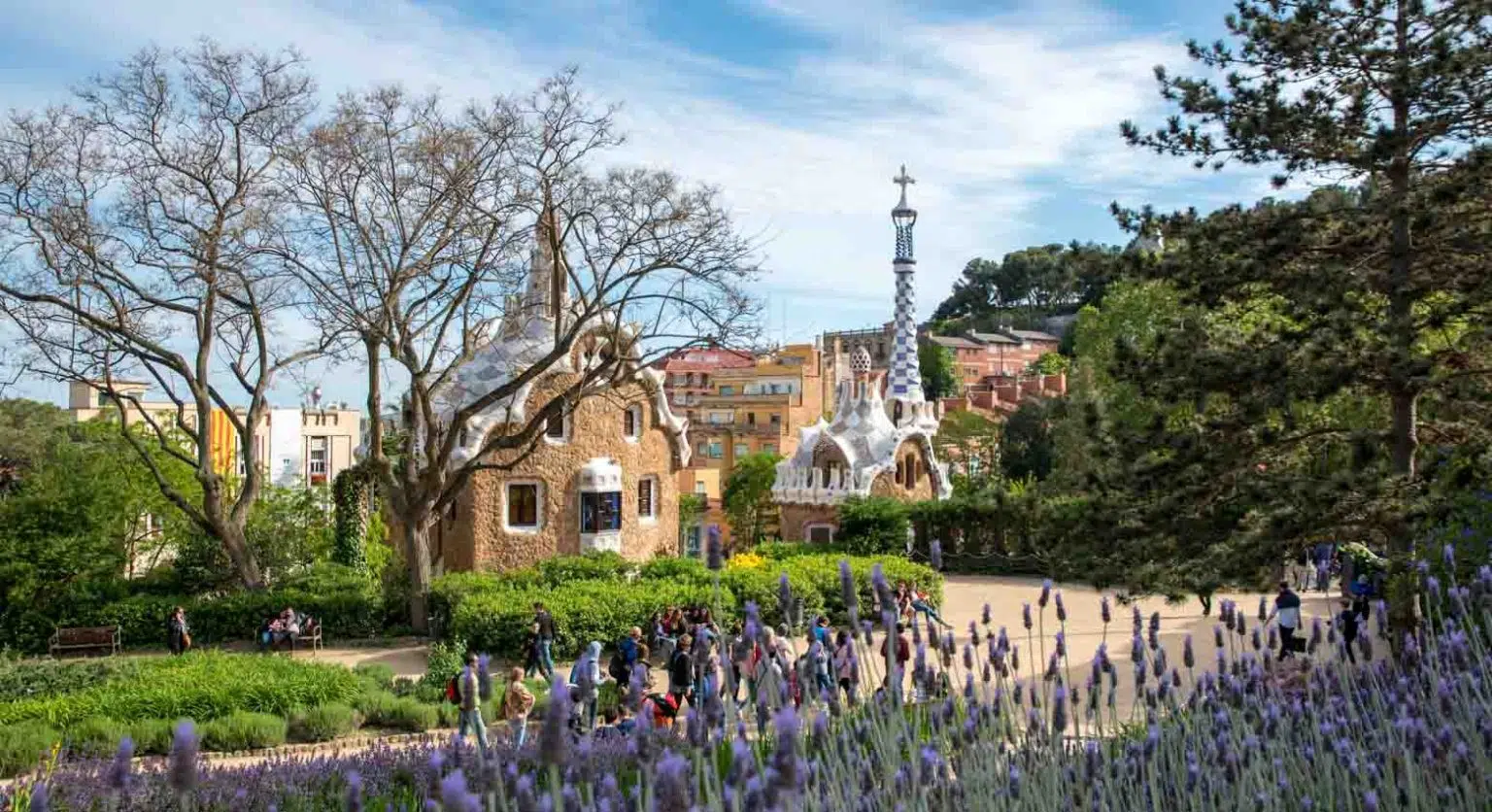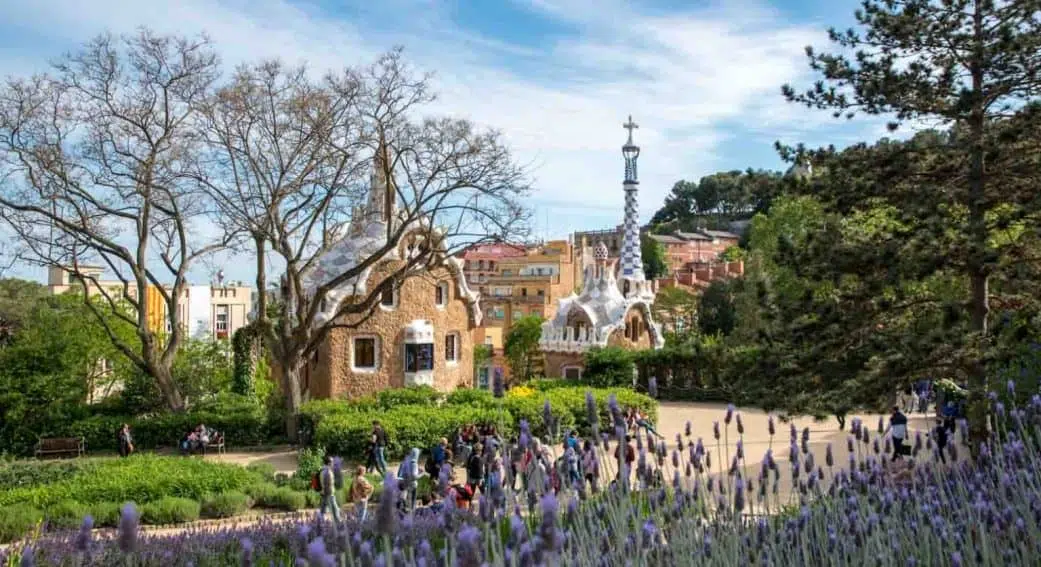 Visit Park Guell
Visiting in Barcelona in spring means getting outdoors – and Europe's best urban park is a great place to start.
In spring, Gaudí's colorful mosaic wonderland Park Guell is adorned with blooming flowers, offering a vibrant backdrop for the architectural marvels.
The mild weather makes wandering its winding paths a delightful experience, and the views of Barcelona are unparalleled.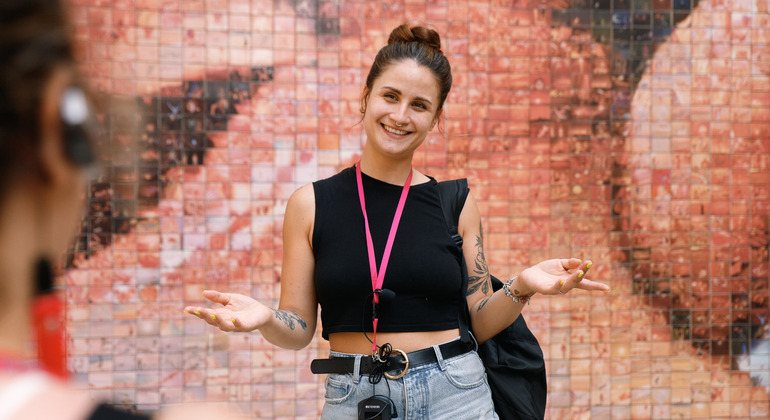 Take a Free Walking Tour of the City
Again, Barcelona in spring is a great time to take off your winter coat and explore on foot – and there's no better way to learn the city than with a free walking tour of Barcelona.
This two hour tour with a licensed guide will unlock city secrets like no guidebook can – and it's free! This is a great way to find Barcelona's hidden gems.
Want something a bit more specific? Check out the best Gaudi tours or the best Barcelona city tours.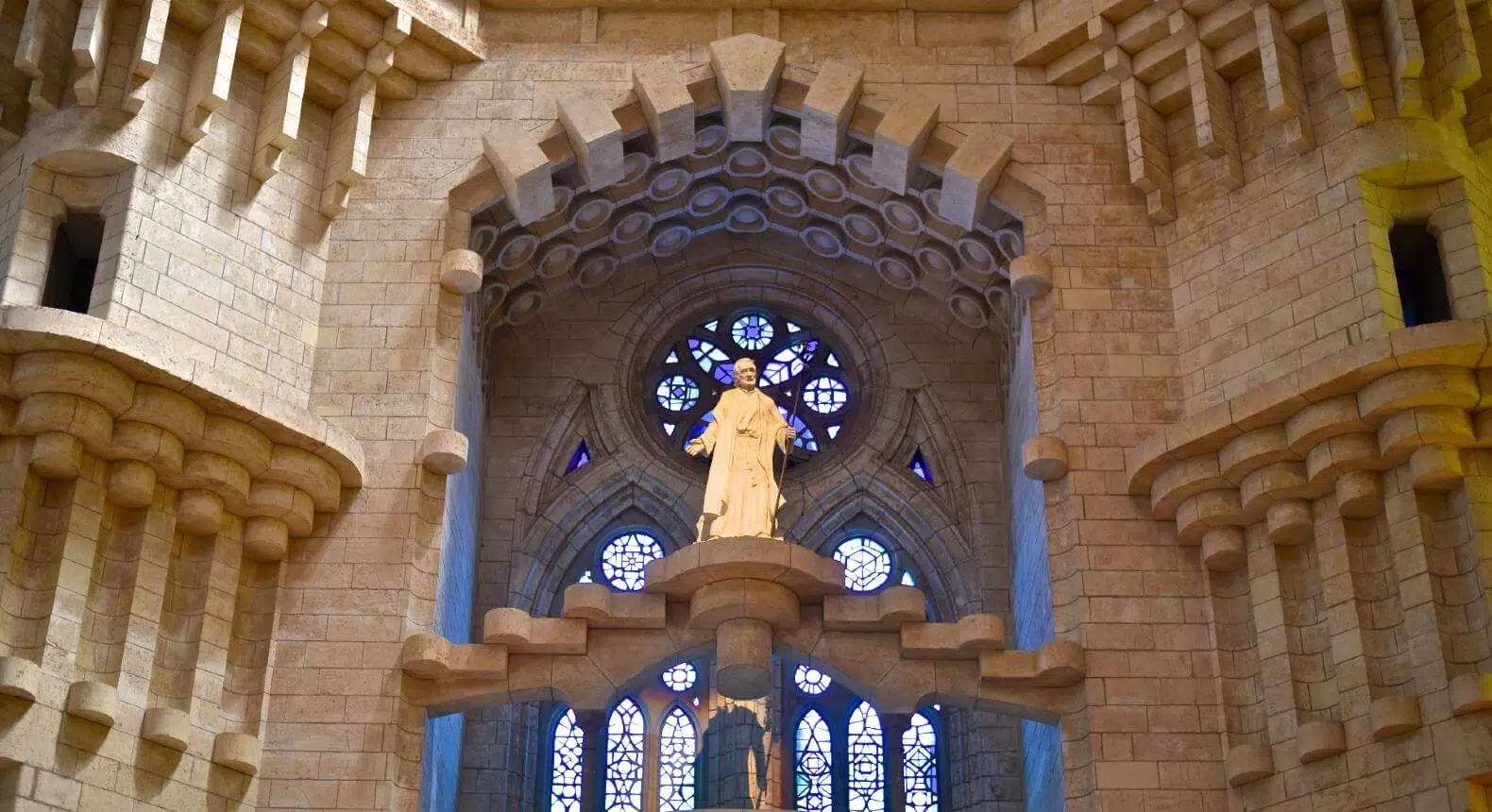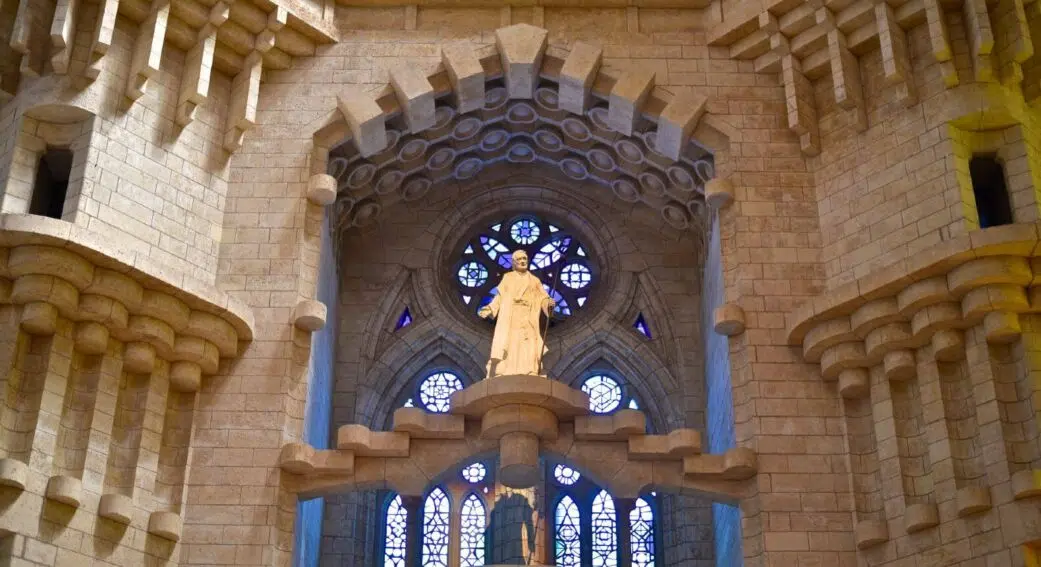 Visit Sagrada Familia in Spring
Every Barcelona itinerary should have it, but going to Sagrada Família in spring offers several advantages.
First of all, it means less tourists, that's a given. But you'll also experience Gaudí's masterpiece bathed in a soft, natural light, highlighting its intricate details.
Additionally, the surrounding gardens burst into bloom, adding a vibrant backdrop to this architectural wonder.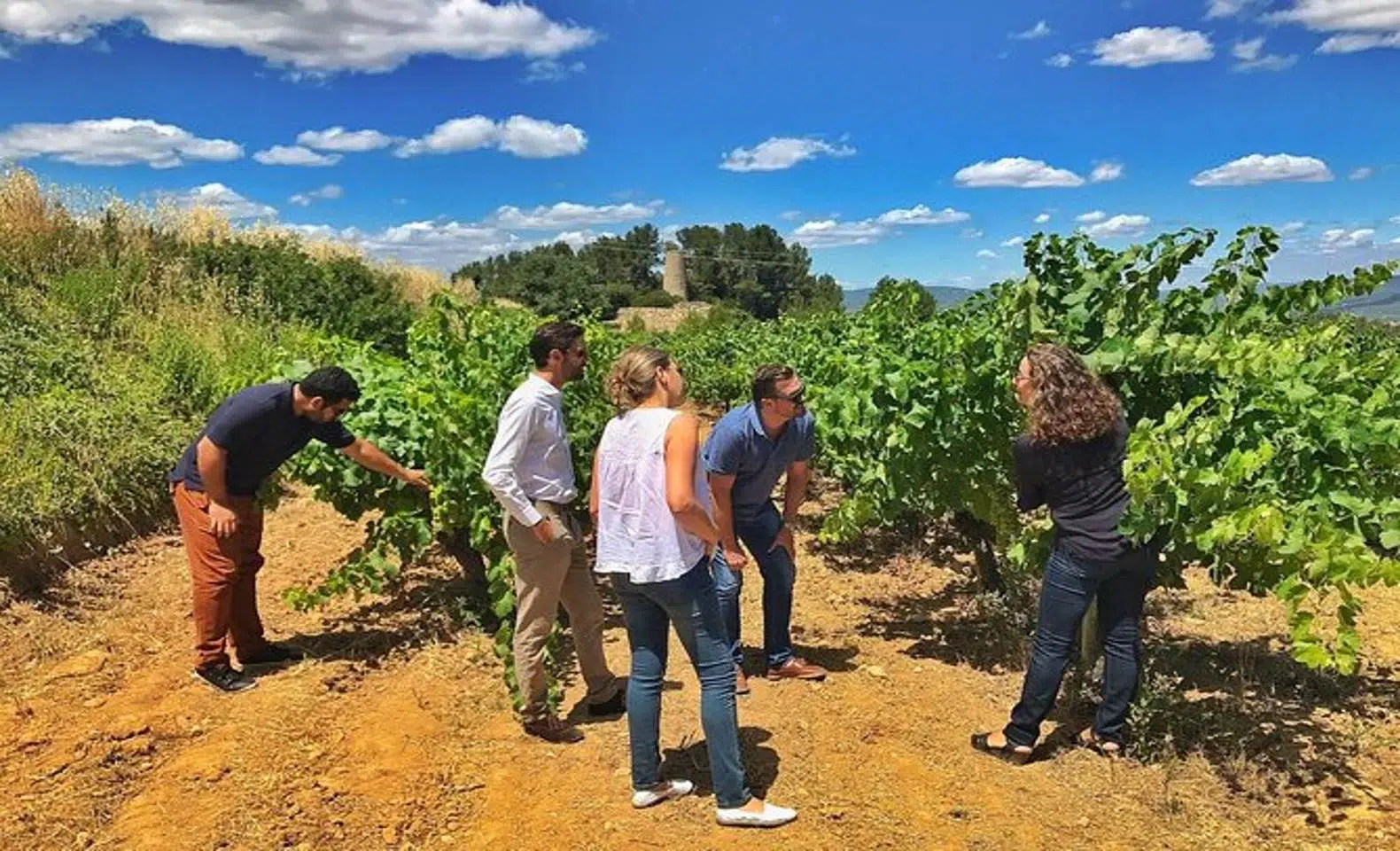 Go on an Spring Wine Tour in Bloom Season
Spring in Barcelona means witnessing budding vines, enjoying mild weather, and experiencing the start of the wine-making season.
In fact, just outside Barcelona, you'll find some of the country's finest varieties:
Penedès – Celebrated for its Cava, Spain's counterpart to champagne, offering the same quality at a fraction of the cost.
Priorat – One of only two Spanish wine regions boasting DOC status, renowned for rich reds like Garnacha and Cariñena.
Empordà – A rising star in the wine world, recognized for both its exceptional reds and whites.
For travelers with mobility concerns: Barcelona's top wine tours offer convenient city pickups, ensuring a seamless journey through the vineyards.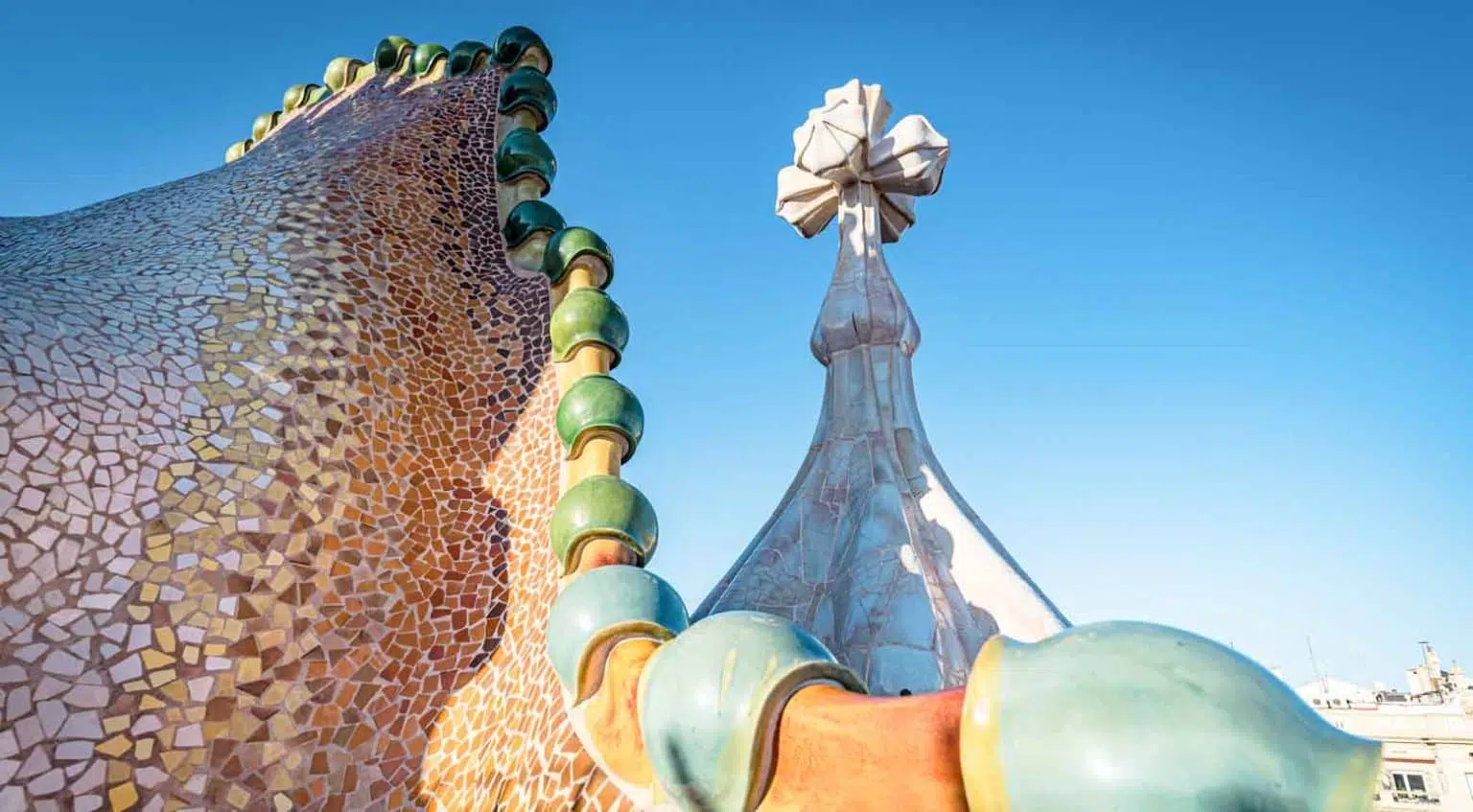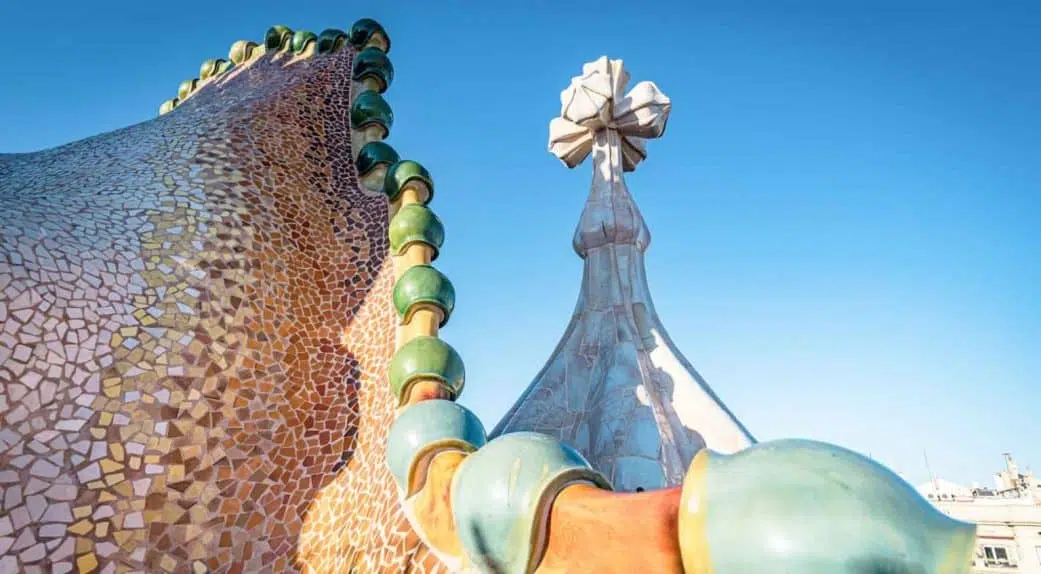 See Gaudi's Masterpieces in the New Spring Light
While Sagrada Familia is in its own league, the other architectural wonders of Barcelona also become more enchanting during the spring.
The soft, diffused light accentuates the intricate details of structures like La Pedrera and Casa Batlló unlike any other time.
Antoni Gaudí's masterpieces, in particular, take on a new dimension: the mosaics, sculptures, and stained glass windows really light up in the spring.
Spring Culinary Adventures
Barcelona's culinary scene is a reflection of its rich cultural tapestry, and during the spring it embraces the season with open arms.
Going to Barcelona's best paella restaurants and trying spring varieties (like the one with wild mushrooms) is a good start.
At Barcelona tapas restaurants though you should be getting:
Espárragos Blancos con Vinagreta: White asparagus with vinaigrette. Spring heralds the arrival of tender white asparagus, which is often served chilled with a tangy vinaigrette or mayonnaise.
Habas a la Catalana: Catalan-style broad beans. This dish combines fresh broad beans of spring with butifarra (Catalan sausage), garlic, and sometimes mint, showcasing the season's fresh produce.
Calçots con Romesco: Calçots (pictured) are spring onions native to Catalonia. They're grilled over an open flame and served with Romesco sauce, a nut and red pepper-based sauce. The tradition of the "Calçotada" involves eating these onions in large gatherings, celebrating the onset of spring.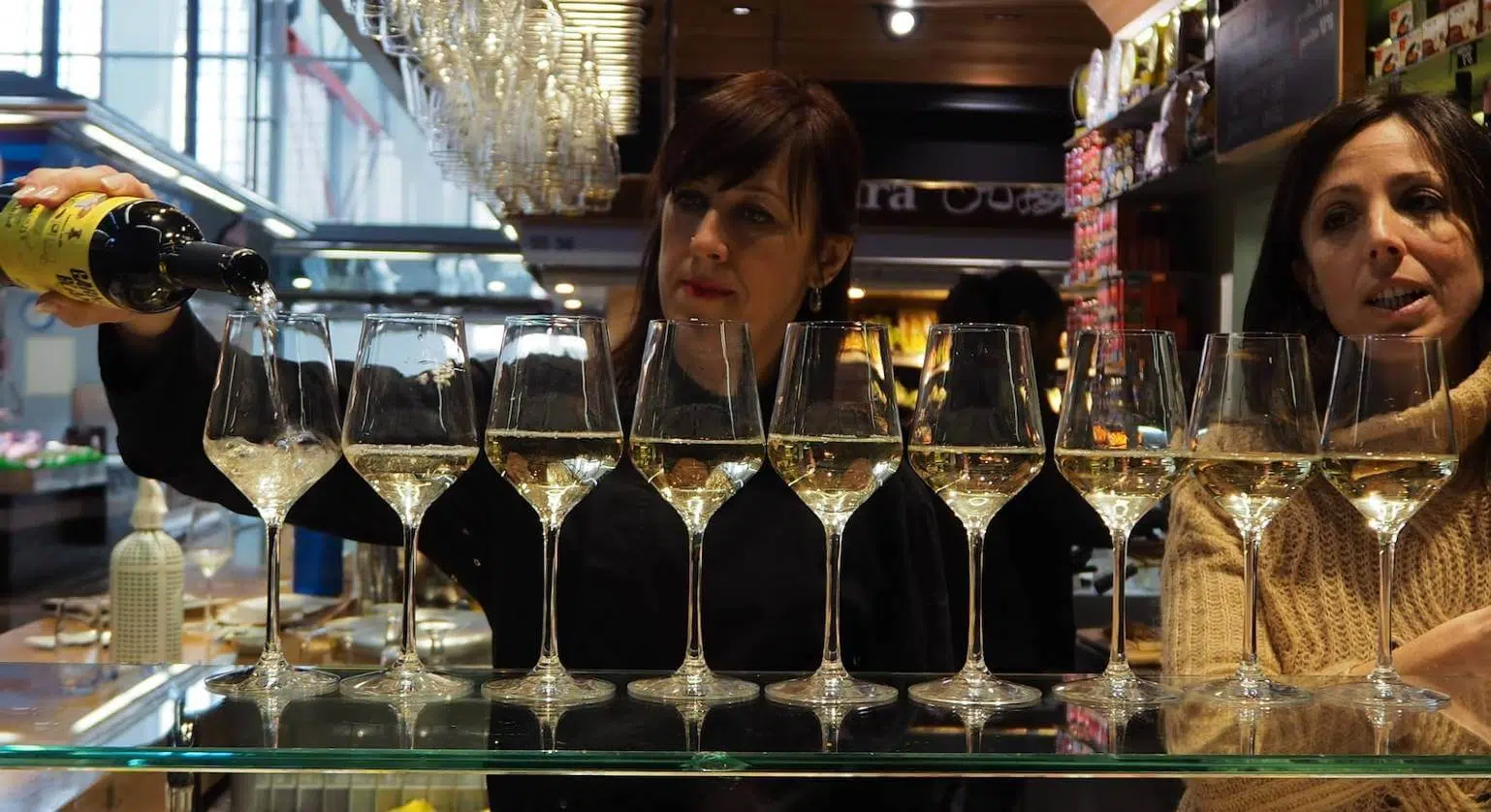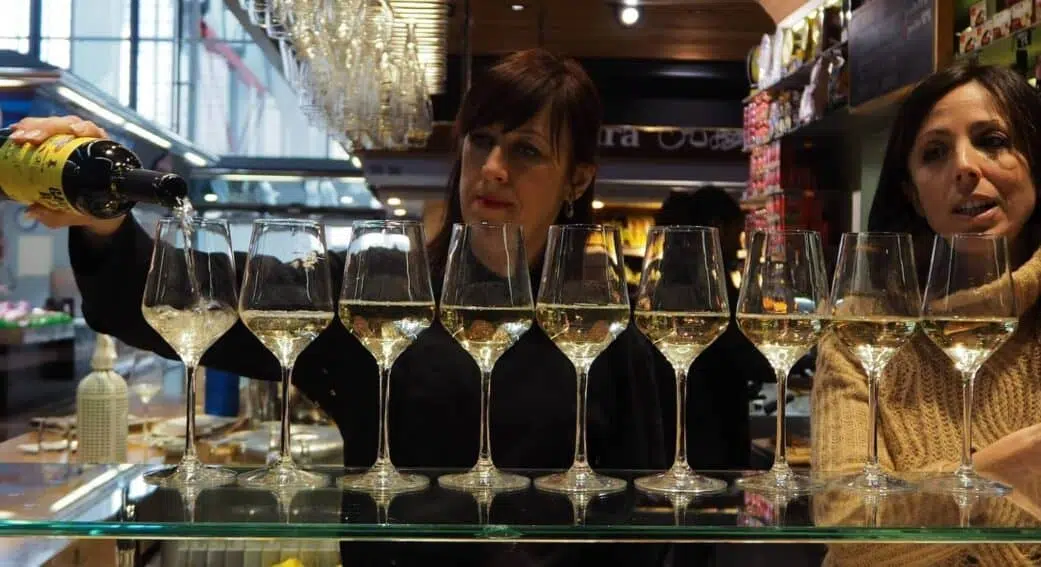 Go on a Barcelona Food Tour
Speaking of food, in spring it just makes sense to embark on a gastronomic journey with the best food tours in Barcelona.
Navigating the vibrant streets of Catalonia's capital, and dipping into top tapas restaurants for traditional treats, provides a great way to learn the city and fill your stomach.
And yes, there's an abundance of free-flowing wine to savour! Click the button below for more info on my favourite: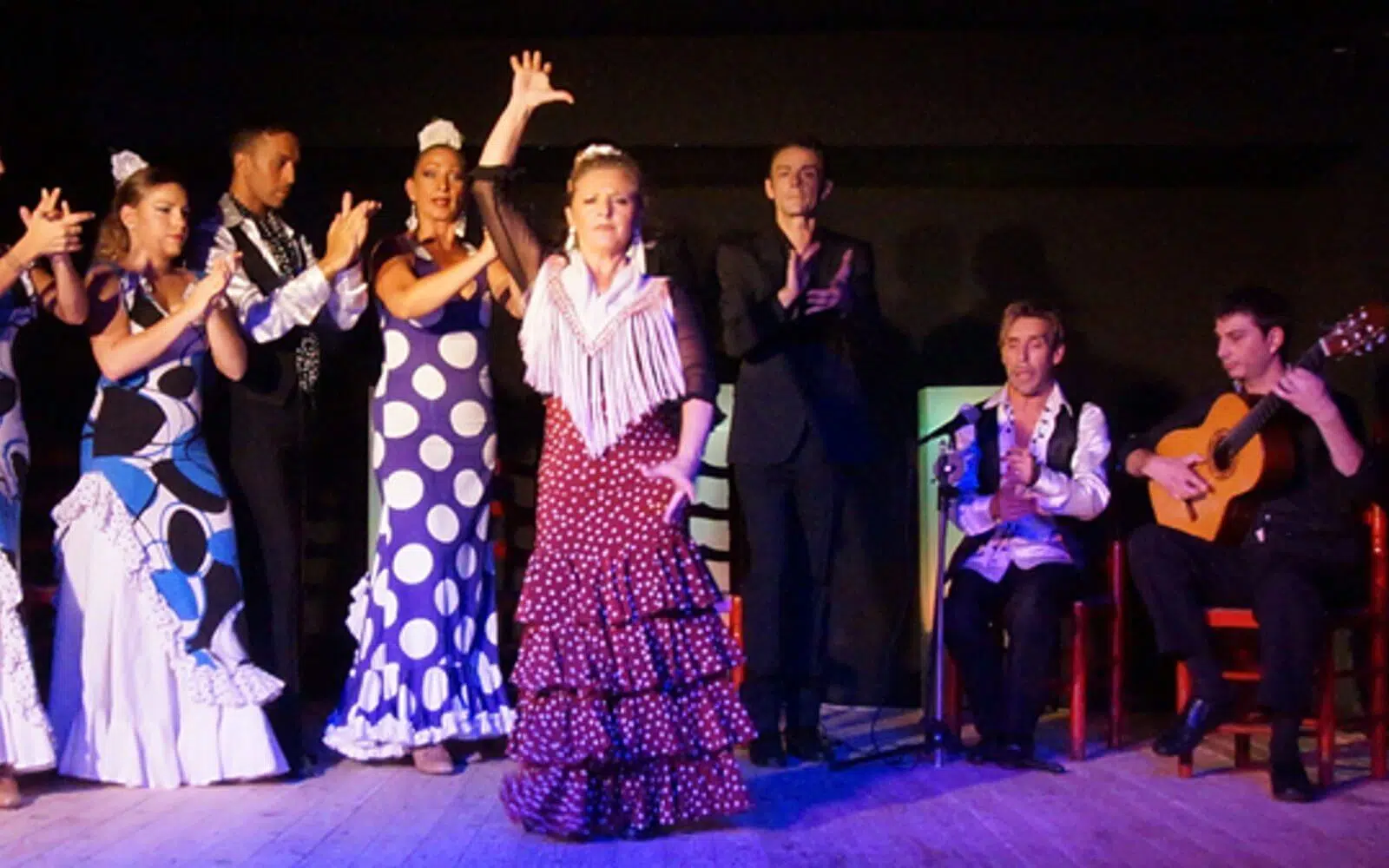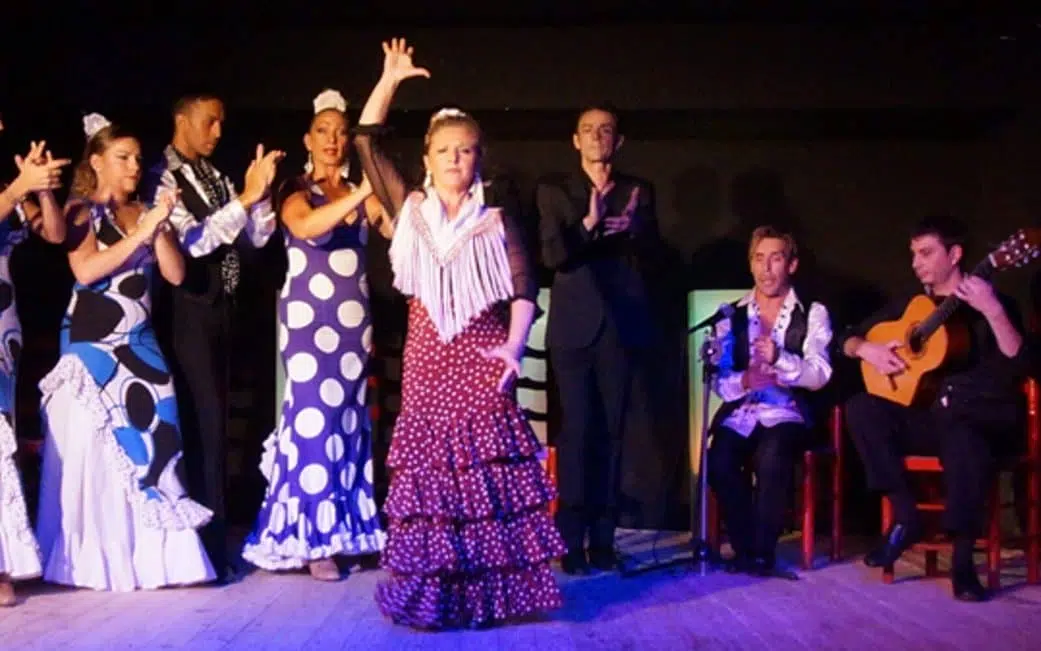 Check out a Flamenco Show
Flamenco, with its passionate rhythms and soulful melodies, is a quintessential Spanish experience.
During the spring, Barcelona's best flamenco bars offer intimate performances with smaller crowds, allowing visitors to experience the dance form in its purest essence.
This is one of the great indoor activities in Barcelona, and one of the best spring activities indoors – on the odd day it rains.
Tablao Cordobes is my favourite, and you can get more info clicking the button below: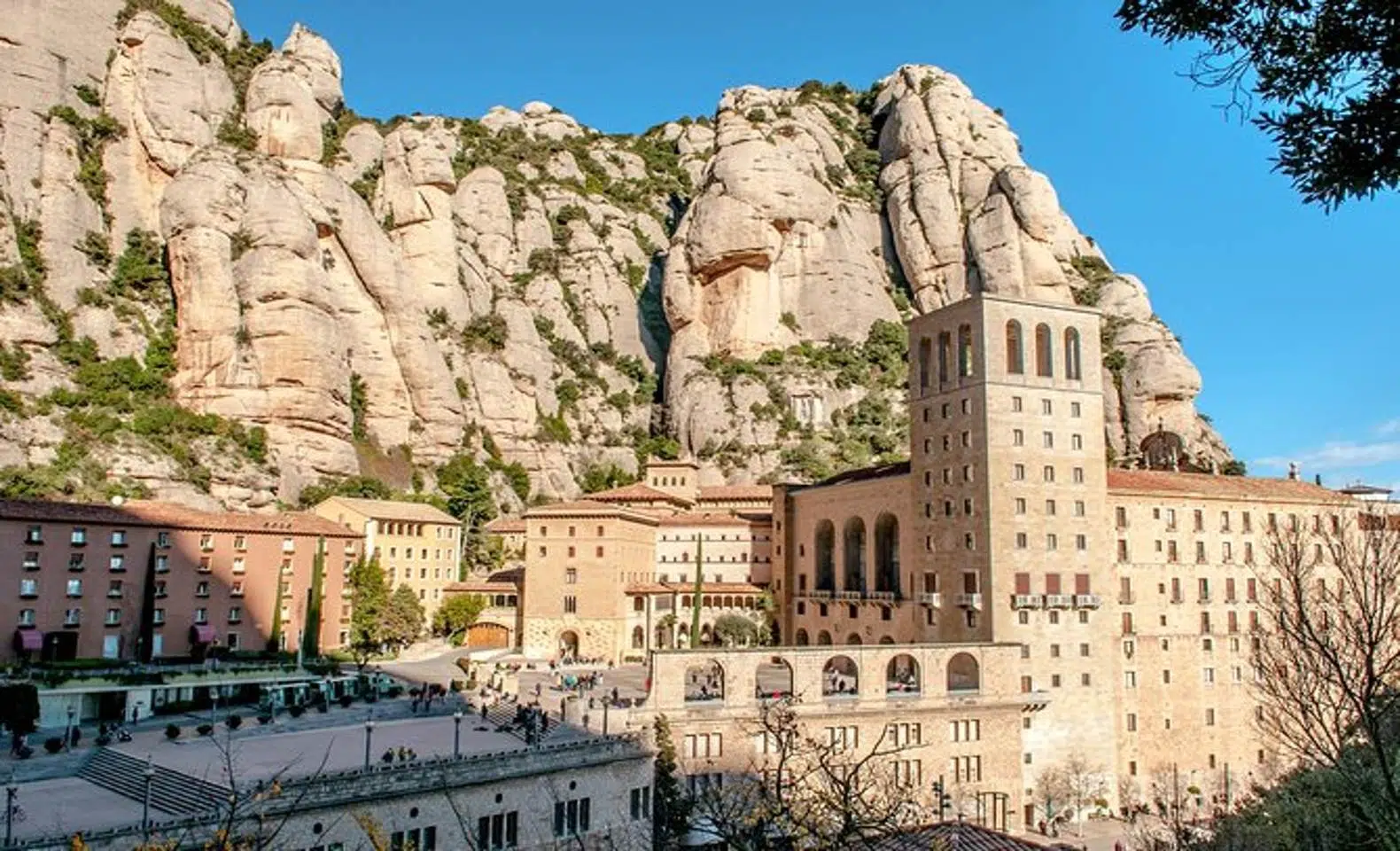 Day Excursions Perfect for the Barcelona Spring
While the city itself has plenty to offer, the spring season is also an ideal time for day trips from Barcelona.
The Montserrat Monastery (pictured), located atop a serrated-edge mountain, offers breathtaking views amidst the warming temperatures.
The medieval town of Girona, with its cobblestone streets and historic buildings, is another must-visit. For art enthusiasts, the Dali Theatre Museum in Figueres offers a deep dive into Salvador Dali's surreal world.
Visiting Barcelona for a week or more? Day trips should be weaved into your itinerary.
Related: Best Museums in Barcelona
Barcelona Spring Events
Sant Jordi Festival: A Catalan celebration that combines the charm of Valentine's Day with World Book Day. On April 23rd, Barcelona streets burst with stalls selling roses and books. Traditionally, men gift roses to women, and women gift books to men, turning the city into a colorful and literary romantic hub.
Barcelona Beer Festival: An ode to craft beer enthusiasts, the Barcelona Beer Festival showcases over 650 beer varieties from global brewers. Held May 26-30th 2024, it's not just about beer tasting; there are workshops, food pairings, and live music, making it a holistic experience.
Primavera Sound Festival: One of Europe's most acclaimed music festivals, Primavera Sound kicks off the summer festival season on May 30th, 2024. Located by the beach, it features a diverse lineup from indie rock to electronic. With its unique setting and top-tier artists, it's a must-visit for music lovers.
Feria de Abril: Experience Andalusia in Barcelona with this vibrant festival. For a week, the city is adorned with traditional casetas (tents), where people dance flamenco, dress in colorful Andalusian outfits, and enjoy regional foods. It's a cultural immersion, bringing southern Spanish flair to Barcelona.
L'Ou com Balla: A quirky tradition dating back to the 16th century, the Dancing Egg is celebrated on Corpus Christi day. Eggs are placed on fountains across the city, where they "dance" atop water jets. Coupled with processions and floral carpets, it's a unique spectacle symbolizing life and rebirth.
Visiting Barcelona in the Spring FAQ
What to do in Barcelona in the spring?

In the spring in Barcelona you can check out the Sant Jordi Festival, get outside by visiting Montserrat or Park Guell, take walking tours under the Spanish sun, attend the Fiesta de Abril, or try traditional foods like calcots.

What to wear in Barcelona during the spring?

In Barcelona in spring, layering is key. Start with a light shirt or blouse, paired with a medium-weight jacket or cardigan for cooler mornings and evenings. Comfortable walking shoes are essential for exploring the city.

As temperatures rise, you might opt for light dresses or shorts. Always carry a light scarf or shawl, and don't forget sunglasses and a hat for sunnier days.

What is the weather like in Barcelona in spring?

Barcelona's spring boasts mild and pleasant temperatures, gradually warming from March to May. While March may see occasional showers, by May, the city enjoys more consistent sunshine. Temperatures range from 12°C to 20°C, with nights cooler.

The season offers a refreshing blend of sunny days and occasional rain, making it an ideal time to explore the city's vibrant streets and outdoor attractions.
Ready for the Spring in Barcelona?
Barcelona in spring is a great time to get outdoors and explore the city's nature and architecture.
That said, it's never easy figuring out how to visit Barcelona in spring so don't be afraid to write me for custom advice below!
Enjoy Barcelona in spring 🍂