7 Best Antoni Gaudi Buildings in Barcelona + Biography
We can understand a lot about the top Antoni Gaudí buildings in Barcelona with one quote:
Those who look to the laws of nature as support for new works collaborate with the creator.
It'll be impossible to get it out of your head as you experience Gaudí's style, a unique blend of Catalan modernism and madness, that not only defined a man but an entire city as well.
Let's take a look at the most famous Antoni Gaudi buildings and learn a bit about the man behind the madness.
Who is Antoni Gaudí?
Antoni Gaudi was born in Reus in 1852 to a family of copper smiths.
Gaudi watched his father and grandfather work with metals in their family laboratory from a young age as they made many essential daily tools. This would lay the foundation of his craftiness.
⚠️ 

Warning

⚠️

: Barcelona's top two attractions must now be booked in advance.
You can book fast track tickets to both individually or get them as part of a discount pass:
You will not be able to book these tickets on site – lock in your tickets ASAP or you could miss out.
The young architect to be developed a great appreciation of nature wandering around the family summer home and going on outings with outdoor club the Centre Excursionista de Catalunya.
Young Gaudí and Early Education
At 17 Gaudi moved to Barcelona to study architecture at the Provincial School of Architecture.
He emerged right away as someone with great manual ability, distinctive style, excellent mathematical calculations, and an acute sense of observation.
During those years a maturity began to arise which lead to the innovative character that would define him not only as an architect, but as an avant guard artist.
🏙️ Wanna see Gaudi's works with a licensed guide?: Consider booking one of the best Barcelona city tours.
Antoni Gaudi's Work
For having being almost too ahead of his time there were even some teachers who criticized his unorthodox methods – and if not for a few trusting industrialists he may have never got his shot.
Gaudi was commissioned to build some of Barcelona's most exciting attractions. Over the years the once-doubted fringe architect would build famous buildings accruing 7 UNESCO World Heritage Sites in the process.
You won't be visiting Barcelona properly if you don't check out at least a few of Gaudí's buildings.
The 7 Best Antoni Gaudi Buildings in Barcelona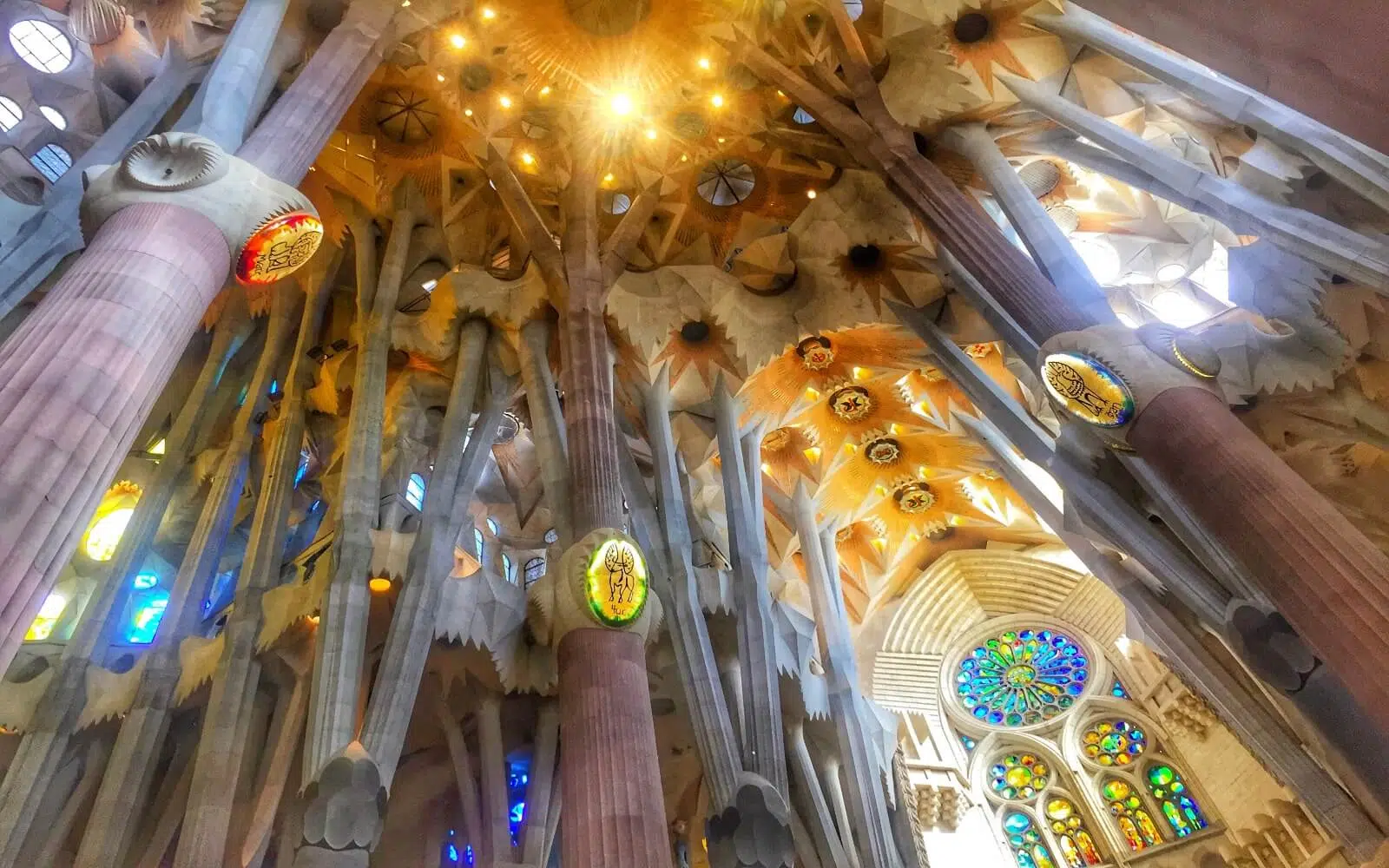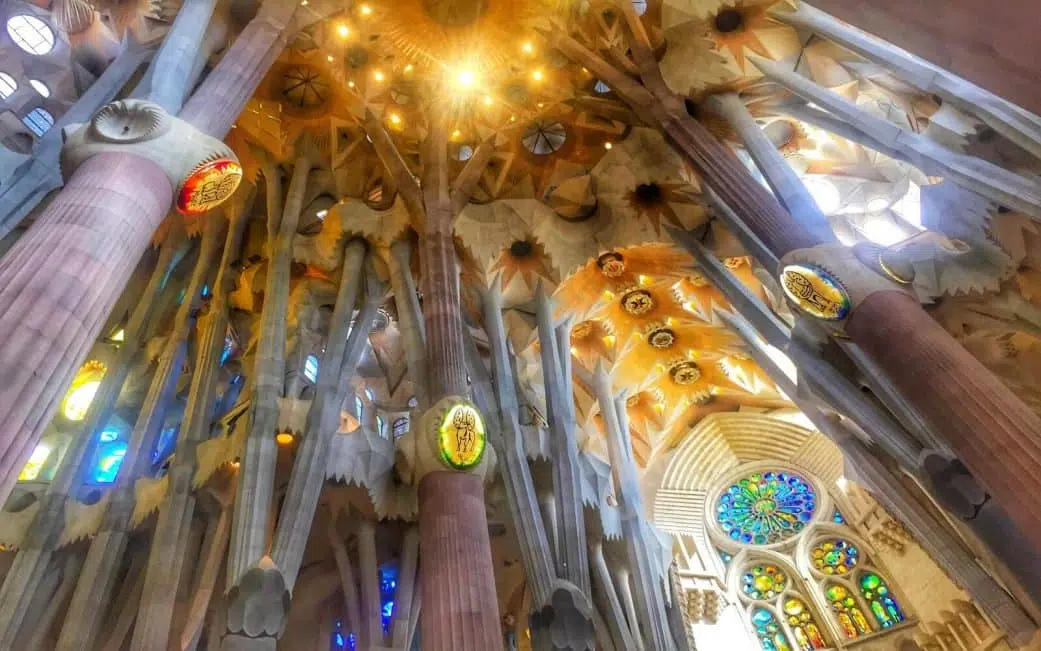 La Sagrada Familia
Area: Eixample | Carrer de Mallorca 401 | Metro: Sagrada Familia (purple line, yellow line)
Gaudi worked on the Sagrada Familia church from 1891 until his death in 1926: that's 35 years of construction. In fact, Gaudi was very conscious of the fact that the art nouveau church would never be completed while he was alive.
As people hounded him about the completion date of the 'Gaudi cathedral' he'd famously quip:
My client isn't in a hurry, God has all the time in the world.
The Basílica i Temple Expiatori de la Sagrada Família has been thought of by many famous critics not only to be a work in progress, but something that should deliberately never come to a finish.
The constant building and work on the world's most spectacular basilica would show the ultimate devotion to god, much more than a completed building standing tall with little or no effort to carry it forward.
Just look at those stained glass windows – consider guided tours of Sagrada Familia for the full effect.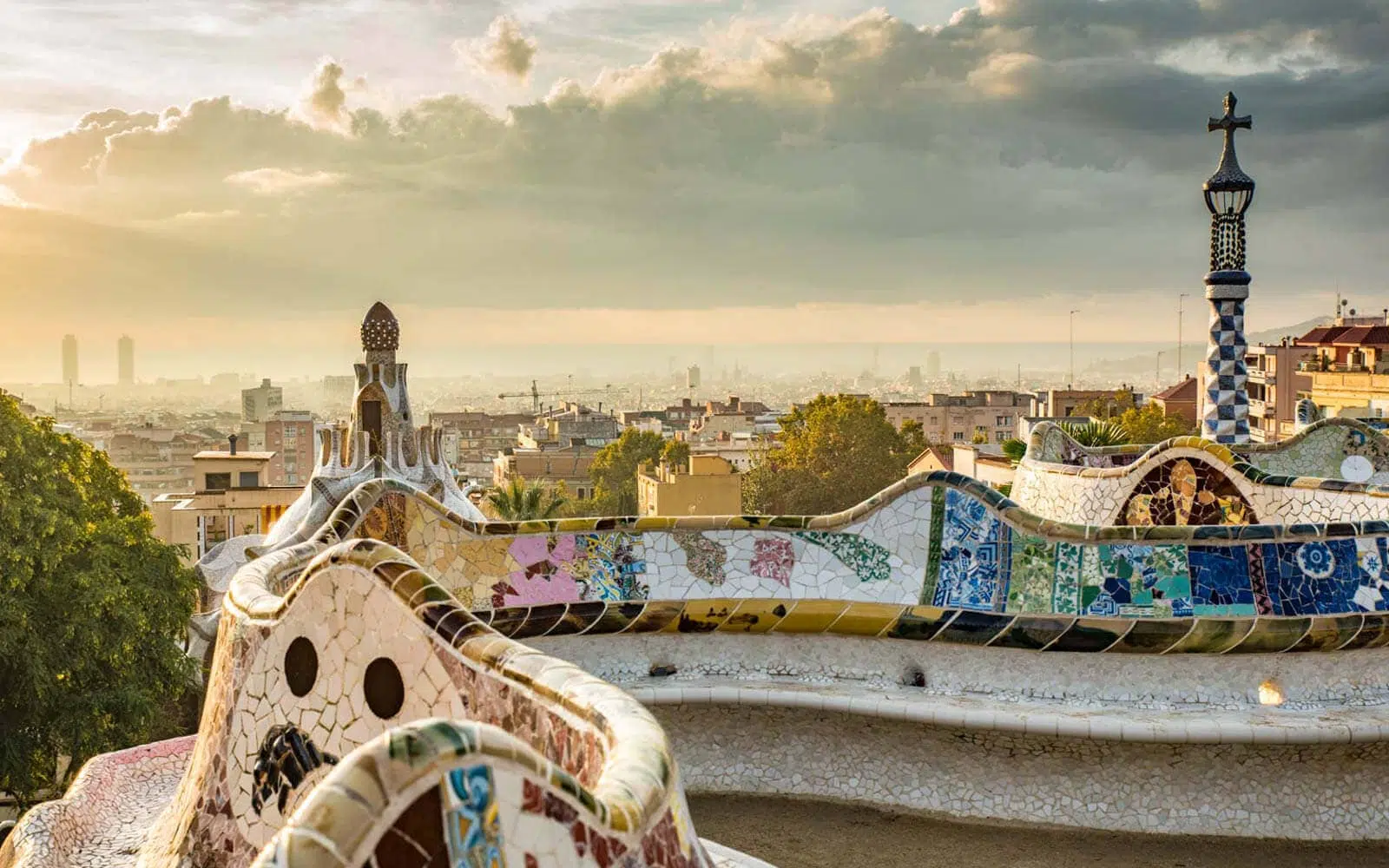 Park Güell
Area: Gracia | 08024 Barcelona, Spain | Metro: Diagonal (yellow line)
Let's imagine a rich industrialist, in this case Eusebi Guell, buying a prime plot of land over the city and giving a blank cheque to Gaudi to create a Utopian neigbourhood in the middle of a park.
Nothing is invented, for it's written in nature first.
This spectacular urban park was originally intended to have 70 luxury homes across 13 city blocks of property: only three were built. What remains is glorious communal area surrounding Nature Square, home to the famous trencadis-speckled benches with the best city view in Europe.
The twin-flight dragon staircases, ginger bread house-like porter's lodge, 86 columns of the tree-root-like Doric Temple, and the mosaic salamander are other nature-inspired jaw-droppers in this parky paradise.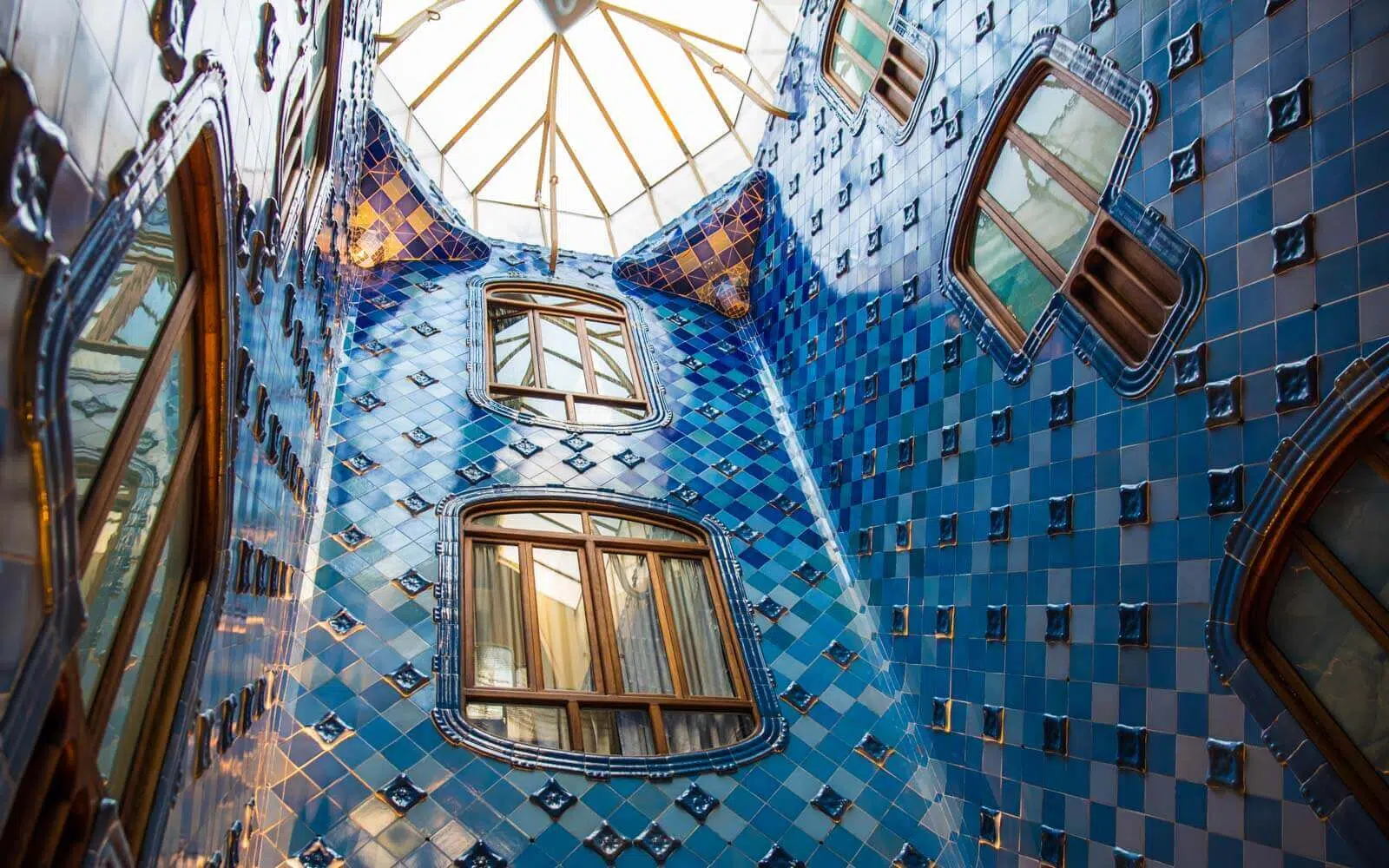 Casa Batlló
Area: Eixample | Passeig de Gracia 43 | Metro: Passeig de Gracia (purple, yellow, green lines)
When textile industrialist Josep Batlló bought a 'fixer upper' on Barcelona's most luxurious street in the ritzy Eixample district you can imagine who he contacted to create the most creative and audacious house on the block.
The result is a 32 metre high ode to nature that some call 'the Dragon House'.
Barcelona architecture does not get better than this.
A prime example of Gaudi architecture. Look at the facade of the house and see its jaw-bone balconies coming to life. The dragon's back rooftop stupifies while the marine-inspired light well (in cover photo) dazzles and brings the whole house to life.
Nothing is art if it does not come from nature.
And from nature it did come. Gaudi designed every detail of the house down to the ergonomic doorknobs, mushroom-shaped furnaces, and radiators inspired by tropical fish.
Casa Milà (La Pedrera)
Area: Eixample | Passeig de Gracia 92 | Metro: Passeig de Gracia (purple, yellow, green lines)
La Pedrera, another Antoni Gaudí apartment block on Passeig de Gracia looks like wobbling jell-o, owing to the architect's refusal to use straight lines, and is known to locals as La Pedrera ('Stone Quarry').
There are no straight lines or corners in nature, therefore buildings must have no straight lines or corners.
Stand outside and see for yourself: the building really is a constant curve. From the air it's actually an asymmetrical 8 with a self-supporting limestone facade wrapped around two luminous courtyards.
Best of all? La Pedrera's roof terrace and its haunting chimney stacks that look a bit like storm troopers standing on guard. It's known as the Garden of Warriors.
The whale-skeleton-like attic made up of 270 parabolic arches is another favourite.
Casa Vicens
Area: Eixample | Carrer de les Carolines, 20-26 | Metro: Fontana (green line)
It's 1888 and Antoni Gaudí is just 5 years removed from school, when he gets his big break from big boy stockbroker Manuel Vicens i Montaner to build a summer chalet.
The result? A fairy tale in building form. Seeing the mosaic facade, contrasted with an almost prison-like set of bars on the windows, is a unique look into where Catalan modernism was at the time.
The inside gets decidedly more exotic, with an oriental-style interior garden, a Turkish-style smoking room, and a living room with an overhead dome painting of the sky that'll blow your mind.
This Gaudi building was closed to the public until 2017, but it's now open for visits.
The Crypt at Colonia Guell
The aforementioned industrialist Eusebio Guell funded this purpose-built industrial village to house the factory workers in the vicinity of his new textile mill.
The idea was to give workers life-improving amenities, a theater, a school, shops, and a five minute commute! And who would be commissioned to design the church? Gaudi, of course. And so the other Antoni Gaudí church is born.
The creation continues incessantly through the media of man.
This was Antoni Gaudi's first big project and you see his genius in every corner of the church from the emblematic catenary arches to the broken mosaics to the parabolic outer walls.
Unfortunately the church ran out of funding and so only the crypt was completed.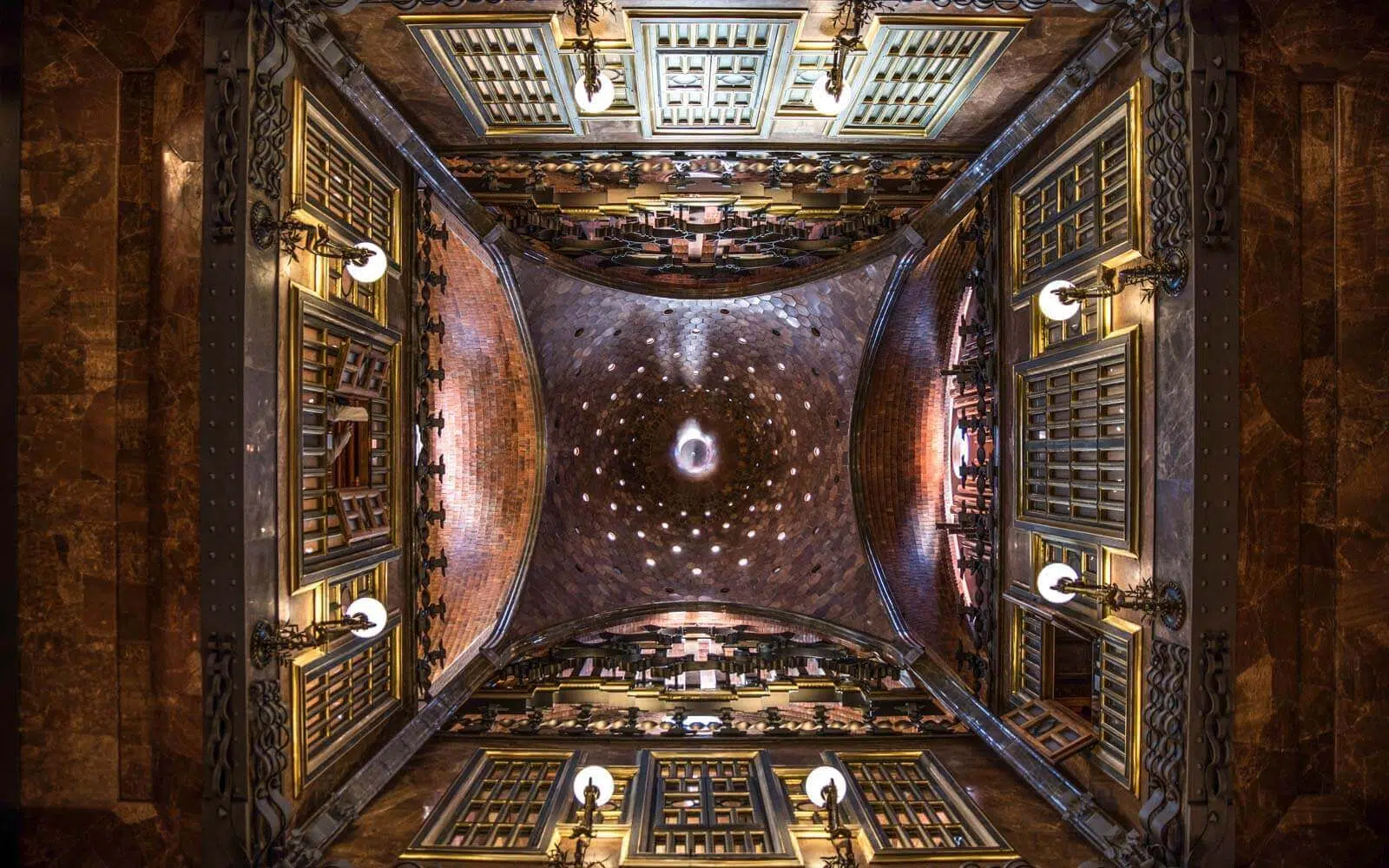 Palau Guell
Eusebi Guell was again protagonist in this early Antoni Gaudi building in the Raval neighbourhood of Barcelona. The art nouveau mansion was built for the purpose of not only living but entertaining guests of Barcelona high society.
You'll see the prestige right away with the decorative iron gates made to welcome horse carriages – Gaudí created the parabolic arch with a combination of steel forged into a horsewhip and interestingly, seaweed.
Anything created by human beings is already in the great book of nature.
The highlight is the main party room and its holed ceilings that held lanterns that would mimic a star-spangled night sky. Film buffs may recognize the building as it was used in Antonioni's The Passenger starring Jack Nicholson and Maria Schneider.
Antoni Gaudí's Death
It was June 7th 1926, just after six o'clock in the afternoon.
Gaudi was walking, presumably deep in thought, away from the Sagrada Familia and towards the church of Sant Felip Neri. This was a daily routine of sorts where he would unwind praying and confessing with Father Mas.
He crossed the street, perhaps without paying too much attention, a was hit by one of Barcelona's old school trams. The driver immediately got out, without recognising the legendary architect due to his lack of documents and shoddy appearance, and mistook him for a homeless man.
He simply dragged Gaudí to the side of the road, abandoned him, re-boarded the tram, and drove away.
Countless passersby stepped over the city's greatest gift to the world without even recognising him. When help was finally called Gaudi was taken to Santa Creu Hospital where Gaudí died on June 10th 1926.
Even after Gaudi had been found out, he still refused to be transported to a high end hospital for the rich. He preferred to die among the common folk. After all, his only task was to prepare himself for his imminent meeting with god, the only architect who could ever outdo him!
On June 12th the funeral was held.
The whole city took the streets to pay their respects to the main who would later be called the interpreter of the Catalan people. Gaudi was embalmed, dressed as a monk, and given a rosary in his left hand.
He was interred in the crypt at the Sagrada Familia, where Gaudí dedicated the last years of his life.
🧑‍🎨 Want more of Gaudi? Unlock his masterpieces with the top Gaudi tours in Barcelona.
Related: How Many Days Should I Stay in Barcelona?
Antoni Gaudi Attractions Map
Looking to visit the best Antoni Gaudi buildings in Barcelona? Here's a map to help you get around.
🚌 Visiting Gaudi attractions? Make sure you know how to get around Barcelona on public transport first.
Looking for More info on Antoni Gaudi Buildings?
If you still don't have a grip on any of these best Antoni Gaudi buildings in Barcelona and need some more info, don't be afraid to ask me in the comment section below.
Also, any comments you have that could help improve this resource would be greatly appreciated.
And don't be afraid to join the Gaudi discussion by first giving me a like on the Barcelona Hacks Facebook page and then joining my group I'm Off to Barcelona – here you can ask any questions, air out grievances, and chat with thousands of Barcelona travelers.
Anything goes!