Barcelona for Couples: 15 Romantic Things to Do in Barcelona
For this post on Barcelona for couples I'll start by saying that Spaniards affectionately refer to their better halves as their media naranja (half orange).
What I can't actually explain is why.
A cool thing to do though, right upon touchdown at Barcelona airport, is turn to your loved one and utter the words they've always wanted to hear:
"I love you, my half orange".
Only then do I suggest checking off these romantic things to do in Barcelona!
15 Romantic Things to Do in Barcelona for Couples
First of all let's be honest.
There's nothing romantic about getting lost in a city and screaming at each other because you couldn't manage Barcelona's transport system, or just paid €9.00 for an orange juice because the WiFi doesn't work.
⚠️ 

Warning

⚠️

: Barcelona's top two attractions must now be booked in advance.
You can book fast track tickets to both individually or get them as part of a discount pass:
You will not be able to book these tickets on site – lock in your tickets ASAP or you could miss out.
Make sure you know the city inside out by consulting my all-encompassing Barcelona guide first.
Now let's get on to the romantic activities:
Take the Casa Mila Night Tour
Up until a couple of years ago night access to La Pedrera was restricted to VIPs – now it's one of the best things to do at night in Barcelona.
Today there's no better way to experience Casa Mila (aka La Pedrera) than under the cover of darkness: get a guided tour of the building with unique stairwell projections, special lighting, and a sublime soundtrack.
Cap it all off with a glass of cava and a video mapping show lighting up the chimneys on the roof terrace and you've got one of the most sophisticated Barcelona attractions for couples.
Get Drunk on Wine and Flamenco
The word 'flamenco' itself is said to come from the Spanish word for flame ('flama'), and it sure can get hot watching the clapping, finger snapping, and passionate singing of Spain's Latin ballet.
Part guitar concert, part dance, part theater… all action!
These bars with these shows are some of the most romantic spots in Barcelona and include wine, optional dinner/tapas, a video presentation, and even a flamenco lesson.
You can get more info on my post on the best flamenco bars in Barcelona.
Or: go straight ahead and get a €10.00 discount booking through the Barcelona Tourism Office via the button below.
Save Money & Time and Minimize Fights
It's no surprise but the top 2 reasons for couples fighting are time and money.
That holiday romantic mood can take a nosedive in a hurry if you get ripped off or spend too much time in line – then all of a sudden you're arguing about the shirt/dress that she/he wore to your cousin's wedding in '86 and all hell breaks loose.
That's why there's the Barcelona Pass.
Couples like it because it allows them to book everything online, skip lines at La Sagrada Familia and Park Guell, get the best airport transport, and have 20% discount codes to almost every other Barcelona attraction including multiple ideas in this list.
For more information on the pass click here.
Snuggle Up at a Rooftop Bar
In spring in Barcelona and summer the true Barcelona for couples involves roof terraces.
Share a jug of sangria with ridiculous views and leave the city chaos to the peasants below! There are few more romantic than La Isabela at the Hotel 1898 – it's in the heart of La Rambla and the 360º view and super loungey seating provide the ultimate relaxation.
For a cheaper option with just as good a view head to the Sky Bar at Hotel Central from 8 pm. You'll also find great views at Hotel Pulizter right near Plaça de Catalunya.
Rooftop bars are seasonal and usually operate from March to October.
🍷 Want to sample the best local wines? Book one of Barcelona's best wine tours from €30.00.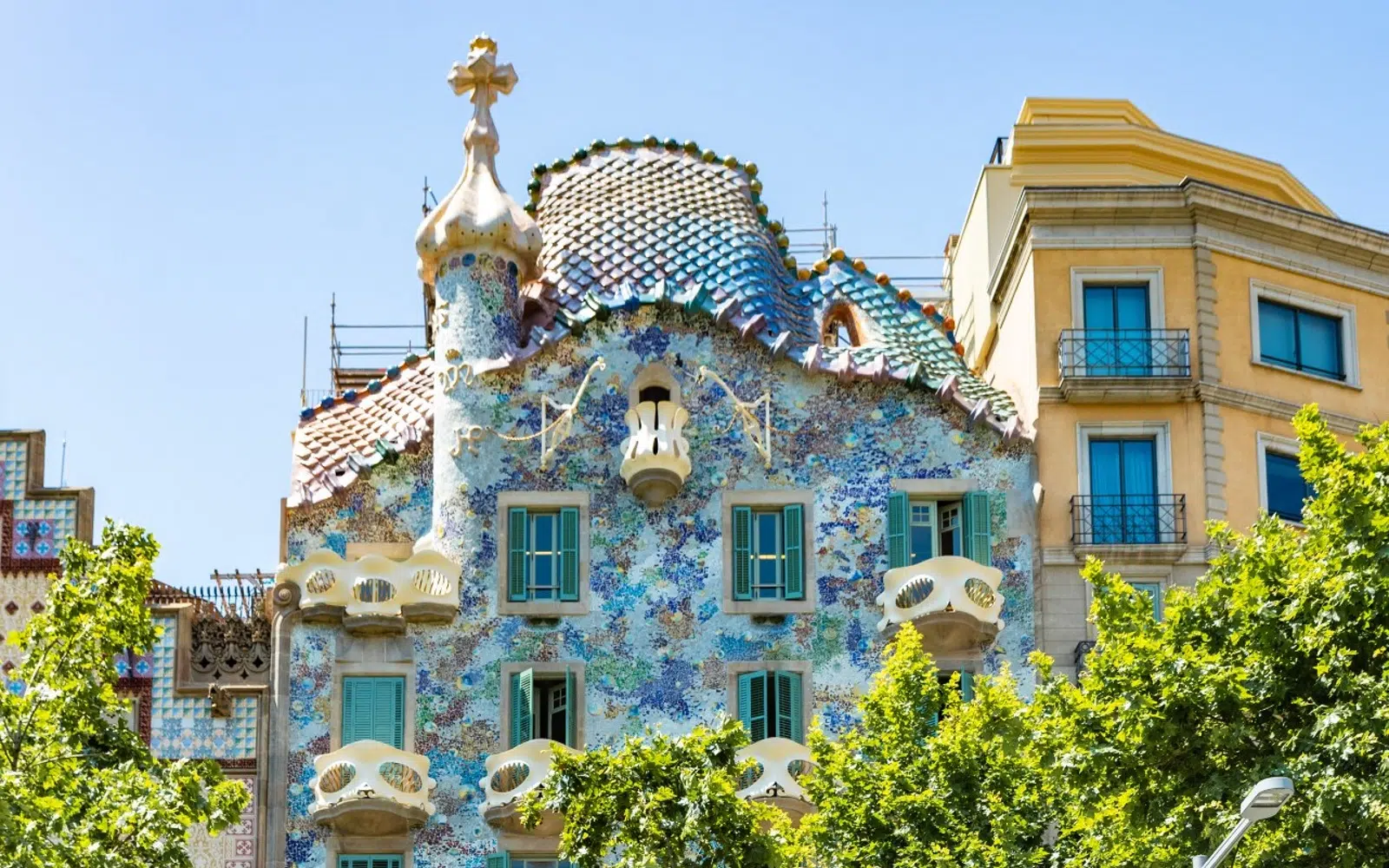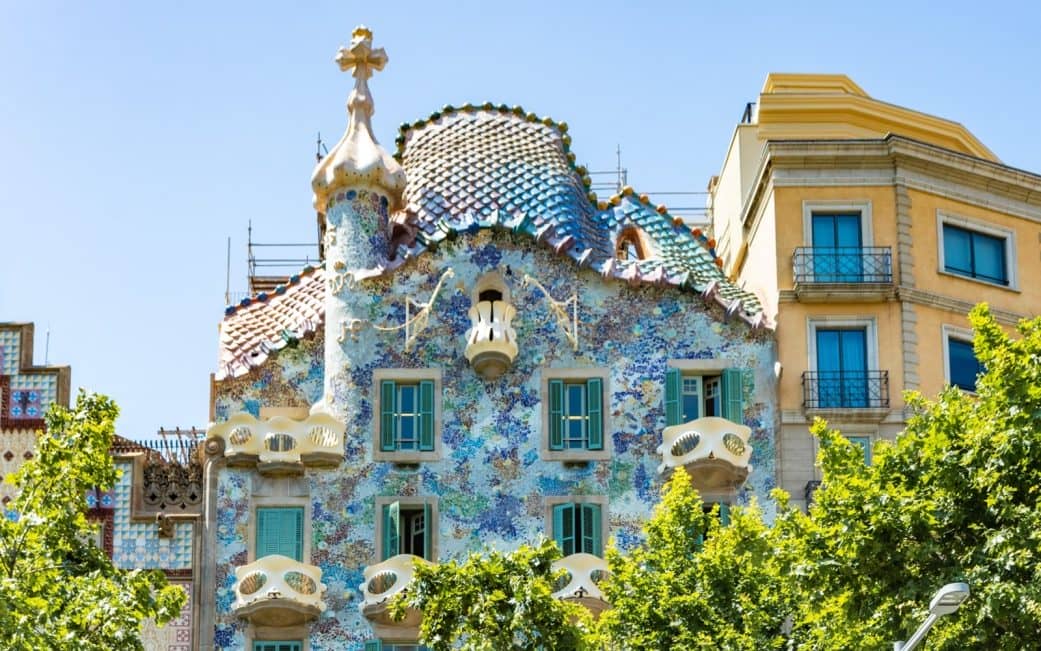 Stay in a Fairytale Neighbourhood
There's no bigger romance killer than booking a hostel, Airbnb, or hotel facing into a street of sirens and screams.
You'll be able to pick the perfect spot for a romantic weekend by reading my in depth guide on the best area to stay in Barcelona. Do it right because there are no second chances.
For the most tranquil spots I recommend Gracia or El Born.
🏙️ Wanna see a lot more of the city?: Consider booking one of the best Barcelona city tours.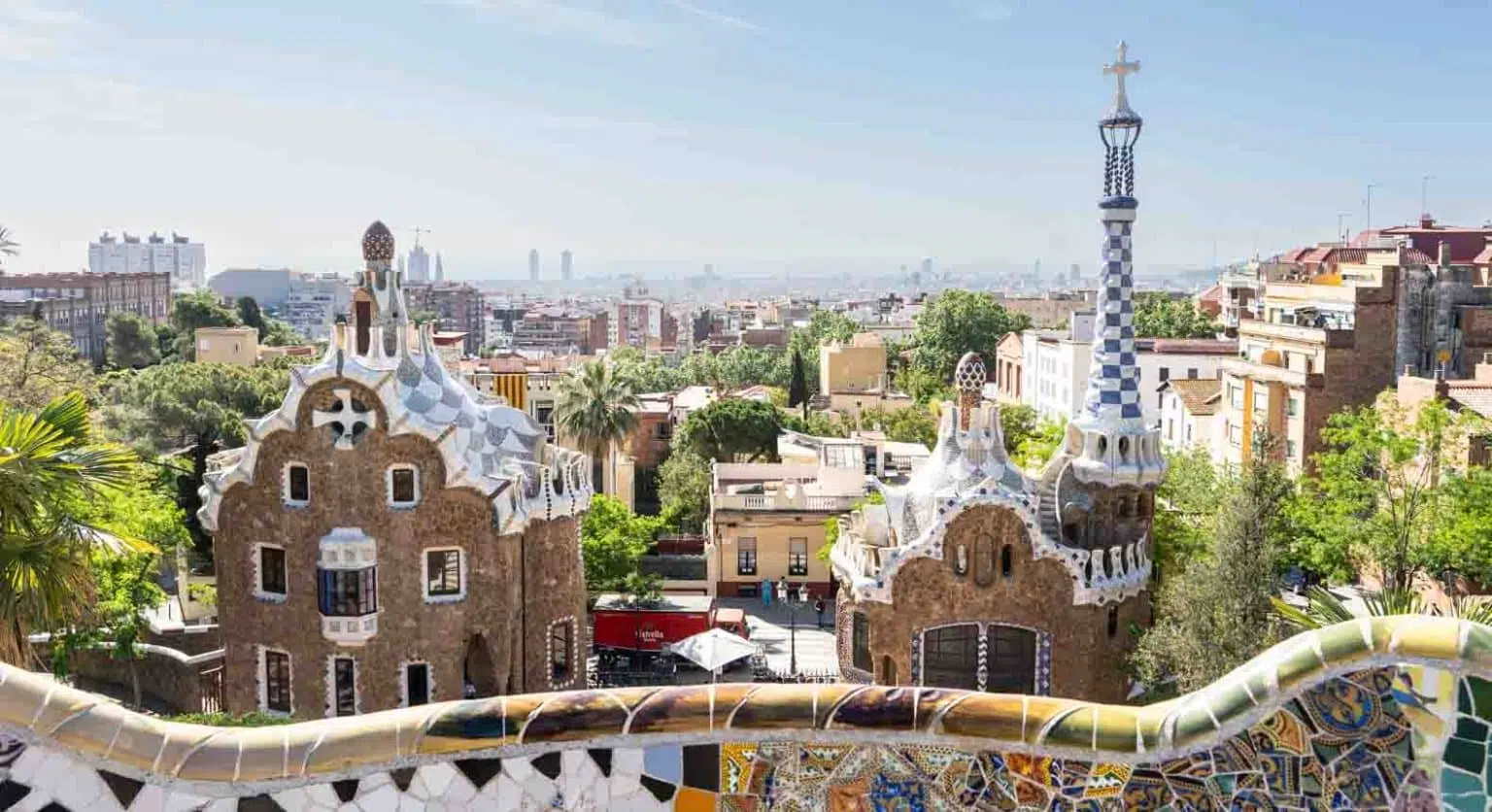 Discover Park Guell
No romantic weekend in Barcelona, especially for a honeymoon would be complete without a visit to Park Guell.
Originally built as a Utopian community by wealthy industrialist Eusebi Guell and master architect Antoni Gaudi, today it's most famous for its undulating mosaic benches and superb city views right out of movies like Vicky Cristina Barcelona.
Whether you're visiting the paid Monumental Zone or having a picnic in the forested Free Zone there are few better places for couples in Barcelona than this dream in the city's hills.
Share a Kiss in Front of a Kiss
Speaking of the most romantic spots in Barcelona, this might be the best – provided you can jockey for a photo opportunity with all the other couples.
Yes, not many people know of this or any other hidden gems in Barcelona – but it's home to a massive romantic mosaic in the heart of the Gothic Quarter.
It's called "El Mundo Nace en Cada Beso" ("The World Begins with Every Kiss") and was made by the photographer Joan Fontcuberta.
From far away it looks like a painting of two lips kissing, but wait! Once you get up close you'll be blown away with the realization that it's actually made up of hundreds of photos in tile form, submitted by Barcelona residents with the theme "a moment of freedom".
The mural is near Barcelona Cathedral in Plaça d'Isidre Nonell (metro stop Jaume I, yellow line L4).
🧑‍🎨 Want more of Gaudi? Unlock his masterpieces with the top Gaudi tours in Barcelona.
Watch the Sunset from the Bunkers (Turo de la Rovira)
It's not a real romantic Barcelona weekend until you get a fantastic 360º view of the city including the Sagrada Familia, the sea, and Montjuic Hill – all for the price of a metro ticket.
It's at the top of all the romantic places in Barcelona, quite literally. The view here is so good that it was chosen for seven anti-aircraft guns to protect the city from Civil War bombing raids. If you're looking for impact to propose this could be it.
The guns are gone, but you just might need them again to keep your half orange off you at sunset! For more information check out our article Barcelona's Scenic Anti-Aircraft Battery Picnic.
Share a Paella
You're already sharing everything else! Might as well add in some tasty rice.
Spain's most popular dish is built for sharing and one of the most romantic things to do is serving each other from one of those emblematic pans. Just grab a bib. This rice dish simmered down in a tasty broth is best piled high with shellfish and made casero style (homemade).
UPDATE: I've now worked out a deal with Bodega Joan to offer blog readers a special 25% discount on a paella tasting menu – click the banner below for more info:
Get a Couples Massage at Aire Barcelona
It's never a bad thing to go for a massage package at Aire Barcelona. Here you'll work out the kinks and have the chance to explore the six pools at one of the most beautiful spas in Europe.
Limited guests means you're ensured complete privacy. Everything from the tea to the massages are top notch and it's without a doubt one of the most romantic places in Barcelona if you're looking to spoil yourself.
For more information on their romantic activities check out the official Aire site.
Have Tapas in a Charming Gracia Square
The village of Gracia and its wanderable pedestrian-only streets give way to picturesque squares straight out of the movies. Best of all is the area's independent spirit – no chain restaurants, tourist traps, or Barceloa stag-do activities!
One of the best Barcelona activities for couples is heading to Plaça Rius i Taulet for drinks or tapas under a graceful 17th century clock tower, but my favourite is the enormous Plaça del Sol and its fine tapas establishment Sol Soler.
If you're traveling to Barcelona with kids head to Plaça de la Vila for the impromptu soccer games and running space.
To find Gracia get off the metro at Fontana (green line L3) and you can't miss it.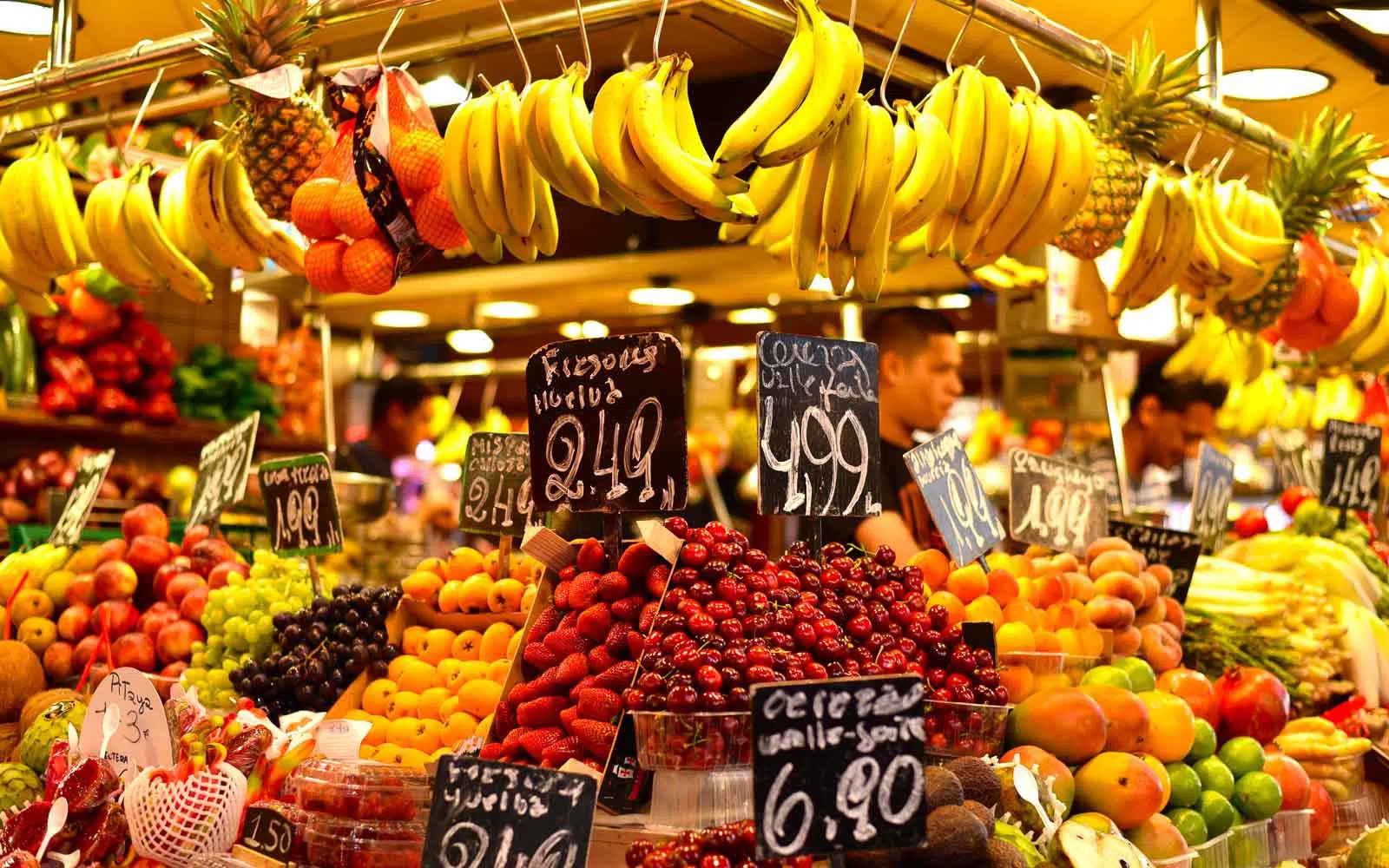 Cook Together From One of the Markets
Restaurants are fine but if you're like me the way to your heart is through a real kitchen.
If you've booked a holiday flat or even don't mind going for it in the kitchen at one of Barcelona's best hostels then it'd be a shame not to cook with all the incredible ingredients right on your doorstep.
Head over to the stalls of the Boqueria Market or any of the other top markets to load up: if you know your way around a kitchen you'll eat like royalty for a quarter of the restaurant price.
Spend a Sexy Night in Cadaques
One of the most romantic places in Barcelona, that's not actually in Barcelona.
Let this picturesque seafront village of 3000 seduce you. The on-and-off home of Salvador Dali for three decades is actually so beautiful that a Chinese company is building an exact replica of the town in Xiamen Bay.
Simply grab a train to Figueres (where you could visit the Dali Museum Figueres) and then grab the bus to Cadaques. I recommend any spot on the legendary Costa Brava but this has got to be the top.
Instant-relax.
Go for a Tragic Ice Cream
You won't find a square like this so central in any major European city.
My advice is to grab some gelato at Gelaaati di Marco and walk over to Plaça Sant Felip Neri. This eerily quiet square is a great place to hear the echoes of footsteps and maybe even a melancholy Spanish guitar piece.
The square's tragic past involves a Spanish Civil War bombing that took the lives of 42, mostly schoolchildren. To this day you can still see shrapnel embedded in the walls. It's a great reminder of how lucky you are to be alive. In love. In Barcelona.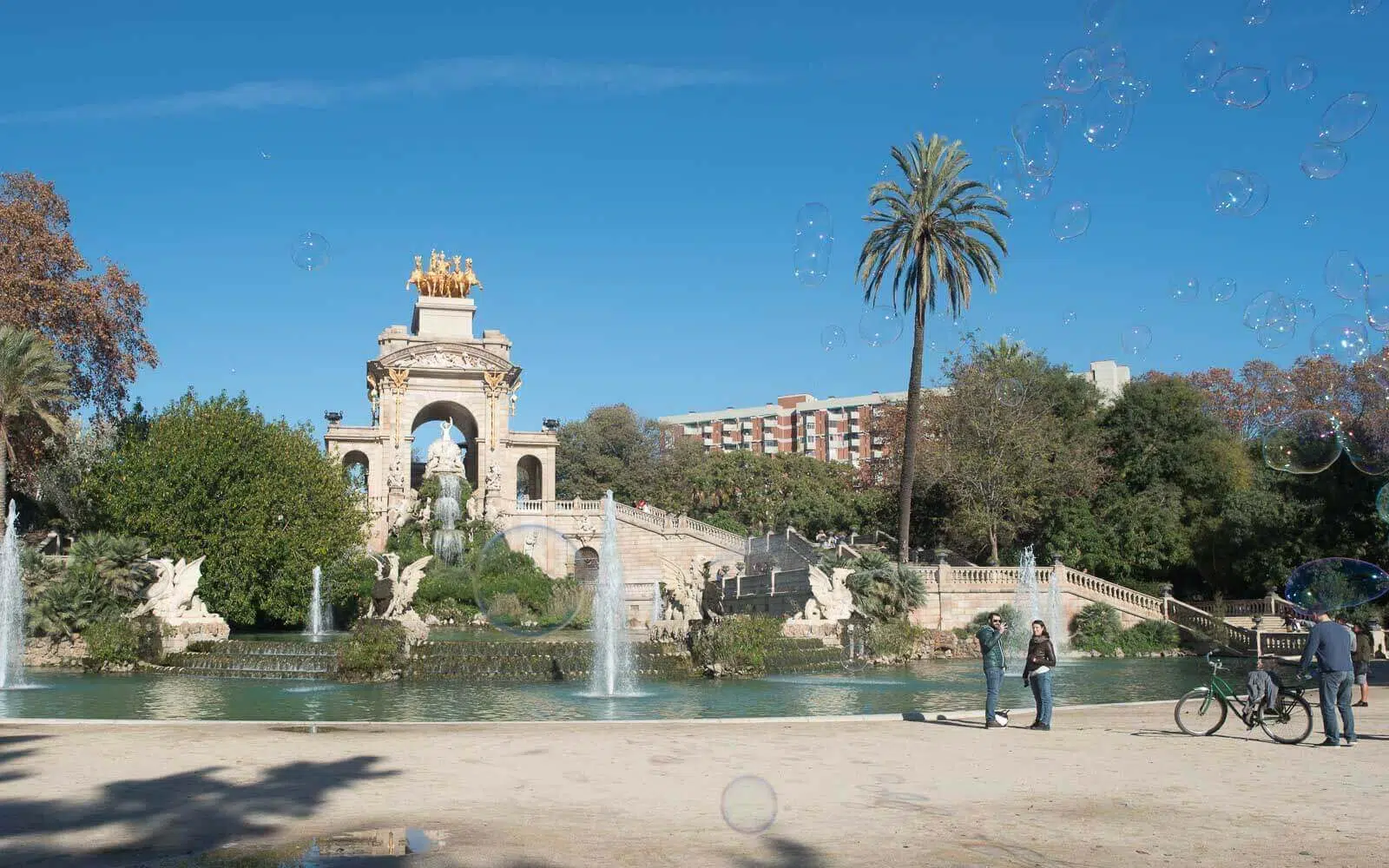 Rent a Rowboat in Ciutadella Park
We've covered a lot of fun things to do in Barcelona for couples but how many are nautical? Let's have a row that'll actually do your relationship good.
Head for the lake in Barcelona's famous Ciutadella Park and take one of the rowboats out for a spin. At six euros for half an hour it won't break the bank and you'll be able to splash each other silly like any self-respecting romantic comedy couple.
Hours: Mar 24 – Sept 22 (10:00 am to 9:00 pm), Sept 23 – Mar 23 (10:00 am to 6:00 pm)
Still Looking for Barcelona Couples Activities?
You're ready to be romantic in Barcelona but why not get even more prepared?
If you're in the mood for something much more specific then don't hesitate to write me for custom advice in the comments below.
And as always: whether it's Barcelona for couples or any other question you have about your Barcelona holiday I'll answer! Just try me.