Is it Worth Going Inside Sagrada Familia? A Cost & Time Review
Is it worth going inside Sagrada Familia? This is a question that most visitors to Catalonia are sure to grapple with.
Well, with over 20 million annual visitors, Sagrada Familia is easily the top attraction in Barcelona. But does the grandeur of the inside match its much-vaunted exterior?
Let's look into the particulars to see if it's worth buying a ticket.
Warning (09/01/23): Some prime Sagrada Familia visit times are already sold out for some upcoming dates. Make sure you book your tickets ASAP or you could be shut out.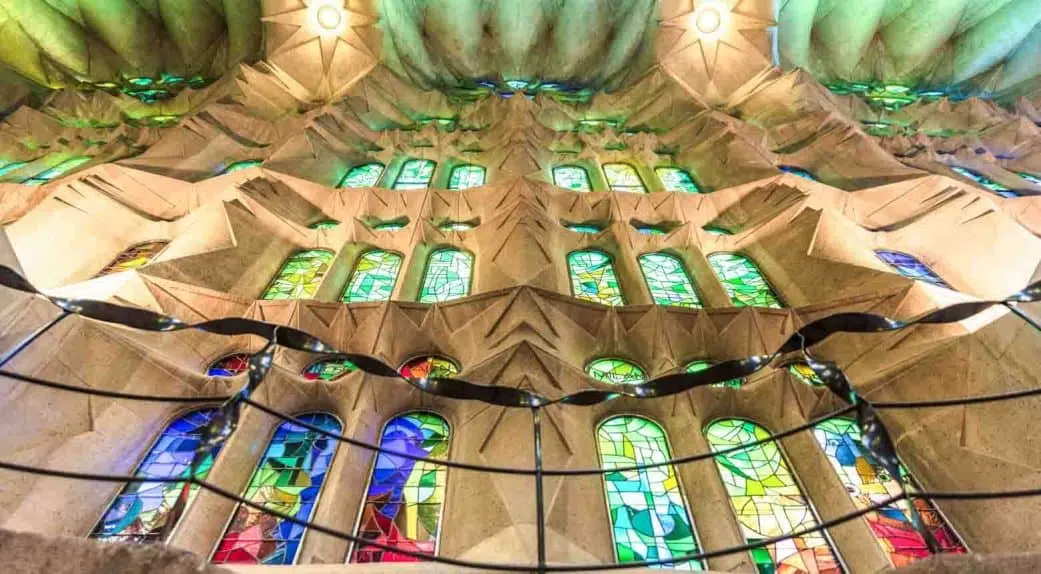 Is it Worth it to Go inside La Sagrada Familia?
It's almost automatic on any Barcelona itinerary. Yet out of the attraction's 20 million annual visitors, 'only' about five million actually pay for tickets to see the inside.
That comfortably puts it in the top ten paid attractions in the world.
Before assessing the value of an inside visit, let's first establish the Sagrada Familia base ticket prices:
| | | |
| --- | --- | --- |
| Entrance + Audioguide | Online Price | Ticket Window Price |
| Adults | €33.80 | Not possible |
| Under 30 + Students | €31.20 | Not possible |
| Seniors (65+) | €27.30 | Not possible |
| Kids (0-10) | free | Not possible |
| Disabled + Companion | free | Not possible |
So there it is: a typical ticket sets you back €33.80, which puts it in 'well then show me what you've got' territory.
Allow me to do just that.
What's Included in La Sagrada Familia Tickets
Of course, let me lead by saying that this €33.80 isn't just for a lukewarm stroll in another European church.
⚠️ 

2023 Warning

⚠️

: It's now mandatory to book your Sagrada Familia tickets in advance.
The only way to guarantee your spot is by booking Sagrada Familia tickets online:
As a learned sanctuary skipper who has seen the main church in almost every European city (I've been here 15 years), I know what you're thinking.
Let's break down the pros and cons here:
✔️ Pros
You get to see the inside of one of the most beautiful churches in the world
The stained glass windows are unlike anything you've ever seen
It's got a 4.8 rating on over 29,000 Sagrada Familia Reviews
Arguably the best museum on Gaudi's genius is found in the basement
You can actually put your hands on the facades
There are great Sagrada Familia tours to explain all the detail
Only on the ticketed side of the fence can you see Gaudi's intense detail up close
❌ Cons
Unlike many free churches in Europe, this one costs €33.80 per person
It's so damn popular that it's almost always full of people
So there it is: this is a wow-factor church which is ultimately the most unique project of its kind in the world.
Honestly, the first time I visited Barcelona (at 23), I just went to see it from the outside. While it was definitely impressive, I can now attest to the fact that the outside is only the beginning.
I understand that the cost of the entrance can be a lot for people. But in this case, it's simply a matter of budgeting:
Grab a meal on the go instead of a sit-down restaurant
Resist that extra cocktail on your first night out
Use Barcelona public transport instead of taxis or Uber
You can't put a price on a once-in-a-lifetime experience, and if you could, it certainly wouldn't be €33.80!
Worried about the crowds? Just book one of the earliest time slots using the calendar below. This should keep them to a minimum.
Sagrada Familia Visitor Reviews
As mentioned, Sagrada Familia has a 4.8 rating on over 29,000 Sagrada Familia Reviews at their ticket seller Tiqets.
But really, is the Sagrada Familia worth it?
Let's take a look at some reviews. You'll see that customers generally rave about Sagrada Familia's once-in-a-lifetime quality:
With the beauty of the stained glass being a close second: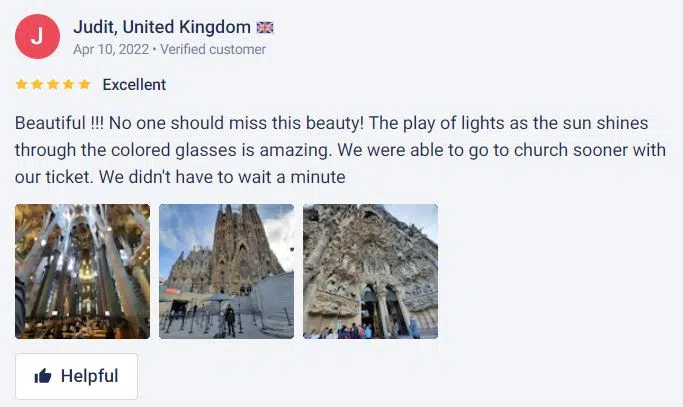 Finally, those booking tickets in advance online are very satisfied with the process at Tiqets.com:

Still curious? Read my Sagrada Familia guide to learn even more about this attraction.
At any rate, ensure you book your Sagrada Familia tickets in advance, as capacity is low. This is particularly true during the high season, when many of the mandatory time slots are often full.
So Is Sagrada Familia Worth It?
All indication, as well as my own personal experience, points toward Sagrada Familia being an unforgettable experience.
Whether religious or not, a visit to this Gaudian masterpiece tends to be a religious experience.
At any rate, if you still have questions, please don't hesitate to write me in the comments below. I am happy to give free advice to all my readers! At the end of the day, I'm sure you'll find that it is worth it to go inside Sagrada Familia.
Enjoy your day out at Sagrada Familia ⛪
💸 Related: Are There Sagrada Familia Discounts?
Related: Where to Buy Sagrada Familia Tickets