3 Days in Barcelona: Epic Three Day Barcelona Itinerary
3 days in Barcelona is enough for a solid getaway.
That said, with a city this full of fun your Barcelona itinerary should be planned in the most time-efficient way possible.
That's why I'm gonna show you how to visit the must-sees of the city while also living like a local, learning the history, and eating Barcelona's most iconic foods.
3 Days in Barcelona – Day 1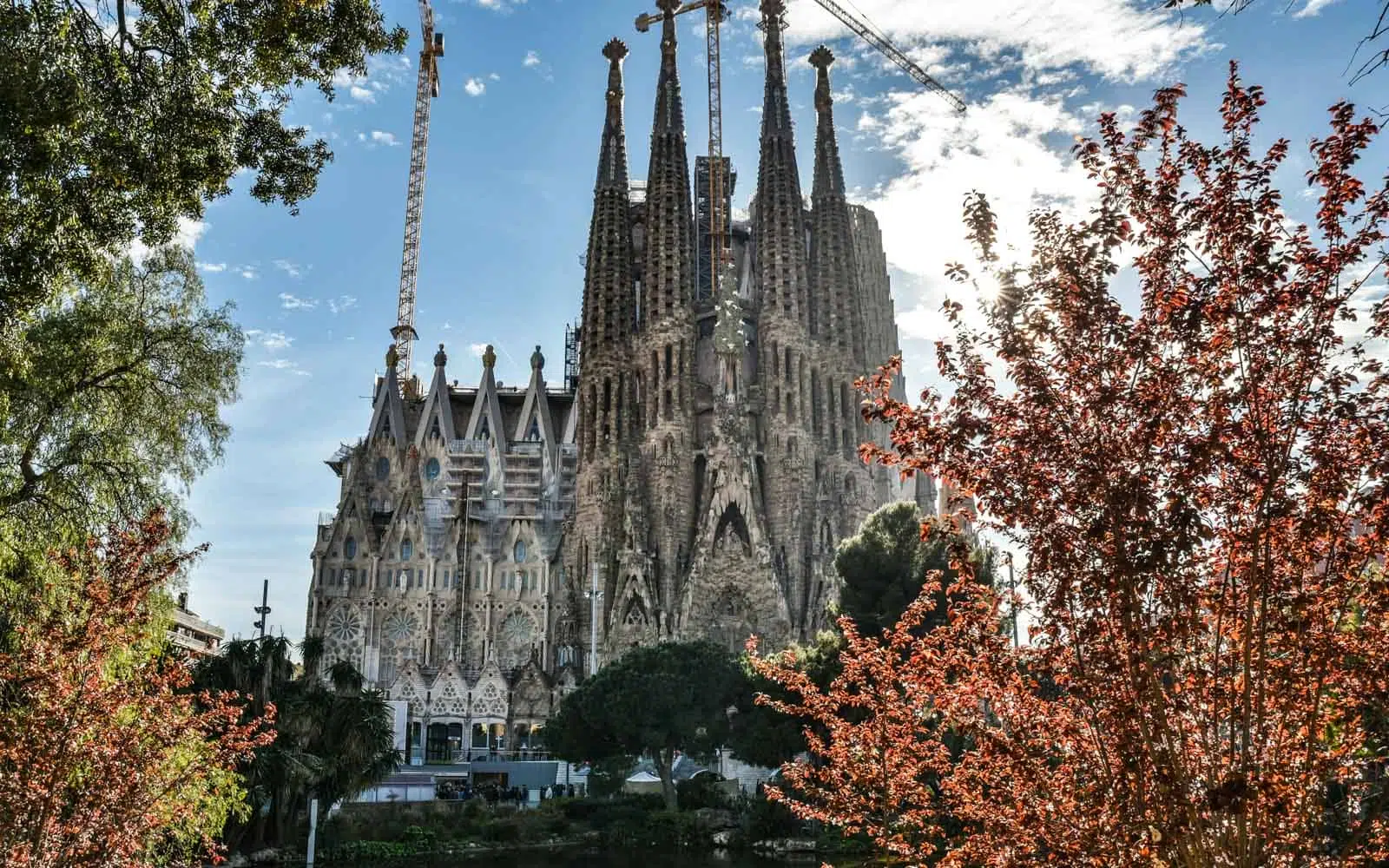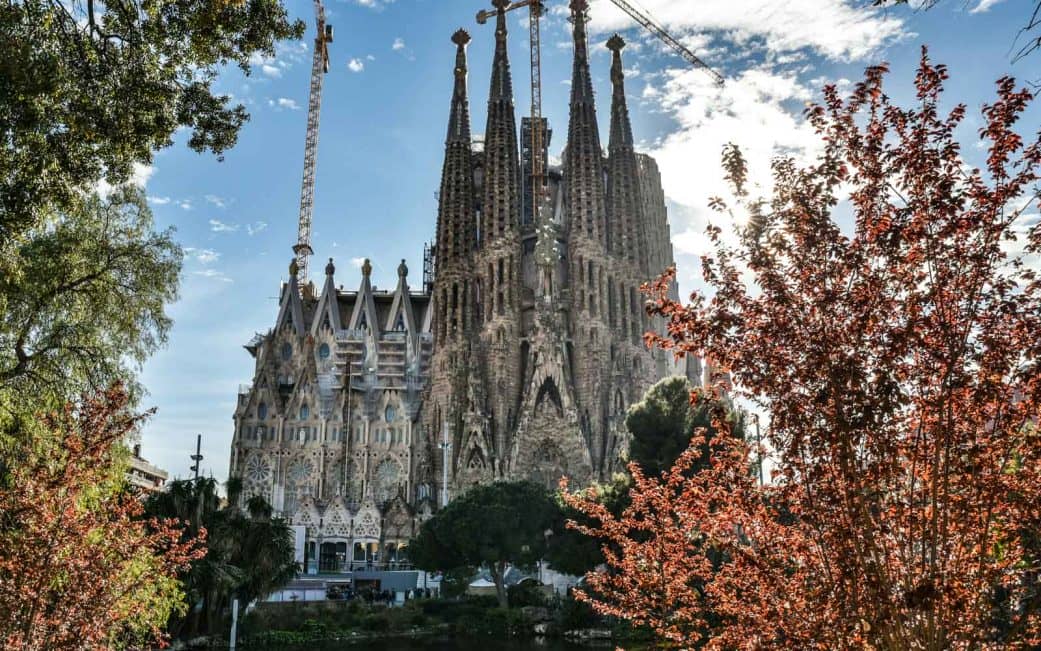 Sagrada Familia
What Barcelona itinerary doesn't have it? If you had just a single hour in Barcelona the world-famous Sagrada Familia would be the only stop.
This art nouveau basilica is called 'the most extraordinary interpretation of Gothic architecture since the Middle Ages'. The UNESCO World Heritage Site receives 4.5 million annual visitors.
The way Catalan wonder architect Antoni Gaudi depicts the energy of new life on the Nativity Façade and the cruelty of death on the Passion Façade is great pause for reflection.
⚠️ 

Warning

⚠️

: Barcelona's top two attractions must now be booked in advance.
You can book fast track tickets to both individually or get them as part of a discount pass:
You will not be able to book these tickets on site – lock in your tickets ASAP or you could miss out.
The rainbow casting stained glass windows and forest-like columns inside are must-sees.
21,000 five star reviews of Sagrada Familia don't lie.
Booking tickets in advance is mandatory, and the best Sagrada Familia guided tours are a good place to start.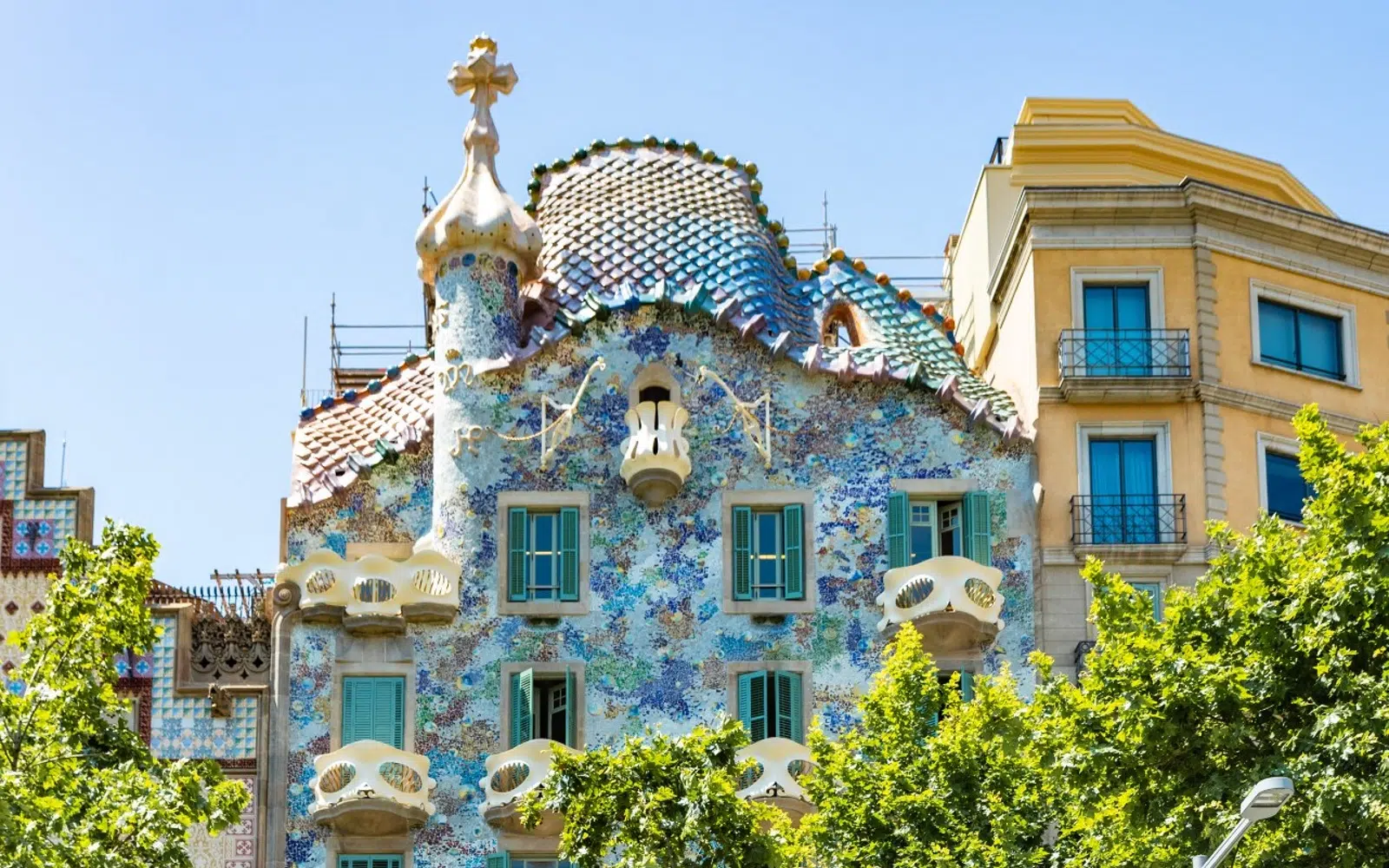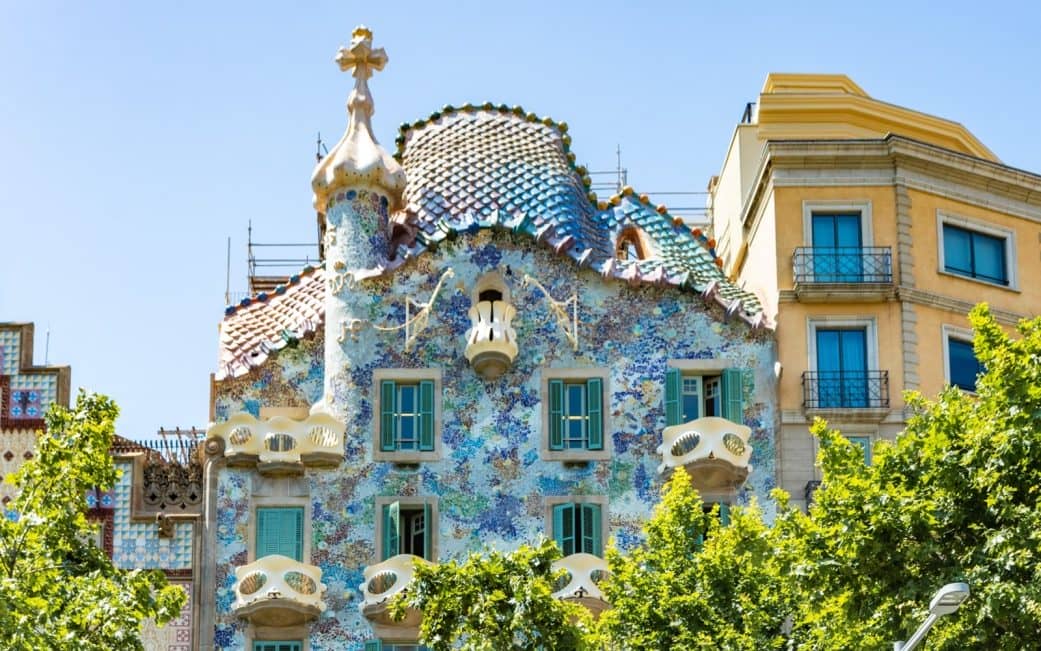 Casa Batllò
On Barcelona's second most famous street (Passeig de Gracia) we get into the heart of the Ruta del Modernisme.
The showcase piece is the beautifully eccentric mansion by Antoni Gaudi called Casa Batllo.
Stand outside and appreciate the building's visceral, skeletal qualities. The colourful mosaic facade was crafted using broken tea cups from local factories.
Inside we get a great insight into the mind of a genius. Gaudi designed the ergonomic house inch by inch right down to the doorknobs.
Admission includes an augmented reality tour, the Gaudi Cube, and a visit to the dragon's back roof terrace.
Lunch Near Casa Batllo
Honestly, we're in tourist trap hell here so we're going to have to dodge some bullets.
Right up the street from Casa Batllo though is El Nacional (24 Passeig de Gràcia). This multi-zone culinary space serves traditional recipes from nearly every region in Spain. It's also got a wine bar, cocktail bar, and oyster bar.
Fish lovers also can't go wrong at Chao Pescao (318 Consell de Cent). Here chefs cook fresh fish that you've selected yourself from a Barcelona market counter. I never go solo here – get some local Blanc Pescador white wine.
🥘 Looking for food + history + wine + fun? Take one of Barcelona's best food tours.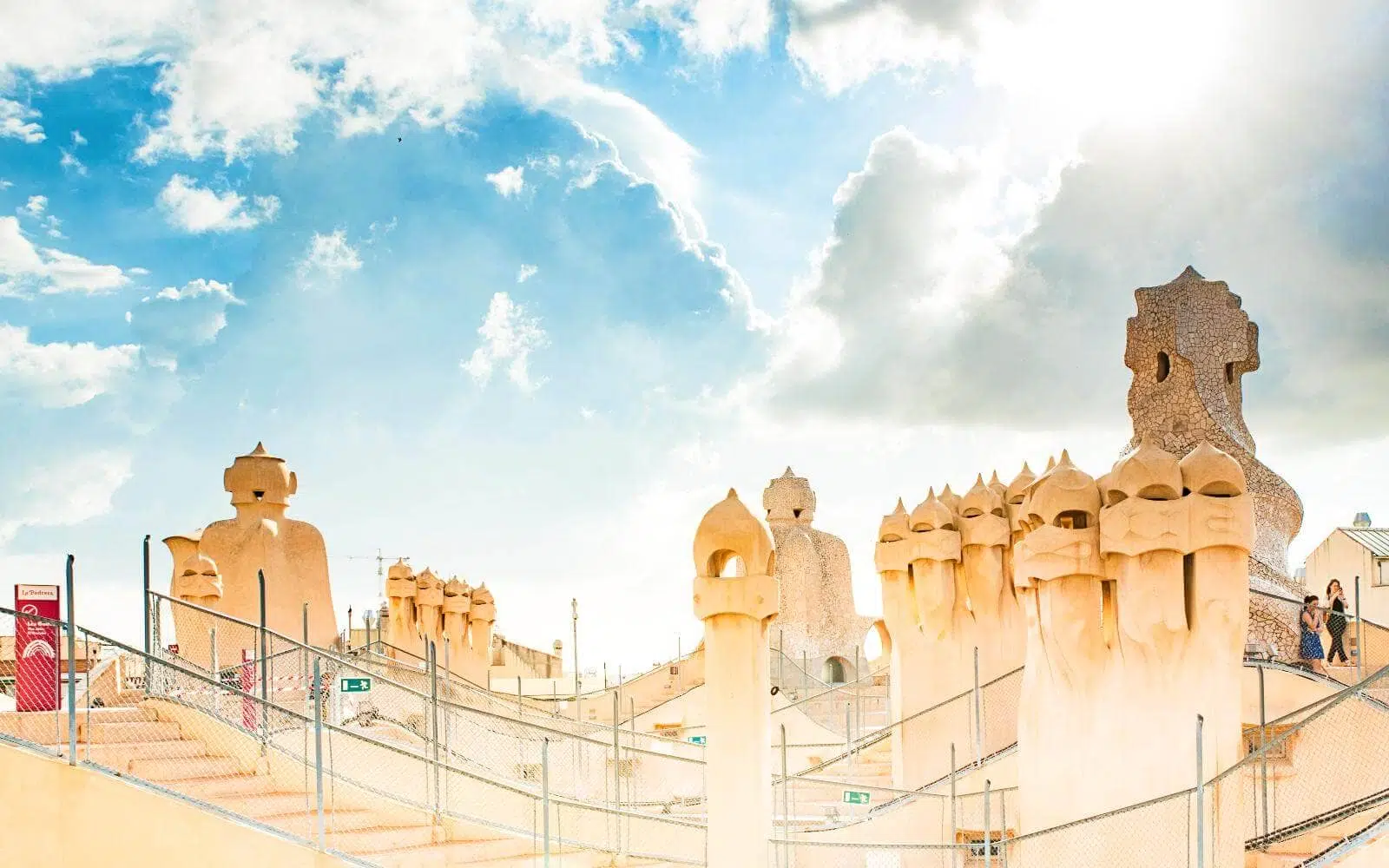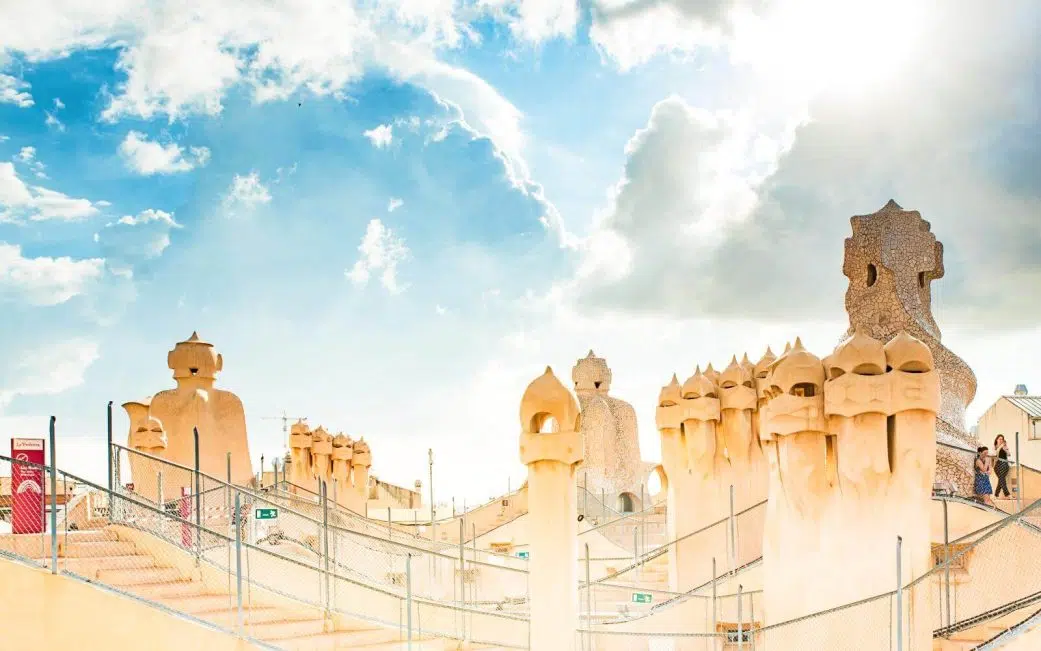 La Pedrera (aka Casa Milà)
You'll barely even have started to digest lunch before my Barcelona itinerary offers another jewel of the city's architectural crown.
La Pedrera is another Gaudi work (surprise, surprise) and it is arguably his best. It's just a short five minute walk from Casa Batllo.
This wobbling limestone apartment block is best known for its 'Garden of Warriors' rooftop. Getting a photo of yourself and the haunting chimneys standing on guard is another must do.
The Casa Mila apartment itself is a great way to see how upper class families lived in central Barcelona at the turn of last century.
Casa Vicens
Heading further up Passeig de Gracia you'll find the neighbourhood of Gracia for one of Barcelona's most underrated attractions: the newly minted Gaudi gem Casa Vicens.
This summer chalet mansion with its lush garden is more fairy tale than home and at less than half the price of its contemporaries it offers a tremendous amount of value for both Gaudi fanatics and budget travelers.
If you're not planning on visiting Casa Batllo or La Pedrera then this would be the best way to experience Gaudi's home architecture expertise up close.
Grab a Paella Dinner
You've only got 3 days in Barcelona so make your dinner choices wisely.
Of course, if you're visiting Barcelona let me know where you're staying and I'll recommend you some of the best restaurants in Barcelona near your hotel.
In general, there are tons of options but a great Spanish introduction to the city is via a paella tasting menu at Bodega Joan. Other great restaurants near our Barcelona attractions for day one include Lasarte and Can Boneta.
What to See in Barcelona in 3 days – Day 2
Barcelona's Best Breakfast
In winter we're starting the day with breakfast in Barcelona city center eating delicious churros con chocolate on historic Petrixol Street.
If it's summer we're heading to the even more historic La Boqueria Market for fruit smoothies and tostadas.
If you're looking for something a bit more savory then Boqueria Market's Bar Pinotxo has a classic breakfast here with blood sausage and garbanzo beans.
🚲 Wanna see more in less time? Consider taking one of the best bike tours in Barcelona.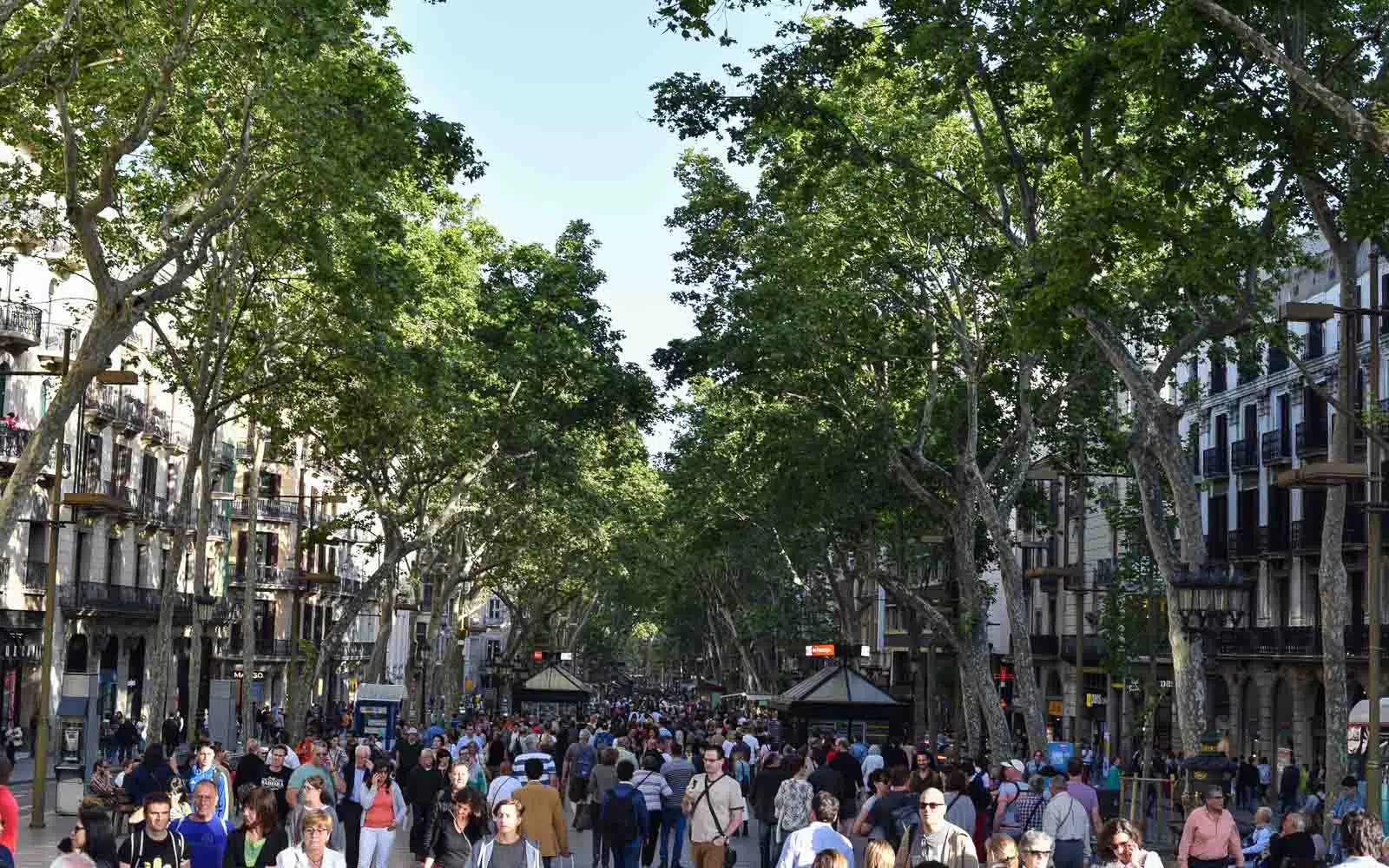 Las Ramblas
When speaking of Las Ramblas, the famous Spanish poet Federico García Lorca once said "it's the only street I wish would never end".
Of course, Las Ramblas may have lost the shine of yesteryear (mass tourism has added its share of Dunkin' Donuts) but it's still Barcelona's most famous street.
In particular, we should be looking at the street performers at the bottom the street. La Boqueria Market is also a must, and it's a great place to pop in some some classic Iberian ham or a cheap fruit smoothie.
🏙️ Wanna see a lot more of the city?: Consider booking one of the best Barcelona city tours.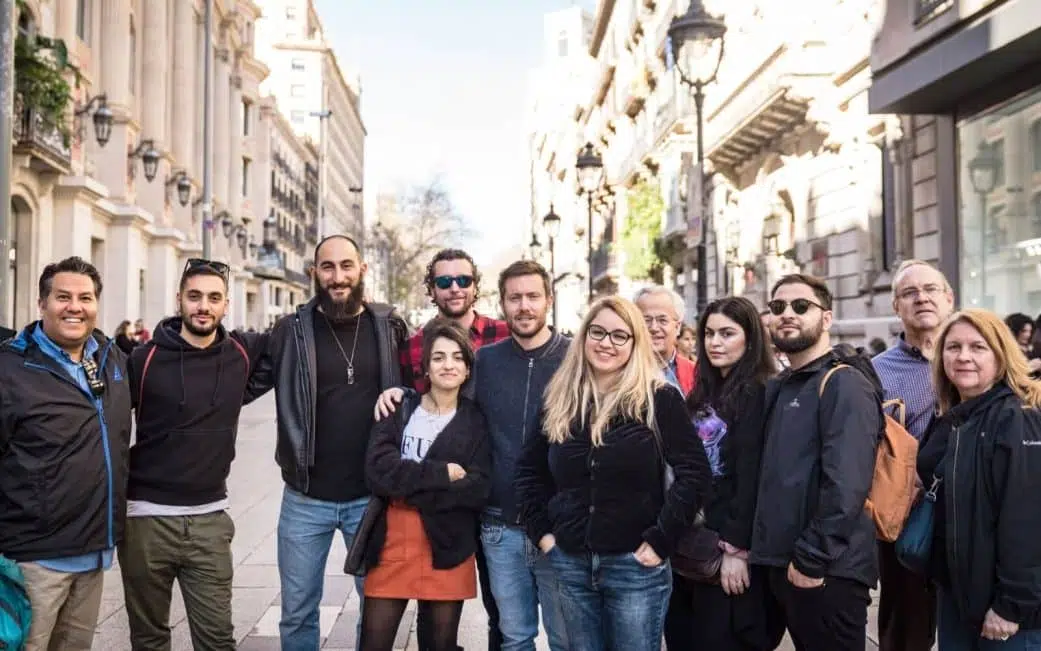 The Secrets of the Old City: Gothic Quarter Tour
From either breakfast spot we're just a 15 minute walk to the meeting point of one of the most informative and fun guided tour options going.
There's no better way to learn about the current political situation, Gaudi, the city's origins, and the future of Barcelona than with a 2.5 hour Gothic Quarter tour with a pro (video preview here).
That pro is one of the best guides in the business: local Texan Alvaro.
Prepare to be 'edu-tained' with secrets of the old city at La Rambla, Boqueria Market, Barcelona Cathedral, Plaça Sant Felipe Neri, Augustus Temple, the Jewish Quarter, and much more.
You'll also get an old Picasso cafe haunt, one of Barcelona's sweetest snack stops, and street art galore.
Interested? Drop me a line at [email protected] with your dates and we'll find a spot for you!
🧑‍🎨 Want more of Gaudi? Unlock his masterpieces with the top Gaudi tours in Barcelona.
Traditional Spanish Lunch
It's 12:30.
The walking tour ends in the heart of the Ciutat Vella (Old City) so we've got some options: if you wanna be quick it's the bite-sized toothpick tapas at El Pintxo del Petrixol (9 Carrer de Petritxol).
According to a Catalan friend it's 'the only restaurant near La Rambla that doesn't serve garbage'.
Another option for more of an elaborate Spanish meal is La Fonda (10 Carrer dels Escudellers) which is a great place to get some of the best paella in Barcelona at outskirts prices.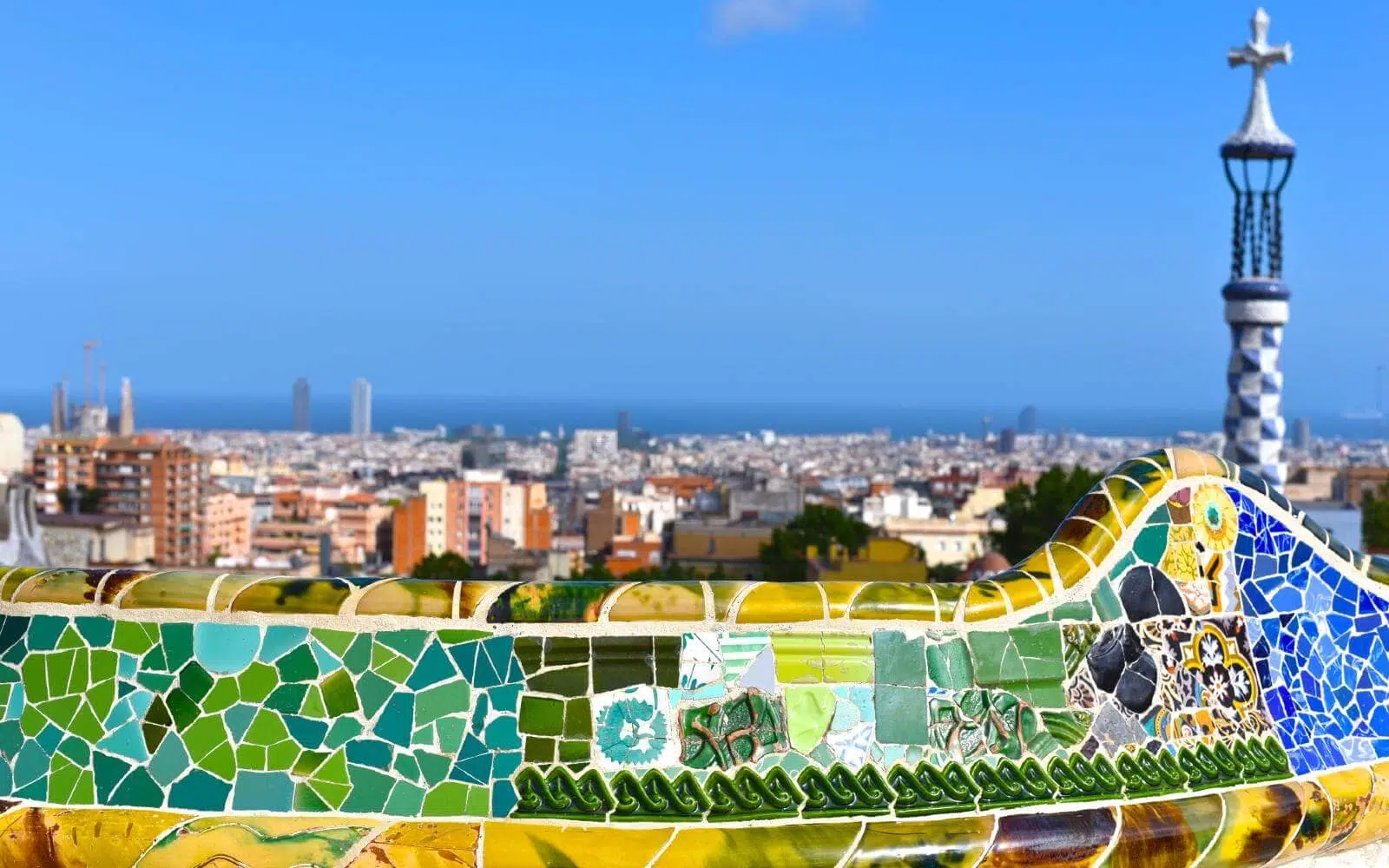 Park Guell
Every Barcelona itinerary has to include Park Guell: the city's most beautiful park.
We take bus 24 from Passeig de Gracia and 30-40 minutes later we're left at the gates. We could also take the yellow Barcelona metro line to Alfons X and walk 15 minutes.
Our reward at the end is Antoni Gaudi's utopian park vision, which its gingerbread-like porter's house and famous mosaic salamander. It's here that you'll get a fantastic panoramic view of the city
It'll take 90-120 minutes depending on how much of the Free Zone we care to see.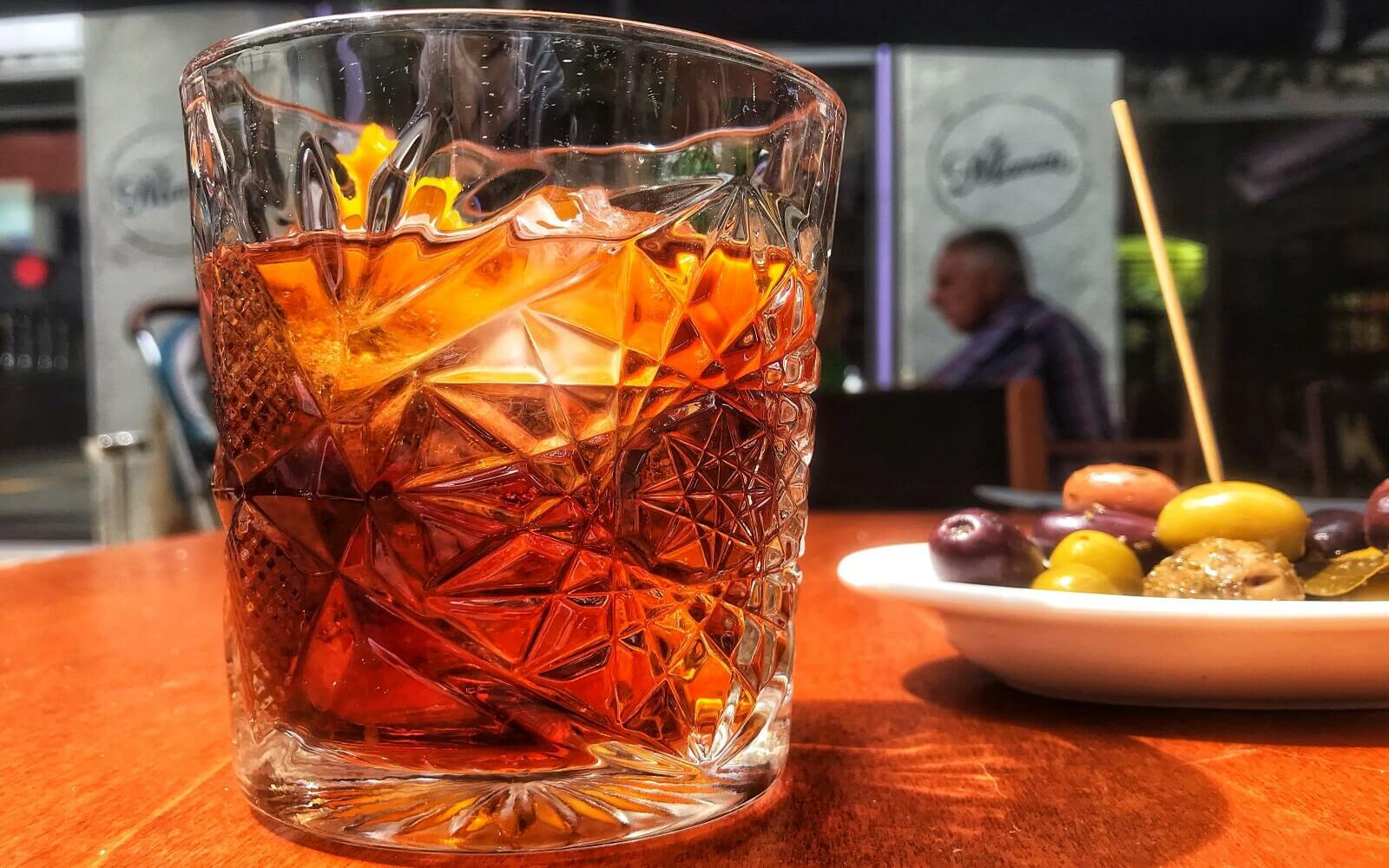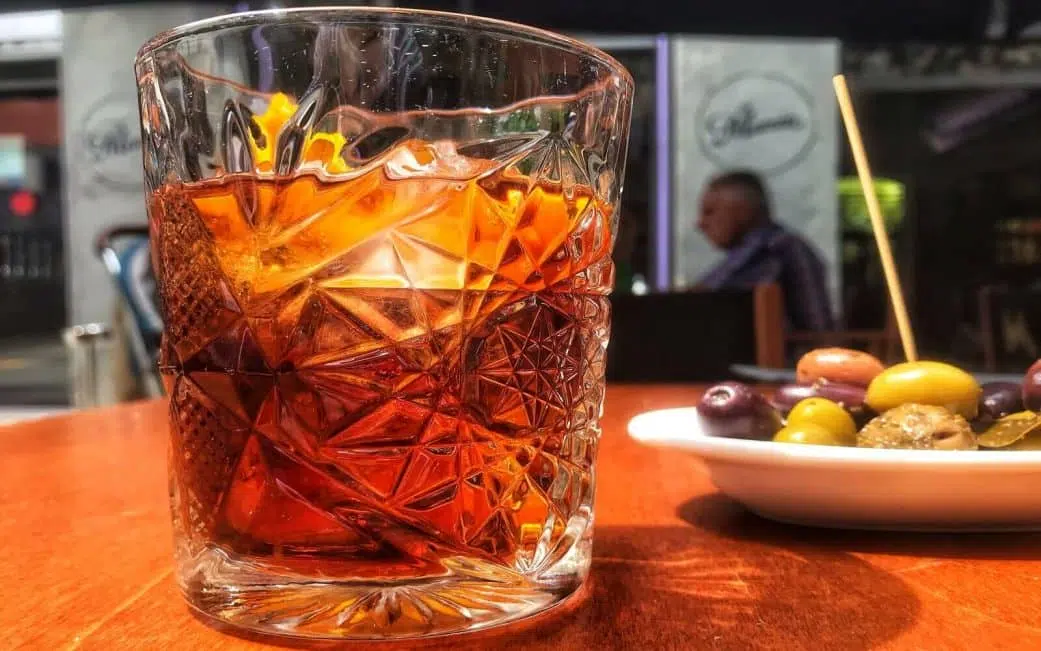 Barcelona's Most Famous Aperitivo
For any tourist doing Barcelona in 3 days this is that when in Rome moment.
In particular your travel tipple should involve either a vermut (vermouth, a fortified and spiced wine) or una caña (a small, refreshing glass of beer).
This is best done in nearby Gracia's charming squares: especially Plaça del Sol.
In particular I'd go to the bar Sol Soler as they have a massive terrace to soak up the sun. Casa Lopez is another great option if you'd like to fit in some homemade tapas.
Both are just a 15-20 minute downhill walk from the park.
🍷 Want to sample the best local wines? Book one of Barcelona's best wine tours from €30.00.
Modern Spanish for Dinner
You're likely staying central and will have to ninja your way around a ton of tourist traps – but luckily I've found the only authentic restaurant on La Rambla: El Louro.
Spanish tapas classics are given a modern twist here and mains like the Galician beef filet and crunchy octopus are to die for. The kicker? They make some of the best original cocktails in the city.
As a Barcelona Hacks reader you'll also get a free glass of cava per diner by reserving (no money down) via the form below:
A Night Out for Drinks
Barcelona's best bars offer a little bit of everything, though if you visit Barcelona you'll probably want something unique. For this reason I suggest the high-end cocktails at Dry Martini – it has actually been voted the 6th best bar in the world.
As for clubbing? Of course I'm going to suggest you read my post on the best clubs in Barcelona.
My first choice would be Razzmatazz, a massive five room club. Each room plays a different type of urban music: hip hop, house, dancehall, R&B, reggaeton, and even some rock
The second choice is Sala Apolo, a former theater that's been transformed into one of Barcelona's most famous clubs.
What to Do in Barcelona Spain for 3 days – Day 3
This Barcelona Itinerary Involves Sleeping In
Part of us came on holiday to relax, am I right?
We're going to do just that after all that walking on day two – we roll out of bed at 10:00 am.
On day three of our itinerary we're grabbing a quick breakfast like a Barcelona local: heading downstairs, finding the closest cafe, and getting a croissant and cortado (a coffee with a splash of milk).
Slow and steady will be the game today.
Looking to spend a lot longer in town? Check out my 7 days in Barcelona post.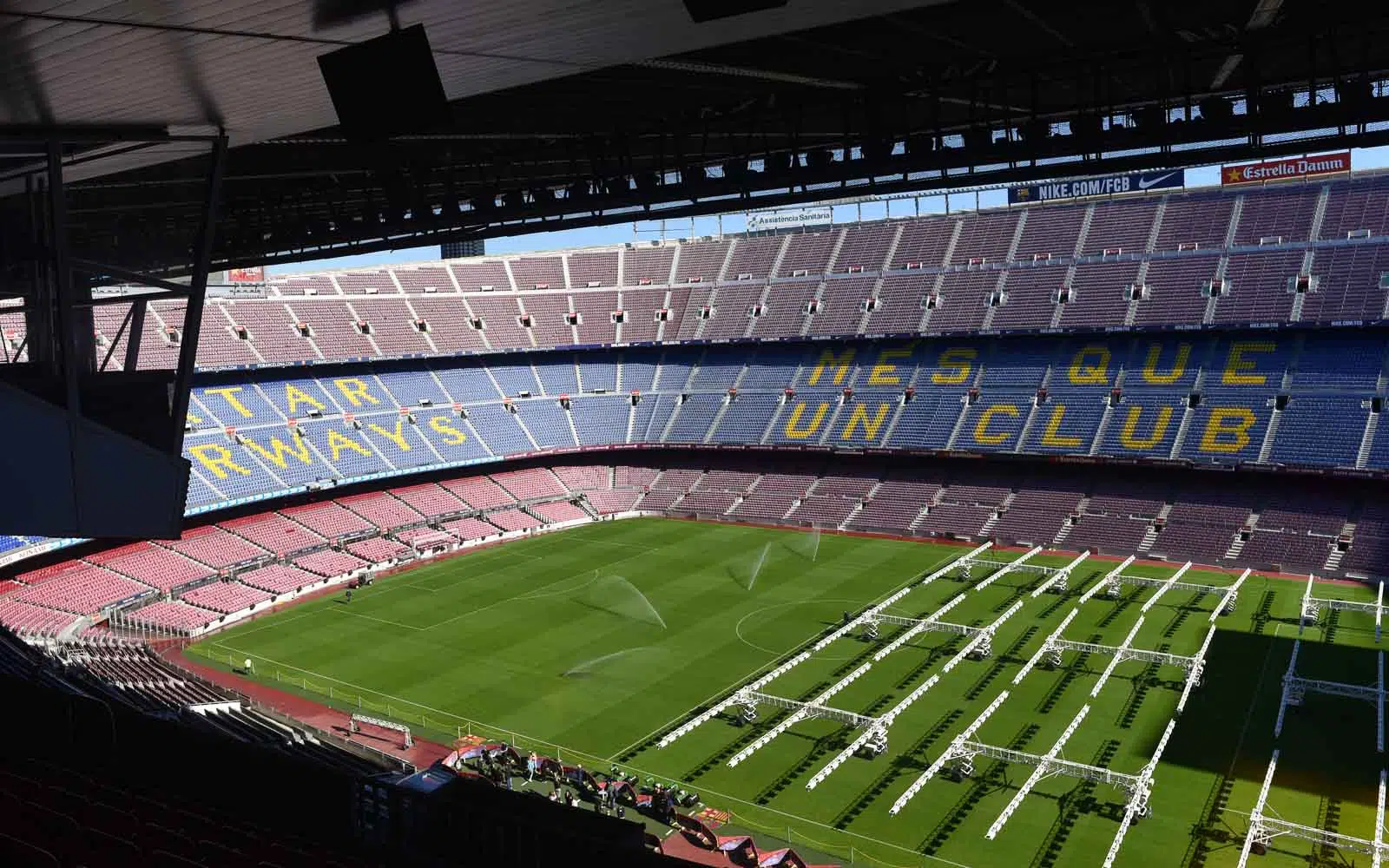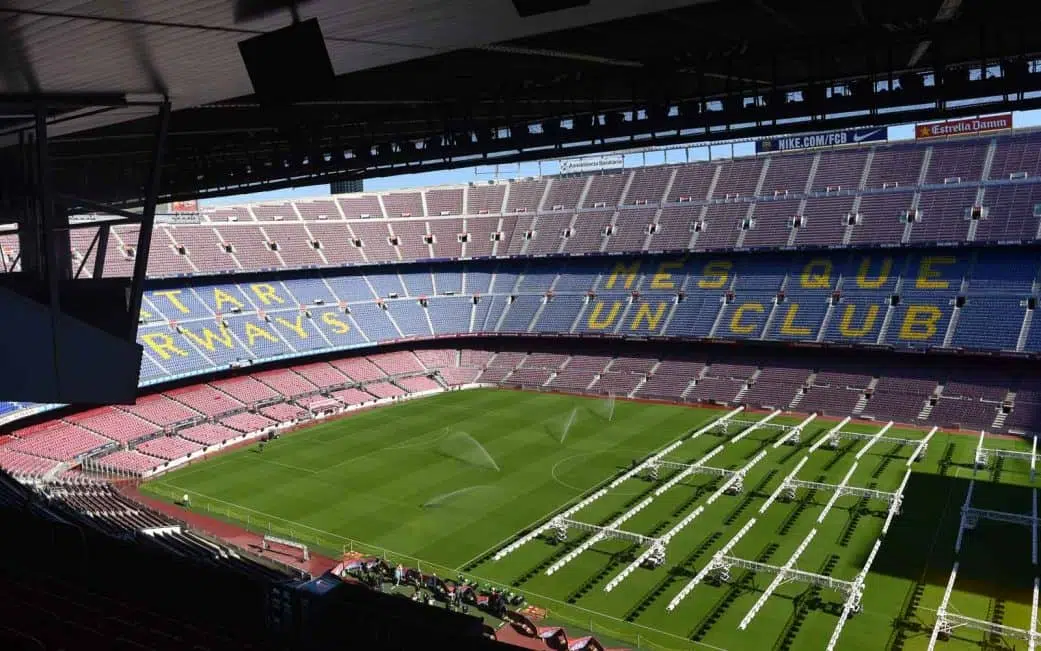 Shopping or Camp Nou?
We've got two choices now and I'll leave it up to you, my distinguished guests.
There's tons of world-class shopping in Barcelona city center. The largest shopping areas are Passeig de Gracia, Plaça de Catalunya, Las Ramblas and Portal del Angel. Here you can great some of the best Barcelona souvenirs too.
If we're allergic to shopping (I really am!) we really have to ask ourselves what Barcelona itinerary wouldn't include a tour of historic Camp Nou stadium – home of that little squad called FC Barcelona.
From Plaça Catalunya we get there in 15 minutes with the green metro line getting off at Les Corts.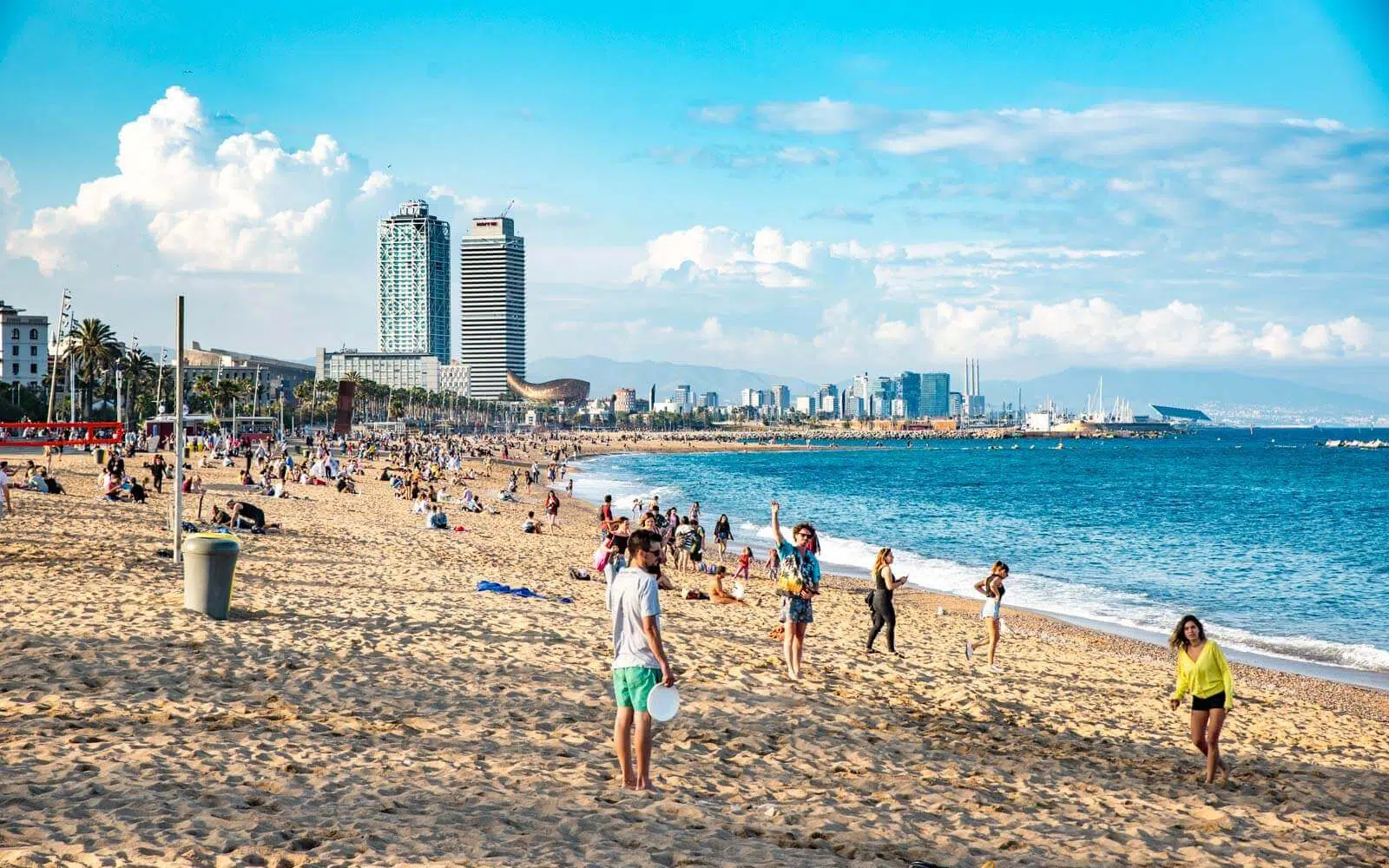 Beach at La Barceloneta
Barceloneta is a great neighborhood to explore inner alleyways where elderly residents sit outside playing cards while young people gather to socialize in kitschy bars.
It's one of the best beaches in Barcelona. For the early afternoon (like locals) you'll want to work on that tan – the cleanest waters for a summertime dipa re in the corner near the W Hotel (the sail shaped-one).
After, we can't stop by without saying hello to Mrs. Leo, a little spark-plug of a woman in her 70's who owns a bar where on weekend afternoons Andalusian Barcelona flamenco and live Spanish guitar is the name of the game!
Bar Leo is at 34 Carrer Sant Carles.
Related: How Many Days Should I Stay in Barcelona?
Sunday Lunch
We're getting really local now by having a late lunch (around 3:00 pm) and for this I'd recommend going for quality tapas at Bitacora – at the back of the restaurant there's a cool little terrace.
There's also the ridiculously cheap wine bar La Champagneria at 7 Reina Cristina. We also can't miss the minuscule fried fish restaurant Can Maño.
All places are fifteen minutes or less walking from the beach.
Looking for something closer to home? One of Barcelona's best burgers is just what the doctor ordered. Kiosko Burger is a great place to start and it's no tourist sin! Get the one with traditional manchego cheese.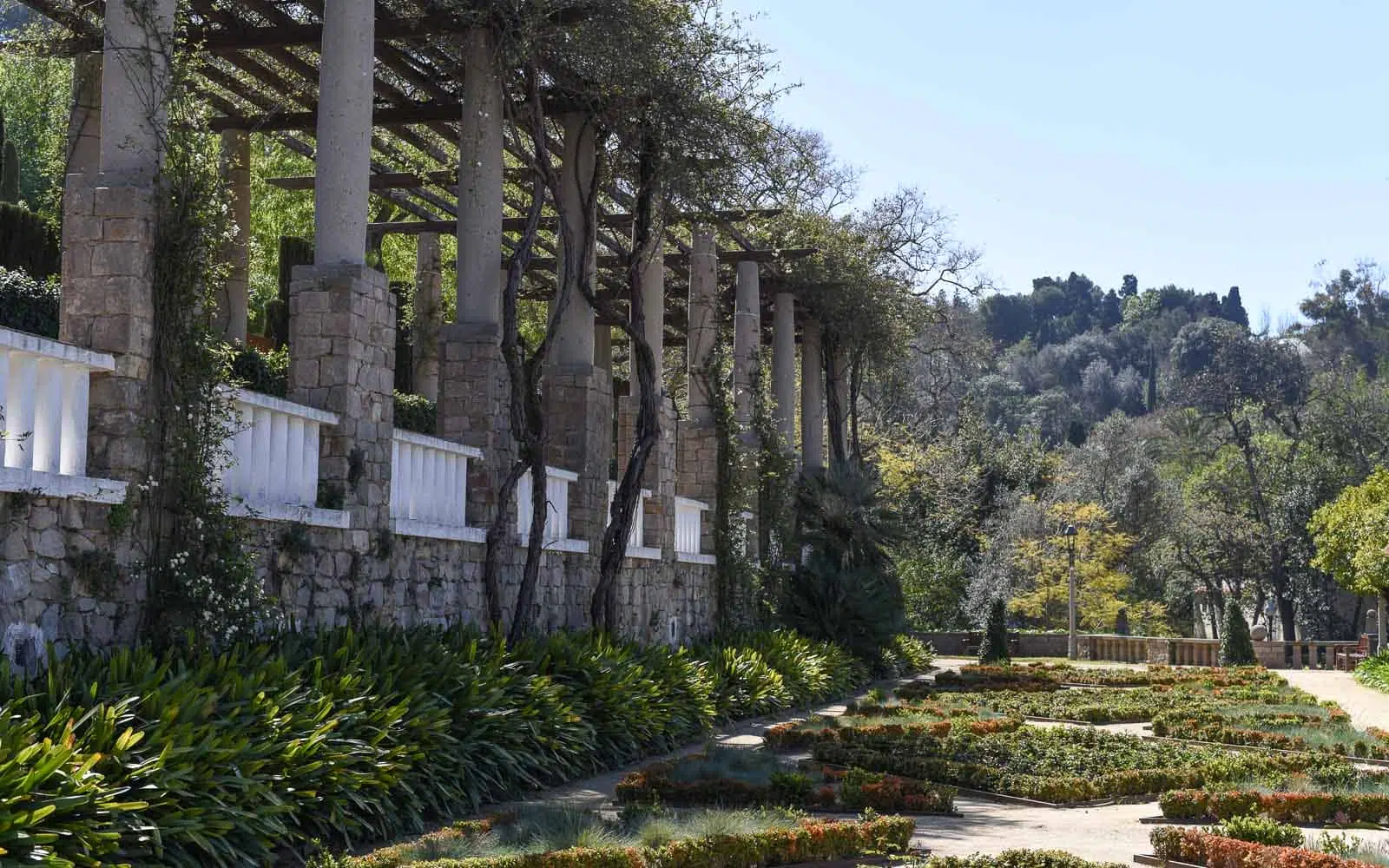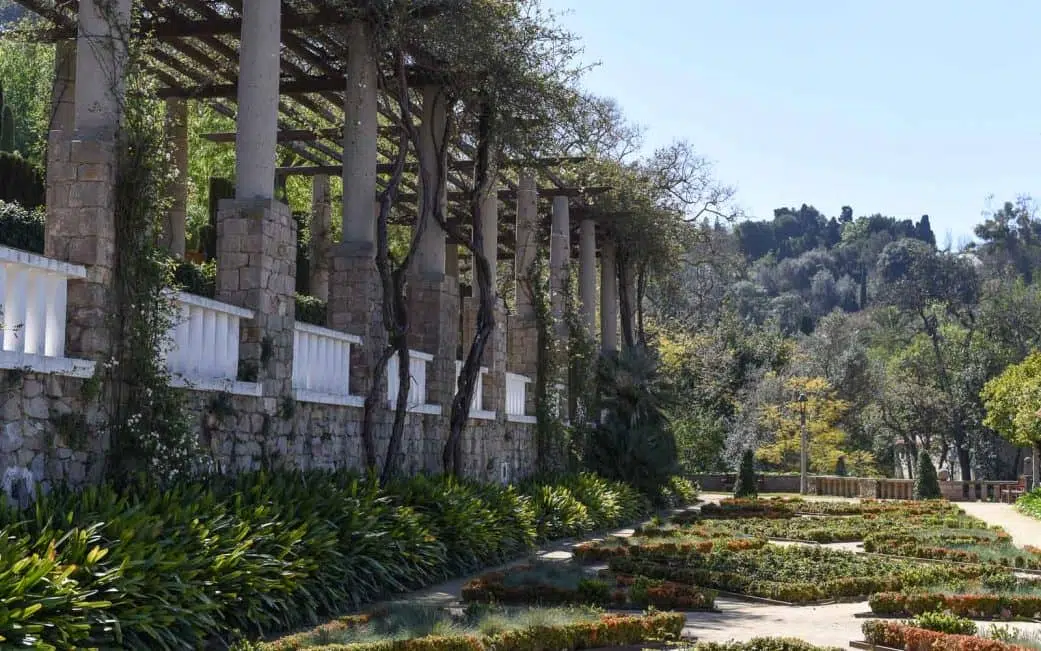 Montjuic
We get to Montjuic Hill by taking the Port Cable Car from Barceloneta.
At the top of Barcelona's tallest hill we find the Montjuic Castle with its majestic view of the harbour, the Miro Foundation, the '92 Olympic Stadiums and the botanical garden.
There's also the option to experience the fantastic open-air architecture museum Poble Espanyol (ironically, Barcelona architecture is nowhere to be found!)
The Magic Fountain
This beautiful fountain of towering water sprays to the rhythm of contemporary music – the view of Plaça Espanya is really something!
We find the fountain a short fifteen minute walk away at the foot of Montjuic. Make sure to check the Barcelona Magic Fountain show schedule first.
Dinner
We're looking to keep it local for the third night so we hit up Can Margarit (21 Carrer de la Concordia) for some authentic Catalan fare. Here it's all about rustic charm, cask wines, rabbit, squid, and cod.
For something a little more upscale that's a modern take on Spanish classics we go to Plata Bistro (23 Carrer de Sepúlveda), which is just a short walk from the fountains. You can book your table with a simple message on their Facebook page.
Looking for something a little cheaper?
Head for the street called Calle Blai and its endless supply of one euro tapas and beer bars. I recommend La Tasqueta de Blai.
After Dinner
In the Gotico area we'll head to Manu Chao's bar. This incredibly eclectic French singer who sings in 7 languages sometimes shows up to play guitar.
The bar is called Mariachi and is located at 14 Carrer Codols. Of course, I've been a little pushy with my ideas haven't I? We'd actually be good going to any of Barcelona's best bars.
That's 3 perfect days in Barcelona down!
3 Day Barcelona Itinerary – Honourable Mentions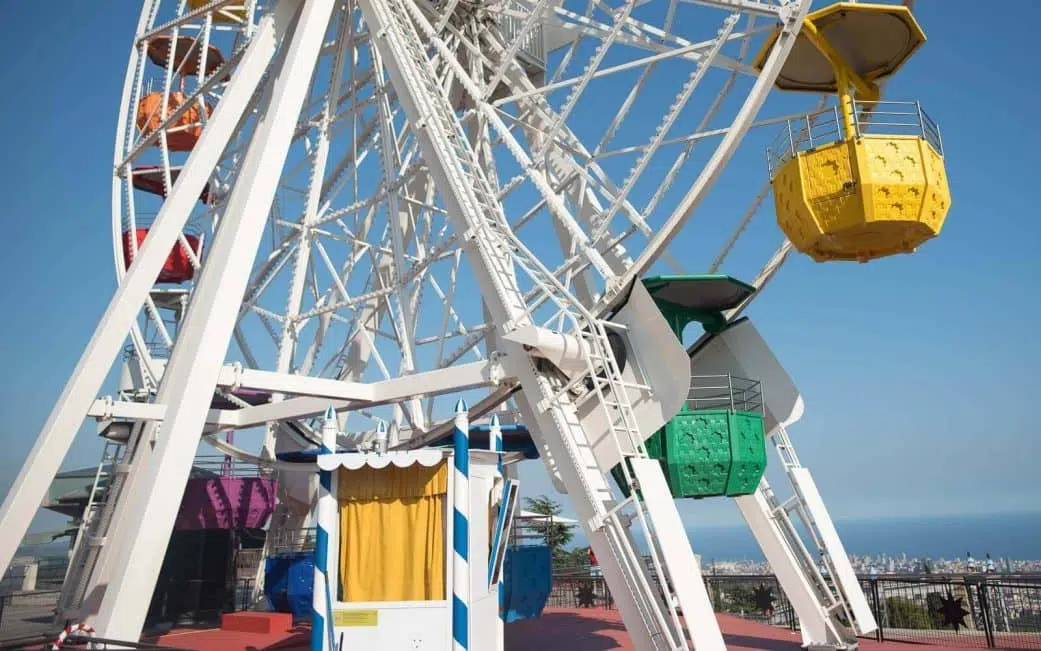 Tibidabo Mountain
Tibidabo Mountain (I will give you in Latin) is a 3 in 1: a basilica with a gigantic statue of Christ, the highest panoramic view of the city, and a 25-ride retro theme park. The latter is truly unique for the antique rides like the airplane one from 1928.
This is a must for Barcelona travelers with kids.
You can get there in 45 minutes from the Estacio del Nord with bus T2A.
If you don't feel like the long bus ride we can just as easily spend a few hours in centrally-located Ciutadella Park. Parc de la Ciutadella is the city's largest green space, has a zoo, and is famous for a lake where you can rent rowboats.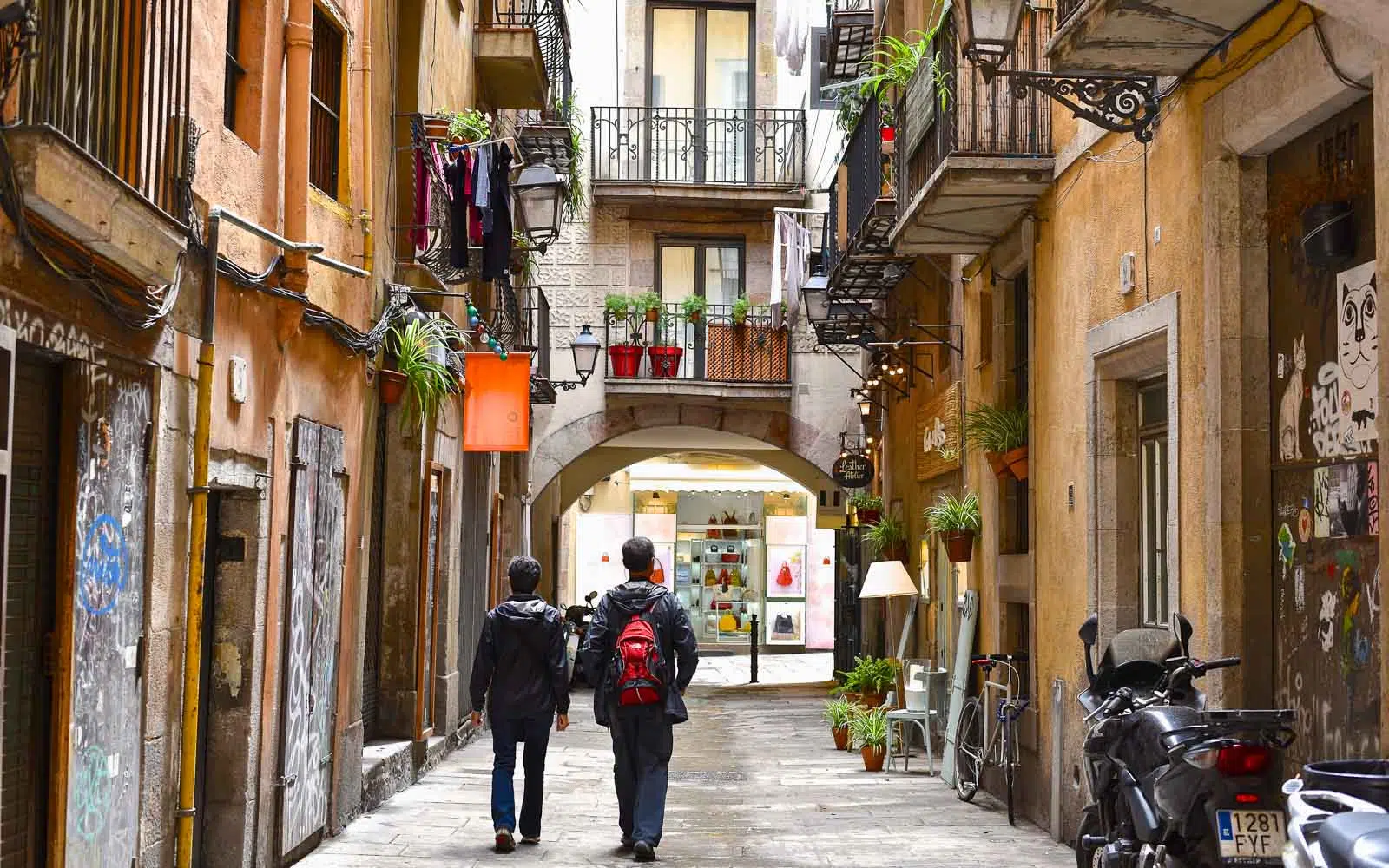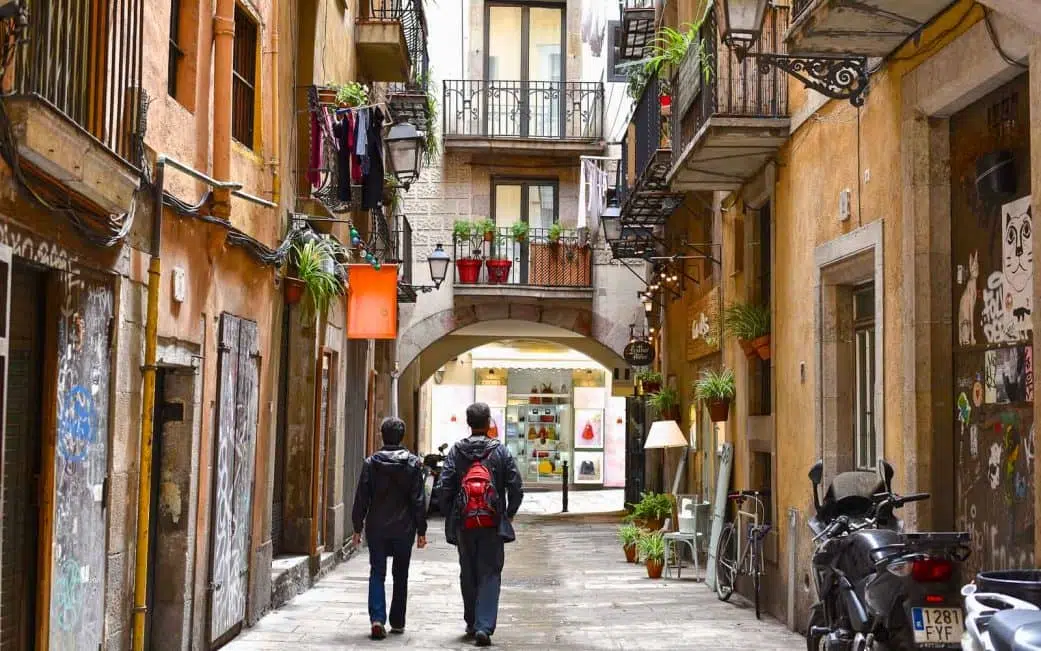 The Born
Despite its history of medieval jousting, the Born District is an area full of unique bars and boutique shops.
You can't walk through without seeing Barcelona's second Gothic behemoth: La Santa Maria del Mar. What I like about the Santa Maria del Mar is that it's one of the best free things to do in Barcelona.
We could also check out the more than 4000 pieces at the Picasso Museum (15-24 Carrer Montcada).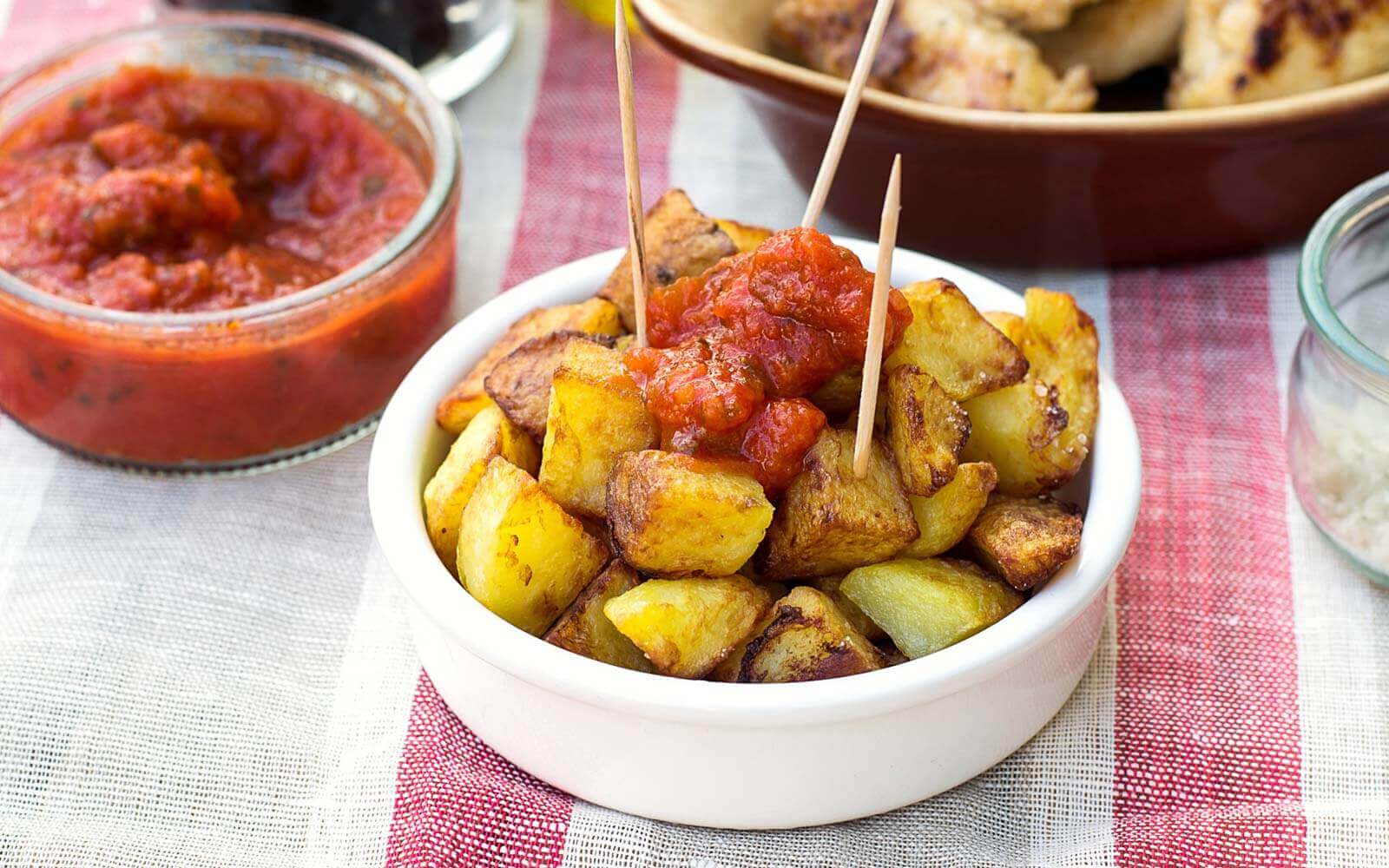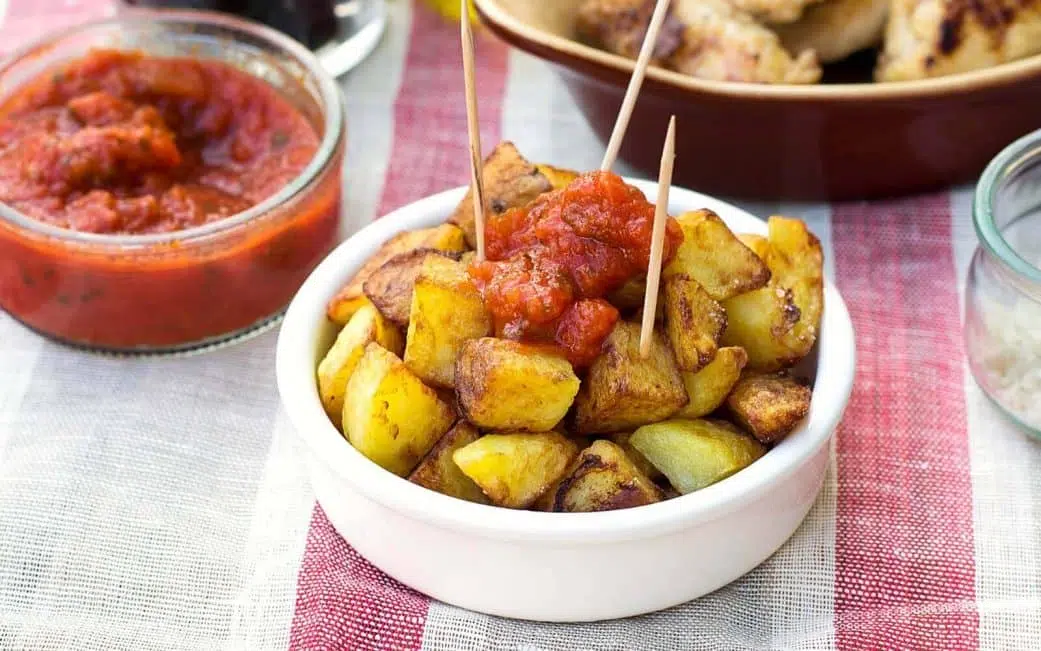 Tapas Lunch in a Square
When you get hungry fill yourself up at one of my favourite El Born tapas spots: Bormuth (31 Carrer del Rec).
I mentioned it before, but if you're up for a drink you should be drinking vermouth on your itinerary.
This a red or white aromatized wine is a massive part of Barcelona's drinking culture. They pair perfectly at Bormuth with patatas bravas (pictured), a type of potato wedge tapa with spicy sauce.
Even better? Out here you get your first experience of true Barcelona square culture. Watching the world go by in Plaça Comercial is another Barcelona past time to check off on your list.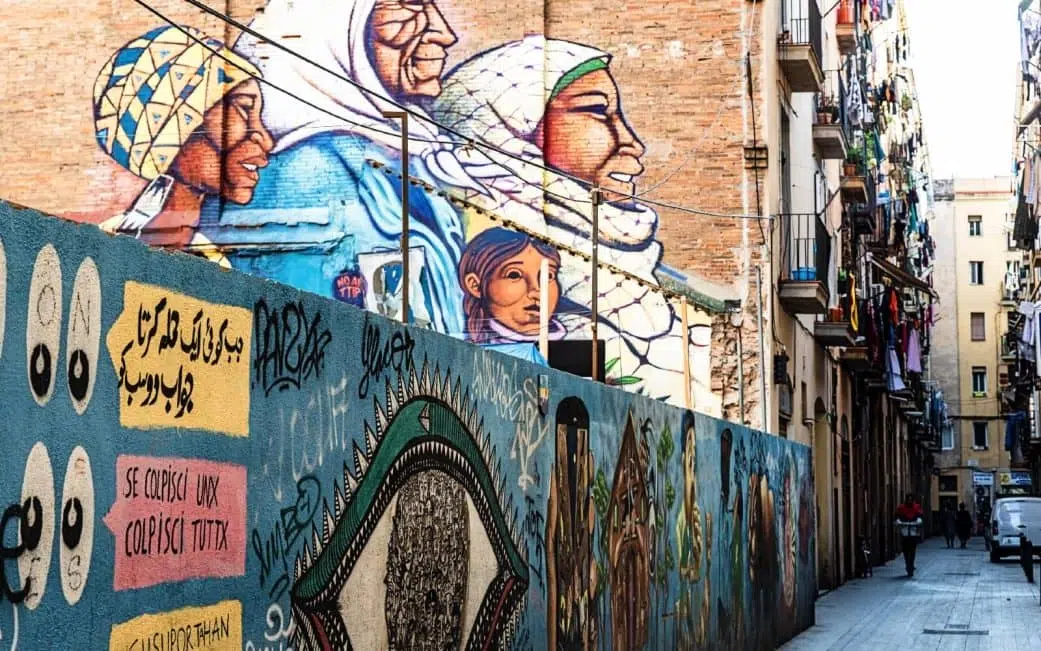 Raval
For those a little more rough and ready I suggest we go for a 20 minute walk to get to the 'gentrified gem' El Raval.
There are tons of good value bars and ethnically diverse eateries here – if you've skipped my tapas advice above there's no shame getting a €5.00 curry lunch on the fly at Bishmillah (Carrer Joaquin Costa 22).
Then you can round out the afternoon going to one of my favourite contemporary museums: MACBA (the modern art museum) or the CCCB (a contemporary culture museum).
Another can't miss in this area is the enormous bronze cat sculpture (El Gat) by renowned Colombian artist Fernando Botero.
Flamenco
We round out the evening taking in a show of not only one of the most popular art forms in Spain, but the entire world.
The Barcelona flamenco shows at the Patio Andaluz have been known to bring guests to tears, and you'll find out if you're one of them watching the intricate dances, passionate yelps, and spirited guitar rhythms.
Shows run daily at 7:45, 9:45, and 10:10 and can include drinks and dinner.
Looking for a plan b? If you book your flamenco show at Tablao Carmen it includes free entrance to Poble Espanyol: Barcelona's open air architecture museum.
Not feeling three days in Barcelona anymore? 🤯
Check out my other Barcelona itineraries to help you find that budget/time sweet spot:
Barcelona Itinerary Map
A good part of any Barcelona itinerary is a map with all the attractions.
Here you'll see how I've bunched them all together for your Barcelona public transport convenience and to make sure you don't go more than a small time without some good food and a drink.
3 Days in Barcelona FAQ
Is 3 days in Barcelona enough?
Three days in Barcelona is more than enough time to see all of the city's major attractions. It also gives you enough time to see a couple secondary attractions, spend some time at the beach, and sample the city's best food.
Should I book 3 or 4 days in Barcelona?
Most travelers looking to plan a basic Barcelona itinerary will be able to check off the city's top sights in three days. That said, if you're looking to add in some secondary museums, a big night out, or day trips to the Costa Brava then four or more is recommended.
What is the must see in Barcelona in 3 days?
If you've only got three days the must see Barcelona attractions would be La Sagrada Familia, Park Guell, Casa Batllo, La Pedrera, The Gothic Quarter, and the Barceloneta beach neighbourhood.
What can you see in Barcelona in 3 days?
The average tourist with 3 days in Barcelona can see the city's top attractions like Sagrada Familia and Park Guell, visit a couple beaches and parks, sample local Catalan food at great tapas restaurants, and have a nice night out at cocktail bars or clubs.
Planning a Barcelona 3 Day Itinerary?
That's Barcelona in 3 days – with an extra bonus day for your troubles.
That said, if you're missing that special something that would really tie all of this together please get a hold of me in the comments below for custom advice.
Also, don't be afraid to join the 3 days in Barcelona itinerary discussion by joining my group I'm Off to Barcelona – here you can ask any questions, air out grievances, and chat with almost 10,000 Barcelona travelers.