What to Do at Montjuïc Hill: Nature and Art in the Heart of Barcelona
Whoever visits Barcelona can't help but be charmed by its artistic side, the splendour of its churches, and the energy that blows effortlessly through the city air – something that goes right to the top of Montjuïc Hill at Barcelona's highest point.
This urban green lung is the closest escape from the city chaos, a must for any tourist, and the closest you'll get to pure nature without heading to one of Barcelona's natural parks.
Let's help plan a day of what to do at Montjuïc.
Montjuïc Hill: Things to Do & Top Montjuic Activities
In Catalan Montjuïc can be translated simply as "Jewish mountain". It was named this way due to the Jewish cemetery found there during medieval times.
The 184-metre tall flat top hill was traditionally the home of military fortifications, prisons, and the unfortunate execution site for political prisoners.
It was only with the 1929 World's Fair that the area began to blossom. The once barren hill is now a space to walk around and take in some of the best panoramic views of the city.
Here you'll find some of the best things to do in Barcelona, art galleries, Barcelona's best museums, some amazing gardens, and some important leftovers from the 1992 Olympic Games.
What to Do at Montjuïc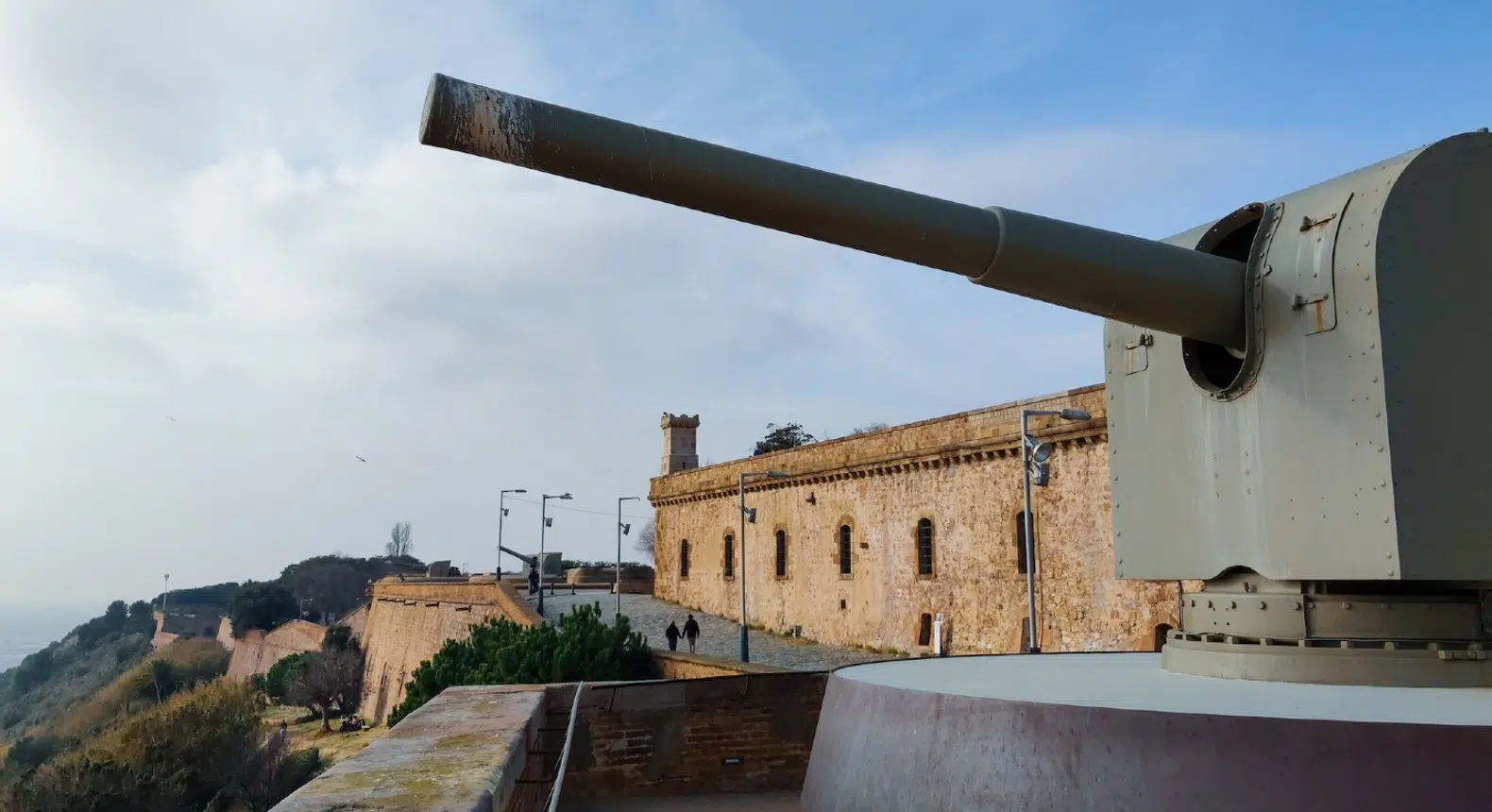 Montjuic Castle
For centuries Montjuïc Castle was used to look down upon enemies and invading armies, until 1640 when it became a true fortress for Barcelonians against the troops of Philip IV ('El Grande').
After the War of Spanish Succession, the castle fell into the hands of the Bourbons, who shaped it into the form we observe today.
From 1800 until 1960 the castle was used to imprison political dissidents or for mass executions. It was here that Franco tortured and later killed the Catalan leader Lluis Companys.
From the top of the castle, you'll get another great panoramic view of the city and port that'll leave you speechless.
General admission: €9.00.
Free for disabled visitors and children under 8
Kids 8-12: €6.00.
To book your ticket simply go to the Montjuic Castle website.
Montjuic Castle Hours:
November 1st to February 28th: Mon-Sun (10:00 am to 6:00 pm, last tickets 5:30 pm)
March 1st to October 31st: Mon-Sun (10:00 am to 8:00 pm, last tickets 7:30 pm)
Montjuic Castle is closed on Christmas Day and New Year's Day.
There is free admission Sundays after 3:00 pm and all day on the first Sunday of every month.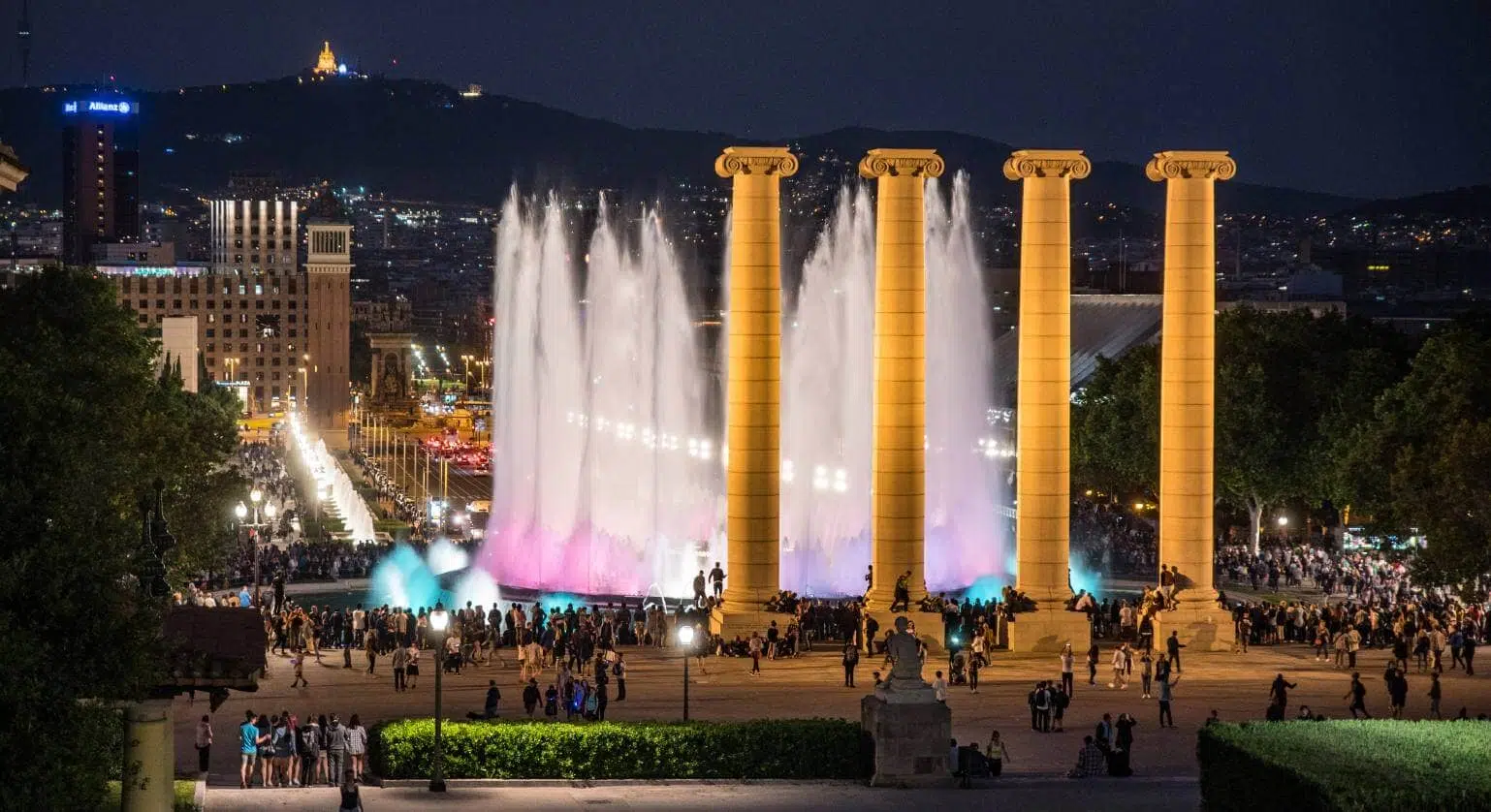 The Magic Fountain
The Barcelona Magic Fountain is one of Barcelona's most spectacular attractions, and best of all it's free.
The music, light, and water show here has been dazzling visitors since the 1929 World's Fair though it was really taken up a notch after restoration for the 1992 Olympic Games.
A great place to cool off in the summer.
Poble Espanyol
At Poble Espanyol, you'll find a reconstruction of a typical Spanish town using architectural styles from each of the country's 15 regions.
Here you'll be able to visit the classic all-white alleys of Andalusia, take in the emblematic stone houses of Aragon, or see any of the marvellous monuments made famous in the region of Castilla.
Montjuïc Cable Car
Upon arrival, you'll find the cable car station right next to the Montjuïc Funicular.
The difference between the two lies in the cable car being suspended in the air, much like a ski gondola, while the funicular finds itself on a track.
The cable car gives you an amazing bird's eye view of the area during the seven-minute trip.
You'll enjoy the cable car on three stops:
Parc Montjuic – Fundació Joan Miró, the Catalonian National Art Museum, Poble Espanyol, and the Olympic ring.
Castell – Montjuic Castle, Botanical Gardens, Joan Brossa Gardens.
Mirador – all the green zones including Mirador de l'Alcalde and Miramar Gardens.
The cable car is not included in any of the transport discount cards, but you can get the cheapest price buying using the button below.
IMPORTANT: bus 150 and the Montjuïc Funicular are included in the Hola Bcn discount card as well as the Barcelona Card.
Related: Barcelona Beach Cable Car
Open Air Cinema at Montjuic Hill
Why wouldn't you want to project the best films of all time on the walls of Montjuic Castle?
Not only will you get original versions of movies in English but short film fests, concerts, and the ability to picnic with your own food and booze. You'll get more than three hours of entertainment for €6.50.
This seasonal affair typically runs June through August and listings and tickets can be found here.
Related: Hungry after the cinema? Check out Barcelona's best restaurants.
Montjuïc Museums
The Joan Miró Foundation
The Fundacio Joan Miro was created by Mirò himself, and was envisioned as an artistic space that would guarantee a voice to contemporary artists of the area all the while hosting international exhibitions.
Here you'll be able to see the different phases of Mirò's craft and appreciate more than 10,000 paintings, and sculptures by Miró and many others.
Related: Looking to discover Barcelona's newest museum? Check out the Moco Museum in Barcelona.
MNAC (The Catalonian National Art Museum)
The Catalonian National Art Museum is home to one of the most complete romantic art collections in the world.
It was born from the union of the Modern Art Museum and the Museum of Catalan Art in 1990.
Today you'll be able to find more than 250,000 pieces at the MNAC divided into different historical periods.
Two real hits here are the Gothic section and the area dedicated to Catalan modernism. The museum is conveniently situated in the towering building in front of the Magic Fountain. If you decide to take in the show, you'll be rewarded with an amazing panoramic view.
The Mies Van Der Rohe Pavilion
This building is also known as the Barcelona Pavilion and is one of the main works of celebrated German architect Ludwig Mies van der Rohe. It was built to represent Germany at the 1929 World's Fair.
The beauty of this building is the variety of materials used for its construction (glass, stone, and wood) and its geometric simplicity. For lovers of design and Barcelona architecture, this is a must.
Tip: the MNAC and Joan Miró Foundation can be had for 45% off using the articketBCN museum discount card.
Montjuïc Gardens
Jardines de Laribal
Probably the most spectacular of the whole lot. Here you'll find a distinct Mediterranean feel with its fig trees, pines, persimmons, oranges, geraniums, roses, lavender, and rosemary.
From an architectural standpoint, you'll be able to see some very feminine statues, plant-covered arbours, stairs, a ton of flower pots, and even a few small waterfalls.
Jardines de Teatro Grec
Right next to the Jardines de Laribal, you'll be able to see a replica Greek theatre from close up, walk through yet more arbours, and see a ravishing rose garden.
You'll also find a spectacular overlook that faces nearby Sierra de Collserola, the mountain range just to the north of Barcelona that's home to the largest urban park in the world – 22 times larger than Central Park in New York!
Jardines de Joan Maragall
One of the most beautiful of the Montjuïc gardens even if it's not that well known. Here you'll find regal-style gardens with massive tree-lined avenues, amazing fountains, all sorts of ornamental sculptures, and big well-manicured lawns where you'll be able to relax.
It's only open only Saturday and Sunday.
Jardines de Mossen i Costa i Llobera
Here it's a little like being in a desert, with more than 600 species of cactus and other plants from the world's desert and subtropical zones.
From here you'll have an amazing view of the Mediterranean coast and the port of Barcelona.
Related: How Many Days Should I Stay in Barcelona?
The Botanic Gardens
Spread out over 14 hectares is this garden displaying a collection of plants from all the world's continents that share the same microclimate as Barcelona. For those passionate about botany this is a place you'll be able to go wild.
Here you'll see the beautiful harmony of so many plant species from all over the world coexisting in the same place: from Australia to California to North Africa and the Canary Islands… a trip here is like a trip around the world!
Here you have to pay to get in. It's €5.00 for adults and €2.50 for youth (16-29) and seniors (65+) . Admission is free for minors under 16.
Jardí Botànic Històric
Not far from the Jardines de Maragall is this veritable hidden gem that'll take you back in time to the peaceful rural life described in Greek poems.
There's hardly a better place to seek refuge from the burning summer sun than between the rocks and shaded benches of the most fascinating gardens of the park.
The 1992 Barcelona Olympics at Montjuic Hill
Montjuïc hill was actually the main site of the 1992 Summer Olympics.
Today you'll see the remnants of the events here all within the Anella Olímpica – Barcelona's Olympic park. You'll find it between the Catalonian National Art Museum and l'Avinguda de l'Estadi, easily reached from Plaça Espanya by bus 150.
Here are a few Olympic highlights you won't want to miss:
Lluís Companys Olympic Stadium
This is Barcelona's second biggest stadium by capacity after the legendary Camp Nou Stadium. Until 2009 it was the old home of Barcelona's second football club Espanyol.
What's unique here is the massive contrast between the outside facade (built-in 1929) and the interior of the stadium which was renovated for the Olympics in 1992. Totally worth a look.
Palau Sant Jordi
One of the most important modern architectural works in all of Barcelona, let alone Montjuïc hill. Inside you'll find it to be one of Barcelona's biggest events centres playing host to concerts, sporting events, and more.
Montjuïc Communications Tower
This imposing structure was built by Valencian architect Santiago Calatrava for the Barcelona Olympic Games.
It's easy to spot this landmark for its protruding 136-metre height and its unique oblique shape, something uncommon with communications towers. It is meant to represent the Olympic torch being carried in an athlete's hand.
Montjuic Map
It's a big space so I've created a handy Montjuic map which you can use clicking the button below:
How to Get to Montjuïc
Bus to Montjuic
A standard city bus which to my knowledge is the easiest and most convenient method of transport to reach the hill. You can catch bus 150 from Plaça Espanya (metro: Espanya).
From here you'll be able to get to some of the biggest attractions in Montjuic: Poble Espanyol, the Miro Foundation, the Olympic Stadium, the Teleferica del Montjuïc station, Palau Sant Jordi, and Montjuïc Castle.
The route takes 21 minutes and runs between 7:00 am and 9:00 pm.
The Bus Turistic to Montjuic
The Barcelona hop on hop off bus is also a great option to see some of the most important Montjuïc landmarks.
This option would be ideal for families with children, people with mobility issues who won't be able to walk around the park easily, and anybody who'd rather enjoy the sights and sounds from the top of a double-decker bus.
You'll find multiple Bus Turistic stops on Monjuic on the red line: MNAC, Poble Espanyol, Anella Olimpica, Fundacio Joan Miro, Caixaforum, and Teleferic de Montjuic.
The Montjuïc Funicular
This can be caught from the Paral-lel metro stop (green line L3 or purple L2).
It'll leave you on Avinguda Miramar where you'll be able to visit the surrounding garden. Right outside the exit of the funicular, you'll find the Montjuïc Cable Car.
People have asked me about Montjuic funicular tickets but remember: these don't exist! It's part of the Barcelona transport network and is accessible with any standard ticket.
Teleferico del Puerto
Also known as the Port Cable Car – this method of transport can get you up the hill with an amazing panoramic view of the city. Just make sure you're not afraid of heights.
The 1300-meter-long ride starts in the port area and allows you to see Sagrada Familia church, the Barcelona Cathedral, Las Ramblas, Barcelona's beaches, the Gothic Quarter, and much more.
It'll drop you off at Montjuic Castle at the Miramar stop.
Cost: €12.50 single (€20.00 return).
More info here.
Tips on How to Visit Montjuïc Hill
Make sure to bring a bag lunch or something to snack on.
Set aside an entire day if you want to see everything.
Alternatively, do a half day of a few highlights and have a picnic lunch with a view.
Time your visit with the sunset for added visual value.
If you're visiting Barcelona with kids Montjuïc offers a ton of play spaces.
To avoid a big uphill battle, make sure you start at Montjuïc Castle and work your way down.
Make sure your cameras and phones are charged! The photography from here is insane.
Avoid after a night at Barcelona's best clubs – you'll need rest because you'll be walking a lot!
Bring a hat and sunscreen in summer.
Wear comfortable shoes.
Visiting Montjuic Castle? Make sure to go early in the morning to beat the crowds.
Take your own water bottle – the prices are steeper than the hill!
If you're taking the cable car, save some money by getting a one-way ticket and walking back down.
At the entrance to every Montjuïc hill park, you'll find a sign with a small map of the area – it's a great way to get your bearings and navigate your way through its many gardens.
Montjuïc Hill FAQs
How to get up Montjuïc Hill?
You can reach the summit of Montjuïc via the funicular's upper station where you'll board the Montjuïc Cable Car. You can grab tickets either online or at the station.
Can you walk up Montjuïc?
Yes, you can walk up Montjuïc Hill depending on how much time you have and your level of fitness. All in all, it should take around 25-30 minutes to reach the summit. However, on a hot summer day, it may be preferable to take the funicular or cable car up and take the leisurely stroll back down to Plaça d'Espanya.
How long is the Montjuïc Cable Car ride?
The cable car provides a seamless link between the city and the apex of Montjuïc hill. The ride takes approximately 7-8 minutes to ascend an impressive 84.5 meters over a distance of 750 meters all the while providing spectacular panorama views of the city of Barcelona.
How long to spend at Montjuïc?
Travellers looking to explore the entirety of the mountain and Poble Espanol below may want to budget around 4-5 hours. However, if you're more interested in checking out the views than exploring the gardens and art galleries then 1-2 hours should be sufficient.
How to get to Montjuïc?
Access to Montjuïc Hill can be gained by means of walking, bus, cable car, car or even bicycle. If you opt to take public transport, the most common method is to take the L1 and L3 metro lines to nearby Plaça d'Espanya. Simply visit Google Maps to obtain directions from your place of lodging.
Still Wondering What to Do in Montjuïc Barcelona?
If you have any questions about what to do at Montjuïc Hill or anything else on your Barcelona holiday, I am here to answer them in the comments below.
And don't be afraid to join the Montjuic Hill discussion by first giving me a like on the Barcelona Hacks Facebook page then joining my group I'm Off to Barcelona – here you can ask any questions, air out grievances, and chat with thousands of Barcelona travellers.
Enjoy Montjuïc Hill ⛰️