Barcelona With Kids: Things to Do with Children in 2023
Some call the capital of Catalonia Europe's adult Disneyland of Europe, yet you're coming to Barcelona with kids.
Not to worry! Believe it or not, there is a lot more to this Mediterranean port city than sun and sangria.
You'll find that there are just as many child-friendly attractions in Barcelona as there are for grown-ups . From spacious parks to educational museums and theme parks, you won't be lacking in choice.
You'll also learn where to eat with kids, how to get around, where to stay, and much more.
Let's get into it.
Things to Do in Barcelona With Kids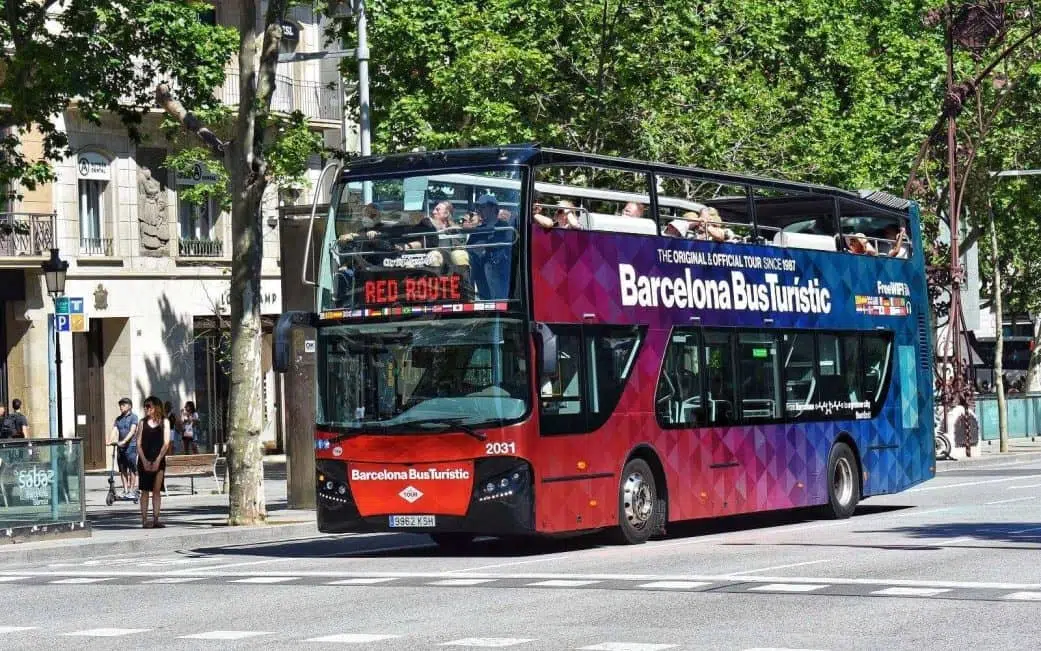 The Barcelona Hop on Hop Off Bus
Do your kids tend to make a scene when they have to walk too much? Problem solved.
If they also love bus rides, then it's even better. The Barcelona Bus Turistic offers your family the chance to relax aboard a double-decker bus while you soak in the sun and check out the best that Barcelona has to offer.
What's more, you'll be provided with an educational audio guide that covers 87 Barcelona attractions, most of which can be reached aboard the Hop on Hop off bus.
You may want to bring your own earphones for kids as the ones on the bus can be too big. Also, bring your tablet as a backup, as the kids will also love the free WiFi.
Buying online using the button below gives you a 10% discount on window rates.
The Magic Fountain
Update 15/04/23: The Magic Fountain is currently suspended to preserve water. Hours will be updated as they become available. For updates, please check out my group I'm Off to Barcelona.
The Magic Fountain of Montjuïc is a can't-miss for your little ones if you don't mind getting a bit wet. Right at the foot of the glorious Palacio Nacional is this 20-minute Magic Fountain show and its 3620 water jets and 4760 lights.
Here you'll see over 7 billion light/water combinations.
It's all synchronized to a musical score, with shows varying from classical to modern pop. I haven't heard of a disappointed kid yet. Check the Magic Fountain calendar for more information on times.
Cosmo Caixa
Any guide for Barcelona with families should include something educational, shouldn't it? And here I'm talking about both the children and the adults. This local science museum is home to a plethora of permanent and temporary exhibitions.
At the Amazonian rainforest exhibition, children love the piranhas and crocodiles. And the Planetarium will take you on an adventure into space not soon be forgotten. The 'toca toca' ('touch touch') section may beat them all, allowing your kids to touch exotic animals!
Best of all? It's free for those under 16 and just €6.00 for adults! This makes it one of the cheapest things to do with children in Barcelona.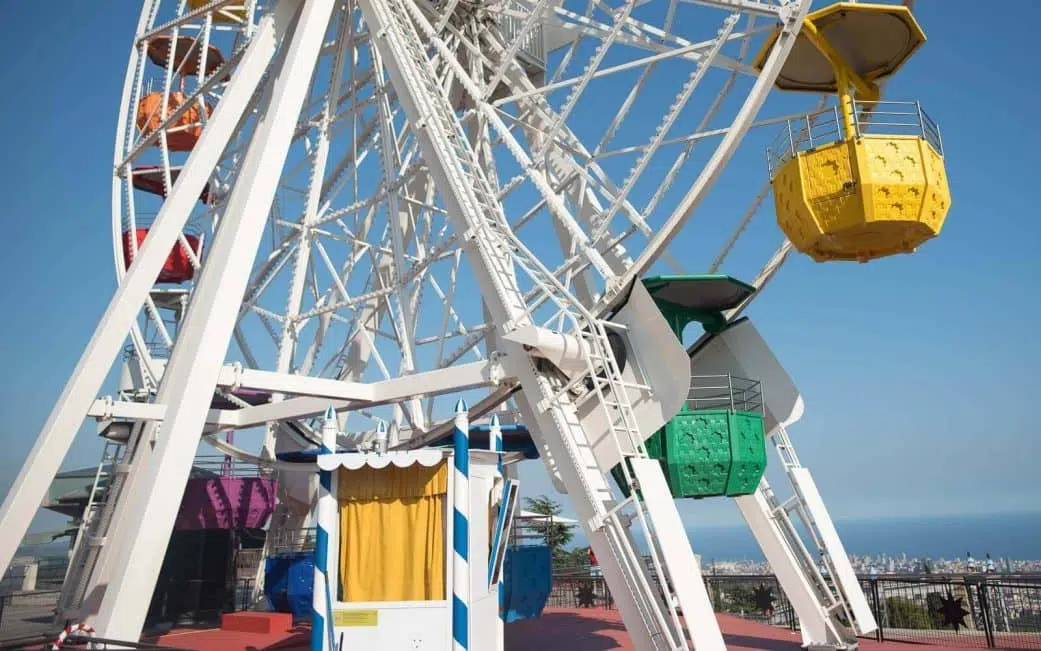 Tibidabo Amusement Park
Yes, it's a monastery at the peak of a mountain with spectacular views of the city. Not exactly what your kids would consider among the many fun things to do… but wait, there's an amusement park!
The Tibidabo Amusement Park was built in 1889, giving it a cool retro vibe. You can't leave without a spin on the Ferris Wheel or the world's first flight simulator. You'll also get great street theatre and kid-friendly shows.
Get a 5% discount off window rates booking with Barcelona Tourisme using the button below. Tickets also include bus tickets from Plaça Catalunya.
The Aquarium Barcelona
The Barcelona for kids that I know wouldn't skip out on the animals! Let them discover an amazing underwater at Aquarium Barcelona. This attraction is made up of 35 tanks including the spectacular 260 foot underwater tunnel. There's nothing quite like standing in the midst of all that life.
At feeding time the 118 foot ocean tank holding massive sharks, rays, penguins, and other large fish is a must. In all your family will see over 11,000 animals made up of 450 species.
It's the most educational aquarium dedicated to Mediterranean marine life in the world.
Bogatell Beach
Letting your kids burn off the delicious Catalan cuisine while playing football or swimming at one of Barcelona's best beaches may sound like an obvious one, but where?
There are 4 different beaches in the city centre, with frequented by nudists and/or rowdy young people. So you're going to want to select the most family-friendly option. Cue Platja del Bogatell.
With cleaner waters, a children's playground, superior shower and toilet facilities, and a decent proximity to the city centre your kids will thank you!
Just get off the Bogatell Barcelona metro station (yellow line L4) and walk the 600 meters down.
Illa Fantasia
Of all of the Barcelona water parks, this one is the closest to the city centre. It's also arguably the water park with the greatest amount of amenities of the bunch.
The 70,000 m2 water park is home to 22 slides, 3 giant pools, and a massive picnic area. The slides are great for kids or adults ranging from low to fast to extreme speeds.
There are relatively short lines, nine restaurants, and a free shuttle bus from the city. So you're guaranteed an amazing family summer afternoon.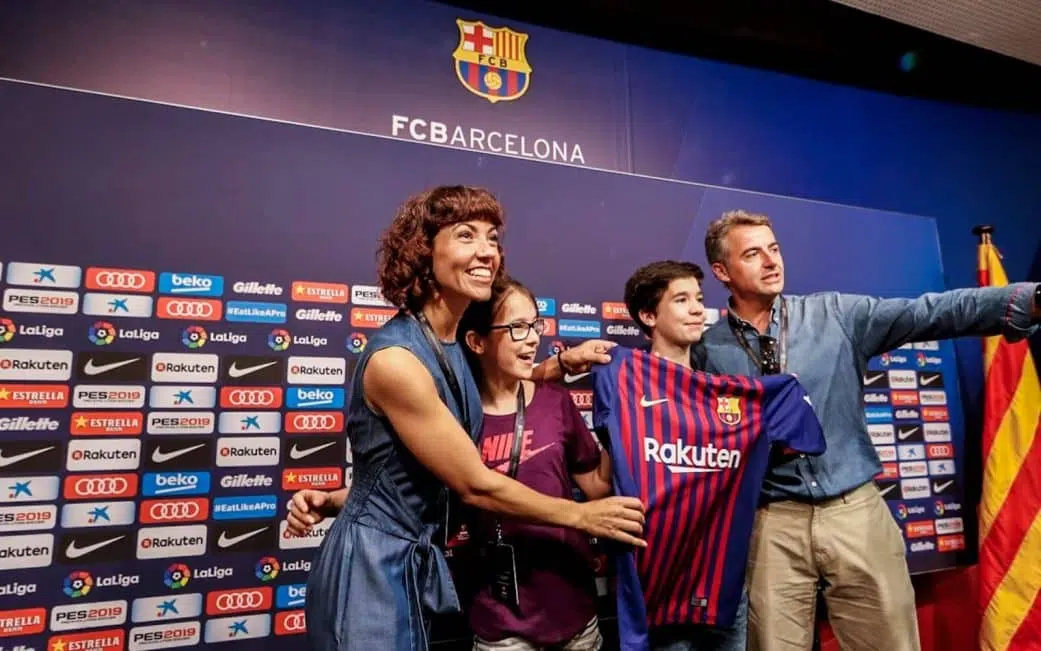 The Camp Nou Experience
The Camp Nou Experience is self-explanatory for places to visit with kids in Barcelona, especially if they happen to be football lovers.
You'll be hard-pressed to find a bigger treasure trove of football memorabilia than Barcelona FC's historic stadium. You'll see Messi's Golden Boots, the team's Champions League trophies, and learn the history of this incredibly successful club via a massive interactive space.
What could make it better? While, touring the stadium, of course. From walking onto the pitch via the player's tunnel to sitting around the dressing rooms your children will be footballers for a day.
Booking with the link below includes a free city guide and skip the line access.
Another option? If you're in Barcelona during the season, pick up some FC Barcelona tickets.
Ice Cream!
Another idea for visiting Barcelona with children with a guaranteed 100% strike rate!
Being half-Italian I find myself partial to the artisan gelato spots spread throughout the city: a great one in the Gothic Quarter near the Barcelona cathedral is Gelaaati di Marco.
Near Sagrada Familia, you'll also find Sante Gelato with their traditional and more adventurous flavours – the goat cheese and caramelized fig was amazing.
Looking for equal sweetness in the Barcelona winter cold? Grab some delish churros con chocolate.
🥘 Looking for food + history + wine + fun? Take one of Barcelona's best food tours.
Related: How Many Days Should I Stay in Barcelona?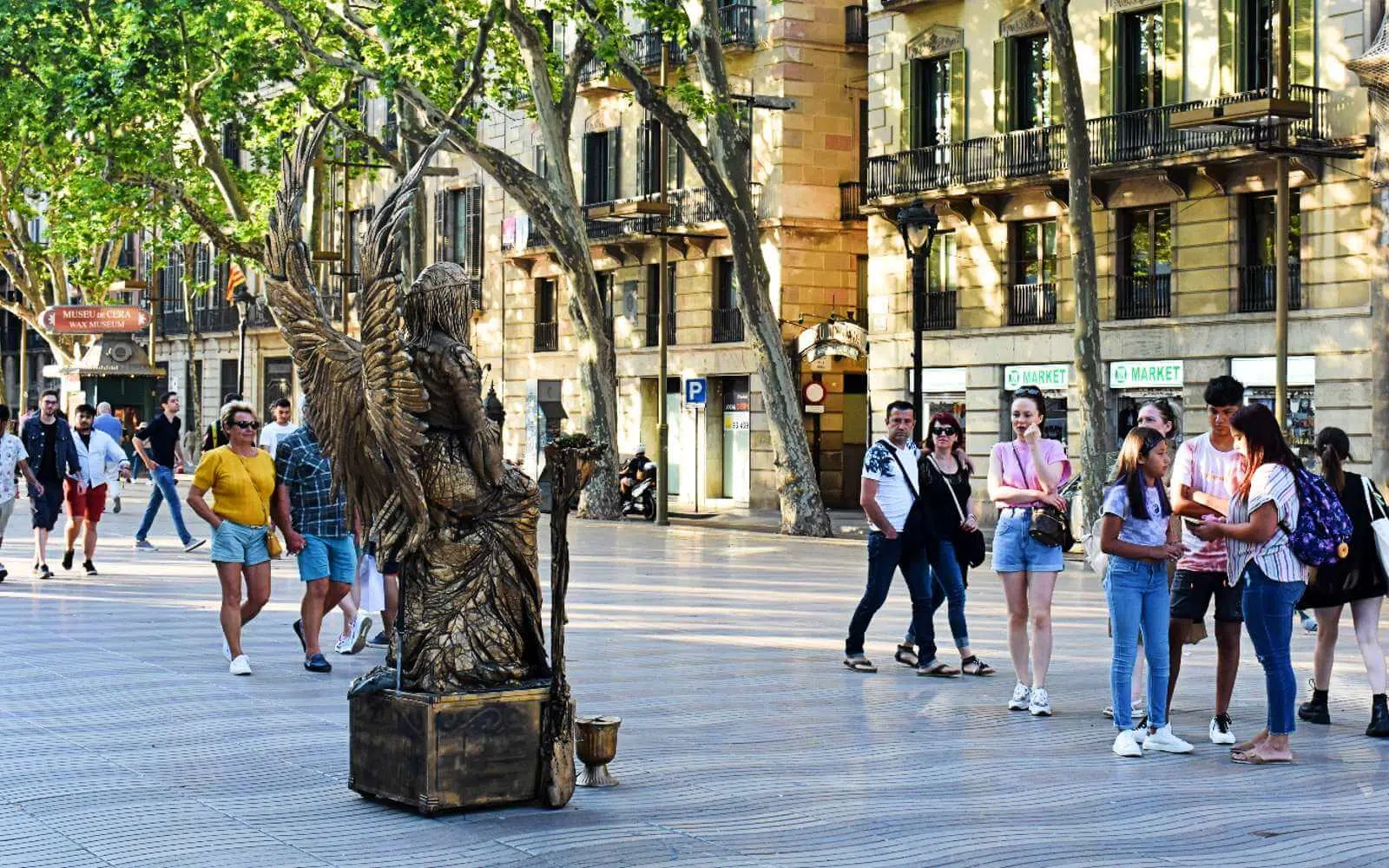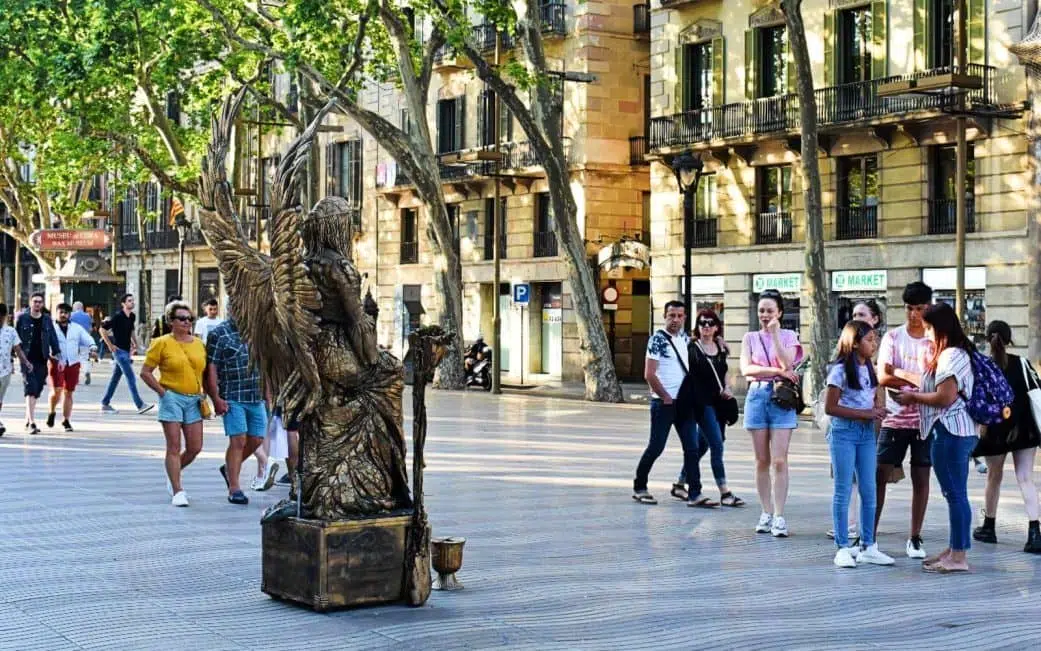 La Rambla
As Barcelona's most famous street, La Rambla offers a million distractions for your little ones.
Here toddlers and smaller children can't get enough of the street artists. To find these crazy people dressed as mythical creatures, footballers, movie characters, and even a table freshly set with paella, you should head to the end of the street around metro stop Drassanes.
Just be sure to avoid this place at night due to the area's infamous Barcelona pickpockets.
The Chocolate Museum
Chocolate lovers rejoice!
Learn about the history of chocolate and how this obscure American ingredient eventually conquered the European continent using Barcelona's port. All the while, both you and your children can stuff your mouths with this decedent treat.
At the Museu de la Xocolata, you'll find creative things to do with kids, like the 'Chocolate Artists' activity, where they make sculptures and even paint in chocolate. The interactively tasty workshops are great for adults too.
Get a 5% discount booking online at Barcelona Tourisme by clicking the button below.
The Barcelona Zoo
For animal-loving children and toddlers, there is no better place to visit than a zoo that holds 2000 animals of over 300 different species. Some highlights are the hippopotamus, the common lion, the Rothchild's giraffe, cheetahs, and the Western lowland gorilla.
Some free activities for kids included in ticket prices include penguin feedings, elephant training sessions, dolphin shows, and the "farmer's task" workshop that teaches children how to look after animals.
Booking using the button below gets visitors a 5% discount on the window price.
The Port Cable Car
Running out of things to do? Then why not float 300 feet above the city and take in the best panoramic views in Barcelona aboard the Port Cable Car.
What can only be described as a type of urban ski-lift will take you on a 7-minute voyage from the port area of Barceloneta all the way up Barcelona's tallest hill: Montjuic.
Along the way, you'll see the sea, Las Ramblas, the Arc de Triomf, Sagrada Familia, and more.
At the top, Torre de Miramar is an amazing place to take in the city. And the gardens here are a great place to wander – just be prepared to hold the family tight during the breathtaking swing at the first tower!
Tickets cannot be bought online and must be purchased in person – more info here.
El Bosc de Les Fades
Parents, don't ever tell me I don't have your back. Because I'm truly thinking about you on this one!
If you just have to take a break from our itinerary of Barcelona children's activities to dive into one of the many Barcelona's best bars, this would be the one – this is one of Barcelona's hidden gems.
First off, it has solid baked goods and coffee – but there's also sangria and some pretty stiff gin and tonics too. It's also a fairy tale land. The whole bar is made up to be a woodland complete with simulated thunderstorms.
Look for El Bosc de Les Fades at the bottom of La Rambla, next to the Wax Museum.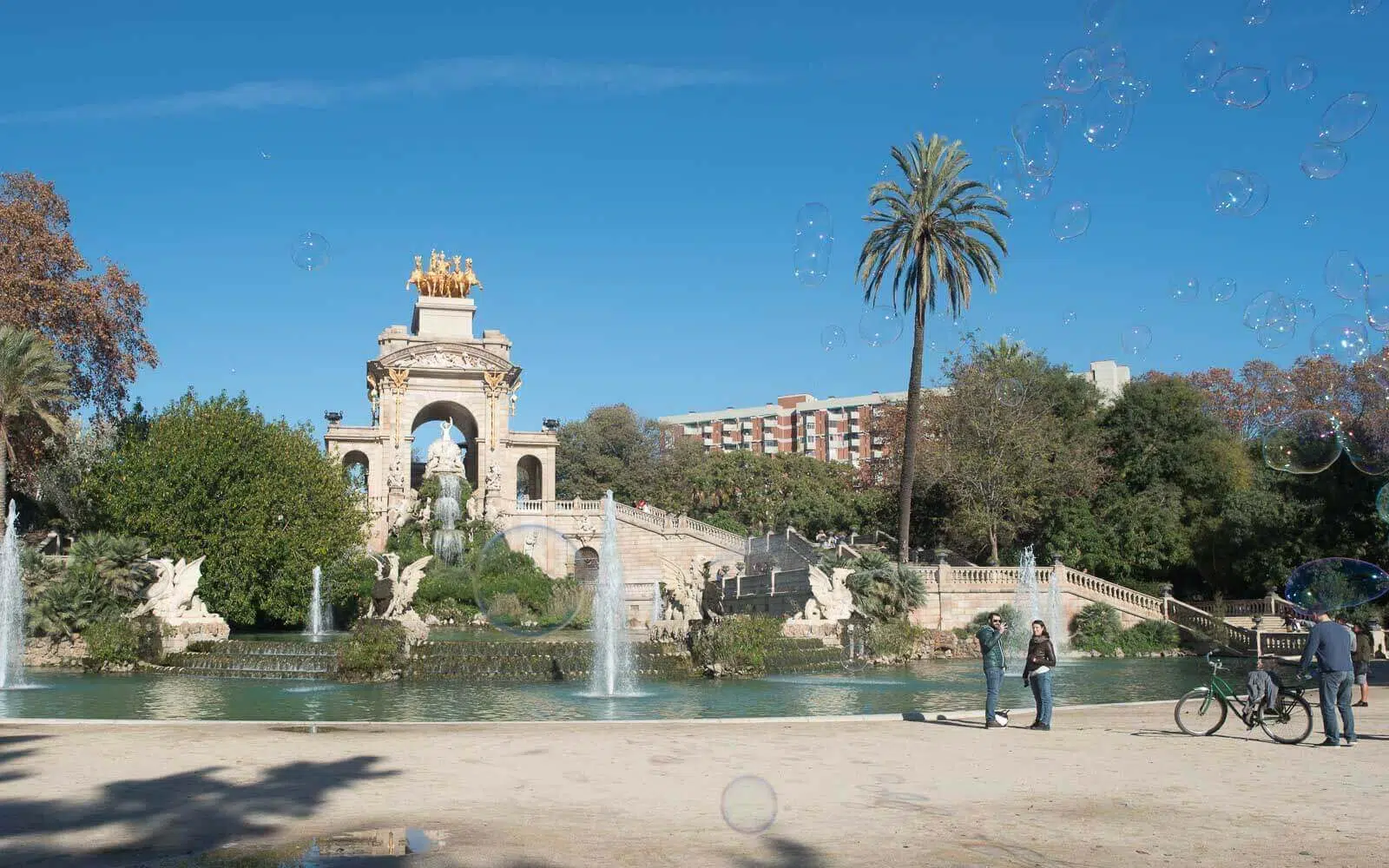 Ciutadella Park
Still don't know what to do in Barcelona with kids? Well, just do as you do at home: go play in the park. And as they say, go big or go home.
Ciutadella Park is Barcelona's biggest park, and you can find it near the famous Arc de Triomf in the fashionable Born district. My advice would be to buy a cheap football to have a kick around the open space.
You can also take a picnic lunch for the ultimate family day out.
A great thing to do for kids is to explore the park's artificial lake in the rowboats available for rent. Prices start at just €6.00, with rentals going from 10 am to dusk.
La Boqueria Market
The explosion of colours, sounds, and tastes found at La Boqueria Market isn't just for adults. Children can't get enough of the €1.00 fruit smoothies and little fruit cups. This is a great chance to eat healthily, but be careful because there are candy and ice cream stalls galore.
Kids also have a strange obsession with the hams hanging from the ceiling and the many rare cuts of meat and still-alive seafood. It gets crowded, so keep the kids close: I recommend visiting before 10 am or after 4 pm.
Looking for a less crowded alternative? Try the Santa Caterina market.
This is one of the best indoor activities in Barcelona.
Where to Eat in Barcelona with Kids
Konig
€€ | Area: Born | Carrer de la Fusina 3 | Metro: Jaume I (various) | Website
Kids are more than welcome at this classic tapas bar in El Born.
Here you'll get all the typical Spanish dishes (try the fried artichokes!) for adults to enjoy while the kids entertain themselves by drawing with crayons.
They also have an extensive hamburger and sandwich menu, which is great for picky eaters.
There are also high chairs if needed.
Sopa
€€ | Area: Poble Nou | Carrer de Roc Boronat 114 | Metro: Poblenou (L4) | Website
This chain of vegetarian and macrobiotic restaurants has many locations, but my favourite is the bright Poble Nou location right in front of a great park for kids to play.
Here you can have lunch or breakfast with high-quality ingredients. Think Mediterranean with some Asian influence. If you're big on soups and salads, this is a great option.
All locations have high chairs, changing tables, and children's books.
Bar Convent
€€ | Area: Born | Carrer del Comerç 36 | Metro: Jaume 1 (L4) | Website
This Born bar is a beautiful stone-walled spot where you can have breakfast or drink coffee overlooking the courtyard of an old convent.
Grab a draft beer or some Argentinian empanadas here, making it a great place to mix it up from the typical kid-friendly restaurants.
Here you'll get tons of games for children and the standard changing tables and high chairs.
Alice Secret Garden
€€ | Area: Gracia | Carrer de Pau Claris 92 | Metro: Urquinaona (various) | Website
This bar which bills itself as a new-generation coffee shop, is famous for its cakes and will catapult your little ones to the world of Alice in Wonderland. Their goal? To help you eat, play, and think.
Here they have everything needed for children's entertainment: a giant blackboard, books, a crafts area, games and colouring material.
And yes: children's menus, high chairs, and changing table.
Plaça de Masadas
€€ | Area: La Sagrera | Plaça de Masadas | Metro: La Sagrera (various)
This square in the Sagrera district is great if you decide to go to the Parc de Can Dragò playground to play with the mega octopus. It's not a restaurant, but a big area full of kids.
During the weekend, it fills up with families who become the square's undisputed masters! Under the arcades, there are places to eat for all tastes, with menus suitable for children.
In particular, I'd suggest going to Lapanat for tapas.
Related: Is Barcelona Worth Visiting?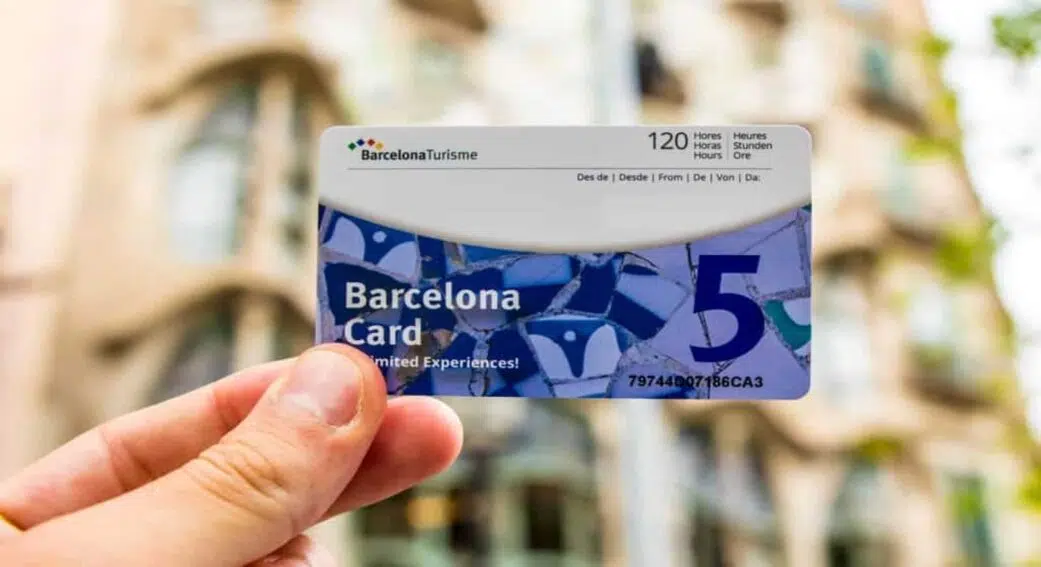 Getting Around Barcelona with Kids
Transport
Kids under four ride free on Barcelona's public transport network.
To save money on transport, I recommend getting the Hola Barcelona Card. This unlimited transport pass can cost as little as €6.84 a day (kids under 4 ride free) and is available in 48, 72, 96, and 120-hour formats.
If you really want to put out the effort, keep in mind that kids 4-16 who are registered as residents in the TMB area can ride free if you mail in a pass request. This pass is called the T-16, and you can find more info about it here. FYI: this involves an identity check and can take up to 30 days.
Need transport plus attractions? There's the Barcelona Card. You get unlimited transport, free entrance to 25 museums, and 85 discounts on attractions, shows, food, shopping, and more.
Passes for children start at just €27.00.
A bit confused about which pass is for you? See a page comparing the two options by clicking the button below.
If you're arriving at Barcelona airport and need a quick taxi solution that includes complimentary car seats for children: you can get a free ride quote at the Taxileader website.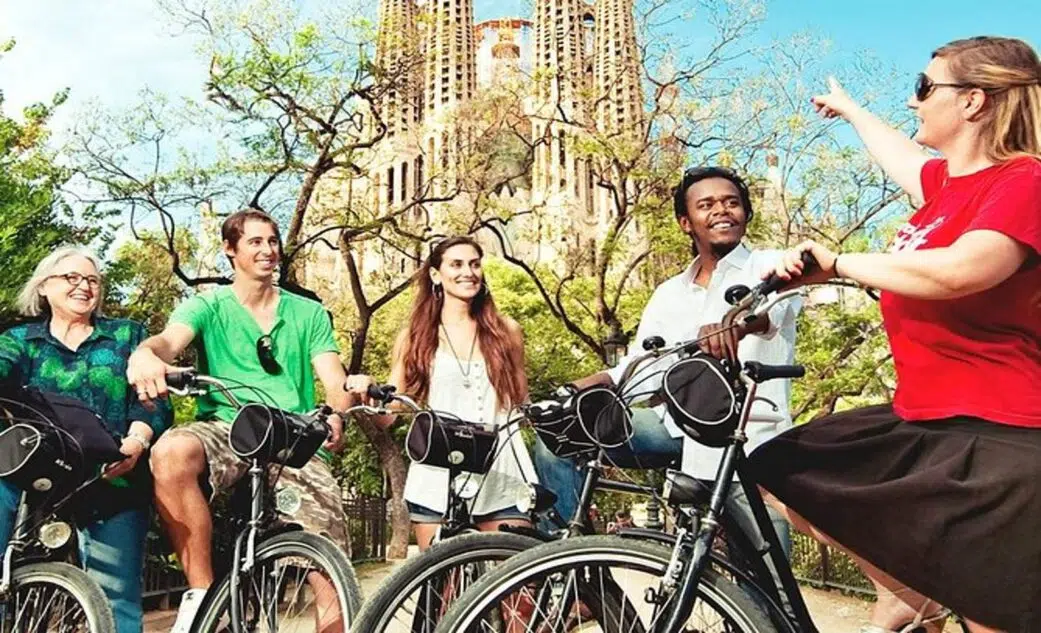 Exploring by Bicycle
Even though this is the transport section, one of the best things to do in Barcelona with kids is to get around the open air on a bicycle.
In a city of 300 km of bike lanes, there's no sense not soaking up the sun and keeping fit at the same time.
I suggest taking one of Barcelona's top bike tours if your kids are curious enough .
That said, parents can rent bikes for their children starting as low as €2.50 an hour, including a helmet. Whether you're cycling between attractions or going on a long ride along the beach with ice cream stops, this is highly recommended.
Where to Stay in Barcelona with Kids
For many reasons, mostly including noises and crowds, I am going to suggest not staying in Barcelona's Gothic Quarter or the pickpocket-heavy confines of El Raval.
In my opinion, the best area to stay with kids is the Eixample district. From here, you'll minimize your dependence on transport and avoid all the late-night shenanigans of the city's tourists.
Another great option is to stay in classy El Born for its proximity to Ciutadella Park as well as the beach. You also can't go wrong in the mini-village of Gracia, which maintains an independent charm not seen elsewhere in the city.
For more elaborate info, read my article on Barcelona's best lodging neighbourhoods.
Parks for Kids in Barcelona
Park Guell
You've probably heard all about the city's most amazing park, and this is the perfect place to combine playing with your kids and getting some quality sightseeing in!
If you buy tickets for the Monumental Zone (button below), you'll get access to the famous mosaic lizard – a big hit with kids. There are also fountains and a stunning panoramic view of the city.
In the Free Zone, you'll find multiple picnic spaces, four playgrounds (two sand, two rubber), a basketball court, and a huge forest full of birds and eucalyptus trees with people walking their dogs.
Ciutadella Park
Right near the Ciutadella-Vila Olimpica (L4) and Arc de Triomf (L1) metro stations, you'll find the city centre's biggest park.
It's flat, so it's a good place for a good lie-down or a run around.
You'll also have access to yet another gigantic ornamental fountain as well as an artificial lake where you can rent a boat and row among the ducks.
It's also home to my friend's kids' favourite playground in the whole city. Look for the fenced park behind the lake. There are tons of playground activities, trunks and stones, a vegetable garden, and even a house with a bridge.
During summer (times vary), there are fountains for water fights… careful of the mud!
Montjuic
This local mountain (if you can call it that) is a must when visiting Barcelona with children.
Here you're truly spoiled for choice for the number of parks and gardens where your little ones can run and play. I recommend the Joan Brossa Gardens for its play area with sand, water, slides, swings, 'sound pillows,' and a mini wooden suspension bridge.
Near here, the Joan Mirò Museum offers workshops with children's activities.
Take bus 150 from Plaza España or metro L3 to Parallel and then the Montjuic funicular.
Parc del Laberint de Horta
I talked about this at length in my post on Barcelona's best parks and generally lament the fact that it's a bit far out – but if you're willing to put in the metro/subway time, it's well worth it.
You may know this park from the famous scene in the movie Perfume.
There's a massive maze carved out of hedges which kids just love.
Admission costs €2.25 for adults (free for kids under 5)
Take metro L3 to Mundet.
Playgrounds for Kids in Barcelona
Parc de la Estacio del Nord
This central park is not far from the aforementioned Parc de la Ciutadella and is located right at the exit of the Arc de Triomf metro (Calle Nàpols exit).
Here you'll get several interesting things for children, including slides, swings, and a unique spiral/mountain-like structure where they (and you?) can run and play.
Near here, you'll also find a strategic little bar where parents can sit and have a coffee/beer.
Plaça de les Glòries Catalanes
In Les Glories Park (still under construction), you'll find one of the newest playgrounds in the city – the result of a worldwide competition to turn what was once an ugly thoroughfare into a green space.
Here you'll be able to play pingpong, go for a run on a mini track, or seek some summer shade in one of the pergolas.
There's also a standard playground and bar for refreshments.
Take metro L1 to Glories.
Plaça de Vicenç Martorell
If you're tiring yourselves out walking the famous La Rambla, then I recommend ducking into this urban oasis in the middle of the Raval neighbourhood.
Here you'll find all sorts of activities for children, like swings, a little slide, and a space to run around and play ball games.
Careful, though; things can get a little dusty!
Parc de Can Dragò
This park is a bit on the fringe of the city, but I recommend it because it has one of the best playgrounds in the city!
The star of the show? A huge octopus whose tentacles are giant slides.
It's so popular there are likely to be lines on weekends, so leave plenty of time.
There's also a swing set and various games for children.
Take metro L1 to Fabra i Puig.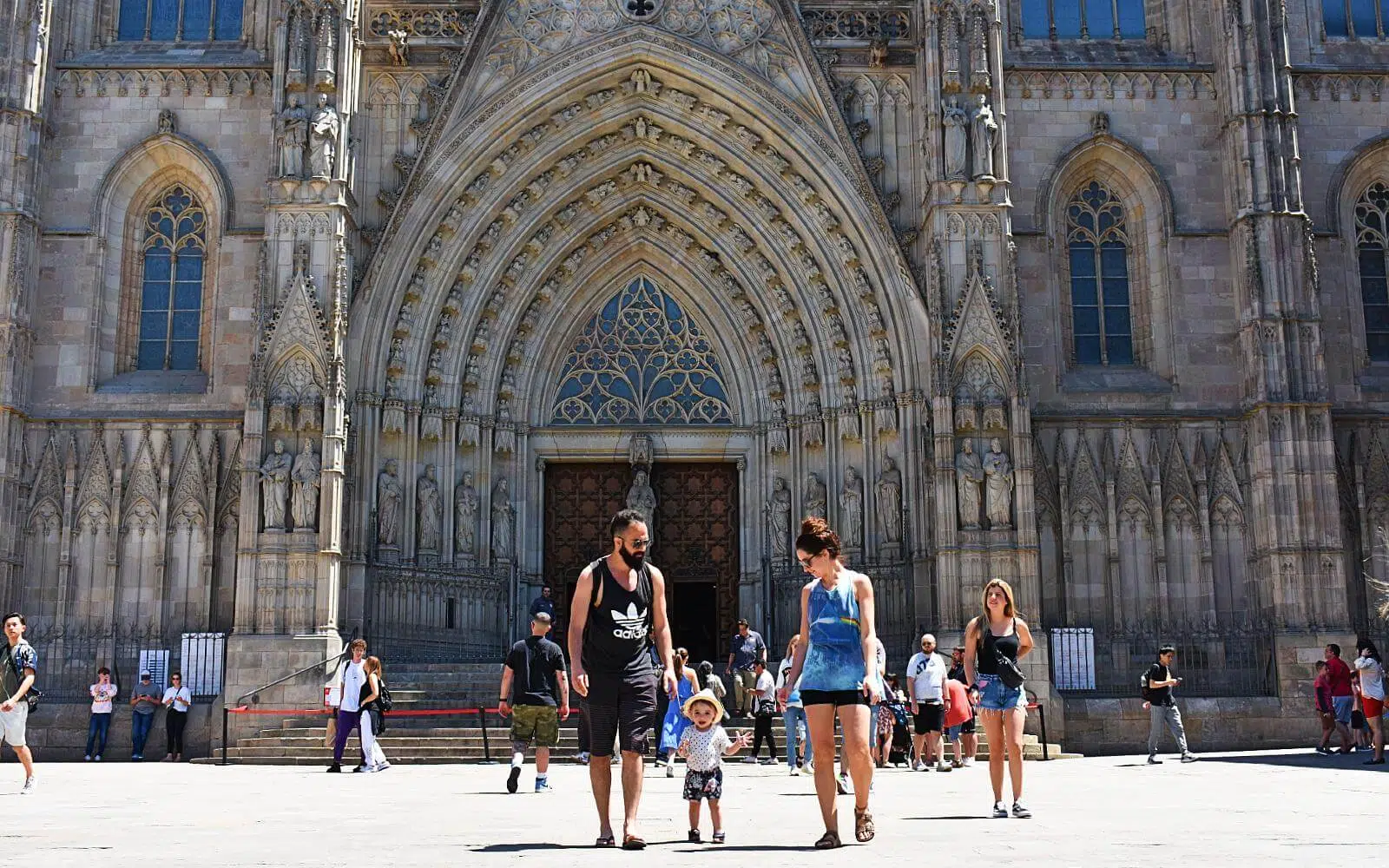 General Tips for Visiting Barcelona with Children
Spanish dinner hours are normally between about 8:00 pm and 11:00 pm, with many top restaurants closing in the middle of the day. Plan kids' snacks accordingly with supermarket visits.
If you travel with kids, you'll know the pain! For pharmacies, keep your eyes peeled for fluorescent green or red plus signs. A centrally located 24 hour pharmacy is open at Carrer Aribau 62 should you need it.
If you're visiting Barcelona in the summer, it's recommended to pack hats and sunscreen.
Consider buying a Barcelona Card or Barcelona Pass, which can save you money on transportation and admission to popular attractions.
Leave some room for improvisation! Barcelona is a great city to walk around and get lost, even for children.
Finally, make time to enjoy the relaxed pace of life in Barcelona, and don't try to cram too much into each day. Give yourself and your kids time to rest and recharge between activities.
Barcelona for Families FAQs
Is Barcelona a good city to visit with kids?

Absolutely! Barcelona is a very kid-friendly city, with plenty of activities and attractions for children of all ages to enjoy. It has a plethora of kid-friendly museums, water parks, and theme parks, not to mention several of the best urban beaches and parks in Europe.

What are some of the best kid-friendly attractions in Barcelona?

Some of the best kid-friendly attractions in Barcelona include Park Güell, Ciutadella Park, the CosmoCaixa Science Museum, La Boqueria Market and the Barcelona Aquarium.

What's the best way to get around Barcelona with kids?

Barcelona's public transportation system is efficient and affordable, making it easy to get around the city with kids. Moreover, the city offers a variety of transport cards that are a great value for travellers of all ages. Buses and the metro are both good options, and you can also consider using a bicycle or walking for shorter distances.

Are there any beaches in Barcelona that are suitable for families with kids?

Yes! Bogatell Beach is a popular spot for families with kids, with plenty of sand, water, and space to play. It also attracts less sellers, nudists and teens than some of the city's other beaches.

Is Barcelona safe for families with kids?

Yes, Barcelona is generally a safe city for families with kids. However, as with any major city, it's important to take common-sense safety precautions and be aware of your surroundings. This is particularly true if you find yourself in the Raval or Las Ramblas districts later at night.
All prepared to visit Barcelona with kids?
I know it can be intimidating to find child-friendly attractions in Barcelona. But hopefully, I've managed to put some of your concerns to bed.
However, maybe you feel I've missed something. Or you'd like some custom travel advice for visiting Barcelona with kids. Either way, you can always hit me up in the comments below.
Happy travels 😃