Palau de la Música Catalana: Barcelona's Music Palace
If nature is the heart of modernism, then the Palau de la Música Catalana has flowers pumping through its veins.
Just try and pass it without stopping to admire the precision of the ornaments, the depth of the mosaics in its columns, and its sensational stained glass dome ceiling.
Going in for a concert or a guided tour in English is the real magic, though – let's see how we can do it.
Palau de la Música Catalana
The Palace of Catalan Music is the result of three converging dreams:
The need for the up-and-coming choir Orfero Catala to find a permanent home.
Barcelona's desire to put another jewel in the crown of Catalan Modernisme.
Catalan architect Lluis Domenech i Montaner's motivation to challenge conventional theatre building.
The result is the most sought-after modern auditorium in the world, with an incredible 4.5-star rating from over 11,000 Tripadvisor reviews. You'll even find the word 'breathtaking' in hundreds of English reviews; it's that good!
Palau de la Música Facts
Seats 2200+ spectators.
Among the finest examples of art nouveau Barcelona architecture.
Provides an explosion of colourful and carefully placed mosaics.
The only auditorium in Europe that's completely illuminated by natural light.
Offers golden-age type acoustics to drive music lovers wild.
Proclaimed a UNESCO World Heritage Site in 1997.
Hosts over 600 shows a year (from opera to flamenco to symphony orchestra and more).
Has an annual concert attendance of over 500,000 people.
Why Take a Palau de la Musica Catalana Tour?
Nearly 300,000 people a year visit the Palau de la Música, and the number is only increasing. The reasons to see the palace via a guided tour are long, but I recommend embarking on a tour for the following reasons:
You'll see more, with access to restricted areas not open to the general public during concerts.
⚠️ 

Warning

⚠️

: Barcelona's top two attractions must now be booked in advance.
You can book fast track tickets to both individually or get them as part of a discount pass:
You will not be able to book these tickets on site – lock in your tickets ASAP or you could miss out.
You'll have better lighting, as guided tours during the day make way better use of the defining natural light that dazzles everyone who sets foot in this incredible attraction.
You'll learn a ton of interesting information from the entertaining and informative English-speaking guides.
And finally, you save money since it's about 50% cheaper than seeing most concerts.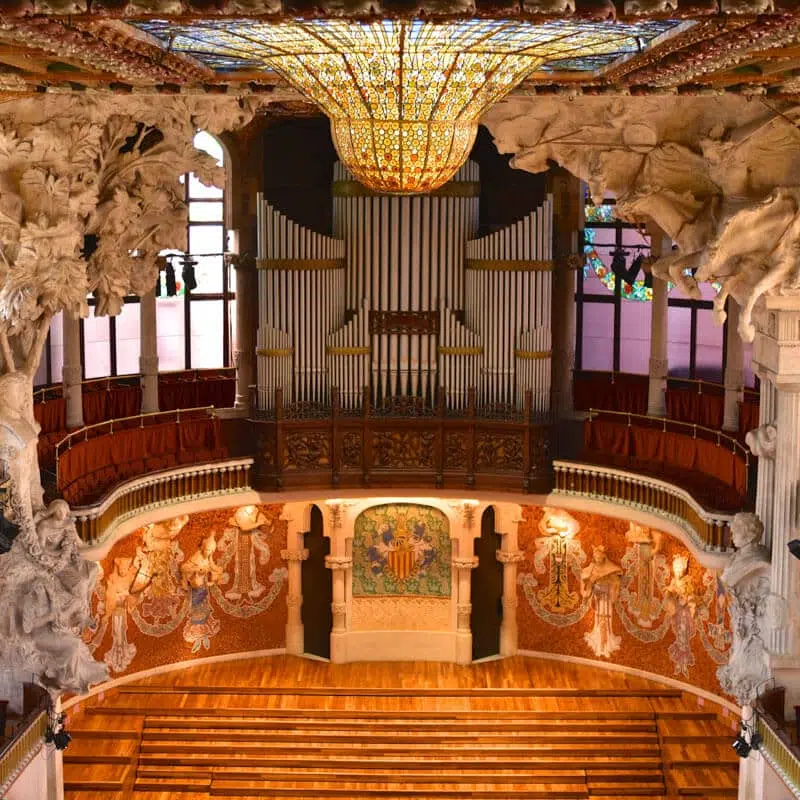 Palau de la Música Catalana Guided Tour
A highlight of the Palau de la Música tour is the massive 3000 pipe organ looming high above you – don't despair; they'll be sure to do a little performance to show you how good the acoustics are.
Even better is the stained glass sun dome (shown above) that takes a majestic three-dimensional plunge into the concert space and looks like a teardrop or a portal to another dimension.
There's not a camera in the world to do this light show justice.
The initial video presentation about the history of the palace gives you all the info you need before the guide even opens their mouth.
When they do, virtually every sculpture on the wall and ceiling is highlighted and explained.
The English-guided tour of the Palau de la Musica runs daily every hour from 9:00-13:00, with an additional tour at 14:00.
Each tour lasts 50 minutes.
Palau de la Música Catalana Tickets
Basic entrance to the Palau de la Musica (aka the 'self-guided ticket') costs €16.00.
English tours of the Catalan Music Palace are available for the discounted online price of €19.00. Additionally, child visitors under 9 get tickets for free.
Buying in advance online is strongly advised to avoid long lines and ensure you get your desired time. There are limited spots per hour, and groups are kept small.
You can grab tickets and support my blog at no extra cost to you by using my link from Tiqets below:
Once you've got them, print out the tickets you receive via email and show up to skip the lines.
Note: those using the 2, 3, 4, or 5-day Barcelona Card for discounted transport get 25% off Palace of Catalan Music tickets as well as many more can't-miss Barcelona attractions.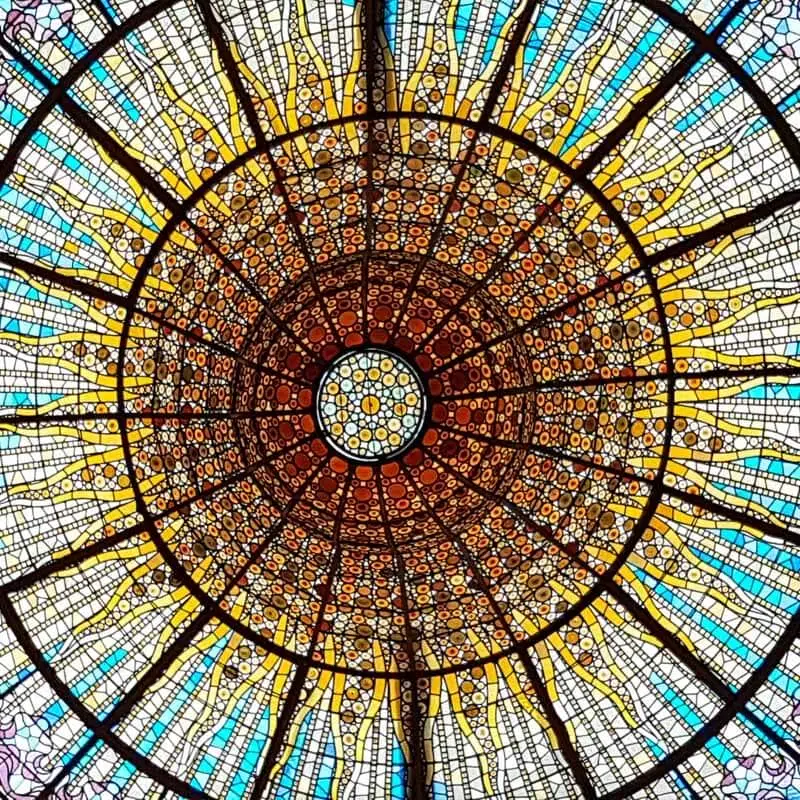 Palau de la Música Catalana Opening Hours
The Palau de la Musica box office is open daily from 9:30 am to 3:30 pm.
In 2023, you can expect to find special extended hours for Easter and the months of July and August that are still TBA.
You will select the time of your tour upon ticket purchase.
Palau de la Música Catalana Events
To attend concerts at the Catalan Music Palace, there are typically two daily performances. A cross-section of a typical monthly concert schedule finds:
Orchestra + ballet.
Jazz.
Opera.
Mozart.
Puppet shows for children.
Bagpipes.
Flamenco guitar.
Star Wars soundtrack symphony.
Single tickets for all concerts can be bought in advance online at the Palau de la Música website. You can also get them at the ticket box office, but you run the risk of shows being sold out.
Wondering about the dress code? Ditch the Barcelona beach wear and dress smart casual.
Related: How Many Days Should I Stay in Barcelona?
How to Get to the Palau de la Música
The Palau de la Música is found in Barcelona's trendy Born District at Carrer Palau de la Música 4-6. To get there, take the yellow or red metro lines and get off at Urquinaona. You can also get there from Jaume I (yellow line).
The closest stop on the Barcelona hop on hop off bus is Barri Gotic (red line).
There is also a bus stop for buses V15, V17, and 45.
The music palace is within walking distance from:
🚌 Heading to Palau de la Música? Make sure you know how to get around Barcelona on public transport first.
Palace of Catalan Music Hacks
Buy your Palau de la Música Catalana tickets online in advance to save money, avoid lining up, and get desired time.
Combine your entrance with the Barcelona Card for a 25% discount.
Book for sunny days – mornings and sunsets are especially good.
Walk all around the building – the backside is spectacular 😉
Buy gift shop souvenirs after the tour – guides usually give 10% discount coupons.
Take the flash off your camera unless you want an angry guide!
One of Barcelona's best bars is nearby at El Bar de l'Antic Teatre.
Explore Barcelona's Born district while you're there.
Palau de la Música Catalana History
This garden of light and colour, the brainchild of genius Catalan architect Lluis Domenech y Montaner, was built between 1905 and 1908 during the same period Antoni Gaudi was hard at work on his masterpiece Casa Batllo.
By 1909 the building had already been awarded art nouveau masterpiece status by the city of Barcelona and, in 1971, was declared a national monument.
Over the years, some major improvements and changes have been made – the most important being between 1982 and 1989 and those at the beginning of the 2000s, giving the building a library, some offices, a tiny square, and even a bar.
🧑‍🎨 Want more of Gaudi? Unlock his masterpieces with the best Gaudi tours in Barcelona.
Palau de la Musica FAQs
What is Barcelona's Palau de la Musica Catalana?

The Palau de la Musica is a beautiful concert hall located in the heart of Barcelona. It's known for its stunning architecture and world-class acoustics, and it's one of the most popular cultural attractions in the city.

How do I get to the Palau de la Musica?

The Palau de la Musica is located in the Born District of Barcelona at Carrer Palau de la Música 4-6. It's easily accessible by public transportation. You can take the metro's yellow or red line to the Urquinaona or Jaume I stops respectively.

Or you can opt to take the bus, with the V15, V17, and 45 to the Via Laietana stop. Alternatively, Barcelona's popular Bus Turistic tourist bus also makes a stop outside the Palau de la Musica.

Is it possible to take a Palau de la Musica tour?

Yes, guided tours are offered on a daily basis between the hours of 9:00 am and 3:00 pm. You have the option of a self-guided tour, or for just 3 euros more, a guided tour in english. Tickets for the 50 minute tours can be purchased at the box office, or inline in advance via our partners at Tiqets.

How much does it cost to take a Palau de la Musica Catalana tour?

Tickets for the Palau de la Musica's self-guided tour currently start at €16.00. However, for €19.00 you can opt for a fully guided tour of this magnificent attraction to learn about the theatre's history, admire its incredible architecture, and even hear a musical selection played by the grand concert hall's organ.

What kind of events take place at the Palau de la Musica?

The Palau de la Musica hosts a wide range of events, including classical music concerts, jazz performances, and flamenco shows. There are also guided tours of the building available for those who are interested in learning more about its history and architecture.
Ready to Visit the Palau de la Musica Catalana?
How was your Palace of Catalan music tour? Let me know how it went, but more importantly, make sure to get at me in the comments below for any questions, be they regarding the Palau de la Música Catalana or anything else on your Barcelona holiday.
Que te diviertas🎶