6 Main Barcelona Transport Stations: Where to Catch a Train, Bus, or Metro
The city of Gaudí, tapas, and sun-kissed beaches ain't no one-track pony – in fact, when visiting you'll have to contend with various Barcelona transport stations.
Yes, Barcelona train stations can be challenging especially if you're new to its streets but there's no need to fret.
I'm going to break down all the main transport station facilities so you'll be a pro in no time.
Barcelona's Main Transport & Train Stations Map
There are six main transport stations in Barcelona:
Sants Estació: Metro, FGC, and national/international Spanish trains
Passeig de Gracia: Metro and FGC train station
Catalunya: Metro and FGC train station
Estació de França: Regional and long distance trains
Espanya: Metro and FGC train station
Estació Barcelona Nord: the city's main bus station
Before we get into the use of each Barcelona transport station let's find them on the map:
Barcelona Transport Stations
Barcelona Sants: Metro + International Trains
Address: Pl. dels Països Catalans 1, 7
The largest railway station in Barcelona is great for a quick trip to Madrid or even an international journey to Paris.
With Wi-Fi, car rental agencies, and tourist information booths, it's Barcelona's answer Grand Central in New York – even if the dull architecture can't compete.
It's also a stop on the Barcelona metro and airport train, and an ideal place to get off for people attending conferences/having hotels near La Fira.
Coming from Reus airport to Barcelona? You'll get off the bus here too.
Passeig de Gràcia: Where Convenience Meets Elegance
Address: Passeig de Gracia s/n
Located smack in the middle of the city, Passeig de Gràcia is more than just a train station and metro station.
This is one of those places you can get out and be hit in the face with epic Barcelona buildings like Casa Batllo and La Pedrera.
While it primarily serves towns in Catalonia, its proximity to iconic spots like Las Ramblas and Plaza de Catalunya makes it a favorite among tourists.
And here's a pro tip: if you're heading for the trains and not the metro, use the entrance at the top of Passeig de Gràcia. Trust me: it'll save you a lot of time.
Catalunya: The Crossroad of Cultures
Address: Plaza de Cataluna s/n
Standing tall at the intersection of El Raval, the Gothic Quarter, and Eixample is the Catalunya railway station.
It's not just a station; it's where cultures converge in one of the city's largest squares: Placa de Catalunya. Naturally, it's the start/terminus of the epic Barcelona Hop on Hop Off bus.
Serving only the Barcelona metro and other regional trains, it's perfect for those short, scenic trips around the province.
You'll be using this station on any Barcelona itinerary, without a doubt.
This is where the Aerobus (the best way to get central fast and cheap) arrives from the airport.
✈️ Looking to get central from the airport? Check out Barcelona airport to city centre post.
França: A Blend of Functionality and Beauty
Address: Av. del Marquès de l'Argentera
França is your best bet for trains to southern France, eastern Catalonia, and the Costa Brava.
With thirteen platforms, it's functional, but that's not all. Its marble floors, high ceilings, and Art Deco-inspired interiors make it one of the most beautiful stations in Barcelona.
So, even if you're not catching a train, it's worth a visit – it's also the closest train station to Barcelona's best beaches.
Related: Barcelona Transport Guide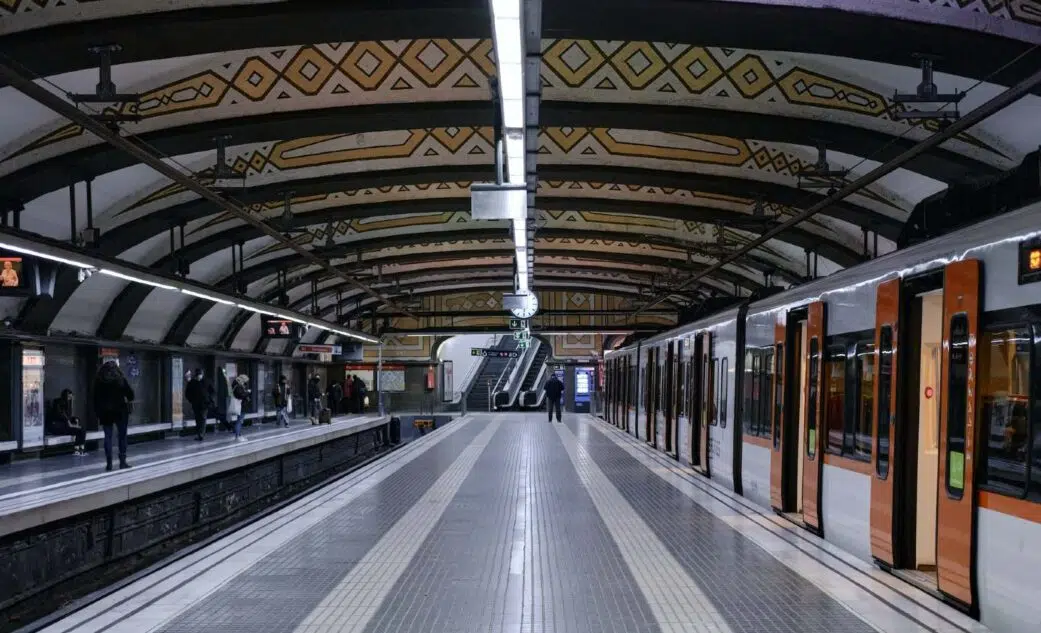 Espanya: The Gateway to Monserrat
Address: Placa d'Espanya
Situated at the foot of Montjuic and near the epic Magic Fountain, Espanya is more than just a train station. It's a gateway to one of Barcelona's most iconic landmarks – the majestic Montserrat mountain range.
Serving various railway routes from all over Spain, it's a bustling hub of activity.
And with connections to two of the city's metro lines (both green and red lines), getting to anywhere else from Plaza Espanya is a breeze.
Estació del Nord: Buses to Costa Brava
Address: Carrer d'Alí Bei 78
This old railway station in Barcelona was built all the way back in 1862, though it hasn't welcomed any trains since 1972.
Today it serves as the main bus station in Barcelona for medium and long-distance buses – optimal for people taking buses up to the Costa Brava.
Oddly enough, it was also the site of the table tennis competition in the 1992 Barcelona Olympics.
On the subject of Barcelona airports, if you're going from Girona airport to Barcelona city centre your cheapest/fastest way is through a bus to this station.
Barcelona Train Station FAQ
What are the main train stations in Barcelona?

The main train stations in Barcelona are Espanya, Catalunya, Estació de França, Passeig de Gracia, and Sants Estació.

Where is the best train station to arrive in Barcelona?

The best train station to arrive at is Passeig de Gracia as it is the most central of the stations. However, Sants Estacio and Catalunya are also great for visiting tourists as you can get to your hotel in 20 min or less.

Which train station is at the centre of Barcelona?

The most central train stations in Barcelona are Passeig de Gracia and Catalunya, which are just minutes' walk to major attractions, bars, restaurants, and the entire old city.
Related: Barcelona metro map
Still Seeking the Main Transport Stations in Barcelona?
In conclusion, Barcelona's train stations are more than just transit points. They're a reflection of the city itself – a blend of functionality, beauty, and history.
Of course, it doesn't matter much when you're late for a train!
If you've got any questions about Barcelona train stations just get at me in the comments below – maybe I can save you a few minutes 🙂