Barcelona in Winter: Is it Worth It? What to Do + Winter Tips
Visiting Barcelona in winter is a far cry from the sangria and sun-soaked beaches of high season.
That said, the vibrant street life and awe-inspiring architecture remain – so it is worth it to visit Barcelona in winter?
I'm gonna break down Barcelona winter visits to help you make a decision one way or another!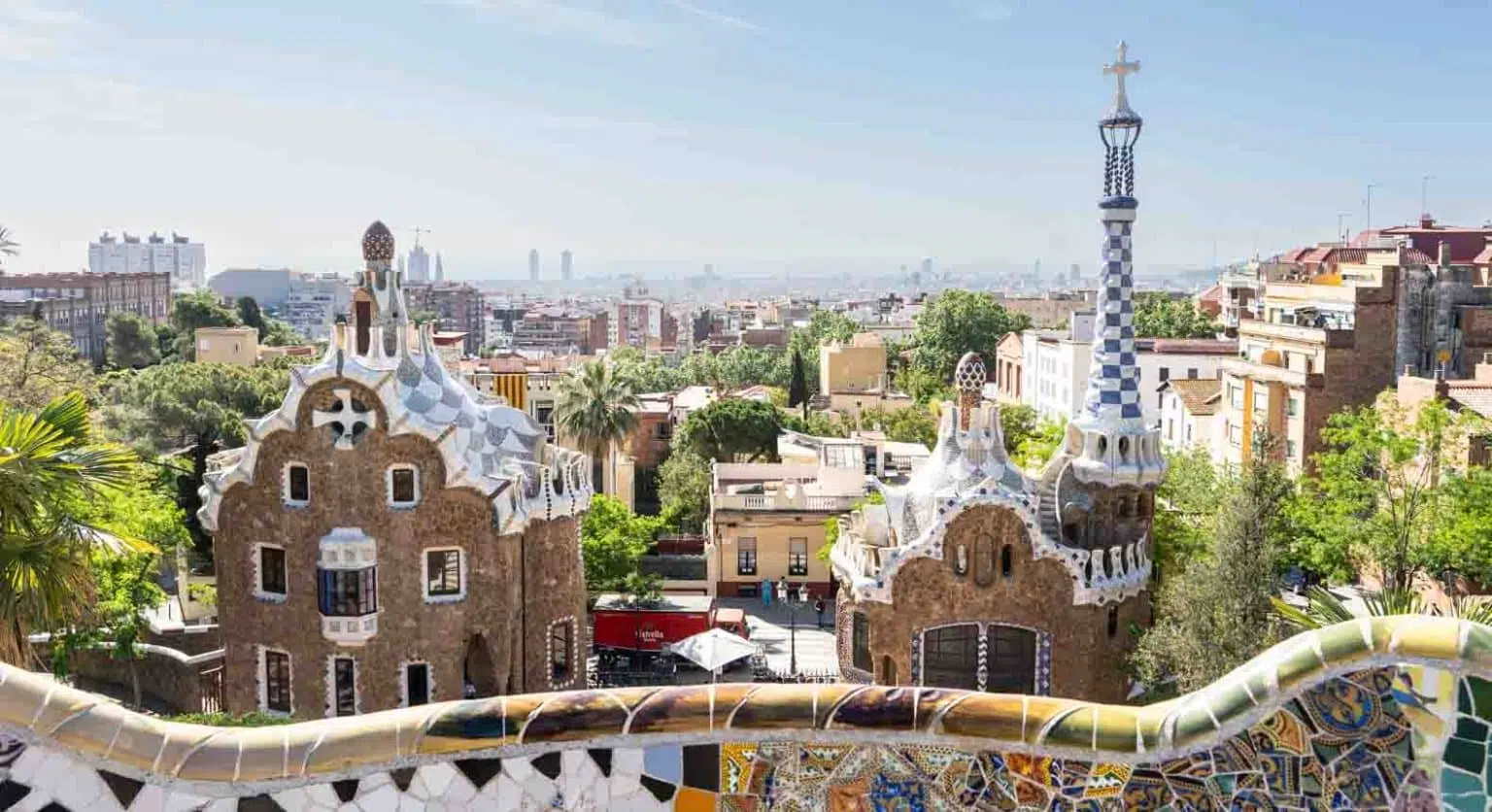 Why Visit Barcelona in Winter?
Barcelona, the vibrant capital of Catalonia, is often associated with sun-kissed beaches, bustling plazas, and the lively spirit of summer.
However, Barcelona in winter brings out a different, equally enchanting side of the city.
Here are compelling reasons why you should consider visiting Barcelona during winter:
Fewer Tourists: One of the most immediate benefits of visiting Barcelona in winter is the noticeable reduction in tourist crowds. Iconic landmarks like the Sagrada Familia, Park Güell, and Casa Batlló can be explored at a leisurely pace, without the long queues and throngs of summer visitors.
Mild Winter Climate: Barcelona enjoys a Mediterranean climate, which means winters are relatively mild. Daytime temperatures are comfortable for sightseeing, and the occasional rain adds a romantic ambiance to the city's narrow alleys.
Festive Atmosphere: The winter season in Barcelona is marked by numerous festivities. From the elaborate Christmas markets like Fira de Santa Llúcia to the vibrant Three Kings Parade in January, the city is imbued with a festive spirit that's hard to resist.
Economic Benefits: Winter is considered the off-peak season, leading to reduced prices for accommodations and some attractions. This makes it a more budget-friendly option for travelers.
Culinary Delights: Winter is the perfect time to indulge in Barcelona's rich culinary scene. Warm up with traditional dishes like "escudella i carn d'olla" (a hearty stew) or enjoy seasonal treats like "turron" (a nougat dessert).
Unique Events: Winter in Barcelona is packed with unique events. The Llum BCN light festival in February transforms the city into a luminous spectacle, and the Sitges Carnival offers a colorful and lively celebration.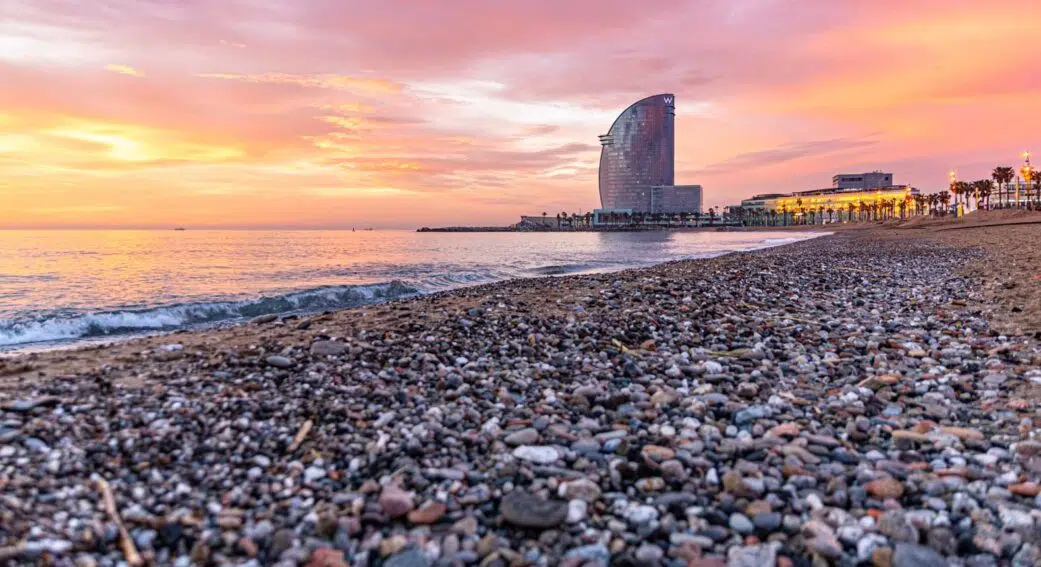 Barcelona Winter Weather
Barcelona experiences a Mediterranean climate, characterized by mild, wet winters and hot, dry summers.
Winter in Barcelona spans from December to February, offering a pleasant respite from the scorching summer heat.
December: When visiting Barcelona in December, expect average temperatures ranging from 8°C (46°F) in the early mornings and nights to about 15°C (59°F) during the day.
January: January is typically the coldest month in Barcelona. Morning and nighttime temperatures can drop to around 6°C (43°F), while daytime highs hover around 14°C (57°F).
February: As winter starts to wane, February sees a slight increase in temperatures. Mornings and nights average around 7°C (45°F), and daytime temperatures can reach up to 15°C (59°F).
In summary, winter in Barcelona is relatively mild compared to many European cities.
The temperatures, although cooler, remain conducive for sightseeing and outdoor activities.
Forced indoors? Check my list of Barcelona indoor activities.
What to Do in Barcelona in Winter
Check out the Christmas Lights
Passeig de Gràcia is one of the most iconic avenues in Barcelona, and is adorned with spectacular Christmas lights every year – from late November until January 6th.
The avenue, known for its modernist architecture including Gaudí's Casa Batlló and La Pedrera, becomes even more enchanting during the festive season.
As the main square connecting the old city and the newer Eixample district, Plaça de Catalunya is a central hub for Christmas festivities. The square is beautifully lit, with a large Christmas tree as its centerpiece.
Surrounding streets, like Las Ramblas and Portal de l'Àngel, also feature dazzling light displays.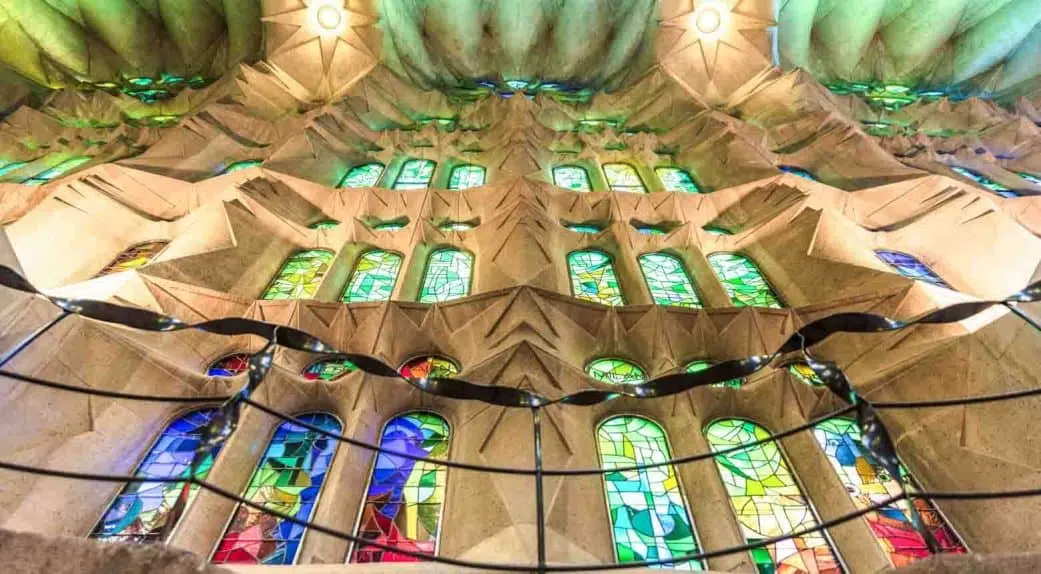 Visit the Sagrada Familia
No Barcelona winter visit (or any other season for that matter) is complete without marveling at the architectural genius of Antoni Gaudí's Sagrada Familia.
The basilica, which has been under construction since 1882, is particularly mesmerizing in winter, with fewer tourists and a serene ambiance.
Ensure you book your tickets online to avoid the queues.
Go Ice Skating
Plaça Catalunya is one of Barcelona's most central and iconic squares, making it easily accessible from the Gothic Quarter and beyond.
Europe's largest outdoor skating rink is set up as part of Christmas festivities in the square. Look for it in late November or early December and staying open until early January.
Skating in Barcelona offers a unique experience, with an ambiance enhanced by surrounding Christmas lights, decorations, and the buzz of holiday shoppers.
Winter 2023 prices TBA.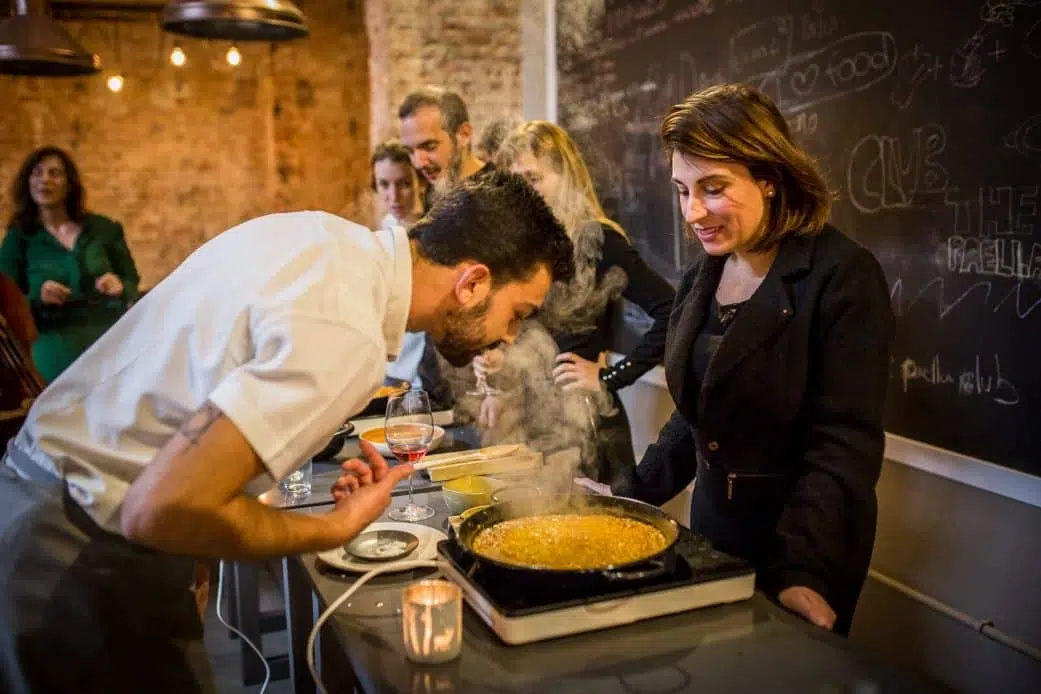 Take a Paella Cooking Class at Paella Club
Winter is the perfect time to immerse oneself in the culinary traditions of Spain.
The best way to do this, in my opinion, is via a paella cooking class – where seasoned chefs guide you through the intricacies of crafting the perfect paella.
At Paella Club you'll also learn a few Spanish appetizers and enjoy bottomless wine – here, it's impossible not to meet new friends!
Hit Up Aire Ancient Baths
Let's be honest, Barcelona in winter can get cold! There's no shame in warming up with a little pampering.
Aire Ancient Baths, located in an 18th Century warehouse the heart of Barcelona's El Born district, offers a unique and luxurious spa experience inspired by ancient Roman, Greek, and Ottoman bath traditions.
The spa's ambiance is a blend of old-world charm and modern elegance. Visitors can indulge in a range of thermal baths, from tepidarium (warm) to caldarium (hot), and frigidarium (cold), each designed to provide specific therapeutic benefits.
The spa also boasts a saltwater pool and a steam room infused with aromatic essences.
Churros con Chocolate
Churros con chocolate in Barcelona are everywhere, but avoid settling for poor imitations.
Make your way to Calle Petrixol, nestled between the Liceu and Catalunya metro stops, for the best churros.
This quaint 3-meter-wide lane brims with allure and tales from the past and it's home to two churro champs: La Granja Pallaresa and Granja Dulcinea.
The warm dipping chocolate is as good as it gets in Barcelona winter.
Enjoy the Llum BCN (Barcelona Festival of Lights)
As darkness descends early in winter, the Llum BCN festival illuminates the heart of Poblenou.
Art students and international artists collaborate to transform the district into a mesmerizing spectacle of light and sound, making it a must-visit Barcelona winter attraction.
This is one of the most unique activities in Barcelona.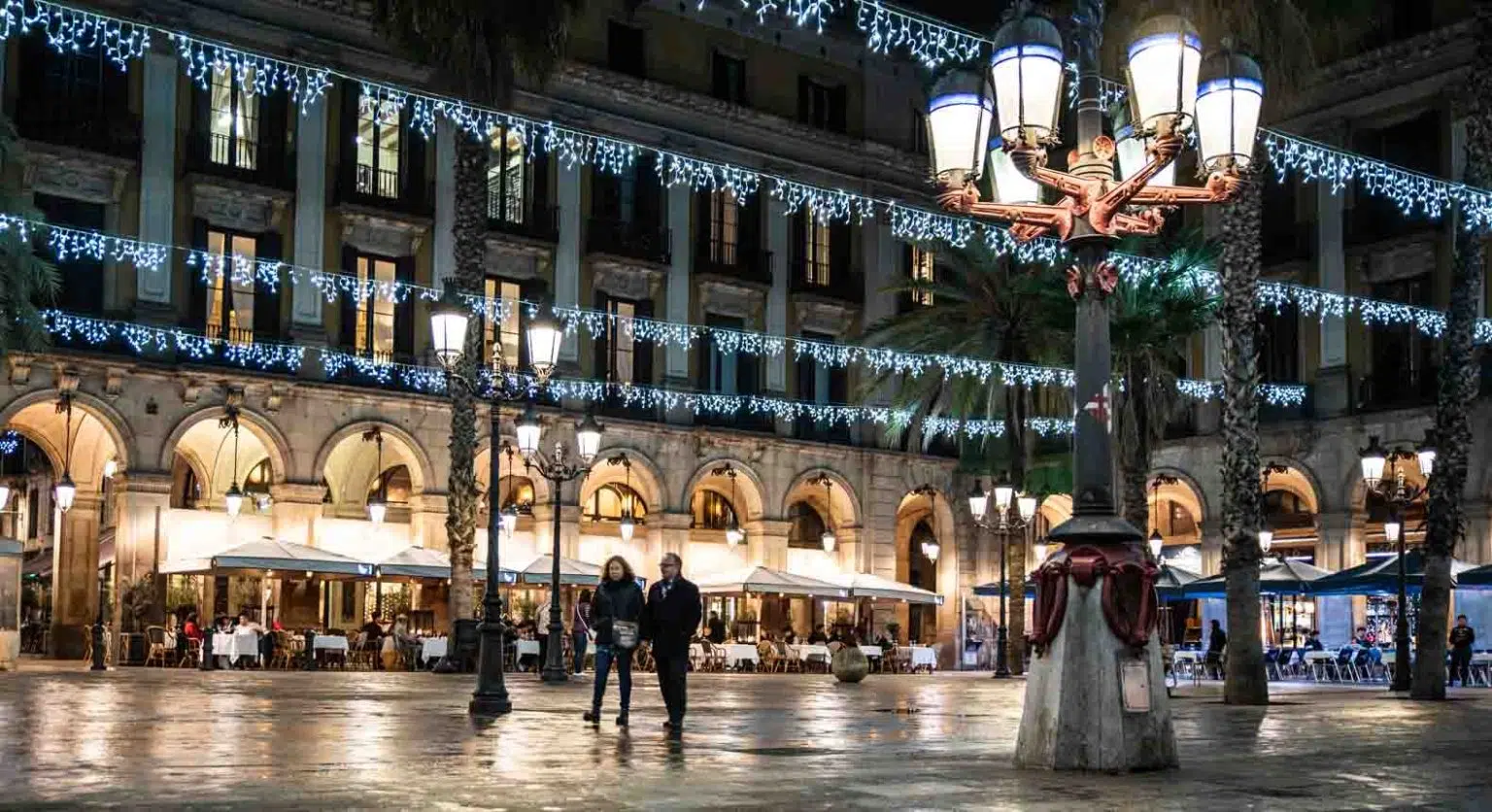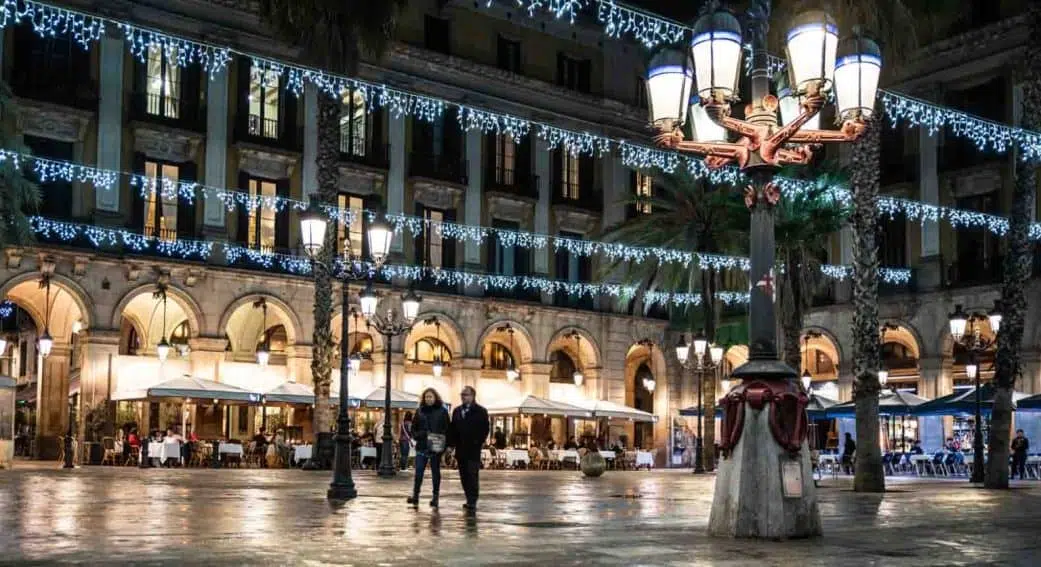 Celebrate the New Year in Barcelona
New Year's in Barcelona is not just about extravagant parties; it's a cultural experience. Families and friends gather for one last meal of the year, often a late feast, before heading out to Barcelona clubs, bars, and discos.
The locals congregate at the Parc de Montjuic, while the official celebrations light up Plaça Espanya near the Font Magica, where the sky is set ablaze with fireworks.
Whether you're in the heart of Plaça Catalunya or the outskirts, the spirit of "Nochevieja" (New Year's Eve) is palpable everywhere.
Related: What to Do at Night in Barcelona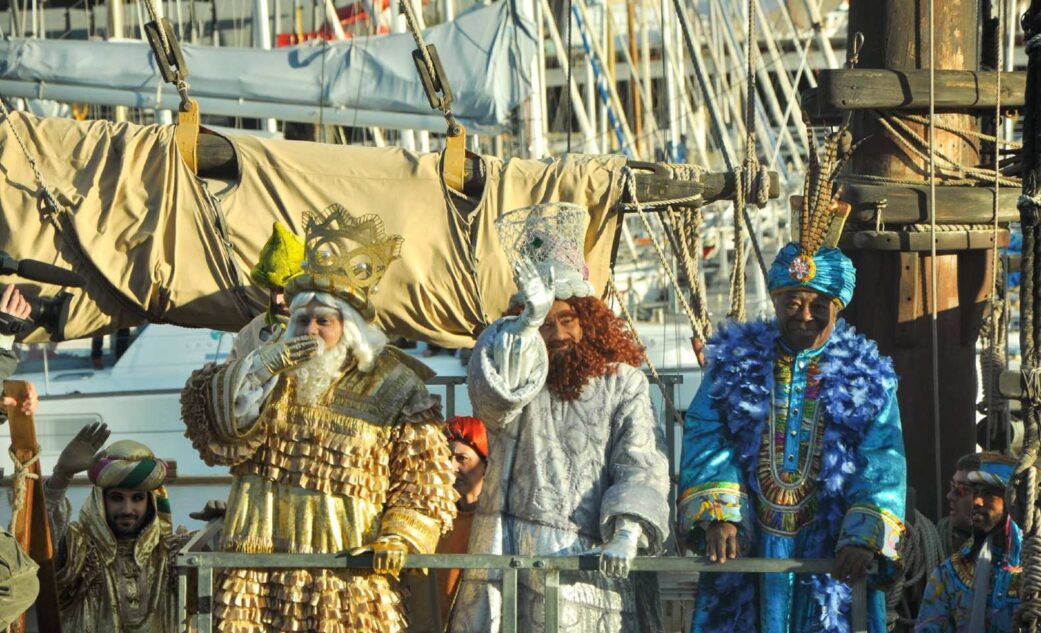 The Three Kings Parade
The Three Kings Parade, known locally as "El Cavalcada de Reis," is one of Barcelona's most anticipated and vibrant events, celebrated at 6:00 pm on January 5th.
It commemorates the biblical story of the Three Wise Men (or Kings) who followed a star to bring gifts to the infant Jesus.
In winter 2023 the procession will go from from Marquès de l'Argentera Avenue (with Circumval•lació promenade) to the Magic Fountain of Montjuïc.
6:00 pm: Marquès de l'Argentera Ave
6:15 pm: Colom Promenade
7:10 pm: Paral·lel Ave.
7:30 pm: Sant Pau Roundabout
7:45 pm: Sant Antoni Market
8:30 pm: Sepúlveda
8:45 pm: Espanya Square
9:15 pm: Reina Maria Cristina Ave
A highlight of the event is the distribution of sweets and small gifts to children lining the route – this is one of the best things to do with kids over the winter season in Barcelona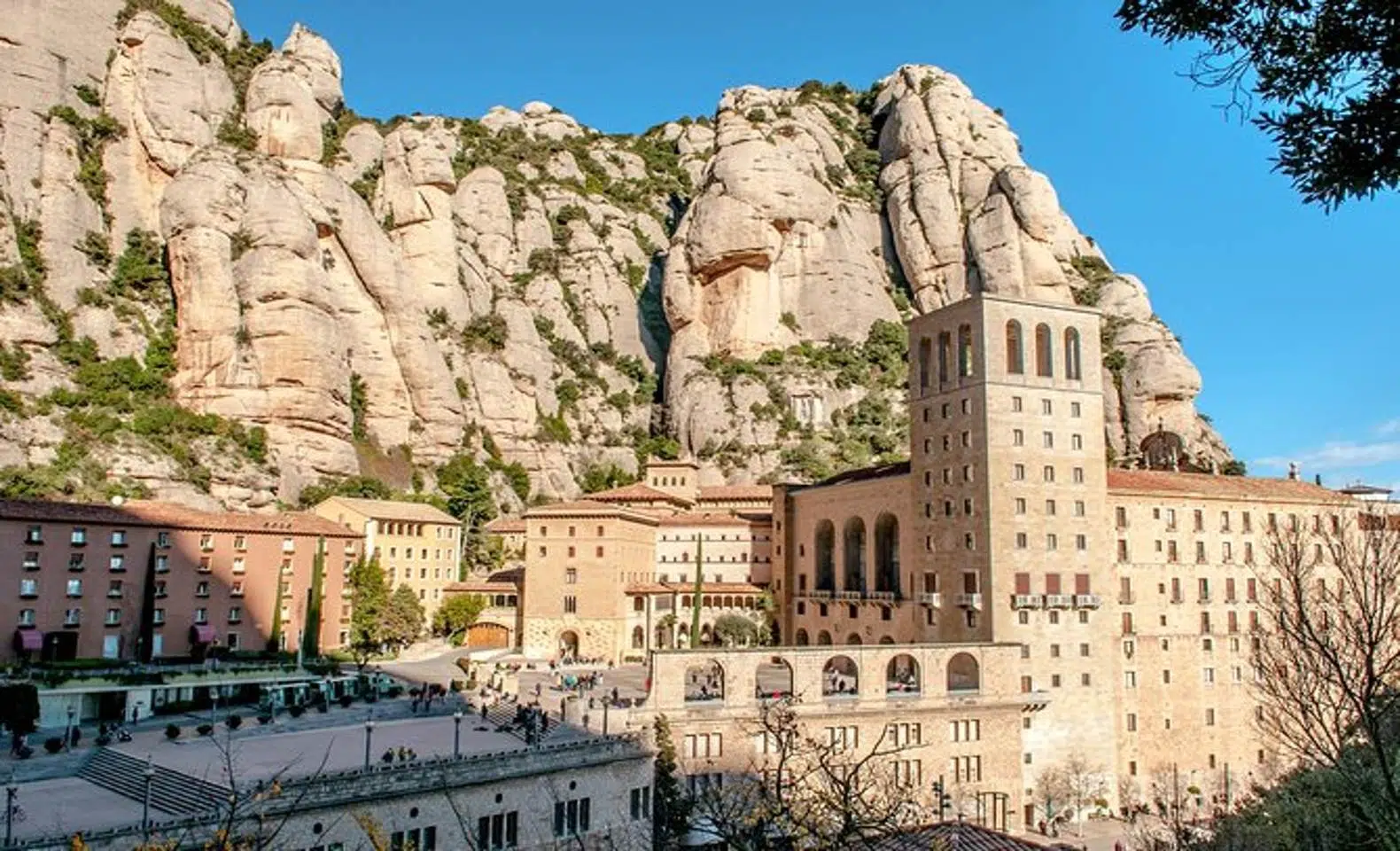 Go on a Day Trip to Montserrat
A short drive (or bus/train package) from Barcelona lies the majestic Montserrat mountain range, home to the Benedictine Monastery of Santa Maria.
The monastery, perched high above the Catalan landscape, offers breathtaking views and a spiritual retreat from bustling Barcelona.
If you're wondering what to do in Barcelona in winter on a crisp, sunny afternoon – this is as stunning as it gets.
Watch a Flamenco Show at the City Hall Theater
Flamenco, the soul-stirring dance form of southern Spain, finds a passionate audience in Barcelona.
In fact, while the art is not from Catalonia itself, most of the country's best performers come to Barcelona in winter as there's less of a tourist lull in the big city.
I'm loving the intimate performance at Casa Sors, which doubles as an antique guitar museum and has some of the best tapas in Barcelona as well.
Interested? Check out my list of best flamenco shows in Barcelona.
Shop the Winter Sales
Post-Christmas, Barcelona's shopping districts come alive with winter sales.
From the traditional shops in the old town to the upscale boutiques in El Born, there are bargains galore. It's the perfect time to pick up Barcelona souvenirs and indulge in some retail therapy.
I usually go for the best deals at the major chains on Portal del Angel.
Enjoy Some of Barcelonaʻs Best Cafes
Barcelona's café culture thrives in winter, as even us Barcelonians need to warm up our hands every now and then.
Establishments like Nomad Coffee Lab, Satan's Coffee Corner, and Camelia Art Cafe offer a cozy respite from the cold, serving artisanal brews that are sure to delight coffee aficionados.
Check out my list of best Barcelona cafes to find your favourite.
Related: Is Barcelona Worth Visiting?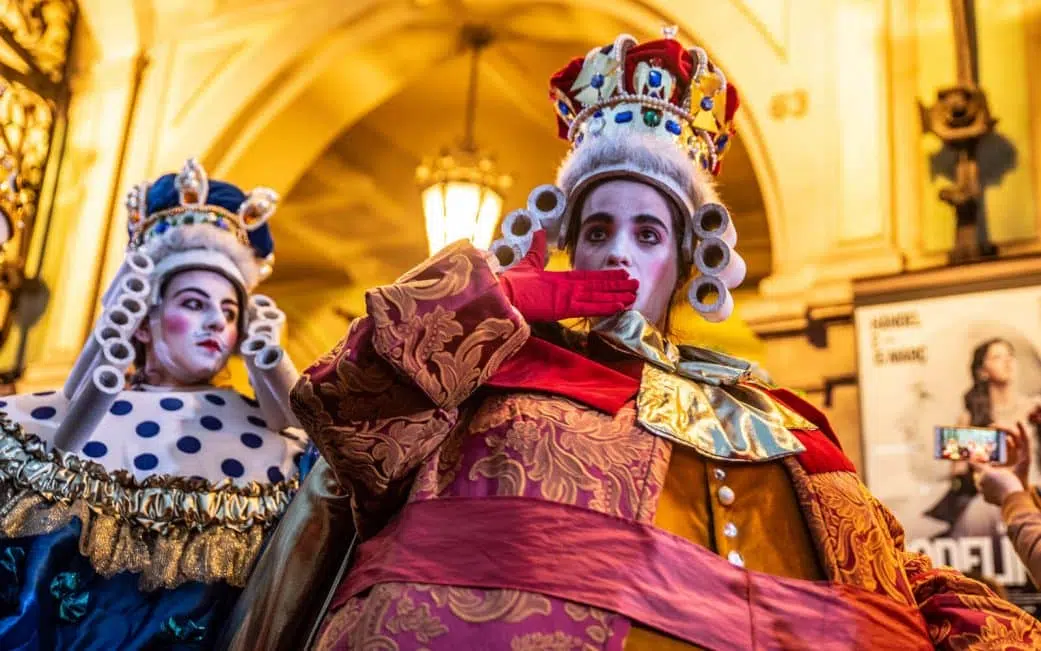 Party at the Sitges Carnival
Come February, the coastal town of Sitges, a short drive from Barcelona, hosts one of Spain's most vibrant carnivals.
The week-long Sitges Carnival celebration, marked by parades, music, and dance, culminates in Mardi Gras festivities that draw visitors from across the globe.
Not willing to travel to Sitges? Barcelona carnival is a great silver medal – and it runs February 9-17th 2024.
Take a Tapas and Wine Walking Tour
Barcelona's culinary scene is best explored on foot – and tapas walking tours or Barcelona are the best way to do it.
Join a tapas and wine walking tour that takes you through historic districts like El Born, where you'll sample an array of Spanish delicacies, from Iberian ham to patatas bravas, paired with regional wines.
Best of all? You also get tons of historical info and Barcelona architecture.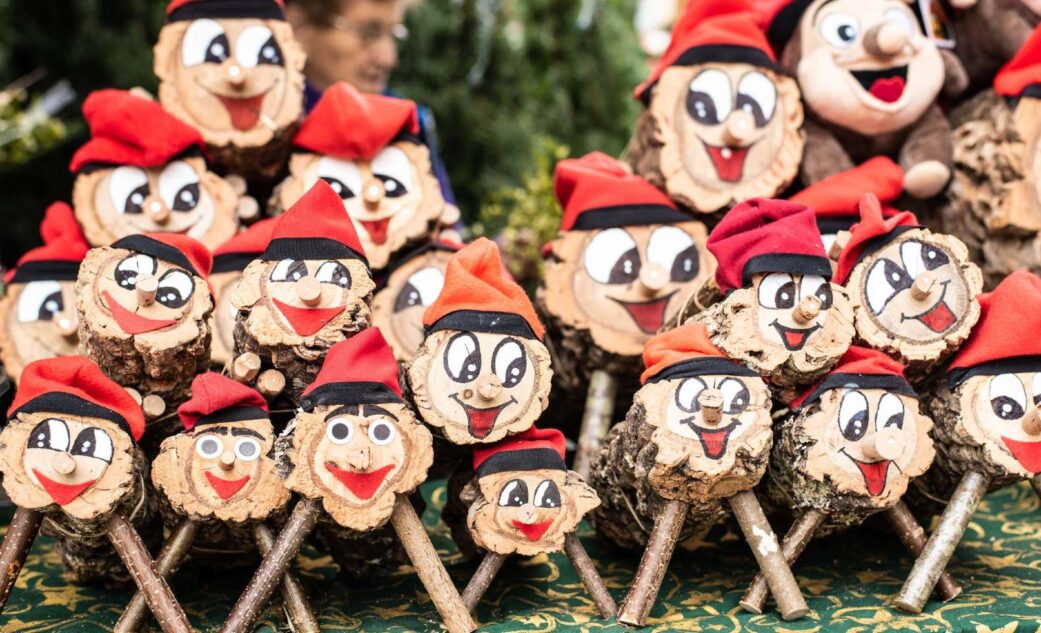 Christmas Markets in Barcelona
Barcelona's main Christmas market is conveniently located in a live square (Pla Seu) in front of the Barcelona Cathedral.
In fact, speaking of things to do in Barcelona during winter – there have been Christmas markets here since at least 1786.
Nowadays, it's an ideal spot to find nativity figures, festive trees and decorations, handcrafted items, and confections.
Here, you can also purchase a traditional Cagatio (pictures) or a Caganer, with designs ranging from classic representations to contemporary icons like Trump, Obama, and Messi.
Visiting Barcelona in Winter FAQ
Is it cold in Barcelona in winter?

Barcelona is not terribly cold in winter. It experiences mild temperatures compared to many European cities. While it's cooler than the summer months, it's generally not freezing. Average temperatures range from 8°C (46°F) to 15°C (59°F).

Cold spells can occur, but snow is rare. It's advisable to wear layers and a light jacket. Overall, Barcelona's winter is relatively mild and pleasant.

Is Barcelona busy in winter?

Barcelona is less busy in winter, though it still retains a lively atmosphere, especially during the holiday season and events like the Three Kings Parade in January. Attractions are more accessible, and accommodations might be more affordable.

So, while it's quieter in winter, Barcelona remains active and vibrant.

How should I dress for Barcelona in winter?

In winter, Barcelona experiences mild but occasionally brisk temperatures. It's advisable to wear layers: a base of a t-shirt or long-sleeve shirt, topped with a sweater or cardigan. A medium-weight jacket, preferably waterproof, is essential for chilly evenings and occasional rain.

Comfortable walking shoes are a must, and consider packing a scarf, hat, and gloves for colder days. While heavy winter gear isn't typically necessary, check the forecast! It has been known to snow.

Is it worth visiting Barcelona in winter?

It's absolutely worth visiting Barcelona in winter! In winter you get a unique charm with fewer tourists, and popular attractions are more accessible. The mild temperatures are conducive for exploring the city's architectural wonders, historic neighborhoods, and beachfront.

Festive lights adorn streets, and events like the Three Kings Parade add to the seasonal allure. Additionally, accommodations are often more affordable.
Visiting Barcelona in Winter
If you're still wondering whether it's worth visiting Barcelona in the winter or not I haven't done my job!
That said, feel free to write me in the comments below with any questions or concerns – I respond to every query.
Enjoy your Barcelona winter holiday 😊