8 Best Barcelona Bike Tours + E-Bike & Half Day Tours
Taking a Barcelona bike tour is a perfect way to explore the wonders of this beautiful and historic city.
With bike tours, you can experience hidden gems and soak in the warm Mediterranean sun at the same time.
A quick spoiler – I've ranked the Highlights and Hidden Gems Bike Tour number one for its guides and knowledge.
That said, there are plenty of top Barcelona bike tours depending on your needs
Let's get rolling!
Best Bike Tours of Barcelona + Top E-Bike Tours and Half-Day Tours
Ah, the Barcelona bike tour – an experience where culture, history, and adventure intertwine.
Imagine riding through narrow streets, basking in the warm Spanish sun, as you admire epic Barcelona architecture.
If you're a traveller short on time, these tours are one of my favourite Barcelona tour options for exploring the city in a pinch.
Whether you're looking to enjoy Barcelona's best beaches, neighbourhoods like El Born or the Gothic Quarter, or visit attractions like the Sagrada Familia – a bicycle puts it all right at your fingertips.
Heck, you even burn off calories from Barcelona's top tapas restaurants.
Let's look at the best Barcelona bike tours on the market.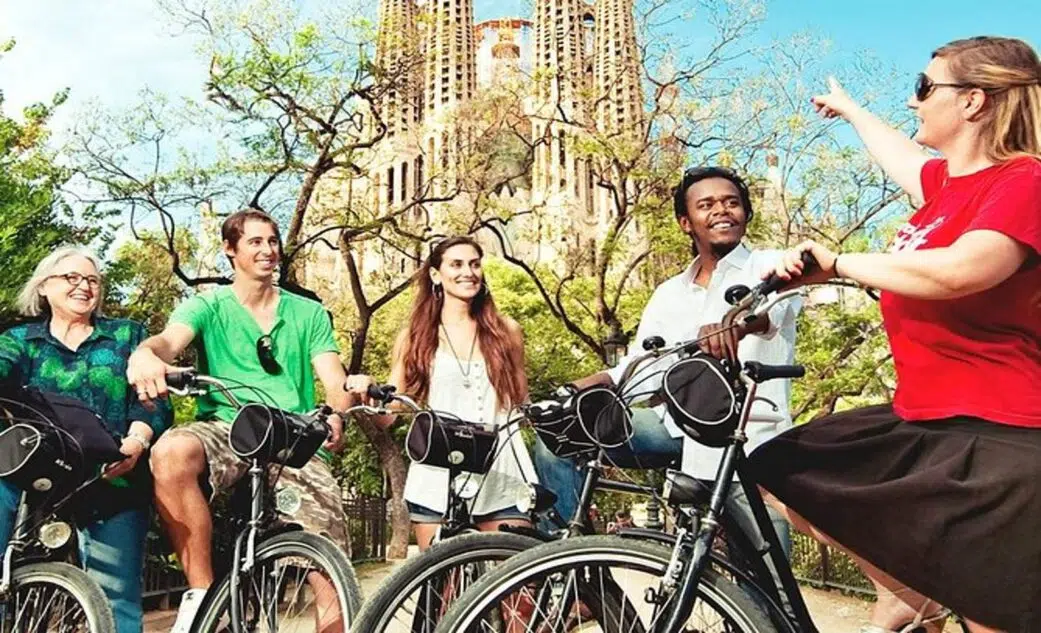 Highlights and Hidden Gems Bike Tour – Best Barcelona Bike Tour Overall
Duration: 2.5 – 3 hours | Price: From €28.00 | ⭐⭐⭐⭐⭐ | 🔎 Read 600+ reviews
With your knowledgeable local guide, you'll get to pedal through the city center on the city's numerous bike lanes and paths. Trust me; you'll cover way more ground than you would on foot – all while feeling the cool breeze in your hair.
It features Barcelona's most captivating landmarks: Sagrada Familia, the Gothic Quarter, Placa de Sant Jaume, and other breathtaking Gaudían masterpieces.
You'll also cruise past Barcelona hidden gems, like the picturesque Ciutadella Park and even catch a glimpse of the ancient Roman walls, further connecting you with the city's fascinating history.
And the cherry on top? You'll wrap up your bike tour near the beach, where you can kick back and relax while sipping on a refreshing drink.
Bike tour includes:
2.5-3 hour guided bike tour of Barcelona's city centre.
Use of bicycle, helmet, and lock.
Stops outside Sagrada Familia, Ciutedella Park, the Gothic Quarter, and Playa Barceloneta
Barcelona & Gaudí Highlights eBike Tour – Best Gaudi Bike Tour of Barcelona
Duration: 3 hours | Price: From €39.00 | ⭐⭐⭐⭐⭐ | 🔎 Read 400+ reviews
This is a great Gaudí bike tour on two wheels. Join your friendly guide as you trace the footsteps and immerse yourself in the genius of the Master himself.
The tour kicks off by cycling through the charming Gothic Quarter, soaking in the historical vibes before heading to Park Ciutadella and the trendy Eixample neighbourhood to discover Gaudí's most cherished masterpiece, the Sagrada Família.
Your knowledgeable guide will engage you with captivating stories that unveil the intricate details of Europe's most beautiful and fascinating church – and trust me, that's not just personal bias speaking!
You'll pedal on, cruising through the stylish Eixample, catching glimpses of two more Gaudian masterpieces – Casa Milá and Casa Batlló. You can marvel at the master architect's most famous works while sneaking in a little exercise.
Bike tour of Barcelona includes:
3-hour guided bike tour of El Born, the Gothic Quarter, Eixample, and Passeig de Gracia.
Stops outside Sagrada Familia, Casa Milá, and Casa Batlló.
Use of E-bike and helmet.
A cold drink in Placa de Gaudi.
Barcelona Wine and Tapas: Guided e-Bike Tour – The Best Barcelona Bike Tour for Foodies
Duration: 3.5 hours | Price: From €59.00 | ⭐⭐⭐⭐⭐ | 🔎 Read reviews
Can't decide between a jaunt on the bicycle and a Barcelona food tour?
This multifaceted Barcelona E-bike tour combines the excitement of a bike tour with a glutinous gastronomic journey through some of Barcelona's best restaurants.
This electric bike adventure goes through the enchanting alleys of the Gothic and Born quarters. You'll also pass by the fascinating 19th-century Park de la Ciutadella before reaching the iconic Barceloneta beach.
Picture yourself riding along a picturesque bike lane, shaded by swaying palm trees, and crossing the historic Old Port, right back into the heart of the Old Town.
You'll conclude your tour at the marvellous Art Nouveau bistro, Els 4 Gats.
This is the very spot where Picasso and his bohemian pals used to gather. Indulge in a delightful selection of Spanish wines perfectly paired with a selection of Barcelona's best tapas.
E-bike tour of Barcelona includes:
3.5-hour guided E-bike tour of Barcelona's old town.
Use of an E-bike and helmet.
Stops throughout the Born and Gothic Quarters, Ciutadella Park and Barceloneta Beach.
A delectable selection of tapas paired with local wines at Els 4 Gats.
Barcelona Bike Tour by Night – Best Barcelona Night Bike Tour
Duration: 4 hours | Price: From €35.00 | ⭐⭐⭐⭐⭐ | 🔎 Read reviews
Join this top private Barcelona bike tour and experience the city's magical evening atmosphere with ease and lots of fun.
As the sun sets, you'll pedal past iconic landmarks like the majestic Barcelona Cathedral and the mesmerizing Casa Batllo, beautifully illuminated by the city lights.
Capture those perfect Instagram-worthy moments as you soak in the enchanting Catalan ambiance.
You'll also be treated to a delightful taste of Catalonia with a cool, crisp glass of Cava while gazing out over the breathtaking Plaza España. You can also opt for an array of tapas.
Night bike tour of Barcelona includes:
Guided 4-hour night bike tour of Barcelona.
Use of bike and helmet.
Stops outside attractions like the Palau de la Musica, Barcelona Cathedral, Casa Batllo, and more.
A glass of Cava (included) and tapas (own cost) to conclude the tour.
Top Bike Tours of Barcelona: Runners Up
With so many Barcelona bike tours to choose from, it can be hard to settle on just one.
Just in case one hasn't jumped out to you, I'm going to list a few more bike tours to help you:
🧑‍🎨 Want more of Gaudi? Unlock his masterpieces with the top Gaudi tours in Barcelona.
Barcelona Bike Tour FAQs
What is a Barcelona bike tour?

A Barcelona bike tour is typically a guided journey on two wheels through the heart of Barcelona in a small group. Some tours provide a general overview of the city and its history,  while others provide a historic, architectural, or gastronomic focus

They offer you an up-close experience of historic landmarks, architectural marvels, historic neighbourhoods, scenic parks, and beaches – all the while allowing to sneak in a little exercize under the Spanish sun.

How much do bike tours of Barcelona cost?

Most bike tours of Barcelona fall in the €30.00- €60.00 range. The price is typically dependent on the duration of the tour, E-bike add-ons or the inclusion of any additional extras (wine, drinks, or tapas etc.)

Can I rent a bike in Barcelona?

Yes, if you prefer to go the self-guided route, there are several Barcelona bike rental services available in that provide different types of bikes based on your preference.

When is the best time for a Barcelona bike tour?

The best time for a Barcelona bike tour is during the milder seasons of Spring (March to June) and Autumn (September to November). The weather during these months is usually pleasant, perfect for cycling through the city's vibrant streets.

However, if you don't mind the heat, the summer months are also a popular time. Even so, it is recommended to select an earlier or later departure time to avoid the midday heat.

What should I bring on my bike tour Barcelona?

Your Barcelona bike tour will include use of a bike, helmet, and lock. And some may offer an E-bike upgrade as well. Be sure to check out the weather forecast so you can dress accordingly.

Depending on the season, this may include a hat,  sunglasses, and sunscreen or a light jacket or jumper. You may also want to bring a water bottle or a light snack.

Can beginners or elderly travellers go on a Barcelona bike tour?

Absolutely! Barcelona bike tours are suitable for riders of all levels – think a more casual ride then  workout. There are also a host of E-bike tours available if you're looking for something a little less demanding.

Plus, the city is quite flat, making it perfect even for novice riders. If you're a beginner, a guided tour might be the best way to start your cycling adventure.
🏙️ Wanna see a lot more of the city?: Consider booking one of the Best guided tours of Barcelona
Related: Cheap bike rental in Barcelona from €7.50
Ready to Roll on Your Best Barcelona Bike Tour?
So, there you have it! A comprehensive guide to experiencing an unforgettable bike tour of Barcelona.
As you pedal your way through the city's vibrant streets, remember to take a moment to appreciate the sheer beauty and cultural richness of Barcelona.
Bike tours in Barcelona Spain are more than just a way to explore; it's an immersive journey that allows you to experience Barcelona's soul.
Life's a journey; enjoy the ride 🚴🏽‍♂️