Where to Stay in Barcelona – Best Areas & Neighborhoods for Tourists
If you don't know where to stay in Barcelona you're not alone.
When I came to this city I had to live in 5 or 6 Barcelona neighbourhoods before I got my bearings.
Don't worry though, prospective traveler.
From drink districts to peaceful precincts and everything in between you're about to find the best area to stay in Barcelona based on your needs – so let's take a quick tour around the city.
Where Should I Stay in Barcelona?
Tourists visiting Barcelona stick to about ten Barcelona neighbourhoods (called barrios) due to an area's:
I'll be breaking down all the best neighbourhoods to stay in Barcelona using this criteria.
Where to Stay in Barcelona: The Top 10 Areas to Stay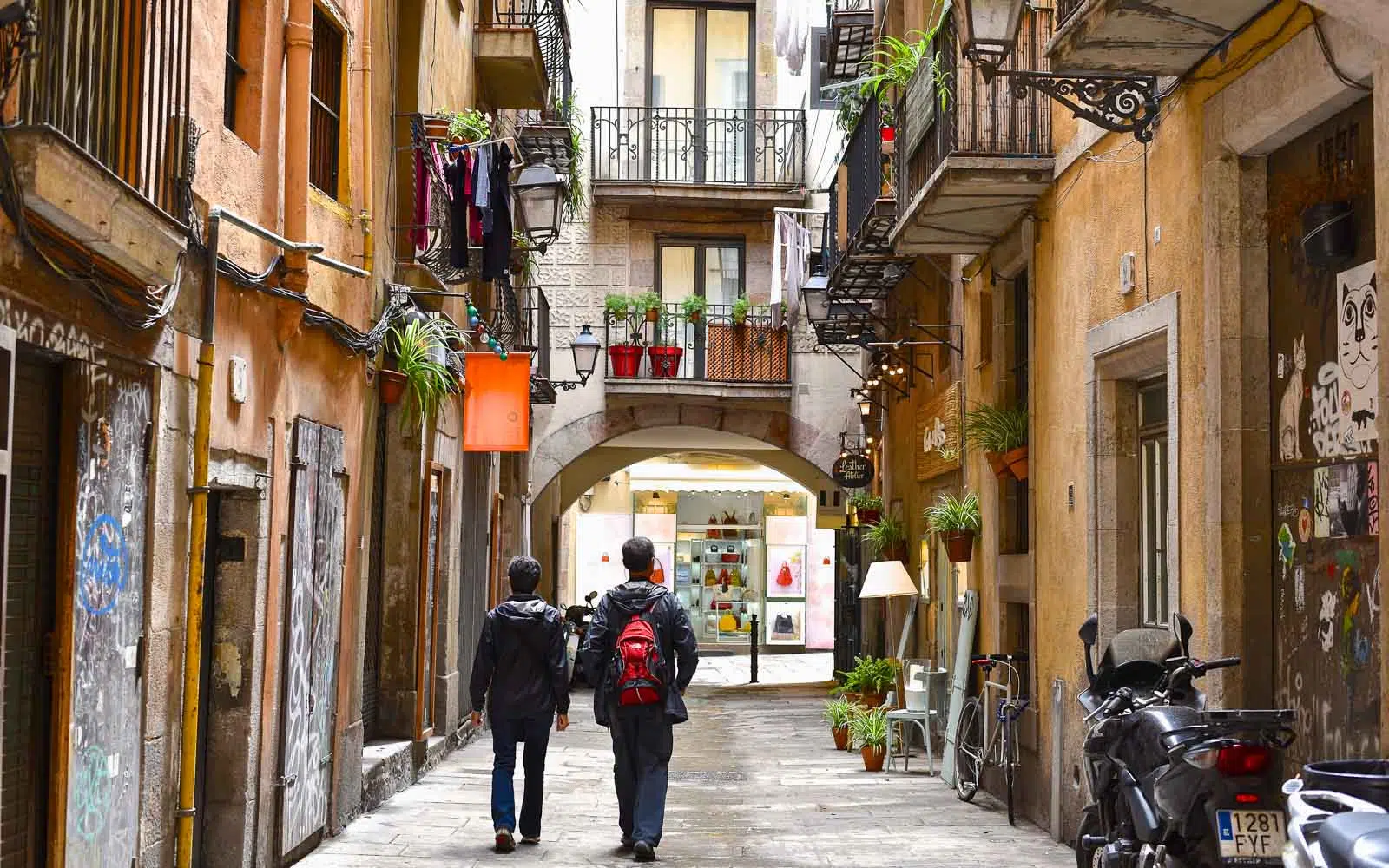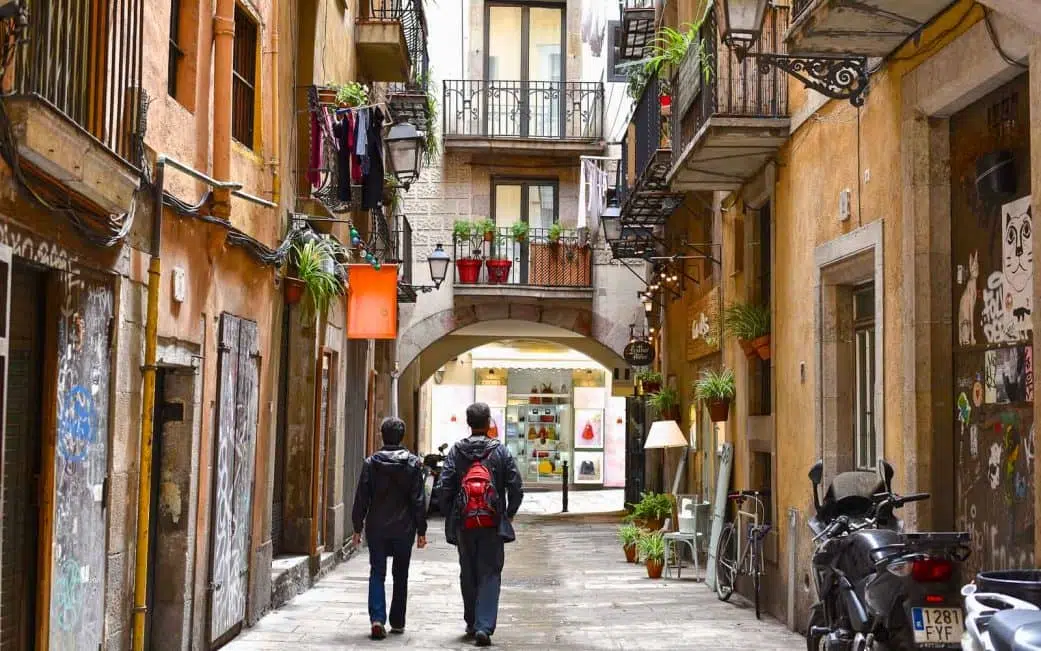 El Born and La Ribera – Best Neighbourhood for Shopping
Attractions: ★★☆☆ Central: ★★★☆ Nightlife: ★★☆☆ Relax: ★★★☆
If you like boutique shopping and cool Barcelona bars then book a hotel in El Born.
Pros
The charm of this safe and central neighbourhood comes from its pedestrian only streets and tasteful street art which creates arguably the prettiest barrio in the city.
Many of Barcelona's best luxury hotels are in El Born.
It's in this neighbourhood that you'll find the Picasso Museum as well as the Santa Maria del Mar Cathedral. You'll also be just minutes away from a great picnic spot at Ciutadella Park.
From here you're also just a 20 minute walk to the beach. If you're visiting Barcelona with kids this is the best area to stay in Barcelona with family.
That said, if you're looking for a party the nightlife isn't far away from El Born if you need it.
Cons
If there are any downsides it would be that bars and hip restaurants tend to be pricey – but this means quality too. Any great central location is gonna charge a premium so don't stress too much.
Gracia – Best Area for Local Vibes
Attractions: ★★☆☆ Central: ★★★☆ Nightlife: ★☆☆☆ Relax: ★★★★
Gracia used to be a separate town from Barcelona and retains some of its independent feel.
Pros
What will strike you about this very safe area is Gracia's never-ending supply of beautiful squares and its complete lack of chain restaurants and shops. This may be the only true Catalan neighbourhood left.
It's the best neighbourhood to grab a morning coffee at a good local cafe or unwind with a cold beer or artisan gelato in a square straight out of a postcard. You can also get to Park Guell walking if you don't mind a bit uphill.
You'll get great rest in Gracia since it's an area devoid of noisy nightlife – not to mention it's pedestrian-only. I'd recommend this area for young families or couples visiting Barcelona for a low-key Barcelona weekend.
It's also great being in the city center – without feeling like you're in the city center.
Cons
Downsides for those looking where to stay? If you're deep into Gracia it's not very accessible except on foot. If you're looking for a party as well this won't be the wisest choice.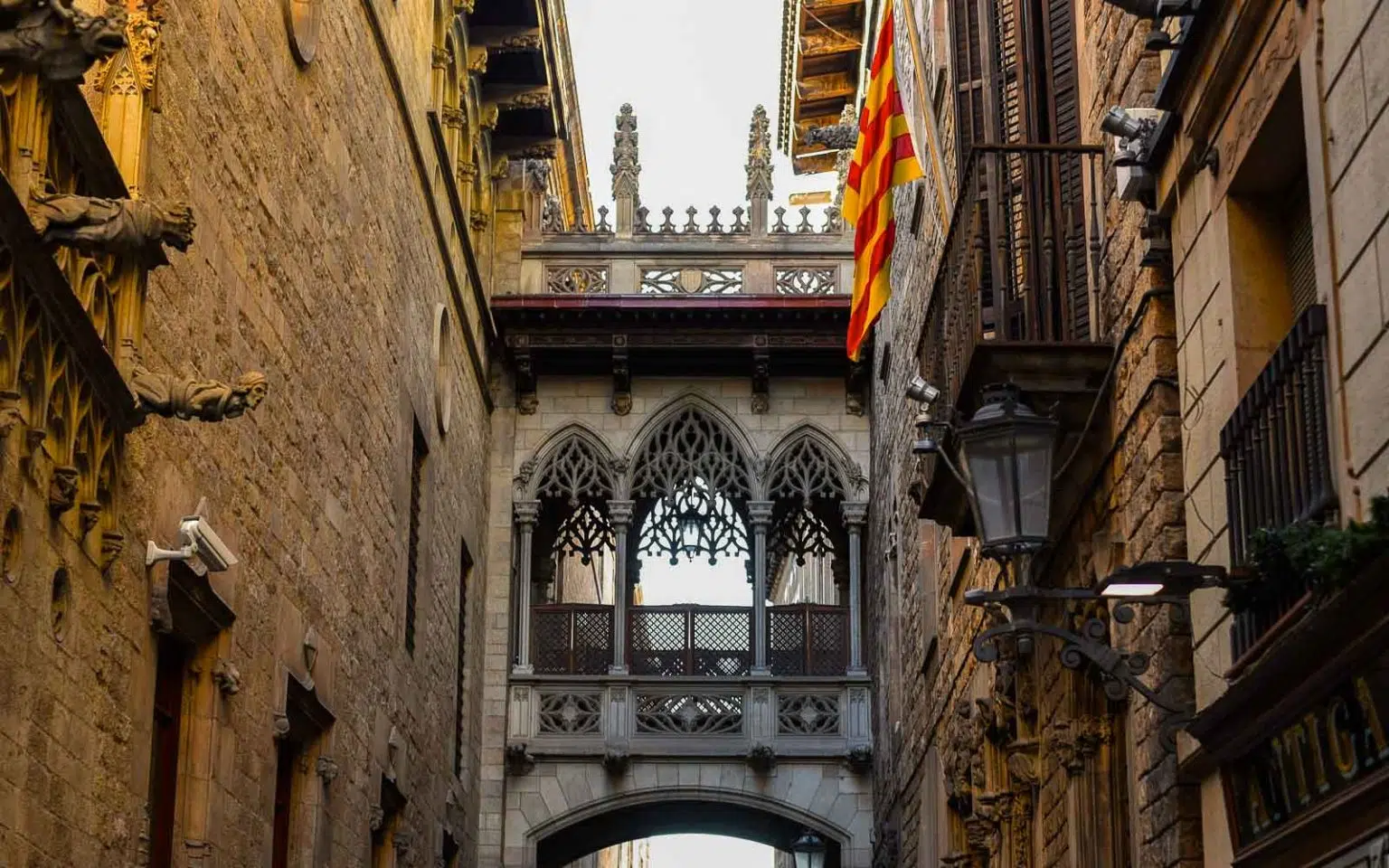 El Barrio Gotico – Best Neighbourhood for Sightseeing
Attractions: ★★☆☆ Central: ★★★★ Nightlife: ★★★★ Relax: ★☆☆☆
Barcelona's Gothic Quarter is a maze of bars and restaurants without end.
Pros
Locals go here for big nights at quirky bars or bumping clubs. If you're looking for the best area to stay in Barcelona for nightlife or on a stag do/bachelor party then this is it.
This neighbourhood of contrasts gives us the famous Barcelona Cathedral and the classic square Plaça Reial. You'll also be right in the thick of Barcelona's best shopping street Portal de L'Angel.
For solo travelers this will be your best bet to meet people in the city centre or hit up live music venues.
Cons
For downsides the beach is about a 40 minute walk, things can get noisy at night, and you'll have to dodge some tourist traps – but that's all in a days work in Barcelona!
I suggest taking the Secrets of the Old City tour of the Gothic Quarter to learn the real history of the city, but if you're not partying or taking a cruise I'd look elsewhere.
Related: Get a two hour walking tour of the Gothic Quarter for just 18 euro.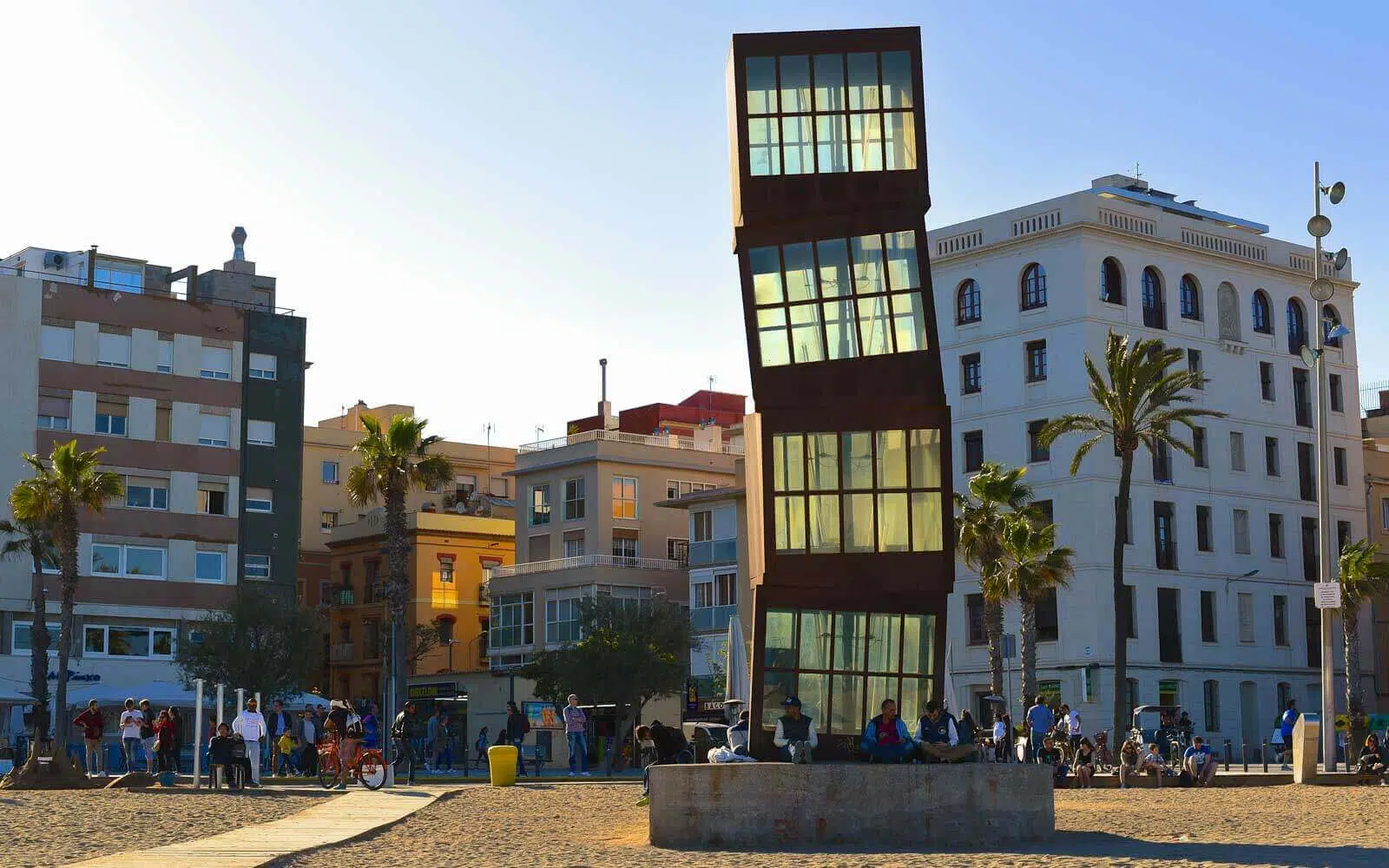 Barceloneta – Best Neighbourhood for Beach Holidays
Attractions: ★☆☆☆ Central: ★★★☆ Nightlife: ★☆☆☆ Relax: ★★☆☆
This seaside neighbourhood is the best area to stay in Barcelona near the beach.
Pros
The old fisherman's village still retains some of its charm of yesteryear, with old women sitting on stoops chatting afternoons away while children kick balls around narrow streets.
If any neighbourhood hasn't been completely taken over by mass tourism this is it – you'll have a great choice of local bars plus the best restaurants in Barcelona, especially if you love fish.
Beach lovers can't go wrong as it's only 5 minutes from the beach – for this reason it's an optimal spot for Barcelona's best holiday apartments. This is as close as you'll get to direct beach access.
Cons
What you won't like is the enormous amount of foot traffic (and noise) moving through on their beach holiday – try to get a hotel not facing one of the main streets.
With only one metro station in the area trains get crowded especially during summer.
There are also hardly any tourist attractions and little hotel variety.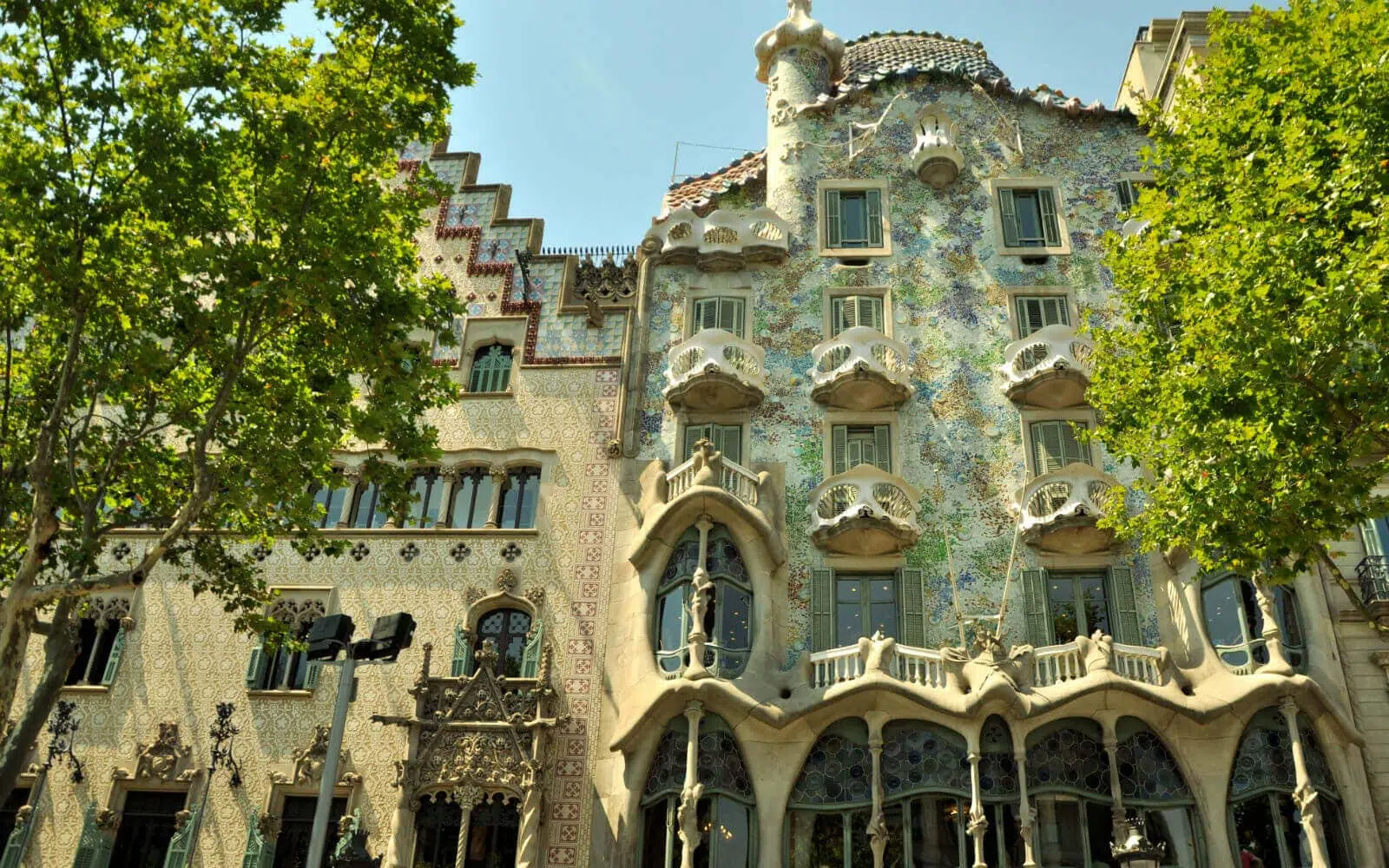 Eixample – Best Neighbourhood for Bars
Attractions: ★★★★ Central: ★★★☆ Nightlife: ★★★☆ Relax: ★★☆☆
Eixample is fashionable area is known for its fascinating grids that make great aerial photography.
If you're going to spend a week in Barcelona and check off all the highlights, this is the place to stay.
Pros
While you may be confused as it is divided into 7 sub-neighbourhoods, keep in mind the easily navigable streets of the area are consistently littered with trendy bars and cafes. It is also remarkably safe.
It's home to some of Barcelona's top attractions like the Sagrada Familia, Casa Batllo, and Casa Mila. It offers a ton of stops on the Bus Turistic – if you're here to soak up the culture this is the area for you.
The 'Gayxample' district of the area also offers some great gay nightlife opportunities.
It's easily the best area to stay in Barcelona for sightseeing door to door from the city's best boutique hotels. You also can't beat the high-end shopping on Passeig de Gracia.
Cons
Compared to our other best neigbourhoods it's sadly not as picturesque.
You also won't be able to get to the beach so quickly and there are not many great squares to relax and have a drink.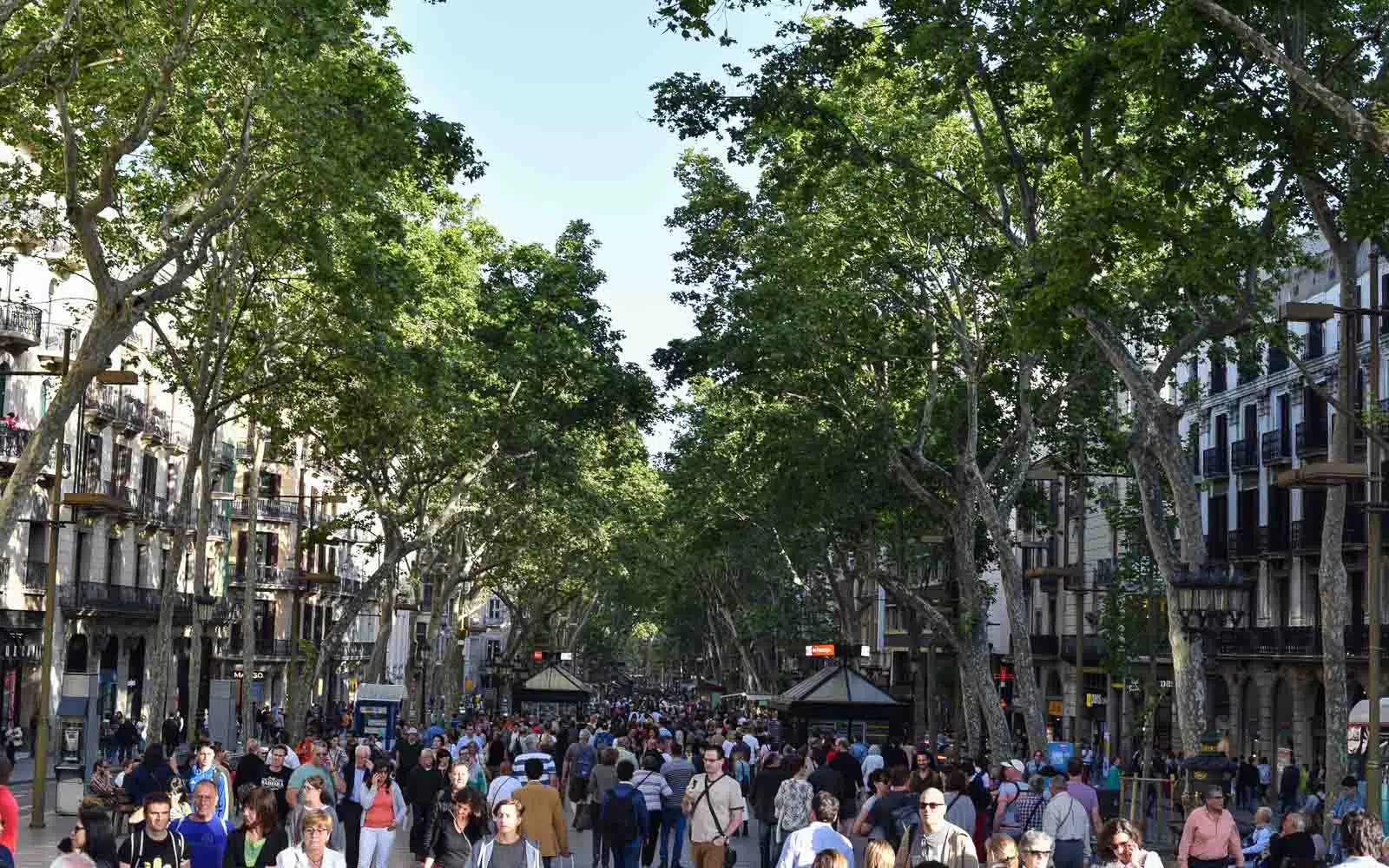 Las Ramblas – Best Neighbourhood for Nightlife
Attractions: ★★☆☆ Central: ★★★★ Nightlife: ★★★★ Relax: ☆☆☆☆
It's not a neighbourhood but Barcelona's most famous street is tourist central.
Pros
Nearly every form of airport transport gets you to Las Ramblas in a hurry. There are three metro stops along the street including Liceu and Drassanes plus the legendary Plaça Catalunya.
If there's any street that doesn't sleep in Barcelona then this one is it. Because it's so busy, you're more likely to find budget accommodation here than elsewhere in the old city center.
The Boqueria Market is one of the best markets in the city.
Cons
A ton of hotels line the street made up of tourist traps of any kind from tapas bars to clubs to souvenirs. If you've got a room facing the street expect a ton of noise until early hours.
Honestly, nights can bring pickpockets and pesky drug dealers and prostitutes.
This is a great area to stay for young adults wanting a short walk home from partying. If you're grabbing a room at Barcelona's best hostels it's likely to be here.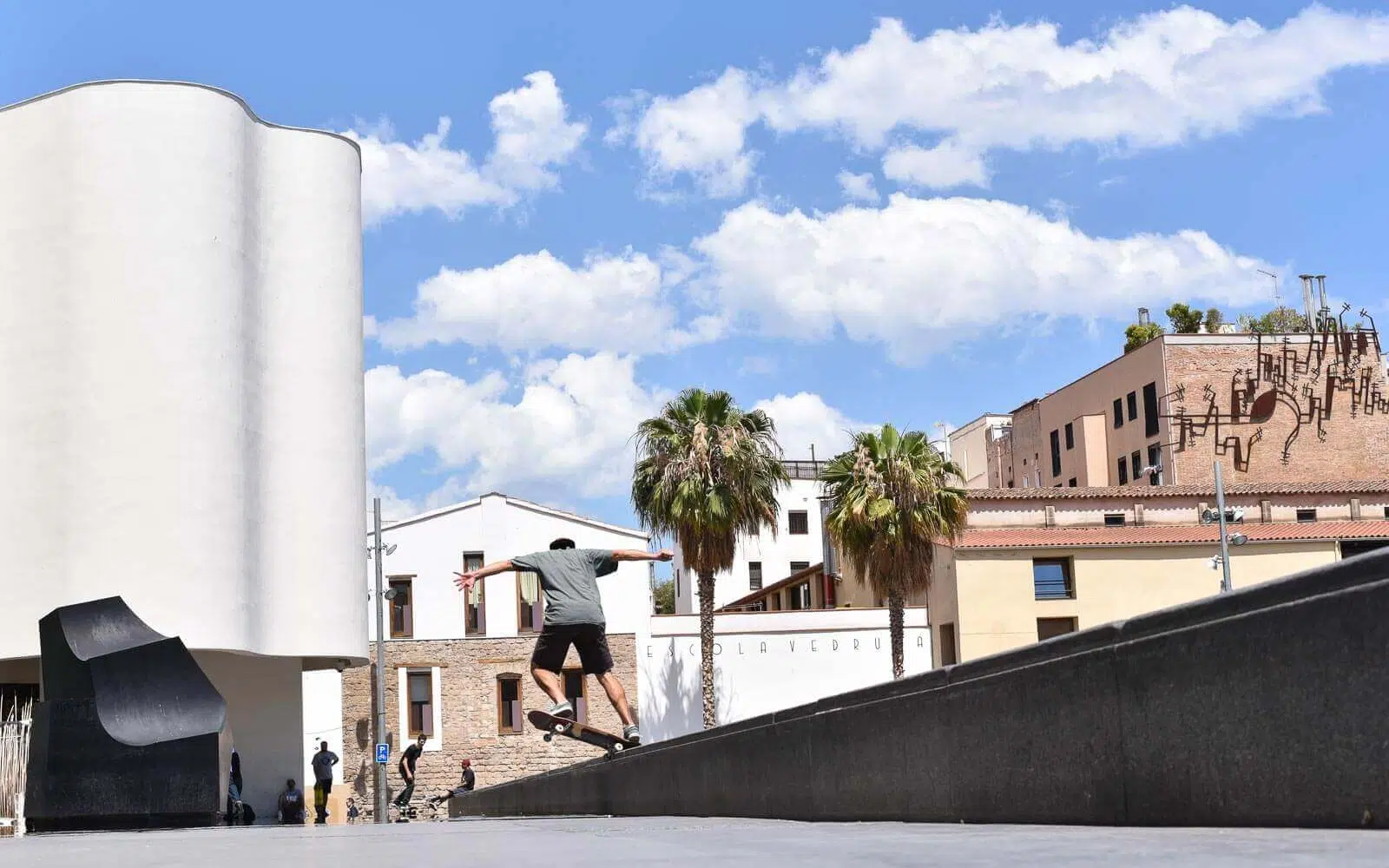 El Raval – Best Neighbourhood for Museums
Attractions: ★★☆☆ Central: ★★★★ Nightlife: ★★★☆ Relax: ★☆☆☆
Barcelona's most multi-cultural area may be the most divisive area to stay.
Pros
On one hand you're at the doorstep of the best ethnic food in the city and some of the best value bars in Europe. Dive bar and street food lovers should pay attention here. You're also super-central.
The area is filled with students and home to great museums like MACBA and the CCCB.
Here it's all about value and it's easily the best area for adventure.
Cons
On the other hand there's a bit of a nasty reputation with locals for being the site of a lot of petty crime – be aware of 'friendly' people you may meet in the street after dark.
I don't recommend it for parents travelling with kids.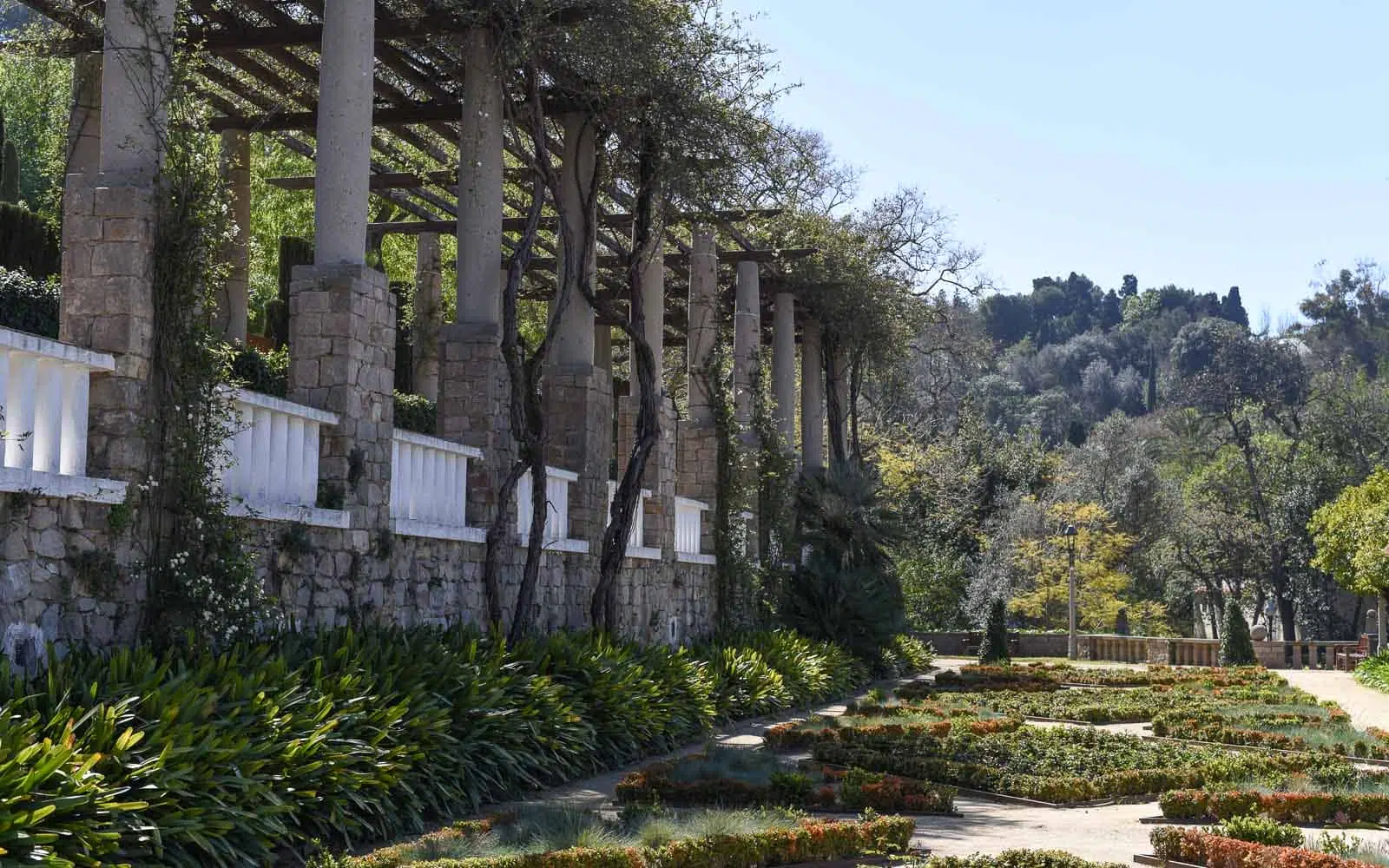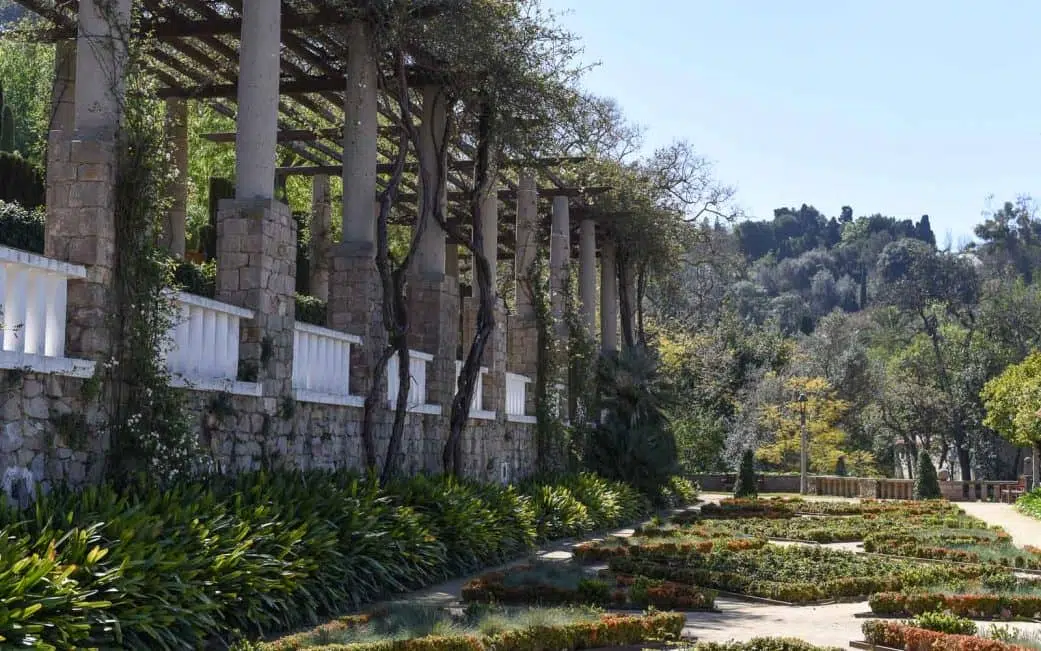 Poble Sec – Best Area for Cheap Eats
Attractions: ★★☆☆ Central: ★★☆☆ Nightlife: ★☆☆☆ Relax: ★★★★
This underrated neighbourhood finds itself in a picturesque area under Montjuic Hill.
Pros
What you'll notice here are narrow streets following a gentle slope upward. Foodies will love the restaurant scene in this area and Calle Blai is a great street to get €1.00 pintxos and bottled beer.
It's also a great neighbourhood to stay if you're in Barcelona for a conference at the Fira de Monjuic. You'll be close to the Magic Fountain show.
In all it's in my view the best neighbourhood in Barcelona to stay for tranquility. That said, don't expect a boutique hotel heaven here – the hotels are quite utilitarian in nature.
Cons
The downsides are that the city's nightlife doesn't really get going here – except the legendary Sala Apolo. You're also quite far from the beach and may have to walk a bit uphill from the metro station after a long day.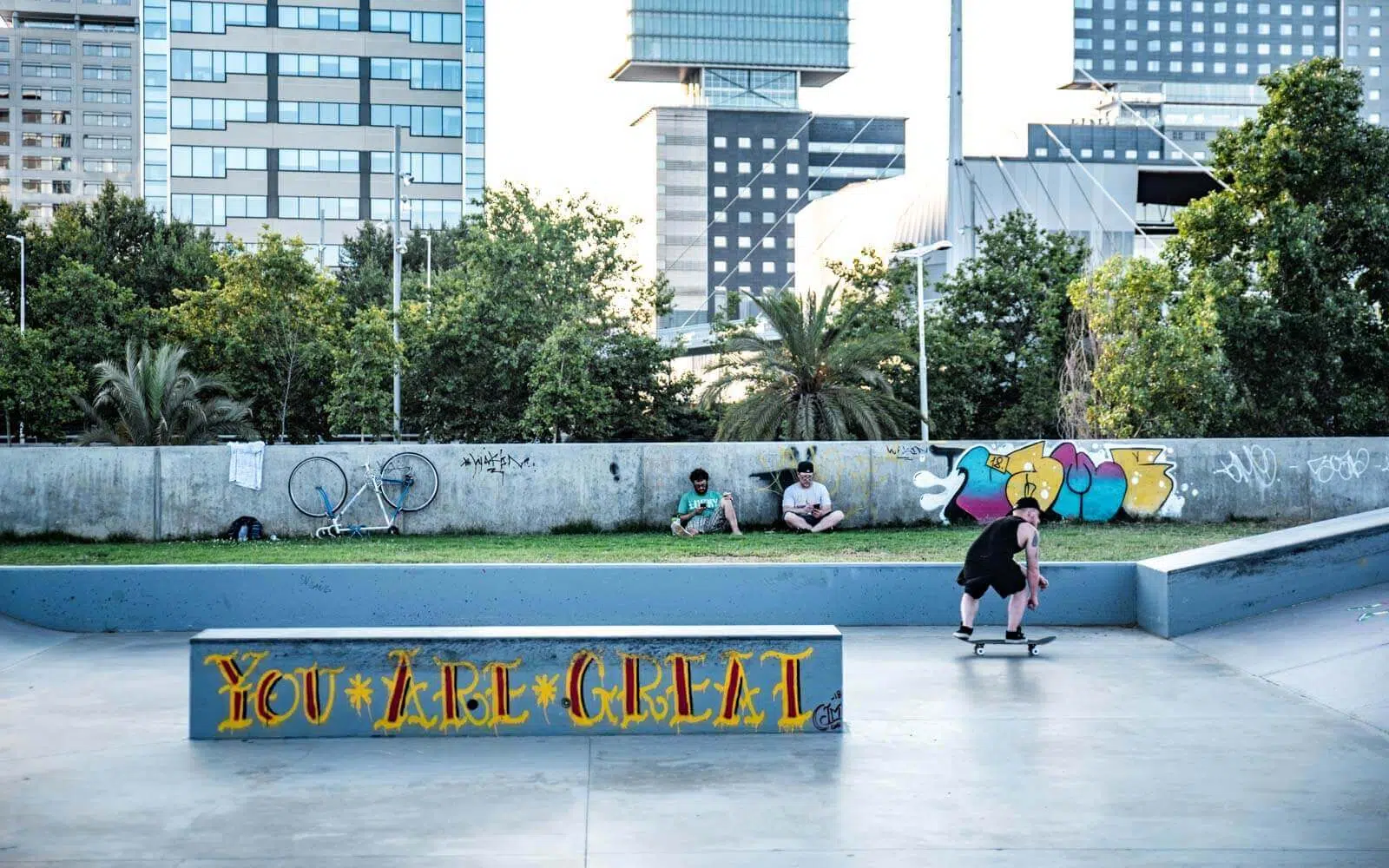 Poble Nou – Top Barcelona Neighbourhood for Street Art
Attractions: ★☆☆☆ Central: ★☆☆☆ Nightlife: ★☆☆☆ Relax: ★★★★
This up and coming area used to be the industrial heart of the city but now it's the city's street art heart.
Pros
What we have now is bustling area full of warehouse apartments and new hotels. Having a walk through this area even in summer gives a sense of near-abandonment – but in a good way. Here you're only metres from the beach and the streets are quiet as a mouse.
Taking a stroll down car-free Rambla del Poble Nou and its cafes and ice cream shops is almost like a small town.
Cons
Some prominent downsides are that it's not walking distance to any main attractions. There are also very few nightlife and shopping opportunities.
Sants Montjuic – Best Area for Conferences at La Fira
Attractions: ★★☆☆ Central: ★★☆☆ Nightlife: ★★☆☆ Relax: ★★★★
You'll find this neighbourhood right outside Barcelona's main train station Sants Estacio.
Pros
This is easily the most accessible area to Barcelona El Prat Airport and another great area for those attending conferences at La Fira or any attraction near Plaça Espanya. This is a very utilitarian, centrally located area with everything you need but nothing too special – if you get a good deal pull the trigger.
If you're coming for Barcelona FC matches and want to stay near Camp Nou book here.
Cons
The downsides here are obvious as you won't get much of a 'go downstairs and wander' feel – if you love discovering a city on foot then avoid at all costs. If you've got no problem taking transport to the centre then don't be shy.
Related: How Many Days Should I Stay in Barcelona?
The Top Areas in Barcelona for…
What is the Best Barcelona Neighbourhood for Restaurants?
If you're looking for quality, modern Spanish food then you'll find most of the new and hip tapas bars in the Eixample area. El Raval is a staple for ethnic foods, especially from southeast Asia. Finally, for cheap tapas (pintxos) and an unpretentious outdoor patio scene the Carrer de Blai area of Poble Sec is a fine food option.
What Are the Best Neighborhoods in Barcelona for Sightseeing?
Tourists visiting Barcelona looking for the best neighbourhoods for sightseeing should consider the Gothic Quarter (El Barri Gòtic), El Born, or Eixample. Each of these sightseeing neighbourhoods holds one or more of the main Antoni Gaudi attractions and have beautiful Barcelona architecture of the Catalan modernist style.
What Are the Best Neighborhoods in Barcelona for Nightlife?
It's impossible to crown just one Barcelona area as the best for night life, but generally if you're looking for hip bars serving cocktails you should select El Born. The best clubs tend to be in Eixample. The Gothic Quarter is more likely to have unique, quirky bars with live music. If you're looking for cheap dive bars, El Raval is a fine choice for a wander.
In What Barcelona Area Do I Get the Best Local Vibe?
Without a doubt it has to be Gracia. This area which was once a separate village from the city altogether is now one of the last bastions of hope in the local war against globalization.
Gracia is a place with no large chains and is a haven for local business. You'll still hear Catalan in the streets. It's full of picturesque squares where you'll see children playing on their lunch breaks.
What Are the Safest Areas in Barcelona?
The safest neighbourhoods in Barcelona city centre have to be Gracia and Eixample. They're generally isolated from large streets full of bars and rowdy nightlife, and the trouble that comes with it. They're also places with wide open streets, a good police presence, and local populations getting on with their day.
What Are the Best Neighbourhoods in Barcelona for Families?
For families looking be active, outdoors, and safe the beachside the neighbourhood of Poble Nou is a fine choice. It's low crime, has very little traffic, and is just minutes from the beaches. Aside from Poble Nou, Gracia is a safe neighbourhood since it's mostly car-free. It's near some of the city's best park life, and has very little rowdy nightlife.
Related: Is Barcelona Worth Visiting?
Looking for Where to Stay in Barcelona?
Again, if after all this you haven't found where to stay in Barcelona then make sure you get in touch with me for some custom Barcelona travel tips.
I am more than happy to find you a place to stay if you tell me the kind of holiday you're looking for, what you want to see most etc.
Also don't be afraid to join the area discussion by first giving me a like on Facebook and then joining my group I'm Off to Barcelona – here you can ask any questions, air out grievances, and chat with thousands of Barcelona travelers.