When Will La Sagrada Familia be Finished?
A question that lingers in the minds of many Barcelona visitors: when will La Sagrada Familia be finished?
This awe-inspiring basilica in Barcelona has been under construction for well over a century – yes, that's not a typo!
Let's dive into the best speculation on when Sagrada Familia construction will be finished.
When Will the Sagrada Familia Be Completed?
Antoni Gaudí embarked on the design and construction of the Sagrada Familia all the way back in 1882.
His vision for this monumental structure was ambitious, drawing inspiration from nature, Gothic architecture, and his deep spirituality.
Gaudí's unique style, known as Catalan Modernism, incorporated organic forms, intricate facades, and an unparalleled attention to detail.
But why is it still under construction over 100 years later?
Construction Halts and Destruction
Construction faced numerous interruptions throughout history, with work coming to a halt during Gaudí's lifetime due to lack of funding and the Spanish Civil War in the 1930s.
Tragically, a large portion of Gaudí's original models and plans were destroyed during the conflict.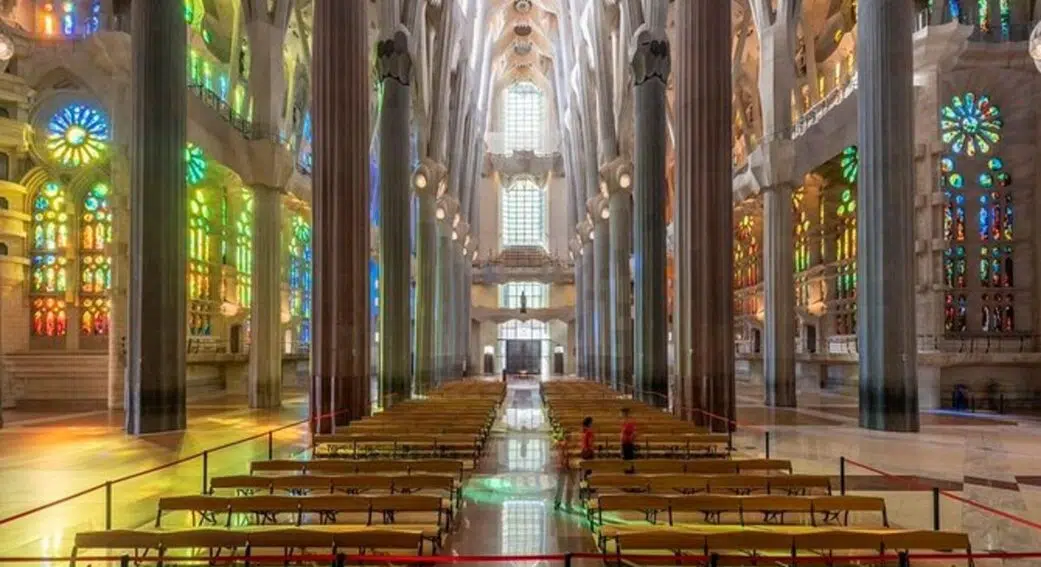 Renewed Efforts and Modern Progress
In the decades following the war, renewed efforts were made to continue Gaudí's work, and construction gradually resumed.
Today, advancements in technology have facilitated progress, allowing for more precise execution of Gaudí's original designs – unfortunately though that was not always the case.
Challenges Adhering to Gaudí's Vision
A unique challenge in completing the Sagrada Familia lies in staying true to Gaudí's vision without compromising the authenticity of his work.
Experts and craftsmen meticulously study Gaudí's plans and models to ensure that every detail aligns with his intentions.
To say there were disagreements along the way would be an understatement.
⚠️ 

2023 Warning

⚠️

: It's now mandatory to book your Sagrada Familia tickets in advance.
The only way to guarantee your spot is by booking Sagrada Familia tickets online:
Funding Challenges
The completion of the Sagrada Familia heavily relies on private donations and ticket sales, as it does not receive any government funding.
The financing process remains a constant challenge, impacting the pace of construction.
Want to help the construction along? Make sure you visit Sagrada Familia while in Barcelona!
Ongoing Construction Obstacles
Sagrada Familia was due to be finished in 2026, just time for the 100th anniversary of Gaudi's death.
An odd yet fitting choice! Unfortunately though, the completion date has been pushed back due to construction halts during the pandemic.
The basilica's eight spires have been completed, with the central spire dedicated to Jesus Christ still to come.
⭐ Want to unlock the symbolism? Book one of the top Sagrada Familia guided tours in English
Projected Completion Date Of Sagrada Familia
The timeline for the completion of La Sagrada Familia remains uncertain.
However, the basilica's current chief architect, Jordi Faulí, still estimates that the construction could be finished by 2026 (link in Spanish), marking the centenary of Gaudí's death.
That said, according to a caption in the link above he says Sagrada Familia is more likely to be completed around 2030.
Seeing how he's cut the construction and architect team by 75% since his arrival, it seems more than likely.
Wanna see what it could look like? Check out the video timeline below:
Love it? Millions of tourists pay to see Sagrada Familia every year – so make sure you book your tickets online first.
Mandatory time slots are capped hourly and must be bought online.
You can check your dates using the calendar below:
When Will Sagrada Familia Be Finished FAQ
Why can't they finish Sagrada Familia?

The complex design and intricate details of La Sagrada Familia, combined with the need for careful preservation and adherence to Antoni Gaudí's original vision, have contributed to the extended construction timeline.

Additionally, the project relies on private donations and limited funding resources.

What will Sagrada Familia look like when it's finished?

When finished, La Sagrada Familia will be a masterpiece of architectural marvel, showcasing its spires, three intricate facades, 18 towers, and unique design elements in full splendor – the tallest tower, symbolizing Jesus Christ, will be the tallest in Barcelona.
When Will Basílica de la Sagrada Família be Finished?
The enigmatic timeline of La Sagrada Familia's completion adds to the allure of this architectural masterpiece.
While projected dates exist, my only suggestion is to visit it whenever you can – it's one of the most spectacular churches I've ever seen.
Still wondering when will construction of La Sagrada Familia be finished? Get at me in the comments below for up to date info!