6 Essential Tips for Visiting Sagrada Familia in 2023
Booking tickets to this world famous attraction is automatic on holiday, but are there any tips for visiting Sagrada Familia?
To make your experience go more smoothly, I'm going to break down some visiting tips here.
Tips for Visiting Sagrada Familia
Tip #1: Buy Your Tickets in Advance
Simply put, you cannot enter the Sagrada Familia without booking tickets online in advance.
If you don't have them you'll be asked to book with your phone, though especially in summer you're likely to encounter sellouts.
Luckily, you can buy them conveniently from our trusted partner Tiqets.
Here you will find all the options available, including simple admission, tours, towers, packages and more. That way, you can intuitively weigh your options:
Tip #2: Consider Climbing the Towers
Yes, I've lived in Barcelona for 12 years and have yet to climb the towers.
My excuse? I'm not the biggest fan of enclosed spaces. According to the guidelines, it's not recommended for people like myself – or people of a large size.
Sure, you can go up to the towers comfortably in an elevator. But you'll be forced to go down in single file along a very narrow set of stairs.
Nevertheless, if you're braver than me, remember to purchase an additional ticket to climb the towers (not included in general admission). The views are fantastic.
Tip #3: Book the Best Time to Visit
While Gaudi's masterpiece is beautiful at all times, I recommend visiting between 9:00 and 10:30 am.
It is the perfect time to visit the Sagrada Familia, as you'll encounter the perfect array of light and colour that makes the cathedral unique.
Related: Best Time to Visit Sagrada Familia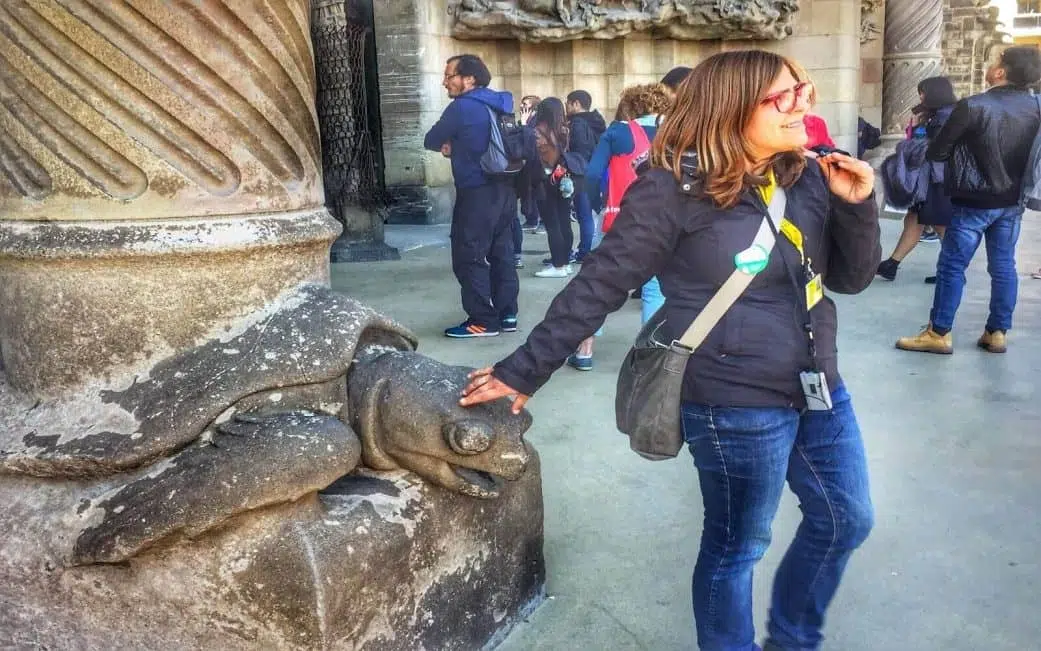 Tip#4: Get a Guided Tour
Sagrada Familia guided tour tickets should be mandatory for a first visit.
Before I took this tour, I was never able to appreciate the genius mind of architect Antoni Gaudi – as every nook and cranny of the church gets brought to life by an experienced guide.
These Sagrada Familia guided tour tickets have a 97% 5-star rating and run seven days a week.
Tip #5: Don't Get Sucked Into Tourist Restaurants Nearby
Due to its popularity, restaurants for all tastes exist near the Sagrada Familia! If you're looking for a convenient and quick bite before or after your visit, I'd recommend Buenas Migas.
This delightful cafe offers light Italian-style fare at all hours of the day. It's located at the crossroads of Calle Mallorca and Valencia, opposite the Passion Facade.
Related: Are There Sagrada Familia Discounts?
Related: Best Tapas Restaurants Near Sagrada Familia
Tip #6: Know Where You're Going
The Sagrada is easily accessible from every corner of Barcelona, ​​thanks to several bus lines and metro stops (L2 Purple & L5 Blu) that'll leave you right before the attraction's famous spires.
For directions from your place of lodging, use Google Maps for the most convenient route. Alternatively, the city center can be reached on foot in 20-30 minutes.
The location also makes it easy to reach Park Guell from Sagrada Familia and combine the two attractions.
Looking to lock in your tickets? I'll leave you with this booking calendar below:
Remember: booking online is mandatory post-COVID.
Still Looking for Sagrada Familia Visit Tips?
Did you like my tips for visiting Sagrada?
Let me know in the comments below, and I can address any additional concerns!
🧑‍🎨 Want more of Gaudi? Unlock his masterpieces with the top Gaudi tours in Barcelona.