33 Best Things to Do in Barcelona in 2023
I want you to experience the best things to do in Barcelona as I would do them.
After ten years of living here, I've soaked up all the art museums, followed Antoni Gaudi through every barrio, and eaten and drank everything the Catalans have laid down before me – both good and bad.
Let's break down what to do in Barcelona with some local knowledge.
The Best Things to Do in Barcelona Spain
First off – choosing what to do in Barcelona really depends on how much time you've got.
In my post on how many days to spend in Barcelona I can help you lock in a length!
That said, not knowing the city, you might wanna dabble in a few different Barcelona itineraries before booking:
Either way, make sure to bookmark me or reach out!
As a local I can help you plan the perfect Barcelona getaway 🙂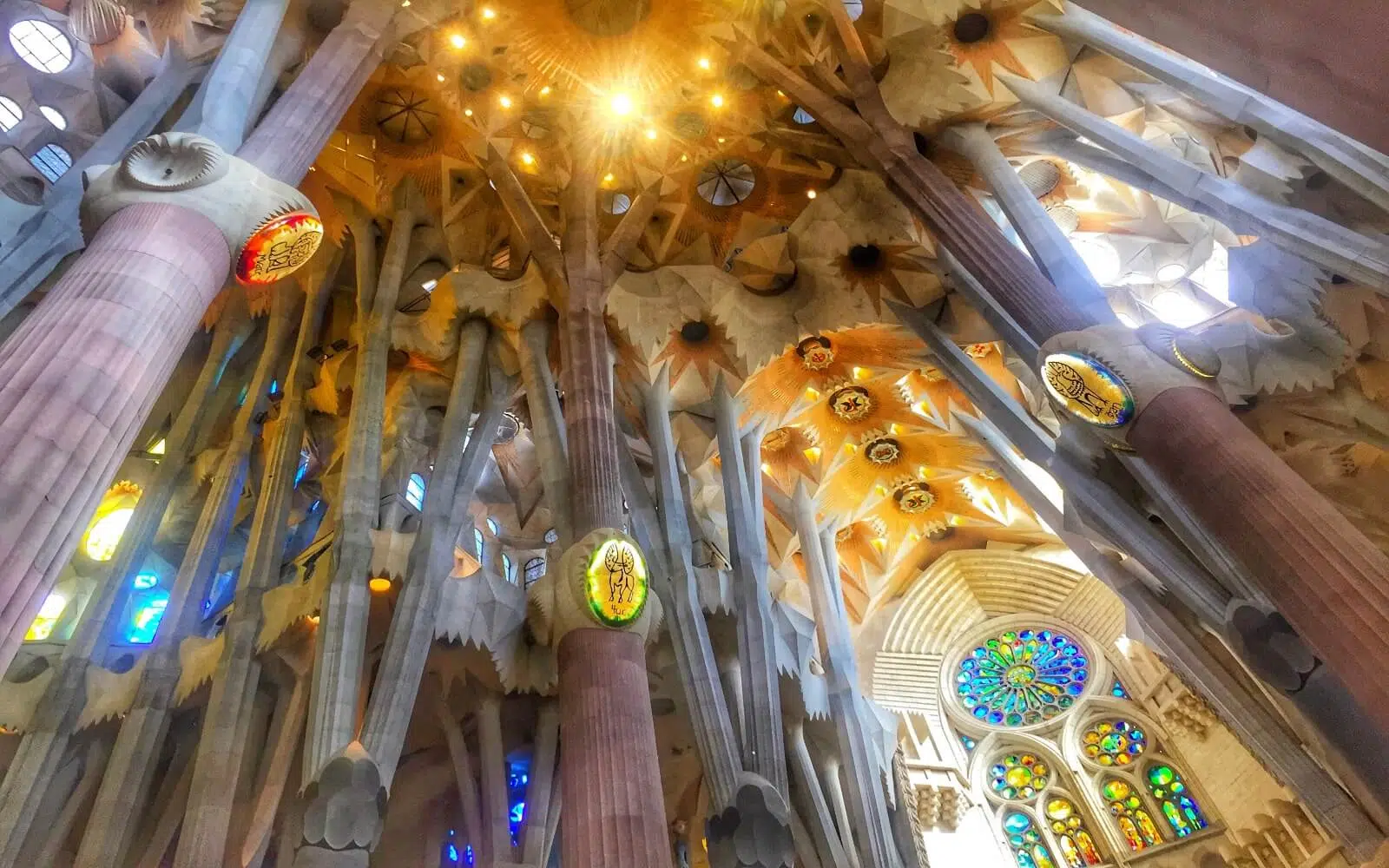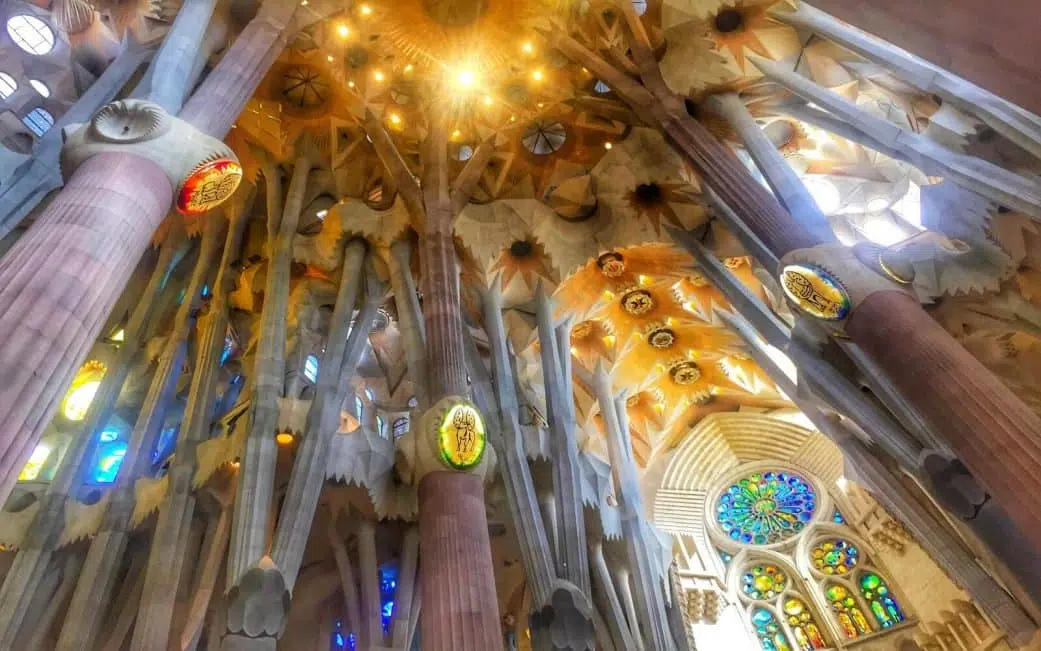 La Sagrada Familia
Just look at any postcard in the city. This is the one of all the must see Barcelona attractions, especially if you're taking a Sagrada Familia guided tour.
Sagrada Familia is the crown jewel of Catalan wonder architect Antoni Gaudi's architectural empire and one of the most spectacular basilicas in the world.
For those tired of traditional churches, you'll be positively refreshed. The arches of this UNESCO world heritage site are modelled after tree branches, and the stained glass creates a rainbow effect you won't soon forget.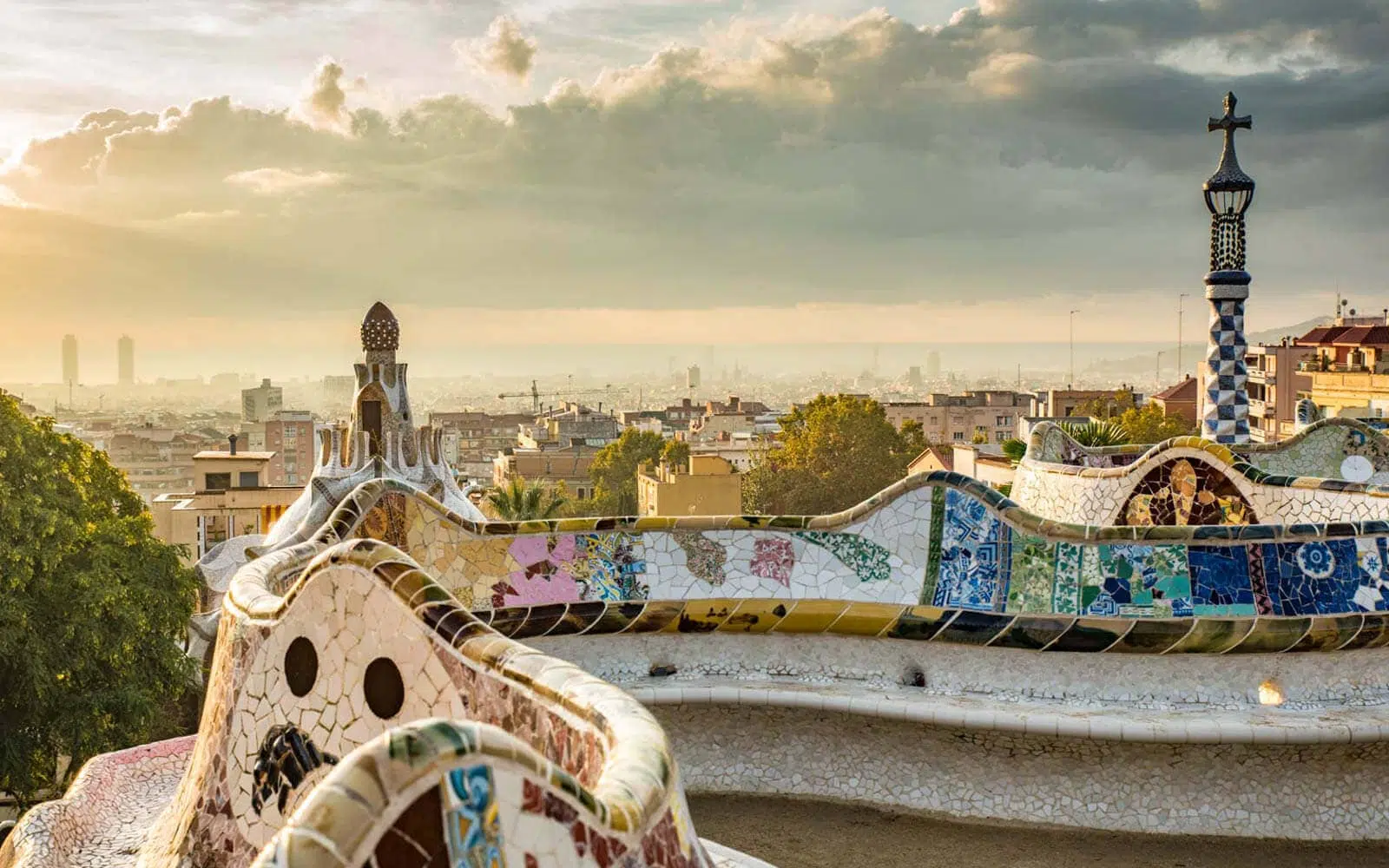 Park Güell
Park Guell is a dreamy urban park floating above the city, far from the city center, and was the utopian vision of rich industrialist Eusebi Guell in the early 20th century.
Today the entrance at Park Guell and its gingerbread house-like porter's lodge and the emblematic mosaic lizard is a highlight.
At Park Güell, tourists sit on the mosaic benches (remember Vicky Cristina Barcelona?) and take in amazing views.
You can also check out the Gaudí House Museum (La Casa Museu Gaudí) on the grounds.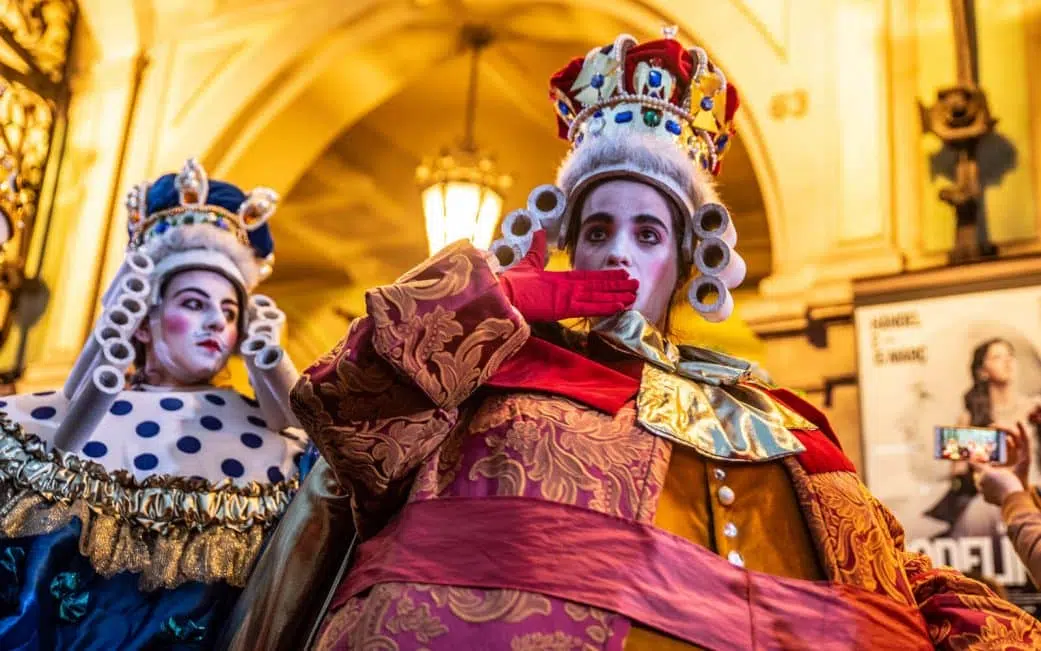 Barrio Festivals
When coming up with the best things to see in Barcelona, locals tend to cut off the streets from traffic, put up a stage with live music, and get the wine and music flowing.
The eccentric European block parties that honour patron saints and long-dead political prisoners are the closest a tourist can get to real Barcelona.
I've got a list in my Barcelona events calendar, but the biggest two of the year are La Festa Major de Gracia (in August) and La Mercè (in September).
🍷 Want to sample the best local wines? Book one of Barcelona's best wine tours right now.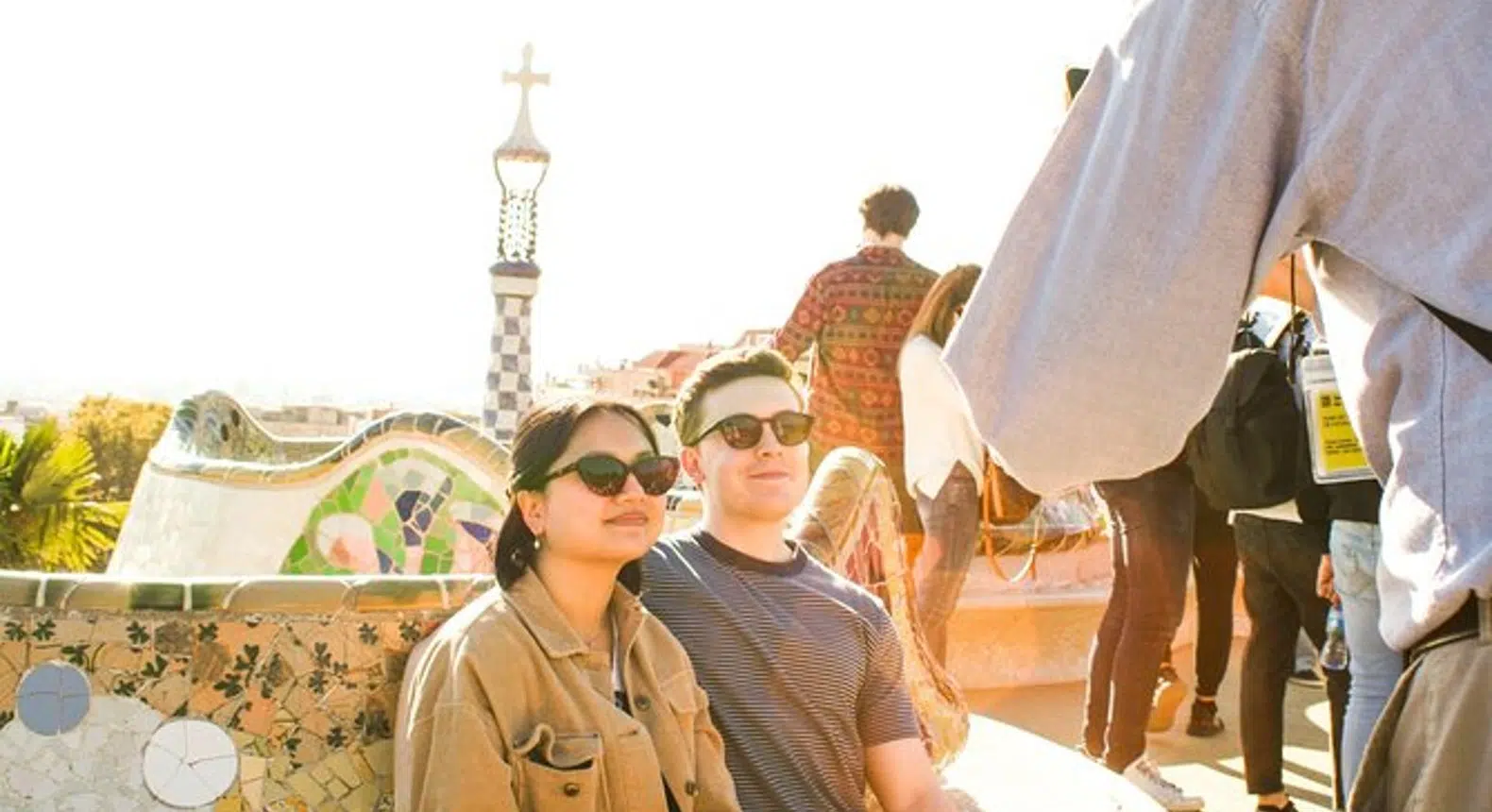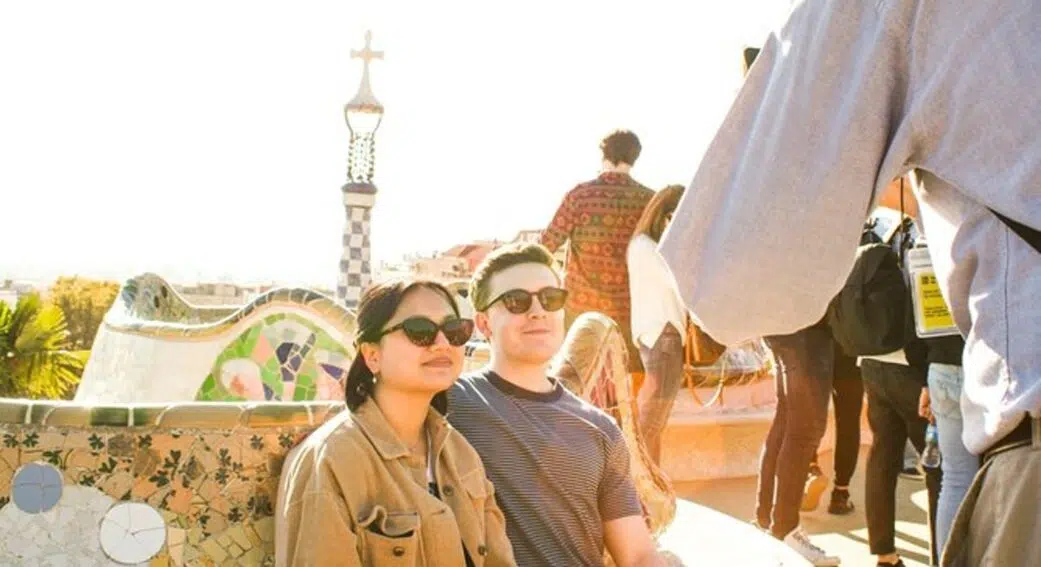 Go on a Spectacular Guided Tour of Barcelona
There's no better way for Barcelona beginners to learn the city than from a licensed, entertaining, expert guide.
In fact, you can soak up city knowledge, fill your stomach, sample epic Spanish wines, get exercise, and more – sometimes at the same time!
Here's a quick list of favourites:
Booking at least one in for your Barcelona holiday is a must.
Tapas
Even at Barcelona's best restaurants, it can be difficult to decide what to eat – so why not split 25 things?
These small-portioned savoury snacks are ordered in Barcelona's best tapas bars in rounds of 5 or 6 and are shared by friends over cañas (a small draft beer).
Patatas bravas (pictured) and pan con tomate (crispy bread rubbed with tomato and garlic) are automatic – but pulpo a la gallega (octopus with potatoes and paprika) and gambas al ajillo (garlic prawns) are where dreams are made.
My current favourite place to take visitors in 2023 is Season – I like it so much that I've set up a discounted tasting menu.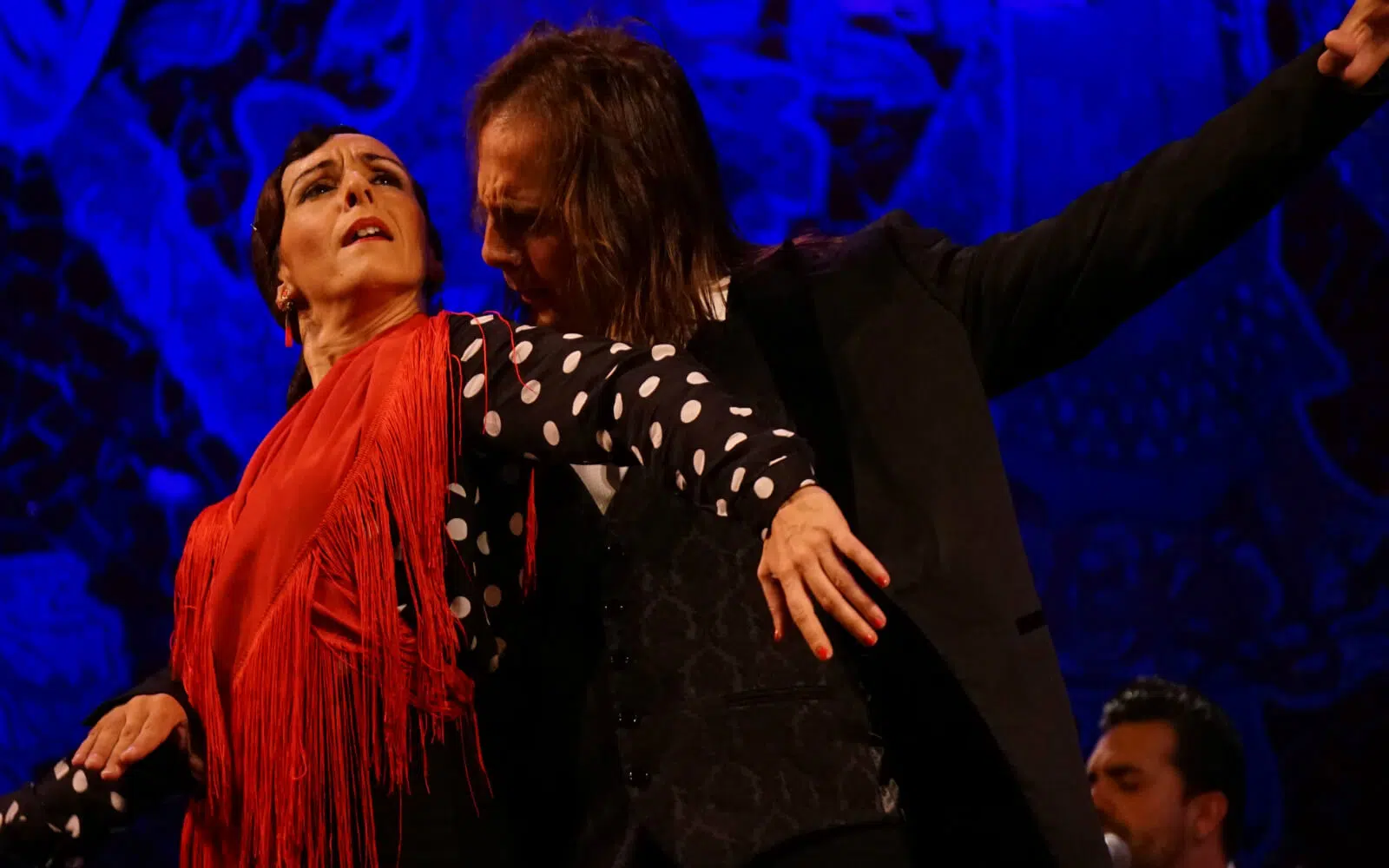 Flamenco
The most folkloric Spanish art form grabs your attention with its cante (singing), baile (dance), toque (guitar playing), palmas (clapping), jaleo (vocalizations), and pitos (snapping).
A typical flamenco recital mixes passion and tranquillity with a festive and resistant mood that can bring audience members to tears. The push/pull dynamics of the performers entice and resist simultaneously.
For me, the king of the best flamenco shows in Barcelona is Tablao Cordobes.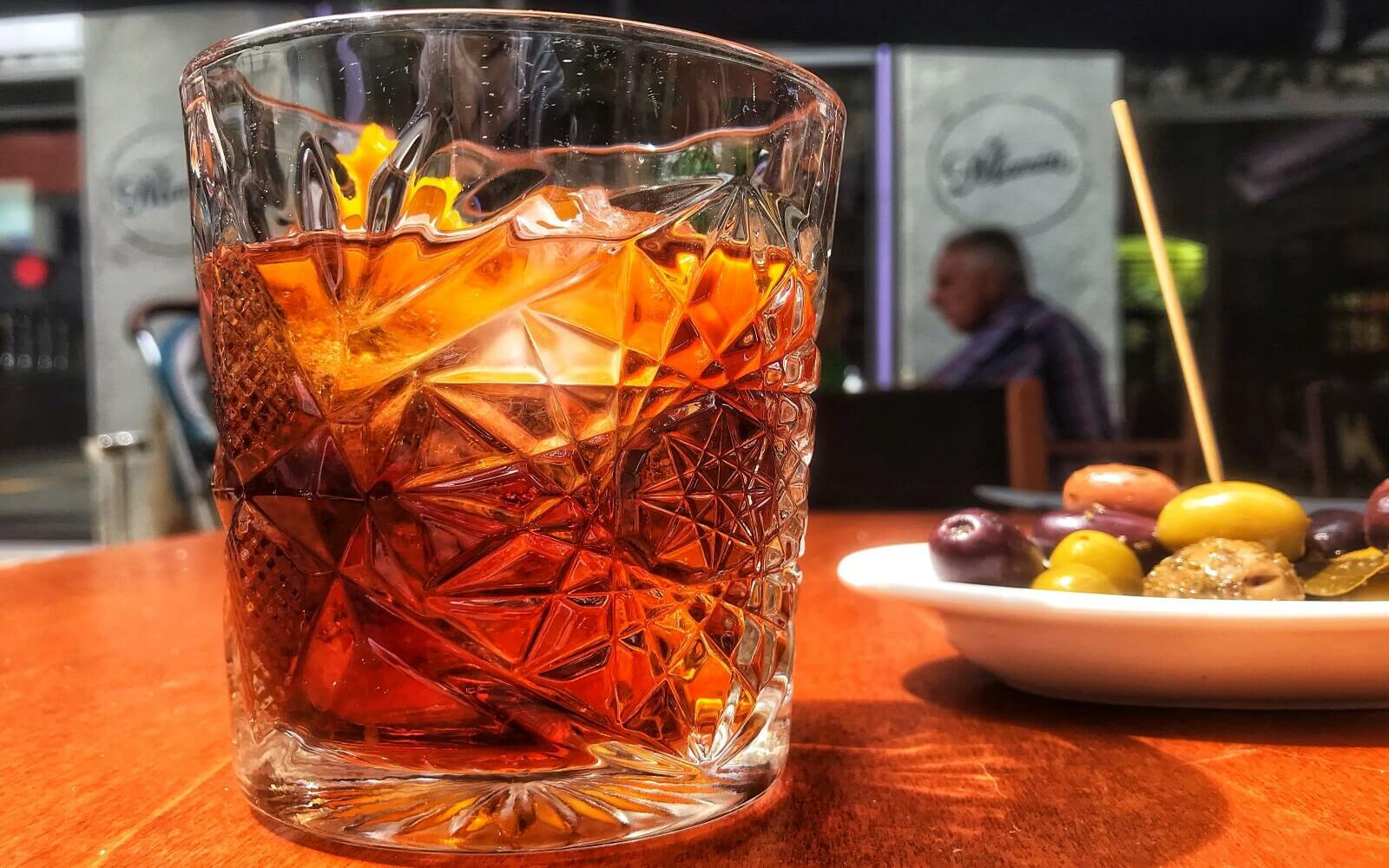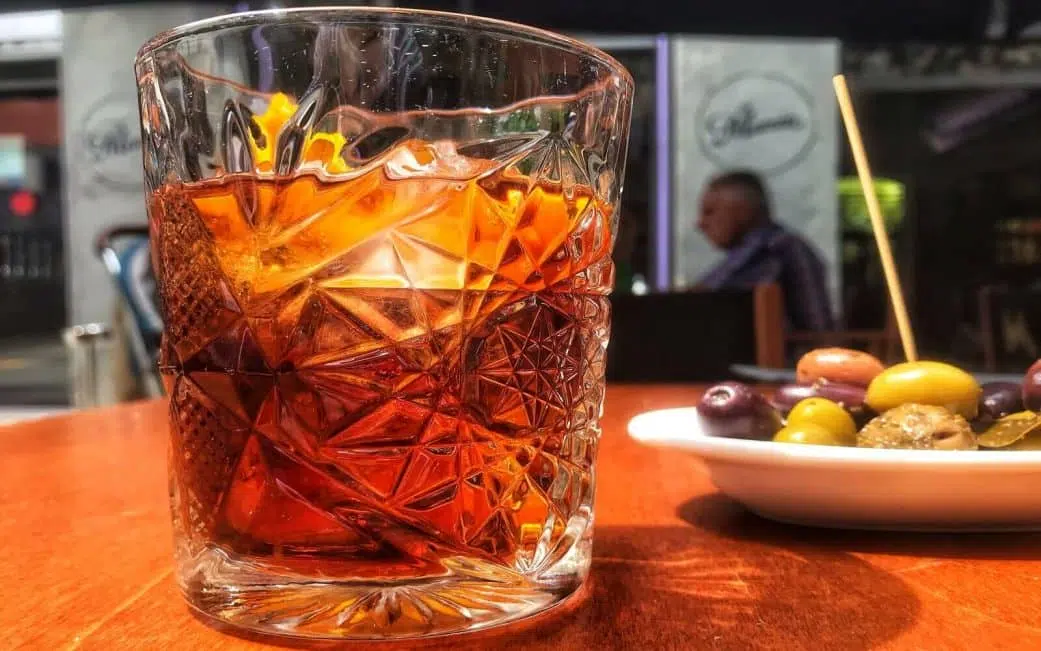 Vermut
It's not just a tradition… it's a lifestyle!
And who wouldn't like drinking tasty, inexpensive wine fortified with spices and botanicals like cinnamon and chamomile?
And at only €1.50 or so each, downing a glass or two of this Spanish favourite won't set you back on the next mortgage payment.
Tradition holds that one must consume (at least) one at la hora del vermú (vermut time, 12 noon) before eating lunch. It's as sacred as the Spanish siesta so if you're looking to fit in – drink up!
I go for mine at Quimet & Quimet.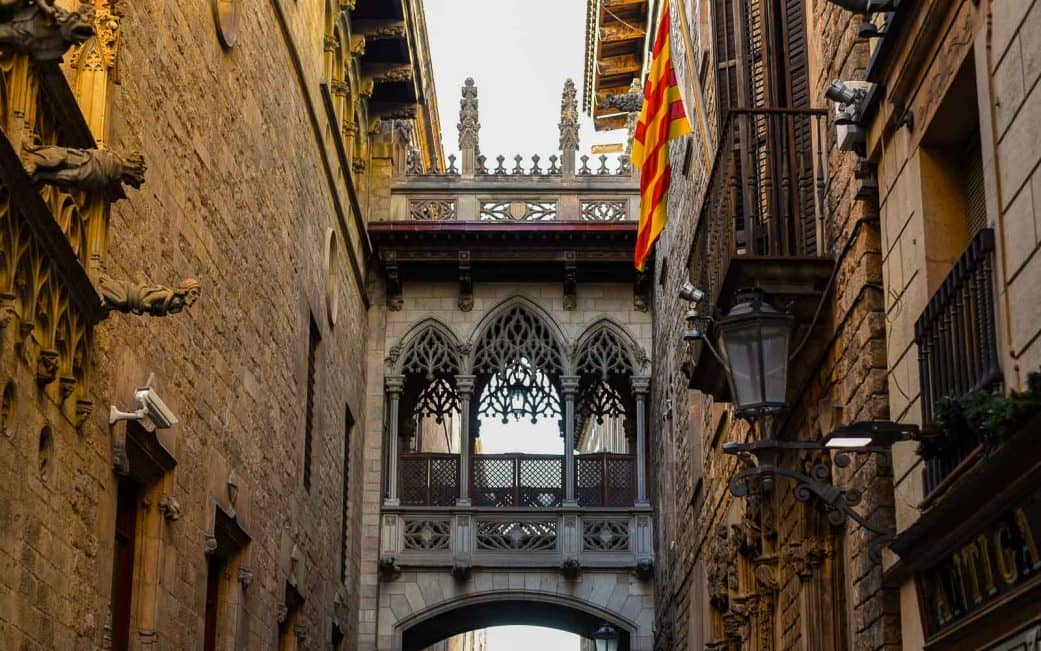 The Gothic Quarter
The Gothic Quarter is oldest neighbourhood in Barcelona, dating back to the city's founding as a Roman military camp in 15 BC. You'll still see some of the original walls as part of the Barcelona Cathedral.
This is basically an open-air Barcelona city history museum.
Most of the area is cut off from cars, and that means winding roads and tight alleyways opening up into majestic squares like Plaça de Catalunya, Plaça Reial, Plaça del Pi, Plaça George Orwell, and Plaça de la Seu.
Nowadays, it's a hot spot for some of Barcelona's best bars.
Casa Milà (La Pedrera)
Casa Milà (aka La Pedrera) is another surreal mansion right in the heart of some of the best shopping in Barcelona.
This unconventional Antoni Gaudi apartment block built for the city's richest industrialists is without a straight line and more wobbling Jell-O than a building. From above, it's actually built in an asymmetrical eight shape.
It's also possibly the most spectacular roof terrace you'll ever see with its 28 guardian warrior chimney stacks that are more Darth Vader than anything else!
Paella
This classic rice dish from Spain was invented by servants using the leftovers from royal banquets – and you'll feel like royalty by the fork full!
Though technically from nearby Valencia (where the rabbit and chicken version reigns supreme), you'll find the mixed seafood paella to be the go-to for Barcelona paella restaurants.
For couples visiting Barcelona this is a great option as it's usually served in portions of two.
Make sure to scrape the soccarat (toasted, scorched rice) off the bottom of the pan-flavour town!
The Moco Museum
The hottest new museum in Barcelona burst open its bright pink doors in October 2021. Sister museum to the one in Amsterdam, this is the place to go for modern art.
The Moco Museum Barcelona hosts amazing works from Banksy, Hirst, Warhol, Kaws, and Kusama.
You'll probably remember the Diamond Matrix (pictured) the most, though Chilean artist Guillermo Lorca really got me with his massive surrealist fantasy paintings.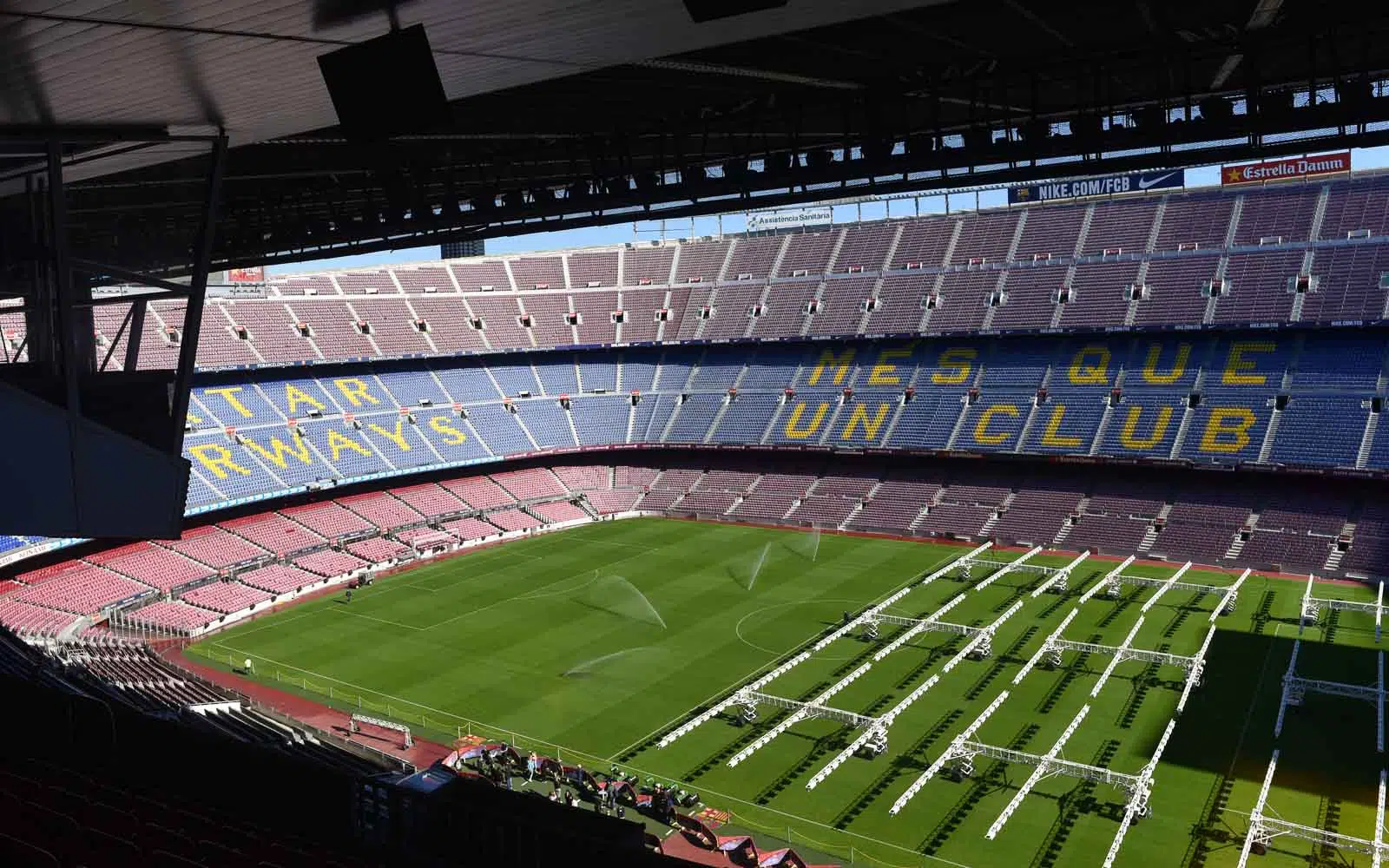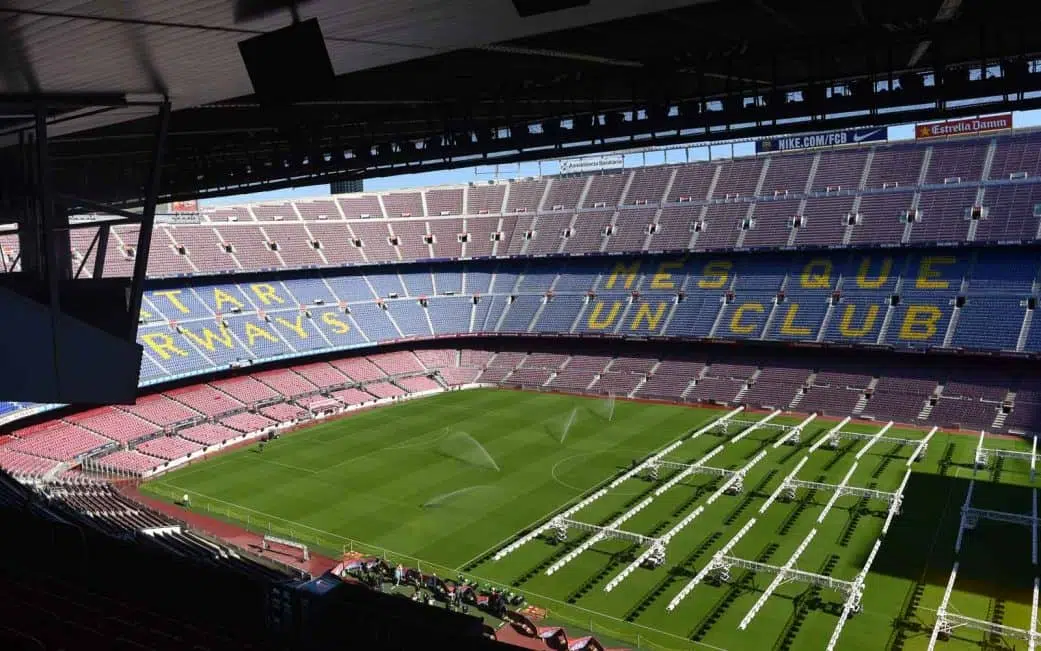 Camp Nou
Camp Nou is arguably the most historic football stadium in Europe and home to FC Barcelona.
Visiting the FC Barcelona Museum means living the glory through overloaded trophy cases and an interactive museum offering a Mecca-like experience for football fans.
Here during football season? Of all the top Barcelona attractions, football at Camp Nou has got to be one of the best – FC Barcelona tickets are a must.
Bike Tours
Barcelona is Europe's most bike-friendly city – with nearly 300 km of bike lanes in the city center it's prime real estate for the top bike tours in Barcelona.
This 90-minute ride through the city's top sights like Sagrada Família, Casa Batlló, Las Ramblas, El Born, and La Pedrera, unveils the city's magic in a new light.
Each booking includes a helmet, insurance, and a bottle of water.
Rides depart daily from Arc de Triomf at 10:00 am and 4:00 pm.
Casa Vicens
What if you're such a big fan of Gaudi that you want to go back to his humble beginnings? Then check out one of my top Barcelona hidden gems.
The only recently available to the public (as of 2017) summer chalet Casa Vicens is a stunning ode to Catalan modernisme.
With an €18.00 price tag, this is probably the cheapest way to experience Gaudi's genius – and the lush garden, terracotta tiled rooftop, Catalan art, and Turkish and Oriental-influenced Noble Floor will make you glad you did.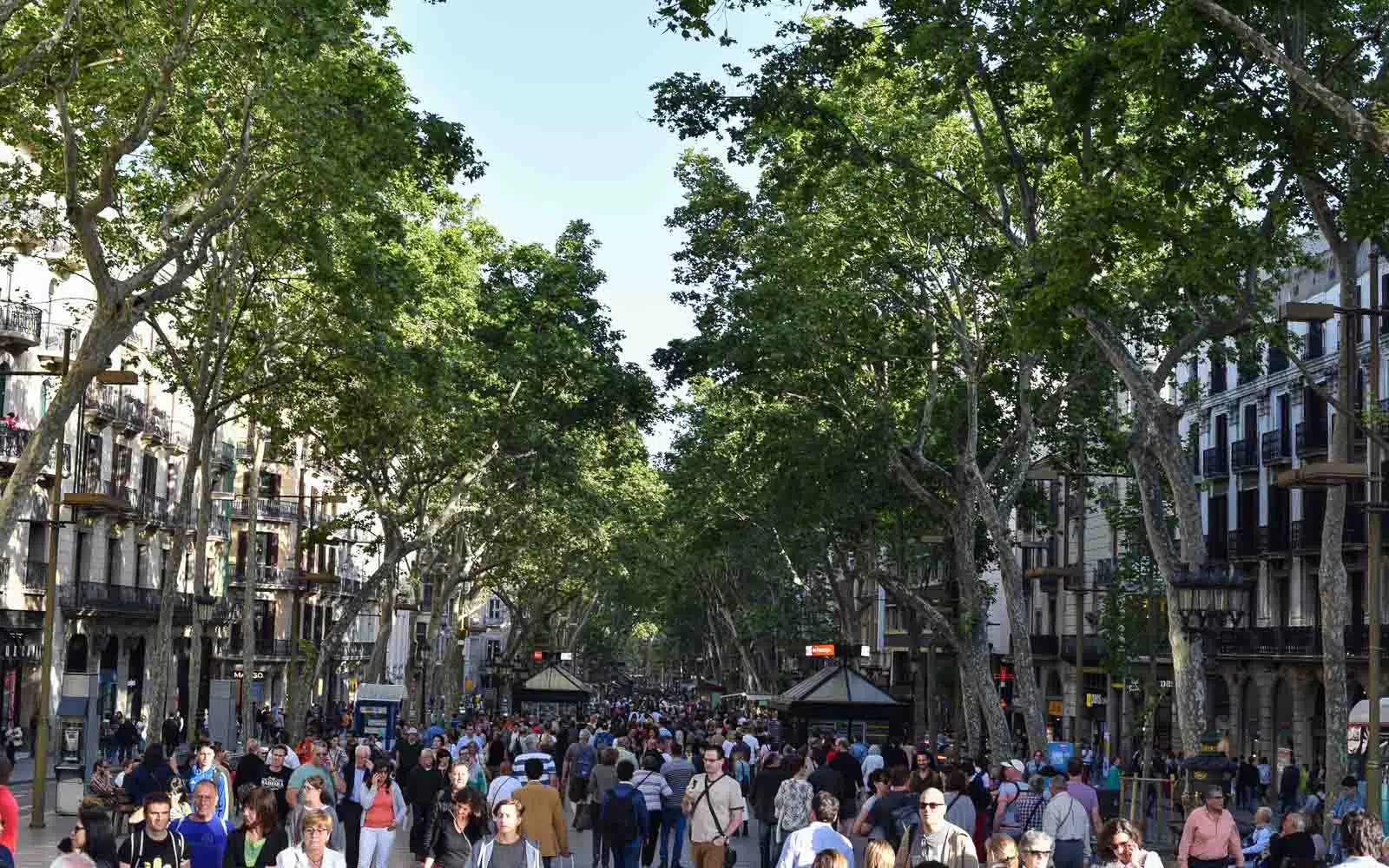 Las Ramblas
Las Ramblas is Barcelona's most famous street and one of those top places you should visit at least once in your lifetime.
Here you'll find an explosion of bars, street performers, and souvenir shops.
While this is tourist trap central, you can cut to the chase by finding Gaudi's lanterns in the picturesque square Plaça Reial.
In Pla de l'Os you'll find a brilliant pavement mosaic by Joan Miro – the site of the city's old gate.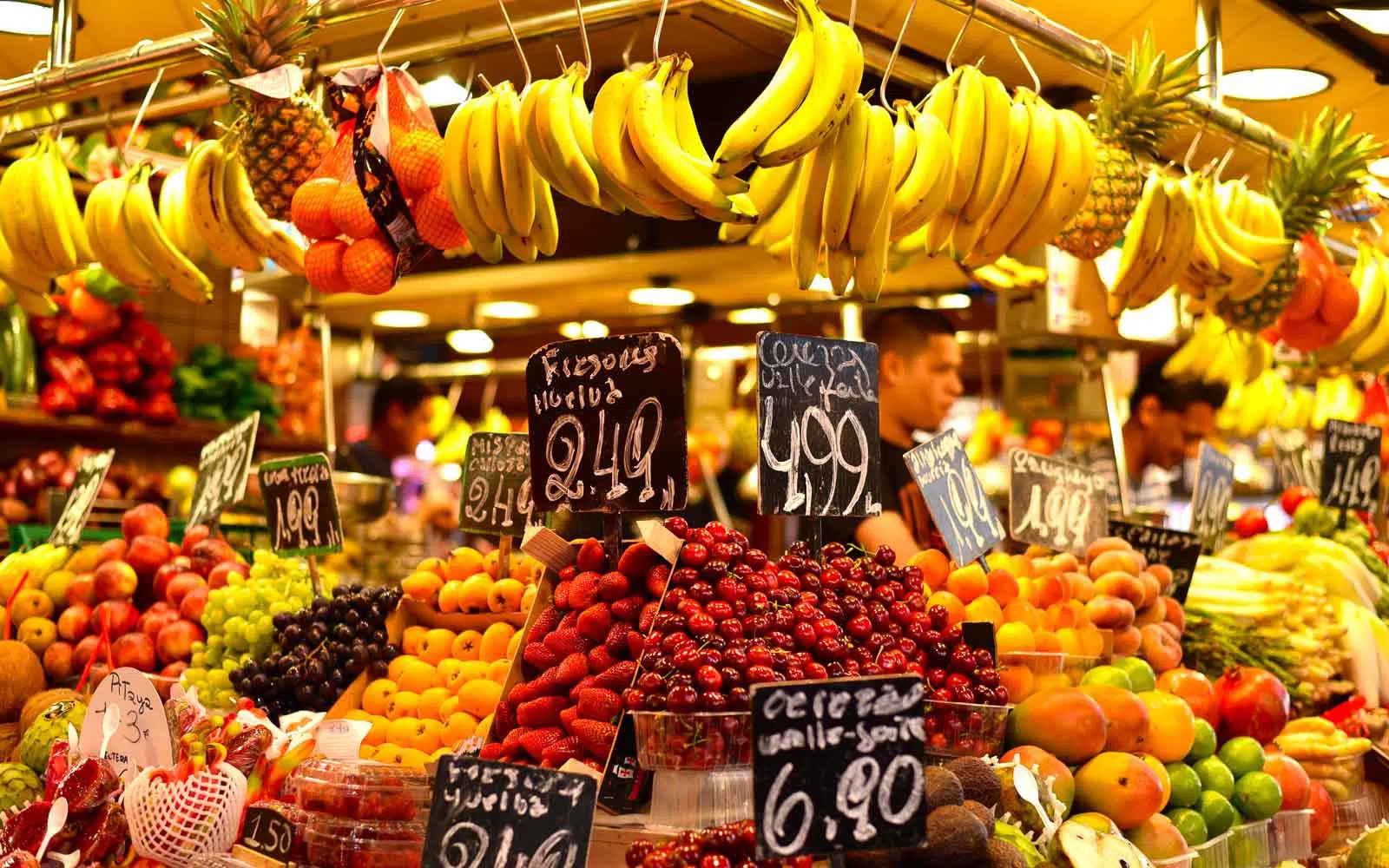 La Boqueria Market
It's hard not to put La Boqueria Market at the very top of Barcelona's best markets.
The quality of the fruit, meat, and fish here will amaze you, and its infectious energy is something to be seen: don't leave before trying one of their delicious €2.00 smoothies.
Looking for a meal with market-fresh ingredients? Grab the fried eggs with baby squid at El Quim de la Boqueria, or get adventurous with the garbanzo beans and blood sausage at Bar Pinotxo.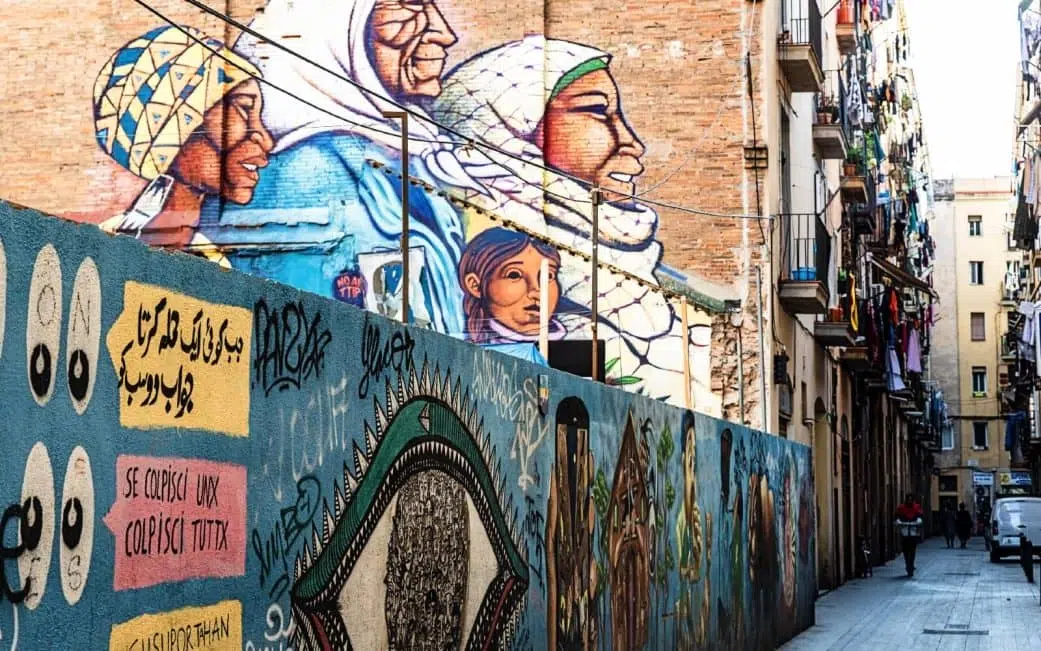 El Raval
For those looking to truly discover the city, you need to see a bit more than just the main Barcelona attractions and postcard streets – so why not do it in Barcelona's most unique and diverse neighbourhood?
El Raval offers skateboarders, cheap cocktail bars (along Carrer de Joaquín Costa), epic ethnic food, and some of the best museums in Barcelona, like the CCCB.
Make sure to walk the famous Rambla del Raval to see Botero's Cat.
The Magic Fountain
If you're looking for free things to do in Barcelona this is it. This enchanting magic fountain and light show uses 3620 water jets and 4760 lights to create over 7 billion combinations.
The show is set to beautifully choreographed music ranging from classic to swing to modern hits. Just make sure you gauge the wind before picking your spot – you might get soaked!
Magic Fountain shows go from Thursday to Saturday (Sunday in high season), and you can get all the info in my article on Barcelona's Magic Fountain Show.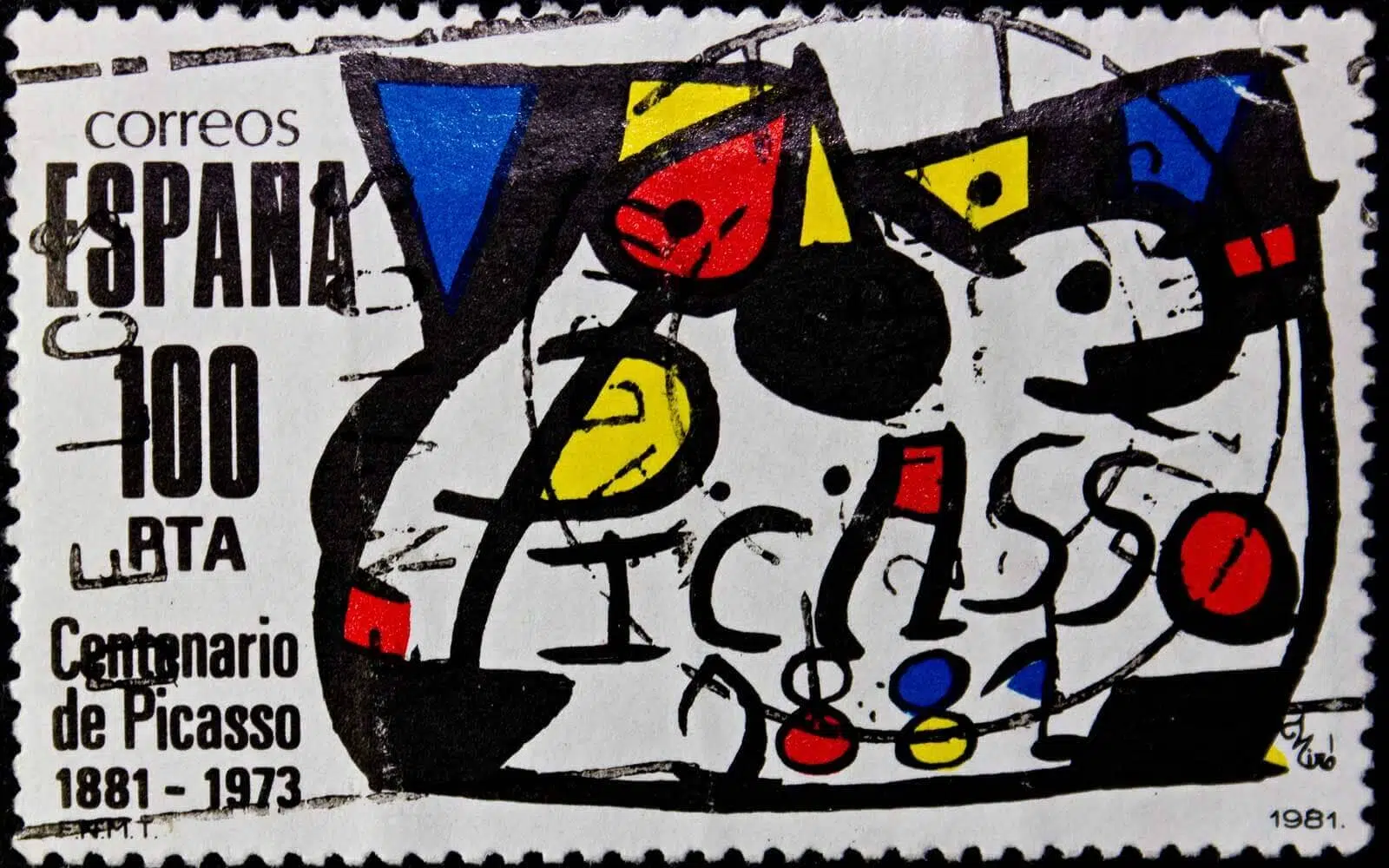 The Picasso Museum
The Barcelona Picasso Museum is arguably the most important Picasso museum in the world.
If you're looking to fill up an afternoon, especially when it rains in Barcelona, you can start with over 4000 permanent pieces of his art. Here it mostly showcases the early years of the world-renown artist when he was based in Barcelona.
Make sure to have a coffee at Els Quatre Gats, one of the best cafes in Barcelona and a meeting spot for modernist artists of the time, Pablo Picasso included.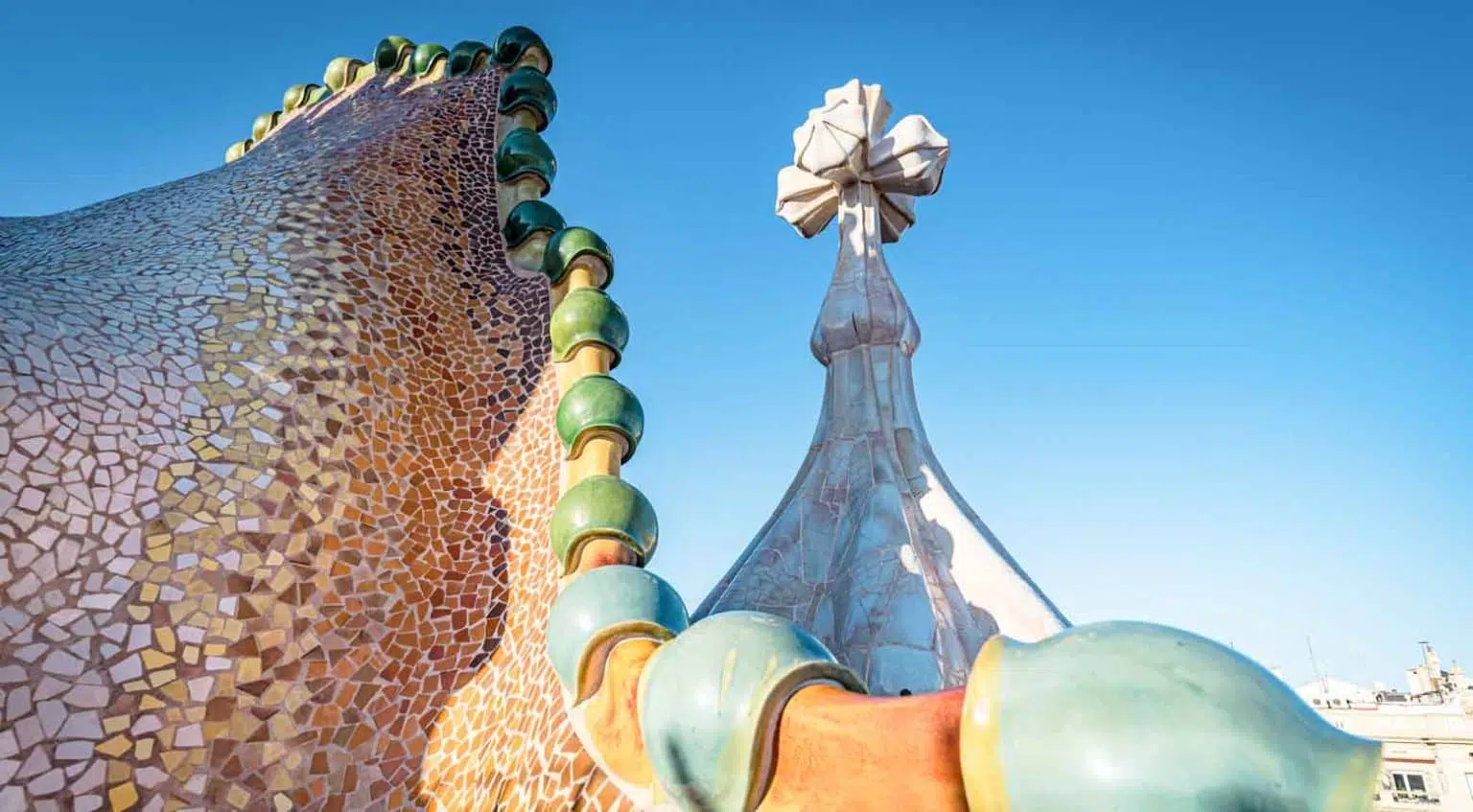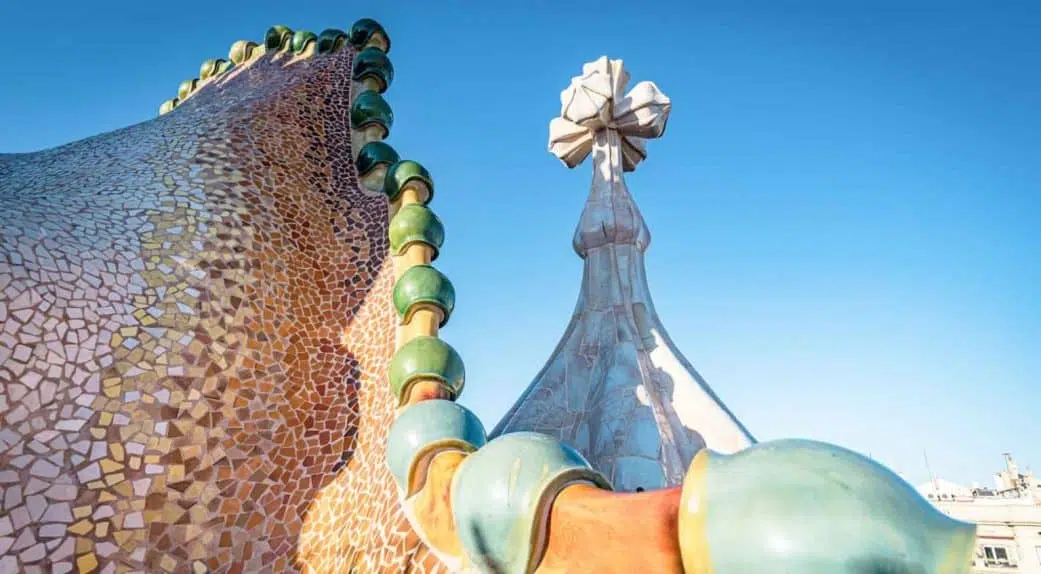 Casa Batllo
A colourful mosaic mansion whose every last detail, down to the doorknobs, was designed by Antoni Gaudi. Visiting Barcelona without at least passing by the modernist landmark Casa Batllo is criminal.
Here it's a constant ode to nature with jaw-bone balconies, mushroom-shaped smoke vents, and tropical fish-based radiators.
The ceramic tile shards on the facade (a style known as trencadis) were taken from broken cups at local factories to create a unique colour play.
Did I also mention that the Casa Batllo roof is a sword in a dragon's back? Yeah.
Poble Espanyol
Visiting Poble Espanyol is what to do in Barcelona if you want to see all of Spain in one afternoon.
Built for the 1929 World's Fair, this mock Spanish town has 117 full-scale replica buildings representing the architecture of all 15 of Spain's regions (we think Barcelona architecture is the best, though).
Here you can see the emblematic white streets of Andalucia, Pre-Roman Austurias, and all sorts of Castillian classics.
It also has over 20 artisan craft shops for some great jewellery, handbag, and glass shopping.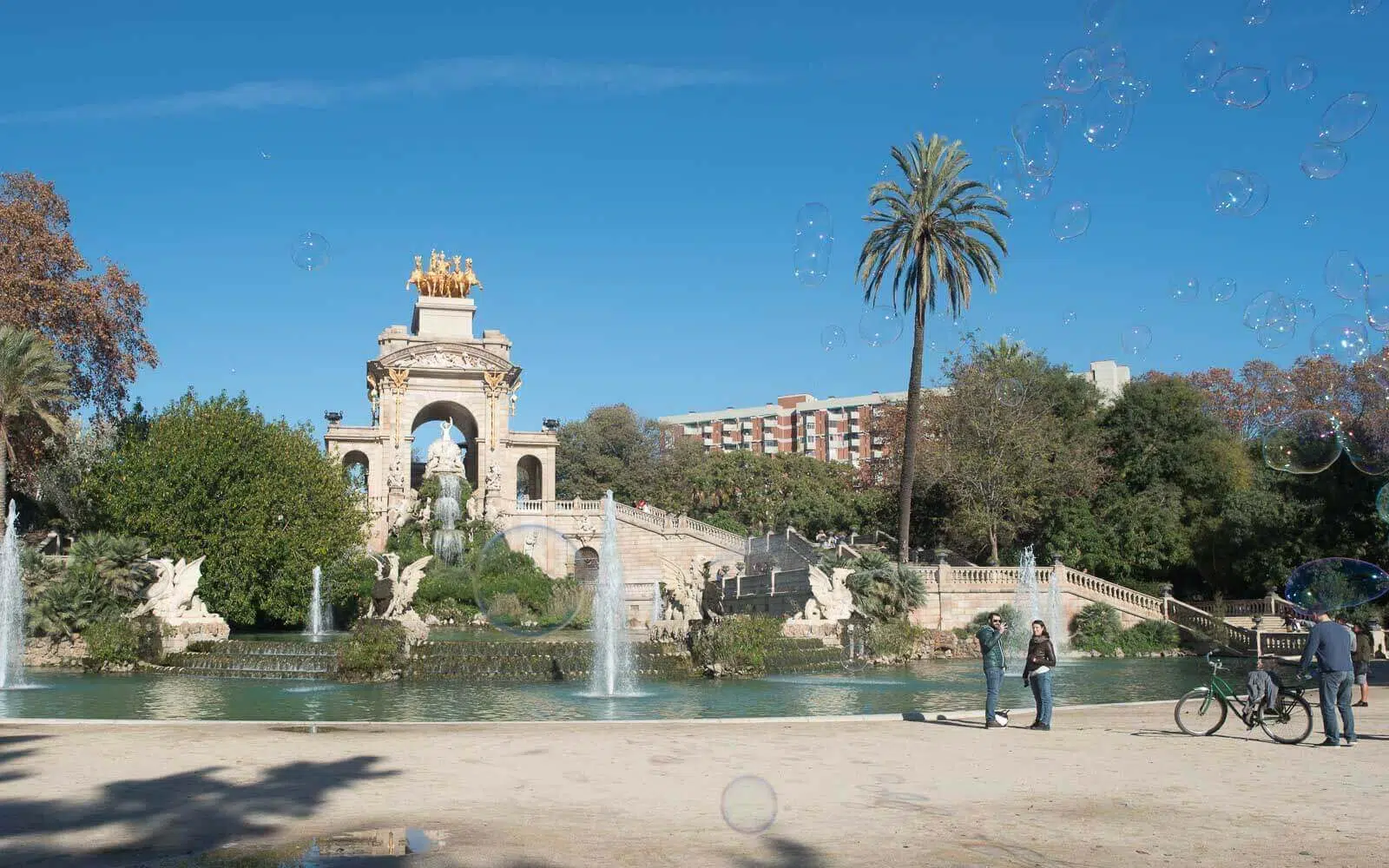 Ciutadella Park
Ciutadella Park is Barcelona's biggest urban park and a great picnic spot for those looking for an outdoor escape but want a break from Barcelona's best beaches.
At Parc de la Ciutadella, you'll find a ton of open space, the zoo, and a great artificial lake for rowboat rides.
I also suggest heading up La Cascada (pictured) which is a fountain loosely based on the Trevi Fountain in Rome. From here you've got a bird's eye view of the park's personality – which also includes a ton of musicians.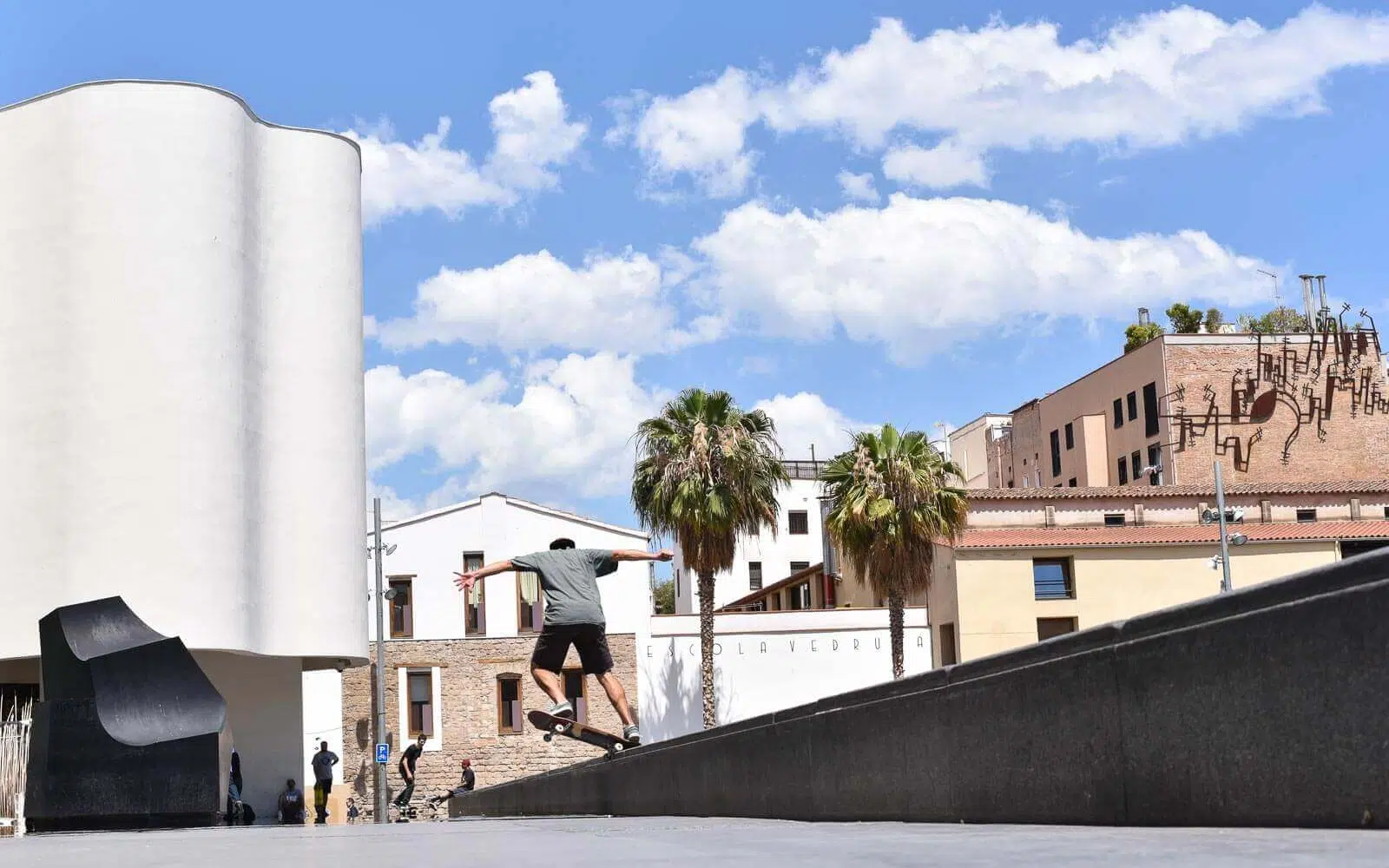 MACBA
The contemporary art museum.
If you want things to see in Barcelona, you'll get it with over 5000 pieces from well-known 20th-century artists. Check out the mesmerizing photography, sculpture, painting and more.
Discounts can be had by buying the Articket BCN museum discount card.
The Barcelona Cathedral
It's almost impossible to miss this imposing building during any casual walk through the Gothic Quarter.
The Barcelona Cathedral (not to be confused with Sagrada Familia) is a neo-Gothic church notable for its gargoyles and domestic and mythical animal rooftop.
A must-see is the cloister that is home to a small garden with orange and almond trees, a pond, and 13 geese – one for each year of life lived by Eulalia.
This is one of the best indoor activities in Barcelona.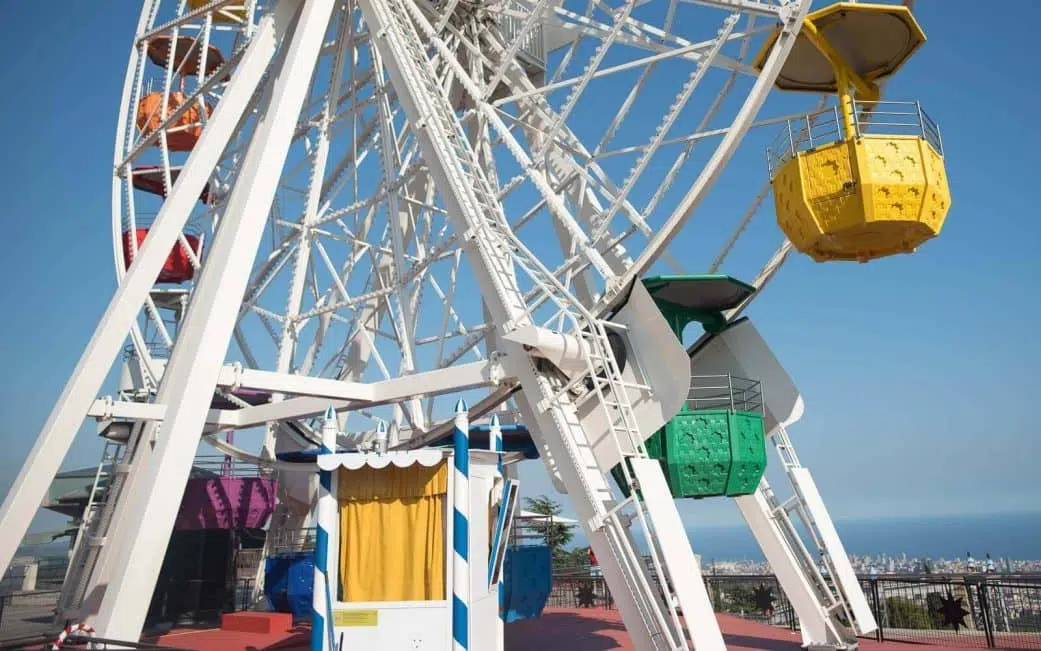 Tibidabo Amusement Park
In our list of stuff to see, Tibidabo Mountain is right at the top… quite literally.
Tibidabo offers some incredible views from the Temple of the Sacred Heart of Jesus church – not to mention the super geeky retro amusement park with 100-year-old Ferris Wheel.
Visiting with family? This is one of the best things to do in Barcelona with kids.
Get up there with the super, almost San Francisco-like Tramvia Blau for extra extra effect.
Palau de la Musica
The Palau de la Musica, a musical palace with golden-age acoustics in the 'key' of Catalan modernism, is the best place for music lovers to take in some opera, Flamenco, or even a symphony.
The explosion of colour and chandelier centre piece (pictured) are world-class.
If you're interested in seeing musical performances check out the Palau de la Musica calendar of events. Another tip? Follow it up with a trip the nearby Santa Maria del Mar church to admire the stained glass windows.
Related: Best Things to Do at Night in Barcelona
Turó de la Rovira – "The Bunkers"
The highest point (560 feet) above metro Barcelona was once an anti-aircraft bunker defending the city against Spanish Civil War bombings.
Today The Bunkers is a great museum, lookout point, and picnic spot with an insane panoramic view and a great option for budget-conscious Barcelona nature lovers. For young adults, this is the weekend hangout spot.
It's probably my favourite thing to do in Barcelona on Sunday.
Grab bus 22 from Plaça Catalunya and get off at the last stop.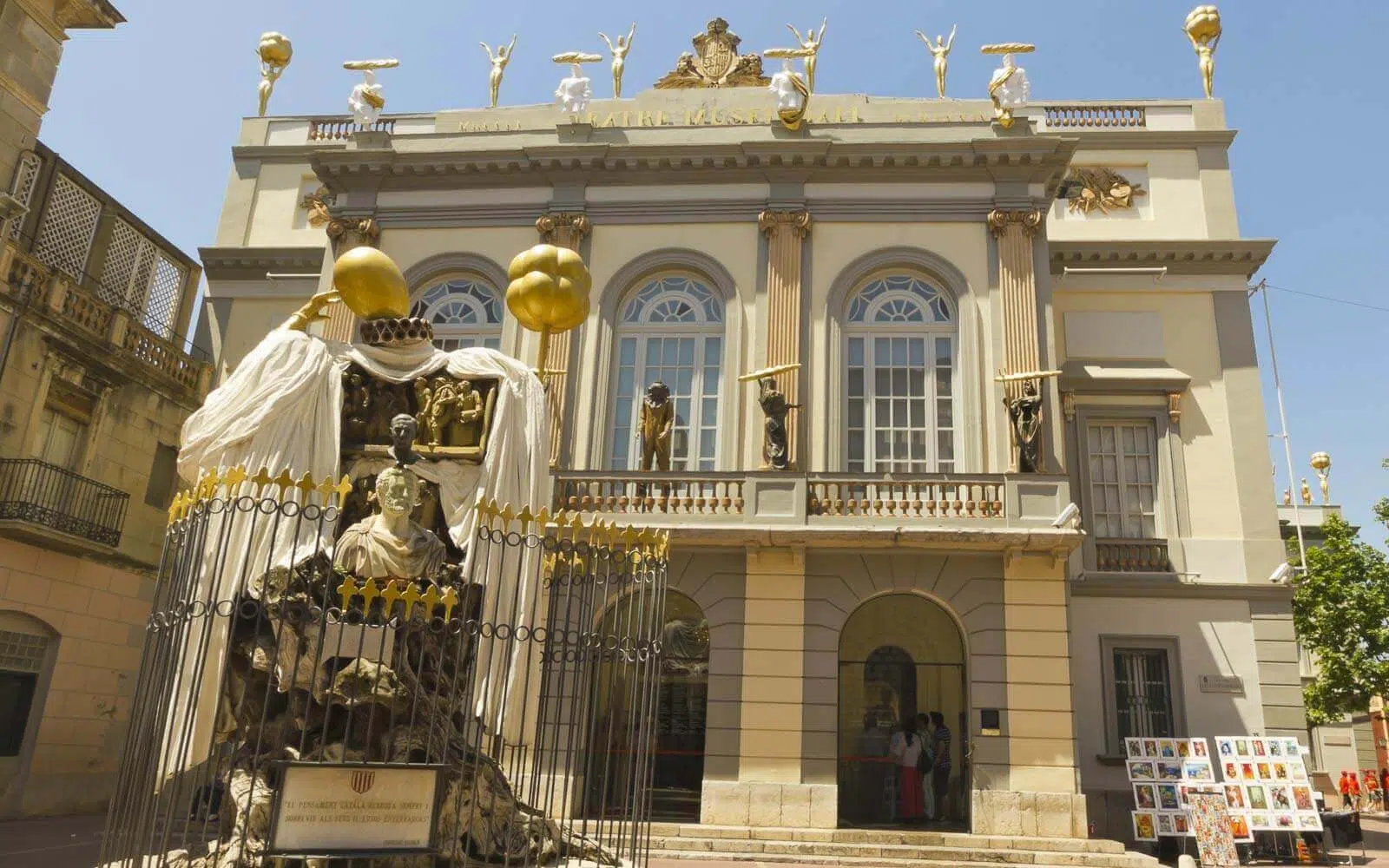 The Dali Museum
The Dali Museum is a fantastic museum dedicated to the surrealist genius Salvador Dali – it actually finds itself 140 km from Barcelona in his hometown of Figueres.
It's a can't-miss for fans of the man and insanity in general.
Two favourites here are the Spectre of Sex Appeal (1932) and The Basket of Bread (1945).
Gracia's Squares
One of Barcelona's best neighbourhoods is full of cool décor bars, quirky shops, and street musicians.
The bohemian atmosphere of Gracia makes it the top place for people watching or a coffee or beer in squares like Plaça del Sol, Plaça Vila de Gracia, Plaça de la Virreina and Plaça de la Revoluciò.
If you're really looking for stuff to do in Barcelona with very little effort, head to an outdoor spot with homemade tapas to enjoy life at your own pace – I recommend Sol Soler.
The vibes here are as local as it gets.
Related: Is Barcelona Worth Visiting?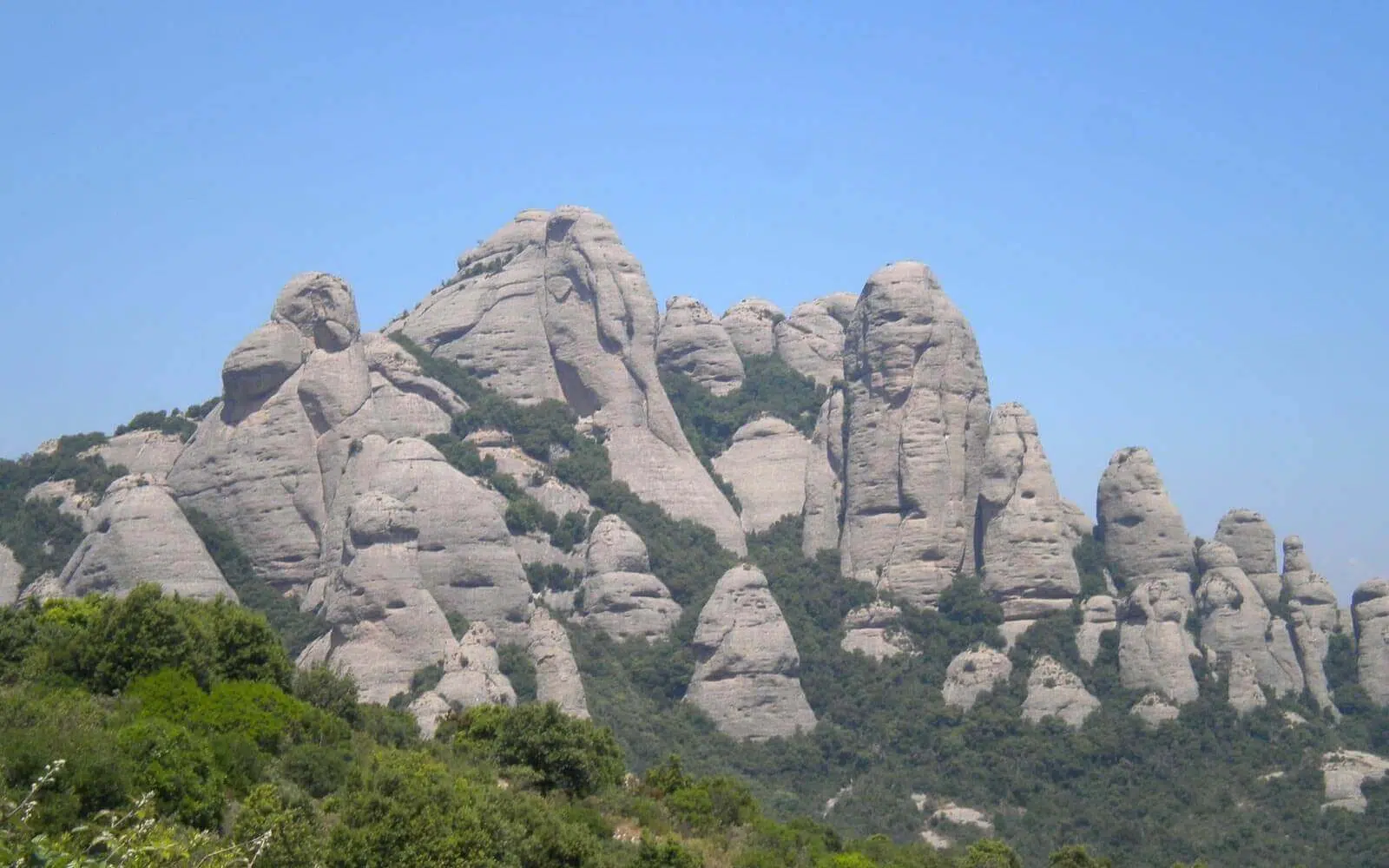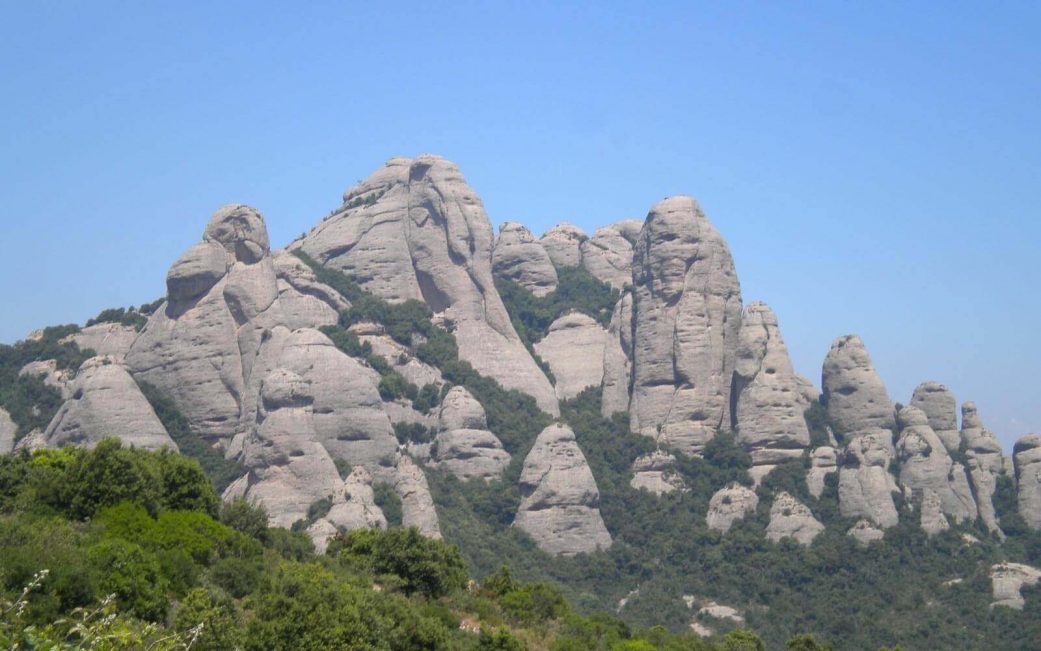 Montserrat
Nature offers a great escape from the urban hustle at 1236 meters: the highest point in the Catalan Lowlands. At Montserrat you get the most breathtaking jagged mountains around.
Some highlights are the Benedictine monastery and its Black Madonna statue, while the less religiously inclined usually head to the Sant Jeroni lookout.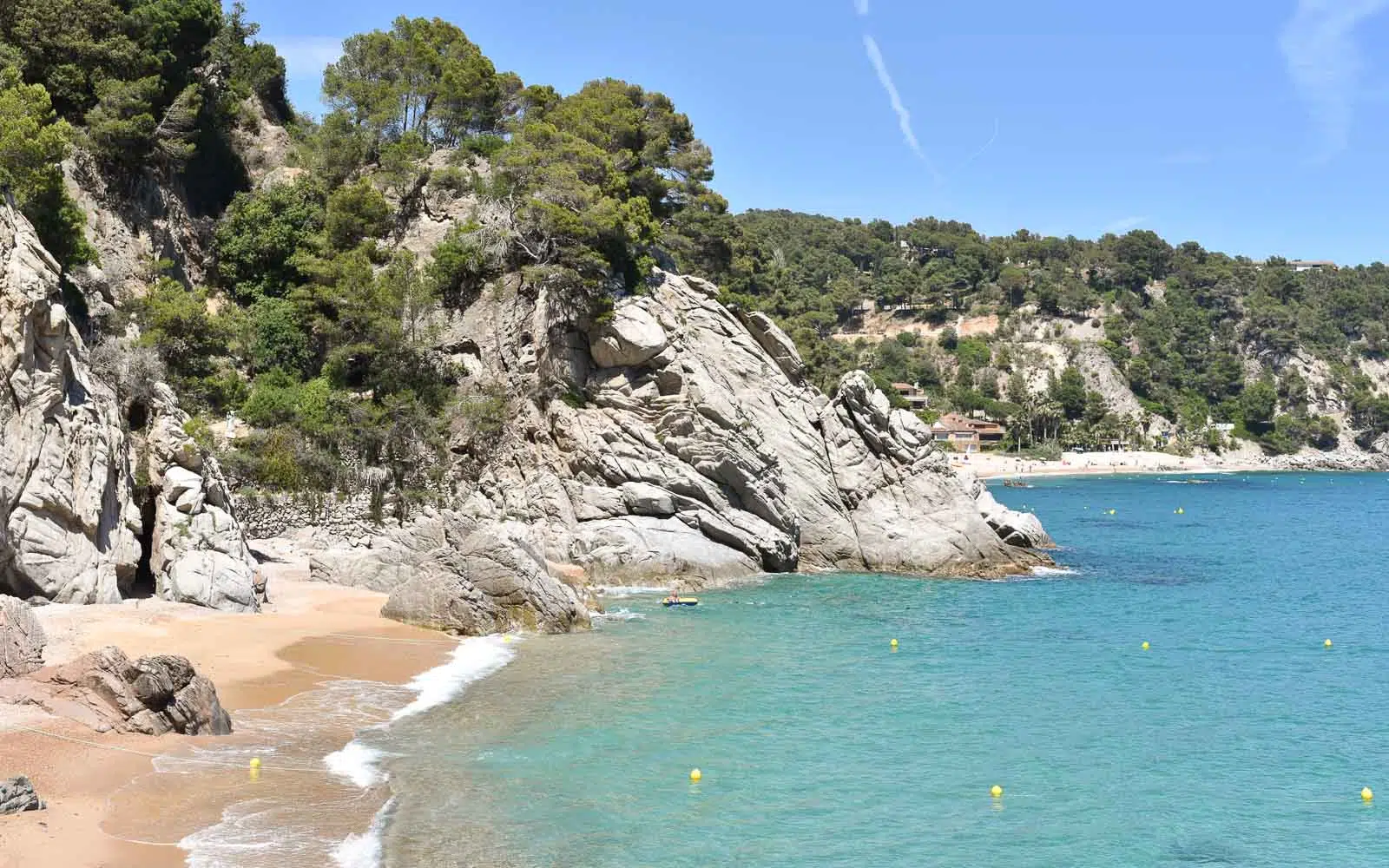 Escape on a Day Trip
One of the top things to do in Barcelona for locals is to escape the hustle and bustle on a quick Barcelona day trip.
I like to explore the charming coastal town of Sitges, known for its beautiful beaches, vibrant nightlife, and impressive Modernist architecture. You can also take a trip to the historic city of Girona, with its well-preserved medieval walls, winding cobblestone streets, and impressive Gothic cathedral.
History buffs will enjoy discovering the ancient Roman ruins in Tarragona, a UNESCO World Heritage site.
And beachgoers will love the stunning coastal region Costa Brava, known for its rugged cliffs, hidden coves, and crystal-clear waters.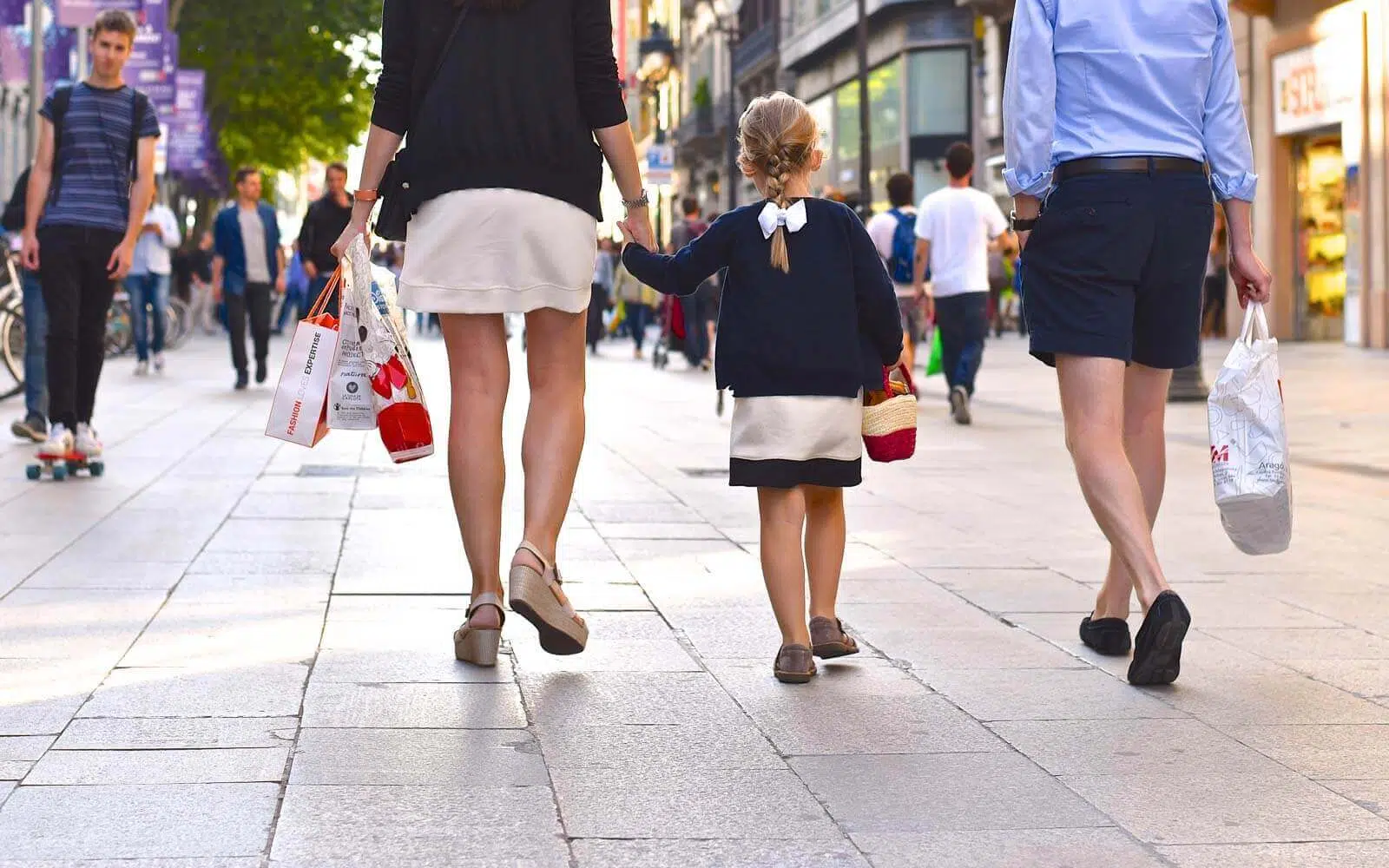 Shop Until you Drop
Barcelona is a shopper's paradise, offering a compelling blend of unique boutiques, renowned fashion brands, and vibrant markets. Whether you're searching for the latest fashion trends, traditional Catalan products, or one-of-a-kind souvenirs, the city has it all.
For fashionistas, the best shopping in Barcelona can be found on the iconic shopping street of Passeig de Gràcia, where you'll find luxury designer stores alongside local boutiques.
Discover the trendy El Born district, filled with independent shops and artisanal crafts. Mercat de Sant Antoni is a historic market in the Eixample neighbourhood that offers a mix of food stalls and a large second-hand book and clothing market on Sundays.
Bus Turistic
The Barcelona Hop on Hop off bus (aka the Bus Turistic) is a popular and convenient way to explore the city's top attractions.
This convenient bus service offers a comprehensive tour of Barcelona, taking you to iconic landmarks, cultural sites, and vibrant neighbourhoods.
With multiple routes to choose from, you can customize your itinerary and explore at your own pace. Sit back and relax on the open-top double-decker bus as you enjoy informative audio commentary about the city's history and attractions.
What to Do in Barcelona FAQ
What are the best things to do in Barcelona?

Visitors usually construct an itinerary that includes the top attractions in Barcelona, some of the city's natural wonders, and a few visits some culinary hot spots.

If we had to boil it down to just a few choices, the top things to do in Barcelona would include Sagrada Familia, Park Guell, the Gothic Quarter, the beach area of Barceloneta, and a nice round of tapas and paella for food.

What are the must see things to do in Barcelona?

If you've only got a short timeframe, the two must see attractions in Barcelona would be Sagrada Familia and Park Guell.

What are the best outdoor activities in Barcelona?

The top things to do outdoors in Barcelona include visiting the lookouts at Montjuic Hill, the Bunkers, and Park Guell. Visiting the city's many rooftop bars like Hotel Pulitzer and Sky Bar at the Grand Central Hotel are also a good idea.

Finally, a trip to the city's beaches and walks around the Gothic Quarter, Gracia, and El Born are definitely in order.

What is Barcelona famous for?

The city of Barcelona is famous for its distinctive, and arguably superior architecture due to a modernism movement lead by architect Antoni Gaudí.

It's a bustling, multicultural city where the urban is in a constant flirtation with nature. It's a place where large, vibrant street festivals and blaring, state of the art cocktail bars compete with tranquil, rural hill walks and introspective museum evenings.

It's culture, nature, and good taste shacked up in a warm Mediterranean climate.

What are the best things to do in Barcelona for young adults?

Barcelona offers a vibrant and energetic atmosphere that caters well to young adults. The best things to do in Barcelona for young adults include: Exploring the nightlife in the Gothic Quarter, visiting the trendy neighborhood of El Raval, relaxing on the city's beaches, attending local festivals and cultural events, and experiencing the vibrant food scene.

What are the best things to do in Barcelona for families?

Barcelona offers a wide range of family-friendly activities and attractions. The top things to do in Barcelona for families include: exploring the whimsical Park Güell, discovering the Barcelona Aquarium, hitting up the Illa Fantasia water park, enjoying the Tibidabo Amusement Park, and exploring the Barcelona Zoo, located in Parc de la Ciutadella.
Still looking for Things to Do in Barcelona?
Let me know if my list of top Barcelona activities wasn't enough. I'm usually quick with a suggestion.
Also, don't be afraid to join the Barcelona attractions discussion by giving me a like on Facebook and then joining my group; I'm Off to Barcelona. Here, you can ask questions and chat with thousands of Barcelona travellers.
Looking forward to hearing from you before your Barcelona holiday. I hope you enjoy my selection of the top things to do in Barcelona 🤝