27 Things to Do in Barcelona at Night + 2023 Safety Tips
If you're wondering what to do in Barcelona at night – know that after dark isn't just a time, it's an experience.
As the sun dips below the horizon, night in Barcelona offers a second life, bursting with nocturnal adventures and cultural gems.
Whether you're a night owl, a foodie, or a culture vulture, I've got a huge list of where to go in Barcelona at night.
What to Do at Night in Barcelona
Before I get into the must-dos at night in Barcelona, I want to stress how important it is to have your tickets booked in advance – no matter the time:
⚠️ 

Warning

⚠️

: Barcelona's top two attractions must now be booked in advance.
You can book fast track tickets to both individually or get them as part of a discount pass:
You will not be able to book these tickets on site – lock in your tickets ASAP or you could miss out.
Also, I want to invite you to bookmark this page as we're the best place for BCN tourism planning – and learning all about the best things to do in Barcelona!
Best of all? If you plan a Barcelona itinerary with us, we'll respond to all your questions for free!
Now let's get into my top evening activities in Barcelona.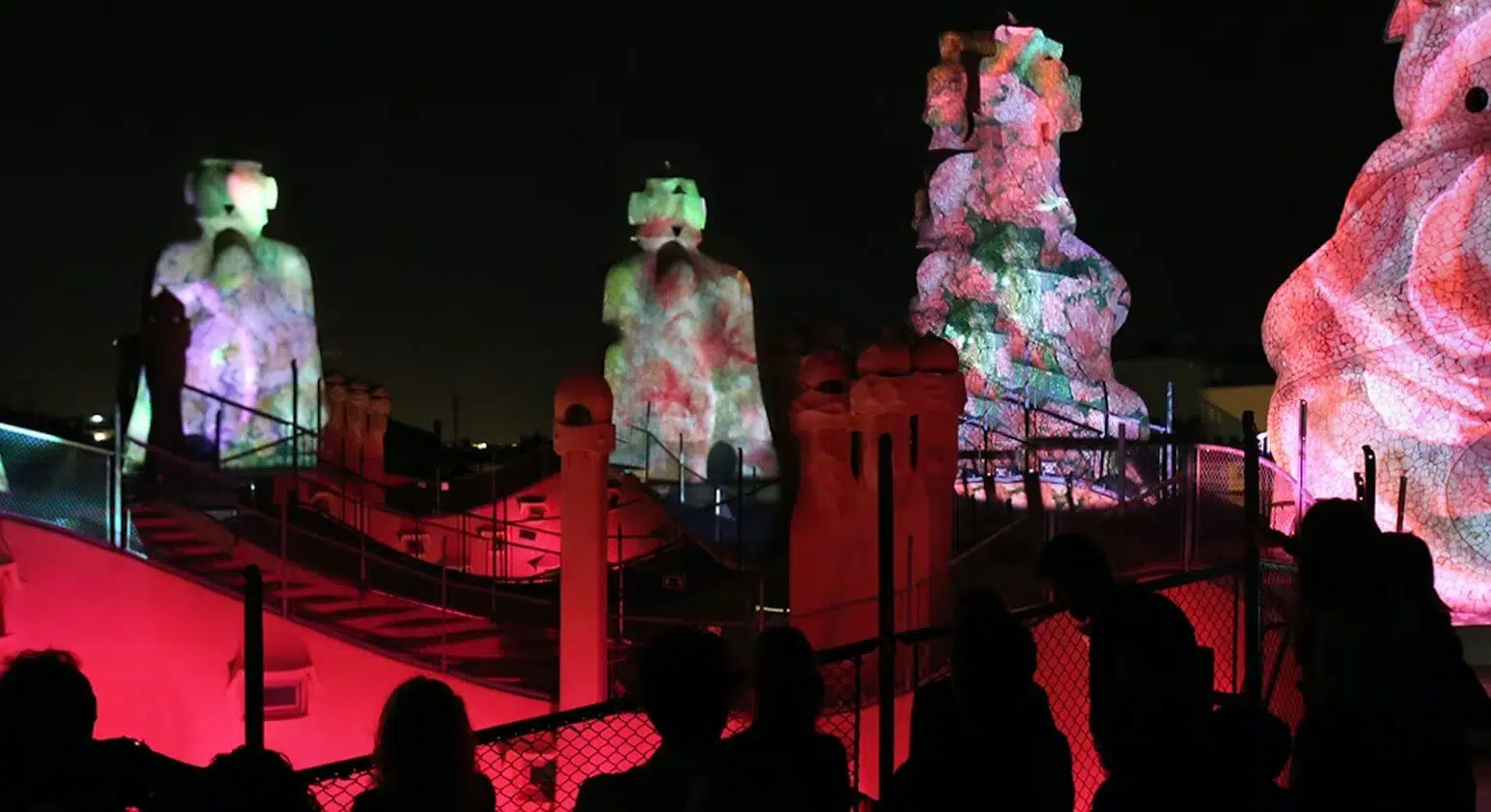 Gaudi's Casa Mila: An Evening Spectacle
Skip the daytime rush and opt for "The Origins" night show at Casa Mila, also known as La Pedrera.
This semi-guided tour offers insights into the mansion's intricate interiors, culminating in an audiovisual spectacle on the rooftop – a spectacular way to see its Garden of Warriors rooftop .
You'll even get a class of cava (Spanish champagne) at Gaudi's architectural genius illuminated under the night sky.
Flamenco: The Soul of Spain in Barcelona
The passionate rhythms of flamenco, brought by the best players from southern Spain, can be experienced in Barcelona's best flamenco bars.
These performances, characterized by intense foot-stomping and hand-clapping, offer a deep dive into Spain's rich cultural tapestry.
Opt for a show with dinner or simply enjoy the performance with a drink – I recommend Tablao Cordobes.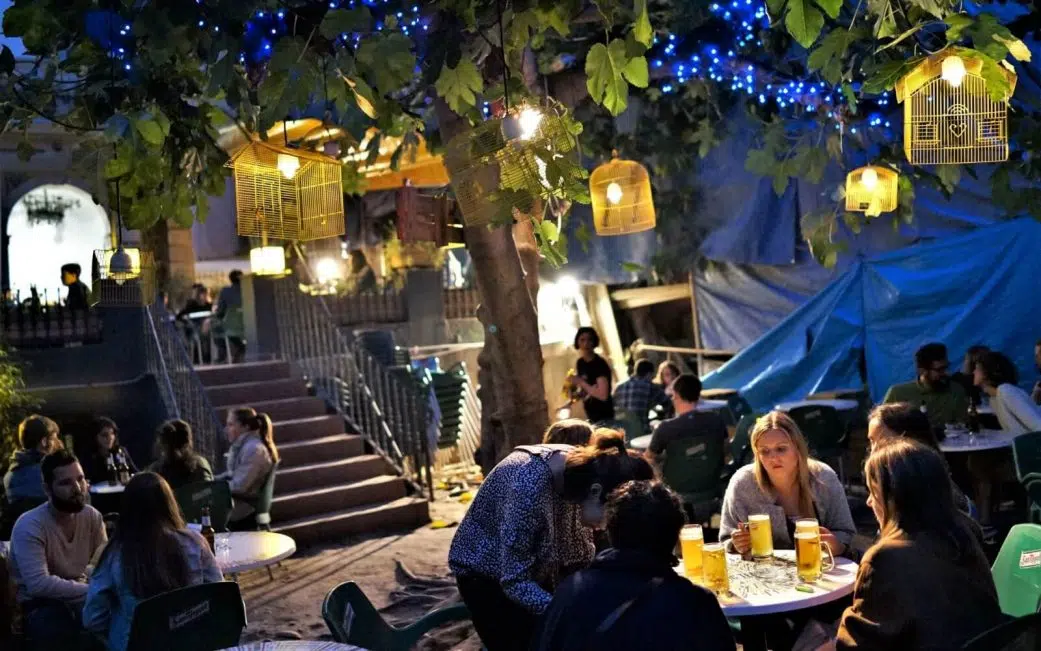 Go for a Barcelona Cocktail
OK, so in my opinion this is the best thing to do at night in Barcelona, but I have no idea what you think!
I'll leave you with three options for the best Barcelona night drinks:
Dry Martini: An iconic cocktail bar exuding a 1970s charm, it's famed for its signature dry martini. The sophisticated decor and expert mixologists make it a top choice.
Paradiso: A hidden gem behind a pastrami shop, this speakeasy stands out with its innovative cocktails and cozy, secretive ambiance, drawing both locals and tourists.
Dr. Stravinsky: Nestled in the heart of El Born, this craft cocktail bar boasts a unique alchemy lab aesthetic. With its house-made distillations and infusions, it offers a fresh take on classic drinks.
Sunset Sailing: Romance on the Mediterranean
For a touch of romance (ideal for couples visiting Barcelona), you can embark on a two-hour sunset sailing experience.
Especially in the summer, there's nothing better than sailing the calm Mediterranean waters as the setting sun casts a golden hue over Barcelona,
Best of all? You'll get cava wine and some Spanish snacks to pass the time.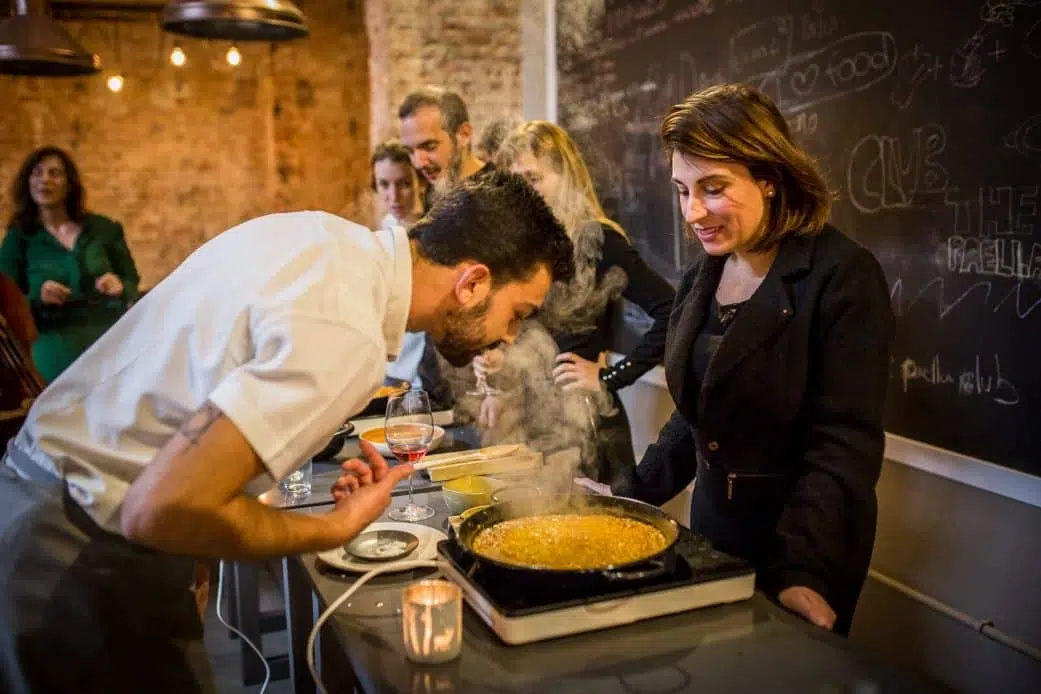 Crafting Culinary Delights: Paella Cooking Class
The best paella restaurants in Barcelona are fantastic, but why not make Spain's signature dish yourself?
Join a paella cooking class, where you'll learn the art of preparing this iconic dish using fresh market ingredients.
Paella Club is the way to go – you'll learn the best paella varieties, some classic tapas, and even have unlimited wine!
Go for Tapas
No trip to Barcelona at night is complete without going to the best tapas restaurants in Barcelona. These shareable plates of cheese, ham, fish, vegetables and more are a Spanish tradition.
El Born, with its myriad bars and restaurants, is the ideal place to sample these Spanish delicacies.
Here's a couple to try out:
El Xampanyet: A historic gem located near the Picasso Museum, El Xampanyet offers traditional Catalan tapas in a vintage setting. Known for its homemade cava and anchovies, the bustling atmosphere and tiled interiors transport diners back in time.
Bormuth: A modern yet cozy tapas bar, Bormuth serves a mix of classic and innovative tapas. With a focus on fresh ingredients and flavorful combinations, it's a favorite among locals and tourists alike.
Related: Best Food Tours in Barcelona
Related: What to Eat in Barcelona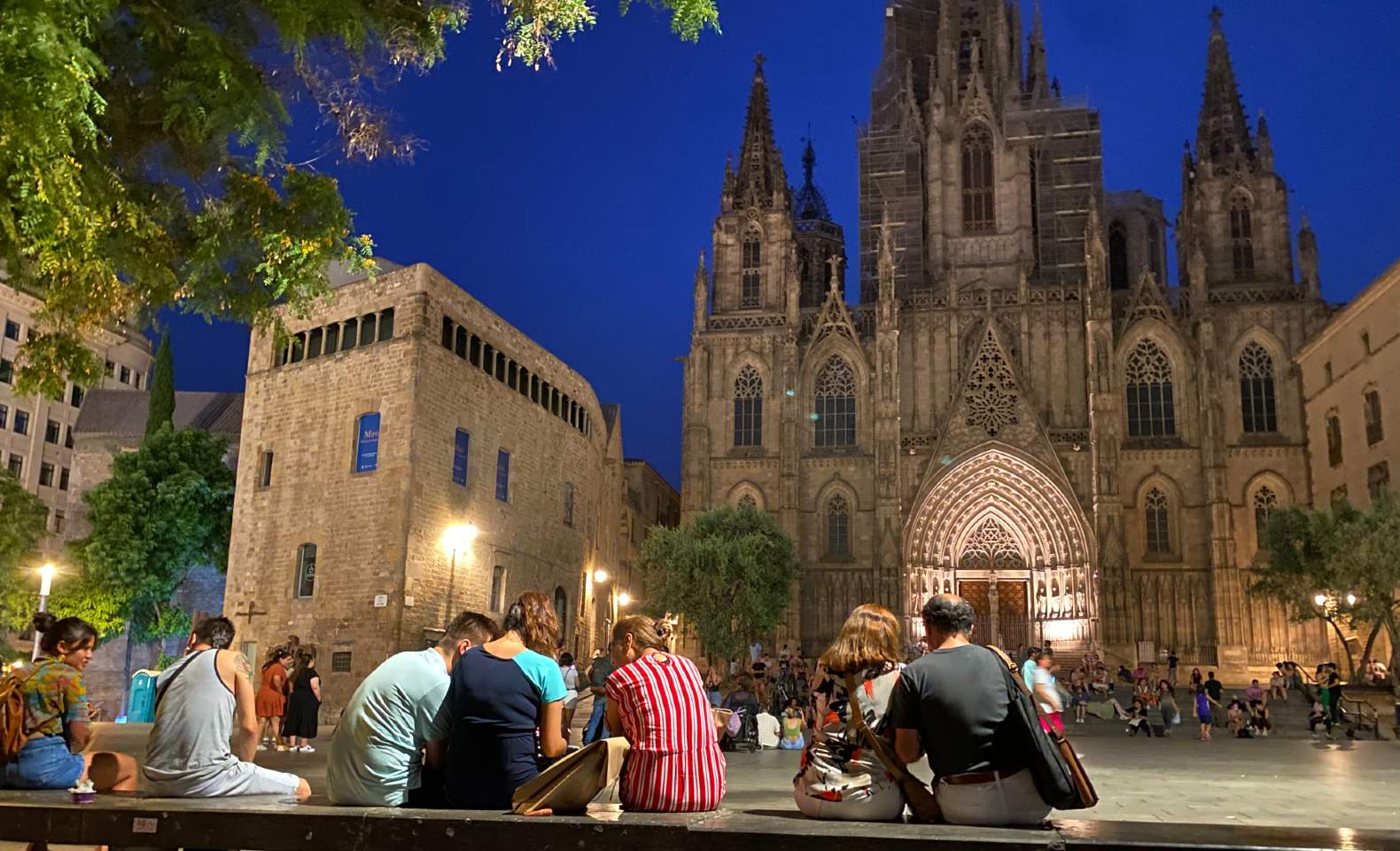 Take a Night Walk Through the Spooky Gothic Quarter
The Gothic Quarter, with its labyrinthine alleys and ancient stone structures, is the historical heart of Barcelona.
At night in Barcelona, the area takes on an ethereal charm. The dimly lit streets, echoing with distant murmurs and footsteps, transport you back in time.
As you wander, you'll come across the Barcelona Cathedral, secluded plazas like Sant Felip Neri (one of my Barcelona hidden gems), and hidden courtyards.
Related: Best City Tours of Barcelona
Catch a Concert at Spain's Most Stunning Venue
The Palau de la Música Catalana is an architectural jewel located in Barcelona, designed by the renowned architect Lluís Domènech i Montaner.
Recognized as a UNESCO World Heritage Site, it's not just an architectural marvel but also a vibrant cultural hub.
The concert hall hosts a diverse range of performances, from classical and opera to jazz and world music.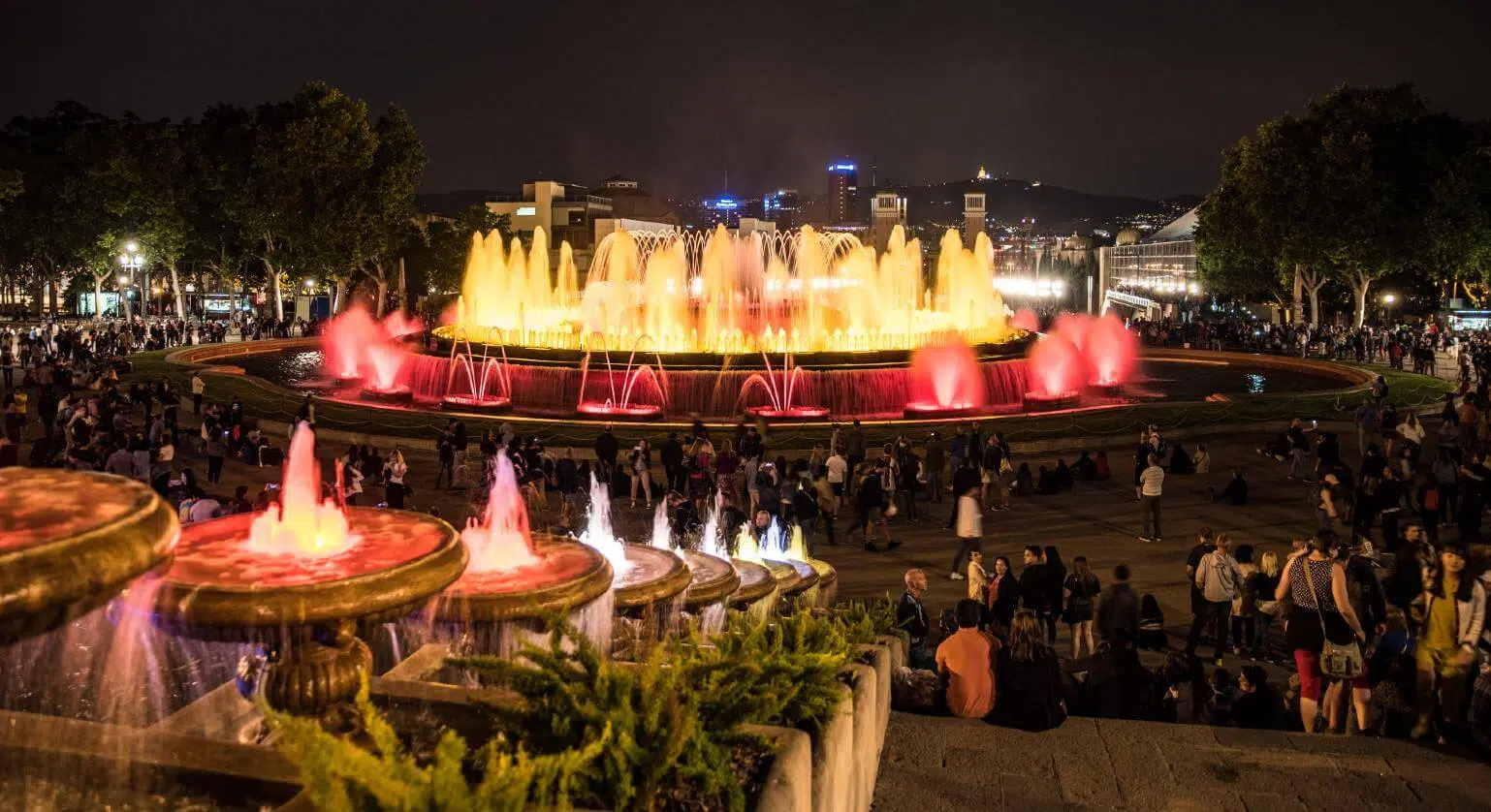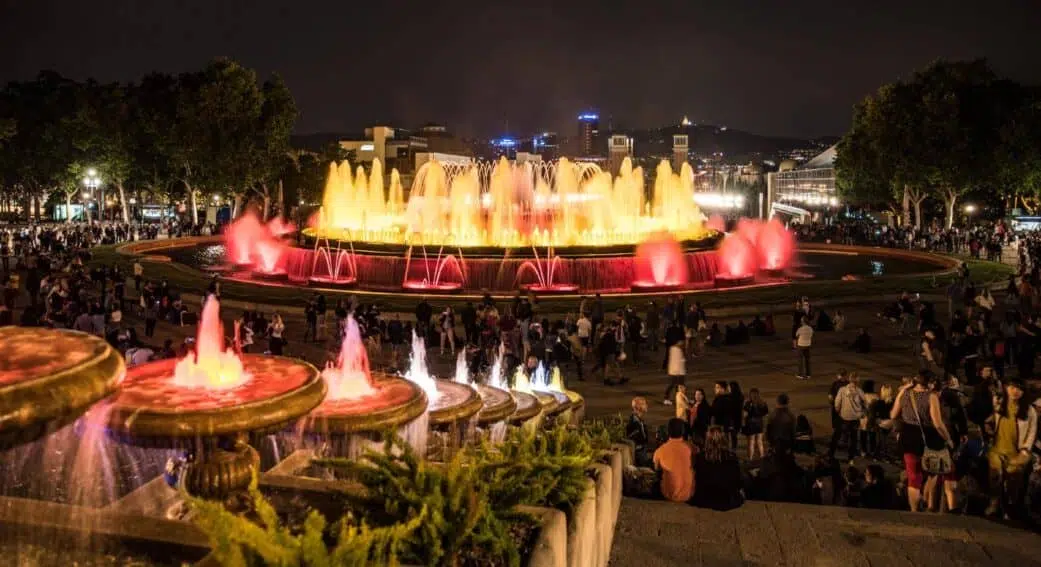 The Magic Fountain: A Symphony of Light and Sound
The Magic Fountain, dormant by day, comes alive at night with a mesmerizing display of lights and music.
As the sun sets, crowds gather to witness this spectacle, where water dances in harmony with a mix of pop and classical tunes.
This is one of the best free things to do in Barcelona.
Go For Live Music Atop Gaudi's Casa Batllo
Magic Nights at Casa Batllo is a unique summer event held atop one of Antoni Gaudí's architectural masterpieces in Barcelona.
As the sun sets, the iconic modernist building's Dragon Roof Terrace transforms into a vibrant venue for live music performances.
Visitors can immerse themselves in a variety of genres, from jazz and flamenco to classical and pop.
Go for a Night Out at the Liceu Theatre
The Liceu Theatre, once Europe's largest opera house, remains a beacon of culture.
Locals in elegant evening wear gather outside this iconic venue, which hosts renowned opera performances, dance shows, and classical concerts.
Experience the grandeur of this 2,300-seater auditorium and immerse yourself in its rich artistic heritage.
Hit Up a Nighttime Rooftop Bar and Live it Up
One of the best things to do at night in Barcelona: getting a drink, some amazing food, and an epic view.
Barcelona's best rooftop bars are the way to do it – and luckily most of the city's hotel rooftops open to the public every evening in Barcelona.
Here's a list of my top three: Sky Bar at Grand Hotel Central, Terrat at Mandarin Oriental, and La Isabela at Hotel 1898.
Try Your Luck at the Barcelona Casino
Nestled by the marina, Casino Barcelona offers more than just a gaming experience.
While you can try your luck at a variety of games, from slot machines to poker tables, the establishment also has regular live music performances, dance shows, and special events.
The casino's range of dining options, from fine dining to casual eateries, promises a gastronomic delight.
Spend Your Night in Barcelona Clubbing
I'm not the biggest dancer, but the best clubs in Barcelona are a great option if you're looking at what to do in Barcelona at night – and maybe well into the morning!
Here's my list of the top three options for a proper night out:
Pacha Barcelona: Located by the beach, Pacha offers a mix of the city's best electronic music and a stunning sea view. Its iconic cherry logo promises top-tier DJs and a vibrant dance floor.
Apolo: A historic venue known for its diverse music scene. Located in the Poble-sec district, it hosts a range of events from indie rock concerts to techno nights, attracting both locals and tourists with its vibrant atmosphere.
Razzmatazz: A multi-space venue offering various music genres from techno to pop. Its five rooms cater to diverse musical tastes, attracting both locals and tourists.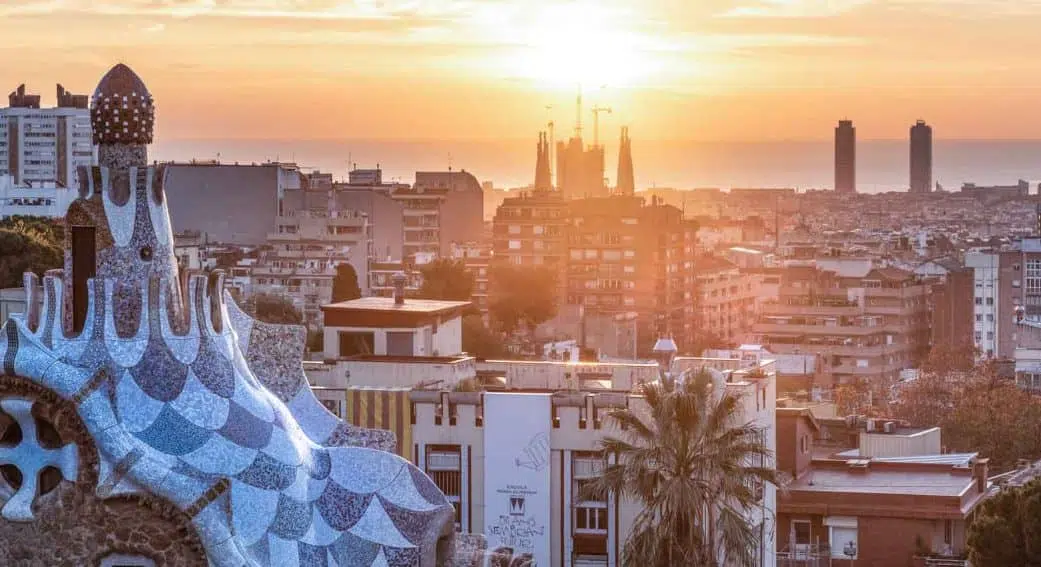 Bunkers del Carmel: Sunset Views and City Lights
Perched atop Turó de la Rovira in Barcelona, are remnants of anti-aircraft fortifications from the Spanish Civil War.
Now, the Bunkers del Carmel offer panoramic views of the city's skyline, making it a popular spot for both locals and tourists seeking a serene vantage point.
It's also just a short walk from Park Guell, and plays as a great thing to do at night right after.
Related: Is Barcelona Worth Visiting?
Ice Bar: A Cool Night Out
Barcelona Ice Bar, located by the Barceloneta beach, is a unique venue where interiors are crafted entirely of ice.
Maintained at a chilly -5°C, visitors don cozy thermal jackets while sipping drinks from ice glasses, offering a cool contrast to the city's Mediterranean warmth.
One of the best things to do in July in the heat!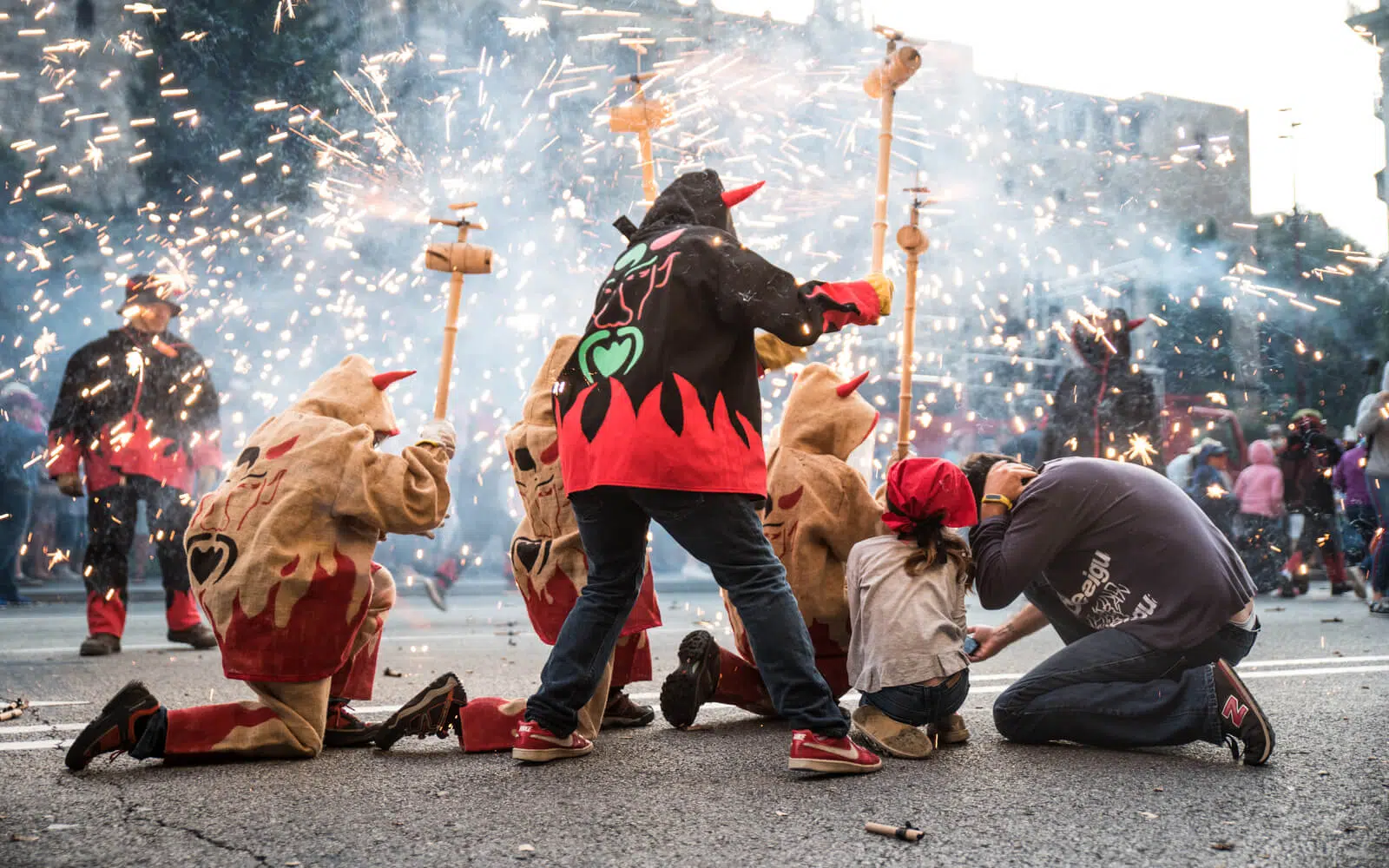 Local Festivities: Street Festivals
A great way to experience Barcelona's vibrant local culture is by attending a street festival at night.
Visiting Barcelona in September? You can check out La Merce – the end of summer blowout with music, food, and dance.
Or, if you're visiting Barcelona in August you can check out my favourite: La Festa Major de Gracia.
Taking place in the super authentic Gracia area, entire blocks of the area get decorated according to set themes – it's really something!
Things to Do at Night in Barcelona
Is Barcelona safe at night?

Barcelona, like many major cities, is generally safe at night. However, it's known for pickpocketing, especially in crowded areas and on public transport. It's advisable to stay vigilant, avoid poorly-lit or deserted areas, and keep belongings secure.

Sticking to well-traveled streets and being aware of your surroundings can help ensure a safe experience.

Where to go in Barcelona at night?

At night in Barcelona you should go take a walk through the cobbled streets of the Gothic Quarter, book a table at a classic tapas place like Xampanyet, grab a cocktail at the speakeasy Paradiso, take in a flamenco show, or even go out to one of the city's best clubs.

Is the Barcelona metro safe at night?

The Barcelona metro is perfectly safe at night. In general, aside from daytime pickpockets you won't find a lot of antisocial behaviour on the metro except for drunk tourists. That said, always be conscious of where your bag is to be safe.

What to wear at night in Barcelona?

What to wear at night in Barcelona depends on the season. In the summer months you can get away with a t-shirt and shorts and a windbreaker, while in spring and fall you should have pants and a sweater. In winter, a heavy coat is highly recommended.

Is it safe to walk around Barcelona at night?

It is perfectly safe to walk around Barcelona at night, however do be aware that petty thieves operate in areas filled with bars looking to taking advantage of drunk tourists. Always keep your wits about you – never shake the hand of go for a hug of a 'friendly' stranger who is likely trying to pick your pocket.
Still Wondering Where to Go in Barcelona at Night?
I'm done with my list of things to see in Barcelona at night – but it doesn't have to end here.
If you're still looking for something a little more custom, or are confused about something, then get in touch!
Enjoy visiting Barcelona at night 🌃