8 Best Beaches in Barcelona for Swimming & Cleanliness
How does one find the best beaches in Barcelona? National Geographic called it the best beach city in the world, so it shouldn't be hard should it?
Sometimes I'm not so sure.
After 11 years in the city though, I've got a good idea of what the best beach in Barcelona means to me.
Here are the top Barcelona city beaches ranked by the most common beachgoer needs.
So grab some sunscreen, and let's get going.
Best Beaches in Barcelona Spain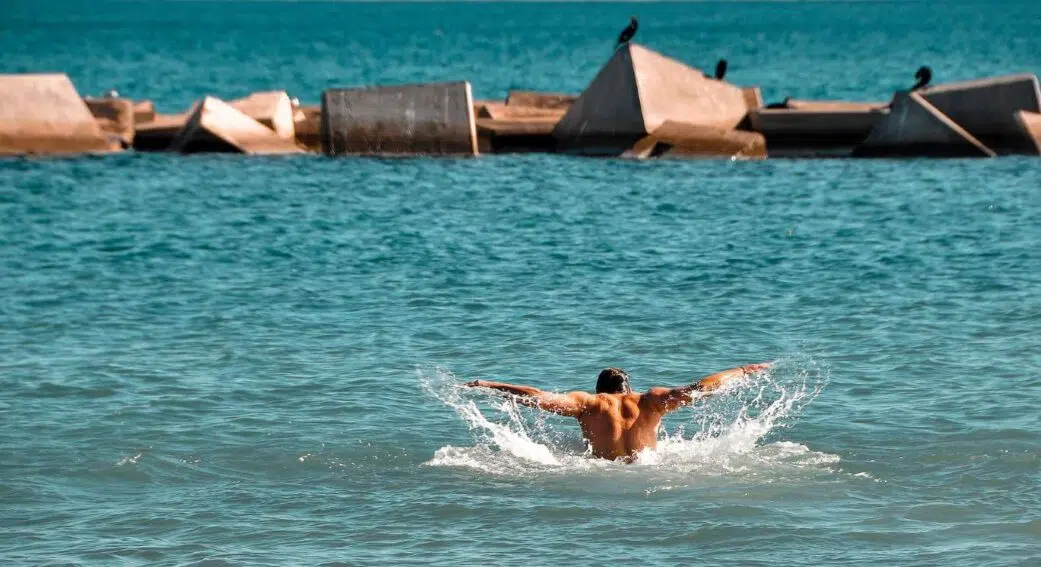 1. Sant Sebastià Beach – Best Barcelona City Beach for Swimming
If you're visiting Barcelona in July, you're going to thank me for bringing up this Mediterranean Sea swim spot.
Basically, you're going to follow the city's shoreline to the sail-shaped W Hotel. That little beach out front that almost curves into the building is Sant Sebastià Beach – and it's the best beach in Barcelona for swimming.
Sant Sebastià is great because most people stop walking before they get there. This keeps crowds smaller and the rubbish to a minimum. Also, for whatever reason, that little bay is protected enough from the waves to keep the water smooth.
It also has just enough nudists to keep most of the sellers off its fine golden sand.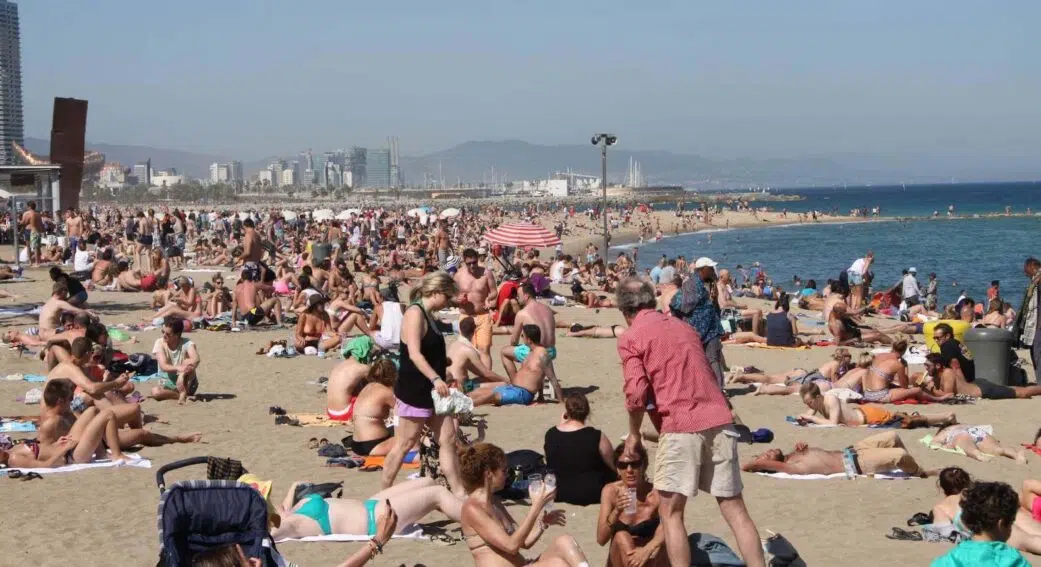 2. Playa de la Barceloneta – Best Barcelona Beach for Restaurants
The most popular beach in Barcelona reigns in this category due to its city center location.
Naturally, Barceloneta Beach naturally lies within a short walking distance from Barceloneta – a charming and authentic neighbourhood of families and fishermen – which is also a great place to find the best paella in Barcelona.
In short, Barceloneta Beach is famous for beach bars, seafood restaurants, ice cream shops, and cafes. I recommend Bar Leo (34 Calle Sant Carles), where you can catch a free Spanish guitar concert.
It's also one of the best Barcelona beaches for food. And some of my favourite restaurants nearby include Bar Bitacora and Bar Jai Ca for fresh seafood and value tapas.
Looking for lockers at Barcelona beaches? Barceloneta is the only one. You can use the facilities at Espai Mar for as little as €4.50 a day. They've also got changing rooms and full restroom facilities.
Related: Best Things to Do in Barcelona in August
3. Bogatell Beach – Best Family Friendly Beach in Barcelona
Playa del Bogatell is an optimal place if you're visiting Barcelona with kids. After all, the travel time from the city centre is less, and you'll find less of the young music-playing/beer-drinking crowd here.
This is one of my recommended beaches in Barcelona because it's less crowded than Barceloneta but still in the city centre. There are also reasonably priced chiringuitos (beach bars) and beach umbrellas.
It's also the Barcelona beach with the cleanest water during the high season.
If you don't like sand, you'll also be able to use the concrete sun loungers that offer a great view of the harbour.
For the full Spanish monty, there are some great seafood restaurants nearby, but in my opinion, the best is Xiringuito Escribà (62 Av. del Litoral) – for its characteristically Spanish combination of paella and sunsets.
👉 Tip: Planning the Perfect Barcelona Weekend Itinerary
4. Somorrostro Beach – Best Barcelona Beach for Bars & Nightlife
This classic golden sand Barcelona beach is found on the most energetic spot on the seafront.
If you're looking out at the sea, you'll find Playa del Somorrostro immediately to the right of the two iconic skyscrapers by the water – you can get there from the Ciutadella Vila Olimpic metro stop.
This is a famous beach packed with tourists and young people out to have a good time. There are a lot of sellers, including club promoters, and you may be able to find a good cover deal.
In fact, Somorrostro Beach is the site of some of Barcelona's best clubs specializing in electronic music, like Opium, Pacha, and Catwalk.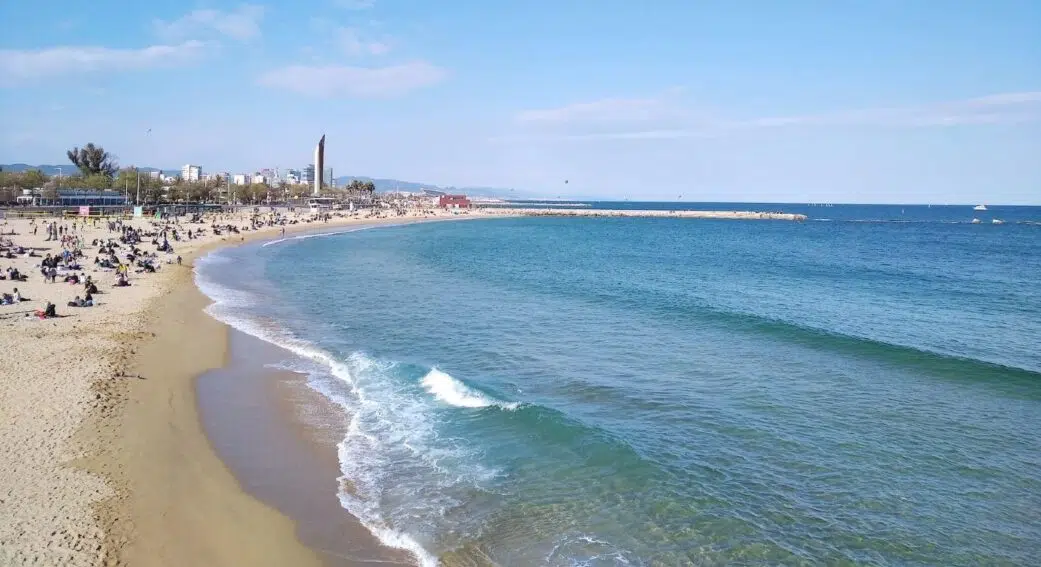 5. Nova Icària Beach – Top Barcelona Beach for Volleyball
This bumpin' Barcelona beach is to the northeast of the two skyscrapers on the water. Get off the metro at the Ciutadella Vila Olimpica stop on the yellow line – from there, you can also walk to Ciutadella Park.
At Nova Icària Beach, you'll find tons of beach volleyball courts, restaurants, tapa bars, and the famous Barcelona casino.
Again, there are fewer sellers here, which is a plus. The water isn't the cleanest around, though. There is deeper water here compared to other beaches, so be careful with children.
All in all, if you mean to carry on into the night with drinks, then this Barcelona city beach is a fine choice.
6. Sant Miquel Beach – Best Beach in Barcelona for Water Sports
One of the great things about the Barcelona city beach is, well, the beach being in the city.
Being able to get up off your towel and walk into a bustling neighbourhood of shops is great whether you need a cold beer, sunscreen or even a stand-up paddle board excursion.
The commercial areas above Sant Miquel are ripe for water sports. There are plenty of surf shops whether you're looking for a little holiday shopping or a full-on paddle-surf lesson at Ungravity SUP & Surf Centre.
You're also just a short walk to a great brunch place called Brunch & Cake. Finally, I'm not sure there's a more delicious drink in all of Barcelona than the cocadas (a Venezuelan coconut drink) at Coco House.
Related: Best Things to Do in Barcelona in September
7. Nova Mar Bella Beach – The Best Nudist Beach in Barcelona
Nova Mar Bella Beach is a nudist and gay-friendly beach. It's pretty much come as you are – there's no pressure to undress completely! In fact, I've been there a dozen times in my regular beach outfit.
Unlike many other nude beaches, the crowd at Mar Bella Beach is quite eclectic and not just a bunch of pervy men in their 50s 😉
This golden sand beach is a bit less exposed, so expect choppy waves on windy days – so it's naturally another popular place for surfing, windsurfing, and other water sports as well.
The bonus is that compared to our other best beaches in Barcelona, here there are hardly any sellers.
Related: Best Things to Do in Barcelona in June
8. Nova Mar Beach – The Cleanest Beach in Barcelona
If you're looking for more tranquil beaches, we finally get to my favourite: Nova Mar.
It's much further out, so it's inherently quieter and less crowded – not to mention, the sea is very clean. This is the most peaceful beach to take a swim without bumping into people or to put in your headphones and listen to a good audiobook.
For those looking for some of the best shopping in Barcelona Diagonal Mar shopping centre is just ten minutes away at 3 Avenida Diagonal.
How to Get to Barcelona Beaches
If your Barcelona hotel, Airbnb discount homestay, or hostel is located along the yellow metro line (L4), you're in great shape – all the beaches listed here have a corresponding stop on this line.
You need to walk 10-15 minutes from the stops listed, but with so much brilliant sunshine and so many attractions along the way, you won't mind.
There are also a variety of transport alternatives. For starters, there's probably no better way to see Barcelona in the summer than renting a bike – it's cheap, and the beachside promenade is built for them.
You can also go full Mediterranean and rent a Barcelona scooter to maximize the wind in the hair effect – with the added bonus of being able to cover ground people with only the metro or bicycle cannot.
From March to October, the green line of the Bus Turistic also serves Barcelona's beaches.
👉 Tip: Best Nature Escapes in Barcelona
Barcelona Beaches Map
Barcelona Beach Hacks
Swimming season is between mid-May and late September.
Walk up into the city and buy drinks at shops/markets for 50% cheaper.
Alone? Hire a secure locker at the beach gym for valuables.
Ask your hotel if they supply beach towels (some do!).
Pack snacks – that way, you can avoid the overpriced sellers and cafes.
Stay hydrated: The heat can be dehydrating, so make sure to bring plenty of water.
Go around 6:00 pm to avoid crowds and burns – it's still lovely.
Don't pay any more than €1.50 for street vendor beer/water.
Buying a beach umbrella is cheaper than renting one.
Always barter when buying souvenirs – you may just get 25% off.
Bring a windbreaker outside of peak summer periods.
Explore the nearby neighbourhoods.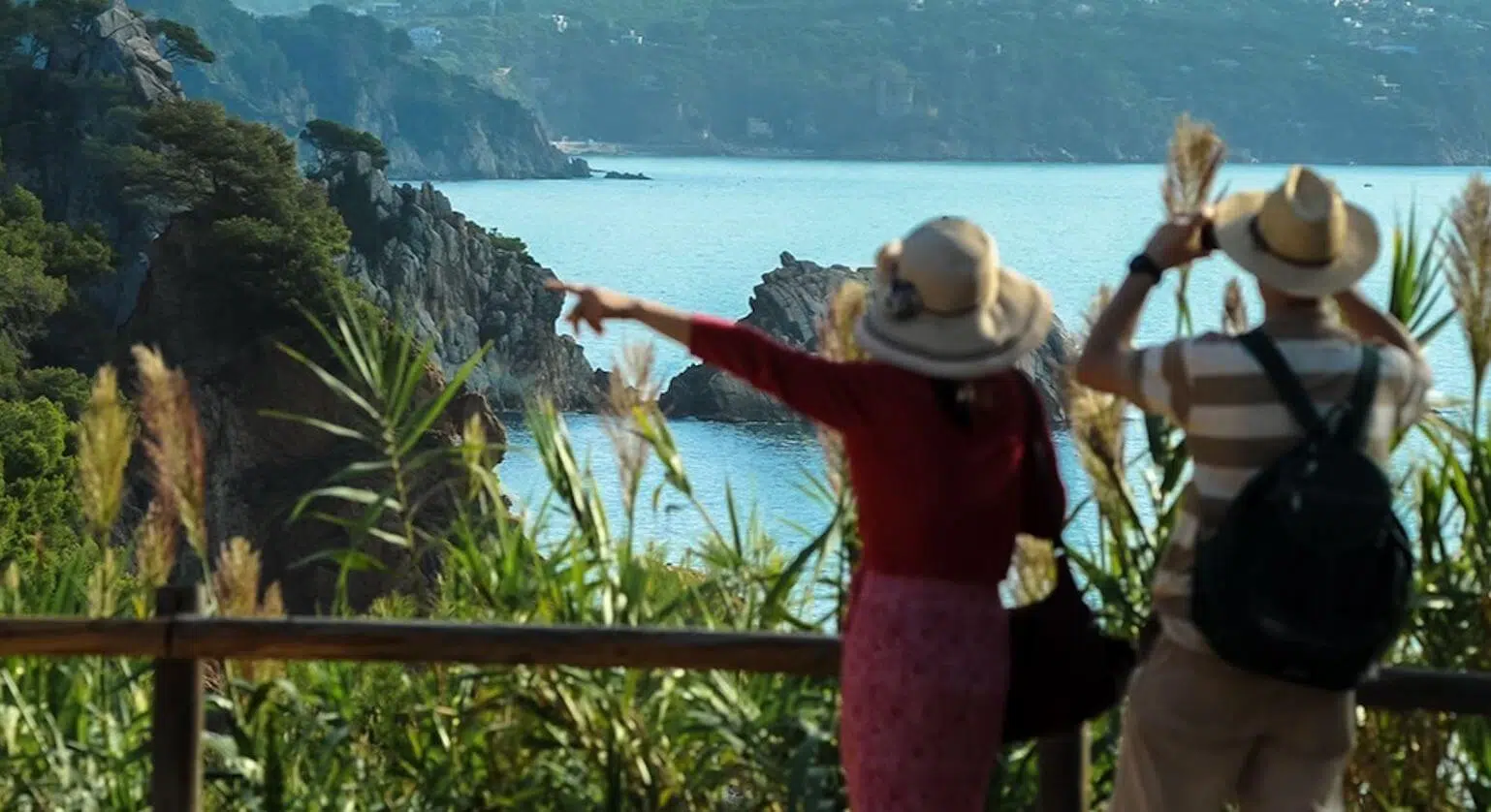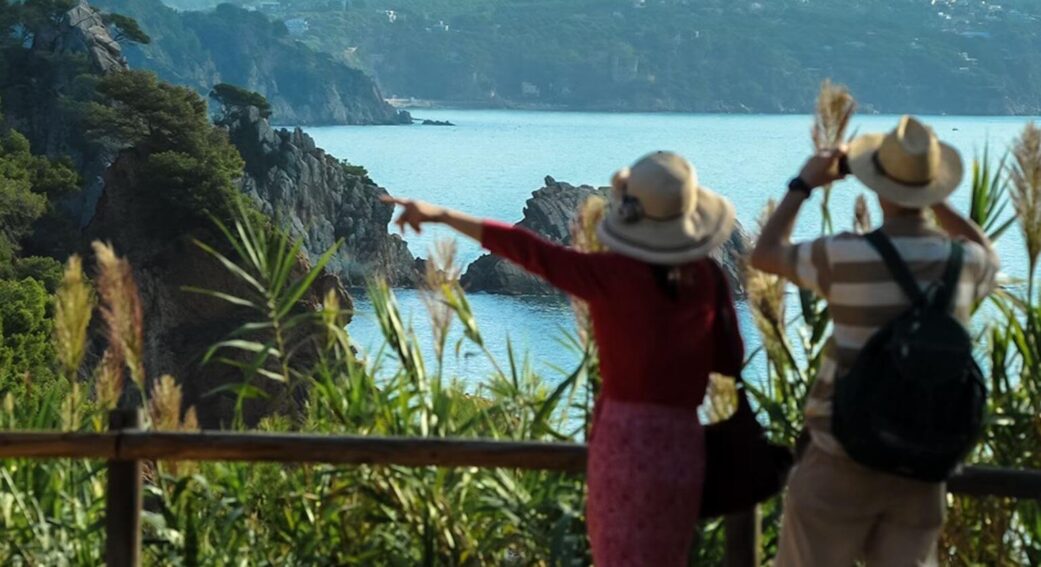 The Best Beaches Near Barcelona
I must admit, most Barcelona beaches pale in comparison to what is often a short bus or train away. So if you have time in spades and are looking for a real beach holiday, you may want to consider getting out of the city.
If you like wide and long beaches, get on the train and go to Casteldefells, Ocata Beach (El Masnou), Sitges, Vilanova i la Gertrù or Calafell.
If you like small beaches at the foot of rocky coastline, then go north and hit the Costa Brava.
For more ideas, check out my list of the best day trips from Barcelona.
Costa Brava Beaches
For the best beaches near Barcelona without a car, head to Tossa de Mar. Take a round-trip bus from Estaciò del Norte for €24.50 (€12.25 one way). It takes an hour and 20 minutes to get there.
Don't stop there, though. From the bus station at Tossa de Mar, you can take a bus to Cala Llevadò – there are some amazing coves there, and a few of them are for nudists.
There's also the super popular package holiday resort town and party central: Lloret de Mar.
Best Barcelona Beaches FAQ
Where is the best beach in Barcelona?

The best beach in Barcelona is found at Sant Sebastia beach, which is found simply by getting to the waterfront and walking along the coast until you find the piece of sand right in front of the sail-shaped Vela Hotel (you can't miss it).

Can you swim at Barcelona beaches?

All of the city's beaches are suitable for swimming, especially between May and September. The best water temperatures for swimming and most services can be found between June and August.

During the rest of the year swimming is very uncommon.

Which metro stop for Barcelona beaches?

Others can be reached via Ciutadella i Villa Olimpic, Bogatell, Llacuna, Poble Nou, and Selva del Mar metro stations on the yellow line (L4) of the Barcelona metro system.

Are there lockers at Barcelona beaches?

Most visitors get off at the Barceloneta metro stop for the main beaches.

The only lockers at Barcelona beaches can be found at the Espai Mar – which is actually a health club that rents out its facilities. You can get a locker for as little as €4.50 a day and also use their Barcelona beach change rooms.

Where can I eat at Barcelona beaches?

If you plan on eating, your best bet is to go to Barceloneta Beach and then walk up to Passeig de Joan de Borbo Street, where there are tons of Spanish seafood and tapas restaurants.

Three great ones close by are Bitacora, La Cova Fumada, and Xiringuito Escriba.

You can also set up shop at Bogatell Beach and then walk the 100 meters up to Xiringiuto Escribá for some amazing paella.

Can you drink on Barcelona beaches?

Legally you are not allowed to drink on the beach. However, the law is rarely enforced, so feel free to bring your alcohol to the beach as long as you act responsibly and pick up your cans and bottles.

If not, there are also legions of lateros (can-salesmen) who will sell you a can of beer for about €1.50 – refuse to pay any more than that.

How far is Barcelona Beach from Las Ramblas?

From the bottom of Las Ramblas to the closest beach in Barceloneta, it's a 1.8 km (1.1 mile) walk which will take you about 25 minutes.

Is it safe to visit the beaches in Barcelona at night?

Generally, you're free to sit on the beach as late as you want though if you cause a disturbance, you may be asked to move along by police or security. Usually, they rake the beach at about 3 or 4 am, and nobody can be there during that time.

Just be on the lookout for Barcelona pickpockets and the like.

Can you surf at Barcelona beaches?

There are moderate waves on the Barcelona coast between October and March which are great for casual surfers and people taking lessons. The best beaches are Bogatell or further down the coast at Sitges.

When was Barcelona Beach constructed?

The coastline was mostly industrial until a massive revitalization project that created the beaches in conjunction with the 1992 Olympic Summer Games.
Ready to visit the top Barcelona Beaches?
My advice on the best beaches in Barcelona Spain is only as good as the people who keep me in check.
If I've overlooked anything, or you've got any questions on Barcelona beaches or anything else regarding your holiday, I'm here – and I've answered thousands just like it.
Also, don't forget to join our group, I'm Off to Barcelona to chat with thousands of fellow Barcelona travellers.
Whatever your best beach in Barcelona is, enjoy 🏖️