La Sagrada Familia Church: The Famous Cathedral in Barcelona
Sagrada Familia Church is a UNESCO Heritage Site, the most visited church in Europe behind the Vatican, and Spain's biggest tourist attraction by numbers.
Yup, this famous church in Barcelona just might be the most beautiful ever – and it's not even finished yet!
Let's figure out how to visit La Sagrada Familia like it's not our first time around the block.
La Sagrada Familia Tickets
In the post-COVID world, to visit this Gaudi church it is now mandatory to buy your tickets online.
With the booking links below you can guarantee times, skip long lines, and go right in with smartphone tickets.
I strongly recommend purchasing them several weeks in advance because it's the most visited monument in Spain.
Also, upgrading to the English guided tour is strongly recommended as it unlocks the symbolism of this amazing church.
Here's how to book yours:
Sagrada Familia English Guided Tours
Sagrada Familia guided tours are the best option for first-time visitors.
You get a 90-minute Sagrada Familia tour with an entertaining flesh-and-blood guide who knows this Antoni Gaudí church inside out.
English Sagrada Familia tour times are daily at 11:15 am and 1:30 pm.
| | |
| --- | --- |
| Sagrada Familia Guided Tour Prices | Price |
| Adults | €51.00 |
| Kids (4-10) | €31.00 |
| Kids (0-13) | Free |
🧐 | Curious yet? Read hundreds of Sagrada Familia English tour reviews now.
La Sagrada Familia and Park Guell Combo Tickets
Most tourists visit these 2 elite Barcelona attractions on the same day due to their proximity, and guaranteeing spots at both places with the same clicks is tidy business.
The famous Gaudi Bundle is the best way to do this, and even get a free city audio guide thrown in.
The ticket includes:
Skip the line access at La Sagrada Família with an official interior audio guide.
Skip the line access at Park Güell with an app self-guided tour audio guide.
Barcelona city audio guide with in-depth info on 100+ city sights.
The Gaudi Bundle prices are as follows:
Adults: €59.00
Young adults (13-29): €55.00
Youth (11-12): €51.00
Senior (65+): €47.00
Kids (7-10): €14.00
Kids (0-6): free.
Sagrada Familia Fast Track Entrance + Audio Guide
The independent tour with audio guide is another great option, if basic.
This is the cheapest ticket, and you'll get explanations of the architecture and history in English.
You're free to stay at Gaudí's Sagrada Familia as long as you want.
Audio guide ticket entrance slots run every 15 minutes from 9:00 am (last entrance 30 minutes before closing time) until closing.
| | |
| --- | --- |
| Sagrada Familia + Audio Guide | Price |
| Adults | €33.80 |
| Students and young people (11-30) | €31.20 |
| Seniors (65+) | €27.30 |
| Kids (6-10) and disabled visitors | Free |
*Barcelona visitors with a disability above 65% have the right to an accompanied companion at the same price. There is also a sign language video guide. To book this ticket write 24+ hours in advance to [email protected].
Looking to book group tickets for 10+ guests? You'll need to do so using the Sagrada Familia group ticket form.
Related: Is Sagrada Familia Worth it to Go Inside?
La Sagrada Família: The Famous Church in Barcelona
This epic creation (and Barcelona architecture staple) started after a bookseller's 1872 trip to Italy.
There, he saw a comparatively uninspiring minor basilica called the Basilica della Santa Casa.
After this spark of inspiration, Sagrada Familia construction began in Barcelona in 1882. The ball got rolling under Francisco de Paula del Villar as a standard Gothic revival church.
He resigned in 1883.
⚠️ 

2023 Warning

⚠️

: It's now mandatory to book your Sagrada Familia tickets in advance.
The only way to guarantee your spot is by booking Sagrada Familia tickets online:
Cue the arrival of the real architect: Antoni Gaudi.
It's here that radical project changes begin. The famous church in Barcelona takes on a decidedly modernist look with nature as its inspiration.
Antoni Gaudi would die in 1926 with the Basilica of the Sagrada Familia only 20% complete.
Construction of this Gaudi church was later suspended during the Spanish Civil War, and his plans are burned by Anarchists. After the war, the construction is resumed by Gaudi's contemporaries.
Pope Benedict XVI consecrated the Sagrada Familia church in 2010.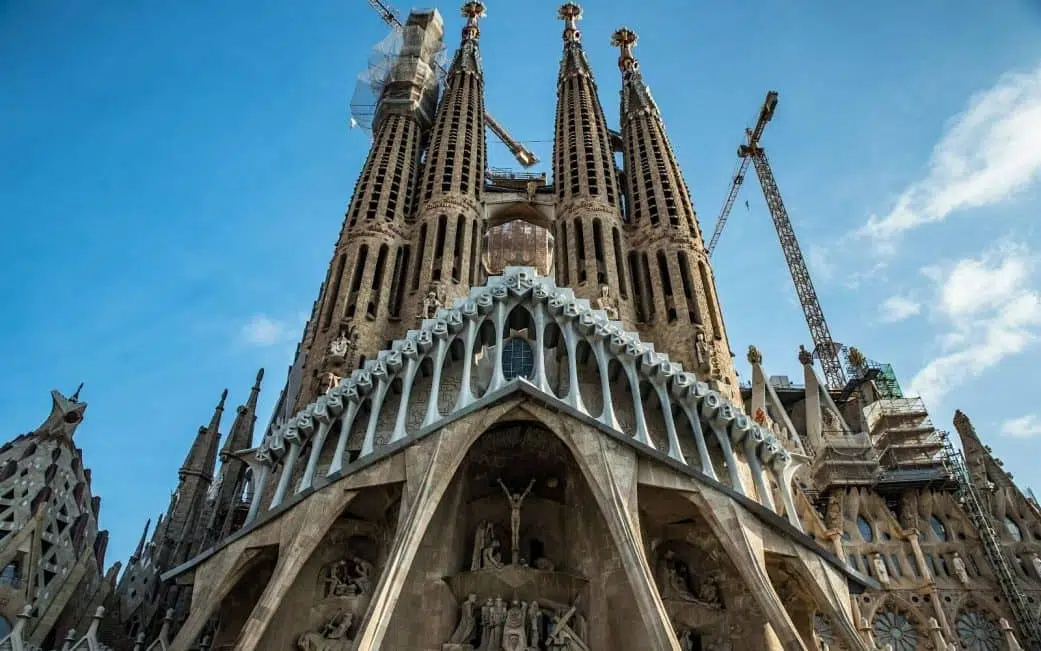 What to See at La Sagrada Família Basilica
The Sagrada Familia Exterior
The outside of the Temple Expiatori de la Sagrada Família is pure impact – only a madman would envision this.
Calling for 18 spires representing the Twelve Apostles, the Virgin Mary, the four Evangelists, and Jesus Christ – the latter will rise to 172.5 meters above street level, one meter shorter than the highest point in the municipality of Barcelona: Montjuic.
Why?
Head architect Antoni Gaudi believed that his creation shouldn't surpass one of God.
Recently, in December 2021, the Tower of the Virgin Mary was finally topped off with a placement of a massive, illuminated star – the first Sagrada Familia tower inaugurated since 1976.
At 137 meters, it's the highest tower currently completed.
Like what you see above? That photo is a shot of the Passion Facade.
Inside the Basilica de La Sagrada Familia
The interior is like stepping into the heart of a rainbow: the colour beaming in through the stained glass windows is other-worldly.
The light coming in from the Nativity Façade sparkles with ocean blues and forest greens while the Passion façade glows red and yellow. You'll be able to tell the time of the day (blue/green in the morning and red/yellow in the afternoon) by which colours dominate.
The columns supporting the Sagrada Familia were built to mirror trees and branches, each spanning various geometric forms.
None of the interior surfaces are flat, and the level of detail to the ornamentation is something to behold.
Toward the front of La Sagrada Familia, you'll also be able to peek down into a small chapel (the only one constantly in use) and see Antoni Gaudi's tomb on the floor decorated with a series of burning candles.
Wanna see inside before going all in and getting tickets? Here's a video preview of Sagrada Familia:
Sagrada Familia Opening Hours 2023
Again, as of January 2023, tickets are only available online, so it is mandatory to book a time slot in advance online that allows you at least one hour to visit the famous Barcelona church during the following hours:
| | | |
| --- | --- | --- |
| Sagrada Familia Hours | Monday to Saturday | Sunday |
| November to February | 9:00 am to 6:00 pm | 10:30 am to 6:00 pm |
| March to October | 9:00 am to 7:00 pm | 10:30 am to 7:00 pm |
| April to September | 9:00 am to 8:00 pm | 10:30 am to 8:00 pm |
| 25th and 26th of December | 9:00 am to 2:00 pm | 9:00 am to 2:00 pm |
| January 1st to 6th | 9:00 am to 2:00 pm | 9:00 am to 2:00 pm |
Bookable time slots are every 15 minutes (:00, :15, :30, :45).
Sagrada Familia mass times for international visitors are Sundays at 9:00 am.
Related: When Will Sagrada Familia be Finished?
Related: How Long Does it Take to Visit Sagrada Familia?
How to Get to La Sagrada Família
You'll find La Sagrada Familia church at the top of the trendy Eixample district at 42 Calle Marina.
It is served by the Sagrada Familia stop of the Barcelona metro system stop (purple line L2 and blue line L5).
The area is served by buses 19, 33, 34, 43, 44, 50, 51, B20, B24, and V19.
You can also get there using the Bus Turistic (blue line, Sagrada Familia stop).
Sagrada Familia Map Location
La Sagrada Família Tips: Mastering the Big Church in Barcelona
Showing up without tickets for Sagrada Familia and buying at the window means waiting in lines.
After 30+ minutes of queuing, you'll be booking a time slot that is crowd dependent, so a 4:00 pm arrival could mean a 6:45 pm entrance.
To avoid the hassle, buy your Sagrada Familia tickets online.
Some other visiting tips for visiting Sagrada Familia?
Go before 10 am for the best shot of avoiding crowds.
Set aside at least 90 minutes for the visit.
Get there well in advance of your time slot, as they can be sticklers.
Check my post on things to do after visiting Sagrada Familia to plan your next move.
The more natural light, the better (sunset is great, but nights should be avoided).
Print out your Sagrada Familia tickets if you can, as smartphone copies are hard to scan in the sun.
Sit in the pews for at least 15 minutes to see the colours change as the sun moves.
Keep an eye out for Barcelona pickpockets outside Gaudi's cathedral.
If you need to go to the bathroom, go to the Mcdonald's outside beforehand!
Avoid weekends if possible; the crowds at this church in Barcelona are a nightmare!
You can grab a perfect selfie angle on the escalator at the Calle Marina metro exit.
iPhone users: change to the 'chrome' photo filter to truly capture the colours of light.
You may seriously want to stretch your neck as you'll spend a lot of time looking up.
Consider seeing the Recinto Modernista de Sant Pau (just 15 minutes away).
Can't decide a day? Check the Barcelona weather forecast and opt for the sunniest day.
🧑‍🎨 Want more of Gaudi? Unlock his masterpieces with the top Gaudi tours in Barcelona.
Related: Best Time to Visit Sagrada Familia
La Sagrada Familia Barcelona FAQ
Why is Sagrada Familia so special?

The Sagrada Familia is special because of its breathtaking architecture, visionary design by Antoni Gaudí, and its status as a UNESCO World Heritage Site, captivating visitors with its beauty and unique spiritual experience.

Who is paying for Sagrada Familia?

The construction and ongoing maintenance of the Sagrada Familia are funded through a combination of private donations, ticket sales, and revenue generated from various sources, including souvenir sales and tourism.

How tall is the Sagrada Familia?

The tallest part of Sagrada Familia is 115 meters (377 feet) tall – though the final tower will rise to 170 meters (560 feet) tall upon its completion in 2026 (estimated).

Can I take photos inside Sagrada Familia?

Yes, you can take photos inside Sagrada Familia though be mindful of the other visitors – you likely won't line up that perfect shot as there are many visitors around.

When is Sagrada Familia lit up at night?

Sagrada Familia is lit up between Monday to Thursday between 8:00 pm and 12:00 am.

What does Sagrada Familia mean?

Sagrada Familia means 'holy family' in Spanish.

Is Sagrada Família free?

No, Sagrada Familia is not free – you'll have to pay for tickets to see it from the inside. Tickets start at €33.80 for basic admission and €48.00 for a guided tour in English.

How far in advance can I buy Sagrada Familia tickets?

Tickets for Sagrada Familia can be bought up to two months (60 days) in advance. It is recommended to buy tickets at least two weeks in advance in low season) or 30-60 days in advance in high season.
💸 Related: Are There Sagrada Familia Discounts?
Visiting the Gaudi Cathedral in Barcelona?
Feel free to write me with any Sagrada Familia questions you didn't get answered here.
And don't be afraid to join the La Sagrada Família Church discussion by joining my group; I'm Off to Barcelona. Here, you can ask any questions, air out grievances, and chat with thousands of Barcelona travellers.
Enjoy Barcelona's famous church! ⛪