Pont del Bisbe (Bishop's Bridge): Secrets of a Cursed Bridge
If you see a million people lining up to take pictures in the Gothic Quarter you're probably at the Pont del Bisbe.
Also known as Bishop's Bridge, this epic photo opportunity steeped in legend – the architect may have actively tried to curse the city – is a must for any visitor.
Let's break down the famous neo-Gothic bridge in Barcelona.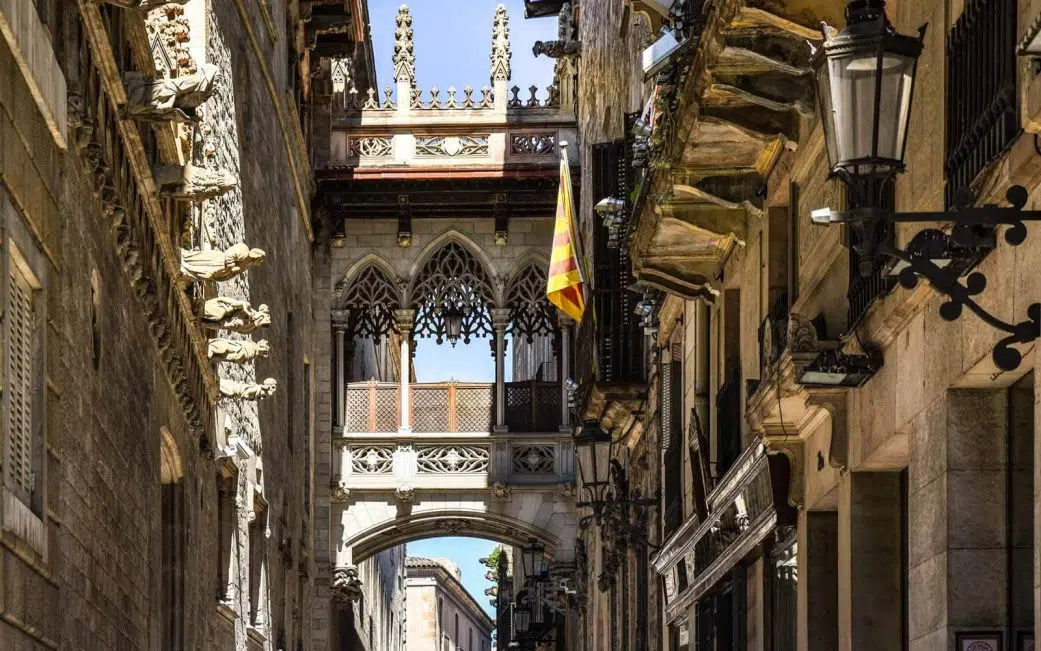 What's the Famous Bridge in the Barcelona Gothic Quarter?
El Pont del Bisbe, commonly known as the Bishop's Bridge, stands as one of the most photographed sights in Barcelona's Gothic Quarter.
Despite its ancient appearance, the marble bridge was constructed in 1929 for the Barcelona International Exposition.
It was actually inspired by the Bridge of Sighs in Venice – and you'll see some similarities.
The neo-Gothic design was the brainchild of architect Joan Rubió I Bellver – a keen disciple of Antoni Gaudi – and contributor to Park Guell, Sagrada Familia, and more.
What's peculiar about Rubio is that he proposed a grand plan for the city: demolish all non-Gothic structures near the Barcelona Cathedral and replace them with Gothic-style edifices.
However, only Bishop's Bridge, connecting the Catalan Parliament to the president's residence, saw the light of day.
Apparently, this enraged Rubio so much that he added an eerie skull and dagger motif adorning its underside – in hopes of cursing anybody who walked under it.
There are even whispers that the skull isn't a mere stone carving but a genuine human relic.
I've personally tested the El Pont del Bisbe and have yet to be cursed – fingers crossed! 😂
Make sure you look up and find the Pont del Bisbe skull, as it's hidden in plain sight.
At any rate I strongly suggest visiting El Pont de Bisbe on any Barcelona itinerary – it's one of the best things to do in Barcelona and it's absolutely free!
Related: Barcelona Architecture
Where is Bishop's Bridge in the Gothic Quarter?
The Bishop's Bridge is situated on Carrer del Bisbe, nestled between Plaça de Sant Jaume and Plaça Nova.
It's easily accessible via the Jaume I metro station on the L4 yellow line.
If you're on Las Ramblas simply take a left in front of the KFC, follow Carrer Ferran until you get to Placa Jaume I, and take your second left.
Pont del Bisbe FAQ
What is the famous bridge in the Gothic Quarter?

The famous bridge in the Barcelona Gothic Quarter is the Pont del Bisbe (Bishop's Bridge), which is a marble bridge built in the neo-Gothic style by architect Joan Rubió I Bellver.

What's the oldest bridge in Barcelona?

The original Bishop's Bridge was commissioned by King James I of Aragon in 1283, as part of a plan to upgrade Barcelona's infrastructure – however, the current version was only built in 1929.

What does Pont del Bisbe mean?

El Pont del Bisbe is a Catalan language phrase which means "Bishop's Bridge" in English.
Ready to See the Most Photographed Bridge in Barcelona?
I've gone through the history of the Pont del Bisbe and hopefully given you a reason to check it out.
That said, if you've got any specific questions on it or anything else Barcelona-related I am here!
Enjoy Bishop's Bridge Barcelona 😊