Park Güell Barcelona: a Tour of Antoni Gaudi's Utopian Vision
Barcelona's Park Güell is what happens when a wealthy Catalan industrialist employs the world's most creative architect to construct paradise on earth.
Surprisingly, Antoni Gaudí came kind of close.
This stunning urban park and its marvelous broken tile mosaic benches is a must when visiting Barcelona.
Let's take a deeper look to plan you the perfect visit to Park Guell.
What is Park Guell?
At 17 hectares, Park Guell is one of the largest green spaces in Barcelona, and it's currently a privatized park featuring large gardens and compelling architectual elements.
Park Guell is the size of 13 city blocks and keeps watch over Barcelona from the hills above the Gracia district, offering a magnificent panoramic view of the city and the Mediterranean Sea.
First things first though – who built Park Guell?
Park Guell was conceived in 1900 by wealthy industrialist Eusebi Güell. His intention was to create a lavish, Utopian housing development in the middle of a park using the world's most cutting edge architecture.
Cue Antoni Gaudi.
The legendary Catalan architect was asked to design 60 luxury homes for a planned community far away from Barcelona's smoky factories – all with the latest technology and a touch of art.
In the end, the houses didn't sell (I know, right?) and Park Güell construction was halted in 1914.
With only two homes finished!
Regardless, Park Güell was declared a UNSECO World Heritage Site in 1984 and welcomes 3,000,000 tourists annually.
What to See at Park Guell
Let's get one thing out of the way first, because this is essential: Park Guell is made up of the Monumental Zone and the Free Zone.
If you're asking what Park Güell is most famous for, know that everything you'll see in the postcards is found in the Monumental Zone which requires an entrance ticket – the Free Zone is more of a backyard garden.
The Park Güell Monumental Zone
You'll see the park hemmed in by a rustic stone wall with its emblematic ceramic medallions bearing the name Park Guell.
There are two trencadís-speckled buildings that look a lot like gingerbread houses from Hanzel and Gretel. They were once the Park Güell porter's lodge complete with waiting room and telephone booth.
A journey up the Park Güell stairway offers goblin shapes, Catalonian symbols, and the famous Park Guell mosaic dragon: the most famous image of the park.
It's actually a salamander 😛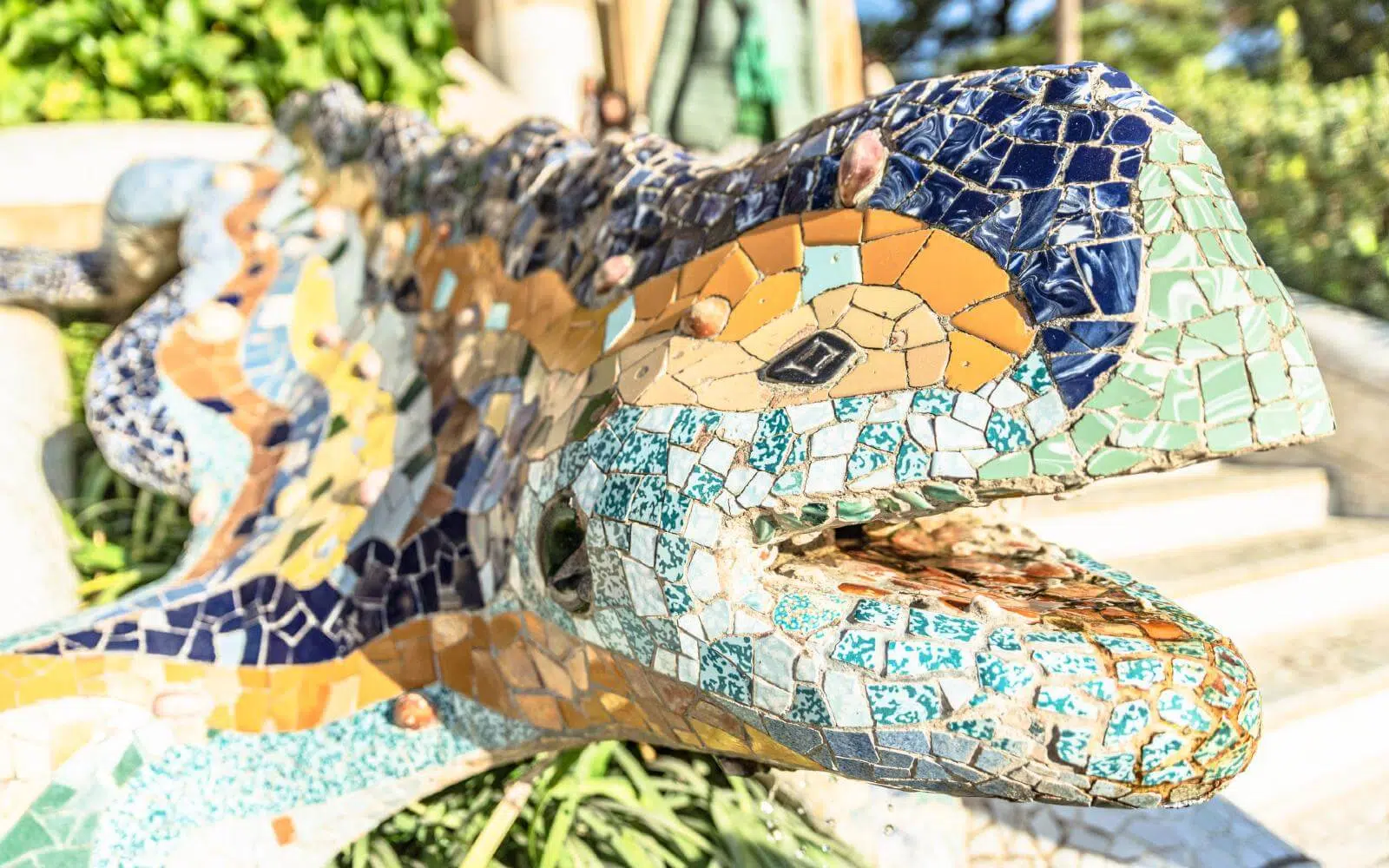 Further up the staircase you'll find the Doric Temple which was intended to be the market of the estate. Its twisted columns give the impression of being on a patio built on tree roots.
Keep walking and you'll get to the undulating Banc de Trencadis, Park Güell's famous ceramic benches created by Josep Maria Jujol, one of Gaudi's closest contemporaries.
Apparently this is the longest bench in the world.
Here you'll find the massive tile-decorated esplanade and centre-piece of the park called Plaça de la Natura (Nature Square). The view of the city from there is amazing.
In all, how much time does it take to see Park Güell? Expect a full tour to take around 75 minutes.
The Park Güell Free Zone
For those asking if you need tickets to Park Guell, the answer is technically 'no' if you consider that the Free Zone takes up 92.1% of the park – so you'll have a ton of terrain to explore for free.
That said, none of the major things to see at Park Güell are found here.
In general the space is more wild and garden-like similar to Barcelona's top natural parks.
You'll find a seemingly endless stream of sculpture-adorned paths, creeping uphill and offering spectacular views of the city.
At this public park you'll also see some of the Park Güell's original homes including the famous Gaudí House Museum: it was here that architect Antoni Gaudi lived from 1906-1925.
In 1963 the house was turned into a museum about Gaudi and his life.
💡 Looking to max our your visit? Check out my Park Guell visit tips.
How to Buy Park Guell Tickets
So, is Park Guell worth it?
With a nearly perfect 4.5 star rating across 10,000+ Park Guell reviews it seems most tourists are very comfortable with visiting a UNESCO World Heritage site for the price of a pizza.
Just know that hourly visits are capped so you need to reserve Park Guell dates in advance online:
Park Guell Entrance Fees:
General ticket: €13.50
Kids (7-12): €9.33
65+: €9.33
Disabled visitors: €0.00 (with paid accompanying person, €9.33)
Kids under 7: €0.00
You can grab your skip the line Park Guell tickets using the button below:
Looking to add the Gaudi House Museum to your Park Guell Ticket package? You can get your tickets at Tiqets.
Park Guell Guided Tours in English
You can upgrade your experience with a fantastic Park Guell guided tour in English. This is a 90 minute tour with actual flesh and blood guides who are Gaudi experts.
These Park Guell tours run daily at 12:15 pm and 2:20 pm every day, while a third tour runs in high season at 6:15 pm.
With this tour you'll skip the lines and have a great Gaudi education at one of the world's best parks.
Prices: Adults €23.00, Children (3-11) €20.70, Infants (0-2) free.
🧐 | Interested in a Park Guell guided tour? Read Park Guell guided tour reviews from all over the world.
Park Guell Ticket Discounts Using a Tourist Pass
If you're going to visit both Park Guell and Sagrada Familia I suggest getting a discount tourist pass.
The best pass including Park Guell tickets is the super-handy Barcelona Pass. Not only do you get skip the line tickets to Park Guell and Sagrada Familia but you also get a day pass on the Barcelona Hop on Hop Off Bus.
It also gives you 10% discounts on virtually any other attraction including Casa Batllo, La Pedrera, Camp Nou, flamenco shows, walking tours, nightlife etc.
The whole package is just €86.50.
The cherry on top? They also give you a free Park Guell audio guide.
Unsure? You can read my Barcelona Pass review to see if it's right for you.
Park Guell Hours 2023
1 Jan to 11 Feb 2023: from 9:30 to 17:30 (last entry)
12 Feb to 25 Mar 2023: from 9:30 to 18:00 (last entry)
26 Mar to 28 Oct 2023: from 9:30 to 19:30 (last entry)
29 Oct to 31 Dec 2023: from 9:30 to 17:30 (last entry).
What's the Best Time to Visit Park Guell?
In my opinion the best time to visit Park Guell is with the morning light so I advise the earlier the better.
Your best bet is getting Park Güell entrance tickets before 9:00 am and showing up about 30 minutes before to walk the free zone. The crowds won't be any thinner during the day.
After I suggest walking back into the city. It's downhill. Get a feel for the way locals live by having a carajillo (a shot of espresso with chosen liquor) in a random cafe. Then head to the Gracia district for brunch. You'll have the whole day ahead of you.
If you just can't get up then I recommend the later time slots toward closing time.
In summer I would strongly advise against visiting Park Güell between 1:00 pm and 4:00 pm as the sun (and crowds) could take you out!
How to Get to Park Guell
I break down the methods fully in my post on how to get to Park Guell, but here are the main options:
Park Güell Shuttle
01/14/2023: The Park Guell shuttle still has not resumed service post-COVID. I'll add more info here should it come available.
Starting on April 1st 2019 the city of Barcelona offers a free return shuttle for Monumental Zone ticket holders.
The shuttle runs from Alfons X (L4) metro station during Park Guell opening hours.
The trip to Parc Güell will last 10-15 minutes and run every 7 minutes.
🚌 Coming to Park Guell? Make sure you know how to get around Barcelona on public transport first.
Taxis to Park Güell
Since Park Guell is both out of the way and uphill this is a great chance to take advantage of a €5.00 discount on Spain's taxi app program: Free Now (formerly MyTaxi).
You'll save so much time and end up paying only about €5.00 or €6.00 from anywhere central, a great option if you're traveling in large groups or with kids.
In all, expect to pay about €15.00-20.00 to get up the hill from anywhere central.
For more information see how to sign up with Free Now.
Park Güell by Metro and Bus
Bus 24 from Passeig de Gracia or Placa Catalunya will get to you right to the gates.
Bus 92 connects Park Guell to the sea and Sagrada Familia but expect a ten minute walk.
Metro stops Lesseps or Vallcarca on the green line L3 (15 minute uphill walk).
With the Bus Turistic. The bus leaves you a short walk from the park.
If you're still a bit confused on Park Güell directions drop me a line below with a departure point for some custom advice.
How to Get to Park Guell from other Barcelona Attractions
Sagrada Familia: to get to Park Güell from Sagrada Familia walk to the Pg. de Sant Joan – Còrsega bus stop and grab bus V19. From here it's about 20 minutes on the bus and you'll get off at the Ramiro de Maeztu – C N Catalunya stop. It's about 170 meters from the park entrance.
Casa Batlló: to get to Park Güell from Casa Batllo exit the house and cross the street to take bus 24 (right outside the Mcdonald's) and it'll drop you off right at the park entrance. It'll take about 35 minutes.
La Pedrera: to get to Park Guell from Casa Mila take a right on Passeig de Gracia when exiting the house and grab bus 24 right in front of the Gucci shop. The trip right to the entrance takes 30 minutes.
Camp Nou: to get to Park Guell from Camp Nou take the blue metro line from Badal to Diagonal and then take bus 24 at Passeig de Gracia. It'll take about 50 minutes.
Related: Is Park Guell Worth It?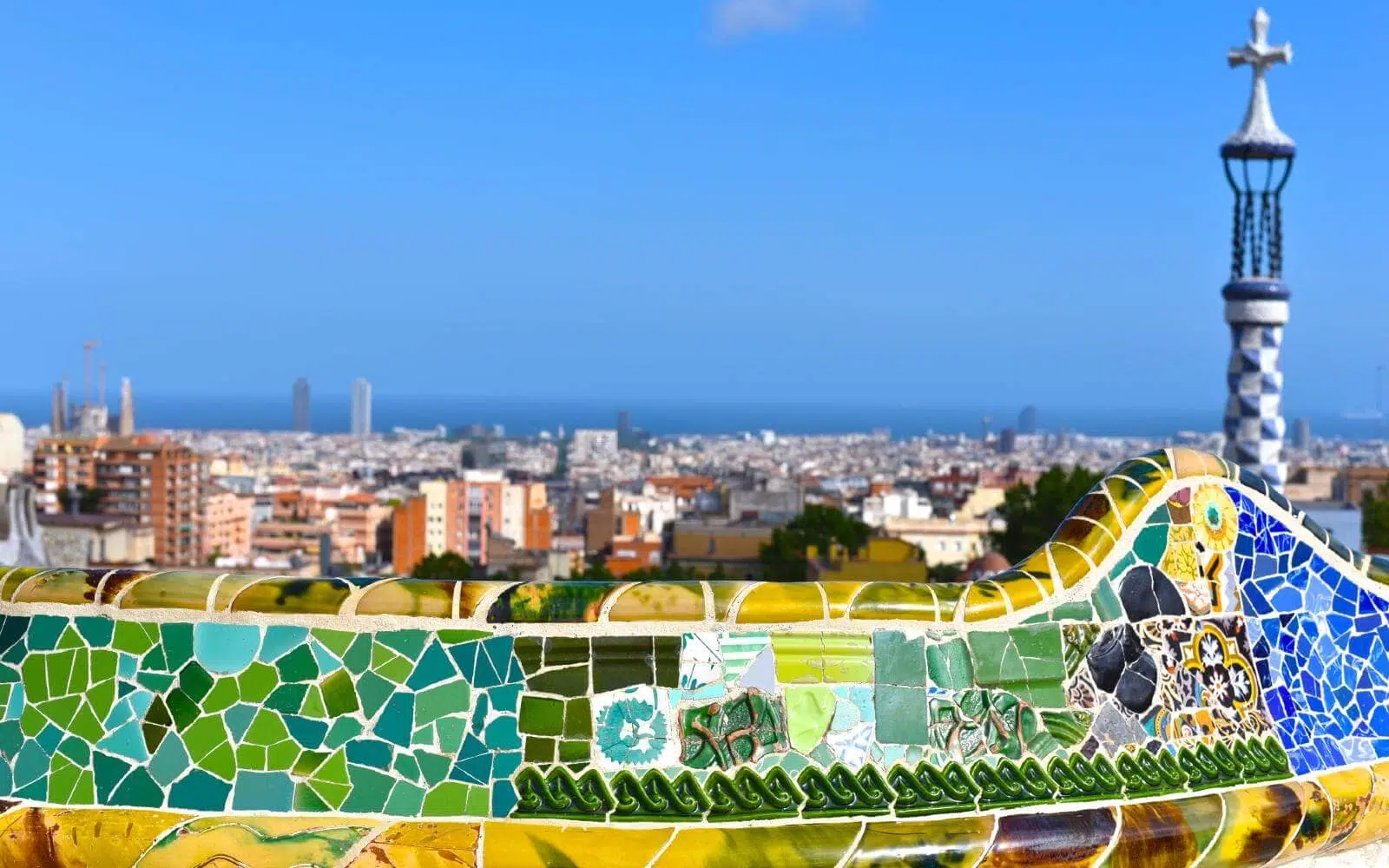 Visiting Park Guell Tips
Book Park Guell tickets online or you may be waiting hours.
Leave at least 50 minutes to get to Park Güell from the city centre.
If you're hungry check out my list of best restaurants near Park Guell.
Remember: there's a 30 minute grace period for entry times (e.g 9:00 tickets admitted till 9:30).
Check out my list of things to do after visiting Park Guell to keep the party going.
If you've booked Park Güell ticket online, head to the west entrance as it's less crowded.
Bring appropriate ID if you'll be taking advantage of any Barcelona discounts (senior, children etc.).
Bring comfortable shoes if you're looking to go all the way to the top.
Visit Park Güell in the evening for more comfortable temperatures and great sunset photos.
Amenities at Park Güell are overpriced and scarce: take your own food and water for a picnic.
Shade is at a premium so bring sunscreen in summer.
Those with limited mobility should arrive via a Barcelona taxi or Bus 24 to avoid uphill walks.
Related: How Many Days Should I Stay in Barcelona?
Park Guell FAQ
What time slots are available for the Monumental Zone?
You can select to enter at :00 or :30 of every hour of the Park Güell opening hours (last entry 1 hour before close).
What happens if I'm late for my time slot at Park Güell?
You have 30 minutes courtesy to be admitted otherwise your tickets won't be accepted – plan ahead!
Can I cancel or change my Park Güell ticket booking?
No changes or refunds can be made with tickets bought at the official Park Guell website.
For Parc Güell guided tour tickets you may be able to contacting [email protected].
How will I receive my Park Guell tickets?
For both Park Güell general admission and guided tours you'll receive your tickets via email.
I didn't receive my Park Guell tickets, what now?
First of all make sure your tickets haven't been caught in any spam filters. If you still can't locate the tickets then you can email [email protected].
Can I show my Park Güell ticket on my smart phone or tablet?
Yes.
I can't print my Park Güell ticket and I don't have a smart phone, what now?
Bring a piece of ID (and preferably your reservation #) to the ticket windows to be given your passes.
How long should I spend at Park Güell?
Including 30-45 minutes return travel time plus an hour each for the Monumental Zone and free zone I would leave 3.5 hours minimum.
Can I access Park Guell for free?
Up until 2019, Park Güell workers didn't arrive to set up ticket barriers at the Calle d'Olot entrance until about 7:45 am. That means it was possible to visit Park Guell for free at this time.
That said, in 2022 there is now a barrier – the Monumental Zone is free at this time only for residents who show ID.
If I haven't booked my Park Güell tickets online will I get in?
Yes and no. After waiting in potentially long lines you may be assigned a much later time slot or in busy cases be told to come back the next day.
Your best bet for tickets in this case is to buy your Park Guell entrance at the machines at Lesseps or Vallcarca metro stations. Here there are shorter lines and you won't risk walking uphill for nothing.
Is Park Guell OK for disabled visitors or those with limited mobility?
Disabled visitors may have problems navigating the Monumental Zone due to Park Güell's many steps and uneven paths. Any special access requirements should be sent to [email protected].
Visiting Park Guell?
Consider me your friend in Barcelona. That means you can ask me any question, no matter how ridiculous and I'm going to answer it in the comments below.
So whether it's Park Guell visit info or just a place to get a decently priced beer know I'm here for you.
Also don't be afraid to join the Park Guell discussion by first like the Barcelona Hacks Facebook Page and then joining my group I'm Off to Barcelona – here you can ask any questions, air out grievances, and chat with thousands of Barcelona travelers.