Palau Guell – Visit Gaudi's Unbelievable Urban Palace
In the heart of the city just steps from La Rambla you'll find Palau Guell Palace: it's straight out of a Gothic fairy tale (if those exist!) with its daring dark colours and rich wrought iron ornamentation.
Palau Guell is actually a mansion built for a textile tycoon and his 10 children.
What we today call Guell Palace (Palau Güell in Catalan) is one of Antoni Gaudi's first major works – and on holiday you can wallow in the wealth if you want.
In this article I've got all the Palau Guell information you'll ever need to visit – let's go!
Palau Guell General Information
The Vision of Palau Guell
The construction of Palau Güell was one of the first important projects undertaken by wonder-architect Antoni Gaudí at the tender age of just 34.
It was the great industrialist and politician Eusebi Güell who asked Gaudí to build this very peculiar urban palace as an expansion of his family home on Barcelona's main artery La Rambla.
The result was an innovative building constructed using noble materials (stone, wood, glass, and wrought iron) which was remarkable for its unique space and shape.
⚠️ 

Warning

⚠️

: Barcelona's top two attractions must now be booked in advance.
You can book fast track tickets to both individually or get them as part of a discount pass:
You will not be able to book these tickets on site – lock in your tickets ASAP or you could miss out.
It was almost immediately recognized in the world of architecture as perhaps the first application of Art Nouveau and modernism to domestic Barcelona architecture.
Palau Guell was built between 1886 and 1890. Despite being the work of a relative architectural "rookie" it already contains many of the elements that are found in subsequent Gaudi masterpieces like La Sagrada Familia and Casa Batllo.
Seeing it live will help you to better understand the personality of this genius, his vision, and his undisputed role as one of the world's greatest architects.
The building was declared a UNESCO World Heritage Site in 1984.
What is Palau Guell Used For?
Guell Palace functioned as the residence of Eusebi Güell and his wife Isabel and their 10 children.
They would later move permanently to the greener pastures of the legendary Park Güell, but let's say a few words of this influential landlord and his relationship with Gaudí.
Eusebi Guell was an entrepreneur, politician, ambassador of Catalan culture, and a great friend of Gaudi who allowed him to develop his talent. Between the two there was not only a client/architect relationship but a bond nourished by mutual admiration.
It is thanks to Güell that Gaudí had the opportunity to start his incredible professional career and utilize his talents in some of Barcelona's top attractions like the aforementioned Park Güell or the crypt of the church of Colonia Güell.
In short, Mr. Guell is largely responsible for the Barcelona we love today!
🧑‍🎨 Want more of Gaudi? Unlock his masterpieces with the top Gaudi tours in Barcelona.
What to See at Palau Guell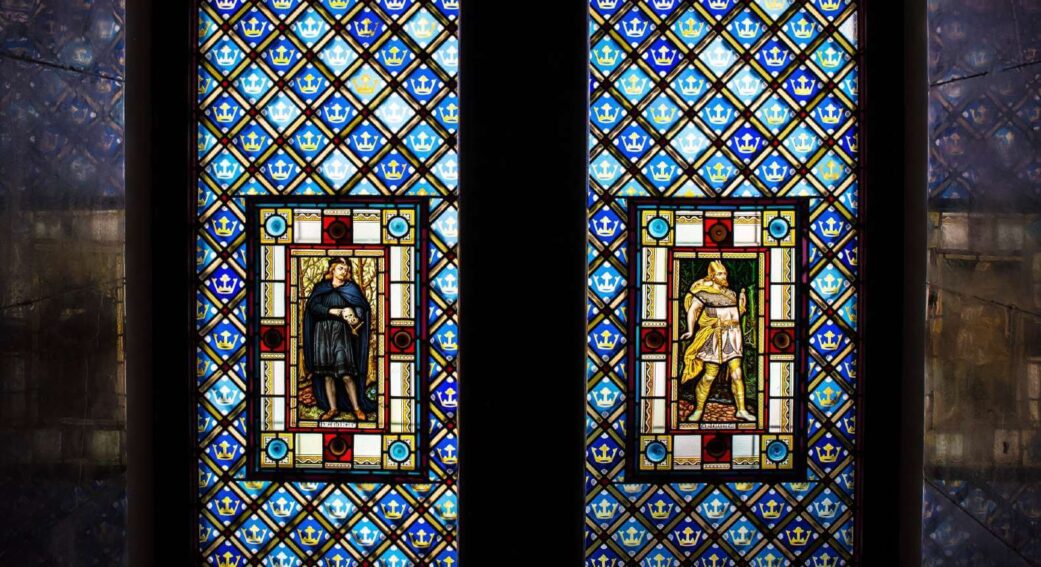 Palau Guell Exterior
If you get on Carrer Nou de la Rambla, a busy street that's perpendicular to the Rambla in the city's multi-ethnic Raval district, it's almost impossible to miss.
The austere and robust facade make for an imposing building defined in shades of dark gray and black. Just standing there reminded me a bit of the doom and gloom of a Tim Burton film. If you're visiting with kids don't be surprised if they ask if this is where the dragons live!
The two large wrought iron doors, window grilles, and the shield of Catalonia crowned by a phoenix form a trifecta of uneasiness.
The façade of Palau Güell is built entirely of limestone from nearby Garraf and is divided into three levels – among which the central one stands out for its emerging grandstands of the main floor.
It is said that Gaudí presented Güell with two proposals for the external part of the building, and the entrepreneur decided to choose the more modern version.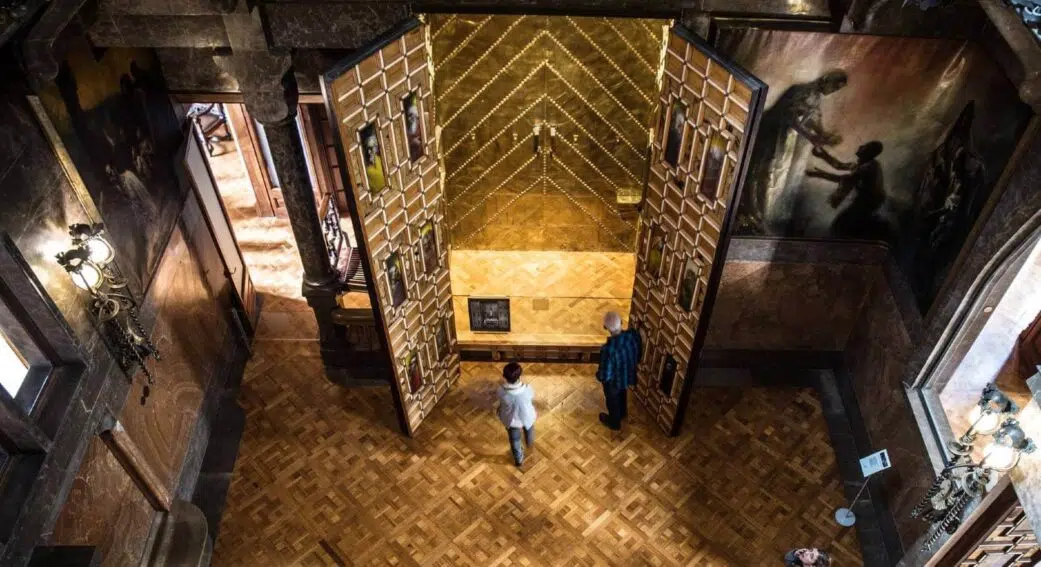 The Ground Floor and Cellars
Once inside you get your bearings visiting the coach house – with its mixed Renaissance and Oriental style.
From here you'll go down a very pronounced ramp to get to the cellars, where the one that attracts the most attention includes large columns with fungi-form (or mushroom-shaped!) cappings.
The cellars there were individual horse stalls, a type of mini old-school parking lot, and here you can still see 2 unicorn-shaped studs that were used to tie the animals. Here you also get a well, the cisterns, and the coachman's rooms.
The courtyard overlooked by the cellar was used for collecting water, and even here you can see two dog-shaped studs.
Going up the ramp of the courtyard you'll pass the entrance of the building which is dominated by two parabolic arches, an innovation introduced by Gaudí and later perfected in his masterpiece Casa Mila.
You also begin to notice the richness of the details here: Gaudi relied on a team of expert craftsmen employing traditional techniques to craft all elements of the building.
One of the most interesting elements is the wrought iron door of the finely forged entrance complex, which like many other points in the house allows those inside to discreetly observe the outside – but not vice versa.
The Mezzanine and Noble Floor
At the top of the massive regal staircase dominating the entrance you'll see a beautiful stained glass window representing the Catalan flag (la estelada) and it's here that you pass through to the mezzanine.
It's here you'll gain access to the upper floors with the family bedrooms.
On this intermediate level you'll also find the library and private studies of Mr. Güell, though today these portions of the house cannot be visited.
Going up another half-floor you find yourself in a corridor which is the entrance to the luxurious living rooms and central hall.
As you enter the "Hall of Lost Steps" you notice a very decorative room with coffered ceilings and columns grouped in blocks of three – creating a perspective game of expanding space.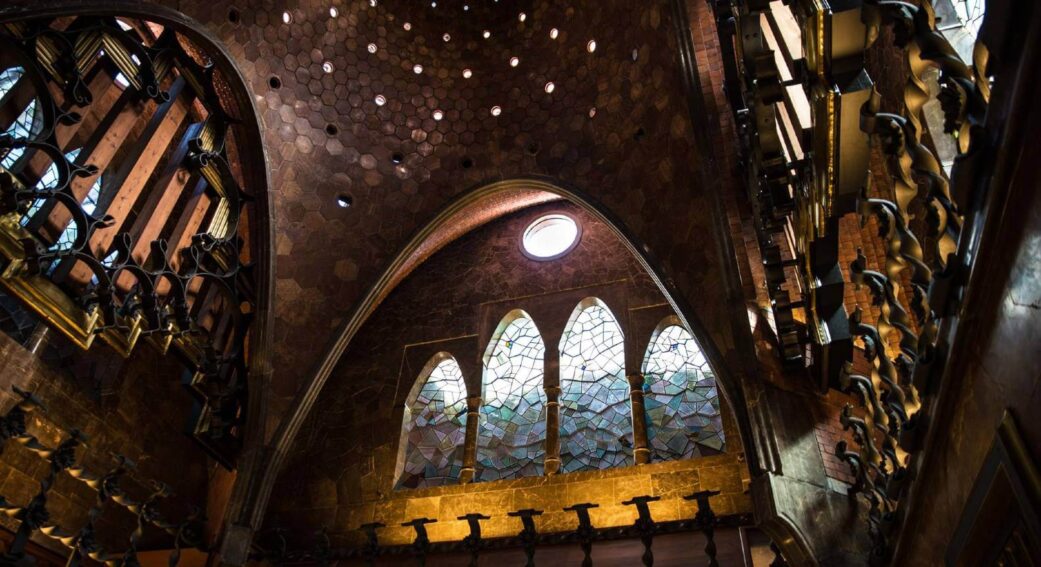 The nearby waiting room (where guests waited patiently before entering the salon) has a beautiful wooden ceiling with iron ornaments and gold leaves. It's clear that neither Gaudí nor Guell spared no expense in decorating the Guell Palace!
On the left side of the staircase is the main area utilized by the family, which is actually divided into 3 successive sub-rooms: the first is a living room with a piano, where Güell's daughters studied music and gave concerts.
You'll also notice a large window representing scenes of Catalan history;
The second is the smoking room with its winding, embedded bench and 10 windows with 'smart shutters' designed not to waste even a ray of light – all designed by Gaudí.
Finally there's the dining room furnished with an imposing table for 8, detailed vintage chairs, and an ornate wooden fireplace straight out of the Playboy Mansion – if it were 1886.
To get to the back terrace you'll walk down a corridor where Guell's sons proudly displayed their art on the walls. This passageway served to connect the building to the adjacent house on La Rambla.
From the terrace you can admire the back façade of Palau Guell: the lower part is covered with stunning blue-tinted azulejos (tin-glazed ceramic tiles) while the upper part has a balcony and a wooden pergola.
The most important part of the main floor is the Central Hall, covered by a beautiful, high parabolic dome made up of hexagonal fragments. In addition to aesthetics this guaranteed amazing acoustics for concerts and religious services.
In the living room behind the glowing gold doors you'll find a chapel. The impressive organ you will see is one of the highest in the world.
Going up the stairs at the front of the chapel is where you'll get to the grandstand once reserved for orchestra musicians, protected by an Arab-inspired wooden gate from which you can soak in the beautiful volume games of the central hall.
The Rooms
The bedroom floor was the private space of the Güell family. It's here that the master bedroom, the children's rooms, and the bathroom are located.
First up in your tour will be the kids' rooms and that of Eusebi's wife Isabel – with its columns adorned with wrought-iron arabesques, a fireplace, and a small platform for her to discreetly look down on the living room without being seen – a common theme!
This area was also once home to a famous chaise longue designed by Gaudí; unfortunately it is not in the house anymore, but you'll hear all about it in the audio guide!
Eusebi's room is similar to that of his wife with a little connecting door like in hotels – romantic, eh? Well maybe. The bathroom is covered in beautiful ceramics with geometric and plant motifs.
An interesting tidbit: they say that Guell's wife didn't take much of a liking to Palau Güell and that for that reason the family didn't stay long… maybe she found it all a bit too gloomy?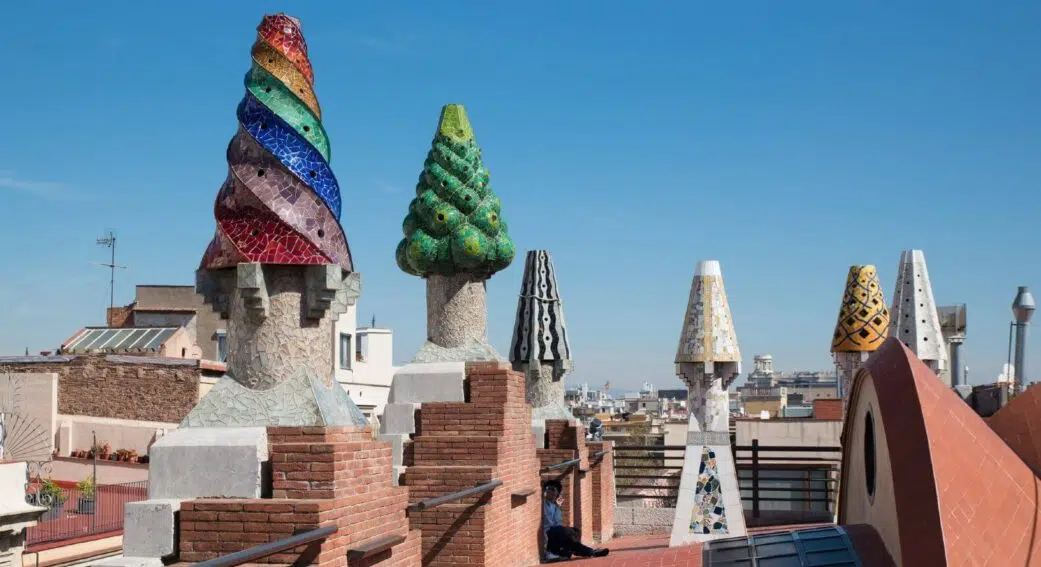 The Terrace/Balcony
The visit ends with an ascent to the attic where the service staff once slept.
From here you'll get to a terrific terrace, which like most of Gaudi's works, seems to be a portal between ours and some sort of fairy tale world.
What stands out are the chimneys. Their simplistic function in our world is given a magical makeover at Palau Guell by Gaudi's imagination – the polychrome sculptures take on the most bizarre shapes, with spikes to trees painted every colour of the rainbow.
On the Palau Guell roof there are 6 brick chimneys while on the lower level there are 14. All are covered in trencadis, the famous mosaic technique invented by Gaudí to cover structures with smashed up tiles or even teacups.
If this technique sounds familiar it's probably because you've already noticed it on the benches of Park Güell's majestic panorama or 'rooftop of guardians' at La Pedrera.
At the center of the terrace stands the 15-meter spire that covers the dome of the central hall, covered cleverly in sandstone which is a waste material that absorbs water.
Before leaving the building take a few minutes to take in the view over the rooftops of Barcelona which are dominated by the strange mushroom-like sculptures that came from Gaudí's genius mind.
Palau Guell Tickets
Where to Buy Palau Guell Tickets
You can buy your tickets for visiting Palau Guell either online or at ticket windows – prices don't change.
If you do however choose to buy your tickets online however this means you'll have skip the line tickets – never a disadvantage since lines can back up.
When you buy online you get tickets emailed to you and you simply present them there on a smart phone.
Palau Guell Ticket Prices
General admission: €12.00
Reduced ticket (students, 65+, large families and single parents, adult groups with guides and teachers, Ruta del Modernisme ticket holders): €9.00.
Mini (10-17): €5.00
Kids (0-9) and disabled visitors with more than 65% disability: free.
To visit Palau Guell free simply pass by on the first Sunday of the month, April 23rd, June 10th, September 11th, September 24th, or December 15th.
With admission you'll get an English audio guide at no extra cost. The guide lasts approximately 40 minutes and covers virtually every angle of the house.
You can also get a 25% discount on Palau Guell tickets if you buy the super-convenient Barcelona Card – the city's all encompassing transport and discount card.
Looking for a more in depth way to experience Palau Guell?
There are guided tours in English free of charge if you book a ticket for 10:30 am on a Saturday.
Palau Guell Hours
April 1st – October 31st: Tuesday to Sunday from 10:00 am to 8:00 pm.
November 1st – March 31st: Tuesday to Sunday from 10:00 am to 5:30 pm.
Non-holiday Mondays, Christmas, December 26th, New Year's Day, January 6th, and the third week of January: closed.
The ticket windows found next door are open until one hour before closing.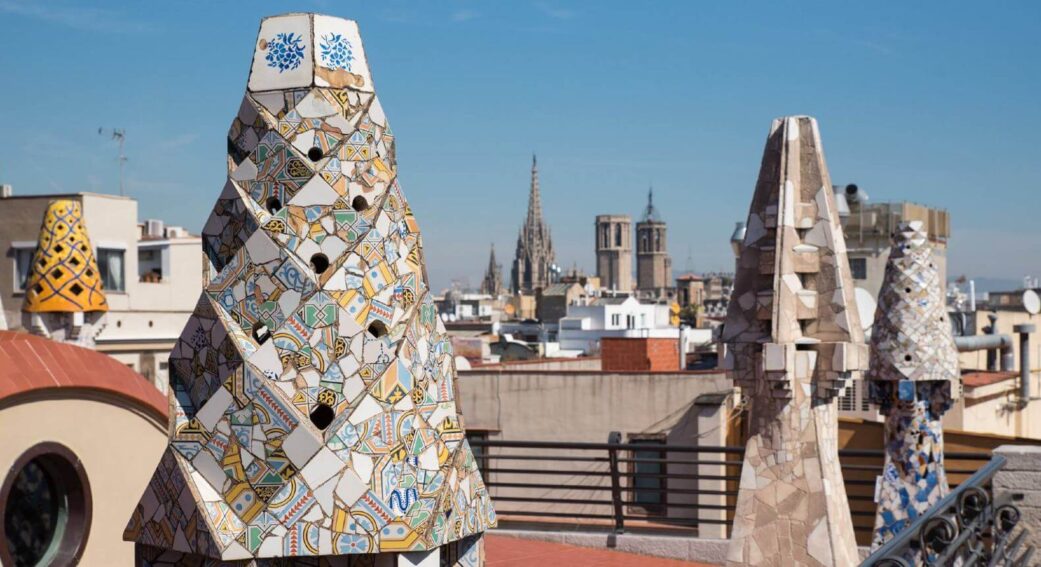 How to Get to Palau Guell
You'll find Palau Guell in the heart of the Raval district and just a short ways away from some of the city's morst important attractions: La Rambla, Plaça Catalunya, and the Gothic Quarter.
The address is Carrer Nou de la Rambla 3-5.
For Barcelona transport options you can get there using the green line (L3) of the Barcelona metro and getting off at Liceu. There are also various buses (14, 59, 91, and 120) that will get you there.
Of course, if you're feeling lazy you can always grab a taxi!
Looking to Visit Palau Guell?
Yes, I may have given you the straight goods here but there's always something I seem to have missed. What else do you need to know about Palau Guell or anything related to your Barcelona holiday?
Get at me in the comments below for custom advice!
Happy travels 🙂