Plan Mobile World Congress Barcelona 2023 like a Pro
Mobile World Congress Barcelona is the world's largest mobile industry exhibition and from a networking standpoint alone might be the highlight of your year.
But if you're one of the 110,000+ visitors penciled in for a visit you're likely asking yourself:
How do I get the most out of my visit?
That's where I come in with some great local tips to make this more than just a business trip abroad – but a memorable visit to one of the world's great cities! My city.
Let's go.
Where is Mobile World Congress?
Mobile World Congress Barcelona goes every year at the Fira Gran Via.
The address is Av. Joan Carles I 64 which is actually in a suburb called L'Hospitalet de Llobregat – Catalonia's second biggest city.
Secondary events are held in Barcelona at the Fira Montjuïc at Avinguda de la Reina Cristina. From the North entrance of the Fira Gran Via there is a shuttle heading to Fira Montjuic every 5-7 minutes.
Both locations find themselves sandwiched between the airport and the city centre (map below).
Mobile World Congress 2023 Dates + Hours
Mobile World Congress typically runs the last week of February.
The 2023 version runs from Monday, February 27th to Thursday, March 2nd 2023.
The conference runs daily from 9:00 am to 7:00 pm.
What to See at Mobile World Congress
Exhibits
On site you'll find hundreds of stands set up by virtually every mobile company known.
Popular exhibits showcase all sorts of products like 5G technology, artificial intelligence, gaming, education, finance, health/fitness, media/content, surveillance and more.
More than 30 countries and their technology are represented making this a truly global event.
For a full list of participants click here.
GSMA Innovation City
This immersive showcase of the latest technology has been called a 'connected dreamworld'.
Expect some pretty mind blowing demonstrations from heavy hitters like Google, Huawei, KT and more. In 2023 the themes will be big data and artificial intelligence and the future of entertainment, transportation, and the web.
Last year over 36,000 of the delegates attended.
It all goes down in Hall 4.
Digital Planet
Big into app, ad technology, e-commerce, analytics and marketing?
Here's your spot.
This networking area (previously called App Planet) features over 200 organizations that provide solutions and are directing the future course of these sectors.
In 2023 it goes down in Hall 8.1.
Mobile World Congress Tickets
There are five different MWC attendee tickets depending on your needs.
Exhibition: €799.00 (basic access to 2400 exhibits)
Leaders' Pass: €2196.00 (basic + topic-specific networking and exhibits)
VIP Pass: €4499.00 (basic + 250 conferences + exclusive networking)
This is a very basic breakdown of the tickets but more info can be found clicking the link below.
Tickets are best booked in advance online using your Linkedin profile.
Cash payments are not accepted onsite.
Interested in attending as an exhibitor? You'll need to register here.
MWC Badge Collection
Once you've booked your Mobile World Congress tickets you'll get a QR code sent in a confirmation email that will be used to pick up your badge.
The QR code must be presented with valid photo ID to be issued a badge.
You can pick up the badge at all arrivals terminals (1, 2B, 2C), at Sants Estacio, Passeig de Gracia, or the Renaissance Barcelona Hotel.
Mobile World Congress Hotels
The following hotels are not only the top hotels in Catalonia – but they all offer a free shuttle to MWC which makes your experience all the more easy.
EUROSTARS GRAND MARINA GL
Area: Poble Sec | Moll de Barcelona s/n | Metro: Drassanes (L3)
The great thing about this hotel is that it's as convenient as it is luxurious.
It also has a convenient shuttle to get you directly to the Fira.
This truly unique glass and marble building takes the form of a transatlantic liner and blends in with the surrounding cruise port. It was designed by the same architect who did the pyramid entrance to Paris' famous Louvre Museum.
The many terraces overlooking the Mediterranean are a highlight.
Hesperia Fira Suites
Area: Hospitalet | Av. Mare de Déu de Bellvitge 3 | Metro: Hospital Bellvitge (L1)
Looking for a top hotel for MWC Barcelona 2023 right near the venue? Here it is.
At just a few hundred meters away in Hospitalet, you'll benefit from the ability to walk in just a few minutes – or take the free shuttle.
These luxury apartments are designed not just for tourists but specifically for people on business. It's quiet and the WiFi is rated among the city's best.
You'll also get more space for your buck here compared to Barcelona hotels.
HOTEL ARTS BARCELONA
Area: Port Olimpic | Carrer de la Marina 19-21 | Metro: Ciutadella-Vila Olimpica (L4)
This Bang & Olufsen outfitted hotel is all about panoramic sea views, contemporary art collections, and its 2 Michelin starred Mediterranean restaurant Enoteca.
Guests have raved about its superior multilingual service, hydro massage showers, and luxury fashion boutique shopping options.
You'll be 100 meters from the golden sand beach with access to Barcelona's famous Port Olimpic and its plethora of quality seafood restaurants, the world famous Casino Barcelona, and bumping beachside nightclubs.
Where to Eat During Mobile World Congress
If you're looking for places to eat during Mobile World Congress here's some advice:
Try as many local dishes as possible
Stay away from the fairgrounds except for quick eats (overpriced, low quality)
Plan on eating after in top Barcelona restaurants
Make sure you reserve tables in advance (MWC is a mini high season)
Here's some of my top restaurants to try:
Louro
€€€ | Area: La Rambla | Carrer del Caputxins 37 | Metro: Liceu (L3)
The only restaurant I'd recommend on the famous La Rambla – but that's not to say this is a big fish in a small pond. It's one of my favourite modern Spanish restaurants in the whole city.
Here the seafood-rich Galician fare gets a creative/avant-guard twist with the added bonus of some of the most concise and friendly service in the business.
I recommend the smoked sardines, crunchy octopus, or Galician beef filet, and a highly underrated calamari sandwich.
This place is always PACKED so I've set up a quick reservation system directly with the restaurant (no money down but reservation priority) by clicking the blue button below.
Booking via Barcelona Hacks also gets you a complimentary glass of cava per diner.
Season
€€-€€€ | Area: Eixample | Carrer d'Aribau 125 | Metro: Diagonal
This delicious gourmet tapas restaurant famous for 'new classics' is for readers who want a balance of Spanish tradition and contemporary style.
The fresh, natural, and seasonal menu tailored to wine lovers bills itself as Mediterranean food with an international touch… or as they call it: Barcelona food!
I particularly enjoyed the seafood paella and the Catalan cured meat platter – there are also great vegan options and the original cocktails are out of this world.
I was so impressed I've even set up my own reservation system with Season where my readers will get €7.00 off a gourmet tapas tasting menu by clicking the button below:
Not looking for the full tasting menu? Book a table and order à la carte using the button below:
Manorota
€€€ | Area: Poble Sec | Carrer Creu dels Molers 4 | Metro: Poble Sec (L3) | Website
They've begged me not to label them as they consider themselves an atypical gourmet restaurant – not that that's a bad thing.
Let's call it affordable fine dining because the price-quality ratio here is high.
Here you'll get fusion Spanish tapas that pay homage to local Catalan dishes with Peruvian and Japanese twists. Go for the tapas tasting menus to see how far they're pushing it, and you'll be rewarded with a two hour treat for the senses!
Going a la carte? Hit up the lobster ramen or the yellow curried lamb.
It's also in the part of Barcelona closest to the fairgrounds if your stomach is really rumbling.
This & That Co.
€€-€€€ | Area: Hospitalet | Calle Amadeu Torner 41 | Metro: Europa Fira (L9S) | Website
OK, so I've caved and found a restaurant right near MWC Barcelona. If you absolutely need to get a bite during the festivities this is it – This and That.
Here we're talking about traditional neighbourhood food with a haute twist. The artisan tapas here have distinct South American, French, and Asian flavours.
I recommend the octopus with kimchi, blooming onion with curry and truffle mayonnaise, or the classic patatas bravas.
If you're looking to take the edge off after the fair there are also some amazing cocktails.
What to See in Barcelona
I strongly suggest turning your MWC Barcelona 2023 visit into a tourism opportunity in Barcelona – you should schedule as many of the city's top things to do as possible.
The best case scenario would involve spending the whole weekend after (Feb 28-Mar 2) to get my three day Barcelona itinerary done.
Don't have that much time?
Here are a few options to fit in with your Mobile World Congress schedule: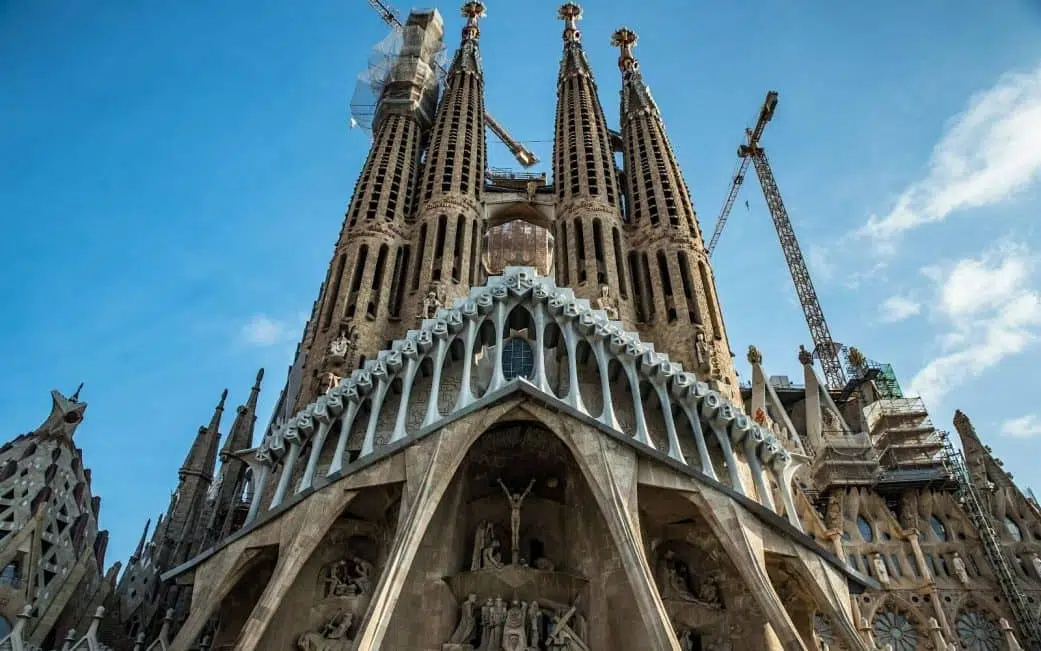 Sagrada Familia
If you're looking for an escape in the middle of the afternoon here's the one for you.
Grab a guided tour at Gaudi's legendary Sagrada Familia church – the #1 rated tourist attraction in all of Europe!
I'm not one for churches but this is by far the most spectacular one I've ever seen, Vatican included.
Guided tours run daily at 9:30 am and 3:30 pm.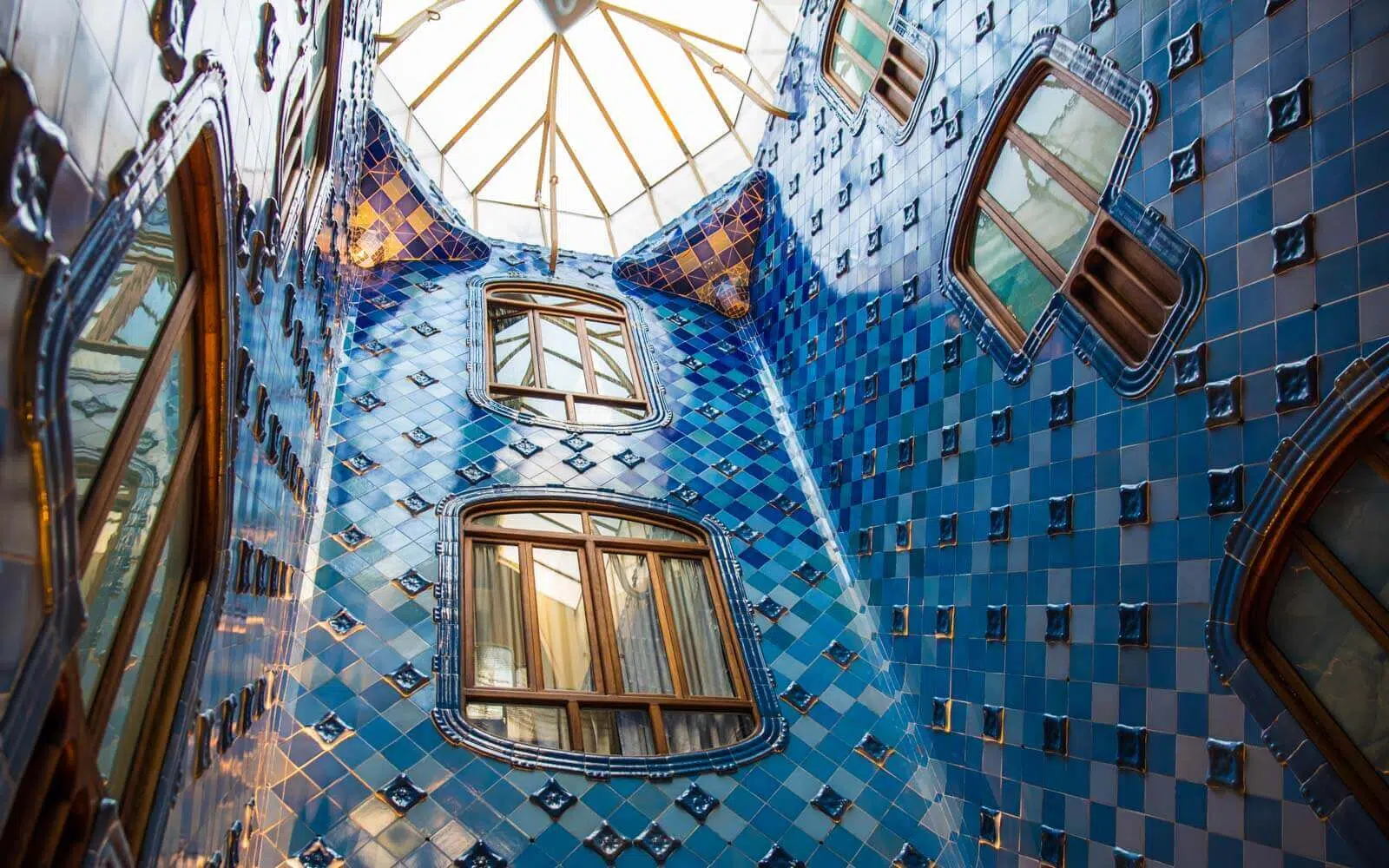 Casa Batllo
Few of Barcelona's main attractions will stay open late enough for a post-fair visit but if you get off a few minutes early you'll get the last tour crack at this surrealist mansion.
Casa Batllo stays open until 8:00 pm so schedule yourself in one of the late slots and let Antoni Gaudi make an architecture lover out of you.
The augmented reality video guide might be the best perk of any ticket in the city.
La Pedrera Night Experience
If you're out at night after the conference, why not get an impressive audiovisual display projected on the walls of one of the world's most spectacular roof terraces?
This particular Gaudi mansion is more wobbling jell-o than building and its garden of warriors chimney ensemble is one of the most photographed things in the city.
You'll benefit with smaller crowds, a tour guide, and even some quality wine by visiting at night.
How to Get to the Fira Gran Via
Public Transport
The cheapest way to get around the city will be with your free transport pass (unlimited metro and train) included with your MWC badge.
You can pick this up at El Prat airport.
The exhibition centre is served by Europa Fira station.
To get to this station from most locations in Barcelona you'll need to:
Take train R5 or R6 from Plaça Espanya (central Barcelona).
Take the metro (L5) to Collblanc station then grab the L9S to Europa Fira
Take metro line L10S
Taxi
If you're taking a taxi to Mobile World Congress there are two taxi stands at the Fira Gran Via.
The taxi stands operate over the following times:
Sunday: 5:00 pm to 9:00 pm
Monday to Wednesday: 8:00 am to 10:00 pm
Thursday: 8:00 am to 6:00 pm
Uber and other ridesharing apps do not operate in Barcelona but your next best bet is using the FreeNow app to book the city's yellow and black cabs.
You'll get a €5.00 discount on your first ride using the code 'ashley.pil' clicking the buttons below:
Shuttle Buses
Some hotels offer complimentary shuttle buses for Mobile World Congress Barcelona that bring you to the North Entrance at the Fira.
There are multiple routes running from late January.
Times are TBA but please check the shuttle route list closer to the congress for relevant info.
Car
If you're renting a car and need parking there are two main underground parking sites:
There's also the option of using convenient online parking app Parclick.
With the app you can select from hundreds of parking lots at discounted rates. You'll also be able to set up a multi-park package giving you multiple spots in the city for around €12.50.
For more information click the blue button below:
Mobile World Congress Barcelona FAQ
What is Mobile World Congress?
Mobile World Congress (GSMA MWC) is the world's biggest mobile industry conference featuring the mobile operators, manufacturers, vendors, and owners from all over the globe.
Where is Mobile World Congress?
Mobile World Congress takes place every year in Barcelona and the 2023 version runs February 27th to March 2nd.
Why attend Mobile World Congress?
Because you get an insider's look at the current global mobile marketplace as well as future trends while establishing a second to none network of industry professionals from over 30 countries.
Who attends Mobile World Congress?
Over 120,000 attendees from over 200 countries attend the Mobile World Congress every year and the number is still growing.
What is the Mobile World Congress venue?
It is held every year at the Fira Gran Via in Barcelona Spain. The address is Av. Joan Carles I, 64, 08908 L'Hospitalet de Llobregat, Barcelona.
How much does Mobile World Congress cost?
Tickets for Mobile World Congress start at €799.00 euros for the basic exhibition ticket. Prices increase up to €4999.00 for the platinum ticket depending on VIP options selected.
Need More Info on How to Visit Mobile World Congress?
I've banged out a pretty big post on Mobile World Congress Barcelona 2023 but maybe I missed something?
If you've got any questions about this or your Barcelona holiday please get at me in the comments below.
And don't be afraid to join the Mobile World Congress discussion by first giving me a like on Facebook and then joining my group I'm Off to Barcelona – here you can ask any questions, air out grievances, and chat with thousands of Barcelona travelers.
Until next time 🙂