Magic Fountain Barcelona Times + Essential Visitor Info
The Barcelona Magic Fountain (aka La Font Màgica) is one of the city's tourist automatics – and it's got a great price.
I mean, how many spectacular attractions like this are actually free? I would guess not many.
This hyrdo-musical display is the perfect way to cap off a day of sightseeing.
Let's figure out how to visit the Magic Fountain in Barcelona properly.
Visit the Magic Fountain as part of a greater BCN holiday? Check out the best tourist discount cards before you come: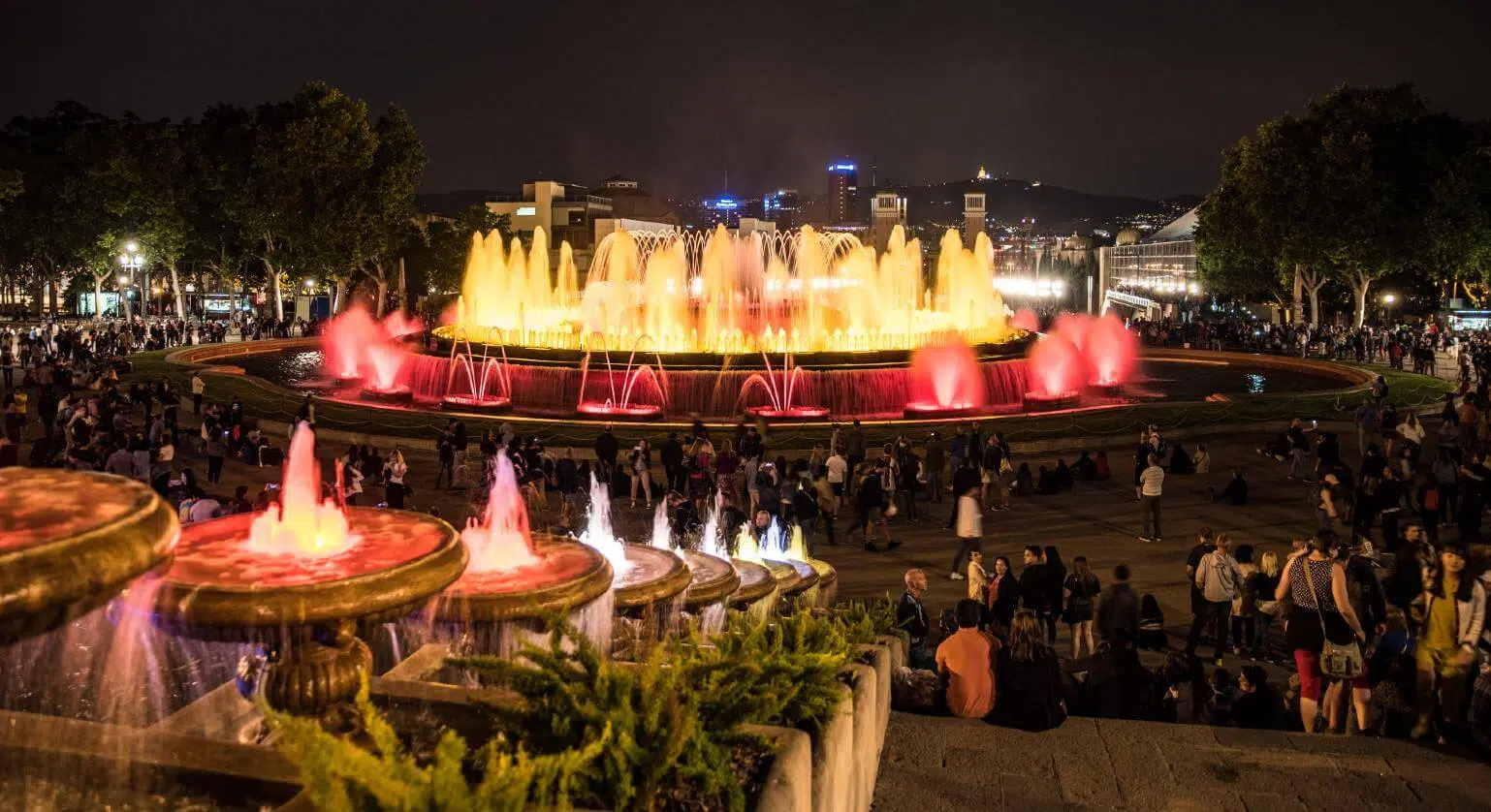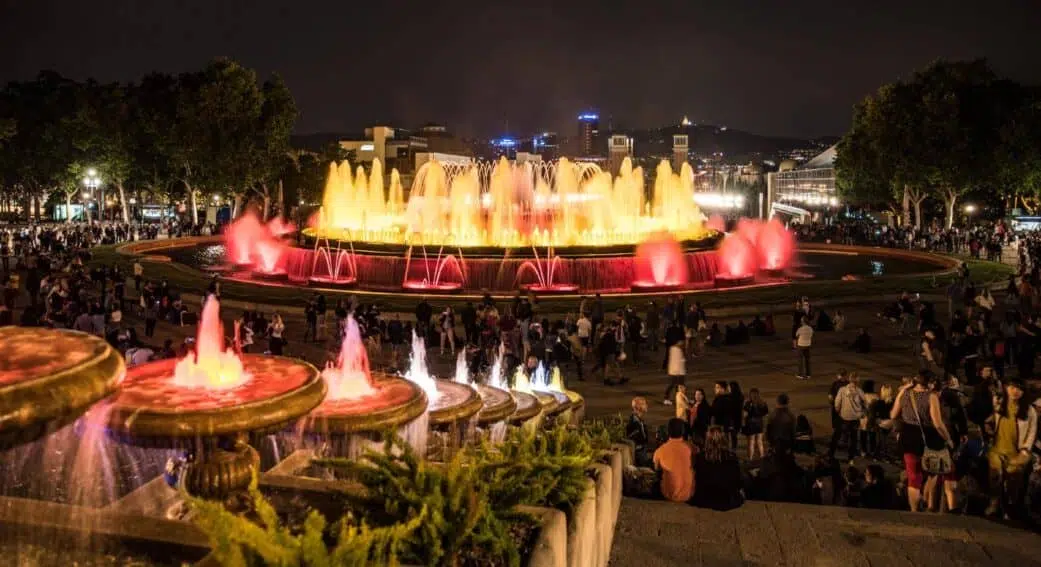 Barcelona Magic Fountain Emergency Draught Measures
From the 1st of January onward, the Magic Fountain show will be suspended as an emergency measure to save water and cope with a local drought.
But do not despair! While the situation will hopefully change, I leave you some alternatives to enjoy the evening entertainment in Barcelona:
The Magic Fountain Barcelona
The colossal Magic Fountain of Montjuïc operates on 3620 water jets circulating 2600 liters of water every second.
Then throw in 4760 lights and a max water spout of 52 meters and you've got a real show on your hands!
⚠️ 

Warning

⚠️

: Barcelona's top two attractions must now be booked in advance.
You can book fast track tickets to both individually or get them as part of a discount pass:
You will not be able to book these tickets on site – lock in your tickets ASAP or you could miss out.
It's one of our best things to do in Barcelona – this light show of dancing fountains will leave you speechless, and maybe even a bit wet.
The 7 billion light and water combinations push and pull in the night. The spurting colour is perfectly choreographed to classical or contemporary music making this hyrdomusical a can't-miss.
Music selections include 1980's mix, cartoon soundtracks, Spanish classical, swing, current hits and more. If you're looking for a specific type of music check out the choreography schedules.
In all the show lasts about 20 minutes.
Magic Fountain of Montjuïc Tickets
You'll be happy to know that the fountain show in Barcelona is completely free.
In other words, if somebody tries to sell you fountain show tickets – they're a scammer!
Simply show up as early as you can and you'll get a spot – no need to do anything else.
Magic Fountain Barcelona Times
Update (07-19-23): Is the Magic Fountain in Barcelona closed? Yes, unfortunately.
In an effort to save water the Magic Fountain has been temporarily closed by the city of Barcelona. No word on any re-opening yet, but I'll have this updated as soon as I know.
From 2016 onward the city has cut show times with the goal of saving 10% on energy. This means the Wednesday to Sunday schedule has been bumped to start in June instead of March.
Here is the Magic Fountain timetable:
Ornamental only (no music and lights): Tuesday, Wednesday, Thursday, Friday, Saturday from 11:00 am to 1:00 pm and 4:00 pm to 6:00 pm. Sunday from 11:00 am to 5:00 pm.
Fountain Show with Music and Lights: June to September (Wednesday, Thursday, Friday, Saturday) from 9:30 pm to 10:30 pm. October 1st to 10th (Thursday, Friday, Saturday) from 9:00 pm to 10:00 pm. December 22nd to March 31st 2023 (Thursday, Friday, Saturday) from 8:00 pm to 9:00 pm
The Magic Fountain is closed between October 11 to Dec 21 for maintenance.
The Magic Fountain show lasts about 20 minutes and begin at 30 minute intervals, that means there are about ten minutes between show times to get into position – so get there early, wait for people to leave, and pounce!
Check out the official city website for all Barcelona Magic Fountain times.
🚌 Heading to the Montjuic Fountain show? Make sure you know how to get around Barcelona on public transport.
Best Place to Watch the Barcelona Magic Fountain
To get the best view of the Barcelona Magic Fountain show make sure you arrive early.
A good way to ensure the best view is taking in the first fountain show.
Get there an hour in advance and relax with some beers and snacks from a nearby shop and wait it out. You'll have your pick.
In general the best place to sit is on the steps leading up to the MNAC museum behind (check out the pic above).
Another great spot for the dancing fountains is the pedestrian bridge on the Plaza de España side.
If you're willing to spend a bit of money on your Barcelona itinerary you could also grab a drink on the 8th floor terrace of Catalonia Barcelona Plaza.
Just make sure you've got a zoom lens to see the Font Magica 😉
Tip: if you're close up, gauge the wind before the fountain show because if not you might get soaked!
How to Get to the Magic Fountain Barcelona
La Fuente Magica is found in Plaza Carles Buigas at the end of Avenida Reina Maria Cristina.
The address is Pl. Carles Buïgas, 1.
Simply arrive at Plaça d'Espanya (metro station Espanya, red line L1 or green line L3) and then follow the crowd toward the palace.
The Barcelona fountain show is just beyond the two imposing Venetian towers, you can't miss it.
To get to the Magic Fountain of Montjuïc using the Bus Turistic there are a few stops in the area including Plaça d'Espanya, MNAC, and CaixaForum – Pavelló Mies van der Rohe.
For Bus Turistic users I recommend using Plaça d'Espanya to arrive to the fountain and taking the MNAC stop on the way back. It'll let you explore two different areas with minimum uphill walking.
Buses serving the area are: 13, 23, 37, 150, H12, and H16.
The FGC stop for the Magic Fountains Barcelona is Plaça d'Espanya.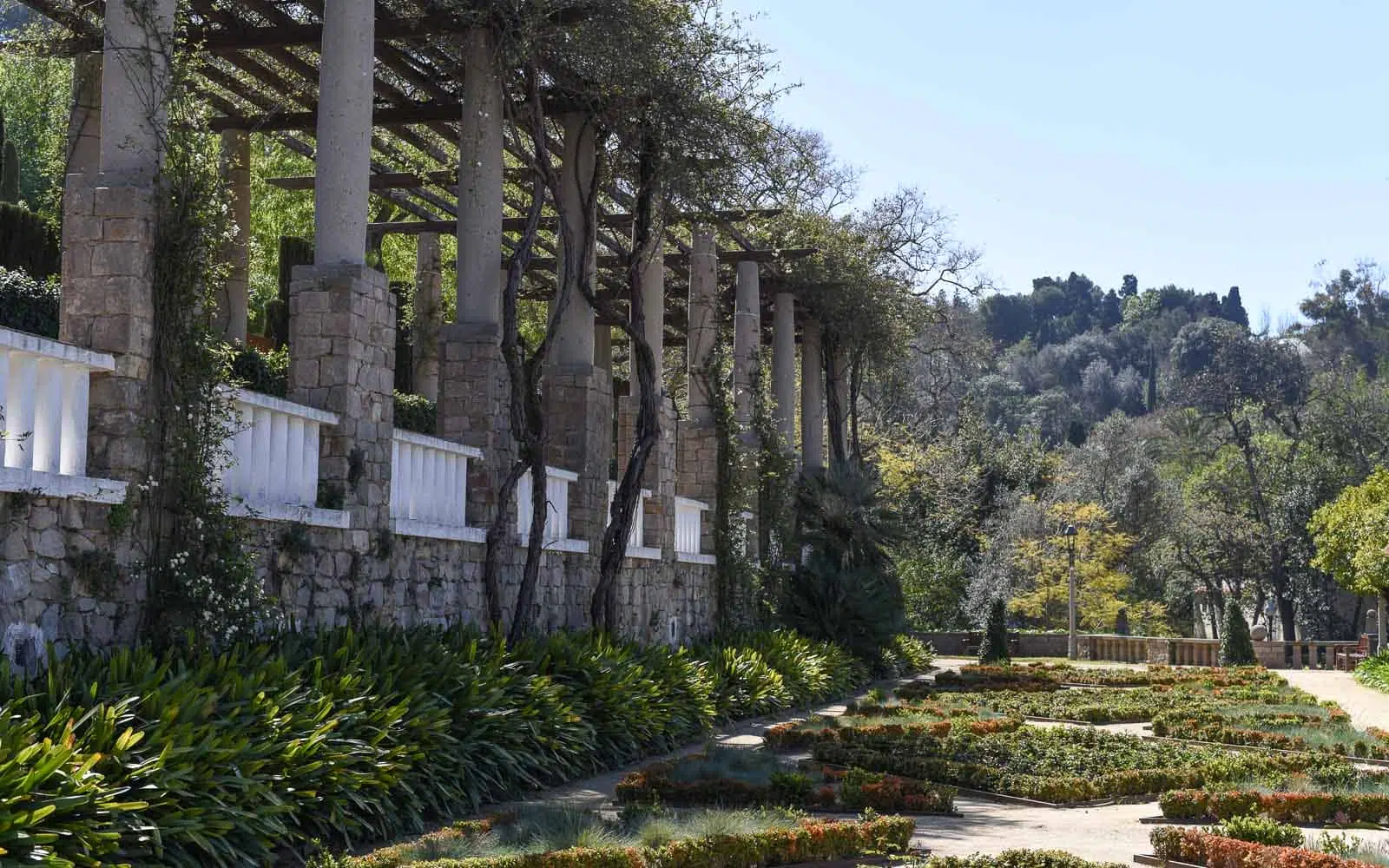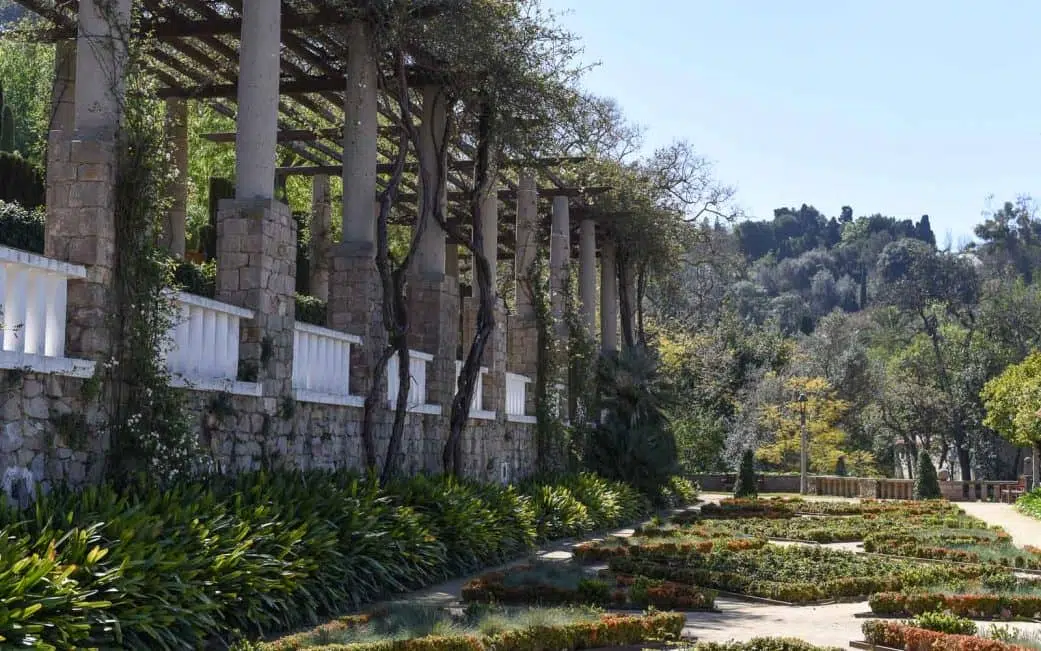 Things to Do Near the Magic Fountain
The areas surrounding the Magic Fountain are worth a great deal of exploring.
In Plaza de España we see one of Europe's best squares with a huge fountain, two 47 m tall Venetian towers, and an ex-bullfighting ring with an incredible panoramic view that's now one of Barcelona's top shopping malls.
I suggest walking into the shopping centre (called Las Arenas, you can't miss it) through the main entrance and taking the escalators up to the top for an amazing view and maybe a beer. Do not pay for the elevator.
On nearby Montjuïc Hill you also have the city's most beautiful public gardens, some super-interesting military fortifications, and the legendary open-air architecture museum Poble Espanyol.
Related: How Many Days Should I Stay in Barcelona?
Where to Eat Near the Magic Fountain in Barcelona
Since the Barcelona fountain show is late, it's only natural to go for dinner or drinks at Barcelona's best bars after.
From the Magic Fountain it's about a 15 minute walk down into the neighbourhood of Poble Sec to find the famous Calle Blai – home to a ton of one euro beer and pintxo bars.
For the highest quality food I recommend La Tasqueta de Blai at Carrer de Blai 17.
If you're a fish lover, just 5 minutes from the Magic Fountain is Pulperia A'Gudina (Carrer d'Entença 2) – a historic Barcelona restaurant that mainly serves fish tapas, typical Galician dishes, and Iberian sausage.
As the name of the restaurant says, they are famous for pulpo a la gallega, a traditional dish with octopus, olive oil, rock salt, and paprika.
Another place to eat near the Barcelona Magic Fountain is the high quality hamburgeseria called Ruar Street Food Barcelona (Av del Paral-lel, 172). Expect all your favourite sandwiches and burgers here in gourmet mode.
In the mood for Japanese? Then look no further than Restaurante Dumplings at Carrer del Príncep Jordi 6. It's one of the best sushi spots in town. Don't be put off by the simple decor – this restaurant packs a punch.
Magic Fountain of Montjuïc History
The Fuente Mágica de Montjuic (Magic Fountain of Montjuïc) was envisioned by Carles Buigas for the 1929 World's Fair as a replacement for the Four Columns Monument – a monument destroyed by Dictator Miguel Primo de Rivera in 1928 as an affront to Catalan nationalism.
With only a year to go before the fair many deemed Buigas' plans too ambitious.
Cue 3000 workers.
The fountain was completed in record time and the first show went down on May 29, 1929.
Barcelona's famous fountain continued shows well into the 1930's until it was badly damaged during the Spanish Civil War. It remained out of operation until 1955 with Buigas overseeing the repairs.
The music/light choreography that we see today wasn't added until the 1980's. It wasn't until the 1992 Summer Olympic Games that the Barcelona Magic Fountain was completely restored.
Today more than 2.5 million visitors take in the shows at the Font Magica every year.
Visiting the Barcelona Magic Fountain Hacks
Take the escalators behind the fountain up to a great panoramic view area of the city.
Earlier Montjuic fountain show times generally have smaller crowds.
If you're taking the Barcelona metro leave a few minutes early to avoid a huge rush of people.
Double check the times before going to ensure not missing your show.
Again, get there 30-60 minutes before desired show times to get the best spots.
Take something to sit on – the concrete at the Barcelona Fountain Show isn't so forgiving!
There are 8 public toilets in a small building near the fountain (tip the woman).
Travel lightly and keep bags at front because the crowds attract Barcelona pickpockets.
Barcelona Magic Fountain FAQ
Is the Magic Fountain Barcelona free?
Yes, the Magic Fountain is free to visit and there should be no charges for any of the seats – regardless of what some shameless scammers may tell you.
Where is the Magic Fountain in Barcelona located?
You'll find the Magic Fountain in the Poble Sec area of Barcelona, about a 5 minute walk from Placa de Espanya. The closest metro station is Espanya (green and red lines).
When does the Magic Fountain show start?
The Magic Fountain show times depend on the season, however in general you can expect the shows to start at 8:00 pm in low season/winter in Barcelona and 9:00 pm in high season/summer. Always check the schedule in advance though.
Is the Magic Fountain in Barcelona closed?
Yes, unfortunately at the moment due to drought conditions in the area the city of Barcelona has decided to suspend operations for the time being. Please check back here periodically for updates.
How long is the Magic Fountain show in Barcelona?
Each Magic Fountain show lasts approximately 20 minutes. There is then a ten minute break before the show starts again, so this is a valuable time to move in and claim a spot for the next one.
Is the Magic Fountain open on holidays?
Yes, the Barcelona Magic Fountain runs as usual on holidays.
Visiting the Magic Fountain in Barcelona?
OK, now you're an expert on the Barcelona Magic Fountain show.
If I've left anything out be sure to ask me about it or anything else related to your Barcelona holiday in the comments below – and any comments you have to make this resource better would be greatly appreciated!
And don't be afraid to join the Magic Fountain discussion by first giving me a like on the Barcelona Hacks Facebook page and then joining my group I'm Off to Barcelona –
Here you can ask any questions, air out grievances, and chat with thousands of Barcelona travelers.
Enjoy the Magic Fountain ⛲