Authentic Local Restaurants Near Sagrada Familia
Trying authentic local restaurants near Sagrada Familia is the perfect opportunity to immerse yourself in Spanish culture and cuisine by trying some of its most popular dishes.
If you're visiting we highly recommend trying at least one of these historic local Catalan restaurants while in Barcelona.
Here are our top suggestions for locations to sample the local Spanish cuisine:
El Celler del Vermut: This is easily one of the most authentic restaurants in the area, and a spot I frequent often. They offer plenty of great tapas such as croquetas, patatas bravas, tortillas, Cantabrian anchoas, cheeses and Serrano ham. But when I come here I always go for the Galician pulpo (octopus), accompanied by the owner's suggestion: vermouth. The restaurant is located 400 meters from the Sagrada Familia, at Carrer de Lepant 239.
Restaurante La Llesca: A local restaurant that offers traditional Spanish cuisine in all its rustic glory. While they specialize in meat, La Llesca also serves a variety of tapas, Spanish sausages, and paella. For lunch, they offer a set menu with appetizer, main course and dessert for € 17.50. It is located in Avinguda Gaudì 12, a stone's throw from the Sagrada Familia.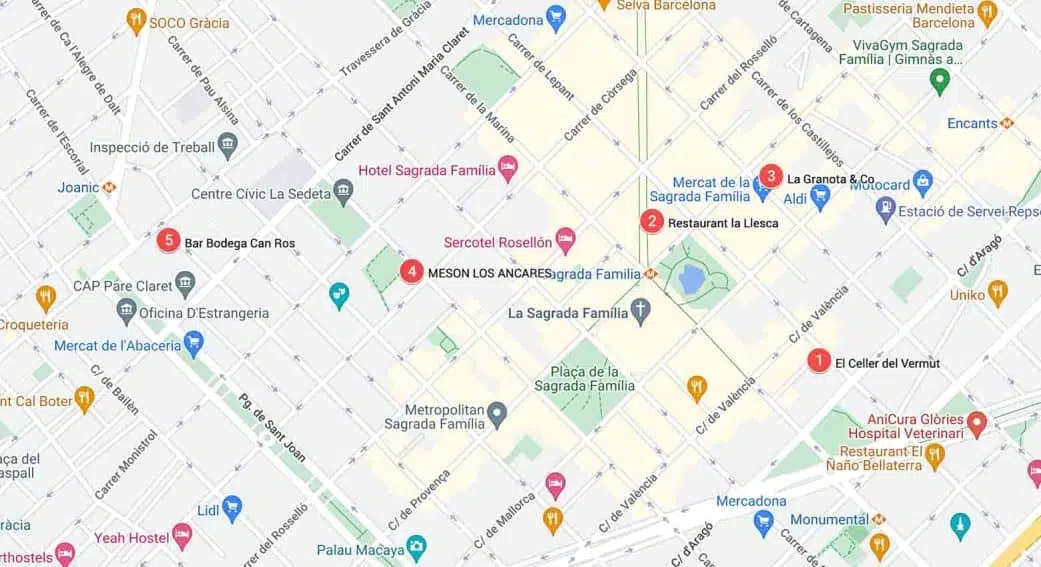 La Granota & Co: For over 20 years this simple and spacious historic restaurant has been offering its take on traditional Spanish cuisine. You'll find several different types of tortilla, the most popular tapas, croquetas and other typical dishes. In addition, for lunch their € 11.90 set menu includes an appetizer, entrée and a drink. The restaurant is located at Carrer de Padilla 250, about a 5 minute walk from Sagrada.
💸 Related: Are There Sagrada Familia Discounts?
Meson Los Ancares: A typical Catalan restaurant that locals would call "de toda la vida", something akin to "can't miss local joint" in English. They offer homemade cuisine with simple dishes and a great value €12.00 set lunch menu that includes appetizer, entrée, dessert and a drink. The Meson Los Ancares is located at Carrer de Sicilia 285, 6 minutes from the Sagrada.
Bodega Can Ros Bar: Located 15 minutes from the Sagrada Familia and characterized by that authentic Catalan bar/restaurant atmosphere – with simple cuisine and classic flavors. At lunch they offer a set menu for € 11.40 which includes two courses and a dessert. If you're in a hurry they also make excellent bocadillos that you can grab to go. The Bodega Can Ros Bar is located at Carrer Roger de Flor 303.
Finally, one thing if you're visiting Sagrada Familia:
Post-COVID it's now mandatory to book your tickets in advance. The days of lines at ticket windows (they were long and hot anyway) are gone – so make sure you book your time slots using the pink button below:
OK. So, this is our list of best local restaurants near Sagrada Familia – if you're still looking for something a bit more specific don't be afraid to write me in the comments below! I respond to everything 🙂