Epic Eating at La Boqueria Food Market on La Rambla Barcelona
The great foodie pilgrimage that Barcelona has laid at our feet with La Boqueria Market (El Mercat de la Boqueria) must not only been seen – it must be consumed.
The only problem is it's a bit of a jerk – and it wants your money.
Let's find out where to eat at La Boqueria with our wallets somewhat intact, shall we?.
Here's my La Boqueria Market La Rambla guide.
La Boqueria Market Barcelona Info
Barcelona's biggest food market with 40,000 visitors a day.
Dates back to a 1217 meat market at the same location.
Named after boc ('goat' in Catalan) meaning 'place where goat is sold'.
Voted best food market in the world by CNN.
Home to a huge range of food products, handicrafts, and farmer's shops.
Most stalls owned by fourth and fifth generation heirs.
Popular for seafood tapas, ham, and fresh fruit smoothies.
Best La Boqueria Restaurants
La Boqueria Market is one of the best things to do in Barcelona, known for oodles of high quality Catalan cuisine.
Keep in mind however that these aren't typical restaurants. They're tiny Barcelona bars to be sat at for snacks and space is extremely limited.
For this reason your best bet is to go early as possible as it's one of the best breakfast places in Barcelona.
⚠️ 

Warning

⚠️

: Barcelona's top two attractions must now be booked in advance.
You can book fast track tickets to both individually or get them as part of a discount pass:
You will not be able to book these tickets on site – lock in your tickets ASAP or you could miss out.
Unlike most other Barcelona itinerary stalwarts, here there are no reservations.
If you want to sit down there's some skill to it. You'll need to lurk around people who look about to finish eating then pounce on the chairs when they pay.
Expect to wait about 25-30 minutes.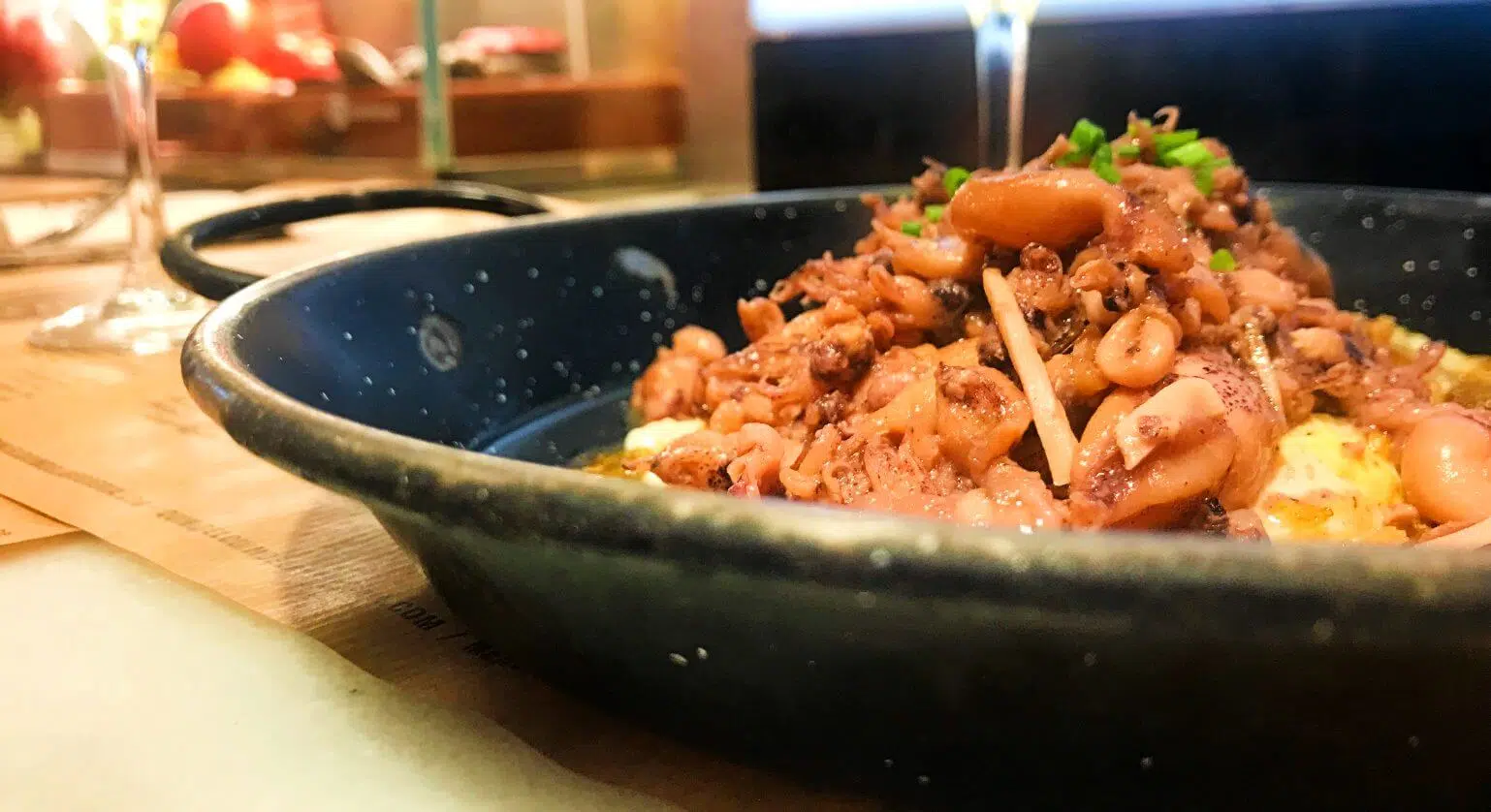 El Quim de La Boqueria
At market stall 582 you look up and see the yellow metal sheeting and the distinctive 'egg Q' logo.
El Quim de La Boqueria started as a tiny 5 stool bar in 1987. It's now a 16 meter counter that's plugged with people from dusk till dawn. Most of the traditional Spanish dishes here work for breakfast, lunch, or dinner.
The house specialty that you need to try? Fried eggs with baby squid (pictured).
Other favourites I love to eat include the grilled garlic shrimp, foie gras with caramelized onion and wild mushroom, and oxtail risotto. Get them all and gorge! With wine/sangria expect to pay about 25 euros per person.
🥘 Looking for food + history + wine + fun? Take one of Barcelona's best food tours.
Ramblero de la Boqueria
When people ask me where to eat in La Boqueria Barcelona – at least as far as lunch in concerned – my mind immediately goes to Ramblero.
The Catalan market cuisine here is phenomenal especially if you're a lover of fresh seafood. If you're looking to splash out a bit then get the Palamos prawns, grilled to perfection with garlic lemon oil.
They're also famous for their grilled fish platters. Chip in 25 euro each with a loved one and enjoy it over some chilled Spanish wine and you'll be peak Boqueria-ing.
🍷 Want the best local wines after Boqueria Market? Book one of Barcelona's best wine tours right now.
Related: Best Las Ramblas Bars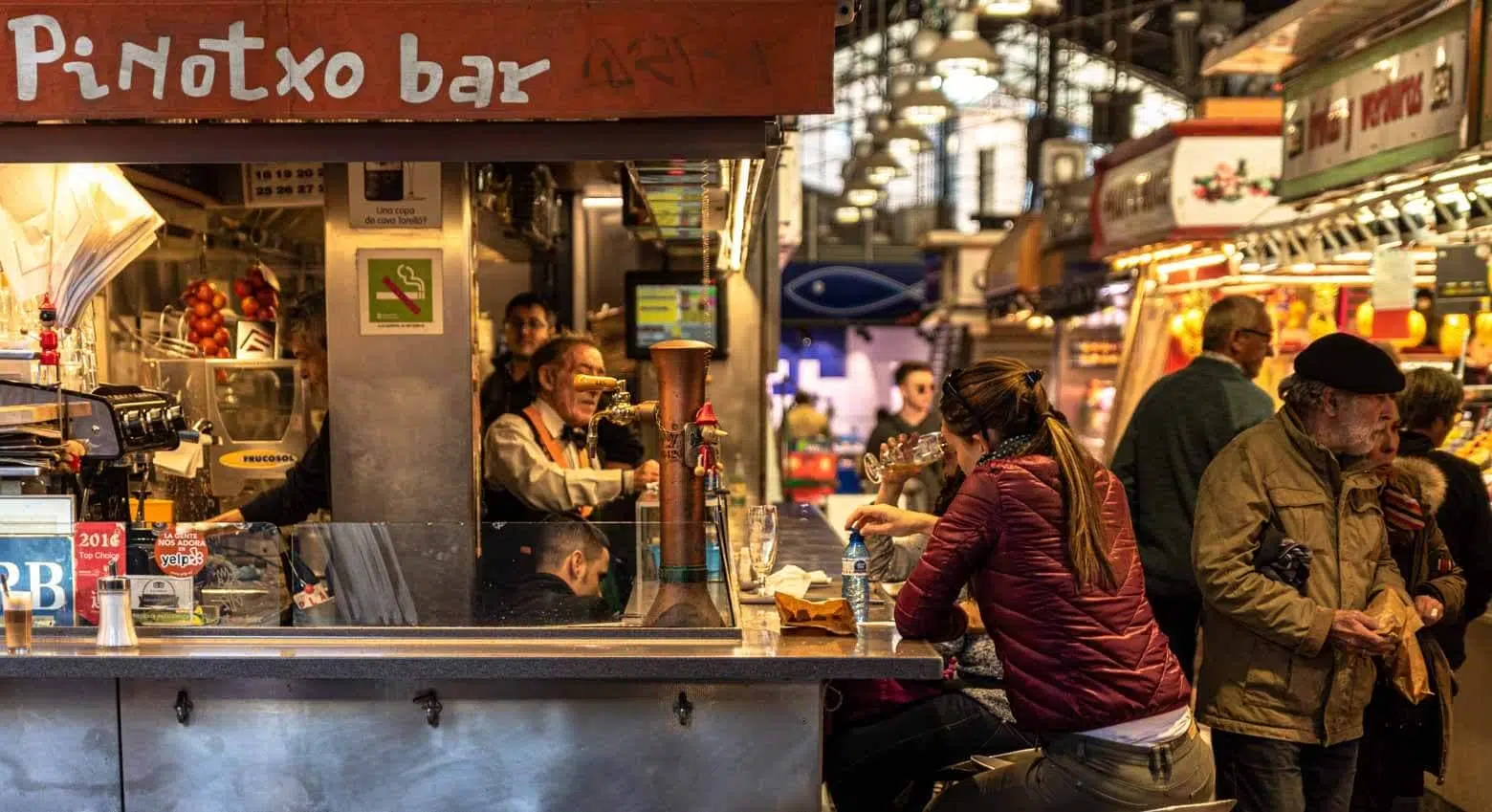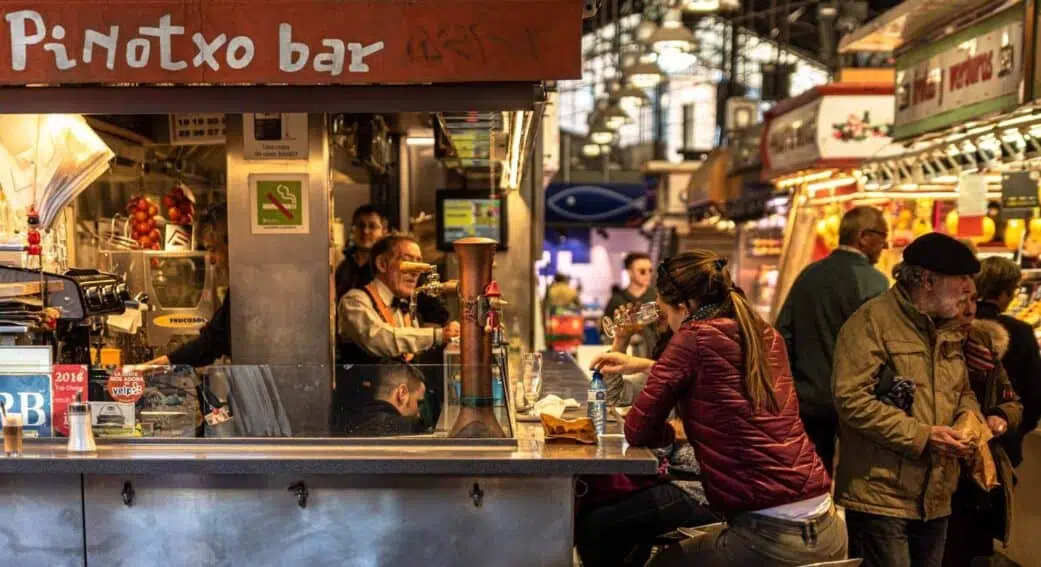 Bar Pinotxo
Forget restaurants at La Boqueria. I've had people tell me that stalls 466-470 are home to the best Barcelona tapas restaurants period.
Bar Pinotxo is a small family-run business is a relief from the showboating, loudmouthed staff of other bars trying to angle tourists. Here they let their food do the talking. If you want a no frills flavour explosion this is your place.
Nobody leaves this restaurant without getting garbanzo beans with blood sausage. You also can't go wrong with the beef cheek stew or eggplant omelette. Look to pay 20-25 a person with coffee/wine.
Kiosko Universal
Starting at stall 691 is a restaurant that's no slouch in the tapas department.
Kiosko Universal specializes in grilled seafood directly from the market. There's a freshness here you won't find anywhere else. If you love cooking it's fascinating to watch the cooks at work. There are decent portions here so 2-3 tapas should do it for two people.
Here the market specialties are the grilled sardines, Galician octopus, and calamari.
There's no need to lurk around this market restaurant: they take your name and put you in a queue.
🚌 Coming to La Boqueria? Make sure you know how to get around Barcelona on public transport first.
Food Shopping at La Boqueria in Barcelona Spain
It's never a bad idea to cook if you're staying at the best Barcelona holiday apartments with a kitchen – and there's no better place to grab some top notch ingredients than La Boqueria Market.
So how do I know which stalls are the best?
I did a Boqueria food market tour with the famous chef Iker Erauzkin, who for years was head of La Boqueria's famous culinary school. If he doesn't know the best stalls then nobody does.
Best Place to Buy Ham at La Boqueria Market
Spain produces an astonishing 40 million jamón ibérico (a locally cured ham) a year and some of the best ones end up here.
Here we're not concerned as much about stalls as we are ensuring we get a good quality cut of jamon. If you're in it to win it you're going to skip the cheapo ham-filled cones you see being sold and go for the goods.
We're looking for Jamon Iberico de Bellota.
These pata negra (black-hooved) pigs raised on the Spain-Portugal border roam free range through old growth forests and dine on herbs, grass, and most importantly bellotas (acorns). The result is a nutty and beautifully marbled melt-in-your-mouth slice of cured meat.
It's unlikely you'll get it for much cheaper at other Barcelona Spain markets, but an elite brand to keep an eye out for is called Cinco Jotas – just be prepared to pay €10.00+ for 100 grams 😉
Make sure you come on an empty stomach.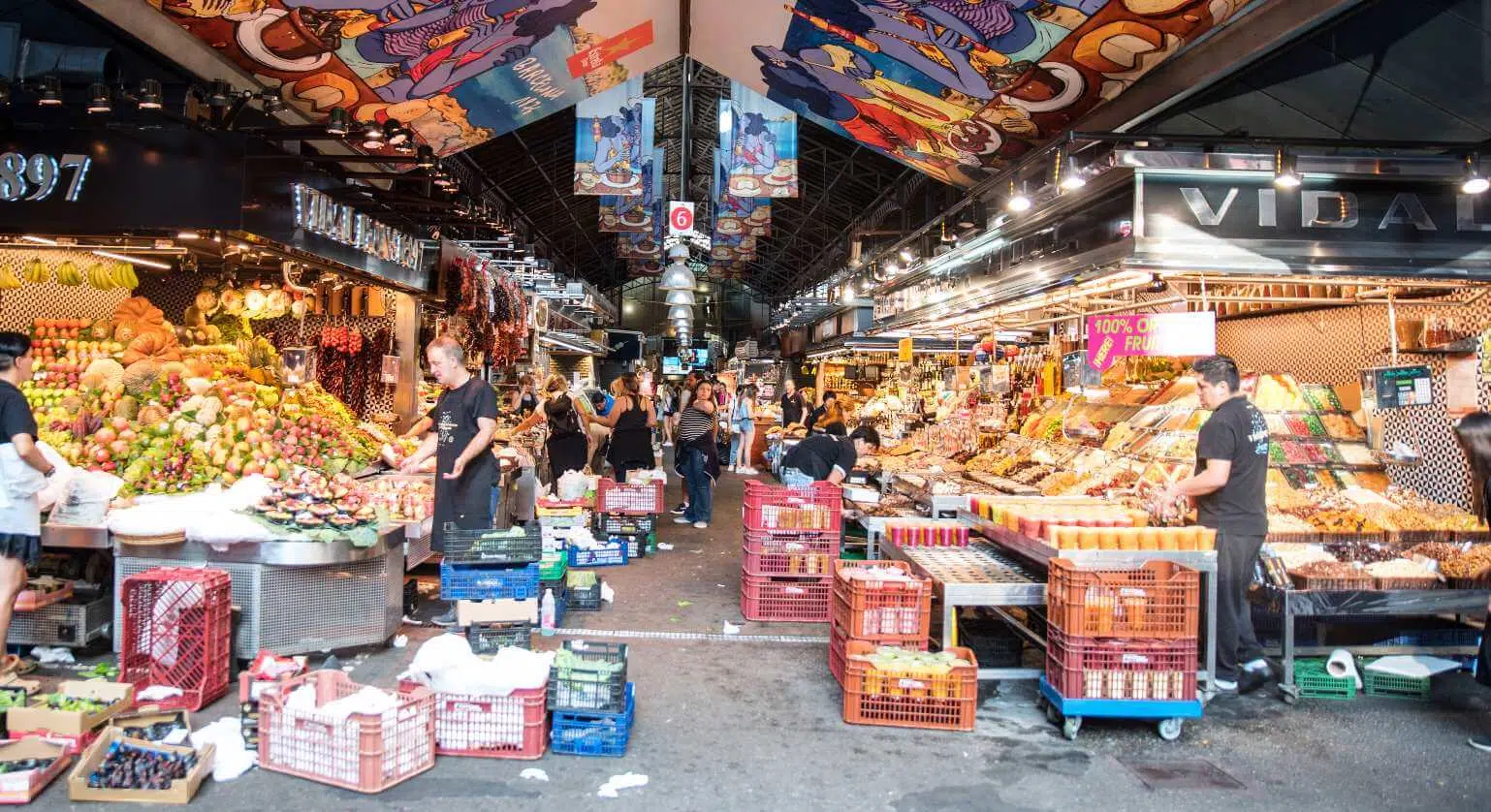 Best Place to Buy Fruit and Vegetables at Boqueria Market
The fresh fruits and vegetables found in the stalls are without a doubt the most colorful and fascinating of all the market. You'll find everything from exotic fruits to different types of chili peppers to edible flowers!
Make sure to grab yourself a fresh fruit cup or smoothie for the walk around.
Among many options I find the best quality/price ratio at Fruites y Verdures Soley Roser in stall 509.
Mushroom lovers should head to Bolets Petras at stall 867.
Best Place to Buy Meat at La Boqueria
Of all the food markets in Barcelona this is the perfect place for top quality cuts but be careful: they have the prices to match!
For all your juicy meat entrees I recommend Carnisseria Soler Ferran Capella at stall 992. The specialty here is a cut of meat called cabeza de la reina (Queen's head).
Best Places to Buy Poultry and Game at La Boqueria Market
At Boqueria Market you can also find good game meat and organically raised chickens.
A trick to recognize the organic chickens is that the skin of the flesh is yellow. Stay away from the whitish skin and keep your ecological conscience at ease.
To buy the best chicken and game head to Avinova at stall 689.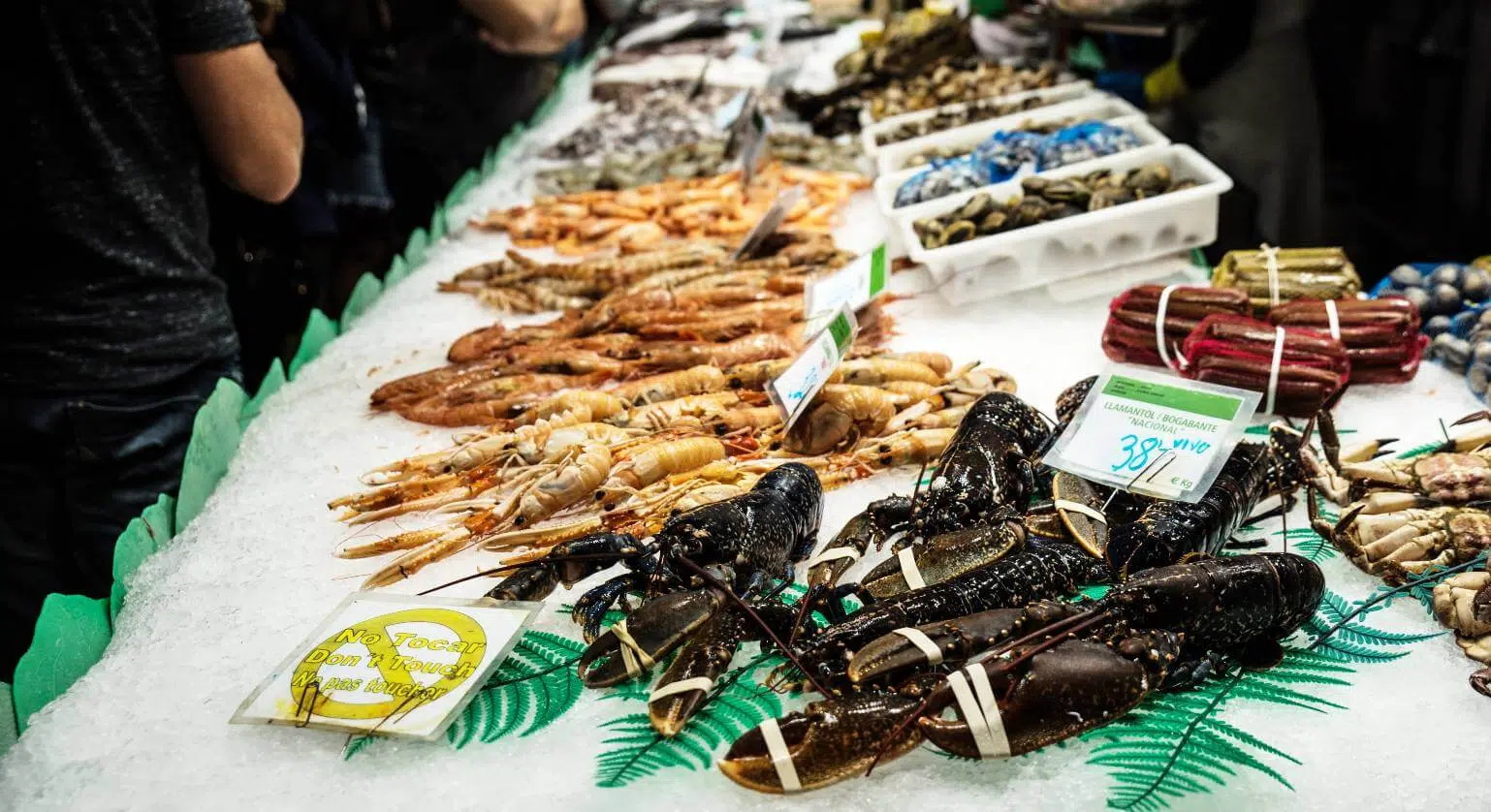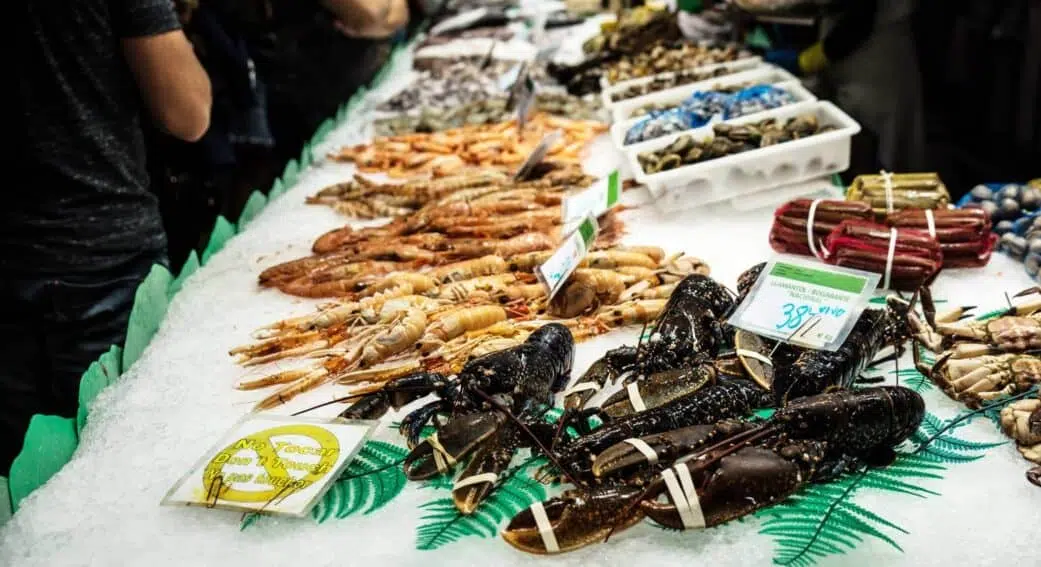 Best Place to Buy Fresh Fish at La Boqueria
Lovers of good fish who have stuffed themselves silly with our list of best restaurants in Barcelona won't be able to resist themselves in front of all the fresh tuna, salmon and shellfish!
Freshly caught crabs, shrimp, sea urchins, mussels, and clams of all sizes will move in front of your very eyes. We recommend Eva Peix Pepi at stall 801.
Tip: A dead giveaway for not-so-fresh fish is a grayish cloudiness in the eyes.
La Boqueria Market Opening Hours
The market is open Monday to Saturday from 8:00 am to 8:30 pm (closed Sunday).
Some of the stalls shut as early as 2 pm so it's best to get there beforehand. In general the best time to visit is between 10 am and 12 pm when the market is all set up but still not roaring busy.
For more opening hours information consult the official Boqueria website.
How to Get to La Boqueria Market
La Boqueria Market address is La Rambla 91, 08002, Barcelona and is reached by Liceu metro on the green line (L3).
You'll find it about half way down Las Ramblas: Barcelona's most famous street.
From Plaça de Catalunya it's about an 8 minute walk down hill and you'll find it on your right hand side. Walking 5 minutes up hill from the Columbus Statue and Barcelona Cruise Port you'll find it on your left.
The two closest Bus Turistic stops are Plaça de Catalunya and Museu Maritim.
You can also reach the food market with buses 59, 91, and V13.
Related: How Many Days Should I Stay in Barcelona?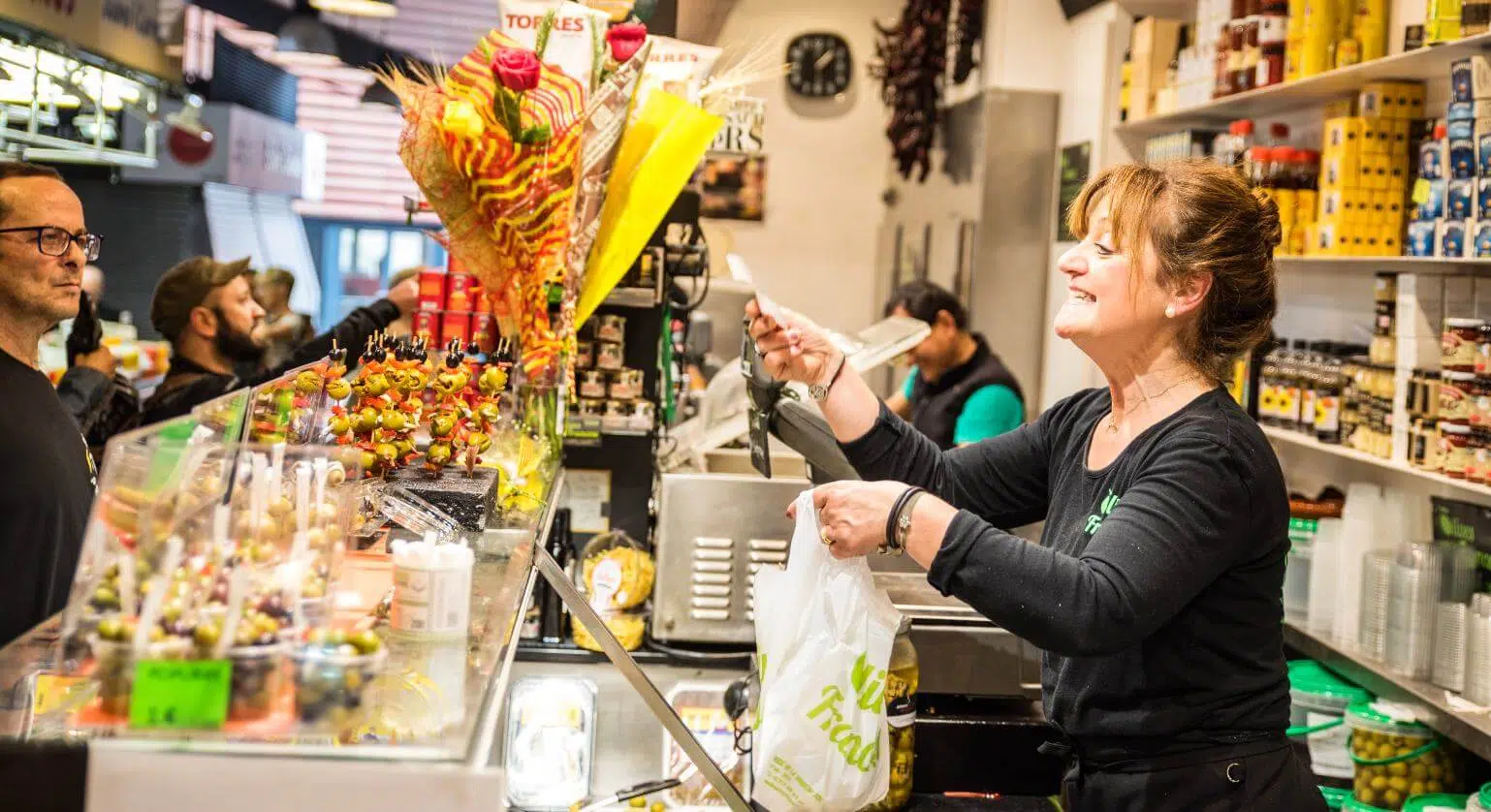 La Boqueria Guided Tours
Chef's Tour + Paella Cooking Workshop
Wouldn't it be a waste seeing all these ingredients without a chef to put them together?
During this informative small group tour you'll learn the secrets of the market as you pick up ingredients to make a traditional Spanish lunch under the guidance of a trained local chef.
So roll up your sleeves and get in there! There's plenty of wine for encouragement. By the time you leave you'll know how to cook (and have eaten) Spanish classics like seafood paella, gazpacho, Spanish omelette, and crema catalana.
Price: starting at €70.00 depending on package (children €35.00).
Duration: 4 hours (Mon-Sat 10:00 am to 2:00 pm).
La Boqueria Market Visiting Tips
Prices generally drop the deeper into the market you go.
Sangria is for tourist suckers! The locals drink vermouth or tinto de verano (a cold wine drink).
Tins of Spanish paprika are way cheaper at supermarkets.
Around closing time (8:30 pm) you can find deals on almost anything.
Don't go too early! 10:00 am is when it really gets going.
The fresh fruit smoothies should be €1.50 or 2 for €2 (if they look separated they've sat out a while).
The entrance opposite La Rambla has a massive square to relax in the sun.
Bring cash as many vendors don't have debit machines.
Can't stand crowds? Head to nearby Santa Caterina Market for the same effect.
Parents: just behind this square on the right is a playground for kids.
Those delicious little tapas on bread are 50% cheaper on the famous Calle Blai.
There's a decent public toilet if you have 50 cents exact change.
Try not to touch the products: ask for assistance first (most speak decent English).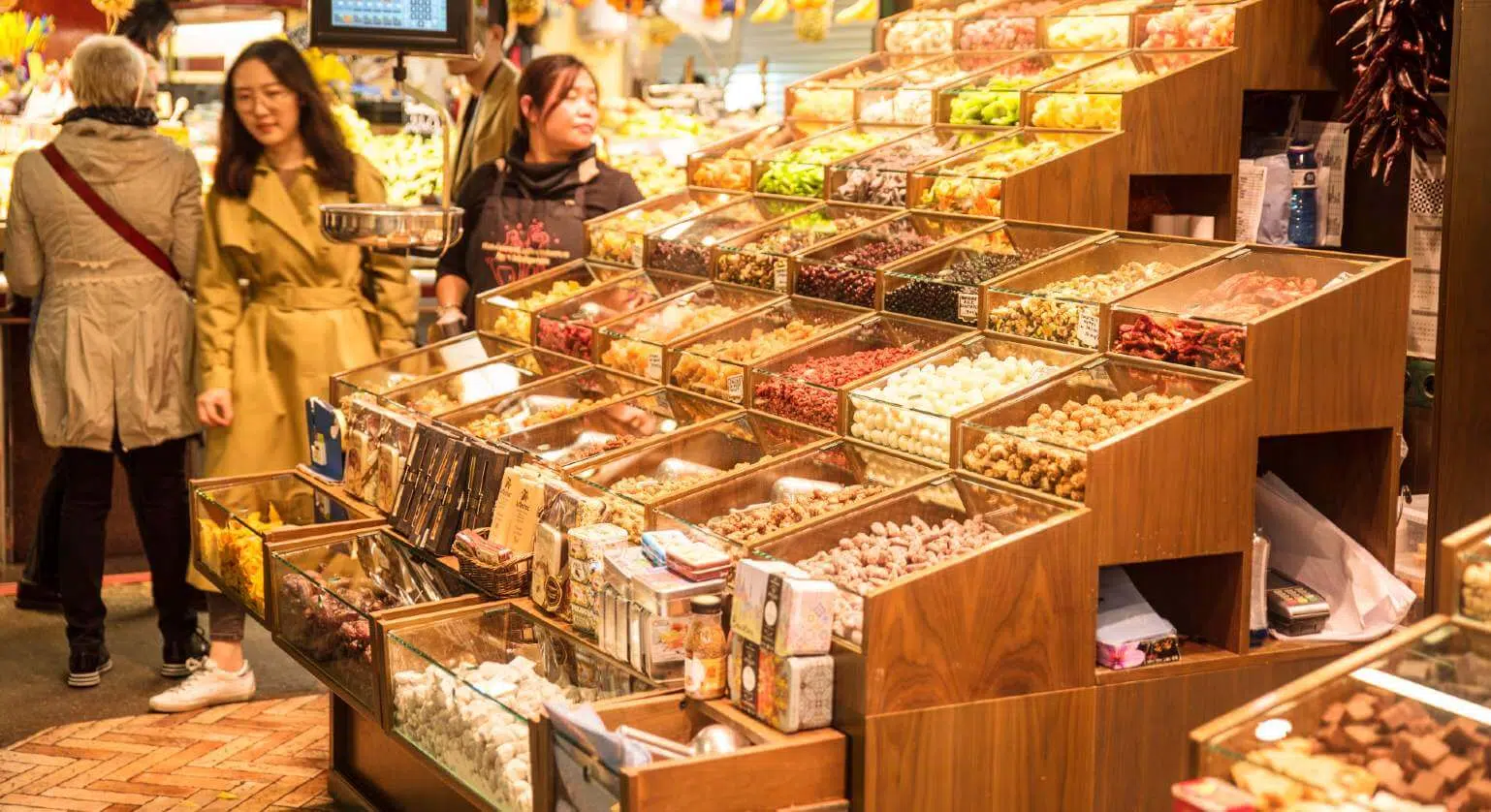 La Boqueria Market FAQ
Is La Boqueria a Tourist Trap?
Yes and no. While there are tourist trap elements to the market – slightly higher prices than neighbourhood markets, odd food stalls with no Spanish tradition, and an insane amount of tourists – it's still a place where locals go to shop and it has some of the best food in Barcelona still.
What is La Boqueria Famous For?
La Boqueria Market in Barcelona is famous for being the premier food shopping market in the city. Its prime location right along La Rambla makes it a vibrant, transient place full of locals and tourists devouring freshly made food.
Visitors typically eat fried eggs with baby squid at El Quim de la Boqueria or calamari with beans at Bar Pinotxo, both odes to Anthony Bourdain's productive, delicious visit to the market.
Where is La Boqueria Market in Barcelona?
You can find La Boqueria Market in the city center at Rambla 91 80001 Barcelona – it's about halfway down the famous La Rambla from Plaça Catalunya. The nearest metro station is Liceu on the green line.
What to Eat at Boqueria Market?
Grab some of the fresh fruit smoothies you see at the perimeter vendors. You should also sample some jamón iberico (go for the de bellota version) and sit for some seafood tapas plates.
A dark horse choice for people who really love food is the buñuelos de bacalao (cod fritters). If you're buying fresh vegetables and heading back to an apartment to cook then it makes sense to get botifarra (a Catalan sausage) ormandonguilles (meatballs) as proteins.
Where to Eat in La Boqueria Market?
Locals typically go for breakfast early at El Quim de La Boqueria or Bar Pinotxo. If you're looking for more of a tapas lunch then the best places are El Ramblero and Kioso Universal.
What Can You Buy at La Boqueria Market?
La Boqueria is an ingredient paradise and you'll be able to find cheeses, meats, seafood, vegetables, fruit, nuts, candy, juices, dairy, ice cream, wine, liquor, chocolate and much more.
Is La Boqueria Open?
La Boqueria is open between 8:00 am and 8:30 pm between Monday and Saturday. It is closed on Sundays.
Is La Boqueria Worth Visiting?
This Barcelona food market on La Rambla is as automatic as it gets for visitors. The great thing is that you don't have to spend much time there, can just grab a couple little treats, and move on out. It's a cheap, fast, and tasty way to experience Spanish culture.
Visiting La Boqueria Market La Rambla?
If there's something I've missed and you've got more questions about La Boqueria market then please don't hesitate to write me in the comment section below.
And for those who visited – did it live up to all the hype or was it just overcooked? I am curious to hear 🙂
Also don't be afraid to join the Mercat de la Boqueria discussion by first giving us a well appreciated like on the Barcelona Hacks Facebook page, then joining my group I'm Off to Barcelona – here you can ask any questions, air out grievances, and chat with thousands of Barcelona travelers.
Anything goes!