Gaudí's famous Park Guell is located high up in the Barcelona hills far from the city centre, so knowing how to get to Park Guell is essential.
But don't be scared!
It can still be reached easily by Barcelona public transport, even if it is not Barcelona's most accessible attraction.
Given its location at altitude, you'll also have the opportunity to take beautiful panoramic photographs of Barcelona. Just remember, depending on your transport option of choice you may have to make a slight climb on foot to reach it.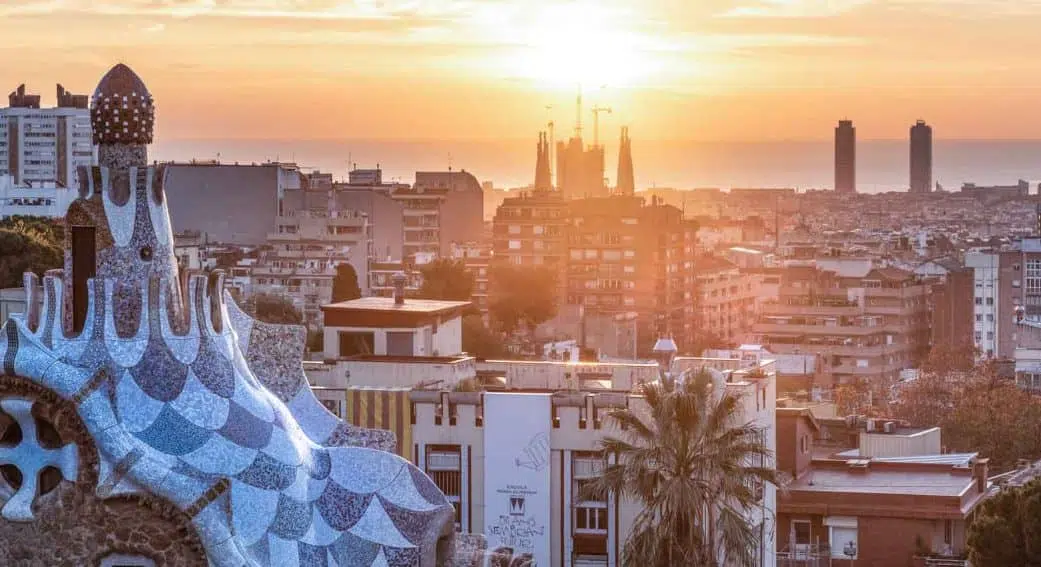 The most comfortable way to get to Park Guell is using the bus. We'd recommend taking bus 24, which leaves from Plaça Catalunya (you can also take it from Passeig de Gracia).
It takes about 35 minutes, depending on traffic. The closest stop to get off at is Ana María Matute – CN Catalunya; which is basically right in the park, with no need to walk uphill.
If you're looking for a faster alternative, you can always opt to jump on the Barcelona metro.
⚠️ 

2023 Warning

⚠️

: It's now mandatory to book your Park Guell tickets in advance.
Sell outs are extremely common, especially on weekends.
The only way to guarantee your spot is by booking Park Guell tickets online:
The closest stops to the park are Lesseps or Vallcarca (green line, L3), but both options will leave you a 10-15 minute walk uphill to reach the park gates. Not the most delightful prospect, particularly in the summer heat.
The Vallcarca stop does offer escalators, but unfortunately, they are often out of service – rendering them essentially useless. Hopefully, this situation will be resolved soon!
After buying Park Guell tickets, whether you have decided to take the bus or the metro, a transport card will help:
Also, the overlooked Bus Turístic can be a great option, particularly for families and elderly travellers. It will drop you off a 5-minute walk uphill from the park gates.
Finally, we don't recommend arriving at the park by bicycle unless your name is Lance Armstrong🙂
Have you found a better way to reach Park Guell or just wanna ask us about anything else Barcelona-related? Get in touch in the comments below!
🚌 Coming to Park Guell? Make sure you know how to get around Barcelona on public transport first.