Hop on Hop Off Barcelona Bus Tour: 2023 Tourist Bus Guide
The hop on hop off Barcelona bus tour, aka the Bus Turistic, brings you to the city's main attractions using just one ticket.
These bus tours make planning a thorough, quick sightseeing tour of Barcelona a breeze – so it's no wonder 2,000,000+ passengers board every year.
Let's take a deeper look at this Barcelona bus tour.
How to Buy Tickets for the Barcelona Bus Tour
Where to buy Barcelona bus tour tickets? If you're looking to skip right ahead and get to it: tickets are bought via the Tiqets website – the world's largest tourism ticket seller.
Buying tickets in advance saves you €2.00 per adult ticket compared to buying on site – and allows you to walk right on.
With summer lines (especially at major stops) being a burden this can save a lot of time.
Every tourist bus booking helps us get closer to doing this blog for a living, so thank you 🙏
The Hop on Hop Off Barcelona Bus – Discover Barcelona with One Ticket
For those who have never been on a hop on hop off tour I'll break it down for you quickly.
Essentially, these are city sightseeing tours that run on predefined routes via a double decker bus.
In the Bus Turistic's case, each of its 45 stops along three lines correspond with one or more of Barcelona's top attractions.
In general, you'll choose the hop on hop off bus tour to:
Visit Barcelona at your own pace
Discover Barcelona by maximizing the attractions seen
Minimize travel/direction-related stress
Get your Barcelona bearings on day one of a trip
Save time and money
Even better, there's an official tour guide on board with full commentary on the city's past, present, and future.
Barcelona City Tour Video
🧐 | Curious yet? Read hundreds of 1600+ Barcelona tourist bus reviews from all around the world.
Hop on Hop Off Barcelona Route
There are two routes on the Barcelona bus tour, and it breaks down like this:
Red Line (romance, views, and city rhythm): The legendary Passeig de Gracia with Casa Batllo and La Pedrera, the city's highest panoramic viewpoint at Montjuic Museum, Plaça Espanya, a romantic pass through Ciutadella Park and more.
Blue Line (main attractions): Plaça Catalunya, Spain's most famous tourist attraction at Sagrada Familia, Casa Batllo, La Pedrera, Park Guell, the MACBA Museum of Contemporary Art, Camp Nou Stadium, and Mount Tibidabo.
With air conditioned buses running every five minutes you won't be waiting long.
If you're asking how long the hop on hop off Barcelona tour takes, expect both the red and blue lines to last 2 hours.
Barcelona Hop on Hop Off Bus Map
How Much is the Hop on Hop off Bus in Barcelona?
Bus Turistic tickets come in both one day and two day forms – if you're buying a two day ticket the days need to be consecutive.
Here's a look at the Barcelona hop on hop off price list including the €2.00 discount for booking online at Tiqets (button below):
1 Day Hop on Hop Off Bus Ticket:
Adults: €31.00
Kids (4-12): €18.00
65+/Disabled (33%+): €28.00.
Kids under 4: €0.00
2 Day Hop on Hop Off Bus Ticket:
Adults: €42.00
Kids (4-12): €23.00
65+: €39.00.
Kids under 4: €0.00.
Tickets are valid for calendar days and not 24 hour periods.
Also, with your hop on hop off tickets you also get a discount voucher booklet with over €250.00 in discounts for:
Top Attractions
Much more
Each bus tour tickets also comes with an audio guide in 17 languages, and your own set of headphones to listen.
They've even got free wifi, for those who are asking.
Where to Buy Barcelona Hop on Hop Off Bus Tour Tickets
It is strongly recommended to purchase your Barcelona tourist bus tickets in advance online.
With no need to queue up to buy tickets you'll be able to board directly showing the tickets on your smartphone. There are massive lines especially on weekends and summer.
You can grab your €2.00 hop on hop off Barcelona tickets using the button below.
Looking to book group tickets for 10+ guests? You'll need to do so using the Bus Turistic group ticket form.
Is the Barcelona Hop on Hop Off Bus Worth it?
Of course, these bus tours aren't for everyone. If you've got tons of time for a Barcelona itinerary, can handle multiple metro trips, and don't mind walking hours in the sun that's fine.
That said, I would say that this Barcelona sightseeing bus is perfect for:
First time visitors looking to get their bearings
People low on time (layovers, cruise ship passengers, day trippers)
History and fact buffs looking for a Barcelona guided tour
The elderly & limited mobility travelers (buses are wheelchair accessible)
People looking for an inexpensive way to discover Barcelona
Hop on Hop off Barcelona Tickets with the Barcelona Pass
Naturally, these city sightseeing tours do not include entrance to the major attractions along the bus routes – that would be a hell of a deal – but there's another way to save money with this combo discount ticket.
The Barcelona Pass (ex Barcelona City Pass) includes the hop on hop off Barcelona bus tour, Sagrada Familia, Park Güell, a city tour app, and a digital discount code to get 10% off virtually every other Barcelona attraction known to man.
Click on the button below to get more info:
Barcelona Tourist Bus Timetable
The Barcelona Bus Turistic runs year around except Christmas Day and New Year's Eve.
During high season expect to wait only 5 minutes between buses while in Barcelona in winter waits can push 25 minutes.
Every day from 9:00* to 19:00
Frequency: every 5-25 minutes
*The first tour bus departs from Plaça Catalunya at 9:00 so it'll arrive and any subsequent stop a few minutes later, for example the first bus at Drassanes leaves at 9:06. Count about 5-6 minutes per stop.
Barcelona Hop on Hop off Plan
Being a Barcelona city tour veteran I've got an idea of how to best take advantage of a day pass on the Bus Turisitic.
First of all, you should grab the blue line but don't get on the first stop in Plaça de Catalunya – it's the busiest stop and especially in high season you might have to line up.
Furthermore, you're just going to be coaxed off the bus at the first stop anyway since it's impossible to resist the beautiful, trancadis-speckled mansion Casa Batllo.
The same goes for stop number two at La Pedrera, another of Gaudi's amazing modernist mansions. You should get on at the La Pedrera stop – with the plan of riding it 12 minutes eastward to Sagrada Familia.
From here, the way I would plan the Barcelona tourist bus is the following:
Get off at Sagrada Familia and do their spectacular English guided tour
Get off at Park Guell and visit the Monumental Zone of the park
Get off at Camp Nou to discover the stadium, or at least grab a coffee to break it up
Get off at the Eixample stop, walk up Carrer d'Enric Granados and explore the area's tapas bars
Head back to Placa de Catalunya and switch to the red line if you intend on carrying on.
This is the perfect five hour Barcelona tour, and should leave you a few hours to explore the panoramic views and seaside discoveries of the red line.
Don't have enough time for the Barcelona bus Turístic in one day? Just book a second day, it's only €10.00 more.
Related: Get a two hour walking tour of the Gothic Quarter for just 18 euro.
Barcelona Sightseeing Bus for Cruise Ship Passengers
For cruise ship passengers the Barcelona bus tour is a perfect way to see the city.
First things first, the shuttle from the dock will leave you at the Columbus Statue at Drassanes metro station. Here you'll find a ticket window and a red line Bus Turístic stop.
Keep in mind your fellow cruise ship passengers will be doing the same thing so it's always best to buy your hop on hop off bus tour tickets online to avoid lengthy lines. All you have to do then is board the bus!
On nice days make sure you grab a spot on the top deck of the bus – if there's no room just get on and wait by the stairs for a couple minutes for someone to get off.
The red line bus will take you along the port with the beach and the famous two towers before looping back and taking you by Ciutadella Park and El Born. Get off at the Barri Gotic stop where you'll be able to take some great shots of the Barcelona Cathedral.
Total time to here is about 90 minutes.
Get back on the bus tour until the Casa Batllo stop – here you can get off and wander the world-famous Passeig de Gracia shopping area all the way up to dream house La Pedrera. Allow about an hour for this.
The Pedrera stop connects with the blue line which you'll take to the Sagrada Familia: if you've bought your Sagrada Familia tour tickets online you'll skip the annoying lines and be in and out in about 90 minutes.
Get back on the blue line for 10-15 minutes more and you'll be at Park Guell.
Taking in the magnificent views of the city from here should take about an hour or so. Get back on the bus for a trip to some amazing Barcelona FC football matches at Barcelona's famous stadium Camp Nou.
From here you'll take Diagonal down into the Raval neighbourhood and eventually end up back at Plaça Catalunya.
From Plaça Catalunya walk down La Rambla to your point of origin: the Columbus Statue. From here you can get your shuttle back to the cruise ship. This last part of the trip can be done in two hours or less.
Again, with the Sagrada Familia tour and a little lunch break you're looking at about seven hours but if you're not it can be done comfortably in five.
🚌 Planning on visiting Barcelona? Make sure you know how to get around Barcelona on public transport first.
Barcelona Tourist Bus Tips
As a veteran of the hop on hop off Barcelona bus tour, having gone on it with various visitors over the last 10 years, I can share the following pearls of wisdom.
Buy your bus tour tickets online in advance to make sure you can walk right now
If you got them bring your own headphones for better audio guide sound.
Take your bus tour on the first day there because it helps plan the rest of your trip.
Bring a light jacket if you're not fond of wind.
Start your Barcelona city tour early to avoid crowds and get the full value of the tickets.
Don't start at major stops like Sagrada Familia and Plaça Catalunya because there are big lines. Always look to board one stop before or after (buses never depart full as per company policy so the following stops can pick up new riders).
If you can't get a seat on the top deck sit as close as possible to the stairway downstairs to queue for the next seat
If you only have a one day ticket try and avoid Friday (it's cruise ship day).
Sun cream and water are an absolute necessity in summer.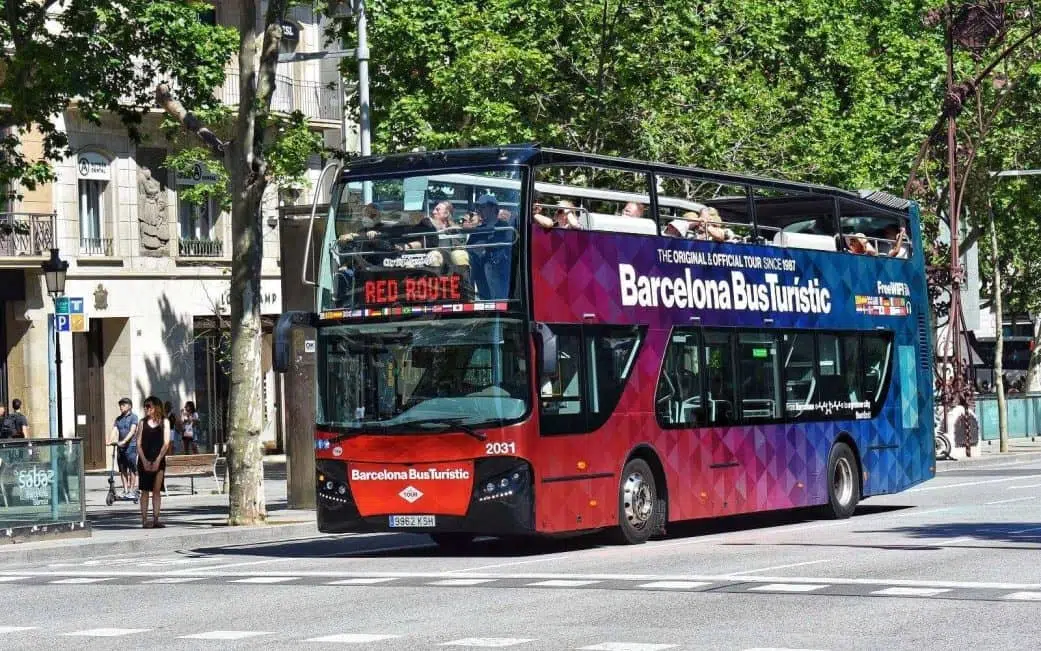 Barcelona Bus Turistic FAQ
Is there a tourist bus in Barcelona?

Yes, the Barcelona Bus Turistic serves virtually the entire city: it is split up across two different lines (red and blue) and more than 30 stops including all major attractions like Sagrada Familia, Camp Nou, Park Guell, the Gothic Quarter, Montjuic, and much more.

How long does the Barcelona city bus tour take?

A complete tour of both the red and blue lines should take around 2 hours. That said, time should be factored in for whatever stops you make. A typical bus tour of Barcelona to see the sites can easily take up a full day.

How much is the hop on hop off bus in Barcelona?

Single day tickets cost €31.00 for adults, €28.00 for seniors and students, and €18.00 for children. Two day Barcelona bus tour tickets cost €42.00 (adults), €39.00 (seniors and students), and €23.00 (children).

Is the Barcelona Hop on Hop Off Bus Tour Worth It?

There is a lot of value associated with being able to see virtually all of Barcelona's top attractions for around €30.00 – in just a couple of hours. For people who want to see it all, are short on time, or don't feel like walking around this is a very good tour to do.

Do you get a discount on the hop on hop off bus in Barcelona?

If you buy your Barcelona tourist bus tickets on site, there are no bus tour discounts. However, in booking your bus tickets online you can save €2.00 per adult ticket.

What time is the Barcelona sightseeing bus?

The Bus Turistic runs every day except Christmas Day and New Year's Eve.

I high season there is just a five minute wait between buses, while low season can take up to 20 minutes between buses.

The Barcelona bus tour hours are as follows:

Every day from 9:00am (*first bus departs from Plaza Catalunya) to 7:00 pm
Frequency: every 5-25 minutes

If I buy a 2 day hop on hop off ticket can I spread out the days in any way I wish?

No, the days must be used up on consecutive days.

If I buy a 1 Day Ticket and get the bus at 3 pm is it valid till 3 pm the next day?

No, ticket validity expires at the end of the day's service.

Can Bus Turistic tickets be refunded?

No, unfortunately refunds cannot be made once tickets are purchased.

Is the Barcelona sightseeing bus wheelchair accessible?

Yes. Keep in mind though that wheelchair customers will not be able to access the upper deck.

How can I use the Barcelona tourist bus to reach Mount Tibidabo?

Yes, but now the whole way. Take the blue line to the Tramvia Blau-Tibidabo stop and change for the Tramvia Blau or Bus 196 to get to the Funicular de Tibidabo.
Let's Continue the Hop on Hop off Bus Barcelona Discussion
Prospective Barcelona travelers, let us continue our journey of knowledge!
If you've got any questions about these Barcelona sightseeing bus tours or anything else please don't hesitate to ask me any questions in the comments below.
Also don't be afraid to join the Hop on Hop off bus discussion by first giving me a like on Facebook and then joining my group I'm Off to Barcelona – here you can ask any questions, air out grievances, and chat with thousands of Barcelona travelers.
Enjoy your Barcelona hop on hop off bus tickets 😃