Gracia Barcelona Guide: Sights, Bars, and Restaurants
Gracia ('grace' in English) was established in 1626 as a Caramalite convent called Nostra Senyora de Gràcia. It wasn't until 1897 that it was annexed by Barcelona.
It's still that little village at heart even with the over 120,000 residents in the area. Being one of the last autonomous municipalities swallowed up by the big city, Gracia Barcelona has maintained its identity as a quaint Catalan village while embracing big city changes.
And it's right in the heart of the city – so let's get visiting shall we?
Gracia Barcelona
Gracia is located just north of the famous Passeig de Gracia in the north west of the city.
It's 10 minute walking distance from La Pedrera and 15 minutes walking from the Sagrada Familia church or Casa Batllo. Due to its position on a slope towards Tibidabo mountain it's not an ideal place for beach proximity.
Gracia is served by metro stops Fontana, Lesseps, Joanic, and Diagonal.
Why visit Gracia?
It has got quiet, wanderable, pedestrian-only streets.
There's huge variety of quality bars and restaurants.
It has Picturesque squares right out of a movie.
You find a great mix of Catalan and international flavour.
It's easily accessible and central.
Things to Do in Gracia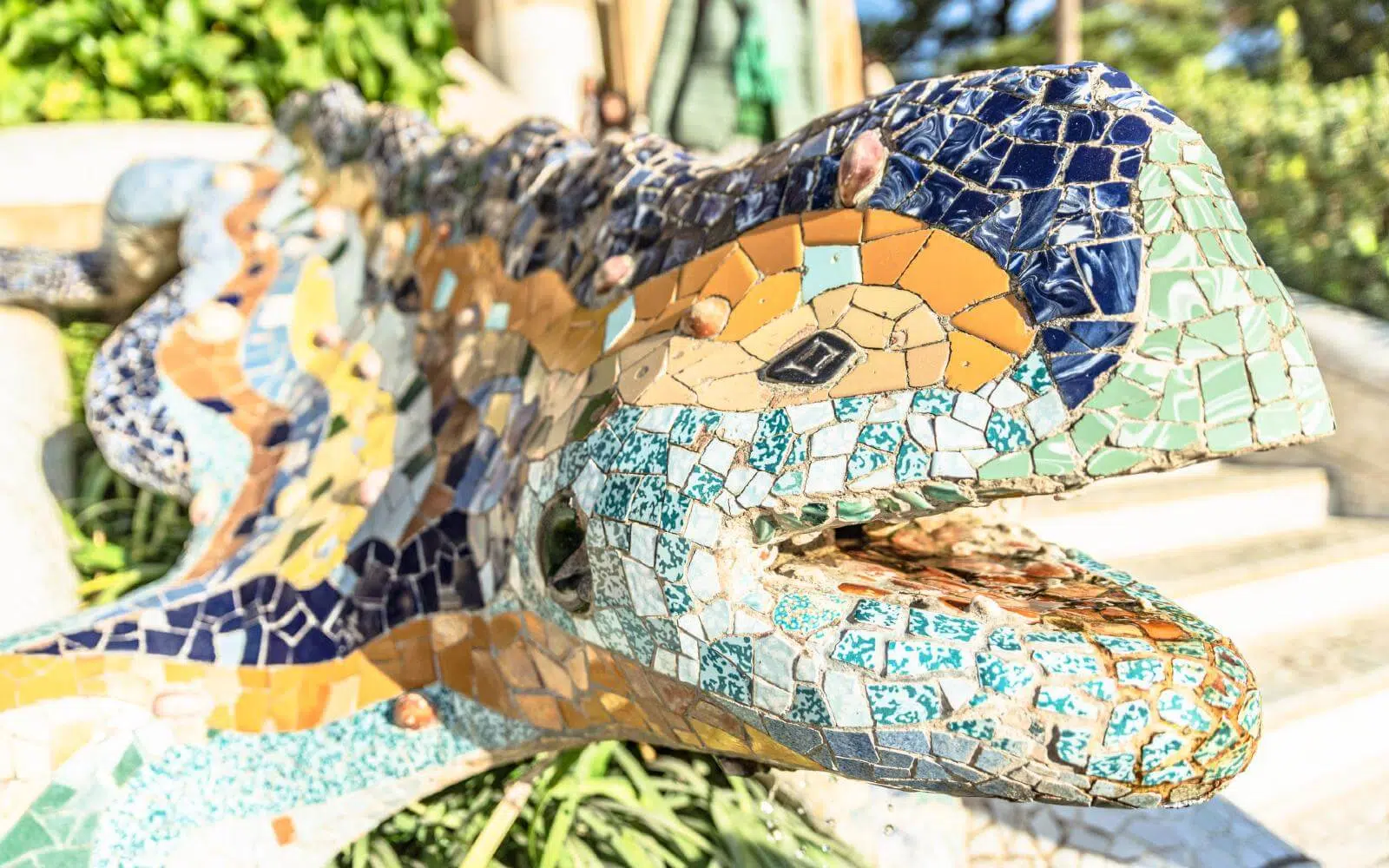 Park Guell
At the north end of the Gracia neighbourhood is Antoni Gaudi's world-renowned Park Guell and arguably the world's most spectacular urban park.
What was originally planned as a Utopian housing development with amazing city views eventually fell into the hands of the city – and tourists!
Throughout the massive outdoor space spread over a 60 meter slope you'll find highlights at the heaven-like gate of the front entrance, the gingerbread house-like porter's lodge, and the mosaic benches.
Hours: 8:00 am to 9:30 pm (high season), 8:30 am to 6:15 pm (low season).
Prices: Monumental Zone (€10.00), Free Zone (free).
Casa Vicens
Another Gaudi work and a UNESCO Heritage Site is this massive 1,160 m² red brick and ceramic tile house.
The Asian-influenced neoclassical mansion was built as a summer chalet for a hotshot stockbroker named Manuel Vicens i Montaner. The result is an impossibly elegant noble floor and Turkish-style smoking room and one of Barcelona's best roof terraces.
The entire house is symbolism-packed and straight out of nature – especially the garden.
Hours: 10:00 am to 3:00 pm Mondays and 10:00 am to 7:00 pm Tuesday to Sunday (from October 15 2019 to March 31 2020). 10:00 am to 8:00 pm daily (April 1 to September 30 2020).
Closed on Christmas day and January 6.
Prices: General admission (€16.00), under 25, 65+, disabled (€14.00).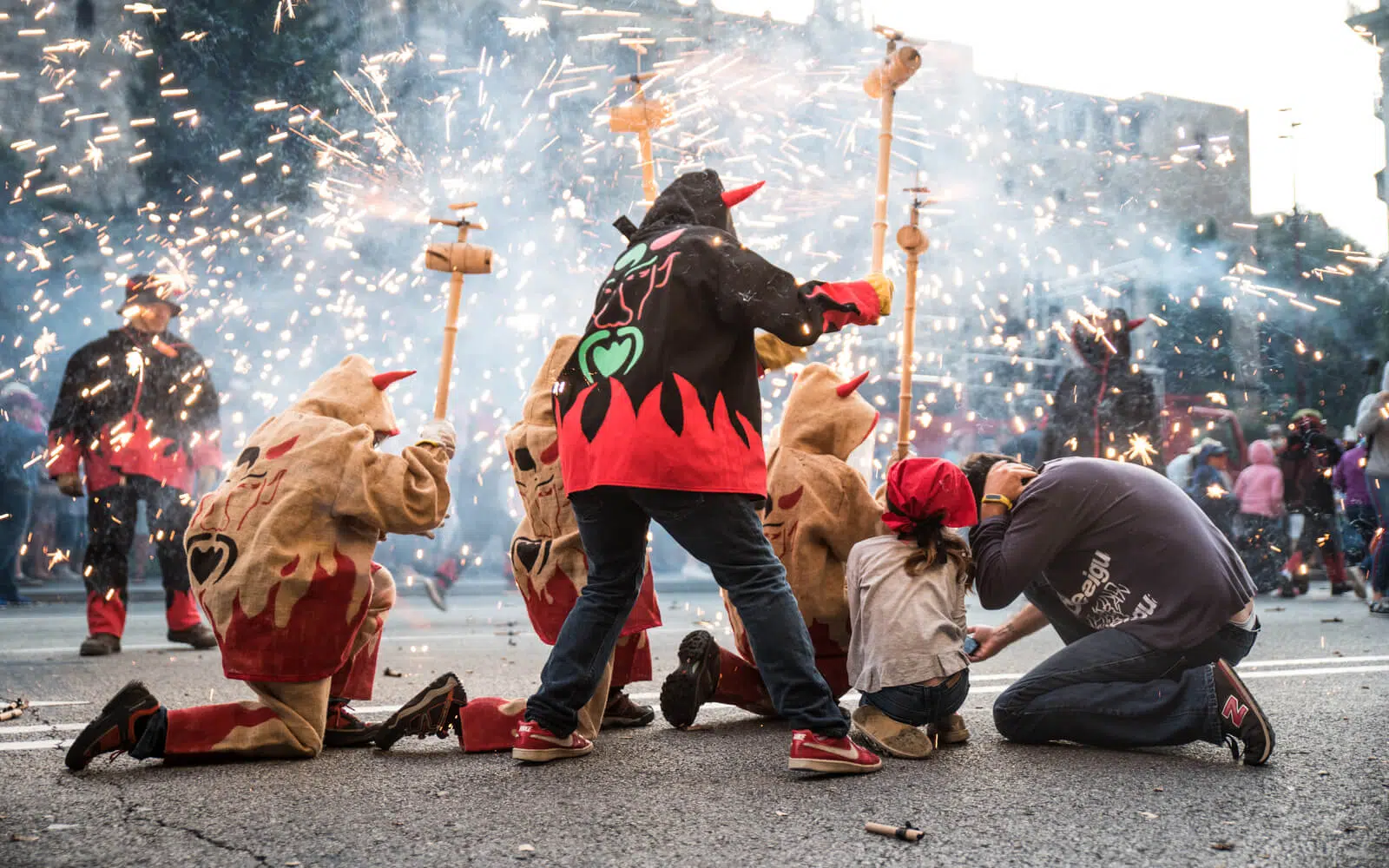 Festa Major de Gracia
The most famous attraction in Gracia is the Festa Mayor de Gracia – a massive week-long party where different stretches of the barrio compete to see who has the best-decorated street.
Each street picks a theme and you'll see anything from ice planets to the Roman Empire to Jurassic Park. Gracia transforms itself into a fantasy world! Throw in 47 different stages for live bands, homemade sangria, and 1.6 million annual visitors and you've got the best neighborhood festival in Spain.
The festival begins on August 15th and ends on August 21st 2020.
Check the official Festa Mayor de Gracia website for more information.
Calle Verdi
This lively pedestrian boulevard devoid of chains is everything Gracia is about: bustling cafes, cool restaurants with an ethnic vibe, and even a little movie theater called Cine Verdi that shows movies in original languages.
Start at Plaça de la Revolució and work your way uphill about 200 meters to see the densest part: you won't be able to resist stopping at any of the delicious looking Lebanese restaurants, wok noodle shops, or ice cream parlours.
For an authentic tapas place try Bar Canigó (Carrer de Verdi 2).
Squares in Gracia
It's not uncommon to wander around Gracia's pedestrian only streets and suddenly come upon one of its 15 colourful squares. This is where locals come to socialize on the sunny terraces of popular bars over cañas, coffee, and vermouth.
Placa del Sol
The biggest square and a popular meeting place for young people. Crammed bar terraces compete with young, guitar-strapped hippy/punk/folk musicians doing botellon (drinking spirits from the supermarket) in the middle of the square.
A good bar here for beer, wine, and homemade tapas is Sol Soler.
🍷 Want to sample the best local wines? Book one of Barcelona's best wine tours from €30.00.
Plaça de la Vila de Gràcia
A charming 33 meter high clock-tower ('La Marieta' or 'the Ladybug') rises above this peaceful square that serves as the administrative centre of the Gracia neighbourhood – and it has got one annoying bell!
Rumour has it that the clocktower's bell was rung without interruption by Catalan separatists during the 5 Day Riot of 1870, until soldiers shot it! You'll still hear the hollow, cracked sound of the bell today.
Now it's a place where locals and tourists alike go for tapas and ice cream.
Plaça del Diamant
'Diamond Square' was named after a jewel merchant who originally owned the land, and was later made famous by exiled Catalan writer Mercè Rodoreda in her book, chronicling a young woman's struggles during the Spanish Civil War. In fact, beneath the square is massive a bomb shelter.
Today it's a bustling square full of bars, fruit shops, and even a children's playground.
The Best Restaurants in Gracia
La Panxa del Bisbe
€€-€€€ | Torrent de Les Flors 158 | Metro: Lesseps (green line L3) | Website
For some super fresh and authentic Spanish food just a 15 minute walk downhill from Park Guell look no further than open kitchen confines of La Panxa del Bisbe.
Modern takes on classics prevail here with mouth-watering dishes like the grilled octopus with watermelon, the wild mushroom carpaccio, or the razor clam paella. Also, at about €13.00 the bottle of house wine is great value for a restaurant of its kind.
Looking for gluten-free options? They've got you covered.
Karakala
€€-€€€ | Carrer del Torrent de l'Olla 136 | Metro: Fontana (green line L3) | Website
An informal and popular Lebanese restaurant serving bright and spicy dishes for adventurous eaters.
Whether you're looking for a juicy meat skewer or more delicate vegetarian dishes like eggplant with pomegranate there's something for you here. I recommend the grilled feta with apple and the minced lamb in cherry juice.
Chivuo's Gracia Slow Street Food & Craft Beer
€-€€ | Carrer del Torrent de l'Olla 175 | Metro: Fontana (green line L3) | Website
If the name is a real mouthful at least it'll save me on a few adjectives – here it's about quality fast food in Gracia that wouldn't look out of place in London or New York.
With a menu chock full of American classics like burgers, pulled pork, and even a Philly cheese steak those looking for comfort food and local craft beer (sodas aren't on the menu!) that'll save your wallet on a big spend should look no further.
Cal Boter
€€-€€€ | Carrer Tordera 62 | Metro: Joanic (yellow line L4) | Website
If you're looking for well-elaborated local Catalan cuisine with a flair of authenticity then you've got it here. The pictures on the walls show just how long this place has survived and thrived making the best tapas in Gracia.
Never miss the traditional botifarra sausages with white beans. And yes, you're reading right when I say this restaurant was actually featured on Diners, Drive Ins, and Dives where the succulent snails with white wine and chorizo were top notch – get adventurous!
Casa Lopez
€ | Carrer Topazi 11 | Metro: Fontana (green line L3) | Website
When we talk about places packed with locals this semi-hidden tapas bar known for its lack of English menus (Google translate helps) and presence of amazing albondigas (meatballs) hits the spot.
Don't let the uninspiring signs from decades past prevent you from going in! In fact, places like these hardly exist any more in Barcelona – big portions, cheap prices, and perfectly fried seafood dishes.
I've also been told this is one of the few throwback Spanish restaurants in Gracia with many vegetarian offerings.
Bars in Gracia
Bar El Otro
€-€€ | Travesera de Gracia 167 | Metro: Fontana (green line L3) | Website
If you're looking for a dive bar that's game any day of the week this is your place.
The pool tables and dart boards in the back are endless entertainment while the €2.00 Monday to Friday pints before 8:30 pm rile up rowdy locals at the front to create an American tavern atmosphere.
The sandwiches and basic tapas menu are decent stomach liners but what sets this place apart is how seriously the Italian owner takes his coffee – try one and find out!
L'Entresol
€-€€ | Carrer Planeta 39 | Metro: Fontana (green line L3) | Website
The sleek and modern confines of this popular bar that's low on tourists and high on funk and indie music and gin will make any visitor feel like a local out for an after-work drink.
The 35 premium gin brands are part of the reason this Gracia bar won Time Out's 'best nightclub' award, and though I wouldn't rank it as as an all out club you might as well close the place down as a night cap before your hotel, Airbnb, or as part of a romantic night out.
El Ciclista
€€-€€€ | Carrer de Mozart 18 | Metro: Joanic (yellow line L4) | Website
This unpretentious and social bar pays homage to our favourite method of Barcelona transport: the bicycle. Yes, you'll see tables and other minimalist decor made of bicycles but this is no gimmick: they make some of the best cocktails in Gracia.
The unusually attentive staff here serve decently priced long drinks starting at only €5.00 and the vodka strawberry mint, much like the bar, is weirdly alluring.
Chatelet
€€-€€€ | Carrer de Torrijos 54 | Metro: Joanic (yellow line L4) | Website
This one is for young people looking for a boisterous crowd and some decently priced drinks in a fashionable Gracia bar. Though there's not much creativity here the area staples like mojitos, spritz, and gin and tonics are done properly.
If you're a bit hungry as well the panini selection will keep your motor running until that 3 am kebab.
Still Wondering What to Do in Gracia?
If you're still not an expert on Gracia Barcelona then what was missing? If you've got any extra questions about the neighbourhood or anything else to do with your Barcelona holiday I am here in the comment section.
So try me 🙂