Plan the Perfect Casa Milà (La Pedrera) Visit in 2023
Casa Milà is the last mansion that Catalan wonder architect Antoni Gaudí designed before ultimately giving his life (quite literally) to the Sagrada Familia.
This modernist apartment block, also known as La Pedrera (Stone Quarry), gives new meaning to the phrase 'chiseled out of stone' – more than 1,000,000 tourists line up to visit Casa Mila every year.
With this Casa Mila guide I hope to show you why.
Casa Milà (La Pedrera)
First things first: who designed Casà Mila?
This unconventional, modernist apartment block designed by master architect Antoni Gaudi was commissioned by the opulent industrialist Pere Milà in 1906.
I won't delve into Gaudi's mind too much, but this amazing video pretty much sums up his vision:
As you can see, this World Heritage Site has a unique, completely self-supported limestone façade and is a constant curve owing to Gaudi's refusal to use straight lines.
It's actually two different curved buildings structured around two courtyards. In fact, if you look at Casa Mila from aerial shots you'll see that it's an asymmetrical 8 shape.
See that jungle foliage reclaiming the concrete? That's the vibrant, green Casa Mila ground floor.
All that said, Casa Milà is most famous for its rooftop terrace and its twisted, haunting chimneys called 'The Garden of Warriors' – which you may have seen in Vicky Cristina Barcelona, but more on that later.
🧐 | Curious yet? Read over 3500 Casa Mila reviews from all around the world.
What to See at Casa Milà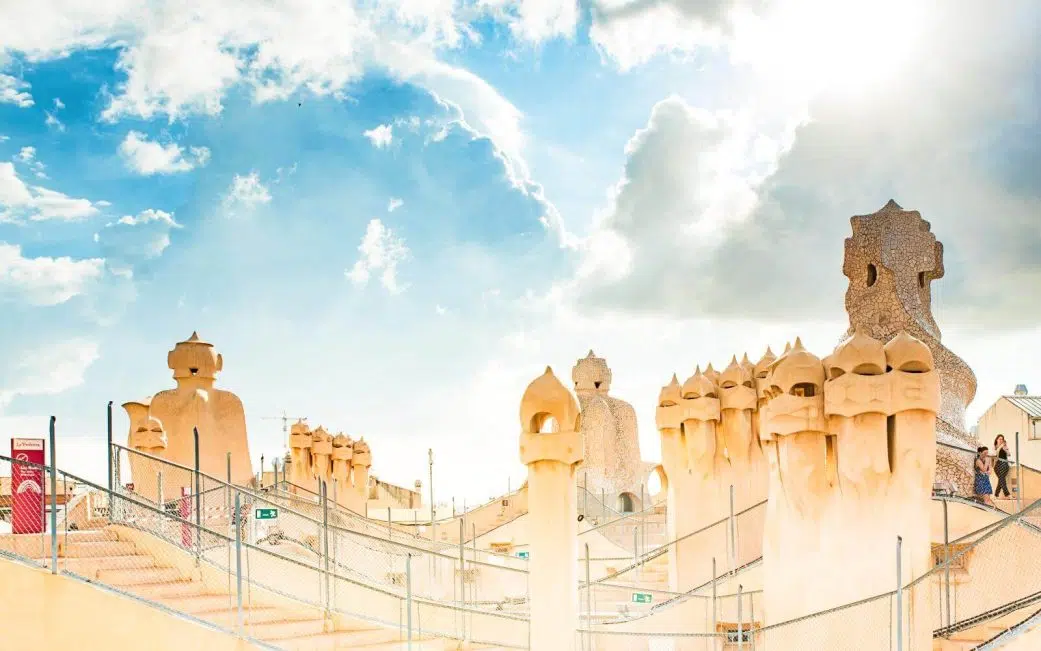 The Casa Milà Roof
There's nothing like it! This is why most tourists buy Casa Mila tickets and put it at the top of any Barcelona itinerary.
The photo above doesn't do it justice. My only advice is get the cameras ready – going out onto the Casa Mila rooftop is like stepping into an alternate reality.
The highlight is the wavy floors crawling up the walls giving way to 28 chimneys that look like carnival masks, Darth Vader, and the Grim Reaper all in one.
From here look down into the courtyard to see Gaudi's constant curve vision – in some weird way the curves make Casa Mila look like wobbling jello.
The view of the city (and Sagrada Familia) from the La Pedrera roof is spectacular.
The Casa Milà Courtyard
Though Casa Mila was built as two individual apartment blocks it's at the courtyards that the buildings intersect, or almost blend into each other like two waves of water.
The Casa Mila interior is speckled with floral motif murals that are lit up perfectly by the day. You'll spend a lot of time looking up at the forms and taking pictures – aside from the roof this is the most photographed place in the whole building.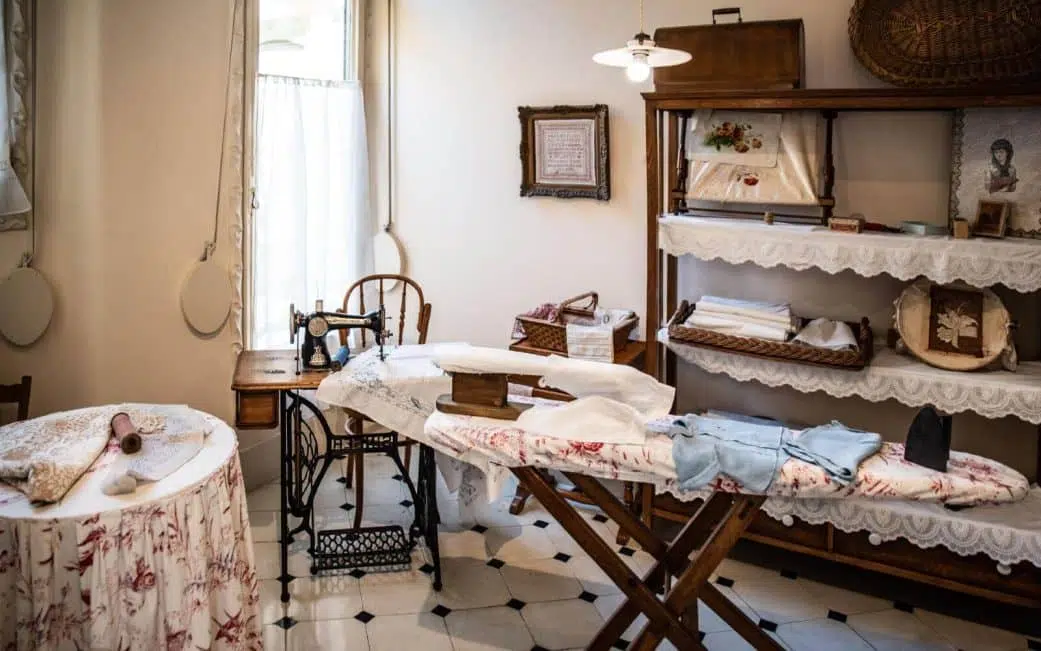 Inside Casa Milà (The Apartment)
The fourth floor of La Pedrera is home to two different dwellings, one of which is an audiovisual presentation room covering time period between the Tragic Week (1909) and the World's Fair (1929).
Then there's famous La Pedrera apartment where Pere Milà lived with his family.
The interior remains exactly the way it was the day he moved in – this is a great window into upper-class life (yes, that stove in the photo is upper class!) in the early part of last century.
The bedrooms, living room, bathroom, kitchen, and even the children's toys remain creepily in tact, frozen in time.
Related: Casa Mila or Casa Batllo?
The Casa Milà Attic
The La Pedrera attic originally housed the building's laundry room.
Tourists love Casa Mila for the 270 parabolic arches that support the roof terrace above. They give it a slight claustrophobic and catacomb-like feel. One reader described it as a walk inside an undulating whale skeleton.
The area is now home to the Espai Gaudi – a museum to the great architect. Here you'll find plastic models of his other famous works, art work, videos, and a great explanation/display of how Gaudi let Barcelona's nature influence his work.
The Casa Mila attic is divided into seven different areas with one dedicated entirely to La Pedrera.
Casa Milà Tickets
Hourly visits to Casa Mila are capped so if you show up without Casa Mila tickets expecting to buy on site you'll be forced into a later time slot than your original plans.
There is also a €3.00 ticket window surcharge per visitor.
For this reason, it's essential to buy Casa Mila tickets using Tiqets for the lowest prices.
Let's take a look at how to buy Casa Mila skip the line tickets.
Casa Milà Essential: Audio Guide + Skip the Line
Your basic Casa Mila ticket includes a full English audio guide with each ticket purchase.
Tickets are staggered every 15 minutes (:00, :15, :30, and :45) and once inside Casa Mila you're allowed to stay as long as you want (a typical visit takes 90 minutes).
| | | |
| --- | --- | --- |
| Casa Mila Essential (+ Audioguide) | Online Price | Ticket Windows |
| Adults | €25.00 | €28.00 |
| Seniors (65+) | €19.00 | €22.00 |
| Students | €19.00 | €22.00 |
| Youth (7 – 12) | €12.50 | €15.50 |
| Kids (0 – 6) | Free | Free |
| Disabled visitor + companion | €19.00 | €22.00 |
Looking to book group tickets for 10+ guests? You'll need to do so using the La Pedrera group ticket form.
Related: Is It Worth It Going Inside Casa Mila?
Casa Milà Guided Tour: The Unseen Pedrera
If you're looking for a Casa Mila guided tour in English there's great value here.
While guided tours for places like Sagrada Familia can cost up to €13.00 more, for an extra €3.00 (€28.00 per person) you can get a full guided tour of La Pedrera with:
Admission to Casa Mila
90 minute guided tour with architecture expert
Access to off-limit areas like the parking lot, back façade, and first floor corridor.
Free rescheduling up to 24 hours before the tour
These small group Casa Mila tours cap out at a maximum of 15 people.
This is a newly launched product for 2023 and by the looks of the La Pedrera guided tour reviews it's a real hit.
La Pedrera Night Experience
With the La Pedrera Night Experience you'll experience the unforgettable Casa Milà in a different light – quite literally.
The Casa Milà night tour includes:
An amazing 20 minute audiovisual light display on the Casa Mila rooftop
A small group tour in English with a charming and informative guide
A presentation on the life of Gaudi
Projections in the Casa Mila courtyard and stairwells
A glass of top-quality cava ('the Spanish champagne')
The long list of advantages for visiting Casa Mila at night are: much smaller crowds, having your very own flesh and blood architect guide, and having an almost eerie, uncharacteristic nighttime silence.
For more on what to expect I suggest checking out La Pedrera Night Experience reviews.
Casa Mila Night Tickets and Prices
The cost of Casa Milà night tour tickets are as follows:
Adults: €35.00.
Children (7-12): €17.50.
Children (0-6): free.
Again, to ensure you get desired times and avoid lining up it's recommended to book Casa Mila online in advance by clicking the button below:
Casa Milà Night Tour Times
Casa Mila Night Tour tickets are organized in specific intervals and you can check availability using the button above – due to limited slots it's advised to book in advance ASAP.
January 1st to March 19th 2023: 7:00 pm, 7:20 pm, 8:00 pm, 8:20 pm
March 20th 2023 to April 31st 2023: 8:40 pm, 9:00 pm, 9:40 pm, 10:00 pm
Summer 2023: 9:00pm, 9:20 pm, 9:40 pm, 10:00 pm, 10:20 pm, and 10:40 pm.
Check your dates using the calendar below for more accurate info:
La Pedrera Full Experience: Skip the Line + Audio Guide + Virtual Experience
If you're looking at the total La Pedrera package this is it: La Pedrera tickets with audio guide, mixed reality glasses, exclusive access to the first floor, and more.
The ticket price is €35.00 (kids 7-12 cost €12.50).
La Pedrera Sunrise Experience
If you're a morning person who's not a fan of crowds this Casa Mila tour is for you.
This summer you'll be able to visit La Pedrera before it opens to the public. This super-intimate 75 minute guided tour in English takes you to the courtyard, the attic, the apartment, and the roof terrace.
The Awakening also includes access to restricted areas of Casa Mila which aren't included in the regular visit.
With a tour group maximum of 15 people this is the only way you'll get people-free photos of the building.
All Casa Milà tours include a coffee or drink from Casa Milà's bar.
La Pedrera Exclusive Hours
January to April 2023: 8:00 am on Thursdays and Fridays.
May – September: 8:00 am on Wednesdays, Thursdays and Fridays.
Advantages
The guides provide a ton of information you won't get anywhere else
You'll have the place almost to yourself
You can stay as long as you want after the tour
Photographers get some of the best light of the day
Tickets and Prices
The cost of Casa Milà morning tour tickets last year were as follows:
Adults: €39.00.
Children (7-12): €19.50.
Children (0-6): free.
Rooftop Jazz Nights at La Pedrera
Riding the wave of the Magic Nights music series on the rooftop of Casa Batllo we get La Pedrera's offering: jazz music!
The 2023 version of this concert series will every Friday evening between June 1st and July 31st – entrances are staggered to facilite house visits starting at 7:15 pm.
Each ticket includes:
Tickets and Prices
A visit to the Whale Attic with Gaudí exhibition
Rooftop jazz concert
A glass of cava wine
These Casa Mila tickets in 2022 cost €38.00 and were bought directly at the official La Pedrera website. We'll add more info here on the 2023 version as it comes available.
Buying Casa Mila Tickets Online with the Gaudi Super Combi 3-in-1
In 2023 the hottest new product online is the 3 Houses of Gaudi ticket package that allows you to skip the lines and see all three of Gaudi's famous Barcelona mansions:
Casa Batlló 10D Experience with audio guide
Casa Milá (La Pedrera) with English audio guide.
Casa Vicens (open ticket).
Barcelona city audio guide app with 100+ points of interest/itineraries
Save money with a 10% discount to other attractions.
| | | |
| --- | --- | --- |
| Product | Online Price | Price at Ticket Windows |
| Adult | €77.00 | Currently not possible |
| Youth (13– 17) | €59.00 | Currently not possible |
| Youth (11 – 12) | €24.00 | Currently not possible |
| Students (12-25) | €64.00 | Currently not possible |
| 65+ | €78.00 | Currently not possible |
Children 7-10 cost €17.00 while small children 0-6 go free with a paying adult.
You can buy your 3 Houses of Gaudí tickets online by clicking the button below:
Casa Milà Hours 2023
Casa Milà is open Monday to Sunday from 9:00 am to 8:30 pm for your visiting convenience.
The closure of the upper floors begins 15 minutes before scheduled closure times.
How to Get to Casa Milà Barcelona
You can find La Pedrera at Passeig de Gràcia 92 in the attraction-heavy Eixample district – a fantastic place to find a Barcelona holiday apartment.
When thinking of how to get to La Pedrera expect no more than about 15 minutes transport or 30 minutes walking from most central areas.
The closest Barcelona metro stop to Casa Mila is Diagonal (green line L3 or blue line L5).
RENFE Spanish railway: Passeig de Gracia.
Buses: 7,16,17, 22, 24 and V17.
How to Get to Other Attractions from Casa Milà
Casa Batllò: Cross the street and walk 5 minutes downhill on Passeig de Gracia (towards the sea).
Sagrada Familia: Take the blue line of the metro at Diagonal and get off at the Sagrada Familia stop. It'll take about 15 minutes.
Park Güell: Take bus 24 right outside on Passeig de Gracia. It'll take 30 minutes.
Plaça Catalunya and La Rambla: Walk about 20 minutes downhill in the direction of the sea, or take the green line of the metro from Diagonal to Plaça Catalunya.
Camp Nou: Take the green line of the metro at Diagonal and get off at Palau Reial. It'll take about 30 minutes.
Tips for Visiting Casa Milà
Buy Casa Mila tickets online to avoid long lines at ticket windows.
Leave around 1.5 hours for the tour of the interior + roof.
Go between 9:00 am and 10:00 am and after 4:30 pm for the smallest crowds.
Book your Casa Batllo tour for around the same time (they're 5 minutes walking apart).
There is little information so I recommend paying an extra €3.00 for the Casa Mila Guided Tour.
Wear comfortable shoes because you'll be doing a lot of stairs.
There is an elevator to the roof for those with mobility issues.
If there's no line for the elevator start by taking it to the top and working your way down.
Visiting after 5:00 pm has better photography light and less crowds.
You can get 10% off Casa Mila tickets with the Bus Turistic.
Check the Barcelona weather forecast before booking – the rooftop is closed when it rains.
Related: How Long to Visit Casa Mila?
Related: How Many Days Should I Stay in Barcelona?
Restaurants Near Casa Milà
If you're starving after all those stairs check out my list of best restaurants near La Pedrera.
For great traditional Catalan food hit either value paella spot Bodega Joan (Carrer Rosselló 164) or Can Punyetes (Carrer Francisco Giner 8-10). Both offer all the classic tapas dishes like tortilla de patatas, pan con tomate, paella, and more.
Those looking to spoil themselves should look at El Nacional – this high-end culinary space is home to 4 restaurants (meat, fish, tapas, and deli/pastry) and four bars (beer, wine, cocktail, oyster) each featuring different facets of the Iberian Peninsula.
UPDATE: I've just worked out a deal with Bodega Joan that offers my blog readers 25% off their paella tasting menu and you can find out all the juicy details clicking the banner below:
Casa Mila La Pedrera FAQ
How do I skip the lines at Casa Milà?
The only way to skip the lines at La Pedrera is to buy your Casa Mila tickets in advance online.
What happens if I don't buy Casa Mila tickets online?
You'll be forced to line up at ticket booths. These lines can push 60-90 minutes at peak times and 15-20 minutes off-peak.
What happens if I arrive late to Casa Milà?
If you're just a few minutes late it won't be a problem (there is no official courtesy limit) but if you know you're going to be quite late it's always better to inform Casa Mila writing them at [email protected] or calling 932 142 576 ASAP.
Otherwise you'll risk losing your ticket.
If I have a Casa Milà discount code can I redeem it online?
No. Casa Mila discount vouchers can only be redeemed at ticket windows.
How do I get Casa Milà discount codes online?
The only way to get a Casa Mila tickets discount is buying via a Barcelona discount pass. The Barcelona Pass for example lets you save 10% on La Pedrera plus about 60 other top attractions.
All the booking is done online and you can skip lines.
Is the Casa Milà audio guide really free and does it include other languages?
Yes, there are no hidden costs here. The audio guide is also available in Spanish, Catalan, German, French, Italian, Portuguese, Russian, Chinese, Korean, and Japanese.
How do I book a group visit at Casa Milà?
For groups of 10 or more you'll need to book in advance via email at [email protected] or by calling 902 202 138 (9:00 am to 3:00 pm, Monday to Friday).
Can I get a student discount at Casa Milà if I'm attending school outside of Spain?
Yes, all international student IDs are accepted when buying Casa Mila tickets. You must present the ID at ticket booths after having booked the ticket in advance online.
Are disabled visitors entitled to a discount at Casa Milà and how can it be redeemed?
Yes. Visitors with a 33% disability can get discounted La Pedrera tickets for €16.50 while those with a 65%+ disability can enter free of charge.
You'll be required to show relevant accreditation at ticket windows.
Can disabled visitors get the full experience at Casa Milà?
Yes and no. The public parts of the house itself are fully adapted for disabled visitors though the roof terrace unfortunately is not due to the uneven terrain.
Disabled/limited mobility visitors can still enjoy the view from the roof though as there is a platform right outside the lift.
I booked but haven't received my Casa Milà tickets, what now?
Make sure you check your email spam folder to ensure it hasn't been marked as spam. If you still can find the confirmation then get in touch with Tiqets at [email protected]
What if I can't print my Casa Milà tickets?
If after buying Casa Mila tickets online you can't print them, you can show the QR code using your smart phone.
Is there a time limit to my Casa Milà visit?
No. You're free to stay all day if you like but the average tour should take about 90 minutes.
What is the refund/cancellation policy at Casa Milà?
Unfortunately refunds or cancellations on Casa Mila tickets are not accepted in accordance with the Catalunya La Pedrera Foundation.
Is there a dress code at Casa Milà?
No, but use common sense and don't come in shirtless/barefoot like you've just come in off the beach!
Can I leave my stroller/pram or suitcase/trolley while I visit La Pedrera?
Yes, there is a specific place for you to do this.
Can I smoke, eat, or bring pets to Casa Mila?
No. Smoking, eating, and bringing animals are all forbidden at La Pedrera except in the case of guide dogs.
Visiting Casa Milà La Pedrera?
I've shown you how to get fast lane access buying Casa Mila tickets in advance online and given you a bunch of tips but it doesn't end there – if you have any questions about your Barcelona holiday I am here.
And ticket buyers – was Casa Mila worth the billing in the end?
Also don't be afraid to join the La Pedrera discussion by first giving me a like on the Barcelona Hacks Facebook page and then joining my group I'm Off to Barcelona – here you can ask any questions, air out grievances, and chat with thousands of Barcelona travelers.
Related: Where to Buy Tickets to Casa Mila