Casa Batlló Barcelona – How to Visit Gaudi's Modernist Masterpiece
Casa Batlló is impossible to miss.
The skull and bones balconies and dragon's back rooftop really stand out – even along the ruta del modernisme on Barcelona's historic Passeig de Gracia.
This marine-inspired, 32 meter high Art-Nouveau mansion designed by Antoni Gaudí might be the coolest house you'll ever see.
Let's take a deeper look to understand why 2000 tourists are visiting Casa Batlló every day.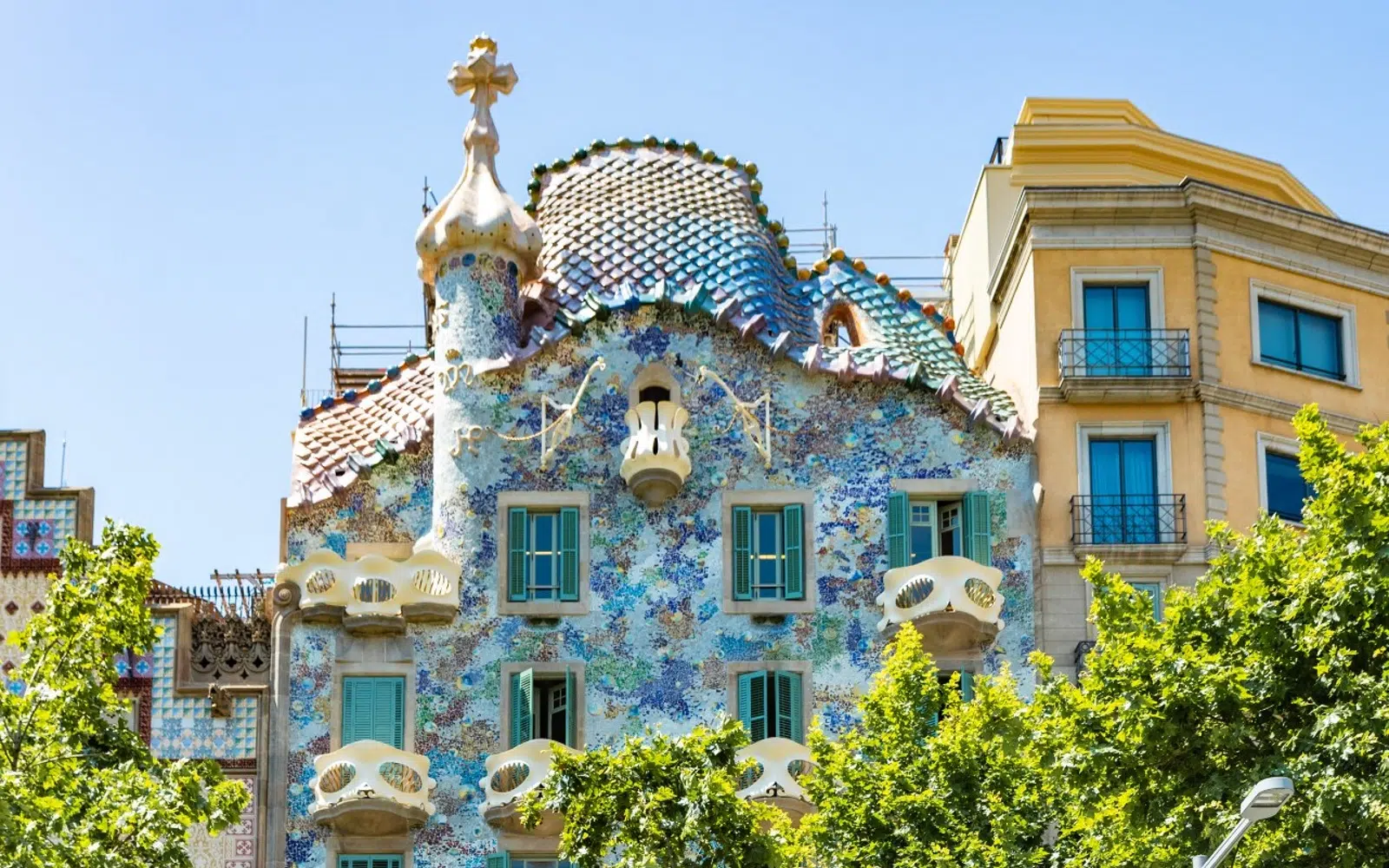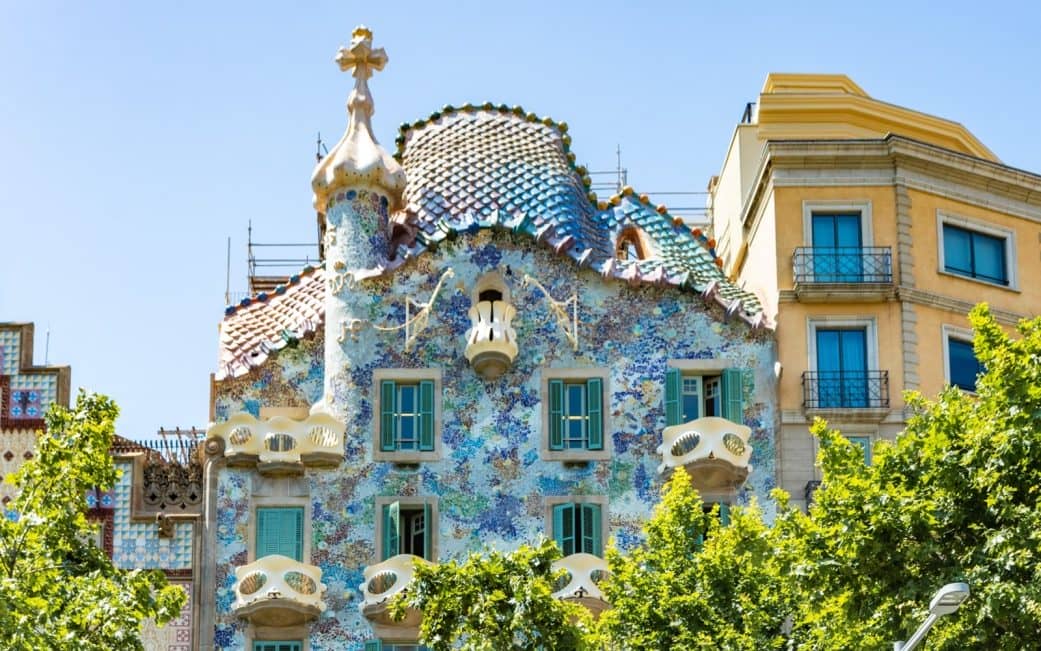 Before You Go: Guarantee Casa Batllo Spots
Casa Batllo is one of the most visited monuments in Spain.
It's essential to get your tickets online in advance – hourly visits are capped and often sell out.
You'll find many online ticket resellers, but we recommend relying on our collaborator Tiqets, which help us to keep this blog (which we've dedicated 1000's of hours to) free 🙂
Buying online using Tiqets also gets you a handy €4.00 discount:
Every booking helps us get closer to doing this blog for a living, so thank you 🙏
Casa Batlló by Antoni Gaudí Information
Casa Batlló was a mansion built in 1877 by a Barcelona architecture professor of Antoni Gaudi.
It was later bought in 1903 by local textile industrialist Josep Batlló y Casanovas, who turned Casa Batlló over to Antoni Gaudi – giving him full artistic freedom to transform the building.
The result was an astonishing move to the modern:
A universe of symbolism, a work of art in house form.
A building said to have almost no straight lines.
A daring ode to nature.
A functional, ergonomic home a century ahead of its time.
Today Casa Batlló is a a UNESCO World Heritage Site and one of the best things to do in Barcelona, with over 700,000+ tourists making this architecture pilgrimage yearly.
🧐 | Curious yet? Read over 4000 Casa Batlló reviews from all around the world.
What to See at Casa Batlló
Casa Batllo is a vortex of waves and curves in homage to Gaudi's refusal to use straight lines.
All Casa Batllo's amazing architectural details were created by Gaudi himself: the handrails, roof chimneys, door knobs, windows and even the furniture all came from his genius mind.
⚠️  2023 Warning ⚠️: It is strongly suggested to book your Casa Batllo tickets in advance.
Sell outs are very common and lines on site can take 20-30 minutes.
Doing so also helps us get one step closer to our dream – doing Barcelona Hacks for a living! 🙏
Best of all? Visitors get to see all his visions brought to life with an augmented reality video guide.
More on that later.
Let's take a quick trip through Casa Batlló as a sneak preview.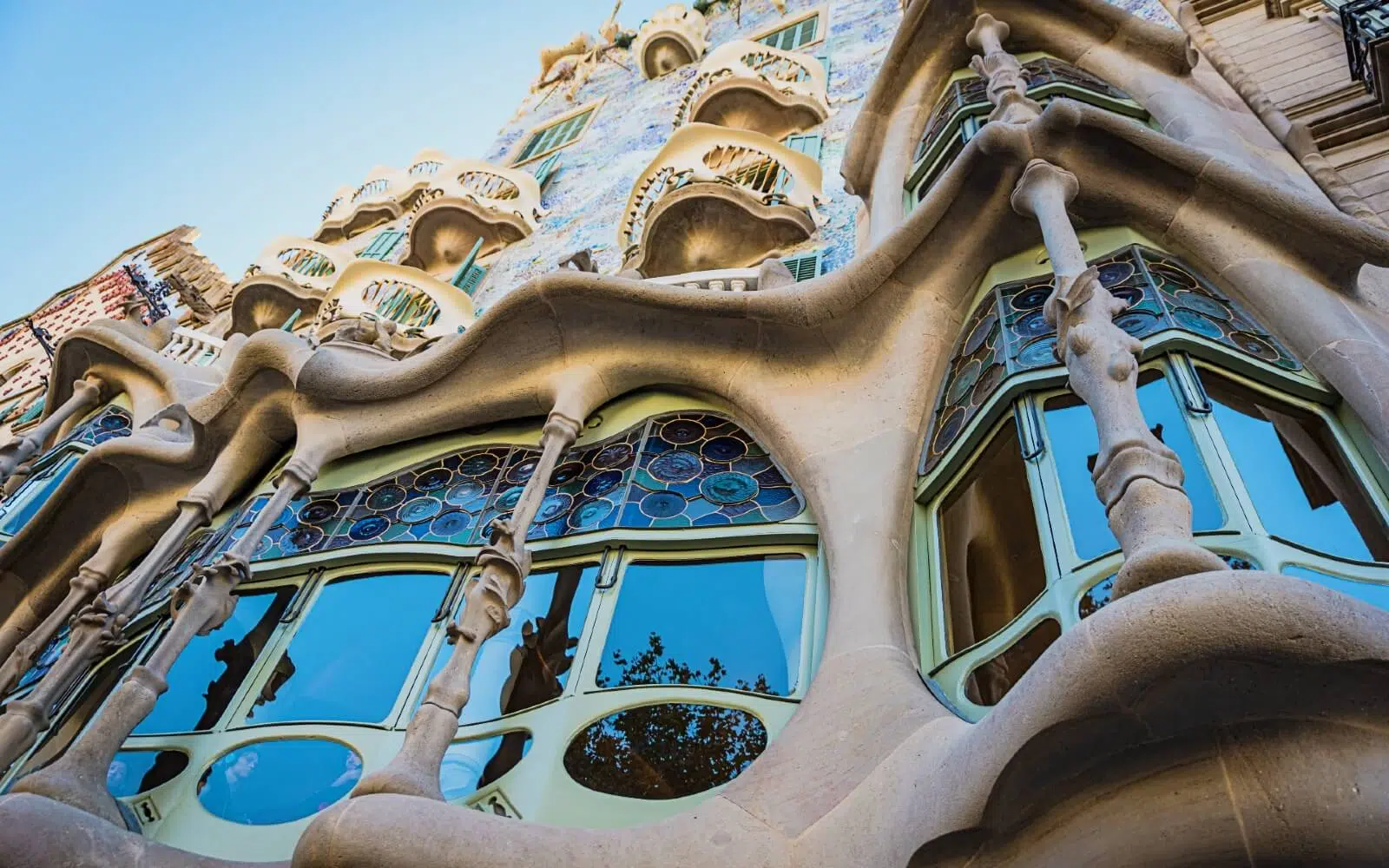 Casa Batlló Exterior
Casa Batllo is known informally as Casa Dels Ossos ('House of Bones') and it's easy to understand why: the exterior balconies are shaped like the jaw bones of some demented alien creature hell-bent on enslaving humanity.
On the exterior you'll see a facade covered in mosaics made from ceramic tile shards – the technique (known as trencadís) originated in France but was perfected by Gaudi for his many masterpieces.
The colourful and odd-shaped shards that form the patterns on Casa Batllo were taken from broken cups and plates at local factories. You'll see the colours of the mosaics gently drift from golden orange to greenish blue.
The oval-shaped feature windows with stained glass are cut across by bone-like stone columns and the balconies are said to be designed after masks or even bats – interpret what you will!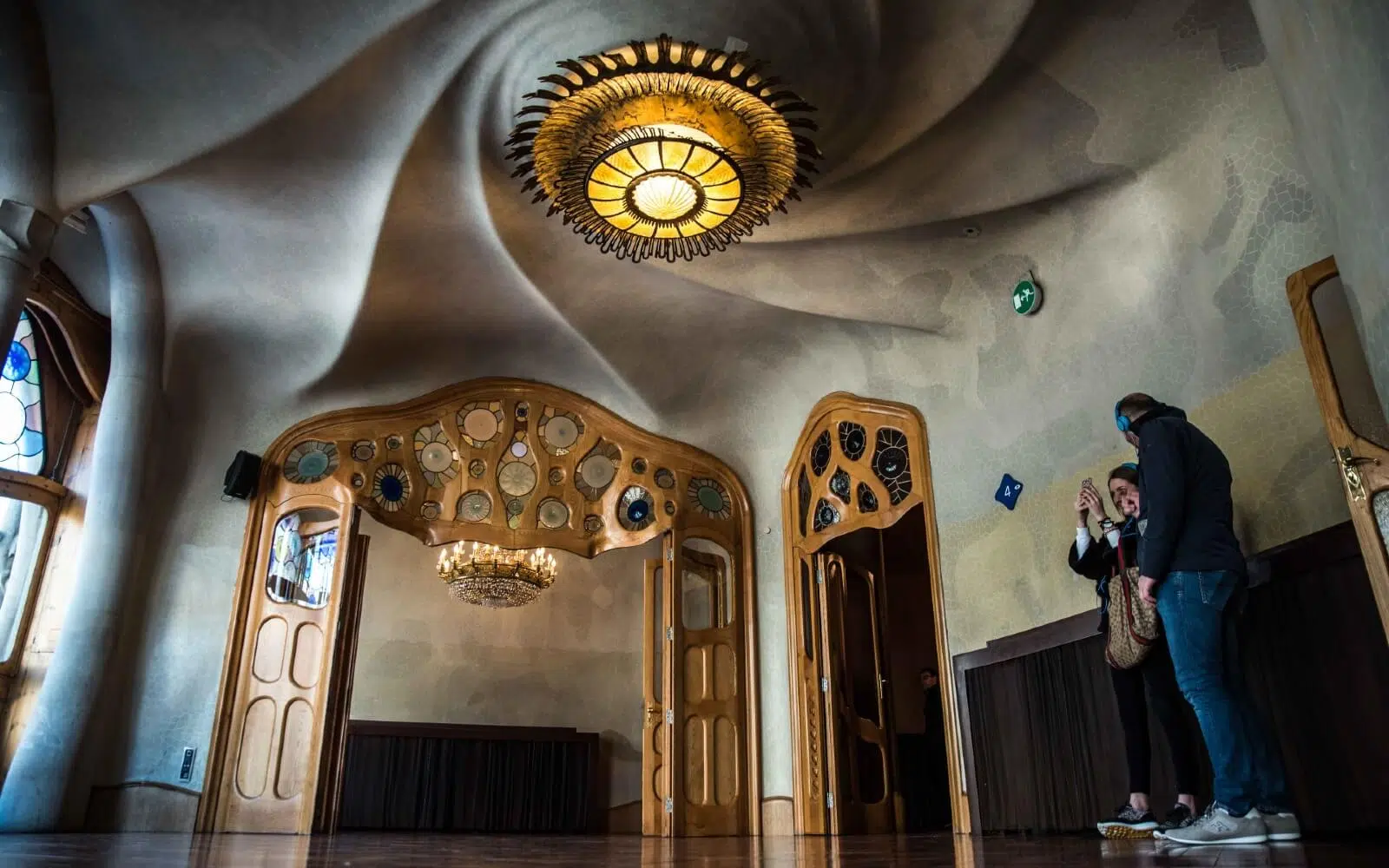 The Noble Floor at Casa Batllo
The Casa Batllo interior is the former residence of the man it was built for: wealthy cotton baron Josep Batlló.
Enter the private entrance hall and get taken to a sort of underwater cave lit by tortoise shell skylights. The nearly wobbling walls and their lack of straight lines make people dizzy! At the stairway and its animal spine banister you know you're on the right track.
Here you'll get a view of Casa Batllo's most photographed area: the blue-tiled building well.
The main suite is made up of three interconnected rooms that are lit up by the massive windows seen over Paseo de Gracia. The wavy, almost whirlpool-like effect makes you feel the power of the sea.
The Casa Batlló Noble Floor also hosts a museum: both have only been open to the public since 2002.
The Casa Batlló Loft
No other part of Casa Batllo so aptly combines the freaky with the functional: what was once a service area where tenants could utilize storage space and do laundry is now the building's most peculiar portion.
The simplistic whites and straight forward shapes of this well-lit room seem so practical until you realise you're standing amidst 60 catenary arches that look like the rib cage of an animal.
It's speculated that this is the rib cage of the animal whose top half we see on the Casa Batlló roof.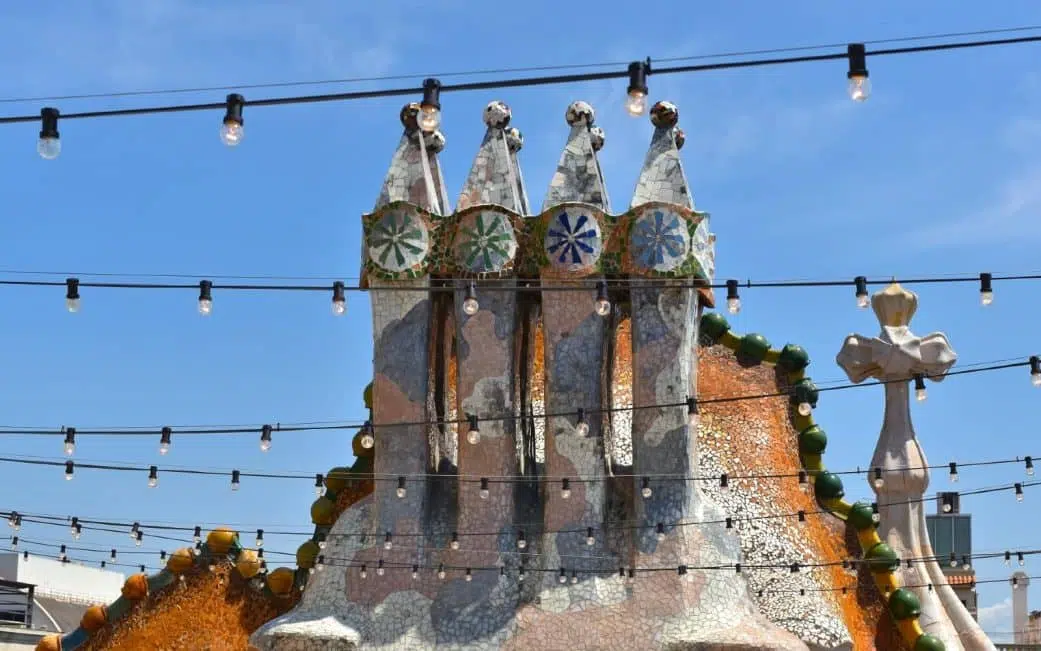 The Casa Batlló Roof Terrace
If you look really closely you'll see that the Casa Batllo's roof imitates the scales of a dragon's back.
Gaudi's creativity is really on display here: he used mosaics to create an animal's spine on the street side of the Casa Batlló roof while using the colourful trencadís on the other for contrast.
Make sure you check out the four chimneys and the four-pointed cross which some say is the sword of Saint George in the dragon's back.
Others believe it is Gaudi's statement that this World Heritage Site, and the Barcelona nature that inspired it, is god's alone and not to be confused with the glorification of wealth.
The view of Barcelona from the roof at Casa Batlló is amazing.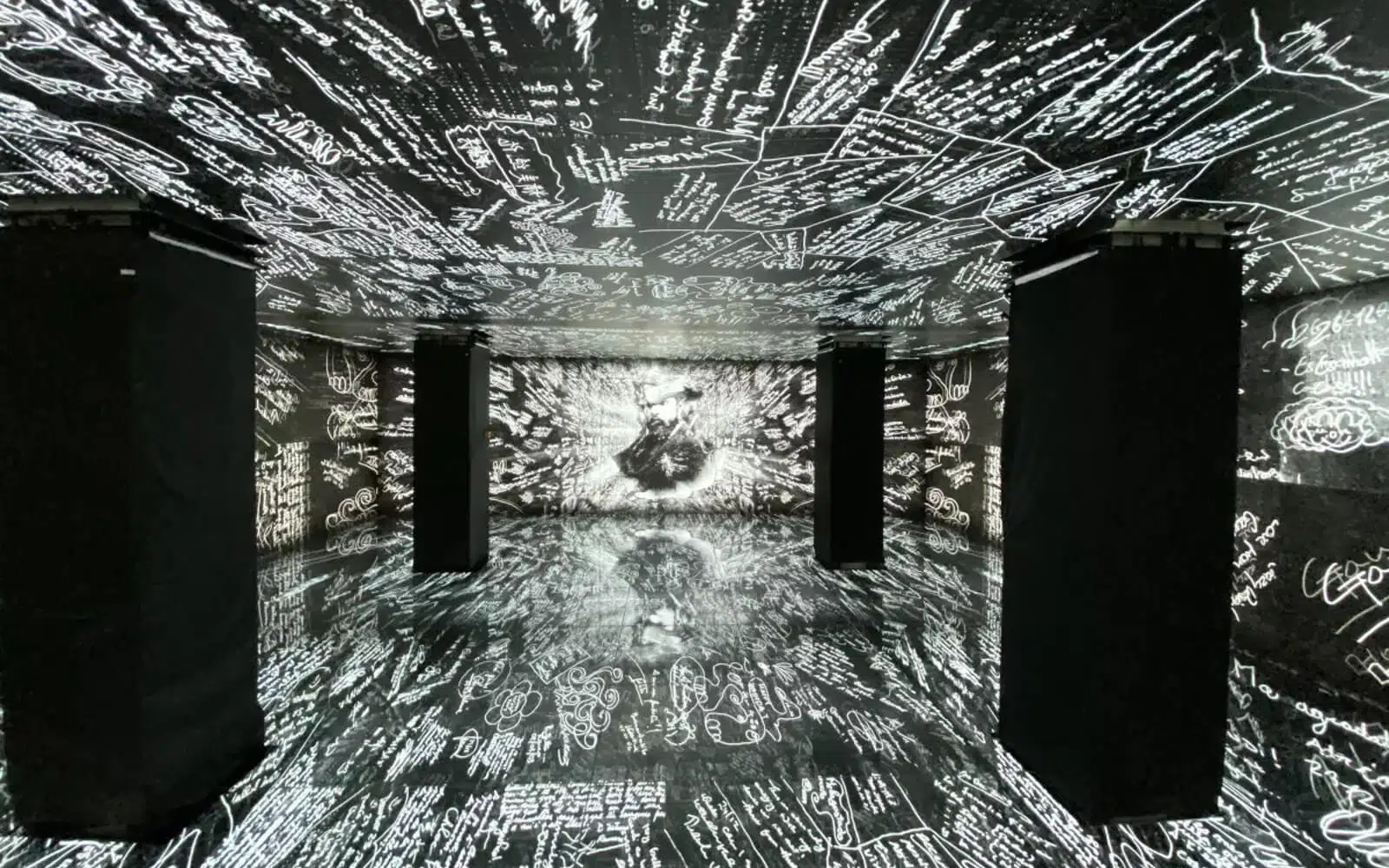 The Gaudi 10D Experience
With the Casa Batlló renovations in 2021 they've upped the ante with the Casa Batlló 10D Experience.
The Gaudí Cube gives Casa Batlló visitors a chance to immerse themselves in the architect's genius – by stepping into his mind.
The world's first LED cube of this size and resolution projects a digital show on all 6 sides (floor included) using millions of Gaudi data points: drawings, photos, plans, writings, and more.
Casa Batlló Augmented Reality Tour
I promised that if you buy tickets to Casa Batlló you can get a unique self-guided tour: a mesmerizing adventure utilizing augmented reality, machine learning, and artificial intelligence.
These handheld, tablet-like guides allow you to point them at furniture, appliances, and other places of interest in the house – that come alive with animations on Gaudi's visions and important Casa Batlló history lessons.
This self guided tour available in 15 languages is included with all tickets.
Where to Buy Casa Batlló Tickets
I suggest setting up your Casa Batlló visit with ticket giant Tiqets.
Here you get the lowest prices while at no extra cost to you earning me a small commission to cover the expenses and time I put in… if you think I've helped please reserve using the red buttons below.
Casa Batllo Ticket Options and Prices
Simply pick your date and time (there are entrances every 15 minutes) and skip the lines.
Once you've bought online tickets to Casa Batlló you'll be emailed them and simply have to present them at the entrance via smart phone to be let right through.
FYI: as Casa Batllo is not a public entity there are no discounts for disabled visitors.
Casa Batllo Blue Prices
| | | |
| --- | --- | --- |
| Casa Batlló Blue | Online Price | Ticket Window Price |
| Adults | €35.00 | €39.00 |
| Senior (65+) | €32.00 | €36.00 |
| Students | €29.00 | €33.00 |
| Youth (13 – 17) | €29.00 | €33.00 |
| Children (0 – 12) | Free | Free |
With the Casa Batllo Blue ticket you'll receive:
Standard Casa Batllo entrance tickets
Intelligent audio guide (45-minute augmented-reality guide) in 15 languages
Gaudi Cube
Looking to book general admission group tickets for 10+ guests? You'll need to do so using the Casa Batllo group ticket form.
Casa Batllo Silver Prices
| | | |
| --- | --- | --- |
| Casa Batlló Silver | Online Price | Ticket Window Price |
| Adults | €43.00 | €47.00 |
| Senior (65+) | €40.00 | €44.00 |
| Students | €37.00 | €41.00 |
| Youth (13 – 17) | €37.00 | €41.00 |
| Children (0 – 12) | Free | Free |
With the Casa Batllo Silver ticket you'll receive:
Fast-track access to Casa Batlló
Intelligent audio guide (45-minute augmented-reality guide) in 15 languages
Gaudi Cube
Virtual reality tablet
Access to the Casa Batllo Council
Casa Batllo Gold Prices
| | | |
| --- | --- | --- |
| Casa Batlló Gold | Online Price | Ticket Window Prices |
| Adults | €45.00 | €49.00 |
| Senior (65+) | €42.00 | €46.00 |
| Students | €39.00 | €43.00 |
| Youth (13 – 17) | €39.00 | €43.00 |
| Children (0 – 12) | Free | Free |
With the Casa Batllo Gold ticket you'll receive:
Exclusive VIP entry to Casa Batlló via the Gold line
Intelligent audio guide (45 min augmented-reality guide) in 15 languages
Gaudi Cube
Exclusive access to the Batllós' Private Room & Council
Flexible booking & free cancellation
Exclusive outdoor lounge
3 Houses of Gaudí
In 2022 the hottest new product online is the 3 Houses of Gaudi ticket package that allows you to skip the lines and see all three of Gaudi's famous Barcelona mansions:
Casa Batlló 10D Experience with audio guide
Casa Milá (La Pedrera) with English audio guide.
Palau Guell (open ticket).
Barcelona city audio guide app with 100+ points of interest/itineraries
10% discount to other attractions.
| | |
| --- | --- |
| Product | Price |
| Adult | €81.50 |
| Senior (65+) | €78.00 |
| Student (12-15) | €71.00 |
| Youth (13-17) | €59.00 |
| Youth (11-12) | €24.00 |
| Child (7-10) | €17.00 |
You can buy your 3 Houses of Gaudí tickets by clicking the button below.
Casa Batlló Magic Nights
From June to October you'll have the option to have a drink and watch live music at the house's legendary Dragonback Rooftop Terrace.
This is a great option for those looking for something romantic to do in Barcelona.
Music at the one hour concert ranges from jazz to R&B to classical to salsa – this is one of the best Barcelona night activities.
All Casa Batlló Magic Nights tickets include:
Casa Batlló 10D Experience with audio guide
Private rooftop table
A glass of cava wine
This experience runs Tuesday to Saturday (two time slots: 6 pm and 8 pm).
Tickets for Casa Batllo Magic Nights start at €59.00 (minimum two tickets) while the Silver (better seats) and Gold (front row seats, extra cava, free cancellation) packages cost €75.00 and €79.00 respectively.
Click the button below to reserve your Casa Batlló Magic Nights tickets:
Casa Batllo Opening Hours
You'll find Casa Batllo has long hours to accommodate the sheer volume of tourists and for this reason it is open 365 days a year.
The Casa Batlló interior is open Monday to Sunday from 9:00 am to 8:30 pm.
The last entrance for visitors is one hour and 15 minutes before closing time (7:15 pm).
Opening hours may be restricted due to private parties but this is extremely rare.
Related: How Many Days Should I Stay in Barcelona?
How to Get to Casa Batlló
You'll find Casa Batlló on the Manzana de la Discordia (The Block of Dischord), a famous strip of the famous upscale Barcelona shopping street Passeig de Gracia.
This street is found in the Eixample district.
The address of Casa Batllo is Passeig de Gràcia 43.
The closest metro/ station to Casa Batlló is Passeig de Gracia.
Other main Barcelona transport stations reachable on foot are Diagonal and Catalunya.
There's also an FGC stop called Provença.
You can also arrive using buses H10, V15, 7, 22 or 24.
The Bus Turistic stop for Casa Batlló is Casa Batlló – Fundació Antoni Tàpies.
From any Barcelona hostel or holiday apartment in the centre expect about 20 minutes maximum travel time via public transport. I recommend walking because the surroundings of the Ruta del Modernisme are too beautiful to miss by taking the metro.
If you have any problems with how to get to Casa Batllo drop me a line in the comments below with your lodging address and I'll be sure to help.
Still stuck? Check out my article on how to get to Casa Batllo.
How to Get to Other Attractions from Casa Batllo
La Pedrera: Cross the street and walk 5 minutes uphill on Passeig de Gracia.
La Sagrada Familia: Take the purple line at Passeig de Gracia and get off at Sagrada Familia. It'll take about 15 minutes.
Park Güell: Take bus 24 on Passeig de Gracia. It'll take about 35 minutes.
Plaça Catalunya and La Rambla: Walk about 15 minutes downhill Passeig de Gracia in the direction of the sea or get on the metro at Passeig de Gracia and take the green line one stop to Catalunya.
Camp Nou: Take the green line at Passeig de Gracia and get off at Palau Reial. 30 minutes.
Tips for Visiting Casa Batlló
Go early morning or late afternoon for smaller crowds.
Book your Casa Batllo admission tickets for the opening (8:30 AM) to ensure the quietest time.
Leave 60-90 minutes for the visit but you can stay as long as you want.
Take the stairs or you'll miss the ensemble of light and colour in the inside patio.
Go straight to the top and work your way down.
Pass by again at night to see it lit up beautifully.
Visit during Christmas or Sant Jordi to see Casa Batllo decorated for the holidays.
See Casa Batllo's program of events for special concerts and more.
If you're also doing Casa Mila start there first then go downhill to Casa Batllo.
Spoil yourself with a tasty Spanish meal at nearby Bodega Joan: I even have a special 25% off paella tasting menus for blog readers and you can find more information clicking the banner below:
Visiting Casa Batllo FAQ
Should I buy my Casa Batllo tickets online or are ticket windows enough?
Online tickets are always recommended to avoid lengthy lines, in fact as of last year it is not possible to buy at windows.
Are there any further Casa Batllo discounts available?
Depending on your needs there are multiple Barcelona tourist passes that offer discounts.
The famous Barcelona Card gives you unlimited transport, airport connection (from one of the three Barcelona airports: BCN), free entry to 25 museums, and discounts on 85 attractions including a €3.00 Casa Batllo discount.
The Barcelona Pass offers entrance to Sagrada Familia and Park Guell plus a ride on the Bus Turistic and 20% discounts on a ton of attractions like Casa Batllo.
Still not sure? Get at me in the comments below and I'll help you get the right Casa Batllo ticket.
Can I combine these Casa Batllo discounts with other offers?
No.
Why are Casa Batllo tickets so expensive?
As it is not a public entity and does not benefit from government subsidies Casa Batllo is entirely self-financing. For this reason the upkeep costs are huge and costs are justified to maintain its beauty.
How long is the Casa Batlló audio guide in total?
If you follow our post on how long does it take to visit Casa Batllo, you can expect it to take about 90 minutes.
If I buy a student discount Casa Batllo ticket how do I redeem it?
You must show a valid piece of student ID to gain entrance – all international student IDs are accepted.
Is there a time limit to the Casa Batlló visit?
No. Guests can stay as long as they like until closing time, but do keep in mind that the average visit takes about 60-70 minutes.
Are there any places to eat or cafes at Casa Batllo?
No. You can only find vending machines on the first floor and the attic, but nearby you'll find an area full of amazing restaurants and top cafes.
Is there any elevator for limited mobility and elderly guests at Casa Batlló?
Yes.
Wheelchairs are available that fit in the elevators but please note the elevator does not reach the roof terrace.
The elevator is only recommended in these occasions because taking the stairs allows you to see the magnificent light play of the inner patio.
Are there wheelchairs available at Casa Batlló for guests with limited mobility?
Yes.
Is Casa Batllo good for the visually impaired?
In addition to house information being given in Braille there are spatial references included in the audio guide which will help guests position themselves.
Also, the companion of the visually impaired guest gets free entrance.
Is Casa Batllo good for the hearing impaired?
Yes. Audio guide texts are available in English, Spanish, Catalan, French, Italian, German, Portuguese, Chinese, Japanese, and Russian.
If I visit Casa Batlló with a toddler can I enter with a stroller?
Those visiting Barcelona with kids should note that strollers will restrict your mobility greatly. You're free to leave your stroller with staff and take your toddler in a front pack baby carrier.
Do children under 7 years old need to show ID to get in free at Casa Batlló?
Unless they're noticeably young they will need to show ID.
Can I leave my bags or suitcases at Casa Batlló while I visit?
Yes, there is an allocated space for this purpose.
Am I allowed to take photos at Casa Batllo?
Yes, but flash photography is not permitted.
What language ares available with the Casa Batlló audio and/or augmented reality video guide?
In addition to English the guides are available in Catalan, Spanish, Portuguese, German, French, Italian, Chinese, Japanese, Russian, and Korean
Visiting Casa Casa Batlló Soon?
So you've bought your Casa Batllo tickets online and skipped the lines – was it worth all the hype?
If you have any question about your Barcelona holiday or any comments about how I can improve this resource please don't forget harass me in the comments below.
Also don't be afraid to join the Casa Batllo discussion by first giving me a like on Facebook and then joining my group I'm Off to Barcelona – here you can ask any questions, air out grievances, and chat with thousands of Barcelona travelers.
Anything goes!